When you need dinner in a hurry, look no further than this Pork Egg Roll In A Bowl recipe! It's a one-pan recipe that's packed with veggies and savory ground pork. This easy recipe will be a crowd-pleaser for the whole family!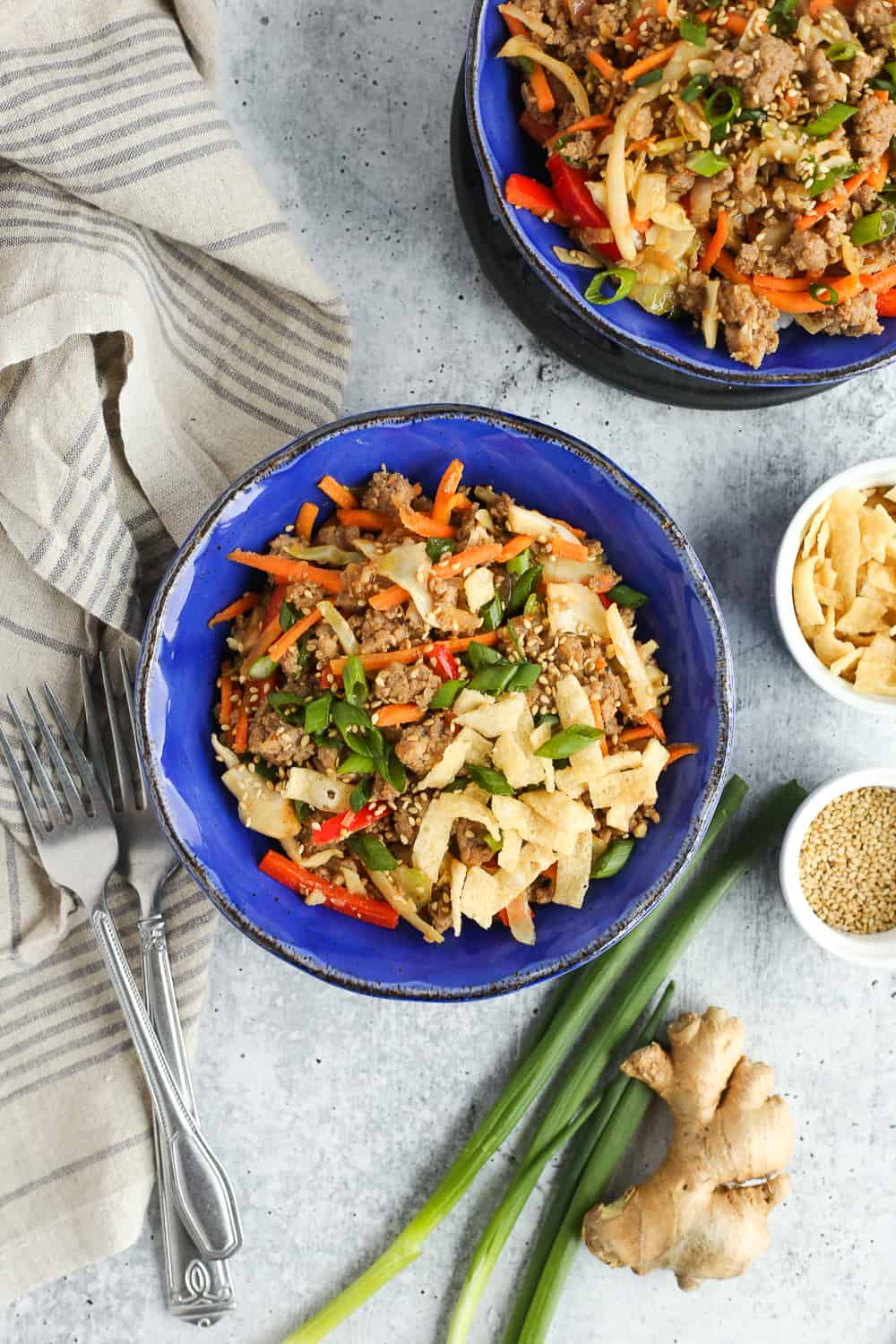 Why You'll Love This Pork Egg Roll In A Bowl Recipe
This easy ground pork recipe was the star of the show for two different cooking demos I did for virtual events. It was originally inspired by this Egg Roll In A Bowl recipe on Yummly, suggested to me by some fellow registered dietitians. Both times, the audiences fell in love with this quick-cooking, one-pan meal. Just like I knew they would!
I'll tell you the same thing I told them: you're going to be so impressed with how quickly this meal comes together. Once your pan is heated, it moves from start to finish in no time flat. Read on to see the step-by-step process for this super easy Ground Pork Egg Roll In A Bowl recipe!
But beyond that, I like you'll love how meal-prep friendly this meal is. Storing is no problem and it reheats without losing flavor or quality. It's also packed with savory umami flavor thanks to MSG (more on that below). And if this version doesn't match what you want or need, it's simple to customize with swaps and substitutions.
Ingredients You'll Need
When you think "easy pork recipes" think ground pork! It's flavorful, fast-cooking, and incredibly versatile. Plus, if you've ever cooked with ground beef or other ground protein, you've already mastered the cooking technique for browning on the stovetop. Look for regular ground pork, not pork sausage, as it will have other seasonings that might clash with the flavors in this recipe.
In addition to ground pork, you'll need to gather these other simple ingredients:
Red bell peppers (although green, yellow, or orange bell peppers will work just as well)
Shredded green cabbage
Matchstick carrots. I buy mine pre-cut but you can also use a box grater to shred larger carrots.
Toasted sesame oil
Garlic
Ginger
Low sodium soy sauce. You can also try tamari or coconut aminos in place of soy sauce, but the flavor will be subtly different.
Rice vinegar
MSG (monosodium glutamate). This is the key to super savory flavor in each bite. After all, MSG is pure umami flavor! You only need a small amount, so absolutely no concerns about MSG safety but if you don't have it or prefer not to use it, you can swap for regular salt.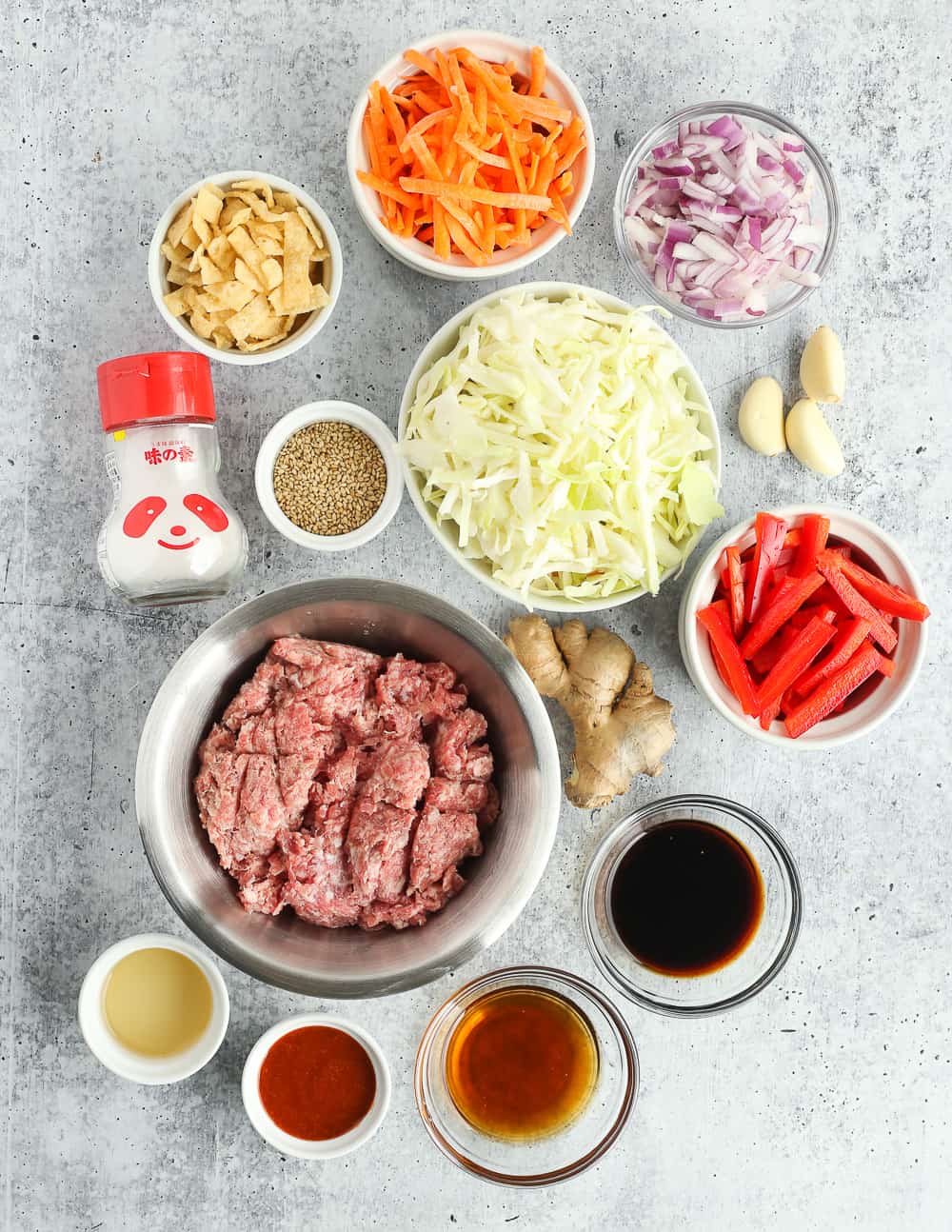 Finally, prep some white rice for serving along with your favorite garnishes. For me, that's crispy wonton strips, toasted sesame seeds, sliced green onions, and a hot sauce like sriracha. Pork Egg Roll in a Bowl recipes are usually framed as a "low carb egg roll" or even "keto egg roll".
We don't play like that around here.
There's no need to search for a "healthier alternative" when you already have a meal that includes protein, fat, vegetables, flavor, and carbs. Not only do carbohydrates provide necessary energy for your body and brain, they taste good and are a key piece of culturally diverse diets. Swap for brown rice if you must, but you won't find me recommending cauliflower rice in this recipe.
Street Smart Nutrition Tip: Save yourself some time and effort by grabbing pre-shredded cabbage (AKA, bag of coleslaw mix) and matchstick carrots. Look for both in the bagged salad section of your grocery store, or just place an order through Instacart for a convenient delivery option. Click HERE to find the shopping list for this Pork Egg Roll In A Bowl recipe.
Equipment You'll Need
When it comes to equipment for this easy pork recipe, we're keeping things simple. Sometimes you read these "one-pan meals" that actually need two or three (or more!) pans when it's all said and done, but this is not one of those recipes.
​Use a large skillet (non-stick or cast iron) as the main cooking vessel. Beyond that, you just need your standard cutting board and sharpened knife, measuring cups and spoons, and a cooking spatula and serving utensil. Remember to use separate utensils to handle the uncooked ground pork to avoid cross-contamination.
How To Make Pork Egg Roll In A Bowl
This delicious recipe comes together in just half an hour. Start by prepping your vegetables, garlic, and fresh ginger. One of my best tips is to set everything near the stove so it's easy to reach once you start cooking. Small ramekins or prep bowls are handy, but use whatever you have.
From there, follow these steps to make this Pork Egg Roll In A Bowl recipe:
Heat your skillet over medium-high heat. Add the cooking oil and swirl to coat the pan.
Once the oil is heated, add the red onion. Cook 2-3 minutes, which is enough time for the onion to become fragrant and softened. Mix in the garlic and ginger and cook for another 1-2 minutes.
Add the ground pork and sriracha sauce. Browning the protein with the sauce infuses tons of flavor with no extra effort. Cook for about 5-7 minutes or until no pink remains in the pork mixture.
In the same skillet, add the shredded cabbage, bell pepper, soy sauce, rice wine vinegar, toasted sesame oil, and MSG. Stir everything together and cook until the vegetables are tender. This takes about 3-5 minutes.
Pull the pan off the heat, then garnish with sliced green onions, wonton strips, and sesame seeds. Serve with fresh steamed white rice (if using) and enjoy!
Here's another tip for meal prep: try undercooking the vegetables just barely. This can keep them from being overcooked or soggy when you reheat them later.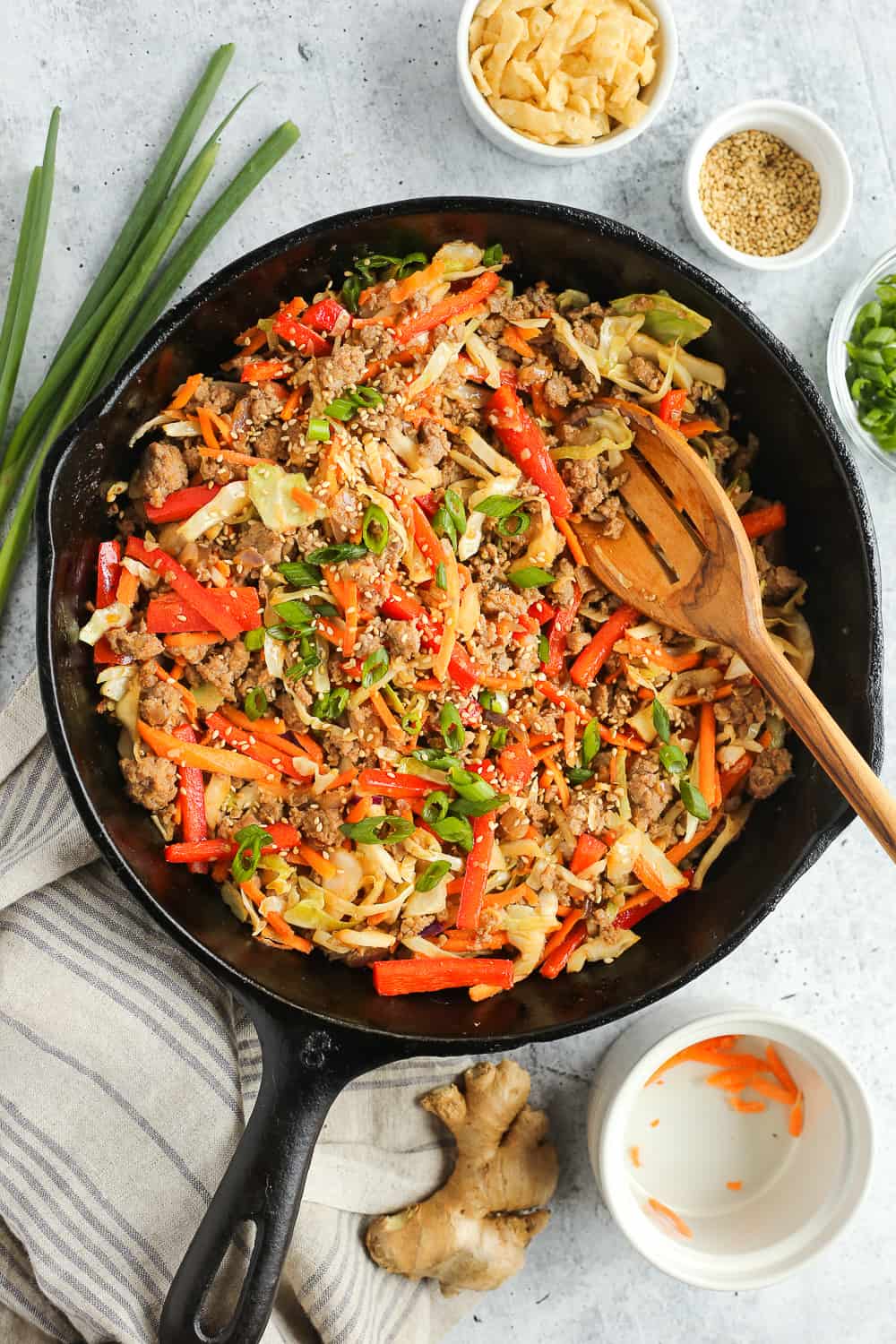 What Should I Serve with Egg Roll Bowls?
Short answer: anything you want!
But seriously, almost anything goes. Since we're not bound to a traditional egg roll recipe, you can mix and match your ingredients based on what's in your fridge or what flavors you like best.
I personally can't imagine a meal like this without some carbs (I mean, they don't call me Cara Carbstreet for nothing). White rice is obviously a top pick, but noodles would be delicious as well. If you put more of a focus on veggies, however, add extra cabbage, mushrooms, bok choy, or another favorite piece of produce. And this is a savory, seasoned dish so you can balance that with tangy, vinegar flavors from Quick Pickled Cucumbers and Onions or my Korean Cucumber Salad.
In the flavor department, you can kick up the heat as high as you can handle. Sriracha or other red pepper-based hot causes are delicious, as well as red pepper flakes, spicy kimchi, or gochujang sauce. If you like slightly sweeter flavors, hoisin sauce is also super yummy.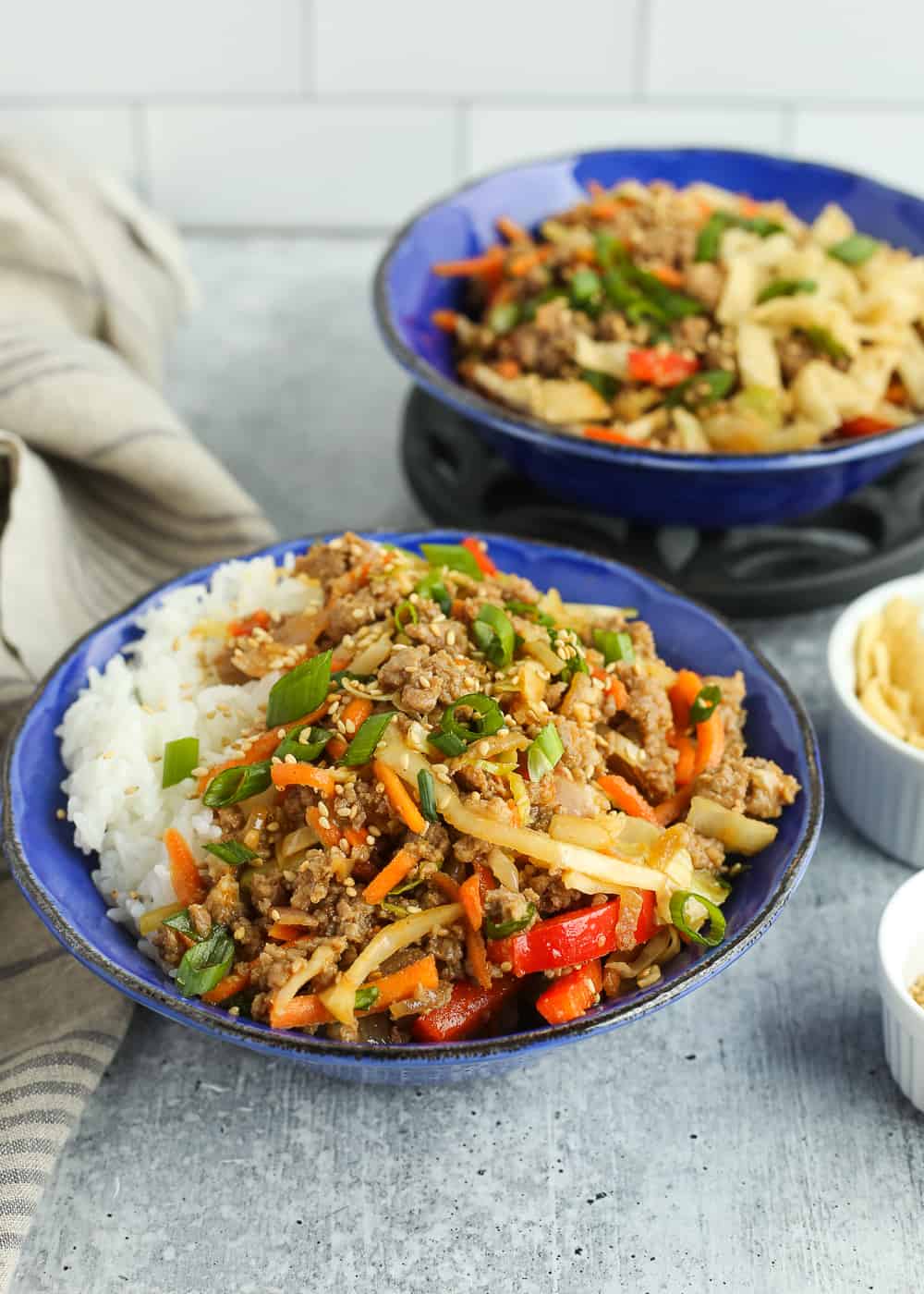 Swaps and Substitutions
There are tons of way to modify this recipe. Try the following if you want more variety!
It's always an option to add more veggies. My top picks are red cabbage, shiitake mushrooms, or water chestnuts if you like that crispy texture.
Try using broccoli slaw in place of the shredded cabbage. While you certainly can shred or chop your own cabbage, the amount needed for this recipe doesn't require an entire head of cabbage. Plan accordingly for the amount to want to prepare.
If you're in a hurry, skip the DIY sauce and toss in some duck sauce or hoisin sauce.
Try a spicy mayo sauce for a little heat with a creamier texture. You can also try drizzle a sweet chili sauce on top instead of a hot pepper sauce.
Do I have to use ground pork?
Most definitely not. Don't get me wrong, I think this recipe is a natural fit for ground pork, but any ground meat can work. Try ground beef, ground chicken, ground turkey, or even a plant-based option. Adjust your cooking times accordingly. You may also need to adjust the amount of cooking oil you use depending on how lean your mixture is, so as to avoid sticking to your skillet.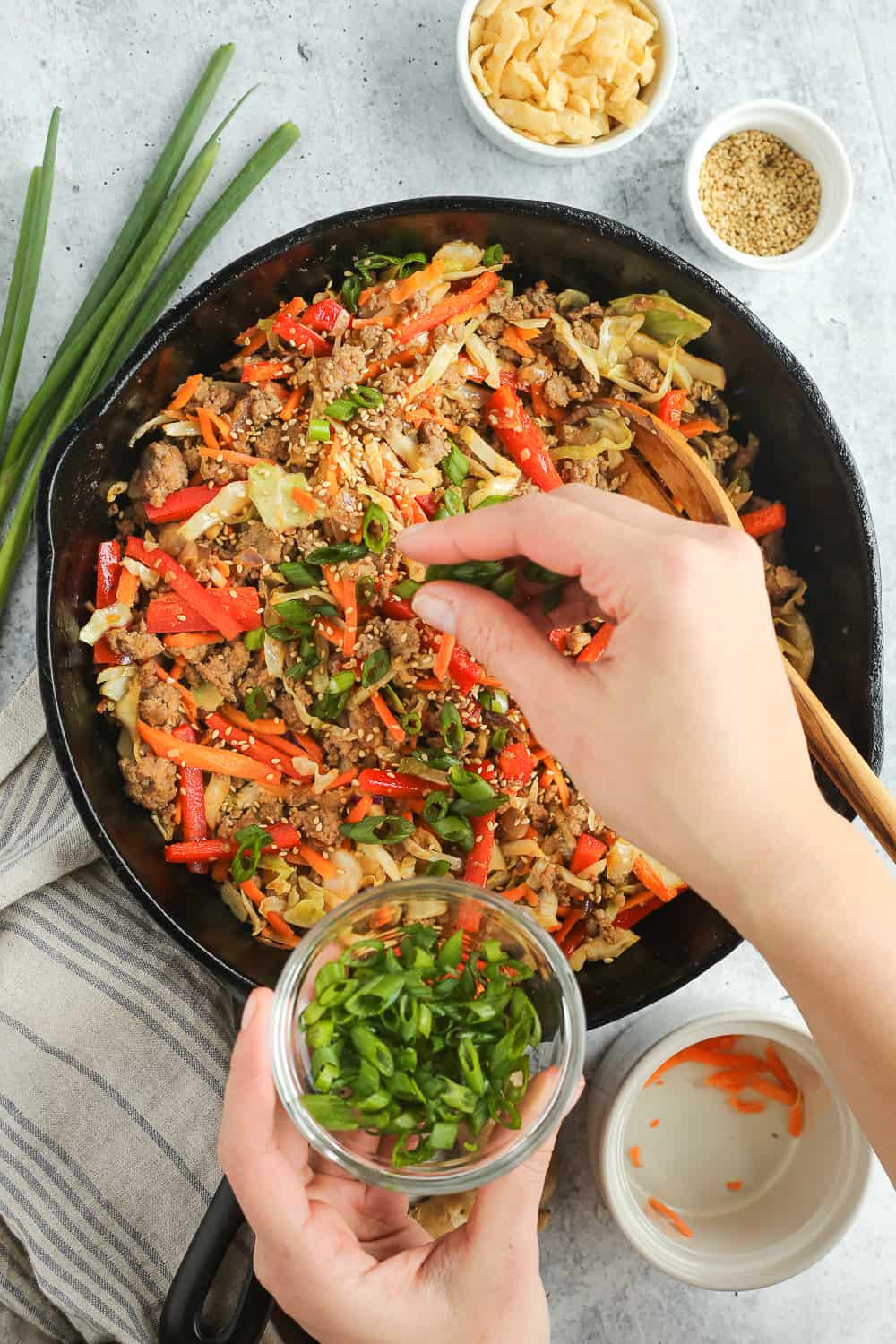 How do I store the leftovers?
All I can say is, GOOD LUCK fighting over the leftovers for this recipe. Seriously, it reheats like a dream and somehow the flavors seem even better the next day. This is an easy pork recipe that scales up or down no problem, so even if you're not feeding a crowd, go ahead and make a little extra if you plan to use it as a meal prep option.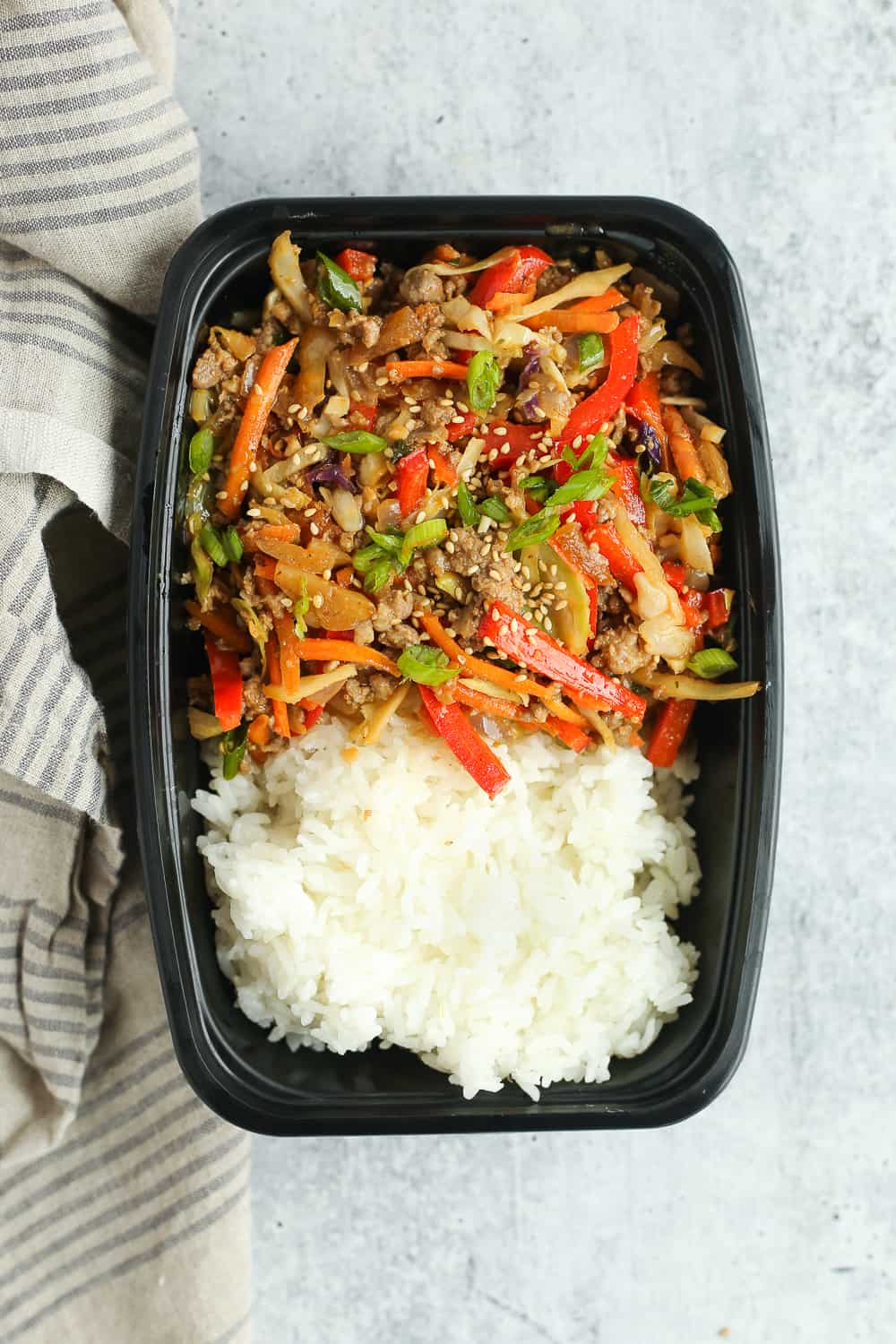 To Store Leftovers: Let the cooked pork mixture cool slightly before transferring to an airtight container. It can go in one large container or individual portions. Cover and pop them into the fridge. They will last 3-5 days no problem, but for best quality, try to enjoy sooner rather than later.
To Reheat Leftovers: This Pork Egg Roll In A Bowl recipe is super easy to reheat in the microwave or on the stovetop. If using a microwave, simply heat on high power for 1-2 minutes, stopping every 30-40 seconds to stir for even reheating. If using the stovetop, heat a skillet over medium heat with a small amount of sesame oil. Add your leftovers and heat, stirring occasionally, for 2-3 minutes or until sizzling and heated through. Serve with fresh garnishes and enjoy!
By now you're probably ready to get cooking, so here's the full recipe for my Savory Pork Egg Roll In A Bowl recipe!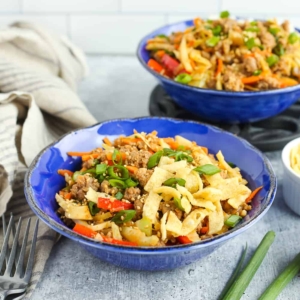 Easy Ground Pork Egg Roll In A Bowl
This simple recipe is filling and flavorful – what more could you want! Enjoy ground pork with a variety of veggies and a savory sauce. It works great for meal prep, too!
Equipment
Large Skillet,

nonstick or cast iron

cutting board and sharpened knife

measuring cups and spoons

spatula and serving utensil
Ingredients
1

tbsp

cooking oil

,

canola, vegetable, peanut, or similar

1/2

cup

diced red onion

2

cloves

garlic

,

minced

1

tbsp

fresh ginger

,

minced

1

lb

ground pork

2

tsp

sriracha or hot pepper sauce

2

cups

shredded cabbage

1

cup

shredded carrots

1

medium

red bell pepper

,

thinly sliced

2

tbsp

low sodium soy sauce

1

tbsp

rice wine vinegar

2

tsp

sesame oil

1/2

tsp

MSG

2

medium

green onions

,

thinly sliced, for garnish

1/2

cup

wonton strips

,

for garnish

1/2

tbsp

sesame seeds

,

for garnish
Instructions
Heat the cooking oil in a large skillet over medium-high heat.

Once the oil is heated, add the red onion. Cook 2-3 minutes, or until onion becomes translucent. Add the garlic and ginger, then cook about one minute more.

Add the ground pork and sriracha sauce. Use a spatula to brown the pork, stirring occasionally. Cook 5-7 minutes or until no pink remains.

Add the shredded cabbage, carrots, bell pepper, soy sauce, rice wine vinegar, sesame oil, and MSG. Stir until well combined. Cook until the veggies are tender, about 3-5 minutes depending on your preferred doneness.

Remove from heat, then garnish with sliced green onions, wonton strips, and sesame seeds. Serve immediately, or divide into meal prep containers. Add a side of cooked white rice if desired.
Notes
If preparing as a meal prep option, reduce cooking time after adding the vegetables by 1-2 minutes to avoid overcooked textures. 
Nutrition
Serving:
1
serving
,
Calories:
404
kcal
,
Carbohydrates:
11
g
,
Protein:
21
g
,
Fat:
30
g
,
Saturated Fat:
10
g
,
Cholesterol:
82
mg
,
Sodium:
352
mg
,
Potassium:
632
mg
,
Fiber:
3
g
,
Sugar:
5
g
,
Vitamin A:
6398
IU
,
Vitamin C:
58
mg
,
Calcium:
67
mg
,
Iron:
2
mg
Next time you're looking for an easy dinner recipe, keep this 30-minute meal in mind! If you try this Egg Roll In a Bowl recipe and enjoy it, leave a rating or comment to let me know what you think.
If you liked these Ground Pork Egg Roll Bowls, you might also like these easy dinner recipes:
And as always, thanks for stopping by the Street Smart Nutrition blog! You can find more and follow along on Instagram and YouTube, and don't forget to sign up for my newsletter so you never miss a new post. Cheers to more fearlessly nourishing meals!
This post was originally published in May 2021. It has since been updated to improve the overall quality of the information and/or images.