This fast pork recipe for Gochujang Pork Sandwiches is hearty and incredibly easy – cooking pork doesn't have to take a long time! Enjoy this easy pork recipe using Smithfield Prime Fresh Pork
.
---
Disclosure: I developed this recipe in partnership with Smithfield Prime Fresh Pork. I was compensated for my time and was provided with the Smithfield Prime Boneless Fresh Pork Loin used in this recipe. As always, all opinions my own. 
I don't know about you, but even though it's the holiday season, I don't want to eat holiday foods all the time. It's great to break out the traditional favorites, but I still like to shake things up. That's where these Gochujang Pork Sandwiches come in!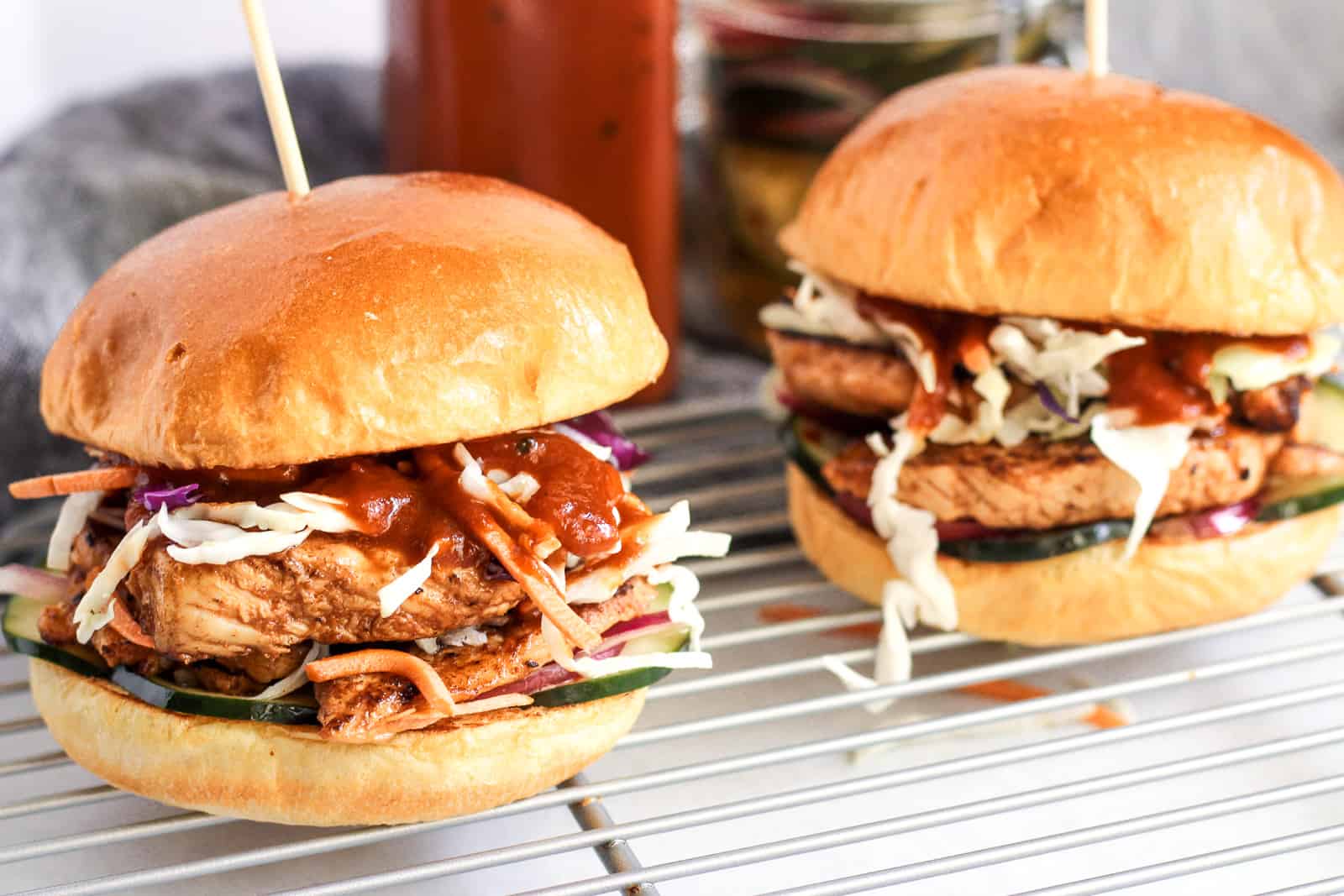 There's something really comforting about a simple, but hearty, sandwich when the holiday season rolls around. For me, it's a good relief from the traditional recipes my family loves. Don't get me wrong, I love them, but it's tough to spend a lot of time in the kitchen and then come home and cook a big meal all over again.
Luckily, this recipe is super quick and easy and can be done in stages, so you can either do some of the prep ahead of time, or outsource it to someone else who's willing to help in the kitchen! Another pro tip of mine: cut corners and purchase the pre-cut or sliced veggies. For something like this, I've been known to go to the salad bar and only take what I need in a plastic container that I can recycle later. For these Gochujang Pork Sandwiches, you could do that with the cucumbers, onion, or the cabbage mix that goes on top. Less prep means less mess, because if you've ever used shredded cabbage in a recipe…yeah, you know it kind of ends up everywhere!
Smithfield Prime Fresh Pork
We enjoy pork because it's become one of our go-tos for a delicious meal for any occasion. Smithfield Prime Fresh Pork is high-quality, all-natural, and versatile. I've been fortunate to attend a couple of different farm tours to learn more about how Smithfield pork products are produced and meet some of the farmers and their families. It was fascinating to see what goes on behind the scenes, which is something most of us rarely get to see. I personally love to learn all I can about my food and where it comes from, but it's also been really helpful to have that information to share with my clients and their families when they have questions about pork.
Looking for another easy pork recipe? Check out my Glazed Pork Tenderloin and Fig Kebabs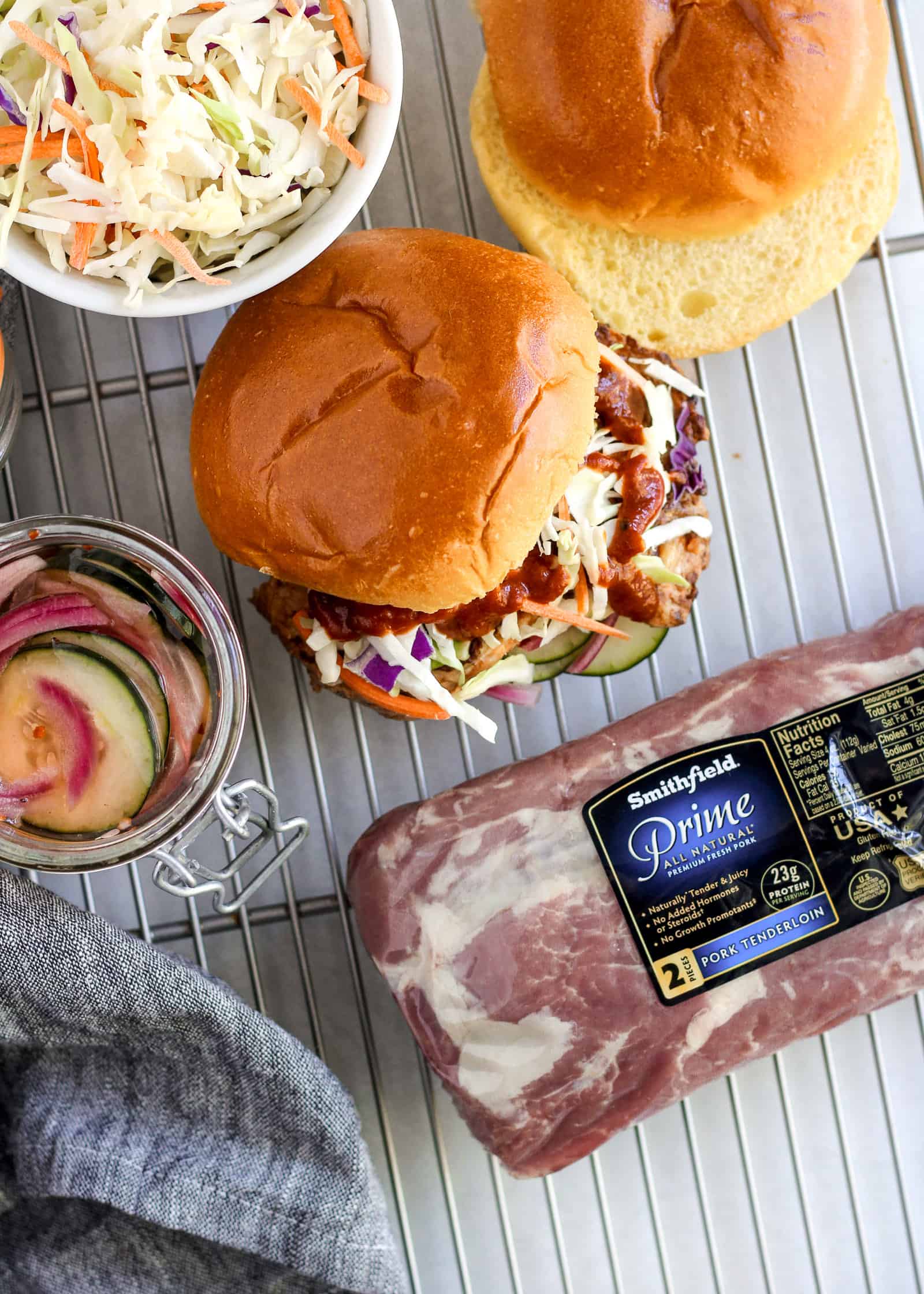 Smithfield Prime Fresh Pork is really easy to find in my area. I just add it to my list when I'm heading up the street to my local Price Chopper (literally, it's only a few blocks from my house) and it's really convenient to swing by on my way home from my office. I love all of the Smithfield products, but they offer this high-quality Prime collection – a superior line of all-natural fresh pork that is extra tender and juicy, made from 100% fresh pork with no artificial ingredients, and packed with protein. You can find it in a wide variety of hand-trimmed cuts, including tenderloins, back ribs, spareribs, boneless and bone-in pork chops, butts and roasts, and they can be sliced or cubed for even faster cooking – which is key during the busy holiday season! You can find Smithfield Prime at Price Chopper, Cosentino's, Sun Fresh, and Country Mart stores in the KC area. 
Pork tenderloin is one of the most common cuts – it's super popular! I like using it for a variety of recipes. I'm using it for these sandwiches today, but I also like to slice it thin for stir fries (like in this Sweet Miso Pork Stir Fry recipe) or roast it and slice it for something like this Soba Noodle Salad with Pork & Peanut Sauce.
Gochujang Pork Sandwich
Pork can be super simple to prepare with the right cooking technique for the cut. Tougher cuts of pork do better with long, slow heat, like in a slow cooker or crockpot. Pork loins or tenderloins, on the other hand, are just like the name describes: incredibly tender and juicy.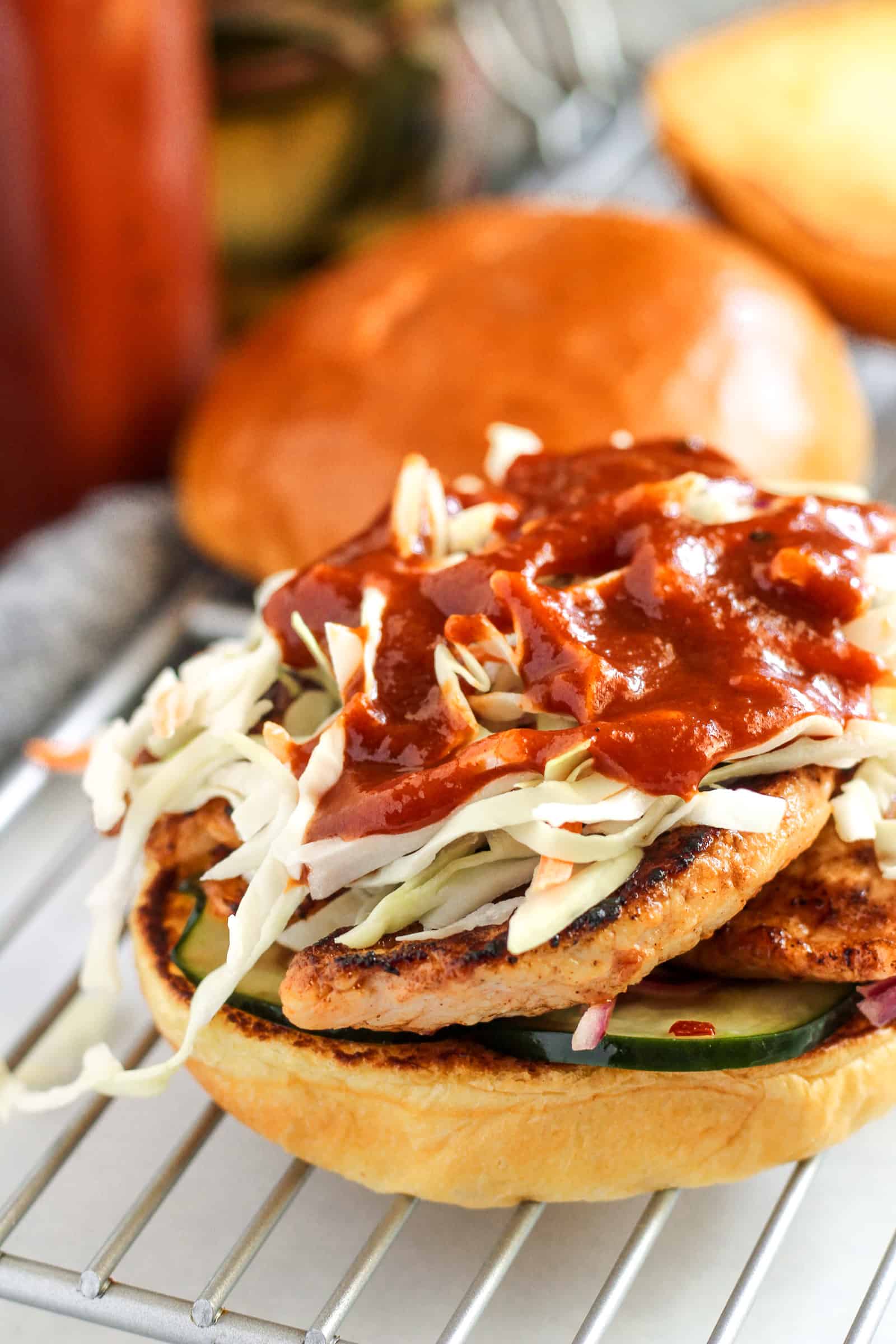 Although it doesn't take long to roast it in the oven, these sandwiches are even quicker to cook because you can thinly slice the pork before searing it on the stovetop. It takes just a few minutes on each side, so even if you're preparing the entire pork loin, it doesn't add much extra time to your cooking process.
The key for this recipe is all in the sauce. Gochujang is a red chili paste that packs a lot of flavor. A little goes a long way, so it doesn't take a whole lot for it to make its presence known in a dish. Gochujang is a staple of Korean cooking but lately has become much more popular in recipes. Fortunately, that's made it a lot easier to find, so you're less likely to have to visit a specialty grocery store or Asian market to find it.

Although there are a lot of complex dishes you can make with gochujang, this one is incredibly simple! Just find your favorite BBQ sauce and stir the gochujang in before you start preparing the rest of the recipe. The flavors will blend together nicely and you can use the leftover sauce to flavor other dishes. Just remember that because both BBQ sauce and gochujang contain sugar, it can burn easily when cooking over high heat. Keep a careful eye on this dish during the searing process, because otherwise you might end up with not only a burnt flavor, but also overcooked pork. Which…you know…kind of defeats the purpose of cooking with such a tender cut!
Here's the recipe!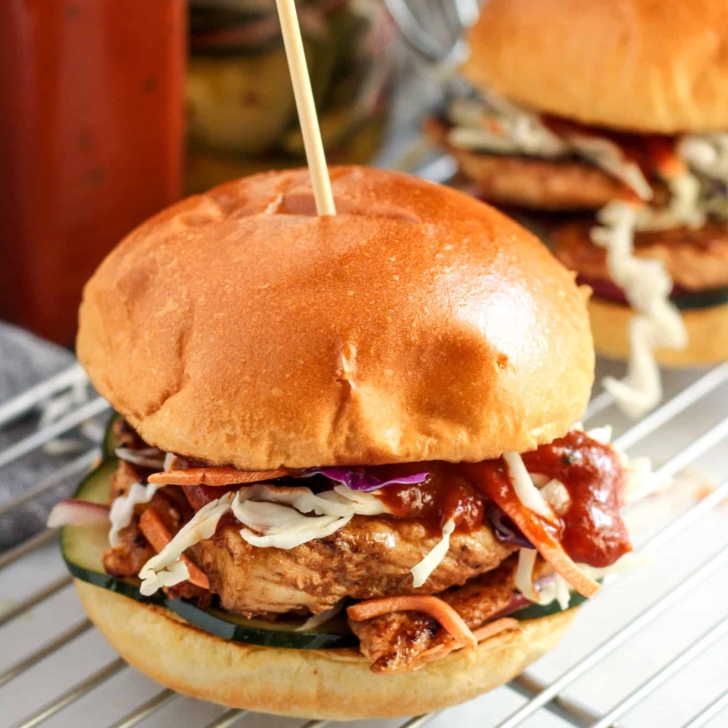 Gochujang Pork Sandwiches
Shake things up with fresh pork! Prepare these Gochujang Pork Sandwiches on the grill or indoors and you can enjoy the spicy, sweet flavors and satisfying crunch of this hearty sandwich.
Ingredients
1

package

Smithfield Prime Boneless Fresh Pork Loin

6

brioche hamburger buns

1

cup

shredded coleslaw mix
Quick Pickled Cucumbers
1/2

cucumber

,

very thinly sliced

1/4

red onion

,

very thinly sliced

1/2

cup

rice vinegar

1/3

cup

sugar

1

tsp

red chili flakes
Gochujang BBQ Sauce
2

tbsp

gochujang sauce

1

cup

BBQ sauce
Instructions
For the Quick Pickled Cucumbers
Toss the cucumbers and onions in a mixing bowl. Add the red chili flakes.

Whisk the sugar into the rice vinegar until dissolved. Pour over the cucumber mixture and toss to fully coat. Cover and chill in the refrigerator until ready to eat.
For the Gochujang BBQ Sauce
Combine the BBQ sauce and gochujang sauce in a small mixing bowl. Whisk together until fully combined. Adjust seasoning as needed by adding additional gochujang.
For the Gochujang Pork Sandwiches
Reserve half of the prepare gochujang BBQ sauce.

Thinly slice the Smithfield Prime Boneless Fresh Pork Loin into 1/4" medallions. Heat a grill pan or cast iron skillet over medium-high heat. Brush the pork medallions with the gochujang BBQ sauce, then sear 2-3 minutes on each side or until fully cooked.

Repeat until all of the pork medallions are fully cooked. Transfer to a serving plate, then cover and hold warm. Meanwhile, lightly toast the brioche buns if desired.

To build the sandwiches, place a layer of quick pickled cucumbers and onions on the bottom bun. Add a layer of the pork medallions, then top with the coleslaw mixture. Finally, add the reserved gochujang BBQ sauce to each sandwich and top with the other half of the bun. Serve immediately.
Nutrition
Serving:
1
sandwich
,
Calories:
502
kcal
,
Carbohydrates:
72
g
,
Protein:
10
g
,
Fat:
20
g
,
Saturated Fat:
11
g
,
Cholesterol:
144
mg
,
Sodium:
883
mg
,
Potassium:
181
mg
,
Fiber:
1
g
,
Sugar:
28
g
,
Vitamin A:
957
IU
,
Vitamin C:
6
mg
,
Calcium:
70
mg
,
Iron:
1
mg
You can convert leftovers for this recipe into a simple salad – or really any dish! Be sure to fully reheat the leftover pork, but you can chop it up and add it to a salad or rice bowl. I wasn't kidding when I said fresh pork is incredibly versatile!
I hope you enjoy this recipe for Gochujang Pork Sandwiches. Happy holidays!

For more product information and recipe inspiration, visit Smithfield.com