Sink your teeth into this Furikake Tomato Toast ASAP! Juicy tomatoes are stacked on top of savory, rich mayo on perfectly toasted bread, then topped with furikake for some extra umami flavor. It's a great way to take full advantage of tomato season before it's gone!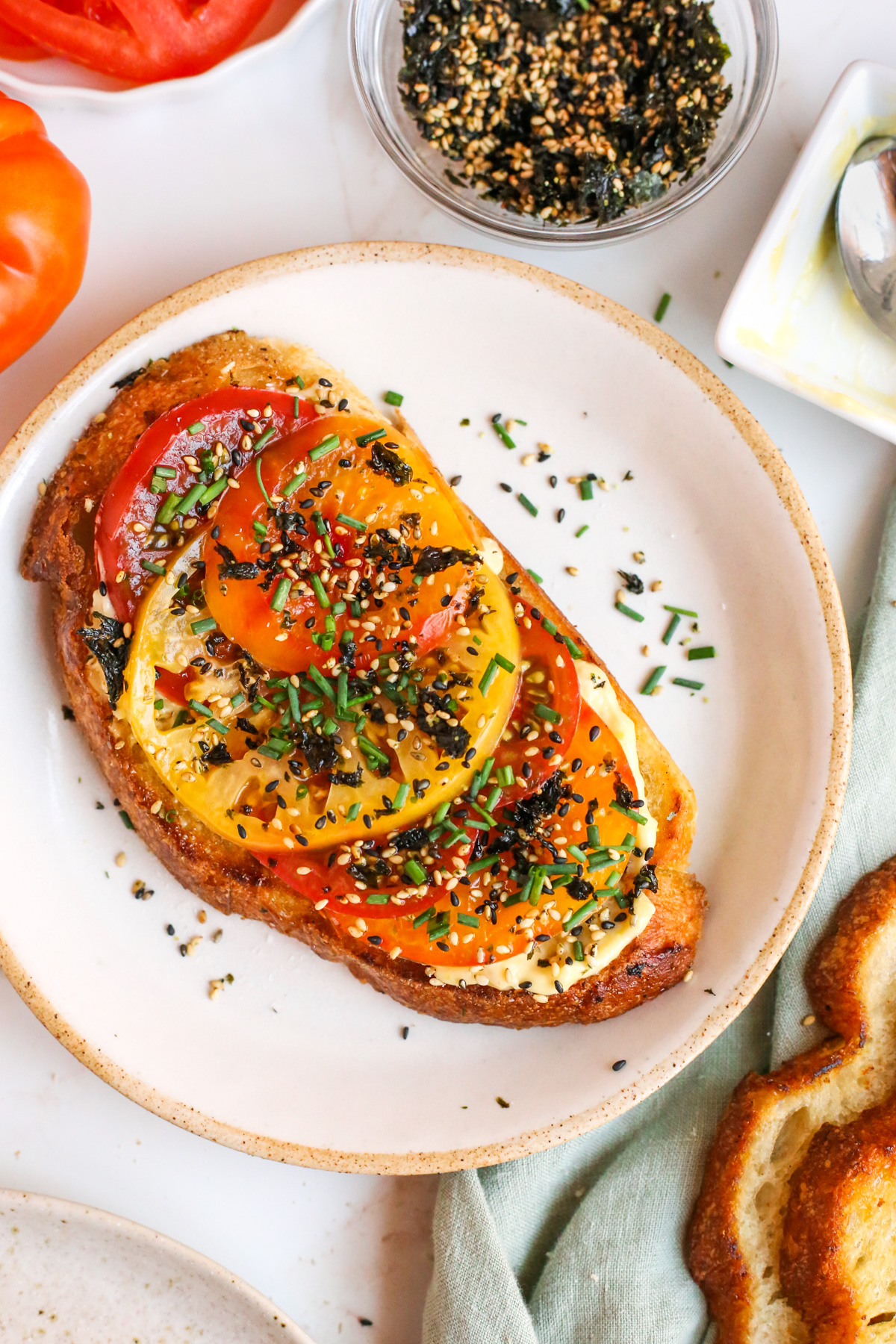 When I heard Eric Kim had a new Furikake Tomato Sandwich recipe for NYT Cooking, I had to check it out immediately. I've been a fan ever since I picked up a copy of his cookbook, "Korean American: Food That Tastes Like Home." He took the classic Southern sandwich and added a layer of furikake, which is already a staple in my kitchen. When you're a little bit Korean, a little bit American, and 100% committed to making simple, great-tasting recipes at home, it's only a matter of time before signature ingredients from both cuisines merge together!
Rather than a sandwich form, I opted for an open-faced toast situation. For me, I just find it easier to eat since the tomato slices tend to slide around. I just don't want to risk going for the perfect bite only to double up on bread! And consider this your friendly warning in advance: it still gets a little messy. But there's no shame in getting a bit of mayo, a few bread crumbs, or a trail of summer-soaked tomato juice running down your chin!
And don't let the toast train stop here. I recommend also trying my Caesar Beans on Toast, Caprese Avocado Toast, or Balsamic Strawberry Avocado Toast!
Why You'll Love This Tomato Toast Recipe
You're in charge with how thick you lay on the flavor. While I offer a few estimated measurements in the recipe card, your taste buds will be the ultimate guide!
It's a breeze to make any time of day! This simple recipe could be a savory breakfast, the perfect snack in the middle of the day, or the side dish for a delicious meal.
And you'll be in good company. Cultures around the world are familiar with the delightful combination of summer tomatoes and toast. A few examples include pa amb tomàquet from Catalan cuisine or pan con tomate as part of a typical Spanish breakfast.
I think you'll agree this Furikake Tomato Toast is a good idea. And I promise, it will not disappoint! Let's get started.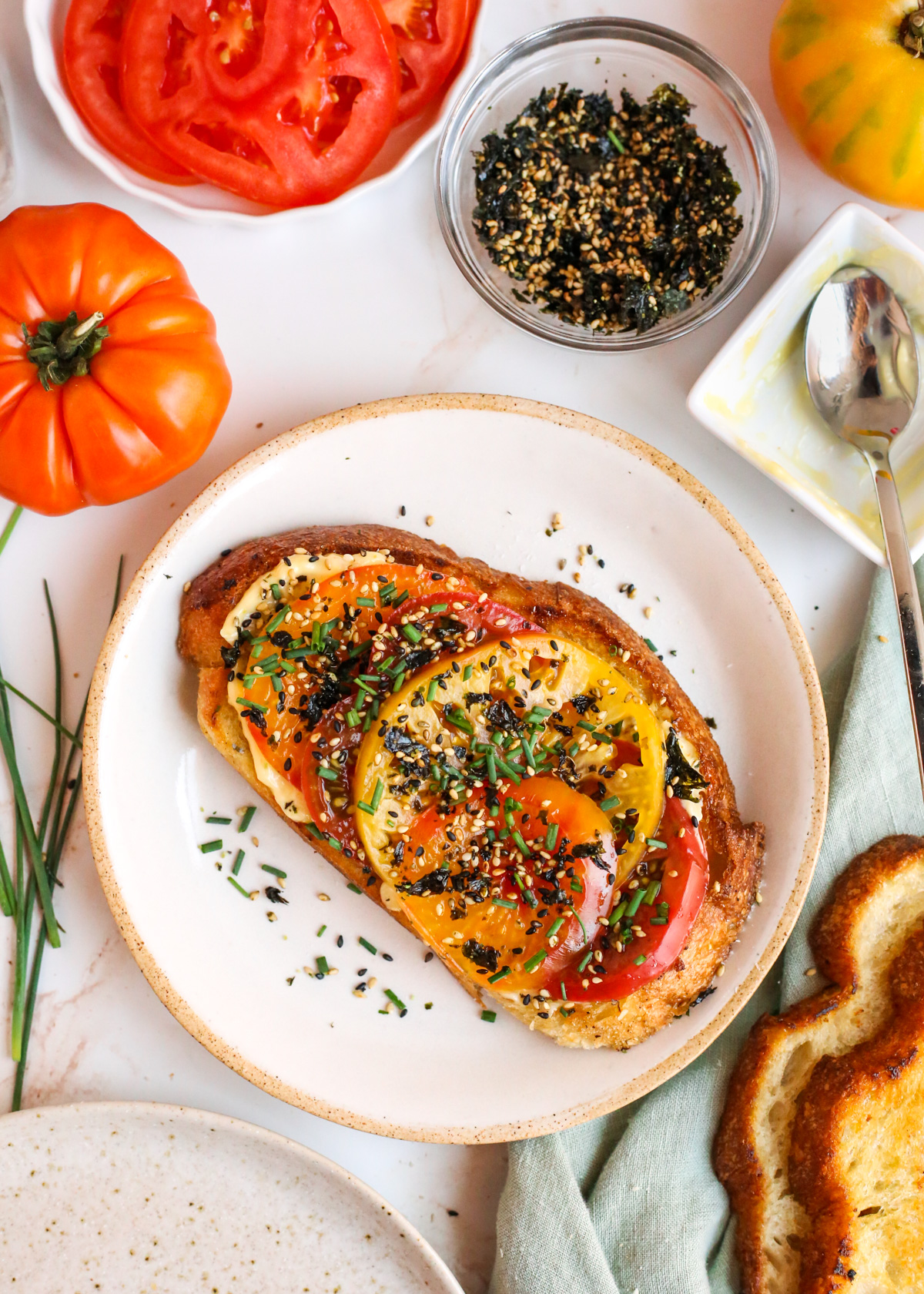 Ingredients You'll Need
Sourdough bread
Olive oil
Fresh tomatoes. I love the subtle flavor differences and beautiful colors of heirloom tomatoes, but during tomato season, you really can't go wrong with any kind of ripe tomato. You can even use little cherry tomatoes or grape tomatoes if you want to!
Kewpie mayonnaise. This is a Japanese-style mayonnaise made with egg yolks and MSG (monosodium glutamate) for a super rich texture and savory flavor. If you don't have any, regular (real) mayonnaise will also work well.
Garlic
MSG or flaky sea salt, coarse kosher salt, or other preferred seasoning salt
Furikake
Chives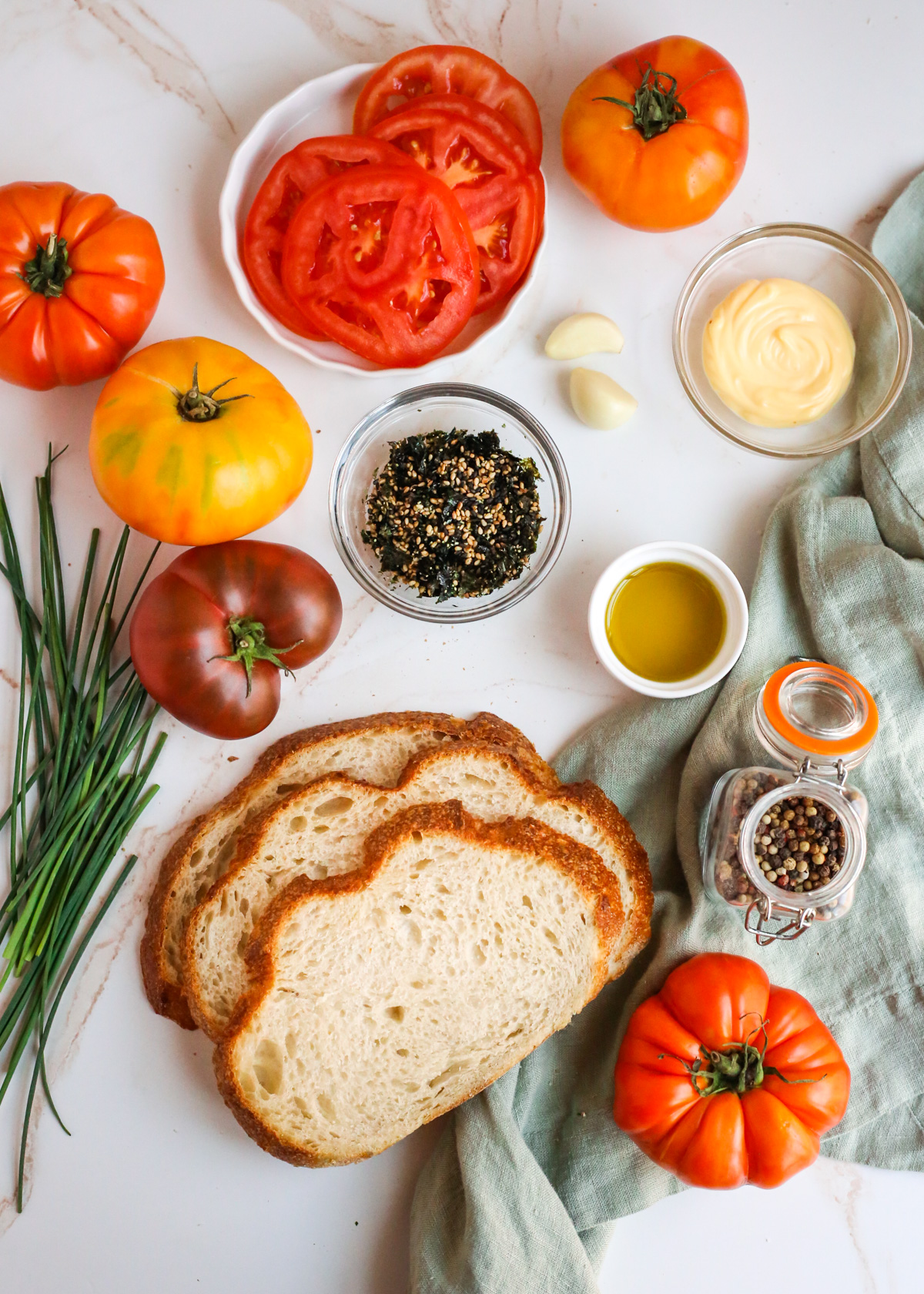 These simple ingredients should be easy to find, especially during peak tomato season. Look for heirloom tomatoes (or any variety of ripe tomatoes) at a local farmers market or farm stand to support local growers. Or maybe you're super lucky and have a green thumb or friendly neighbor for some home-grown goodness!
What is furikake?
Furikake (which pronounced as "fur-uh-kah-kay") is a Japanese seasoning made from a mix of nori (dried seaweed), sesame seeds, salt, and sugar. It literally means, "sprinkle over" which is exactly what you can do with a bowl of rice or any recipe that needs a flavor boost. It's packed with savory umami flavor, the fifth basic taste along with sweet, salty, bitter, and sour. I featured it in my Furikake Salmon recipe, which I highly recommend if you haven't tried it yet.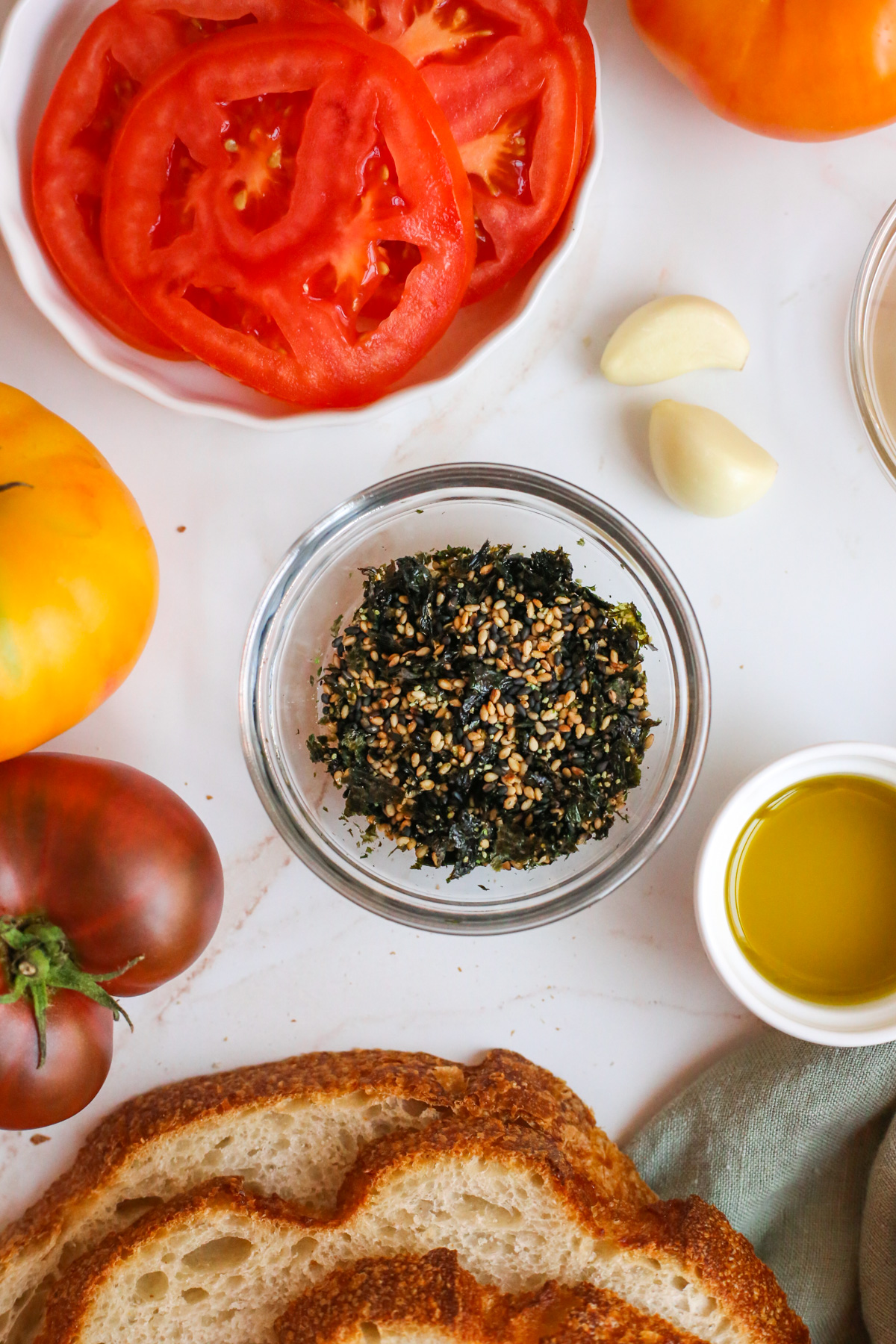 And naturally, that deep umami flavor in furikake makes it an obvious choice for upgrading a basic tomato toast recipe like this one! You can easily find it in any Asian market, and more grocery stores are stocking in the aisle with the other spices and seasonings.
Why use MSG?
Seeing this ingredient might give you pause, but hear me out: there is no better way to enhance the amazing flavor that's already in tomato toast.
That's because MSG is monosodium glutamate. It's just a single sodium molecule that links up with the amino acid glutamate. Our taste buds register this as umami flavor, the fifth basic taste element along with sweet, salty, sour, and bitter. You can visit KnowMSG to learn more about the science and safety of MSG. But all you really need to know is there's a reason people have been adding a little salt to sliced tomatoes for as long as we can remember! It tastes amazing, and it's as simple as that.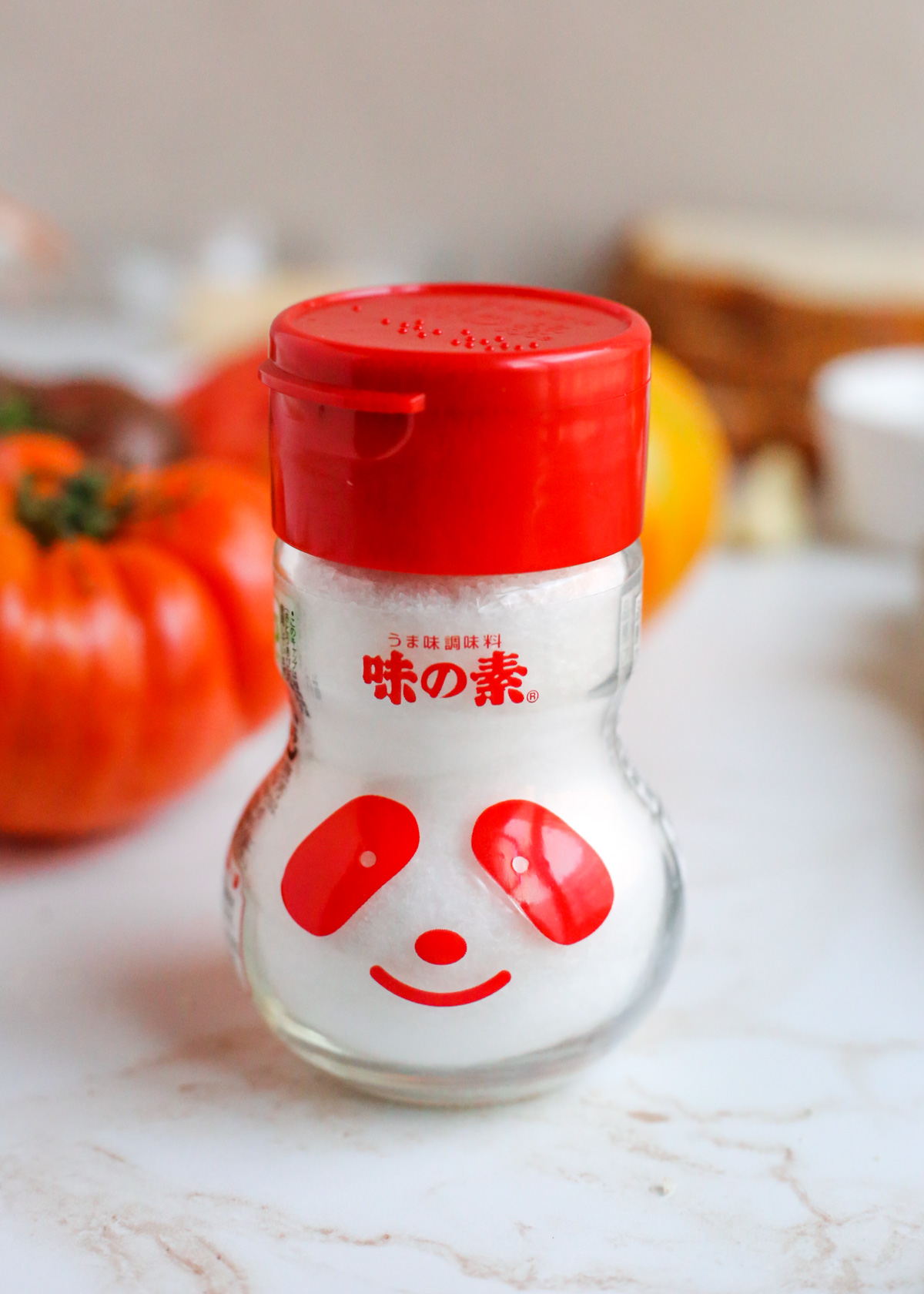 Glutamate is the most common amino acid out there and tomatoes are a rich source. Adding salt is a roundabout way of creating MSG or further enhancing the savory, umami flavor.
Adding MSG doesn't change the flavor. It's not like adding a herbs or spices. It simply improves, enhances, and intensifies that flavor. Your tomatoes will taste more like tomatoes. And that's exactly what I want you to experience when you try this Furikake Tomato Toast recipe!
How to Make Furikake Tomato Toast
So let's get down to business. The business being, of course, how to take this toast from the page to your plate!
Start with a good quality bread. I personally really like sourdough, and there's a local bakery that makes a fantastic loaf of artisan bread. But you can toast up any type of thick-sliced, sturdy bread that can absorb some tomato pulp without falling apart. That's the last thing anyone needs! I always use a large skillet over medium heat on the stovetop. I don't have a toaster, so this is the perfect way to evenly toast my bread slices.
Simply brush each side with olive oil and toast to a golden brown on both sides. This won't take long, but it's just enough time to prep the rest of the ingredients.
First, peel a clove of garlic and mince or grate it into a chunky paste. Add to a small bowl and stir into the kewpie mayo.
Wash and dry your tomato and use a serrated knife to cut it into thick slices. I like to start on the base/bottom end so I can hold onto the stem.
Grab that toasted bread and smear the garlic mayo across one side. At this point you can shake some of the furikake over it (optional). Layer on the sliced tomatoes, doing your best to center or arrange them so you get en even layer across the toast.
Sprinkle on some MSG and furikake, plus chives. You can chop these on a cutting board or (my preference) with kitchen shears. No need for perfect little pieces!
At this point, serve it up and enjoy. Grab a few extra napkins for when it gets a little bit messy!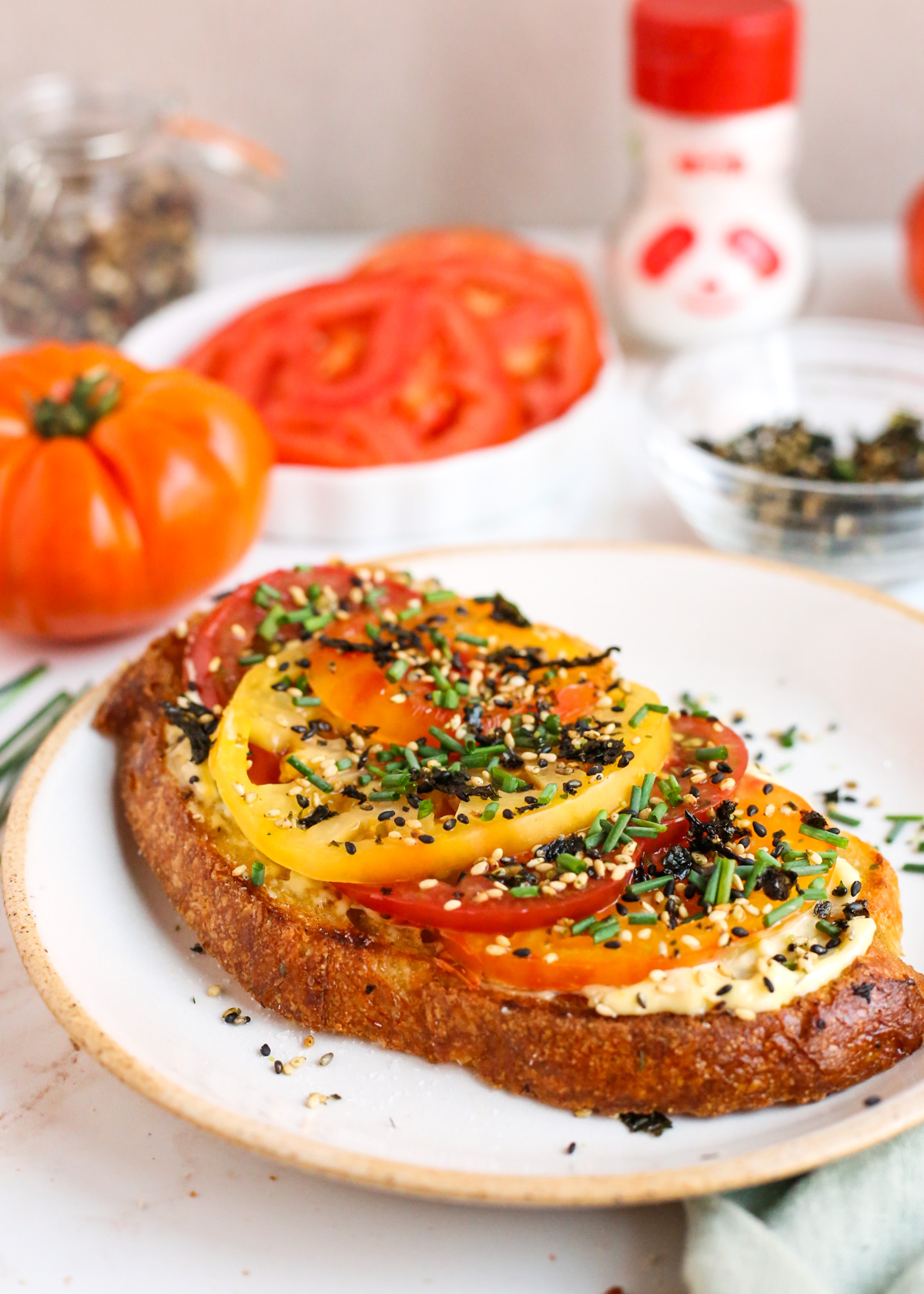 Just note that this is one of those things that tastes best when made fresh and served right away. Unfortunately, there's no great way to keep the toast from just turning into stale bread. And juicy tomatoes always taste best right after they're sliced. But the good news is that this is one of those easy recipes you can make in minutes. Don't worry about trying to plan for leftovers when you can go from start to finish in just five minutes!
Furikake Tomato Toast on Sourdough
Take full advantage of tomato season before it's gone! Juicy heirloom tomatoes are stacked on top of savory, rich mayo on perfectly toasted sourdough bread, then topped with furikake for some extra umami flavor.
Equipment
toaster or toaster oven

cutting board and serrated knife

small prep bowl
Ingredients
1

slice

sourdough bread

1/2

tbsp

olive oil

,

or enough to brush each side of sourdough slice

1

clove

garlic

,

minced or grated

1

tbsp

kewpie mayo

4

thick slices

tomato

,

heirloom variety if available

1-2

tsp

furikake

,

or to taste

1/8

tsp

MSG,

or to taste

4-5

chives

,

chopped

black pepper

,

to taste, optional
Instructions
Brush both sides of the sourdough slice with olive oil and toast to an even golden brown on both sides.

Meanwhile, grate or mince the garlic and stir it into the kewpie mayo. Wash and dry the tomato and use a serrated knife to cut into thick slices.

Once the bread is toasted, spread the garlic mayo on one side. Add a sprinkle of furikake before layering the sliced tomatoes on top. Add a dusting of MSG over the tomatoes, then add the remaining furikake. Use the kitchen shears to roughly chop the chives, evenly distributing them over the top of the toast.

Season with black pepper to taste and slice the toast in half if desired. Serve immediately and enjoy!
Notes
If heirloom tomatoes are unavailable, swap for any variety of ripe tomatoes. If using cherry or grape tomatoes, slice into halves or quarters before adding to the toast.
Nutrition
Serving:
1
serving
,
Calories:
338
kcal
,
Carbohydrates:
35
g
,
Protein:
7
g
,
Fat:
19
g
,
Saturated Fat:
3
g
,
Polyunsaturated Fat:
8
g
,
Monounsaturated Fat:
8
g
,
Trans Fat:
0.03
g
,
Cholesterol:
6
mg
,
Sodium:
766
mg
,
Potassium:
111
mg
,
Fiber:
2
g
,
Sugar:
3
g
,
Vitamin A:
217
IU
,
Vitamin C:
4
mg
,
Calcium:
44
mg
,
Iron:
3
mg
Swaps and Variations
While I think this Furikake Tomato Toast is a must-try as written for an accurate first impression, I totally get it if you want to switch it up next time. Here are a few ideas that will truly complement that savory, summery flavors:
Chop or slice some fresh basil for extra flavor, or layer fresh basil leaves on top of the garlic mayo before adding sliced tomatoes. You can also swap the chives for green onions, which are sometimes more readily available.
Swap the furikake for everything bagel seasoning, which features a few of the same ingredients such as toasted sesame seeds.
Creamy spreads on toast are really having a moment, so hop on this trend by swapping the garlic mayo for something else. You can try creamy goat cheese, ricotta, cream cheese, cottage cheese, or burrata for a few other variations.
Boost the umami flavor even further with some parmesan cheese. It's another ingredient that already contains some MSG.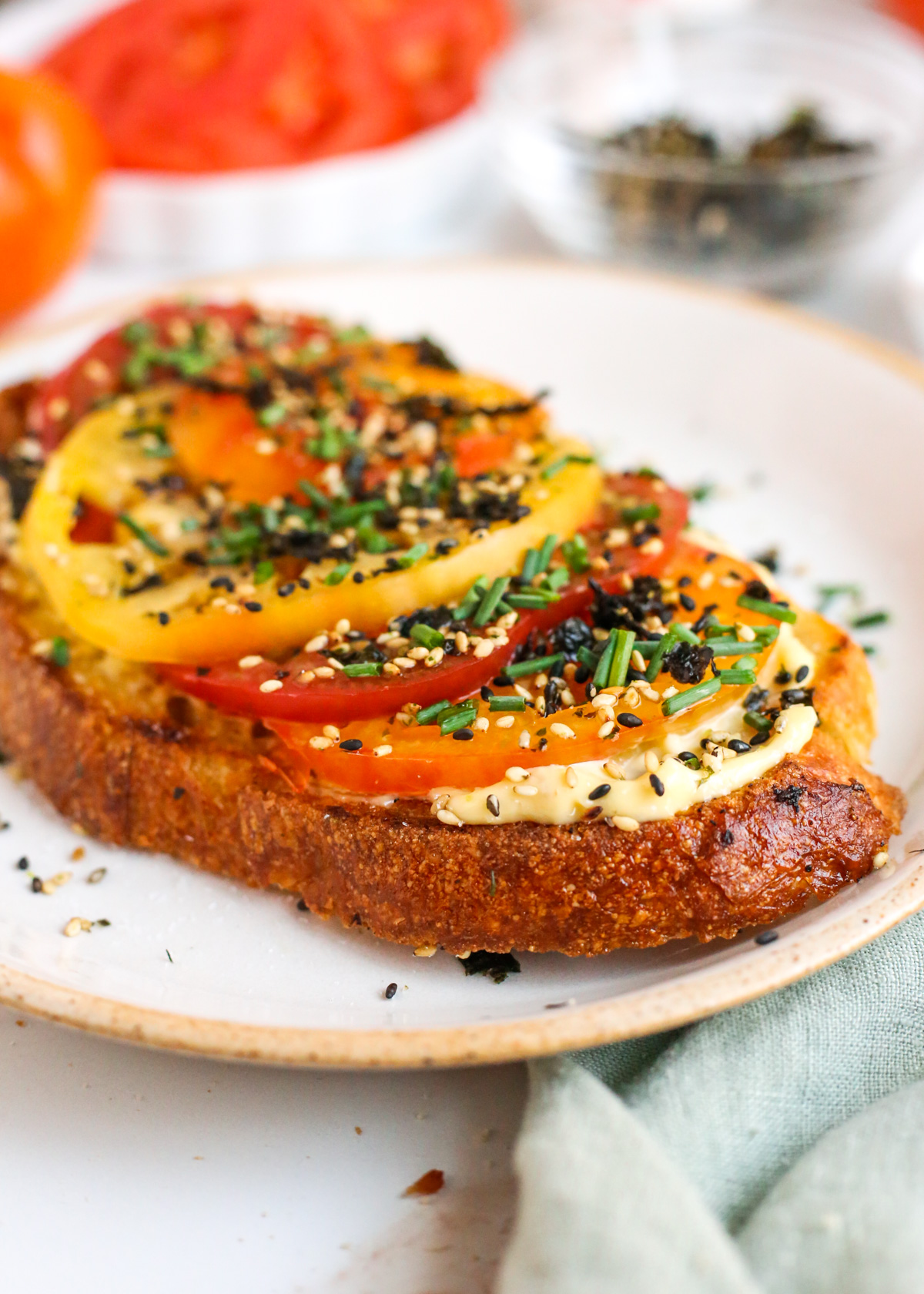 Regardless of how you dress up this Furikake Tomato Toast, I think you'll like the end result. If you give it a try, let me know what you think by leaving a rating or comment. I'd love to hear how it turned out!
And as always, thanks for stopping by the Street Smart Nutrition blog! You can find more and follow along on Instagram and YouTube, and don't forget to sign up for my newsletter so you never miss a new post. Cheers to more fearlessly nourishing meals!