Think split peas are only for soup? Think again! Time to dust off the bag of split peas that's been sitting in your pantry for longer than you care to admit. If you've ever wondered what to do with green split peas besides soup, this Summer Split Pea Salad recipe is here to show you!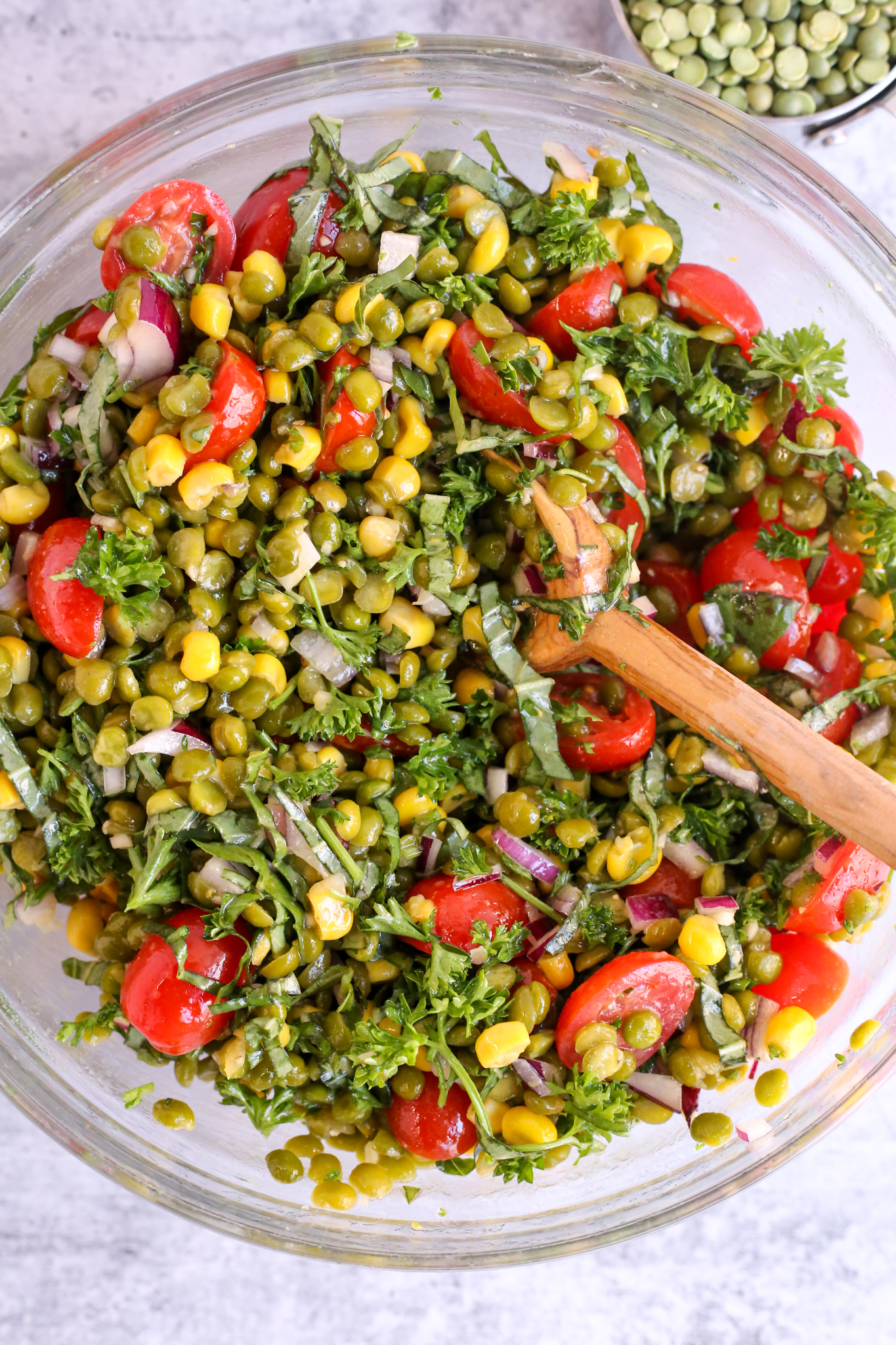 No judgments if you thought split peas were only good for soups and curries.
Because that's a fact…they're an affordable, nourishing ingredient for both of those things. But they can do so much more! Keep this Summer Split Pea Salad recipe on deck, especially during warmer months when you're craving something lighter in flavor and cooking effort.
Why You'll Love This Split Pea Salad Recipe
It's big on flavor, texture, and color, meaning it punches above its weight for satisfaction when you eat for any of those reasons
If it's nutrition you're after, it delivers on that, too. You get 12 grams of fiber per serving, plus 12 grams of plant-based protein!
It's flexible, forgiving, and totally meal prep friendly so you can make it your own and enjoy all week
I was inspired to try this recipe after seeing it on the USA Pulses website. They share delicious recipes for all types of lentils and legumes, plus valuable information about the nutrition and sustainability of pulses. It's a great resource for dietitians like me but you can access it, too! Their Summer Split Pea Salad got me thinking about #SaladsThatDontSuck, so I had to create my own version!
I shared it on my YouTube channel and it instantly became a favorite. You can check out the video here!
What's the difference between dried peas and split peas?
Split peas might look a lot like lentils, and they're very similar. However, split peas and dried peas aren't the same thing. Split peas come from dried peas, which remain whole instead of being split in half. This can impact your cooking time and the texture of your dish so shop according to what your recipe calls for. They come from the same plant as green peas, but green peas are considered a vegetable while dried and split peas fall into the legume category, and more specifically a type of legume called a pulse.
Green Split Peas vs. Yellow Split Peas
Green and yellow split peas are members of the legume family, just like lentils and peas. But split peas are field peas that are dried and split. That eliminates the need to soak them, speeding up your cooking time by quite a bit. No need to soak split peas! And as a member of the pulse family, you can rely on both for a hefty amount of plant-based protein and fiber. They can be quite filling and satisfying, especially when combined with veggies and herbs like in this split pea salad recipe!
Shop for split peas in any grocery store, where you can find packaged options or bulk bins. And of course, they're available online if you need a convenient option for delivery. Instacart makes it super convenient to get the ingredients for this recipe (and anything else you need) so click HERE to shop!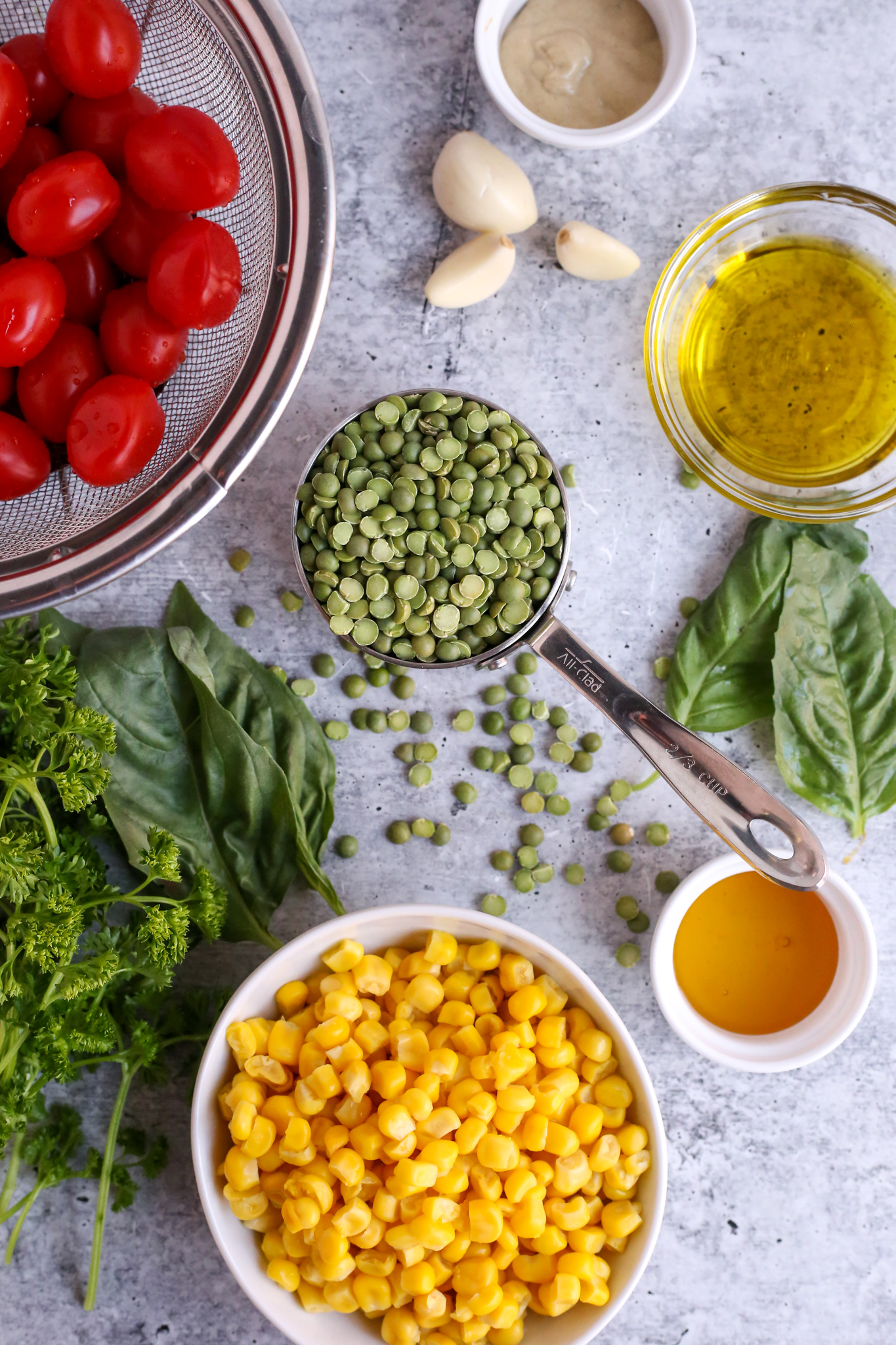 Green Split Pea Nutrition
As I mentioned earlier, this recipe packs in 12 grams of plant-based protein, plus 12 grams of fiber. Pretty impressive! So it goes without saying that green split peas, and all pulses for that matter, offer plenty of nourishing benefits.
But wait, there's more! In a 1/2 cup serving of cooked green split peas, you get:
21 grams of carbohydrates
A good source of vitamin A, vitamin K, and vitamin C
12% of the RDI (recommended daily intake) of folate
7% of the RDI of iron
6% of the RDI for phosphorus
Green split peas also provide B vitamins and trace amounts of other minerals.
Street Smart Nutrition Tip: I really recommending checking out Half Cup Habit. You'll find a ton of information and recipe inspiration to make it easier to hit the recommended servings of pulses more often!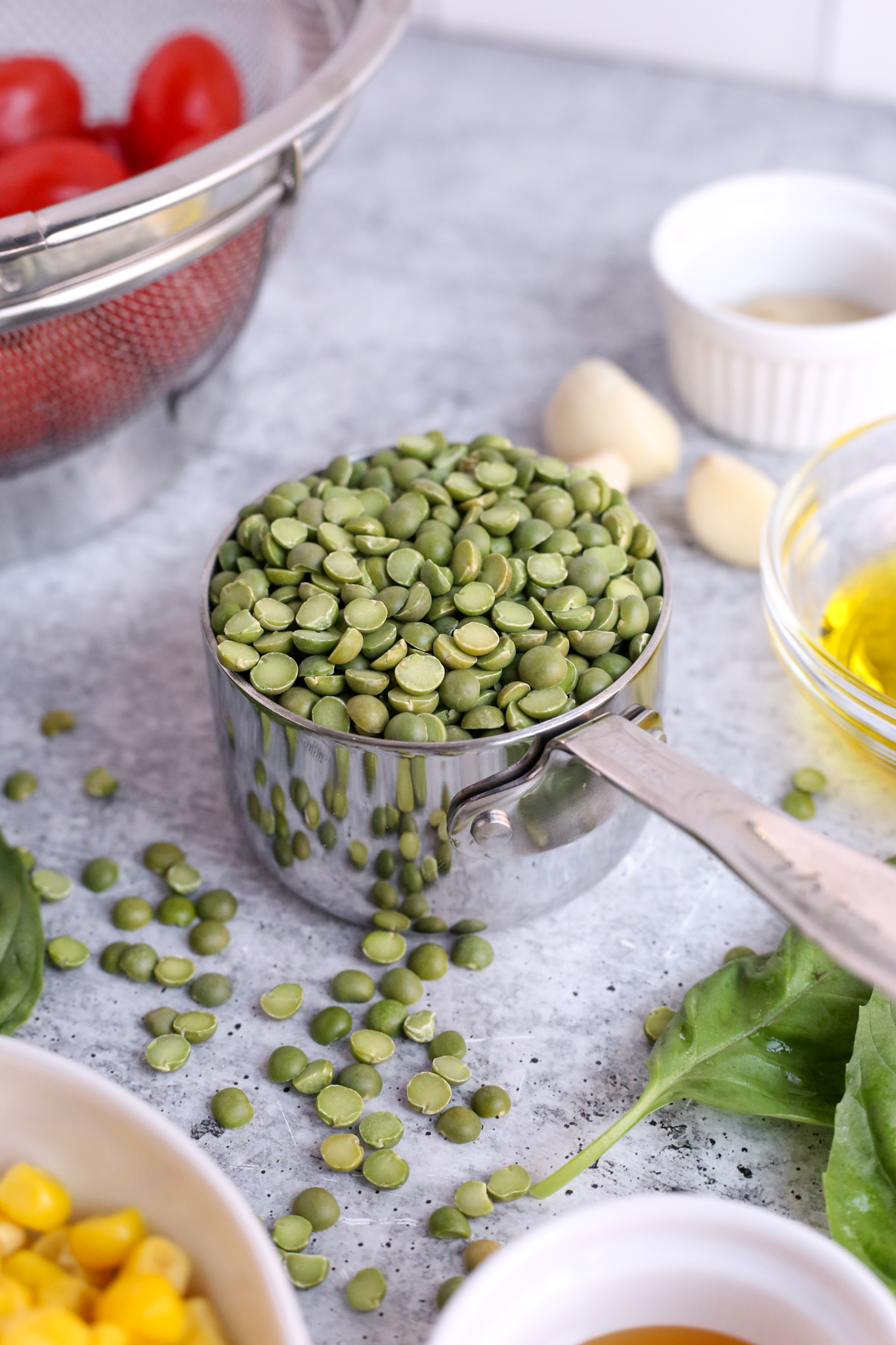 Sustainability Benefits of Pulses
You can also feel good about eating green split peas and other pulses because they're good for the planet. Pulses can convert nitrogen in the air to a nutrient plants can use, and this nitrogen-fixing ability sets them apart from other crops. As a result, they require less fertilizer. They're also more drought-tolerant than other crops so they can be grown without irrigation in a lot of areas.
What to do with green split peas besides soup?
My personal vote goes towards this Summer Split Pea Salad recipe…after all, I take pride in making great tasting salads and sides, and although I'm biased, I think this one qualifies. But if you're looking for even more ideas for what to do with green split peas besides making a soup, try these options:
Include them in the mixture for homemade falafel or veggie burgers
Blend into a pesto sauce – start with my easy 5-ingredient pesto as a base
Make a savory mason jar breakfast with veggies and eggs
Add them to a pasta salad like this one
Make a DIY hummus, either using only cooked split peas or in combination with other pulses or edamame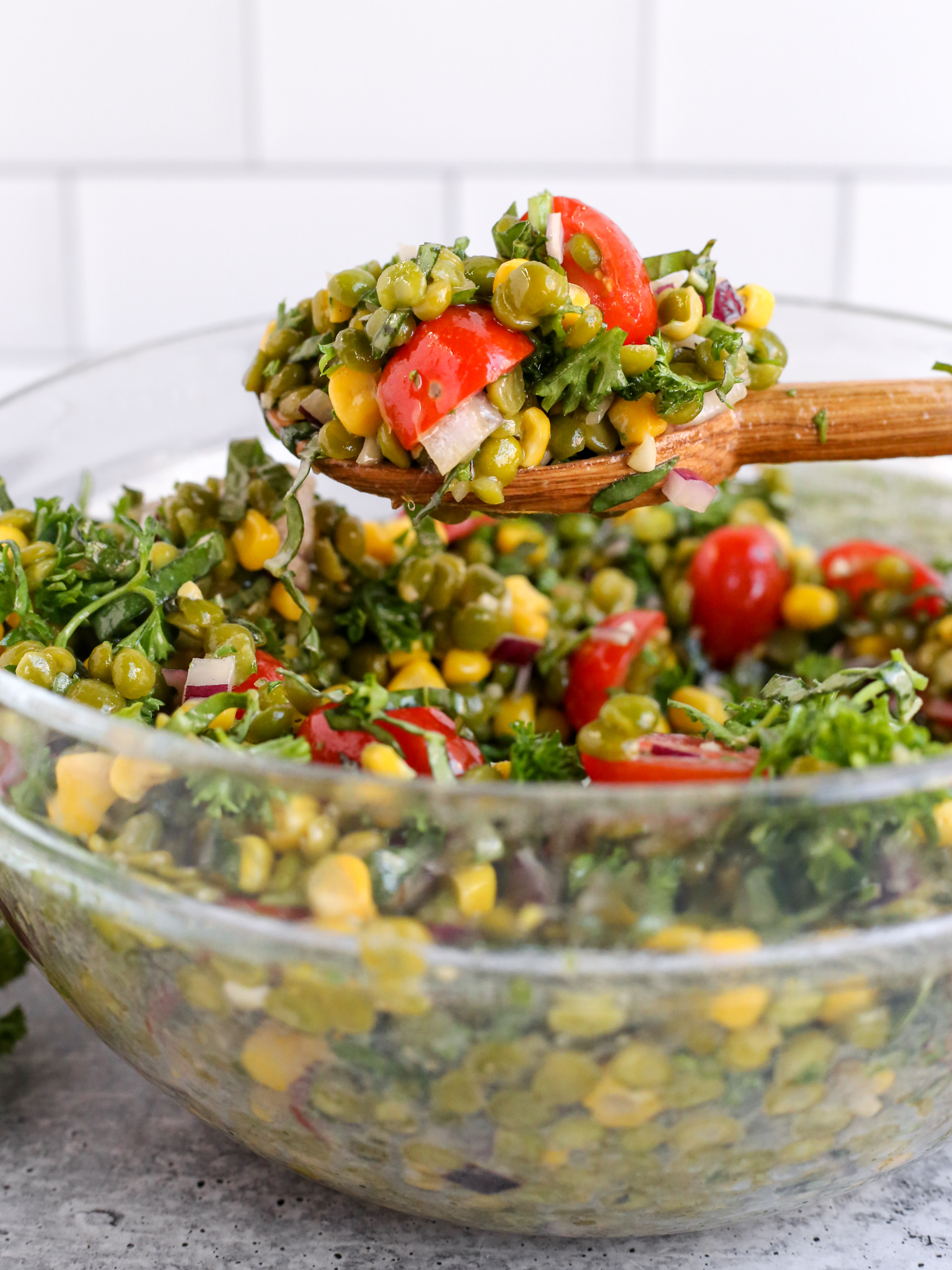 While green split peas are not totally interchangeable with any other beans or legume, they can do a pretty good job. They're most similar to their close cousin, the yellow split pea. Yellow split peas are probably best known as the primary ingredient for dal. Green split peas are slightly sweeter, but you may not notice a significant difference in recipes like this one that use a dressing, fresh herbs, and other strong flavors like red onion and fresh garlic.
And although it's always an option to toss them in split pea soup, you might enjoy this take on green split peas when it's hot and humid.
How To Make Split Pea Salad
Don't be intimidated if you've never cooked with them before – I'll show you how to cook green split peas!
Sift through the dried split peas and give them a quick rinse.
Then measure about a 2:1 ratio of dried split peas to liquid. This is an estimate, as I sometimes allow a little extra liquid for a softer texture. Use water, or if you like more flavor, cook with broth or stock or add bouillon cubes for seasoning.
Bring the liquid to a simmer on the stovetop then add the green split peas. Lower the heat if needed and simmer, uncovered, for 15 to 20 minutes or until the liquid is absorbed and the split peas are tender without being mushy.
If any liquid lingers in the pot at this point, strain it off as excess liquid can make the split peas overly soft. I like mine with a little bite left in them but it's totally up to you.
That's it! You can store them for meal-prep options during the week or add them to recipes like this one.
For this Summer Split Pea Salad recipe, I used canned corn (drained), red onion, tomatoes, basil, and parsley for fresh, summer-inspired flavor. The dressing is an easy DIY vinaigrette with lemon juice, dijon mustard, garlic, and a hint of sweetness from honey.
You can find the full list of ingredients plus measurements and instructions right here!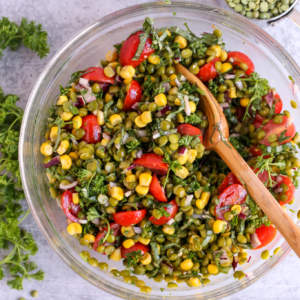 Easy Summer Split Pea Salad
This is the perfect recipe for green split peas that isn't soup! This summer split pea salad recipe is easy, quick, simple, and tastes delicious the next day – perfect for meal planning and meal prepping.
Ingredients
2/3

cup

green split peas

1 1/2

cup

vegetable broth

1/8

tsp

MSG (monosodium glutamate)

,

or salt to taste

2

cups

cherry tomatoes

,

halved

1 1/2

cups

sweet corn kernels

,

fresh, frozen, or canned

1/2

cup

red onion

,

finely diced

1/2

cup

fresh parsley

,

chopped

1/4

cup

fresh basil

,

chopped

1

medium

lemon

,

zested and juiced

2

tbsp

extra-virgin olive oil

1

tbsp

dijon mustard

2

cloves

garlic

,

minced

1-2

tsp

honey or maple syrup
Instructions
To cook the green split peas, bring the vegetable broth to a low simmer. Add the split peas and cook, uncovered, for 15 minutes or until all of the liquid has been absorbed. Sprinkle the MSG onto the cooked split peas and stir to combine, or salt to taste. Remove from heat and allow to cool as you finish preparing the other ingredients.

As the split peas are simmering, halve the cherry tomatoes, dice the onion, mince the garlic and zest and juice one lemon.

Combine the olive oil, mustard, lemon zest and juice, garlic, and honey or maple syrup in a small jar with a sealing lid. Shake vigorously to combine.

Add all the salad ingredients to a large mixing bowl: cooked split peas, cherry tomatoes, corn, red onion, parsley, and basil. Drizzle with the prepared dressing and gently fold together until well mixed. Serve immediately and enjoy, or store in the refrigerator and serve chilled if you prefer.
Notes
Enjoy leftovers within 3-4 days for best results. To extend the storage life by another day or two, leave the salad undressed until ready to serve.
Nutrition
Serving:
1
serving
,
Calories:
277
kcal
,
Carbohydrates:
43
g
,
Protein:
12
g
,
Fat:
9
g
,
Saturated Fat:
1
g
,
Polyunsaturated Fat:
1
g
,
Monounsaturated Fat:
6
g
,
Sodium:
61
mg
,
Potassium:
735
mg
,
Fiber:
12
g
,
Sugar:
11
g
,
Vitamin A:
1285
IU
,
Vitamin C:
47
mg
,
Calcium:
58
mg
,
Iron:
3
mg
If you enjoyed this recipe, be sure to leave a rating or comment! And don't be shy about spreading the split pea love…odds are, if you were wondering what to do with green split peas besides soup, someone you care about has had that exact same thought.
That was mostly a joke. Unless you typically have riveting conversations about the minor differences between dried peas and split peas or nuances of cooking with pulses. But hey, you never know when the info might come in handy!
And as always, thanks for stopping by the Street Smart Nutrition blog! You can find more and follow along on Instagram and YouTube, and don't forget to sign up for my newsletter so you never miss a new post. Cheers to more fearlessly nourishing meals!
This post was originally published in September 2022. It has since been updated to improve the overall quality of the information and/or images.