This easy pesto pasta salad with sun-dried tomatoes recipe is mayo-free and can easily be turned into a full meal. You can even make it ahead of time!
---
This month's Recipe ReDux theme challenged us to create a version of a recipe we remember making as a child – or a fun recipe to prepare with kids. Since I don't have any kids of my own, looks like I'm going down memory lane with this easy Pesto Pasta Salad with Sun Dried Tomatoes!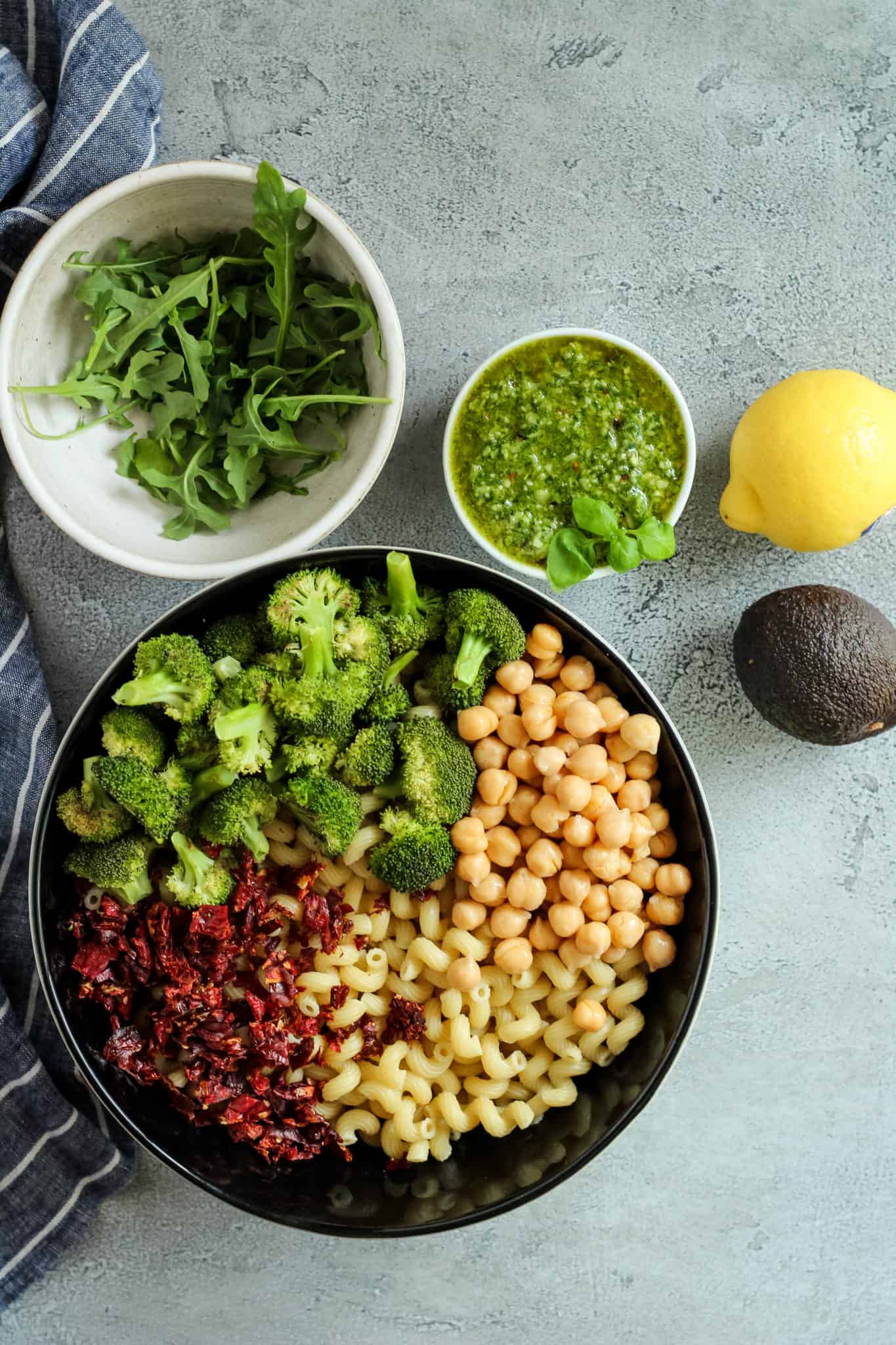 When I was younger I was super active with after school activities and sports. My parents both worked and looking back, I really don't know how they stayed on top of everything because we were everywhere, ALL. THE. TIME. Add in the fact that we lived pretty much in the middle of nowhere, and it felt like we spent half our time in the car just driving to wherever we needed to go.
Needless to say, we didn't always have a lot of time so my parents were pros at getting dinner on the table in no time flat. They always made a point to sit us down together for a meal, just the four of us at the table without cell phones, TVs, or other distractions. September also happens to be Family Meals Month, so even more fitting that I'm talking about this now.
Anyways, since we didn't always have a lot of time, we relied on a lot of packaged and convenience foods. Think Hamburger Helper, Tuna Helper, Rice-a-Roni, Pasta-Roni and Suddenly Salad. That's where I got the inspiration for this recipe because I won't lie…I freaking loved Suddenly Salad. I actually hadn't thought about it years until I was brainstorming for this post and it hit me with some nostalgia. Anyone else grow up on packaged carbs like I did?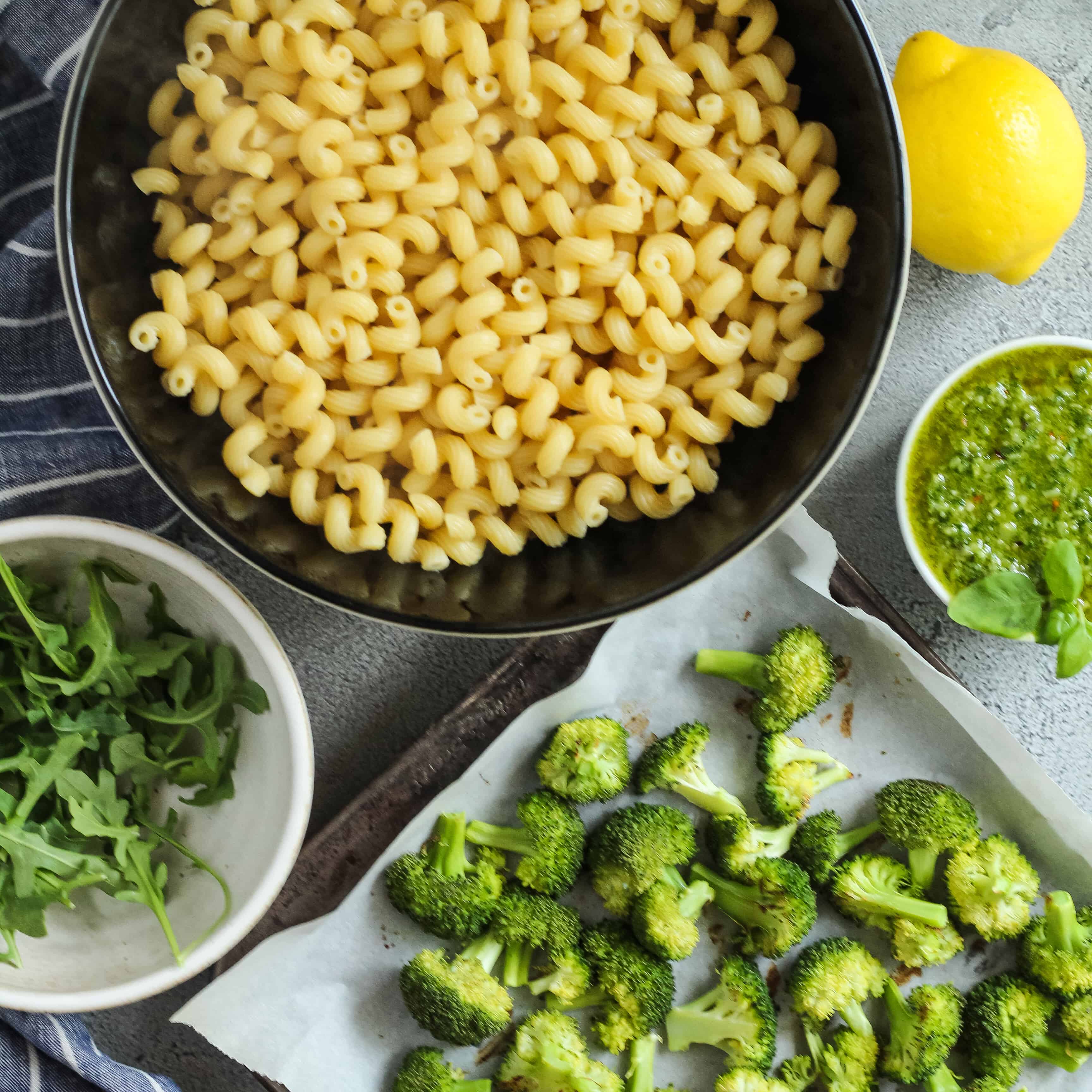 I haven't eaten it in a long time and wonder what my taste buds would think at this point. Luckily, I had all the ingredients needed for a fresher version already laying around at home.
Pretty much anything green was fair game for this recipe. Broccoli is always a good choice (because how tasty is it when you roast it??) but you can swap for any of your favorite veggies. I used my Easy Pesto Sauce since I had the ingredients on hand. I've also used store-bought or frozen pesto for this as well. Pesto actually does fantastic in the freezer, so while the fresh basil is easy to find I've been making batches of it to store for months down the road. Mason jars work really well for this but you can use anything that will seal tightly to avoid freezer burn.
Thaw it out by transferring it to the fridge the night before you plan to use it and it should be as good as the day the you made it. I always say it can last up to six months in the freezer but let's be honest…mine next makes it that long. I burn through my supply by about January and then have to go a few months without until basil is back in season.
First world problems. I tell ya, it's rough.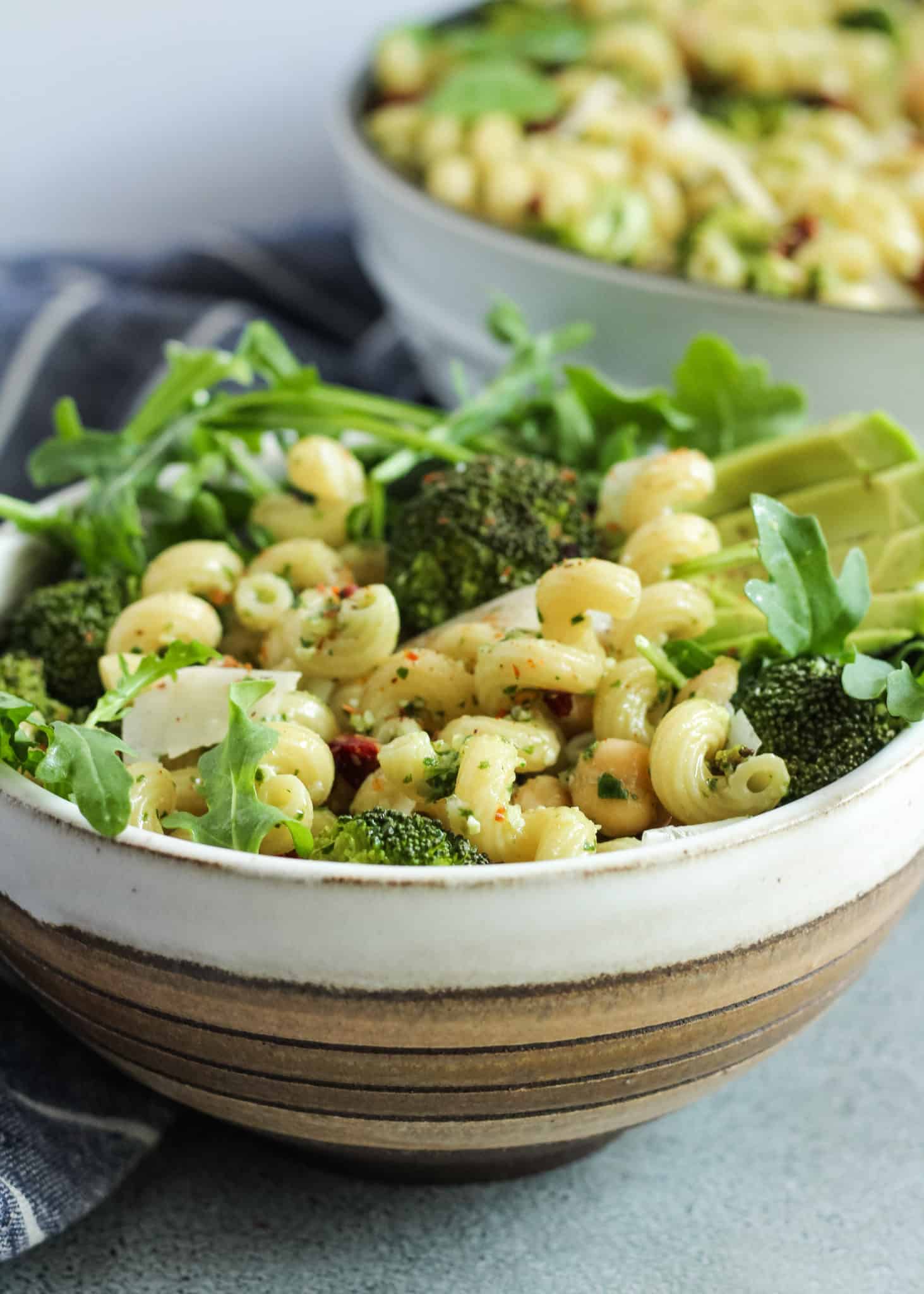 This is a really versatile recipe because it can be served warm or chilled. It's become one of my go-to favorites for family potlucks and other gatherings and it seems to be a crowd-pleaser!
To see some of my other favorites check out my Veggie Packed Pesto Pasta and my Confetti Quinoa Salad.
Easy Pesto Pasta Bowl
This recipe for an easy pesto pasta bowl with sun-dried tomatoes is really versatile and can serve multiple roles. It couldn't be easier to turn this side dish into a main meal. A lot of your basics are already covered (like great taste…so essential). But it's not quite enough for me to feel like I really made a meal out of it. I opted to add more greens so I piled some fresh arugula into a bowl. Then I added half an avocado because I mean, is it even a meal if there's no avocado??
That's a joke, of course. Anything can become a meal with or without avocado but they were 0.99 and that's a steal so I'm very into avocados this week.
And then finally, I added a pouch of salmon for some high quality protein. I'm also trying to incorporate more seafood into my routine. When it's this easy to do it, I really have no reason not to. I think seafood is often perceived to be expensive, hard to prepare, or smelly…maybe even all of the above. I'm happy to say pouched salmon is none of the above. I try to always keep a few cans or pouches of salmon or tuna on hand for easy lunch options or to convert side dishes into meals like I did here.
And trust me – even though these look like pretty bowls for this recipe, it usually doesn't look anything like this in the heat of the moment when my stomach is growling and I need food ASAP. Keep in mind that simple food is sometimes the best food. Not every meal has to be extravagant and fancy. I sometimes think it would be nice if that were the case but then I remind myself that would get old after a while. I loved my simple family meals growing up. Sure, there were times when we made a special dish or made something out of the ordinary. But an easy pasta salad that's ready in less than 20 minutes and can feed us for multiple meals?
I'd take that any night of the week.
Here is the recipe for Pesto Pasta Salad with Sun Dried Tomatoes:
Pesto Pasta Salad with Sun Dried Tomatoes
This easy summer salad can be served hot to cold. Choose your favorite short pasta and a homemade or store-bought pesto sauce. It's ready in no time and works great for leftovers!
Ingredients
1

16 oz box

rotini, or bowtie pasta

1

cup

pesto sauce

1

can

chickpeas

1/2

cup

sun-dried tomatoes

,

chopped

1/2

cup

shredded parmesan cheese

1

head

broccoli florets

1

tbsp

olive oil

Fine sea salt and pepper to taste

1/2

lemon (optional)
Instructions
Heat the oven to 400 degrees F. Wash and dry the broccoli, then cut into small florets. Arrange in a single layer on a baking sheet and drizzle with the olive oil. Season with salt and pepper to taste. Roast 10 minutes on high heat or until the edges begin to brown and the broccoli is cooked to your preference.

While the oven is preheating, bring a large pot of water to a boil. Once boiling, add the pasta and cook until al dente, about 8-10 minutes depending on your pasta shape.

Meanwhile, chop the sun-dried tomatoes and drain and rinse the chickpeas. Set aside until ready to combine.

Once pasta is cooked, drain and add to a large mixing bowl. Remove the broccoli from the oven and allow to cool slightly. Add to the mixing bowl with the pesto sauce, sun-dried tomatoes, and chickpeas. If using lemon, squeeze over the top, being careful not to include the seeds. Gently fold together to combine all ingredients.

Top with parmesan cheese just before serving. Serve warm, or chill until ready to serve.
Nutrition
Serving:
1
serving
,
Calories:
268
kcal
,
Carbohydrates:
15
g
,
Protein:
9
g
,
Fat:
20
g
,
Saturated Fat:
4
g
,
Cholesterol:
9
mg
,
Sodium:
573
mg
,
Potassium:
609
mg
,
Fiber:
4
g
,
Sugar:
6
g
,
Vitamin A:
1545
IU
,
Vitamin C:
85
mg
,
Calcium:
218
mg
,
Iron:
2
mg
---
So there you have it! My Easy Pesto Pasta Salad with Sun-Dried Tomatoes. I'm stock piling away some extra pesto sauce so I can enjoy it all winter long. Pesto is seriously one of the things I crave in the dead of winter and as you might imagine, making it when there's no fresh basil in sight doesn't work too well.
And while you're here, be sure to check out the other recipes in this month's Recipe ReDux lineup. It's the first and only recipe challenge founded by dietitians. I always have fun reading the stories that go along with their delicious recipes!
[Tweet "Check out this month's lineup with #TheRecipeReDux – all about family meals and cooking with kids!"]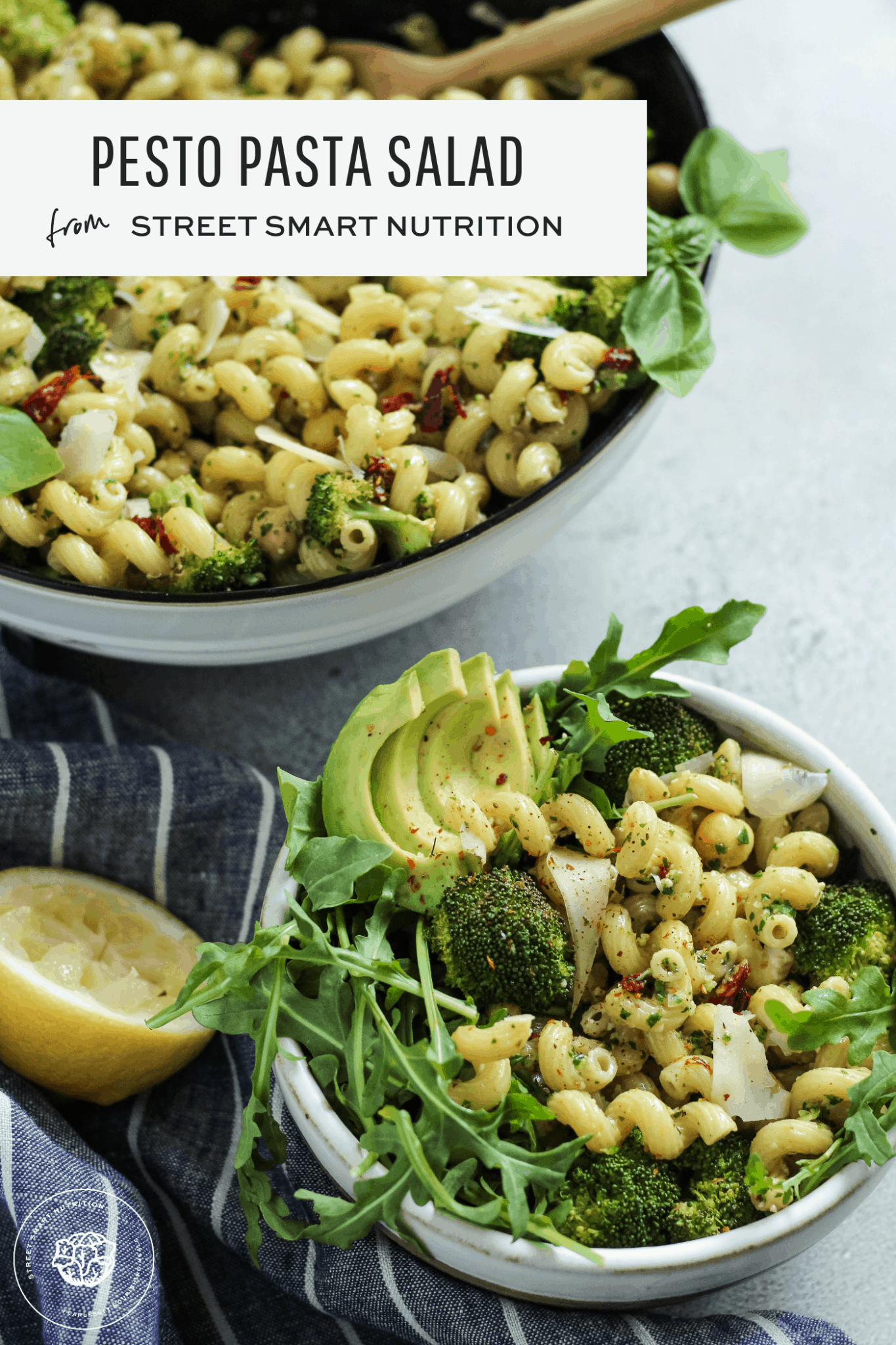 Looking for another version of pesto? Try my Garlic Scape Pesto if you're a fan of garlic! And if you like pesto but want to branch out, I've got something for you. Here's a recipe for a Basic Chimichurri Sauce!