Right now I'm really having a moment with chimichurri sauce. As in, adding it to any and everything that isn't nailed down and loving it. I realized I've never updated my old version of the recipe but I've landed on a basic chimichurri sauce that seems to work well for nearly everything. And that's really not an exaggeration (even though I'm prone to exaggeration) because whether it's pasta, rice, grilled meats, roasted vegetables, seafood, salad dressing, sandwiches, toast, potatoes…you get it.
[Tweet "Check out this Chimichurri Shrimp Summer Salad – it's a versatile condiment that doubles as a dressing"]
Chimichurri sauce is a South American condiment hailing from Argentina. There's a red version as well (chimichurri rojo) with tomatoes and bell peppers but we typically stick with the green version, especially when the summer produce is overflowing and there's so many herbs and veggies to choose from. An authentic chimichurri sauce is has a flavor base of parsley and garlic, and if you know how much I love garlic, you'll know that's right up my alley.
In case you didn't know, I'm very, very into garlic.
Now having never been to Argentina (or South America at all for that matter) I wanted to find out what a true, authentic version of chimichurri sauce consists of. Did some reading, ordered it at a few restaurants. What I learned is that I made the mistake the first few times I made it of turning to the food processor for all the chopping. Which I've since realized isn't necessarily wrong, but it's not how it's traditionally prepared. I'm still fine with using that when the kitchen is a mess and I can't find my favorite knife. It happens. But when I do have the time, it's actually pretty meditative to stand and chop the herbs and garlic.
Adding bonus: the texture of the finished chimichurri sauce is so much better. Instead of being a smooth, pureed consistency, you have a looser texture with chunks of herbs and onion, you can see the flakes of pepper, and I personally prefer it that way. But try it out for yourself and see what you think! Here's the basic chimichurri sauce I like to start with:
Basic Chimichurri Sauce
Chimichurri sauce is an Argentinean sauce or condiment, similar to pesto. It's popularity now reaches beyond South America and this basic version can serve as a base for many other variations and uses.
Ingredients
1/2

cup

fresh parsley, tightly packed

,

stems removed

1/4

cup

fresh oregano

2

tbsp

red onion, very finely diced

3

cloves

garlic

,

peeled

1/2

cup

olive oil

3

tbsp

red wine vinegar

1 to 2

tsp

red pepper flakes

1/4

tsp

coarse sea salt or Maldon flaked salt

1/8

tsp

ground black pepper
Instructions
Prepare the onion and garlic by finely chopping with a chef's knife. Add to a small mixing bowl.

Wash and dry the fresh herbs, remove stems, and finely chop. Add to the mixing bowl, along with all remaining ingredients. Stir to combine, then allow to sit 15 to 20 minutes to allow flavors to mix. Serve with salads, grilled meat or vegetables, or use as a dressing or marinade.

Refrigerate leftovers, then bring to room temperature before re-serving.
Nutrition
Serving:
4
servings
,
Calories:
258
kcal
,
Carbohydrates:
4
g
,
Protein:
1
g
,
Fat:
27
g
,
Saturated Fat:
4
g
,
Sodium:
161
mg
,
Potassium:
98
mg
,
Fiber:
2
g
,
Sugar:
1
g
,
Vitamin A:
831
IU
,
Vitamin C:
11
mg
,
Calcium:
62
mg
,
Iron:
2
mg
---
If you're feeling adventurous, add cilantro, mint, or other summer herbs. I've also experimented with adding lemon or lime juice, a jalapeño, or more chili flakes for different variations on the basic chimichurri sauce. Admittedly, these changes take it further away from being as authentic or traditional but it's a really good way to use up leftover ingredients or that awkward bunch of herbs that's only half used.
With so much summer produce around, I thought I'd try another summer salad version using the chimichurri sauce as the dressing. After all, oil and vinegar is kind of my go-to salad dressing to begin with so getting the added flavor from fresh herbs and garlic seemed like a great idea. It did not disappoint!
To keep this meal simple and quick, I opted for shrimp that had already been peeled and cooked. Prep time for this salad was basically nothing since the chimichurri sauce can be prepped ahead of time and stored until needed. Traditionally, it was left out on a table or countertop at room temperature, which I think is probably still fine. But if you feel better putting it in the fridge, just be sure to bring it back to room temperature before serving. Grilled shrimp skewers are on my list to try next, likely saved for a night when we have a little more time. Sometimes I'm more than happy to sacrifice a little charred grill flavor for the convenience of having someone else do the cooking for me.
Chimichurri Shrimp Summer Salad
This summer salad packs in as much seasonal produce as you can fit on your plate. The flavorful chimichurri sauce doubles as a marinade for grilling and mixes well with creamy burrata.
Ingredients
1

bunch

kale

,

or about 8 cups

1/2

tsp

coarse sea salt

1

tbsp

olive oil

2

cups

spinach

,

or mixed leafy greens

1

large

carrot

1

medium

heirloom tomato

1

bell pepper

,

red or orange

1

cup

cherry tomatoes

,

halved

8

oz

burrata

1

pound

large shrimp, peeled, deveined, and steamed

,

16-20 ct.

1/2

cup

Basic Chimichurri Sauce
Instructions
If purchasing raw shrimp, steam and adjust cooking time if needed.

Wash and dry kale and strip from stems. Tear into bite-sized pieces and place in a large mixing bowl. Add salt and olive oil, then use clean, dry hands to massage the kale until it begins to break down and soften. Work the kale between your fingers for 60-90 seconds or until the volume reduces and the color becomes a deep vibrant green.

Add the leafy greens and toss to combine. Arrange evenly on four salad plates.

Slice the heirloom tomato and distribute evenly. Repeat with the bell pepper, slicing into thin strips or bite-sized pieces. Use a peeler to remove the skin from the carrot, then shave into long, curled strips. Add the halved cherry tomatoes and 1/4 of the burrata to each salad.

Divide the shrimp evenly into four portions and add to the salad. Spoon the Basic Chimichurri Sauce over the top, dressing the salad. Serve immediately.
Nutrition
Serving:
1
serving
,
Calories:
334
kcal
,
Carbohydrates:
10
g
,
Protein:
36
g
,
Fat:
20
g
,
Saturated Fat:
9
g
,
Cholesterol:
326
mg
,
Sodium:
1215
mg
,
Potassium:
608
mg
,
Fiber:
2
g
,
Sugar:
4
g
,
Vitamin A:
9427
IU
,
Vitamin C:
100
mg
,
Calcium:
542
mg
,
Iron:
4
mg
---
So if you're on the hunt for a quick, simple summer salad, give this one a shot. As always, I think of recipes as a suggestions rather than something to follow word-for-word so make it your own and let me know what you think!
[Tweet "Try this Basic Chimichurri Sauce next time you fire up the grill – it's pairs well with nearly everything!"]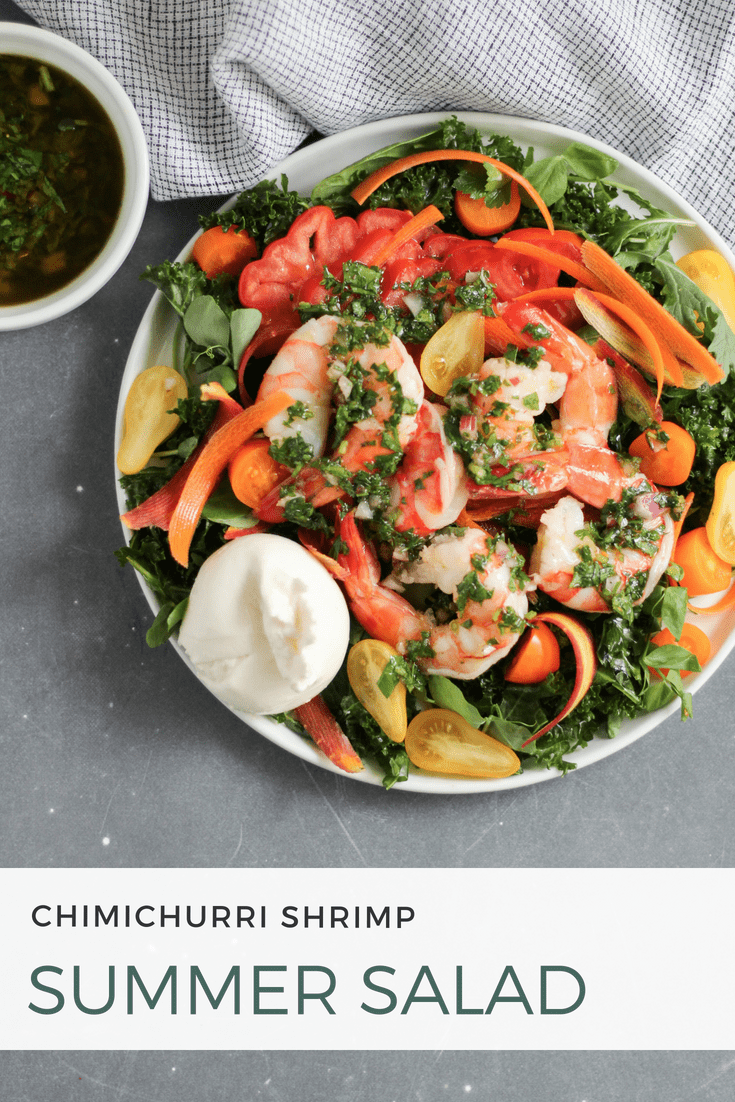 Looking for another amazing summer salad? Check out my Summer Stone Fruit Salad!
---
Find this and many other delicious pescatarian recipes in my cookbook. Now available on Amazon!