These Peaches and Cream Overnight Oats are the simplest way to celebrate peach season for breakfast! If you need an easy, make-ahead, meal prep breakfast that's ready in less than five minutes, this overnight oats recipe is for you.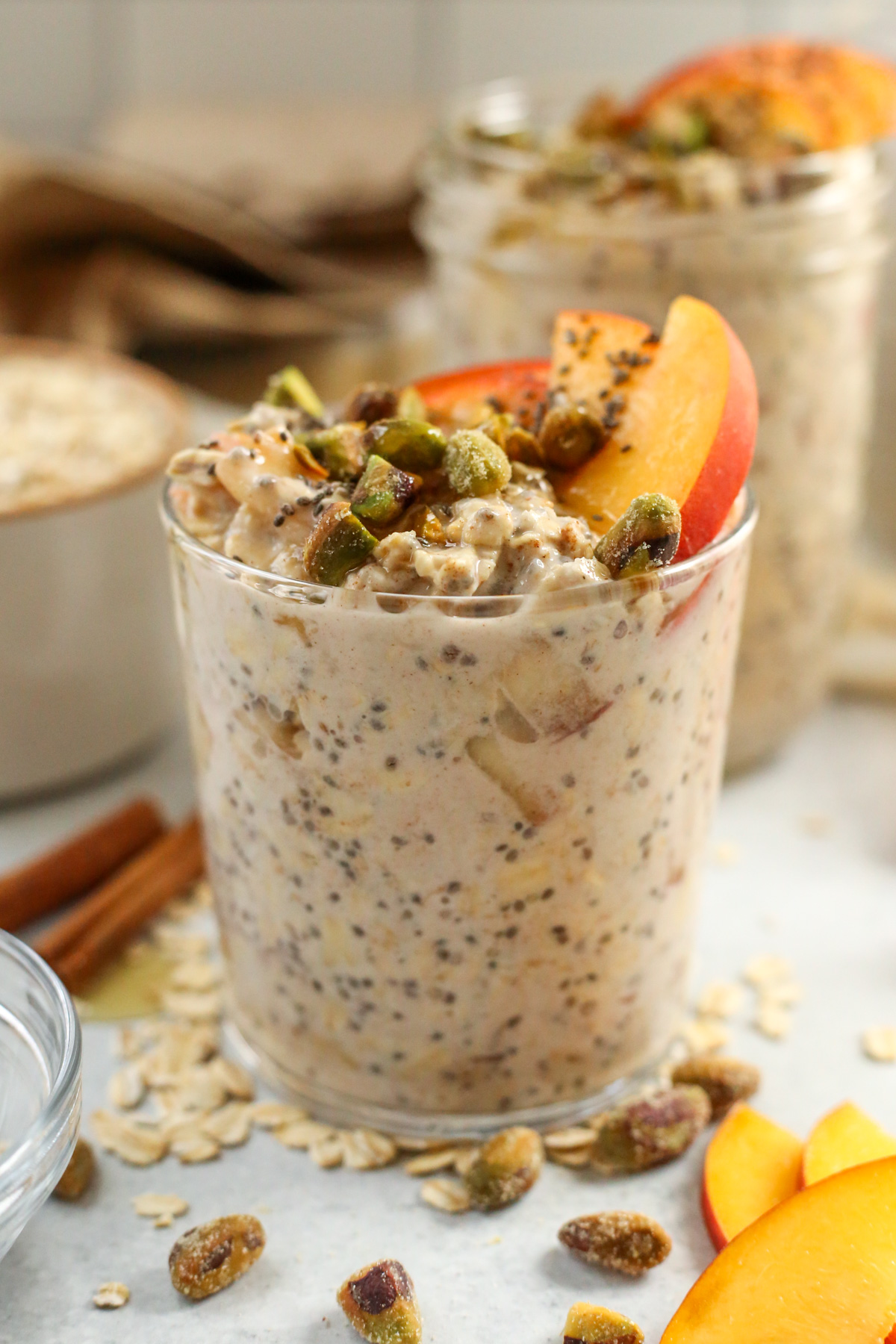 I'm writing this during peach season, and when it's time of year I'm salivating over the juiciest fresh peaches I can get my hands on. I lucked out with a great deal at my local farmers market and immediately knew I'd be using them for this easy recipe!
Why You'll Love Peaches and Cream Overnight Oats
I gushed over how great I think overnight oats are in this post for my Berry Cherry Almond Overnight Oats. Long story short, I wasn't a big fan of cold oats at first. But now I can't imagine not enjoying a recipe like this one!
Here's why I think you'll agree:
Look no further for an all-in-one healthy breakfast. Each mason jar (or whatever you store them in) has carbs, protein, fat, and a serving of fruit. As written, each serving also provides 10 grams of fiber, which is a pretty impressive way to start the day feeling full and fueled.
Overnight oats make busy mornings a breeze. Prep them the night before or make a double batch to enjoy throughout the week.
Hot oatmeal is great when it's cold, but during the summertime you might prefer a chilled version instead.
And, not to mention, treating meal prep as a form of self-care can go a long way towards reducing overall chaos or anxiety over meals.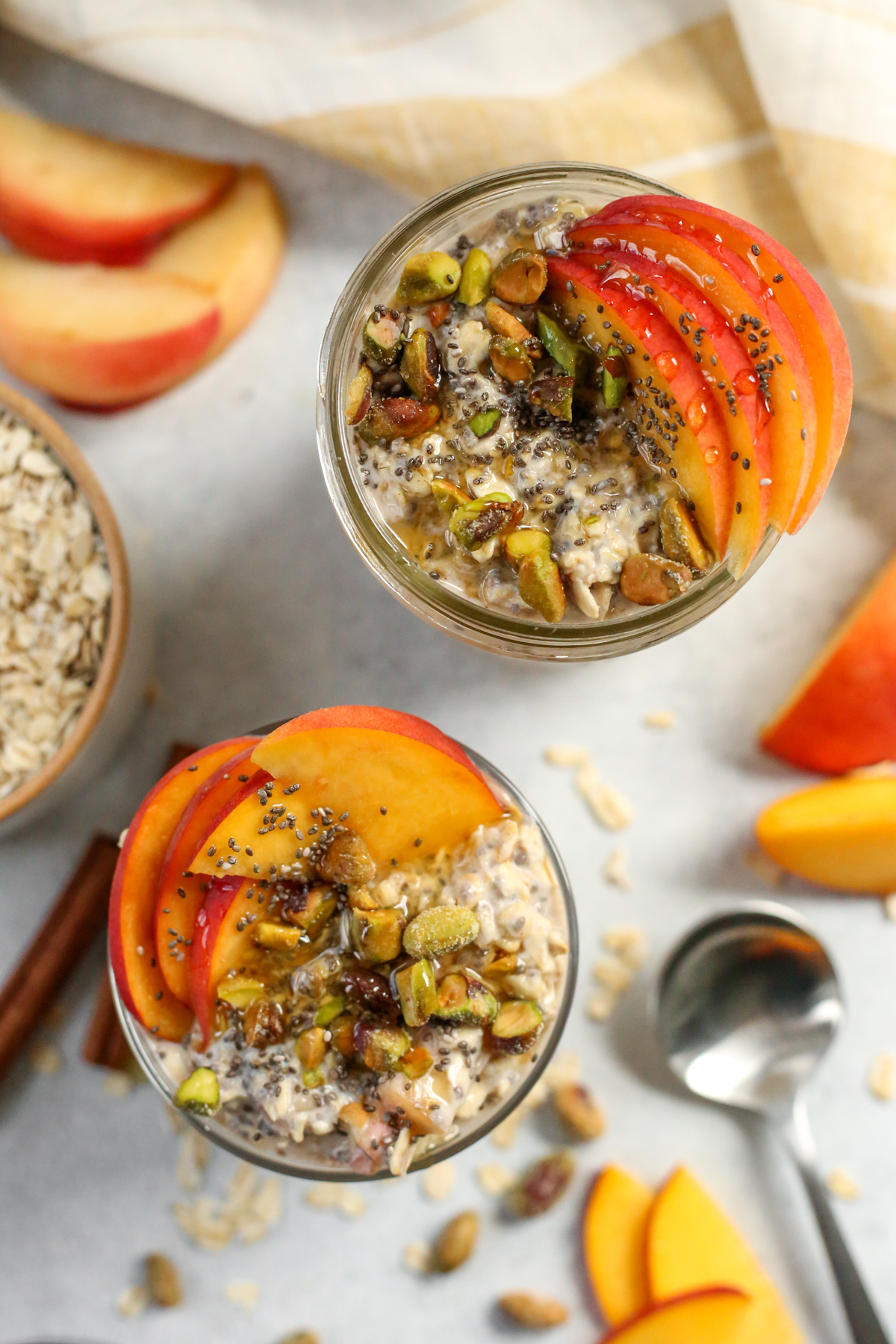 Ingredients You'll Need
The first order of business for the Peaches and Cream Overnight Oats is gathering all your ingredients and a few individual jars. Here's what you'll need:
Peaches. I used two large peaches and thought the ratio was just about right, but adjust as needed based on what's available.
Old-fashioned oats. This type of oat works best for overnight oats, as steel cut oats don't absorb liquid as easily and stay chewy, while instant oats (quick oats) can become gummy and dense.
Milk. I recommend whole milk for its higher fat content, but feel free to use your favorite type of milk instead.
Yogurt
Chia seeds
Shelled pistachios
Honey
Vanilla extract, ground cinnamon, and a pinch of salt
​As for storing your Peaches and Cream Overnight Oats, mason jars are always popular. They're photogenic, I get it. But if it's more practical to use anything else, grab whatever airtight container works best for you and your kitchen. You can even use a large container like these large Rubbermaid ones I love, and scoop out individual portions when you're ready to eat. 
Pistachios Protein Update
In addition to all the peachy goodness in this recipes, I also want to give a shoutout to pistachios! Recent research confirmed that roasted pistachios contain adequate amounts of all nine essential amino acids. This sets them apart from other types of tree nuts and most plant foods. At this time, quinoa and soy are the only other plant foods considered a complete protein.
Protein quality is assessed using the Protein Digestibility-Corrected Amino Acid Score (PDCAAS). This basically accounts for the bioavailability of the unique amino acids found in individual foods. Pistachios have the highest PDCAAS out of any popular snack nut. And they score just slightly lower than other common proteins like eggs and casein or whey (milk protein). Pretty impressive if you ask me!
I think these Honey Roasted Pistachios from Wonderful Pistachios are fantastic in this recipe. They already have a bit of sweetness but won't overpower the flavor of the fresh peaches. This recipe calls for 1/2 cup total but there's no reason not to add extra if you enjoy the crunch and flavor.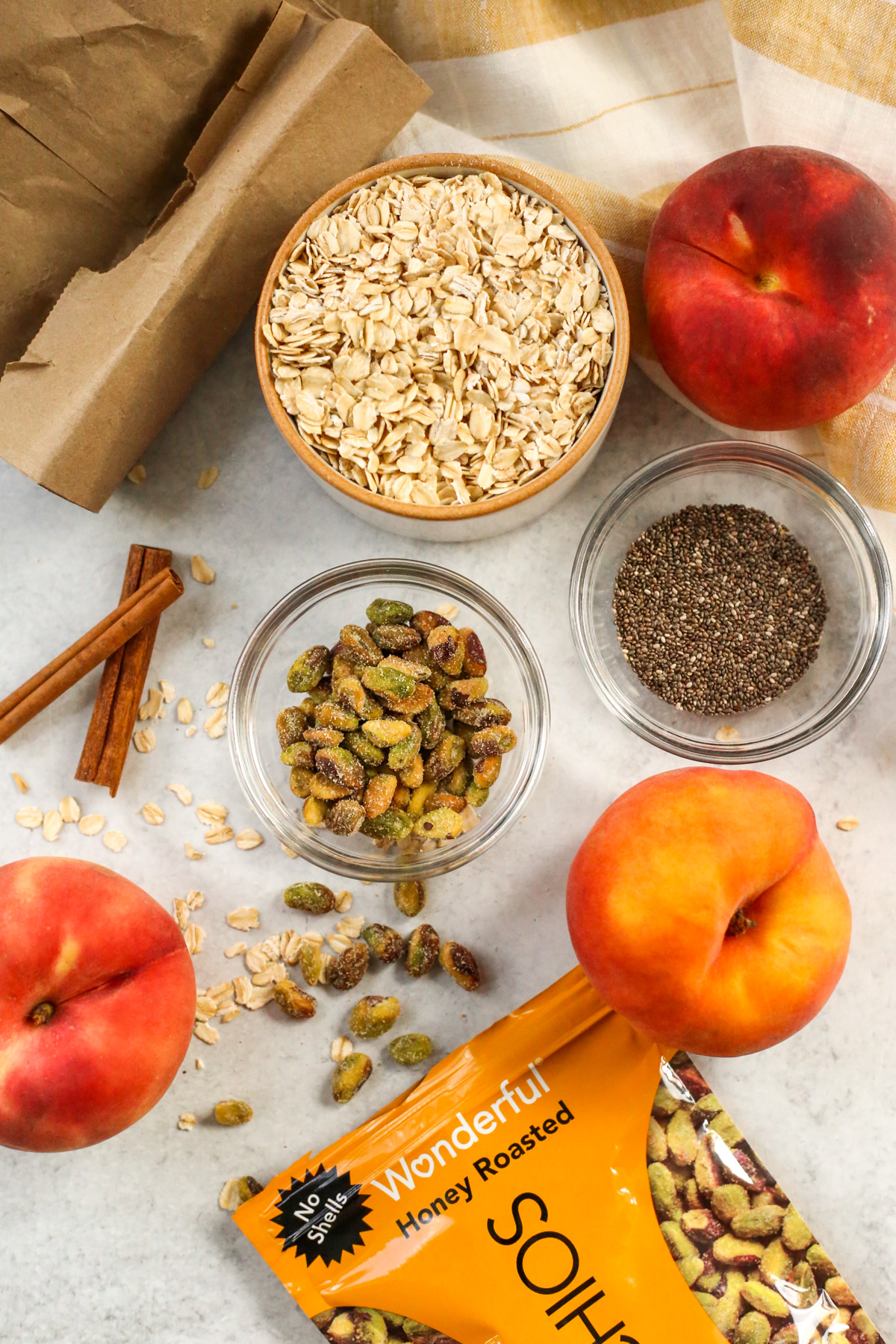 What about canned or frozen peaches?
Go for it! It's not always possible to get ripe summer peaches. Even during peak season, I don't always find good peaches. 
If you're struggling they way I do, there's good news. Both canned peaches and frozen peaches will work for these Peaches and Cream Overnight Oats.
For Canned Peaches: I'm a huge fan of canned peaches because they are consistently good. Great price, long shelf life, what's not to love? When I use canned peaches for this recipe, I drain them over a small bowl or jar. I use the juice or syrup they were packed in for smoothies or other recipes to avoid wasting it (or on a hot day I just drink it after a sweaty workout). The canned peaches can then be easily chopped or diced to mix into the oat mixture.
For Frozen Peaches: There's no need to thaw frozen peaches. Most frozen peaches are peeled and sliced already, and harvested at peak season for the best quality and flavor. Simply break apart any large chunks where pieces might be stuck together. You can roughly chop them into chunks and mix them into the overnight oats. Or, if you prefer bit chunky bites, leave them whole. They will thaw as the mixture is chilled, and by the time you're ready to eat they should be nice and soft.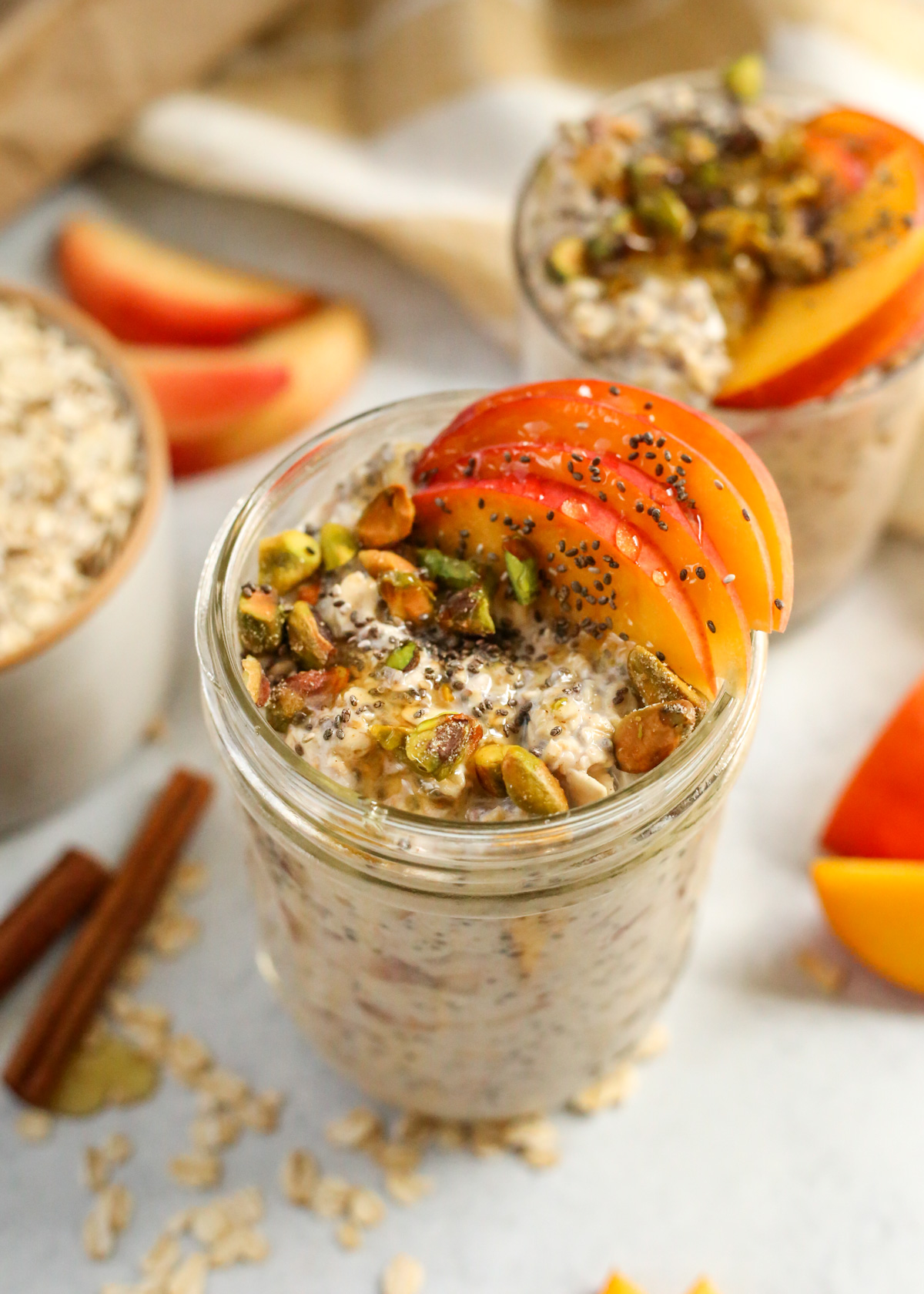 Street Smart Nutrition Tip: You might think only fresh fruit "counts" towards the recommended servings each day. But nope! All forms count, including fresh, frozen, canned, dried, and even 8 ounces of 100% fruit juice. 
How to Make Peaches and Cream Overnight Oats
I've said it before but I'll say it again: overnight oats are one of the easiest breakfasts you'll ever make. If you can pour milk into a bowl of cereal, you can make this recipe. The advantage is that you can do it the night before and prep once to eat all week!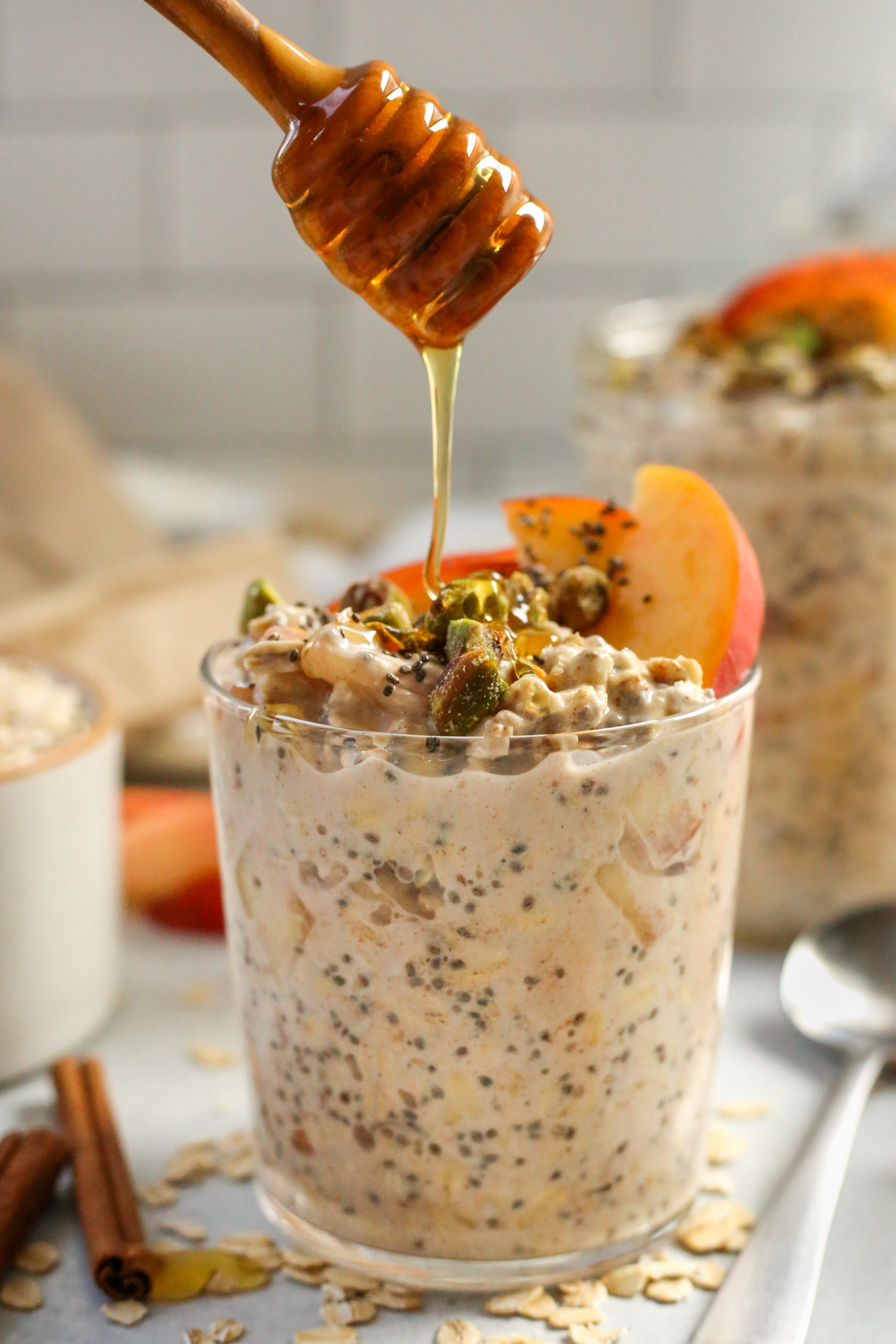 Here are some easy step-by-step instructions for how to make these Peaches and Cream Overnight Oats:
​Gather all your ingredients along with some measuring cups and spoons. You can mix everything together in the individual jars, but it might be easier to use a large mixing bowl instead.
Crush or roughly chop the pistachios. Slice or dice the ripe peaches into bite-sized pieces.
Add the old-fashioned oats to the jars or mixing bowl. Pour in the milk, then add the yogurt, vanilla extract, chia seeds, ground cinnamon, and honey. Stir everything together until the oats are creamy. Then fold in the pistachios and peaches.
Portion them into individual jars and even everything out, then snap on the lids and stash them in the fridge. They need to chill for at least four hours, so technically these overnight oats could be prepped the same day you eat them. But it kind of goes without saying that overnight oats can hang out in the fridge overnight until you're ready to serve them up.
The best part is that the next morning, there's literally nothing to do other than grab a spoon and dig in! You can add extra toppings like extra pistachios or chia seeds but that's totally optional.
Serving and Storage Suggestions
Overnight oats will store well for up to five days. In my experience, any longer than that and the fruit and nuts just don't have the same texture and everything is a little too soggy. It's also really convenient because if you prep these on Sunday, you'll get all the way to Friday if you want to avoid any additional effort for breakfast.
Make sure your Peaches and Cream Overnight Oats are sealed tightly in the fridge. But other than making sure they stay cold, your work is done!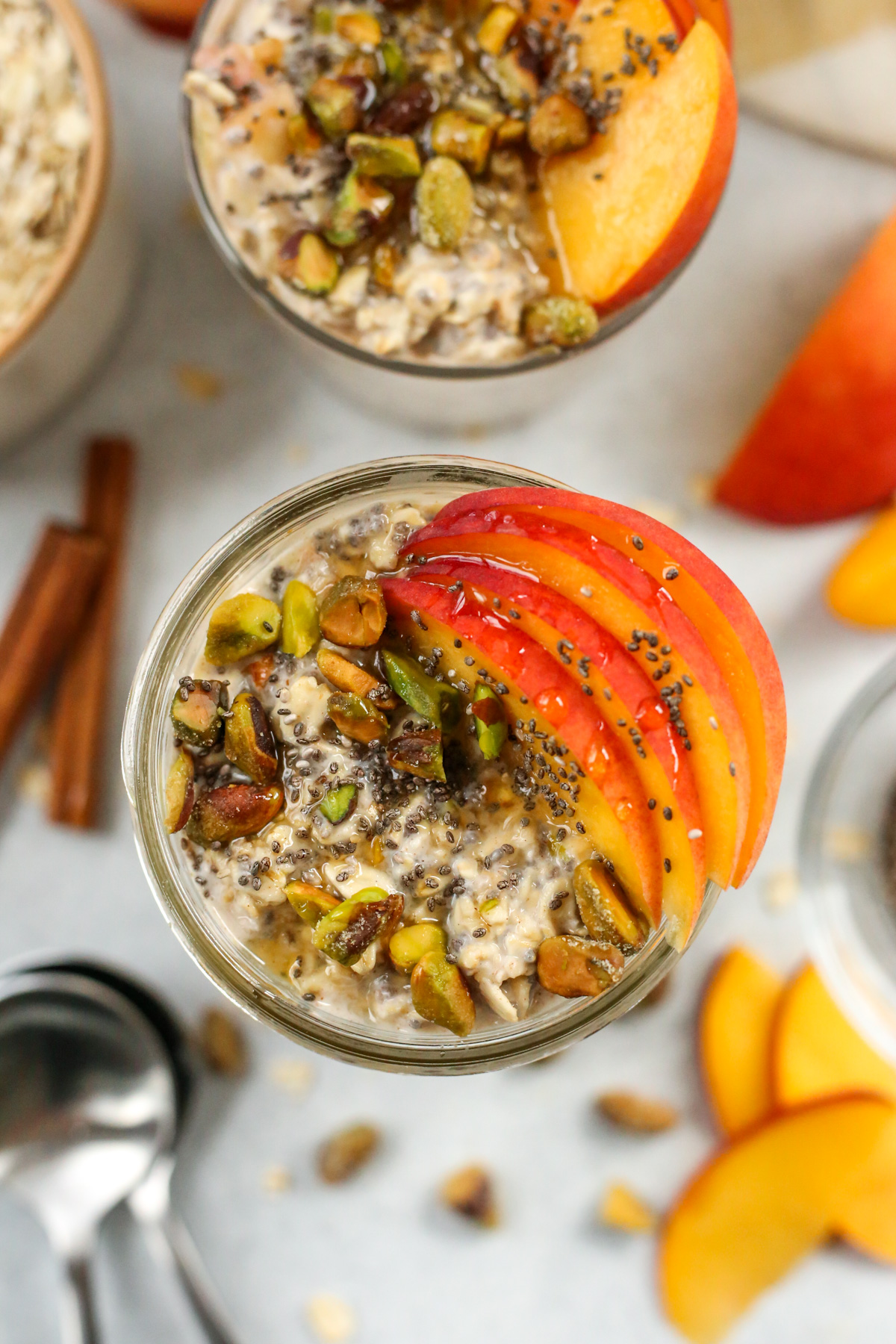 Swaps and Variations
Let this base recipe for Peaches and Cream Overnight Oats be your launchpad into whatever suits your fancy! There are so many ways to make it your own. If you need a few ideas, try my suggestions:
Add a spoonful of nut butter (almond butter works especially well) when you serve it, or mix it in when you prep it and let it add to the creaminess.
Bulk up the protein content by stirring in some of your preferred protein powder.
For a dairy free option, swap the whole milk for coconut milk, almond milk, soy milk, or any other non-dairy milk alternative. Same goes for a non-dairy yogurt, or skip it entirely. Note that this won't have the same creamy texture, but for allergies and dairy intolerances, you gotta do what you gotta do! You can create a slightly thicker texture by using a little less milk.
On the other hand, if you want it extra creamy, swap the whole milk for half and half or even heavy cream.
Use almonds, walnuts, or pecans instead of pistachios. An early version of this recipe used sliced and slivered almonds and they turned out great.
Use a drizzle of maple syrup, brown sugar, or agave nectar as an alternative sweetener.
As you can see, the possibilities are endless! I think it's possible to make these Peaches and Cream Overnight Oats every week for an entire summer and never have the same version twice. The full recipe is posted below!
Peaches & Cream Overnight Oats
Ripe, juicy peaches pair perfectly with chia seeds, honey, and pistachios. Prep this easy breakfast the night before for a quick meal to grab as you head out the door. No cooking required!
Equipment
measuring cups and spoons

cutting board and sharpened knife

individual jars or storage containers,

mason jars or similar
Ingredients
2

cups

old-fashioned, rolled oats

2

cups

whole milk

5

oz

vanilla Greek yogurt

,

one container

1/2

cup

shelled pistachios

,

crushed or roughly chopped

3

tbsp

chia seeds

2

large

ripe peaches

,

diced or sliced

1/2

tbsp

honey

1/2

tsp

vanilla extract

1/4 to 1/2

tsp

cinnamon

1

pinch

kosher salt
Instructions
Prepare individual glass jars or storage containers with lids.

Add the old-fashioned oats, milk, yogurt, chia seeds, honey, vanilla, cinnamon, and salt to the mixing bowl. Stir well until combined and creamy. Fold in the pistachios and peaches, mixing together until evenly distributed.

Scoop or portion the overnight oats mixture into the individual jars. Seal tightly and store in the refrigerator. Chill at least four hours before serving, or overnight.

When ready to serve, top with additional sliced or chopped peaches, pistachios, chia seeds, honey, or cinnamon if desired. 
Notes
Eat within 4-5 days for best results.
Nutrition
Serving:
1
serving
,
Calories:
432
kcal
,
Carbohydrates:
57
g
,
Protein:
18
g
,
Fat:
17
g
,
Saturated Fat:
4
g
,
Polyunsaturated Fat:
5
g
,
Monounsaturated Fat:
6
g
,
Trans Fat:
0.01
g
,
Cholesterol:
16
mg
,
Sodium:
82
mg
,
Potassium:
665
mg
,
Fiber:
10
g
,
Sugar:
21
g
,
Vitamin A:
552
IU
,
Vitamin C:
5
mg
,
Calcium:
249
mg
,
Iron:
3
mg
And with that, I hope you have some simpler mornings ahead of you! If you try this recipe and enjoy it, please let me know! Leaving a rating or comment is a great way to support my and let me know your feedback for this Peaches and Cream Overnight Oats recipe.
And as always, thanks for stopping by the Street Smart Nutrition blog! You can find more and follow along on Instagram and YouTube, and don't forget to sign up for my newsletter so you never miss a new post. Cheers to more fearlessly nourishing meals!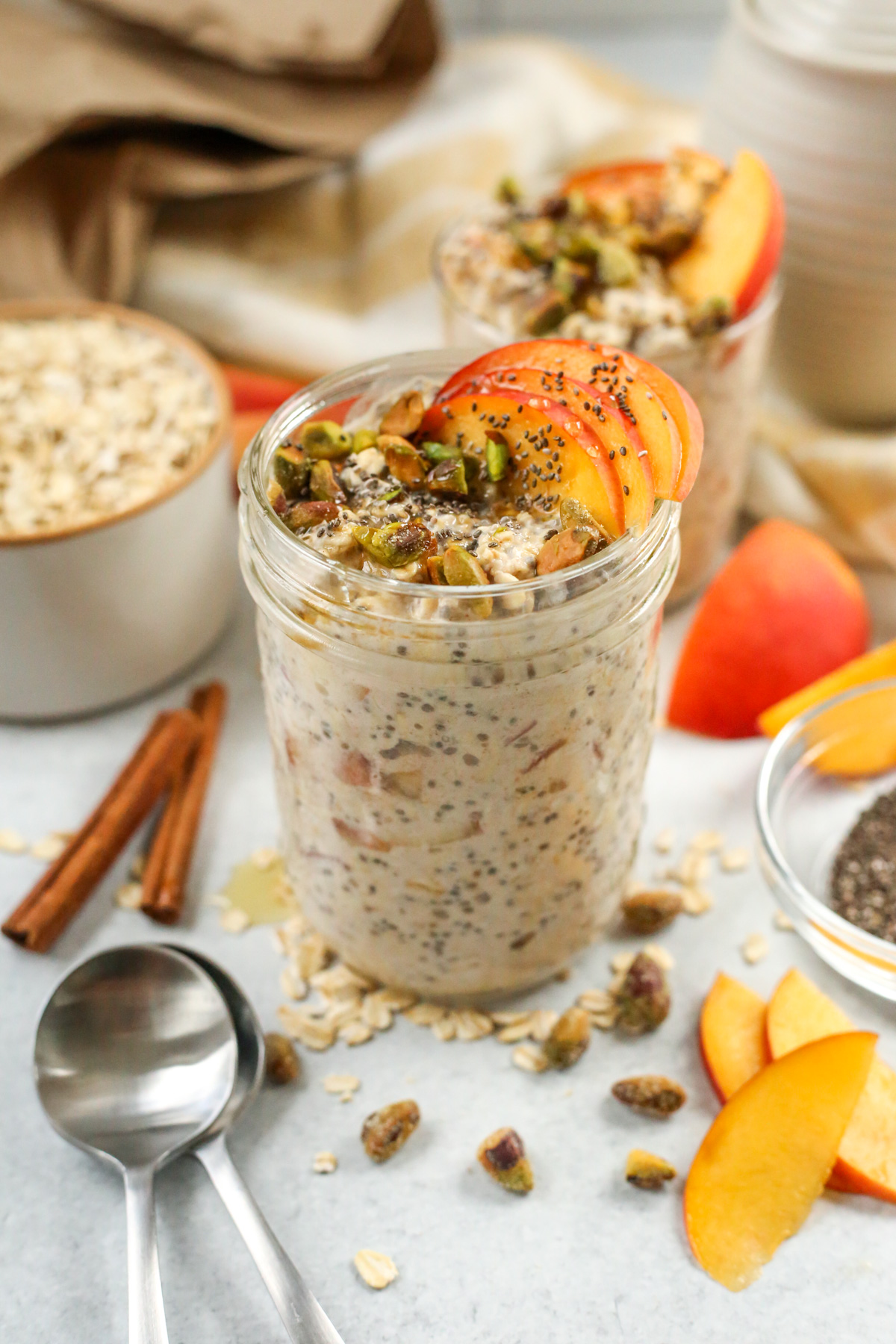 Disclosure: This post was originally published in July 2018. It has since been updated to improve the overall quality of the information and/or images. SaveSaveSaveSaveSaveSave