You're going to love this recipe for Braised Beef Neck Bones with a Chinese five spice pomegranate glaze! The best part: it can be made on the stovetop with a Dutch oven and without wine! Keep scrolling to learn how to cook beef neck bones for a restaurant-quality meal at home.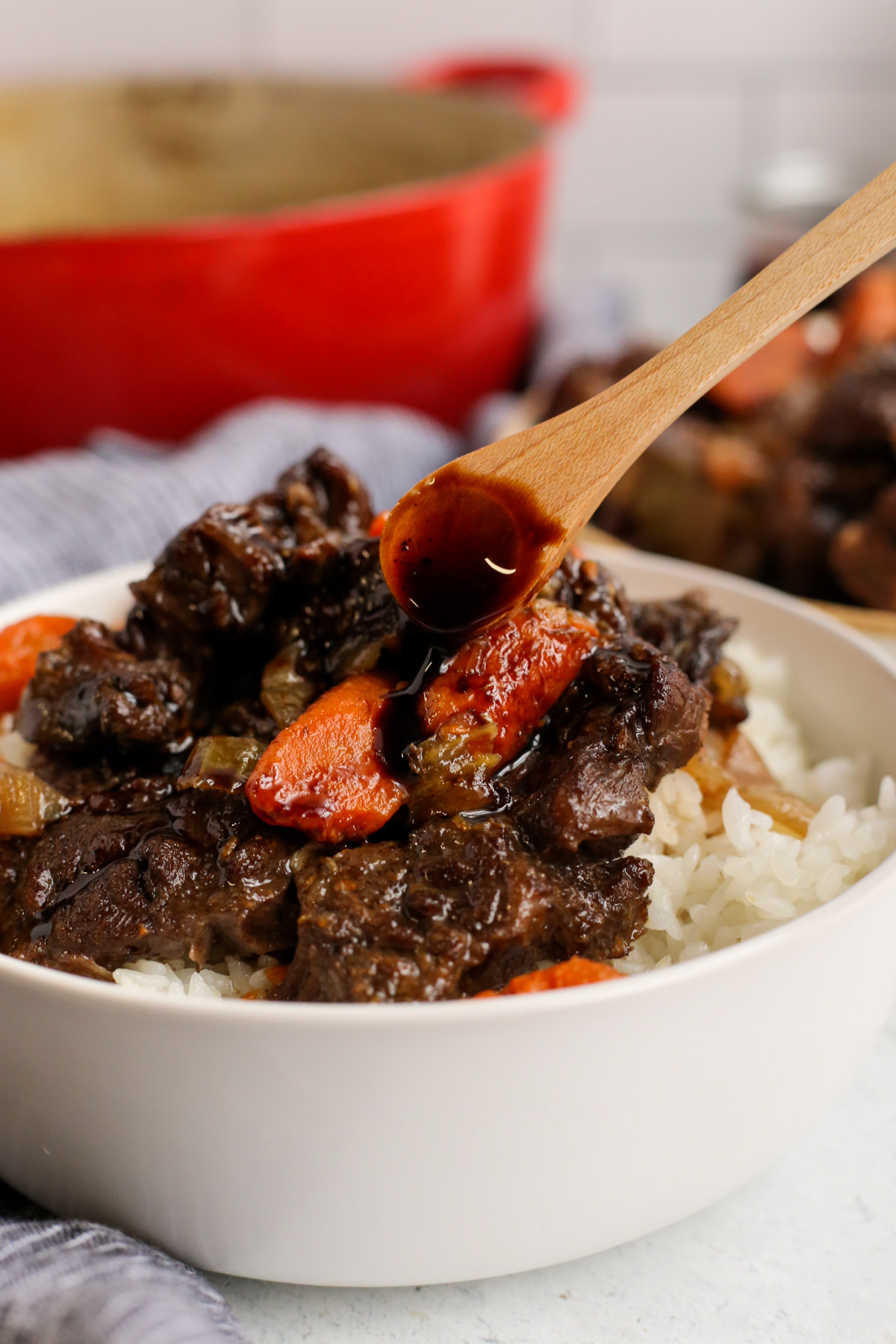 Braised beef may seem intimidating, but it's a straightforward and simple slow cooking process. I think every home cook should have a braised beef recipe in their collection. Who doesn't love that fall-off-the-bone tenderness? This version can be made without wine, on the stovetop in a Dutch oven, and has tons of flavor thanks to the spices in the braising liquid.
Feeling squeamish about cooking with beef neck bones? Don't be! It's a similar cut to short ribs or oxtails, but much more affordable. As these other cuts gain in popularity, the prices keep climbing. You don't have to spend a small fortune to make a restaurant-quality meal at home. And there is plenty of meat on there, so it's an excellent value in my book!
Why You'll Love These Braised Beef Neck Bones
A basic braised beef recipe will always be delicious, don't get me wrong. But I'm partial to this particular version for these reasons:
This underrated cut gets a chance to shine! Beef neck bones are seriously delicious, and once you master the basics of braising, you have the skills to use oxtails, short ribs, stew meat, or any tough cuts of meat that aren't as tender as others.
Your kitchen will smell amazing. Once you see the list of spices, you'll know exactly what I mean!
It's such a hearty, comforting dish, there's really no other way to say other than that it'll warm you up from the inside out.
This braised beef neck bones recipe uses pomegranate juice instead of wine. It may seem like a surprising choice, but there's a reason why I picked it – more on that later!
If you're looking for another delicious beef recipe, you might like my Korean-Inspired Beef & Rice Bowls. It uses a more traditional cut (short ribs) but is made in the Instant Pot!
Ingredients You'll Need
Here are the key ingredients you'll need to make this braised beef neck bones recipe:
Beef neck bones. These are usually sold by the pound in thick slices. Look for them in the meat department of your local grocery store or ask your butcher if they have any available if you don't see them on display. If they come frozen, thaw them fully before cooking and give them a rinse under cold running water so you can start with clean neck bones.
Aromatic vegetables. You can't go wrong with the classic combo of onions, carrots, and celery. Try to use a large onion plus two medium carrots and two medium stalks of celery for an ideal ratio. However, it doesn't need to be exact so just use what you have! Just don't forget to include the garlic cloves and fresh ginger pieces.
Dried spices. This is where all the flavor comes from for the braising liquid. Peppercorns, green cardamom pods, star anise, Ceylon cinnamon sticks, cloves, and bay leaves will infuse an incredible amount of flavor into your recipe, plus make your kitchen smell amazing!
Pomegranate juice. Since this is a braised beef recipe without wine, we still need some kind of liquid for deglazing the pan. Use a small amount to deglaze the bottom of the pan for best taste. The rest goes into the pomegranate glaze, so you'll definitely use an entire bottle without any awkward amounts leftover.
Beyond that, use some beef stock or broth (homemade or store bought) and oyster sauce to round out the ingredient list. I also recommend serving it with something like white rice when it's finished.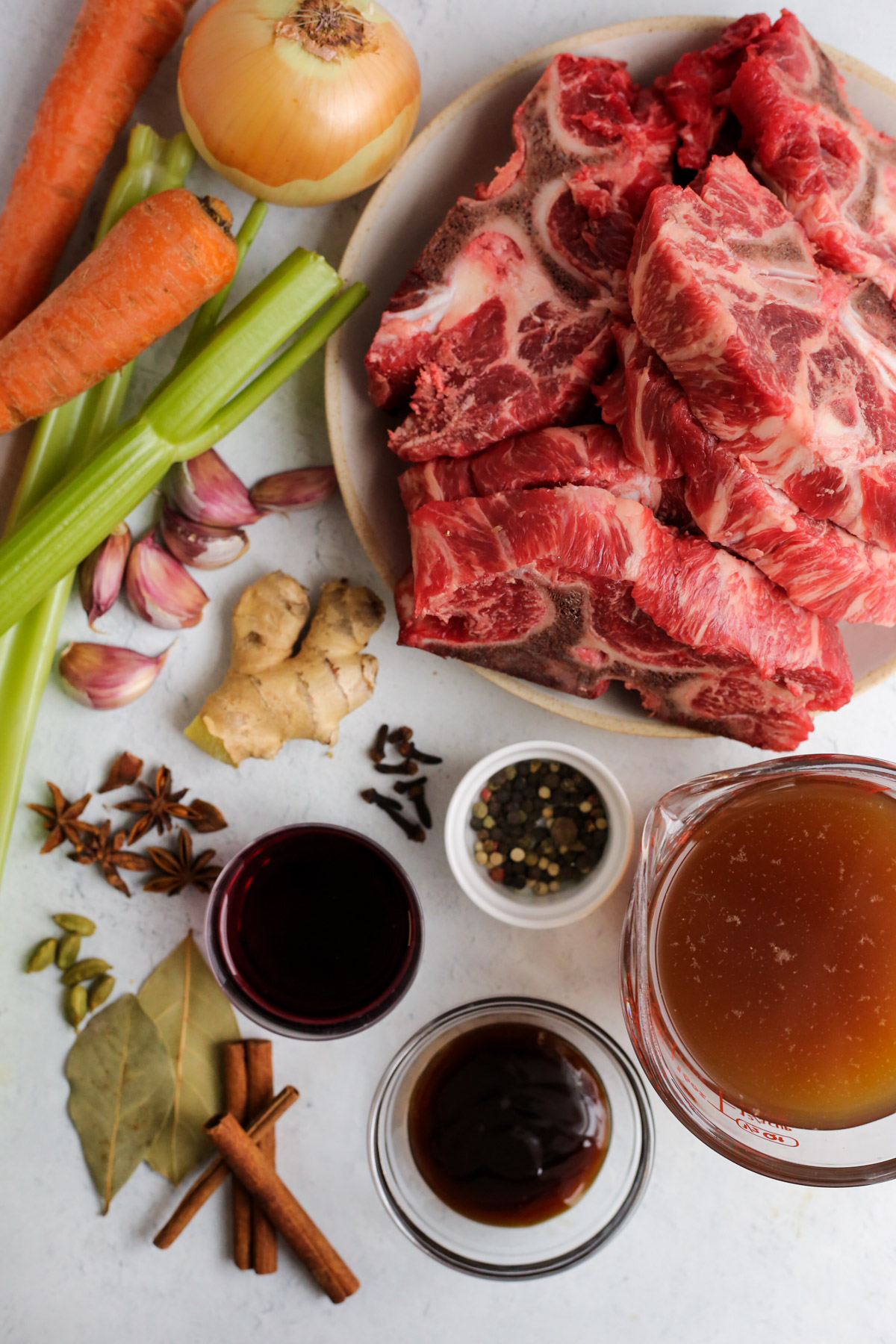 Street Smart Nutrition Tip: The pomegranate glaze needs time to reduce, but if you have a hard time getting it to thicken, I recommend getting some pomegranate glaze as well. This can be found online or in Mediterranean or international markets. It's already concentrated and syrupy, so it might help you get a thicker glaze.
Pomegranate juice has such a beautiful, rich color and its flavor is complex and tart. It's a good substitute for red wine in braising recipes like this one. And you don't have to worry about losing out on the antioxidant benefits of 100% pomegranate juice! POM Wonderful tested its pomegranate juice antioxidants during cooking. The results showed the antioxidant levels were stable, even after simmering for two hours. You can read more about the benefits of pomegranate juice and its antioxidants HERE.
If you splurge on extra pomegranate juice, try my Spicy Pomegranate Mojito Mocktail or Pomegranate Berry Smoothie!
Can I use something other than beef?
Yes! Although this recipe calls for beef neck bones (after all, it's a "braised beef recipe") you don't have to use beef cuts.
Some braising recipes can also be made with pork, and I think certain cuts would probably work fine. I think my first choice would be pork neck bones because they're often very affordable. Recently, I was shopping at our local co-op and I found a package for just $1.19 per pound! Short ribs or a roast cut might also work, but just know I haven't tested this recipe using those options. If you give that a try, let me know how it goes and whether you needed to adjust the seasonings or cooking time.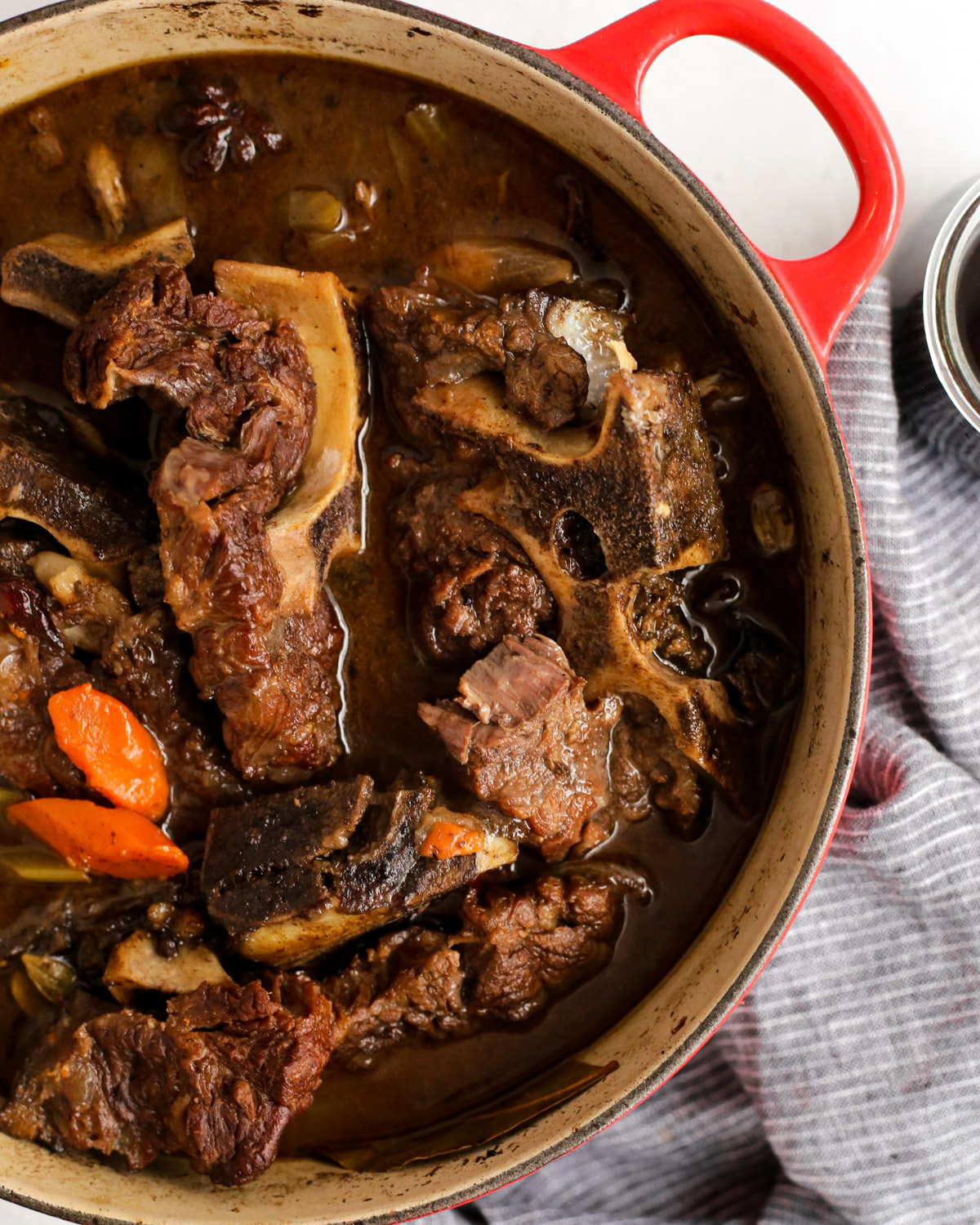 How To Cook Beef Neck Bones
If you've never tried to cook beef neck bones before, stick around! If you have, feel free to jump ahead to the recipe. But this process is easy to master and will forever change the way you cook with beef in recipes like this.
According to Bon Appétit, braising is simply "cooking a tougher cut of meat gently in liquid until it is transformed into a tender, succulent, fall-off-the-bone masterpiece." And I couldn't agree more, as it has the transformative power of taking underrated, but sometimes more affordable, cuts and turning them into something everyone wants another serving of. Braising is a low-and-slow moist heat cooking method. The goal is to turn the collagen found in sinewy connective tissue into gelatin. The end result: a rich, full-bodied broth and tender meaty bits that easily separate from the bone.
Cooking beef neck bones may take a lot of time compared to other beef recipes, but so worth it! Here's a primer on how to go about it:
Pat your beef neck bones dry and season generously with salt. If you're worried about using "too much" just know you could probably stand to use a little more for truly well seasoned neck bones.
Heat some olive oil or vegetable oil in your Dutch oven over medium-high heat. Once heated, brown the side of each neck bone for several minutes. If you need to, work in batches to avoid overcrowding your pan. You want to keep the heat high enough to achieve browning, not just cooking the outside edges of your beef.
Transfer the browned beef to a platter or bowl to free up the Dutch oven. Add your aromatics (in this case, the chopped onions, carrots, and celery). Cook for at least 5-6 minutes or until the edges start to brown, too. Then add your garlic and ginger to start infusing those flavors, too.
By this time, you'll have some browned bits stuck to the bottom of the pan. Add a small amount of liquid to "deglaze" or release those cooked-on bits. Most recipes call for red wine, which pairs nicely with beef. However, for this braised beef recipe we're using pomegranate juice instead. Use a wooden spoon or spatula to scrape the bottom of the pan. Once simmering, add the rest of the liquid and dried spices.
Once you've poured the beef broth in, add the browned beef back. The cooking liquid may not fully cover the beef. Reduce the heat to low heat so it doesn't boil over.
Cover and cook for at least two hours. At that point, you can remove the lid and test it to see if the beef is tender enough to slide off the bone. If not, let it go for another 30 minutes or so and check again.
That's pretty much it! While the process may seem intimidating or too long to be worth it, don't let that stop you. Your effort will be rewarded when you take that first bite!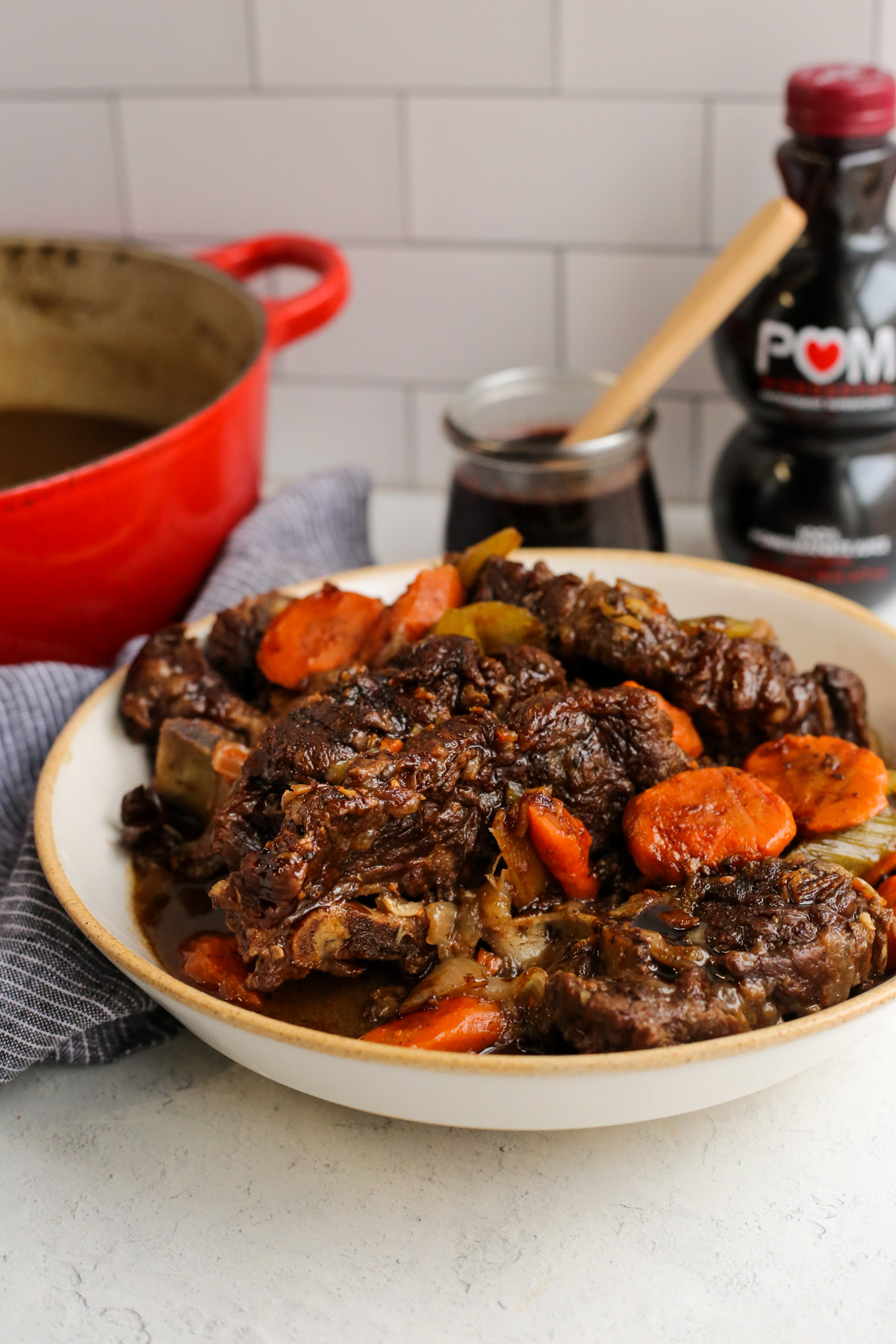 What to Serve with Braised Beef Neck Bones
As yummy as this braised beef recipe is all on its own, you can round it out to a complete meal by adding a few key ingredients or delicious sides. Here are my top recommendations:
The slightly tart, slightly sweet pomegranate glaze adds another layer of richness and complexity to the finished dish. If you go through the trouble of making it, use any leftovers for other places you'd use syrup or glazes. I've tried it on salmon and shrimp (similar to this recipe) but also on sweeter things like pancakes or waffles. Scroll to the recipe card to see the prep instructions.
Garnish could add some brightness if you're craving a contrast to all the brown. Green onions or toasted sesame seeds are my top picks. You can also add some black pepper or red pepper flakes for additional flavor.
Roasted or fresh vegetables. While there are veggies in here, they're really more for flavor than substance. By the time you're done cooking they will be extremely soft. So instead, you can add more carrots towards the end of cooking, roast up a pan of broccoli or Brussels sprouts, or serve with a side salad.
Finally, get a nice carb-y base of rice, polenta, buttery egg noodles, or mashed potatoes. It's an excellent way to soak up that delicious, rich braising liquid that's basically a super well-seasoned bone broth at this point. Enjoy!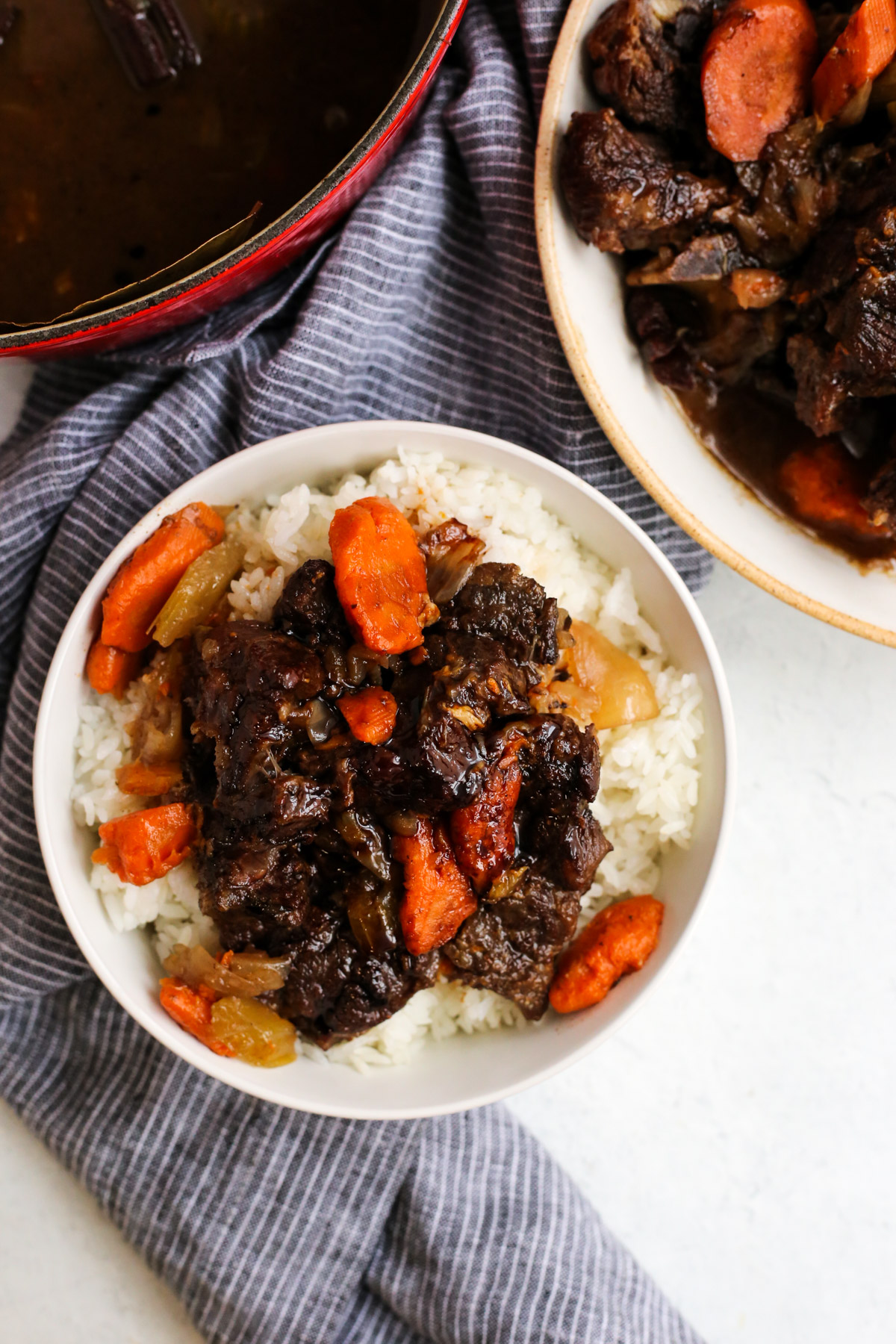 What To Do With Leftover Braised Beef Neck Bones
I honestly don't struggle with this problem very often. This recipe is just that good! But if you do have leftovers, I recommend removing any bones or bone segments before storing for later. There's no point keeping them now that it's cooked, and it'll save space in your storage containers, too.
Let it all cool for 45 minutes or so to avoid heating up your fridge. But make sure to store within two hours to avoid it sitting in the "danger zone" for too long. Seal in airtight containers and stash in the fridge for up to five days. To reheat, just microwave in 30 second increments until heated through. Note that there's a high fat content, so you'll probably hear it sizzle and snap. Not to worry, just pause to mix it around so it reheats evenly.
Eat within 3-4 days for best results.
Here's the full recipe for how to cook beef neck bones with a Chinese five spice pomegranate glaze!
Braised Beef Neck Bones with Chinese Five Spice Pomegranate Glaze
These braised beef neck bones are a delicious addition to your recipe collection. Serve them with steamed white rice for a hearty, cozy meal that'll warm you up from the inside out!
Equipment
cutting board and sharpened chefs knife

Dutch oven

small saucepan

measuring cups and measuring spoons

Tongs

wooden spoon or spatula
Ingredients
3

lbs

beef cuts like short ribs, oxtails, neck bones, or stew meat

,

(approximate weight)

Kosher salt

,

to taste

2

tbsp

olive oil

1

large

onion

,

chopped

2

medium

carrots

,

chopped

2

stalks

celery

,

chopped

6

cloves

garlic

4

pieces

fresh ginger

,

peeled, about 1" long, crushed

4

star anise

3

sticks

ceylon cinnamon

6

pods

green cardamom

6-8

whole cloves

1/2

tbsp

peppercorns

2

bay leaves

1/2

cup

pomegranate juice

1

carton

beef broth

,

32 oz

1/4

cup

oyster sauce
For the Pomegranate Glaze
12

fl oz

pomegranate juice

1/2

cup

granulated sugar

1

tbsp

Chinese five spice powder

1/4

tsp

MSG
Instructions
Prepare the vegetables by roughly chopping into small pieces of similar size. Peel the garlic cloves and fresh ginger root, then use a spatula or the side of a large knife to crushed the ginger root.

Pat the beef dry and season well on all sides with salt. Heat the olive oil in a heavy-bottomed Dutch oven or braising pan and sear. Turn occasionally until all sides are deeply browned and starting to crisp. Work in batches if needed to avoid overcrowding the pan. Once the beef is well browned, transfer to a plate or bowl to hold.

Add the onion, carrots, and celery to the pot. Cook for 5 to 6 minutes, stirring occasionally, until the vegetables are softened and fragrant. Add the garlic cloves and crushed ginger and cook for one more minute.

Add the 1/2 cup of pomegranate juice to deglaze the pan, scraping the cooked-on bits from the bottom. Once simmering and slightly reduced, add the beef broth, oyster sauce, and remaining spices. Add the browned beef back into the braising liquid. Cover and cook for 2-3 hours or until the beef is tender enough to easily shred with a fork and fall from the bone.

Meanwhile, prepare the pomegranate glaze by adding all ingredients to a small saucepan. Bring to a simmer over medium heat, as if making a simple syrup. Simmer, uncovered, for 20-30 minutes or until it is reduced in volume and thickened. Set aside and allow to cool slightly before serving.

To serve, prepare any base you desire such as rice, polenta, egg noodles, or potatoes. Top with segments of the braised beef, then ladle some of the braising liquid into the serving bowls, removing the bay leaves or whole spices when you find them. Spoon the pomegranate glaze over the top and enjoy.
Notes
If needed, add 2-3 tablespoons of pomegranate glaze to help thicken to a syrup consistency.
Nutrition
Serving:
1
serving
,
Calories:
477
kcal
,
Carbohydrates:
37
g
,
Protein:
37
g
,
Fat:
21
g
,
Saturated Fat:
7
g
,
Polyunsaturated Fat:
1
g
,
Monounsaturated Fat:
11
g
,
Cholesterol:
125
mg
,
Sodium:
1684
mg
,
Potassium:
398
mg
,
Fiber:
3
g
,
Sugar:
29
g
,
Vitamin A:
3470
IU
,
Vitamin C:
5
mg
,
Calcium:
84
mg
,
Iron:
6
mg
I hope you enjoy this braised beef neck bone recipe as much as I do. Be sure to save it or Pin it for later so you can try it with another tough cut of meat. If you try it out, leave a rating or comment to let me know what you think.
As always, thanks for visiting the Street Smart Nutrition blog. Cheers to more fearlessly nourishing meals!
Disclosure: This post was originally published in November 2022. It has since been updated to improve the overall quality of the information and/or images.