This easy beef skirt steak stir fry recipe uses one of my favorite cuts of beef. Learn how to cook a skirt steak without a grill for a hearty stir fry with a simple sauce, veggies, and rice. It's a delicious option for any night of the week!
---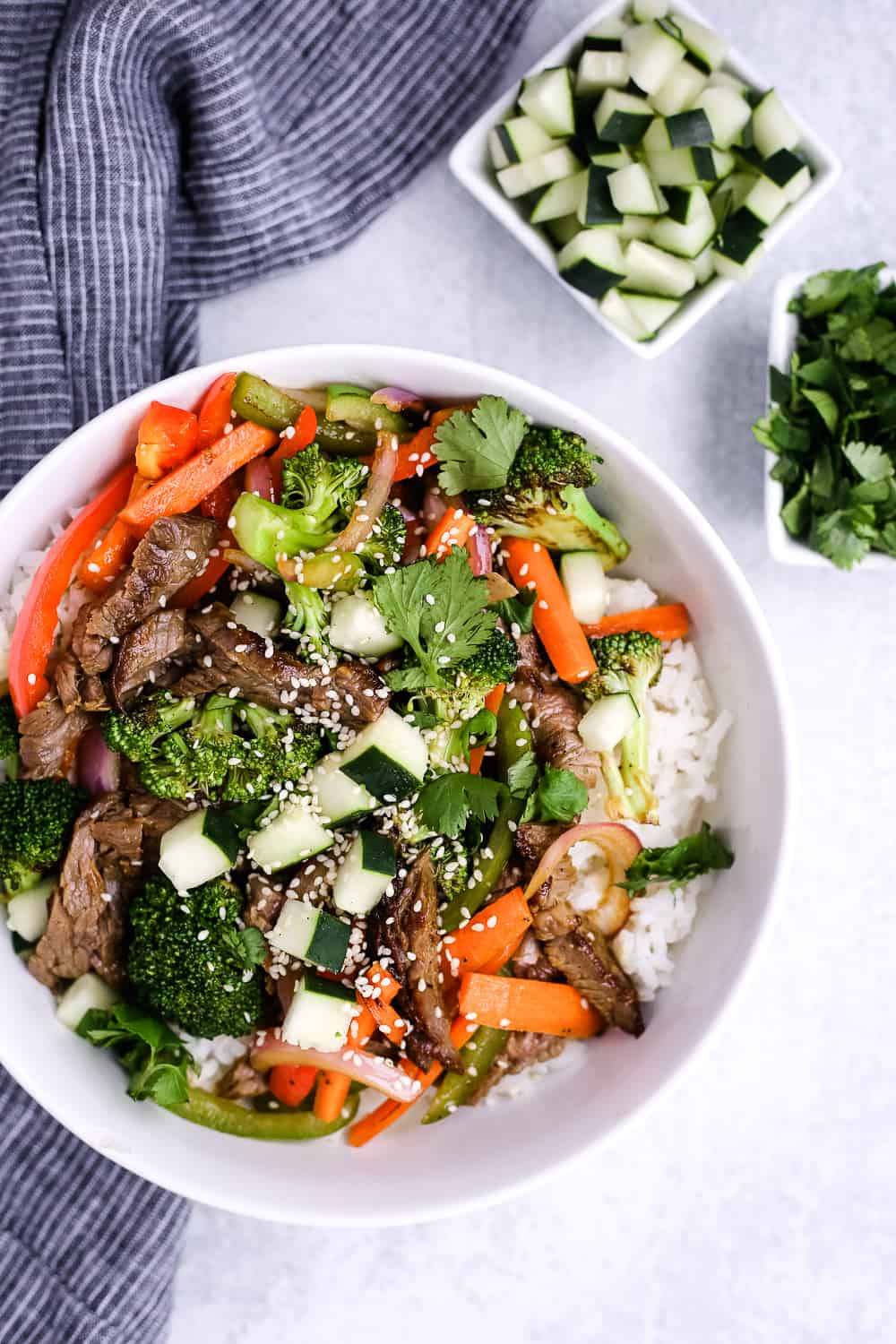 Disclosure: I partnered with National Cattleman's Beef Association (NCBA) for this post. It's a part of their #MeatTheMoment campaign for registered dietitians and Beef. It's What's For Dinner. Thank you for supporting the brands and partners that support Street Smart Nutrition!
---
Greetings from my quarantine kitchen to yours!
I don't know about you, but things have been looking a little different around here lately. In order to stay safe and stay home, I've been cooking a LOT more than usual. It's been an interesting experience to try to make the most of less frequent shopping trips, substituting ingredients, and try to recreate some of our favorite restaurant meals at home.
Today's recipe for an Easy Beef Stir Fry with Skirt Steak and Veggies is by far my most successful attempt at that. One of my favorite Thai restaurants features a delicious stir fry bowl with beef, bell peppers, and a sauce that's the perfect combo of savory and spicy. I knew I had to try to repeat it at home!
Beef and rice make a perfect pair. If you agree, check out the recipe for Slow Cooker Korean Beef and Rice Bowls!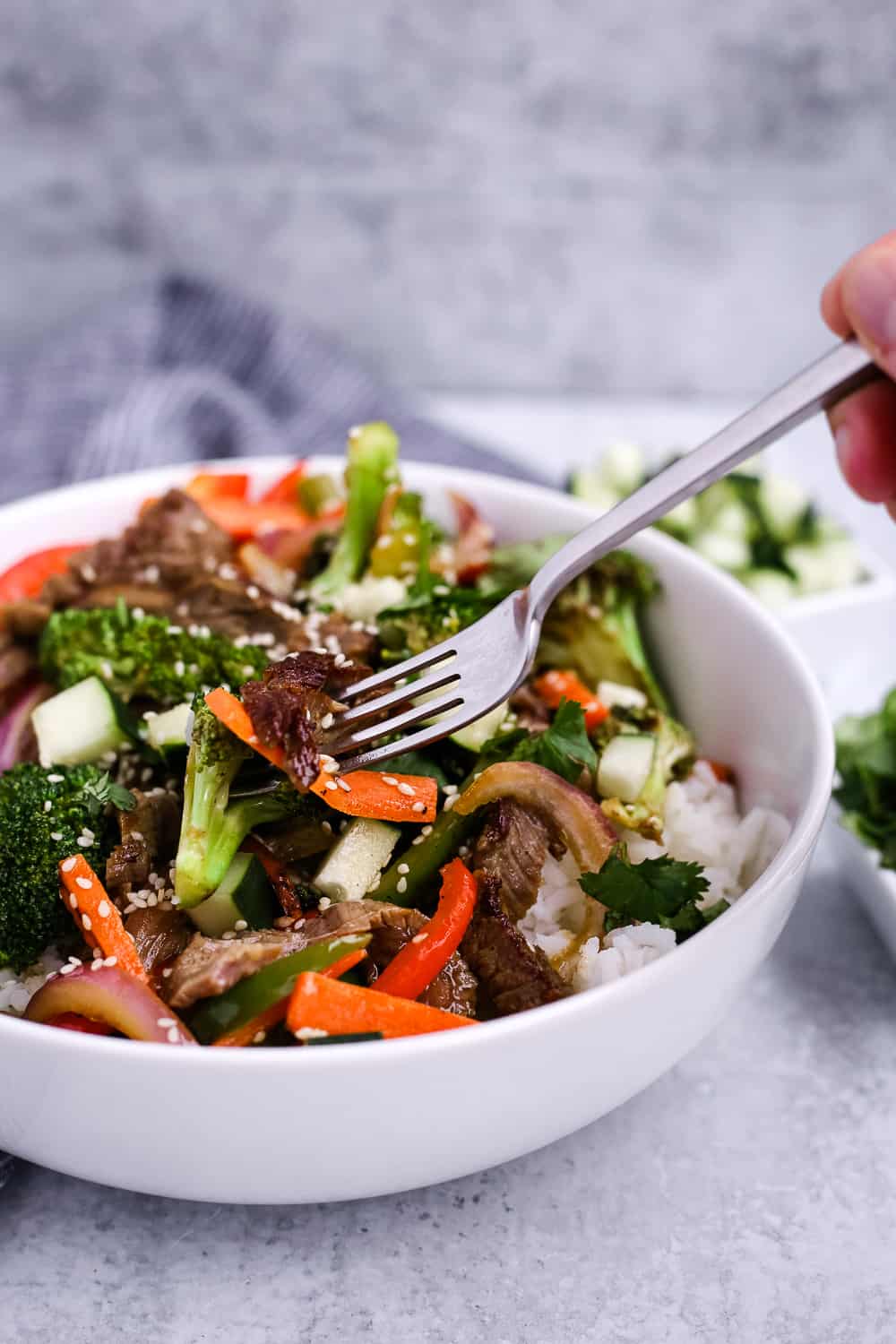 What You Need for this Easy Beef Stir Fry
Beef Skirt Steak: This has moved to the #1 spot on my list of favorite

 

beef cuts. It's also been one of the easiest cuts to find in my local grocery stores. While often looked over for beef flank steak (which you could also use in this recipe) I think it's going to be favorite for a long time!
Veggies: Fresh, frozen, canned, it's all good! This recipe uses broccoli, bell peppers, onions, and carrots. But depending on what's available and your own preferences, you could swap any or all of them for other options. Try using mushrooms, snap peas or snow peas, bean sprouts, or edamame in your mix. And don't forget about the convenience of frozen and canned options – frozen peas or corn would be delicious, too.
Rice: I used long-grain white rice for my easy beef stir fry because that's what I had the most of in my pantry. You could also use jasmine rice, brown rice, or another grain like freekeh (which has a very similar texture and flavor).
Sauce: For this stir fry sauce, I opted to keep it simple. We've been watching a lot of YouTube cooking tutorials so I combined a few different versions for this mixture that most closely matched the flavors in the restaurant version. Look for these ingredients in the ethnic foods section of your grocery store. Otherwise, you can shop at an Asian food market or order online.
As the inventory and availability of ingredients changes, I've embraced the "flexible recipe" approach more than ever! I'm sure you've experienced that moment when you read a recipe you plan to make, only to realize you don't have something on the list. That's OK! I intentionally design and test my recipes to allow for variations.
Although beef skirt steak is not a lean cut of beef, there are more than 36 cuts of beef that meet those guidelines. The criteria for "lean", set by the USDA, requires cuts to have no more than 4.5 grams of saturated fatty acids and less than 10 grams of total fat per serving. As an alternative, try using beef flank steak or beef strip steak for this Easy Beef Stir Fry recipe instead.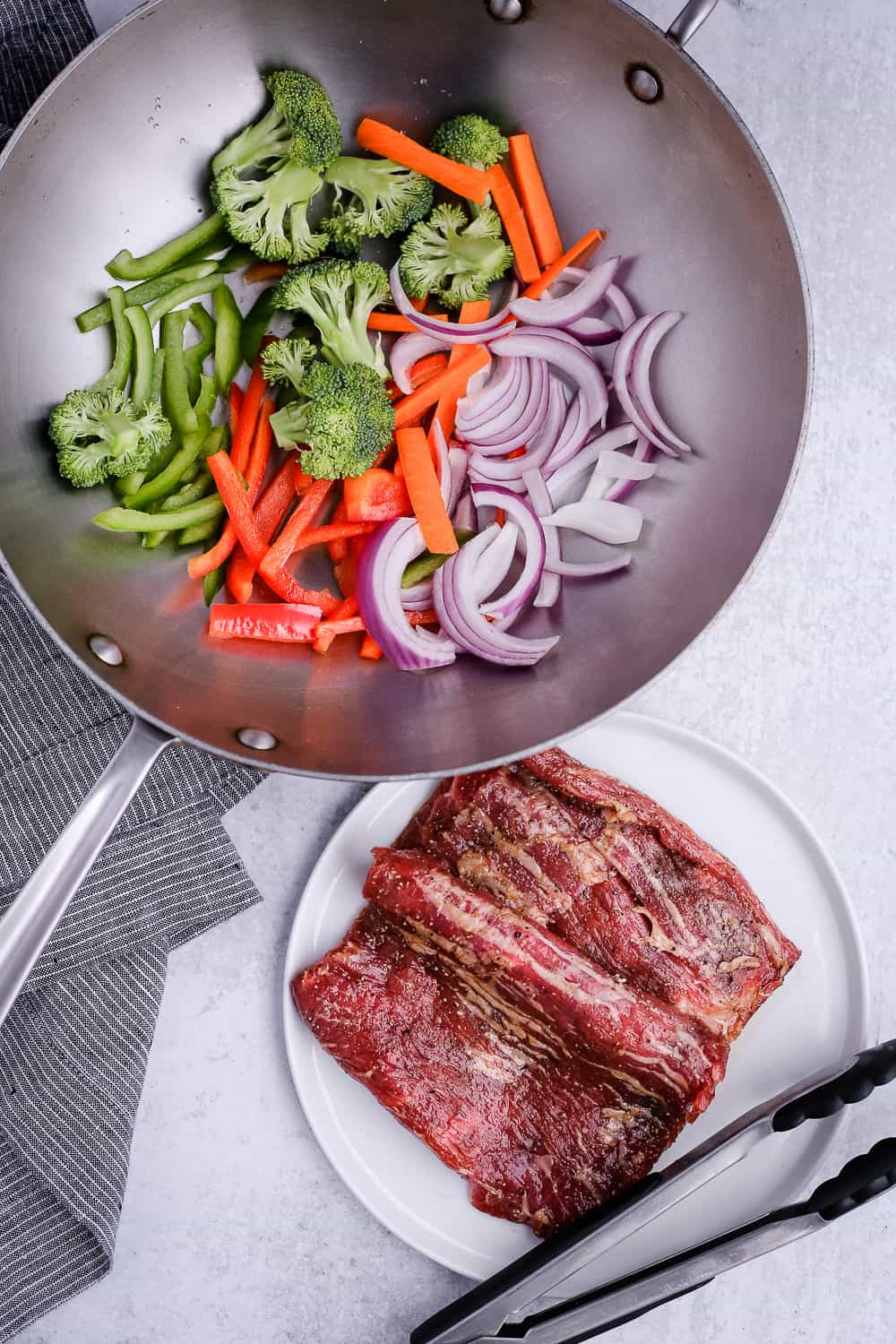 I think it's important for everyone to adapt and modify recipes according to what they need and want. This easy beef stir fry recipe is forgiving and simple – adjust the vegetables, sauce, or rice as needed and feel confident you'll still end up with a satisfying and nourishing meal when it's all said and done.
If you somehow end up with leftovers (unlikely, since this is so delicious!) check out this Breakfast Beef Quesadilla recipe that uses leftover steak, eggs, cheese, and veggies!
Cooking Skirt Steak Without a Grill
One of the biggest challenges with apartment living is the lack of a grill. I love taking advantage to use it when we visit family, but in the meantime, I've learned to perfect my indoor grilling skills using the stovetop.
Beef skirt steak can be one of the most flavorful cuts of beef thanks to the marbling within the cut. This comes through especially well with certain cooking methods like grilling. Living without a grill doesn't stop me, though, as you'll see there is another dry-heat cooking method that works just as well.
The key to avoiding a tough texture is to not overcook it and cut against the natural grain of the meat.
Here's how I cook skirt steak without a grill!
1. Sear quickly and evenly
My preference is a stainless steel skillet, but you can use cast iron or non-stick skillets as well. I'm fortunate to have a gas range in my current kitchen and I'll be honest, this is much easier to achieve even and consistent heating in my pan. I encourage you to get to know your stovetop and cookware before you start because it's so helpful for getting the perfect doneness in your beef skirt steak!
I place my skillet over high heat to let the stainless steel get hot. Next, I add a small amount of cooking oil to coat the bottom of the pan. I place my marinated or seasoned skirt steak in the center and sear for about two minutes on each side. It depends on the thickness of your skirt steak, but setting a timer is a helpful way to avoid overcooking your skirt steak.
Street Smart Nutrition Tip: For food safety purposes, it's a good idea to use a meat thermometer to verify doneness. Beef should be cooked to a minimum of 145 degrees F to minimize risk of food-borne illness.
Cook uncovered and use tongs to flip your skirt steak once it's finished cooking on the first side. Another couple of minutes on the other side, and that's it! I love how skirt steak can be cooked on the stovetop in literally a matter of minutes.
2. Let it rest
Once your steak is fully cooked, you'll have to stay patient before digging right in. Allowing your beef to "rest" is key to a tender bite when you do finally get to taste it. As the steak is cooling, the proteins in the muscle fiber can relax a little bit after contracting during the cooking process. That means moisture will stay inside your skirt steak instead of being released the moment you cut into it.
A good rule of thumb is to allow your steak to rest for five minutes for every inch of thickness. Since skirt steak is such a thin cut you don't have to wait long!
Street Smart Nutrition Tip: Thicker cuts of meat, such as roasts, will continue cooking during this resting stage. Be mindful of that to avoid overcooking, but don't get antsy and remove from heat too soon or it could also end up undercooked
To me, this is the most difficult part of cooking skirt steak without a grill – I have to just wait in my kitchen while it's filled with the amazing aromas from this Skirt Steak Stir Fry!
3. Slice against the grain
When it comes time to finally cut up your skirt steak, position your knife against the grain of the meat, not parallel. When you cut against the grain, you're cutting across the muscle fibers so it will seem more tender when you take a bite. Compare that to when you cut along the grain and the muscle fibers remain intact. The flavor will still be delicious, but you'll have to contend with more toughness in each bite.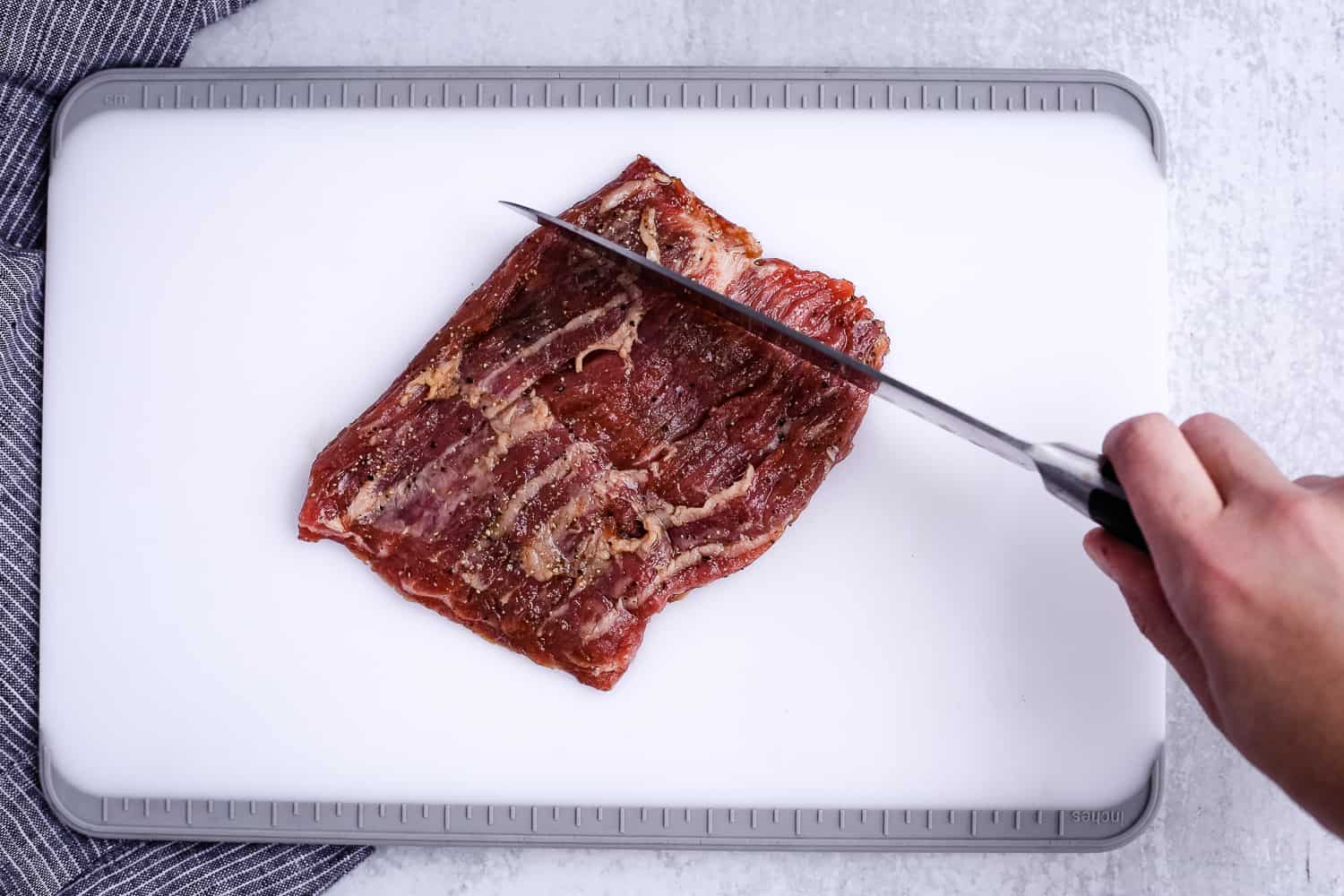 And if you're looking for another easy skirt steak recipe to put those skills to work, try my Seared Skirt Steak with Roasted Red Pepper Relish!
Why You'll Love This Skirt Steak Stir Fry
This recipe is quickly becoming the go-to weeknight meal. It's easy to scale up or down depending on how many servings you need. And I will personally vouch for the leftovers because they are just as delicious as the original meal. In this time of cooking and staying at home more, I also notice I'm less motivated to do more dishes than necessary. One-pan meals like this beef skirt steak stir fry are perfect for keeping the clutter to a minimum when it comes time to clean the kitchen!
If you're looking for other ways to use skirt steak there is no shortage of options. I've used it in hearty, protein-packed salads, on top of sheet-pan nachos, and in tacos and burrito bowls.
Street Smart Nutrition Tip: If you spot a deal and want to stock up, skirt steak (and beef in general) does great in the freezer. Simply pull it out the night before and thaw in the fridge so it's ready to go whenever you are.
I've really enjoyed cooking stir-fries during the last few months. It's almost like a mindfulness exercise because chopping colorful veggies, inhaling all the aromas as it's cooking, and enjoying each bite helps me take my mind off other stressful things in my day. No wonder it's become such a favorite!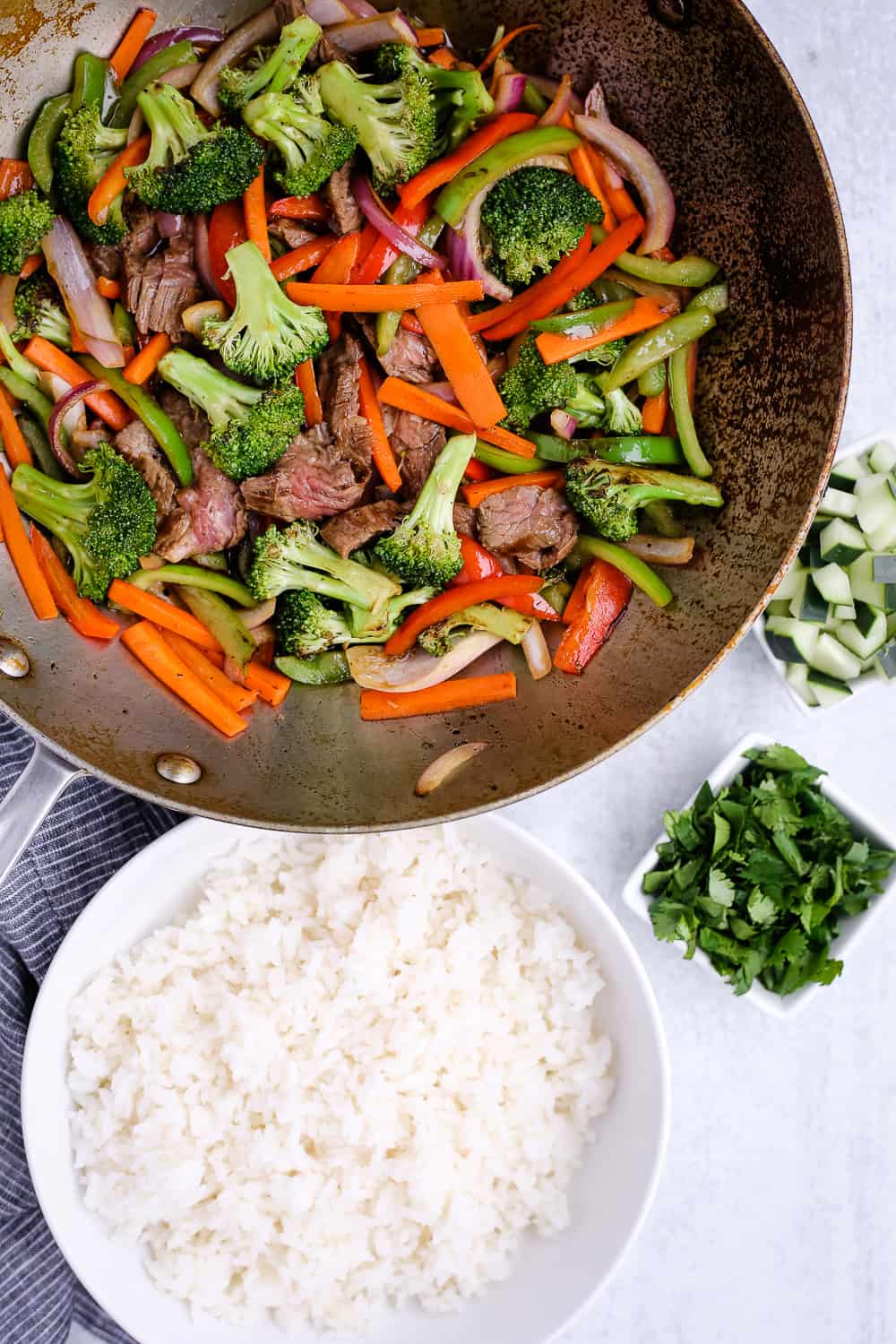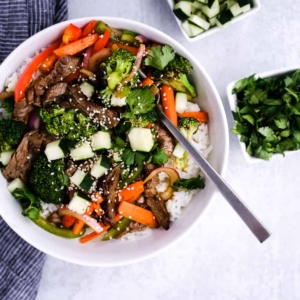 Easy Beef Stir Fry with Skirt Steak and Veggies
This skirt steak stir fry is ready in less than 30 minutes. Enjoy a flavorful and nourishing one-skillet meal that's ready in no time!
Equipment
Large Skillet

Chef's Knife

Cutting Board

Meat Thermometer

Cooking Tongs
Ingredients
Marinade
2

tbsp

sesame oil

2

tbsp

low sodium soy sauce

1

tsp

sugar
For the Stir Fry
1

tbsp

sesame oil

1

lb

skirt steak

1

red bell pepper

1

green bell pepper

1

large

carrot

1/2

red onion

1/2

head

broccoli

,

florets only

1/2

cucumber

fresh cilantro

,

for garnish

4

cups

cooked white rice

1

tbsp

sesame seeds

,

optional
For the Sauce
1/2

cup

low sodium chicken stock

1/4

cup

oyster sauce

1/4

cup

low sodium soy sauce

2

tbsp

rice wine

1/2

tbsp

red pepper paste

1

tsp

sugar

2

cloves

garlic

,

minced

1/2

tsp

ground ginger
Instructions
For the Marinade
Combine all ingredients in a large ziplock bag. Place the uncooked skirt steak in the marinade, seal, and shake or roll the bag to evenly cover the steak. Allow to marinade for at least one hour or as long as able prior to cooking.
For the Stir Fry
Prepare the bell peppers, onions, carrots, and broccoli by slicing into thin strips of similar size and length for even cooking. Set aside. Reserve the diced cucumber and fresh cilantro for garnish after cooking.

Combine all ingredients for the sauce in a small bowl or measuring cup. Set aside.

Heat a large skillet over high heat. Once the skillet is heated, add the oil and coat the bottom of the pan. Add the sliced veggies and cook on high heat, stirring or flipping occasionally, until edges begin to brown. Leave them at a tender-crisp doneness to avoid overcooking. Remove from heat and transfer to a mixing bowl to hold warm.

Remove the marinated skirt steak from the bag and place it in the center of the pan. Cook about two minutes on one side, then use tongs to flip. Cook about two minutes more, then remove from the skillet. Use a meat thermometer to check internal temp of 145 degrees F. Allow to rest for about five minutes before slicing into thin strips, cutting against the grain. Set aside

Reduce heat to medium-high and add the sauce to the skillet. Deglaze the bottom of the pan, then add the cooked veggies and sliced skirt steak back into the skillet. Stir to combine, then remove from heat.

To serve, place cooked rice in the bottom of a bowl. Top with the skirt steak stir fry, then garnish with diced cucumber, fresh cilantro, and sesame seeds (if using). Serve immediately.
Nutrition
Calories:
593
kcal
,
Carbohydrates:
65
g
,
Protein:
35
g
,
Fat:
21
g
,
Saturated Fat:
5
g
,
Cholesterol:
71
mg
,
Sodium:
1322
mg
,
Potassium:
967
mg
,
Fiber:
5
g
,
Sugar:
8
g
,
Vitamin A:
4930
IU
,
Vitamin C:
157
mg
,
Calcium:
107
mg
,
Iron:
4
mg
If you like this recipe, be sure to Pin it for later or save and share with friends!
Check out more delicious beef recipes under the #MeatTheMoment hashtag and visit Beef. It's What's For Dinner to learn more about beef nutrition.