This Rotisserie Chicken Fried Rice recipe uses, you guessed it, leftover rotisserie chicken with white rice, veggies, and plenty of seasoning! Grab a large skillet to make this one-pan meal on a busy weeknight. Plus, it's a meal prep friendly recipe to enjoy all week long!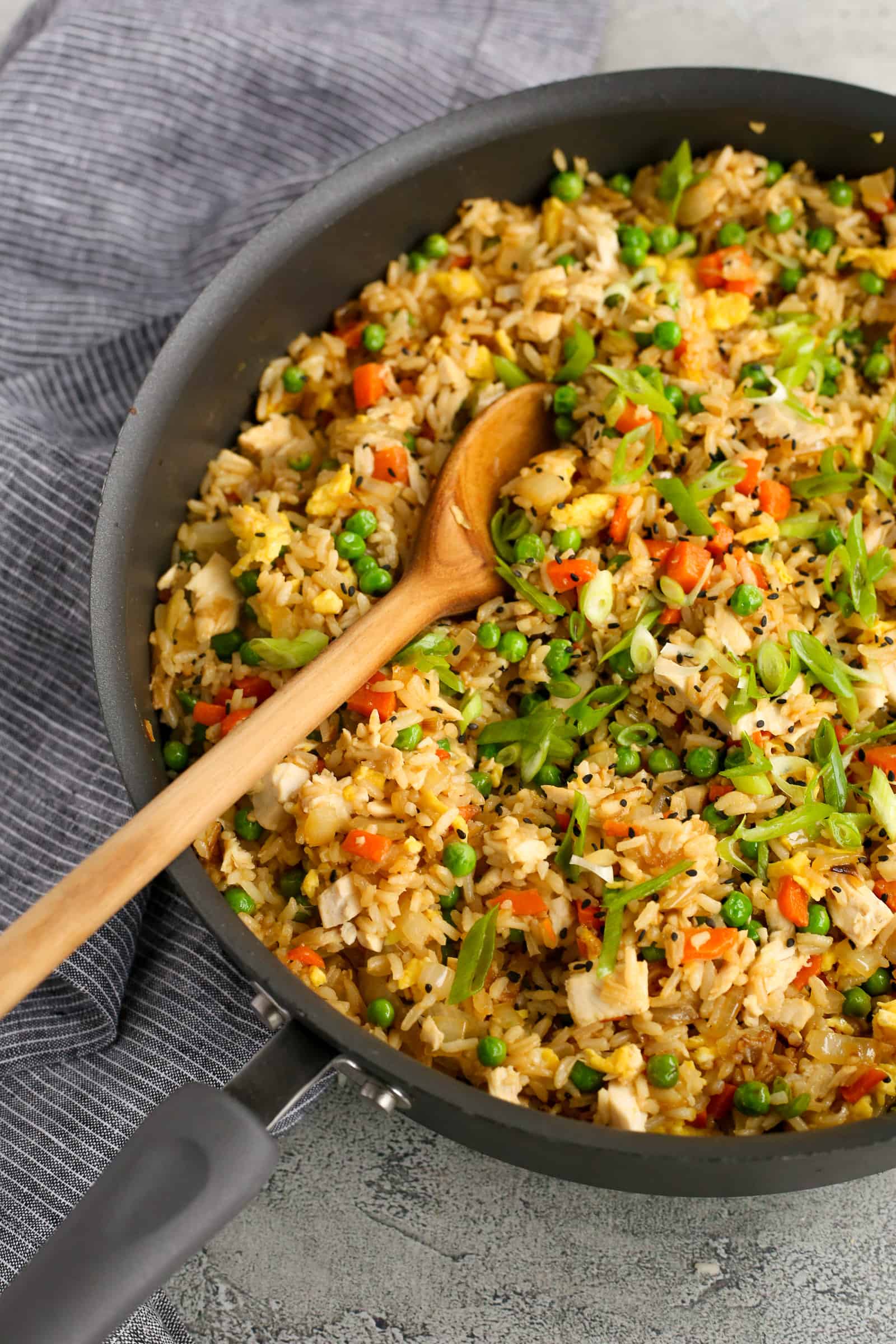 Why You'll Love This Rotisserie Chicken Fried Rice
Who doesn't love an easy dinner that comes together in one pan? My hand is raised high because we are very familiar with the stress of trying to figure out dinner on busy weeknights. Here's why this easy fried rice recipe is such a lifesaver:
You'll save so much time using store-bought rotisserie chicken and pre-chopped or frozen vegetables. And really, it's a great way to use any type of leftover chicken to avoid wasting food.
It's an all-in-one meal, featuring a satisfying mix of carbs, fat, protein, texture, color, and (most importantly) flavor. Those are cornerstones for all my favorite recipes, and this one is no different!
And the best part is you can easily customize this basic recipe into something the whole family will go for!
If you're a fan of easy Asian rice dishes, check out my Slow Cooker Korean Beef and Rice Bowls!
No, it's not actually "better than takeout"
It was always such a treat to order takeout Chinese food as a kid. I grew up in a very rural area so delivery wasn't an option – I thought everyone had to drive to pick it up! Imagine how excited I was when I moved off to college and realized I could order my meal and have it show up on my doorstep. But I have to point out that a homemade version of fried rice is not "better" than fried rice from a Chinese restaurant. There are so many food bloggers making the claim that their fried rice is "better than takeout" or uses "clean" ingredients, implying the takeout version is "bad" for you or unhealthy.
As a dietitian who advocates not only for less fear around food, but also appreciation of cultural foods and global cuisines, this has to stop! Both versions can have their merits without positioning one as better than the other. If you've caught yourself using this language for fried rice or other Chinese-inspired dishes or Asian recipes, I really encourage you to pause and reconsider how else you might accurately describe them. Maybe try "takeout-inspired recipe" instead?
So with that out of the way, let's get into this recipe for my Rotisserie Chicken Fried Rice!
Ingredients You'll Need
Exact measurements are offered in the recipe card below, but this easy fried rice recipe is more about the process than precise quantities. Here are the ingredients you'll need to make it:
Cooked white rice
Yellow onion and carrots
Frozen peas. You can also use a frozen mix that uses peas and carrots if you prefer. No need to thaw ahead of time, they can get tossed in with the rest of the ingredients straight out of the freezer!
Eggs
Rotisserie chicken
Butter
Toasted sesame oil
Low-sodium soy sauce
Garlic and green onions. These aromatic ingredients add extra flavor during cooking, and you can add additional green onions as a garnish before serving.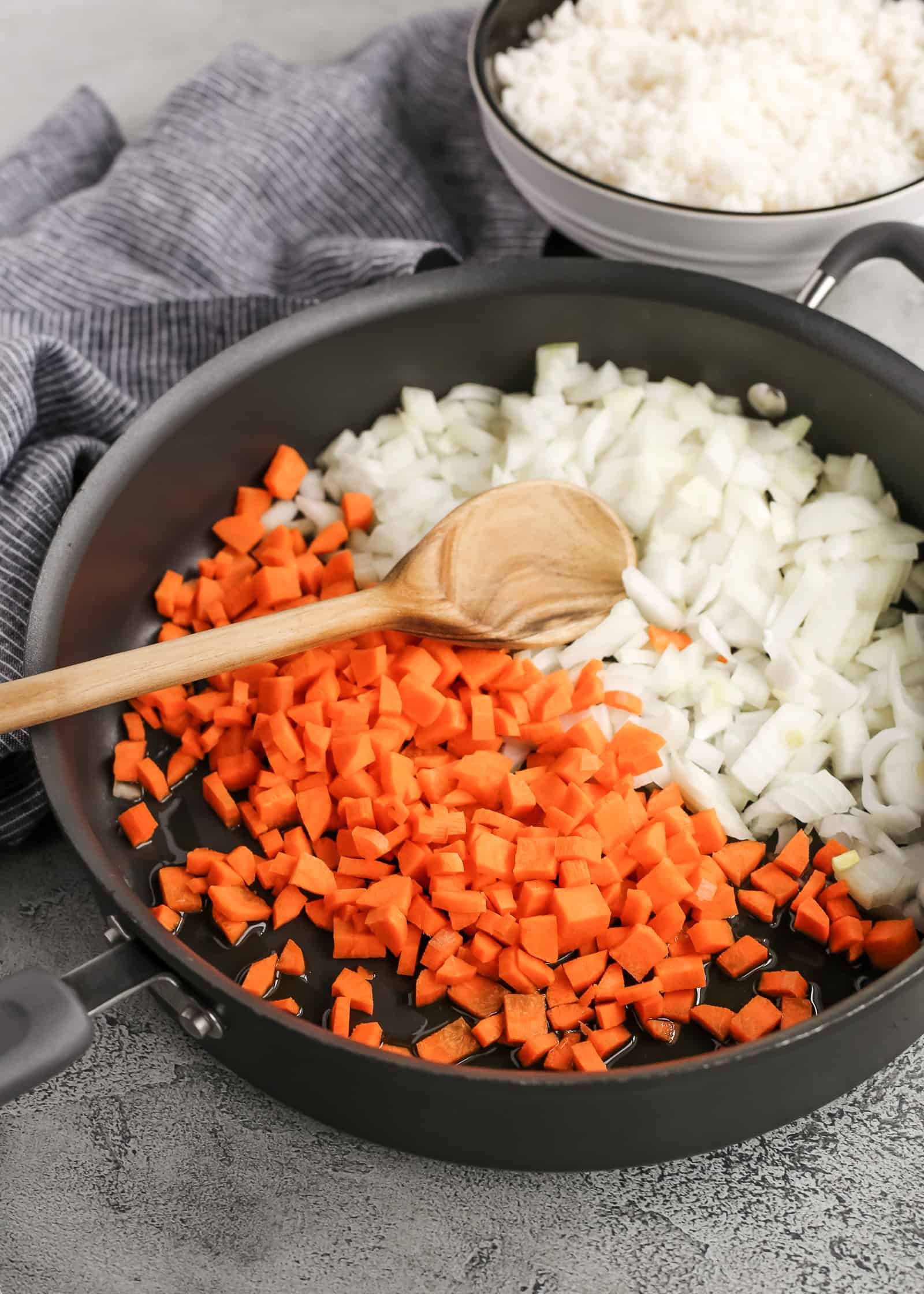 You can also add toasted sesame seeds as a garnish. And of course, no fried rice recipe of mine would be complete without MSG (monosodium glutamate). It's an easy way to add tons of savory, umami flavor to this dish without relying on excess salt. MSG has only 1/3 the sodium of table salt, and since soy sauce is already and high sodium ingredient, this is the key to preserving that restaurant-quality flavor.
However, I left it out of the official recipe because I simply add a small amount at the end of cooking. I stir it in to enhance the flavor of all the other ingredients, but in total it's less than 1/2 teaspoon for the entire dish.
Street Smart Nutrition Tip: All of these ingredients should be easy to find in just about any grocery store. But if you're short on time, delivery or pick-up options can be a convenient way to simplify your schedule. Click HERE to get a list with everything you need, courtesy of Instacart!
What's the best rice for fried rice?
The best rice for fried rice is day-old rice. Plain and simple, fried rice recipes work best with leftover, chilled white rice. Medium-grain or long-grain rice is better than short-grain or super starchy sushi rice. Less starch means the grains will separate more easily instead of clumping together. Overall, it's just a better texture in the finished dish.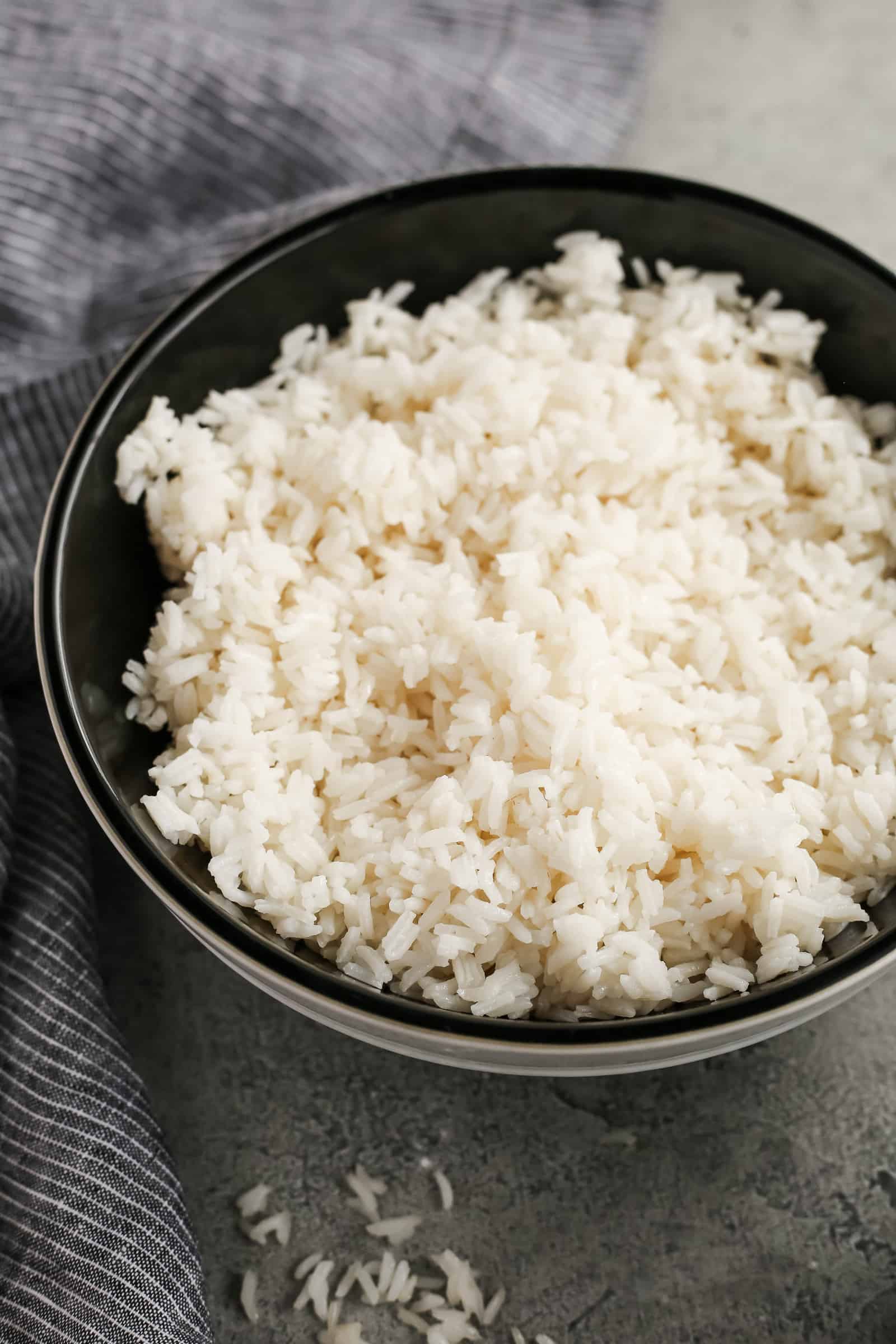 I used to think rice was rice, without much difference in texture or flavor. Did my limited exposure as a kid give you any hints about that? We always used short-grain rice because that's we as a Korean family always liked best. Now I've learned so much more about rice and rice nutrition thanks to the resources shared with me as part of my partnership with the USA Rice Federation. There's so much variety and many types of rice to choose from! Rice is grown in California, Louisiana, Mississippi, Missouri (my home state!), Arkansas, and Texas. No matter what you use, U.S.-grown rice is going to provide carbohydrates to fuel your body and your brain. It will also give you more than 15 vitamins and minerals such as iron, zinc, and important B-vitamins like folic acid.
Takeout orders from Chinese, Thai, or other Asian restaurants usually include extra rice. This is what inspired this homemade fried rice recipe because my dad always used the leftover rice to make his version of a chicken fried rice recipe the following day. I watched him cook a lot of things as a kid and he taught me a thing or two about making delicious dinners with simple recipes and a few simple steps. So basically, the key to quick and easy fried rice and limiting food waste is to use what you already have! Feel free to substitute your favorite variety of rice.
Street Smart Nutrition Tip: You won't catch me recommending brown rice or cauliflower rice for any fried rice recipe, but that's due to my personal preference. If you like it, go for it! Just be aware the texture will be quite different.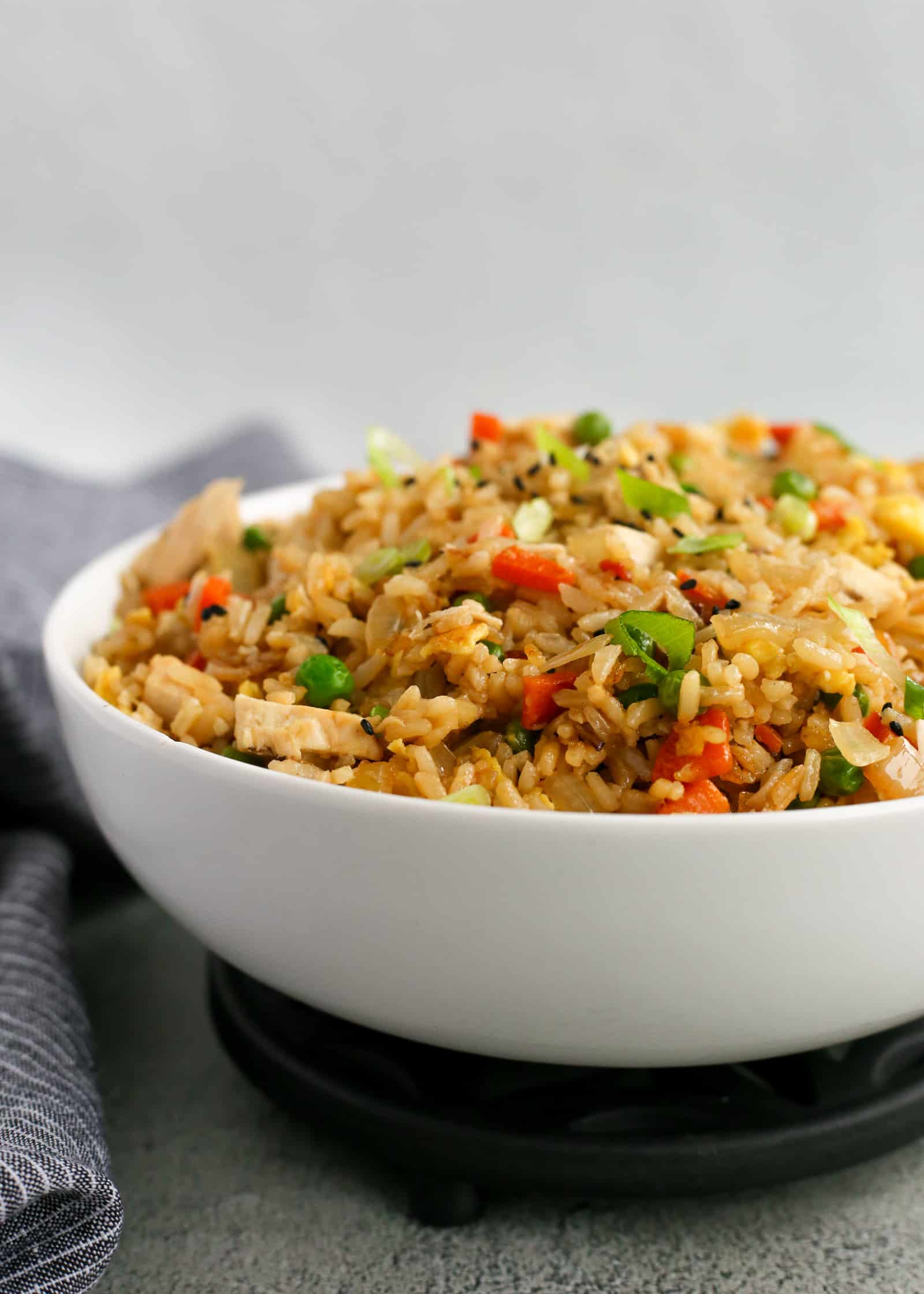 How to Make Rotisserie Chicken Fried Rice
The process for this rice dish is quick and simple! It's basically a stir fry, meaning the key is high heat, similarly sized ingredients, and plenty of room to move them around in a large pan.
Start by chopping or shredding the rotisserie chicken into bite-sized pieces. I like to use a combination of white meat and dark meat. But separate the breast, thighs, or other favorite cuts if you want to use them for other recipes. Prep your veggies by dicing the onion, mincing the garlic (if not using pre-minced), and slicing the green onions and carrots. They don't have to be perfectly uniform, but small pieces ensure they will be evenly distributed in the fried rice. Break the eggs into a small bowl and beat lightly, then set aside to move through these steps:
Heat a large nonstick skillet over medium-high heat. Scramble the beaten eggs and once fully cooked, remove them from the skillet and set aside. This can be an easier technique if it's your first time making fried rice, since adding beaten eggs to the rest of the ingredients make it less likely to have those visible chunks of egg that are so characteristic of fried rice. If you're a pro, never mind! Skip this step and add the eggs at the end of cooking to quickly scramble before serving.
Add half of the butter to the heater pan and increase the heat to high. Add the carrots and onions. Sauce for 8-10 minutes, or until the carrots are soft and the onions start to brown around the edges.
Add the remaining butter and once it's mostly melted, add the chilled rice. Use the back of a heat-proof spatula to smash or crush any large chunks of rice, flattening it into the bottom of the pan. Drizzle the soy sauce and sesame oil over the rice and stir to combine it with the vegetables.
After a few minutes, add the frozen peas, chicken, garlic, and half of the green onions. Continue searing the rice mixture, stirring or flipping often, until everything is heated through and the rice starts to brown. Add in a little bit more sesame oil or soy sauce, adjusting for personal taste.
Remove from heat and stir in the cooked eggs. Top with the rest of the sliced green onions.
That's it for this Rotisserie Chicken Fried Rice! All that's left to do is serve and enjoy while it's hot.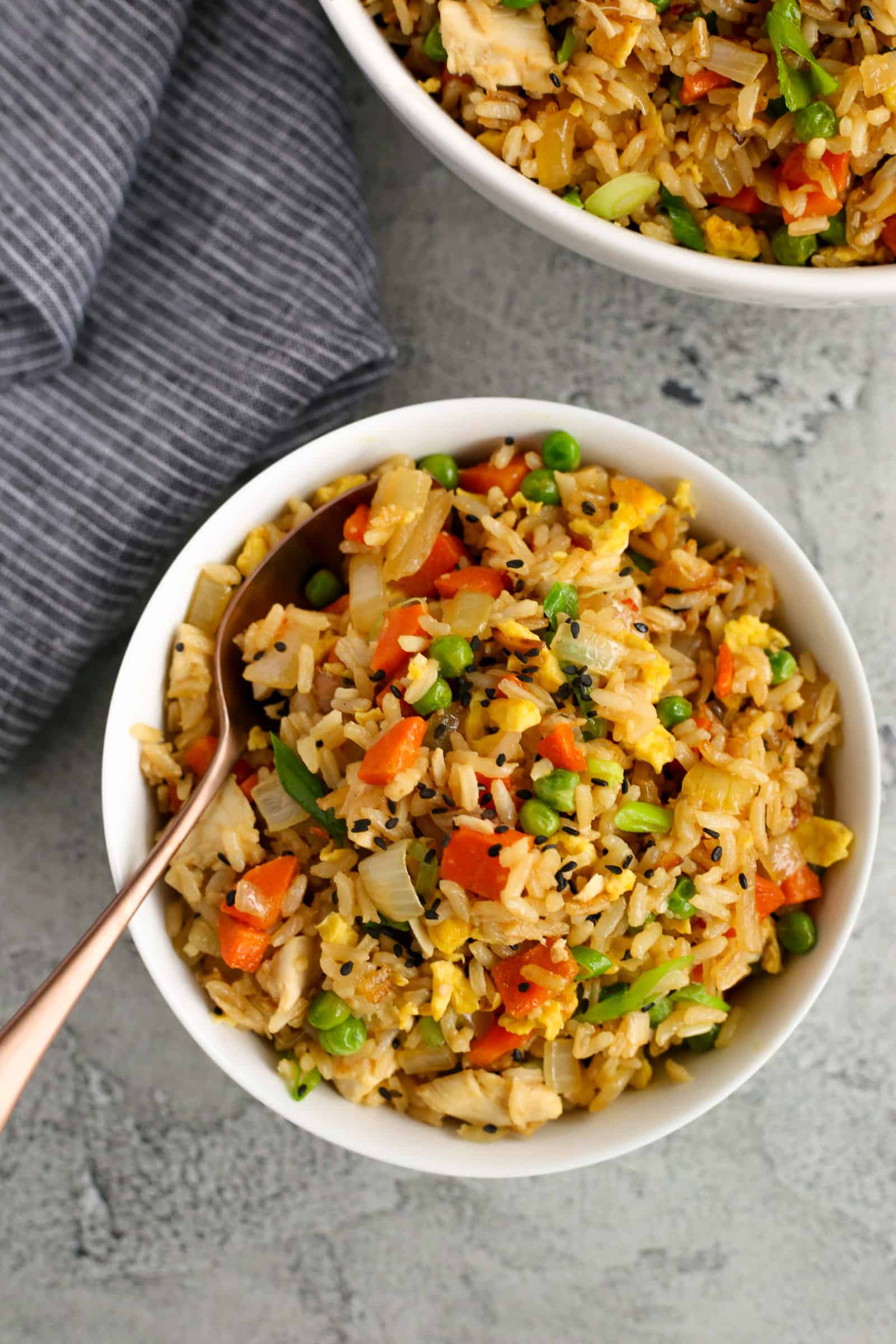 Tips for Maximum Flavor and Best Results
It's hard to improve upon the delicious chicken flavor you get from rotisserie chicken. But I have a few bonus tips that can further enhance the taste.
Use chilled or cold rice. Using fresh rice or even warm rice can result in overcooking. The starchy nature of rice will create clumps, making it difficult to infuse that yummy fried rice flavor evenly or distribute your veggies throughout. If you don't have leftover rice, take your freshly cooked rice and spread it on a baking sheet. Pop it into the freezer for about 10 minutes while you prep your other ingredients. You can also shorten the cooking time to avoid overcooking the rice.
Don't be afraid to add butter. A small amount goes a long way towards making the rice brown up around the edges while cooking. While not totally traditional, it adds richness that I couldn't quite achieve when recipe testing with other fats or oils.
Crank up the heat! Fried rice needs to, well, fry. And the best way I've found is to use a large nonstick skillet over high heat. Using medium heat will only get you a very light sear, and it will take longer. It might seem like you're scorching your rice, but if you flip or stir often with a spatula, you'll end up with a delicious payoff for the extra attention you give it.
Give your ingredients some room to breathe. Meaning, don't overcrowd your pan. As the vegetables cook or thaw, they will release moisture as steam. A crowded pan traps that steam, which can lead to a soggy (not fluffy) texture. Use your biggest pan or skillet if you can and let the rice and other ingredients really spread out.
Finally, you truly cannot skip the toasted sesame oil and soy sauce. I know a lot of other fried rice recipes will call for olive oil, avocado oil, coconut oil or coconut aminos. But that's not how we do it around here! Make adjustments if you need to but you will get so much extra flavor using these simple ingredients that are staples in Asian American kitchens.
Rotisserie Chicken Fried Rice
You'll love this easy fried rice recipe that uses rotisserie chicken. Make the most of your leftovers to create a simple, one-pan meal that's meal prep friendly and ready in less than 30 minutes.
Equipment
Large Nonstick Skillet

cutting board and sharpened knife

small prep bowls

heat-proof spatula
Ingredients
4

cups

cooked white rice

,

chilled

1

medium

yellow onion

,

diced

2

large

carrots

,

peeled, sliced, and quartered

1

cup

frozen green peas

3

large

eggs

,

lightly beaten

2

cups

rotisserie chicken, white and dark meat

,

chopped or shredded

2

tbsp

sesame oil

2

tbsp

butter

1

tbsp

low sodium soy sauce

2

cloves

garlic

,

minced

2

green onions

,

sliced thin

toasted sesame seeds

,

optional
Instructions
Heat a large nonstick skillet over medium-high heat. Once skillet is heated, quickly scramble the eggs until cooked, breaking apart into small pieces with a wooden spoon or spatula. Remove the cooked eggs from the skillet and set aside.

Add half of the butter to the heated pan and increase the heat to high. Add the carrots and onions to the skillet and saute 8-10 minutes or until carrots begin to soften and onions are translucent.

Add the remaining butter, along with the chilled rice. Flatten the rice into the bottom of the pan to break up any large chunks. Drizzle the soy sauce and sesame oil over the rice. Stir to combine and cook over high heat, stirring occasionally or flipping rice mixture to brown evenly.

After a few minutes, add the green peas, chicken, and garlic. Continue cooking over high heat until sections of the rice mixture start to brown or stick, about 5 minutes. Remove from heat and stir in the eggs.

Top with sliced green onions and sesame seeds, if using. Serve immediately.
Notes
If you are not using leftover rice, adjust cooking time to account for rice cooking time and chill time (at least 20 minutes).
To chill rice quickly, spread cooked rice onto a baking sheet. Place in the freezer or refrigerator for 10-15 minutes, then continue with instructions as written.
Nutrition
Serving:
1
serving
,
Calories:
504
kcal
,
Carbohydrates:
58
g
,
Protein:
30
g
,
Fat:
16
g
,
Saturated Fat:
4
g
,
Cholesterol:
193
mg
,
Sodium:
277
mg
,
Potassium:
538
mg
,
Fiber:
4
g
,
Sugar:
6
g
,
Vitamin A:
6582
IU
,
Vitamin C:
20
mg
,
Calcium:
88
mg
,
Iron:
3
mg
Swaps and Substitutions
While I kept this Rotisserie Chicken Fried Rice recipe simple on purpose, there are plenty of ways to dress it up or customize it!
Add to the vegetable mixture, using snow peas, sugar snap peas, bell peppers, mushrooms, green beans, shelled edamame, bok choy, or anything else you enjoy. You can even use leftover veggies!
Use other pre-cooked chicken, such as frozen chicken tenders, canned chicken, or leftover roast chicken. Just make sure it's chopped or shredded into bite-sized pieces.
Alternatively, you can swap the protein for something else, such as pork or shrimp. You can also make vegetarian versions by using only scrambled eggs or tofu.
I use a pretty conservative amount of soy sauce because I try to be mindful about how much sodium I consume. You can always add more at the end of cooking and adjust based on your preference. I also love adding a bit of red pepper sauce (like sriracha!) when I serve my rotisserie chicken fried rice, but this is totally optional.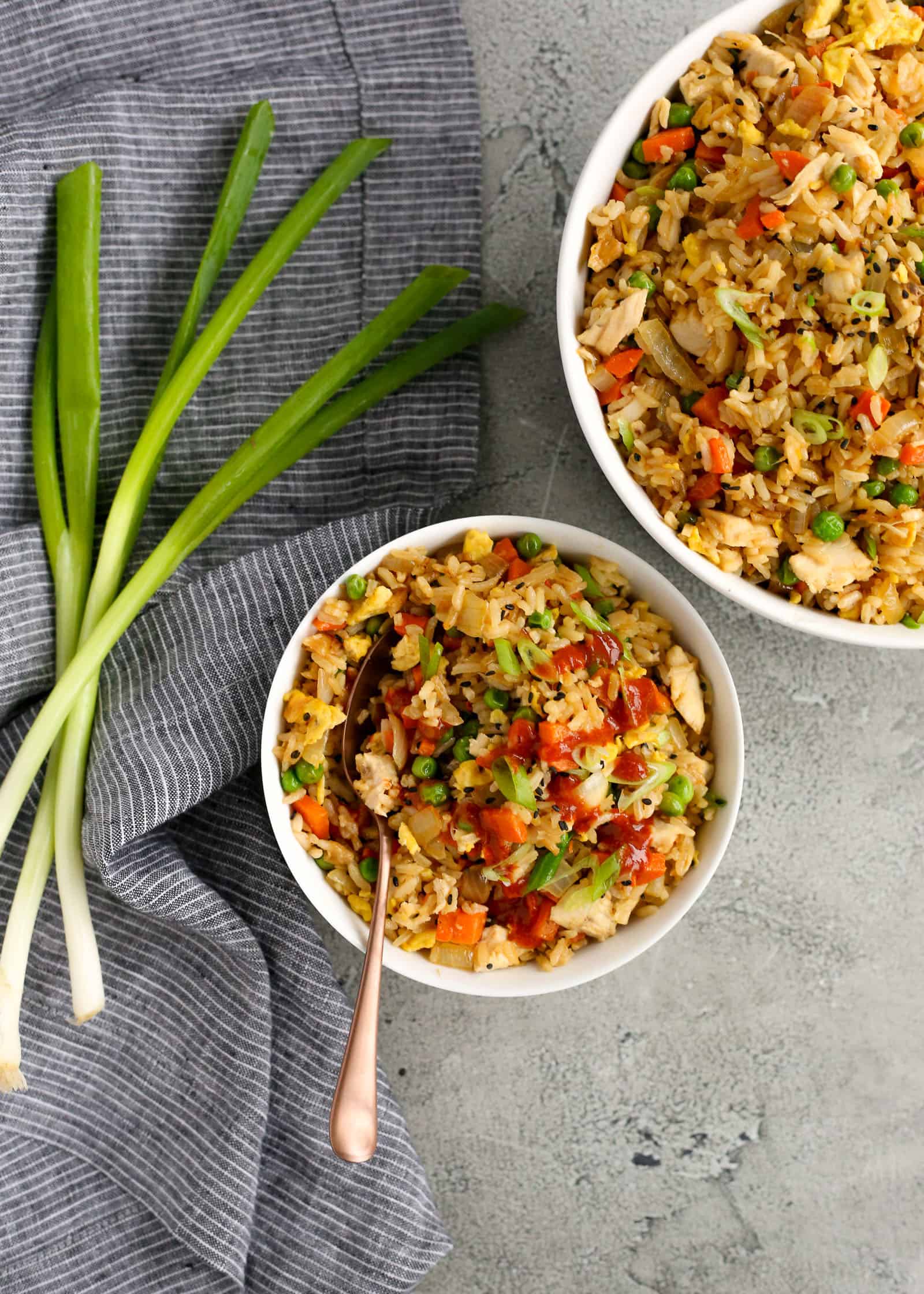 Storage Suggestions and Meal Prep Tips
Like I mentioned, this is a meal prep friendly meal. You can easily double it or make a larger batch with any amount of rice.
To Store: Let the rotisserie chicken fried rice cool to room temperature before sealing in an airtight container. You can store it all together in one big storage container, or portion it out into smaller ones for individual meals. Refrigerate for up to 5 days. If freezer, transfer to a freezer bag, flatten to remove all the air, and store up to three months.
To Reheat: Microwave in short bursts of 30 seconds, stirring occasionally to ensure the leftovers reheat evenly. You can also reheat leftover fried rice in a small skillet on the stovetop over medium heat. Stir frequently and add a small amount of vegetable oil or canola oil if needed to prevent the rice from sticking to the sides of the pan. And if using previously frozen leftovers, let them thaw in the fridge for 12-24 hours before reheating.
I hope you love this Rotisserie Chicken Fried Rice recipe as much as we do! And while I think it's a star for weeknight meals, it's delicious any night of the week. If you try it and enjoy it, leave a rating or comment to let me know what you think!
And as always, thanks for stopping by the Street Smart Nutrition blog! You can find more and follow along on Instagram and YouTube, and don't forget to sign up for my newsletter so you never miss a new post. Cheers to more fearlessly nourishing meals!
Disclosure: This recipe was created in partnership with the USA Rice Federation when it was first published in February 2020. I was compensated for my time. It has since been updated to improve the overall quality of the information and/or images. Thanks for supporting the brands that support Street Smart Nutrition!