Chamchi Deopbap (Korean Tuna Rice Bowl) is a simple dish that's easy to throw together in minutes. In the time it takes you to reheat white rice and open a can of tuna, you can have a delicious meal. Perfect for quick lunches or busy weeknights, keep reading to see why it's such a favorite in my kitchen!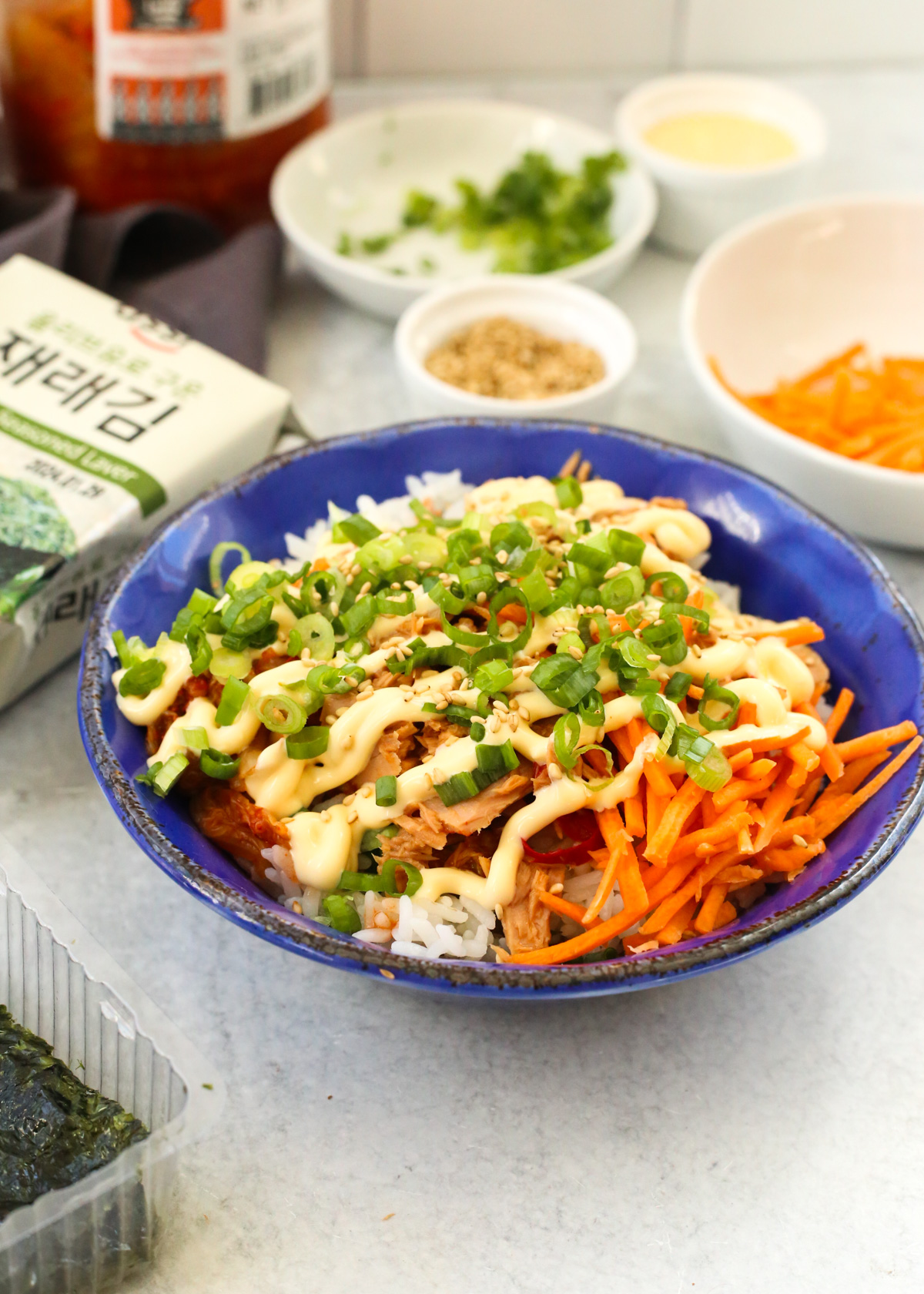 Breakfast gets a lot of attention as "the most important meal of the day." But in my work as a registered dietitian, I find its just as common for people to struggle with lunch, too! Regardless of where you're working from, a solid midday meal can be clutch when dinner is hours away.
I was recently asked to share some of my favorite low-lift lunch suggestions with Well + Good. I highlighted chamchi deopbap, or a simple Korean tuna rice bowl, as my top pick. And it made me realize I've never shared an official recipe on the blog. That needed to change!
Why You'll Love This Recipe
You only need a few simple ingredients to build strong flavor. This bowl has it all with carbs, protein, fat, and a variety of textures and colors.
It's incredibly easy to make, but also easy to customize. Keep scrolling for a few suggestions for different ways to build a rice bowl.
You can enjoy Korean comfort food in your own kitchen. In fact, most Korean restaurants don't even have this on the menu because it's so easy to make yourself!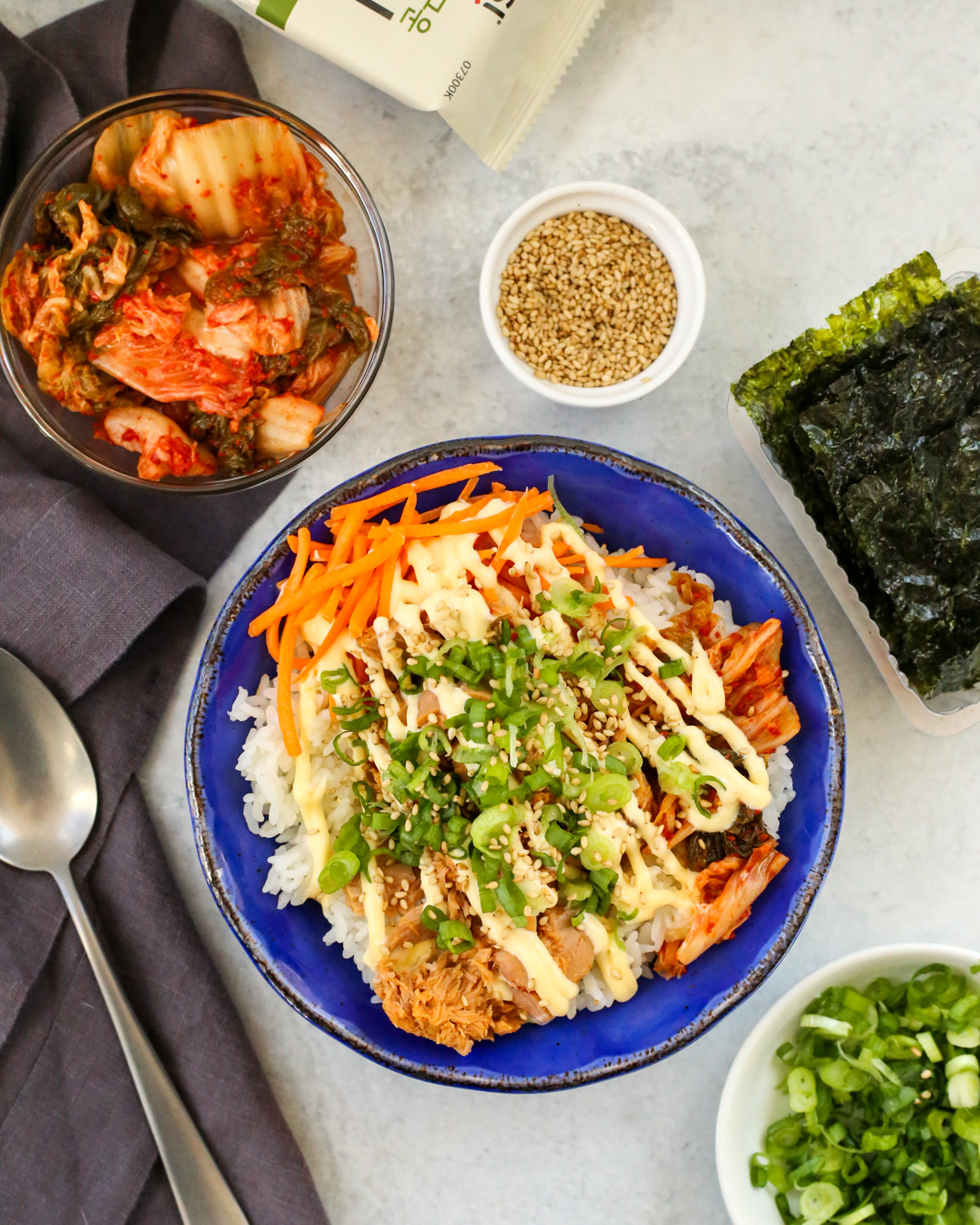 What is Chamchi Deopbap?
In Korean, chamchi means tuna and deopbap means "over rice". It's a simple meal consisting of warm rice, canned tuna, kewpie mayo, and various vegetables and other toppings. It's one of those meals that's perfect when you don't feel like cooking.
Technically, you could also call this recipe chamchi mayo deopbap, Korean tuna mayo deopbap, or Korean tuna mayo rice bowl and all would be more or less accurate and correct. You can also think of is as a template with options to add other ingredients (more on that below).
Korean Tuna Rice Bowl Ingredients
Cooked rice. I always use a short grain or medium grain rice, like this Kokuho Rose brand. But nearly any type of rice can work, including sushi rice, jasmine rice, long-grain rice, or even instant or microwave rice.
Canned tuna. Again, use what you have available but if you can get to a Korean grocery store, I really recommend trying Korean canned tuna. The first time I tried it I immediately noticed a difference. The flakes are bigger and chunkier, plus it comes in a wider variety of flavors such as this one packed in kimchi juice.
Kewpie mayo. This Japanese-style mayo is made with egg yolks and MSG (monosodium glutamate). It's extra rich and creamy, and helps moisten the flakes of tuna when it's all mixed together. I much prefer this over regular mayonnaise but if that's all you have, it works just fine.
Kimchi, cut or sliced into bite-sized pieces
Chopped veggies such as the matchstick carrots I used (optional, but I like the fresh crunch it adds)
Green onions
Toasted sesame seeds
Gim/nori (dried and roasted sheets of seaweed) for serving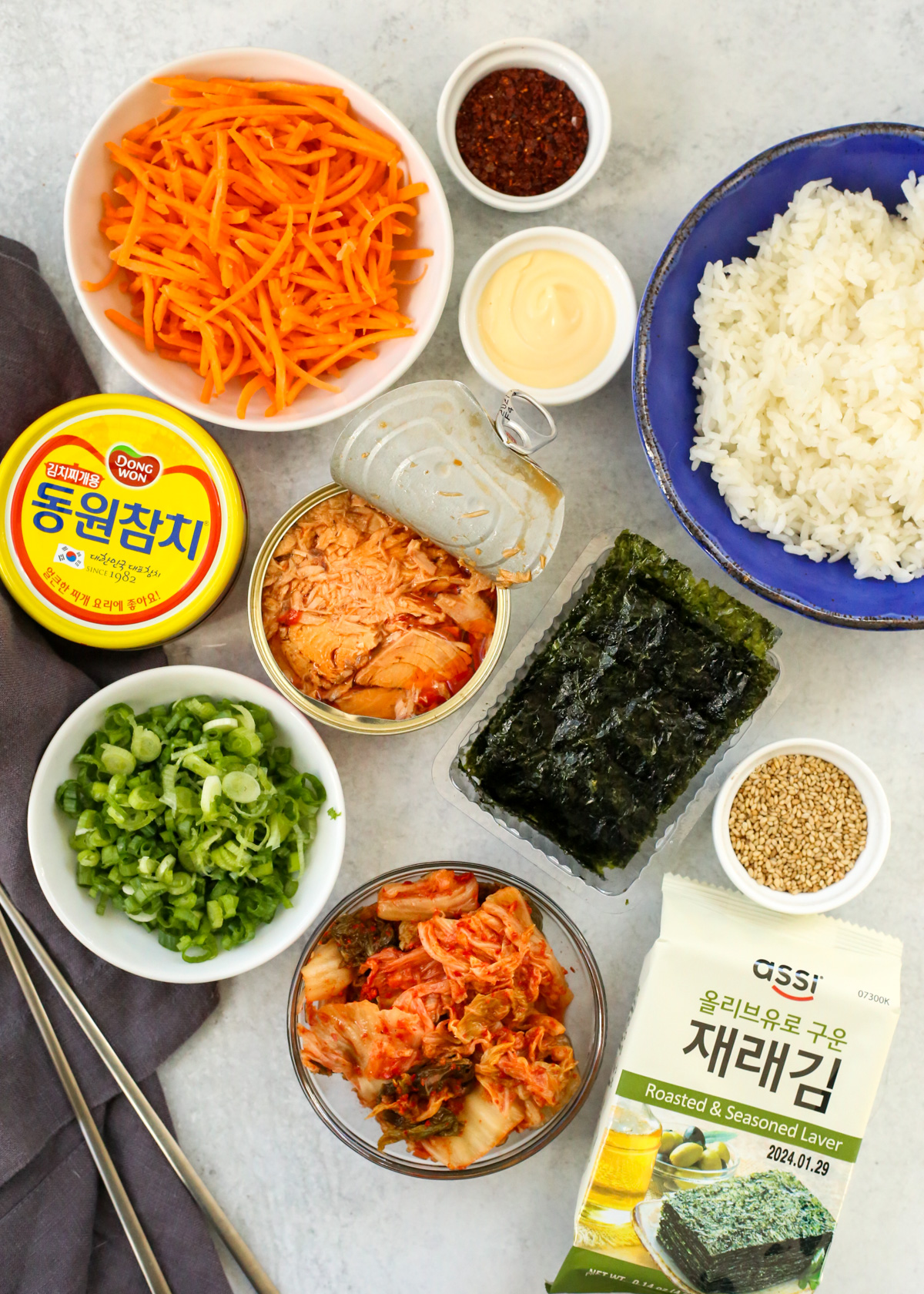 Note that you'll be able to find most of these ingredients in your local grocery store. You may even find them with grocery delivery by using Instacart. But I also included affiliate links to help you find specific things I use when I make chamchi deopbap (Korean tuna rice bowl). It will likely be more expensive to order online, but it can be an option if you don't have a Korean market where you live.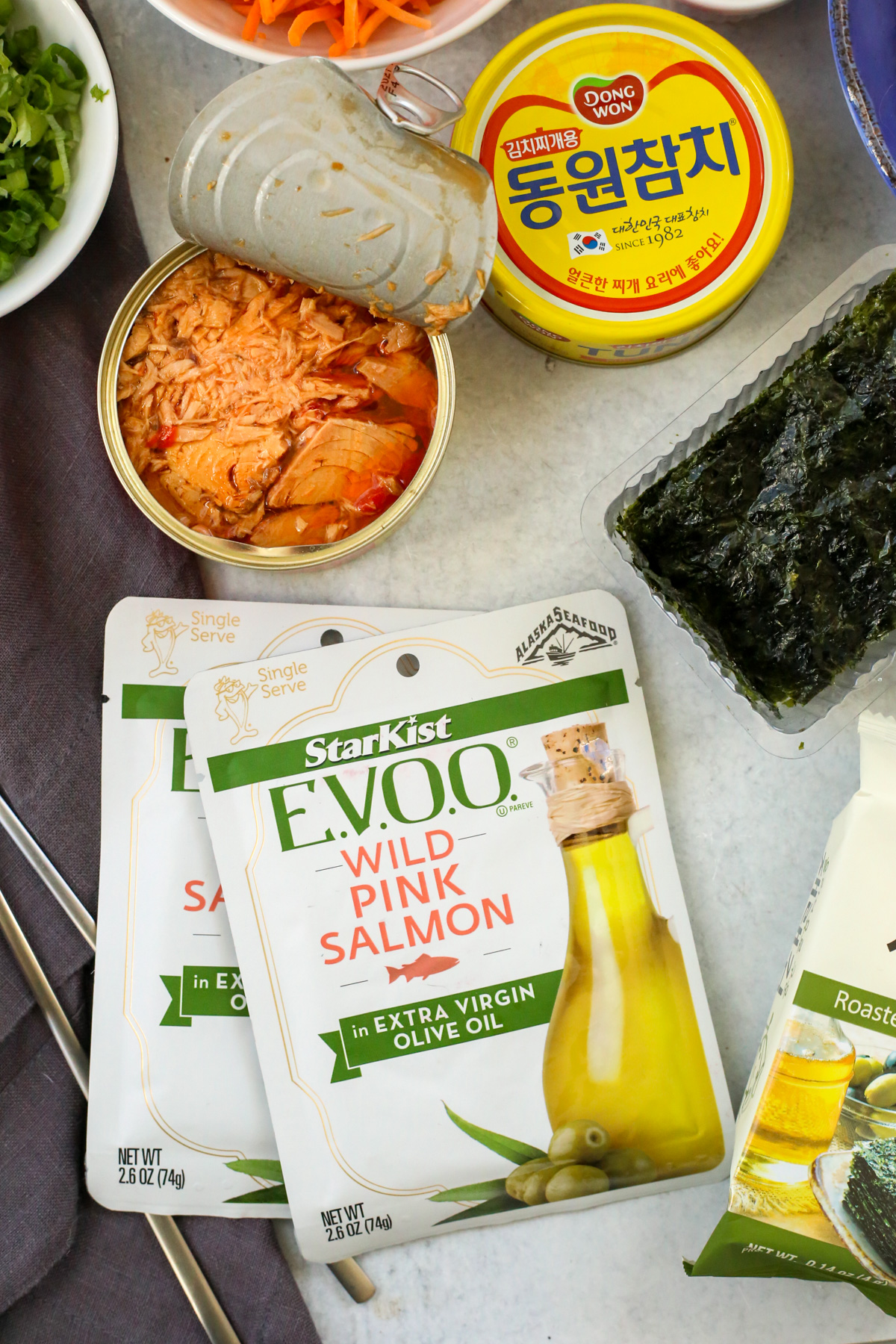 And if you're on board with everything else but want an alternative to tuna, these Starkist salmon pouches are the next best thing! They're packed in olive oil so the texture is never dry, and no draining required. This can make it even easier to make a no-mess, low effort lunch.
How to Make a Korean Tuna Rice Bowl
This easy meal could not be easier to build. Follow these simple steps:
Reheat your pre-cooked rice and layer it into the bottom of a small bowl. You're making a single portion, so it can be a regular bowl, not a mixing bowl. If you're making fresh steamed rice, adjust the cooking time accordingly, but you can reheat rice in the microwave in a couple of minutes or less.
Use kitchen shears to cut kimchi into bite-sized pieces (as needed). Layer this on top of the rice so it starts to warm up from the heat of the rice.
Next, open the can of tuna. You want to drain most or all of the liquid off so you don't end up with soggy rice. Flake it apart and add that on top of the kimchi.
Add your other veggies, including extra kimchi, and anything else you plan to use. I recommend matchstick carrots (shown here), pickled onions, or something similar that will complement the other flavors and textures.
Drizzle the kewpie mayo over the top. It doesn't have to look picture-perfect! And if you like more of a spicy kick, you can mix a little bit of gochujang with the mayo before adding it.
Finally, garnish with plenty of sliced green onions and toasted sesame seeds. Grab a package of gim or nori (dried and roasted sheets of seaweed) for serving. Enjoy!
Street Smart Nutrition Tip: If you want to avoid dragging out a knife and cutting board, or just want to minimize cleanup, use kitchen shears to cut the green onions. It won't be as uniform, but it easily gets the job done if you're prepping this tuna rice bowl in a hurry.
Swaps and Substitutions
As I mentioned, this meal is super easy to customize. Since deopbap means "over rice" you can add pretty much anything to a base of cooked rice. Here are a few suggestions:
Top with scrambled eggs or a fried egg for added protein. Or try canned salmon, shredded rotisserie chicken, or any other protein you have on hand.
Switch to brown rice if you're partial to that variety.
Add a drizzle of sesame oil, soy sauce, or scoop of gochujang (Korean red pepper paste) to mix into your bowl. Korean food features these ingredients often, so there's absolutely no reason you can't doctor it up when you make your version at home!
And no Korean meal is complete without a few small side dishes for the table (banchan). Try Oi Muchim (seasoned cucumber salad) or various types of kimchi.
There's truly no "wrong" way to make chamchi deopbap (Korean tuna rice bowl). Just let your taste buds be your guide! I provide some estimated measurements in the recipe card below. But just know this is a very forgiving, simple recipe that doesn't require exact measurements. If you don't love how it turns out, just make a few adjustments the next time you try it. Eventually you'll land on the version that feels just right for you!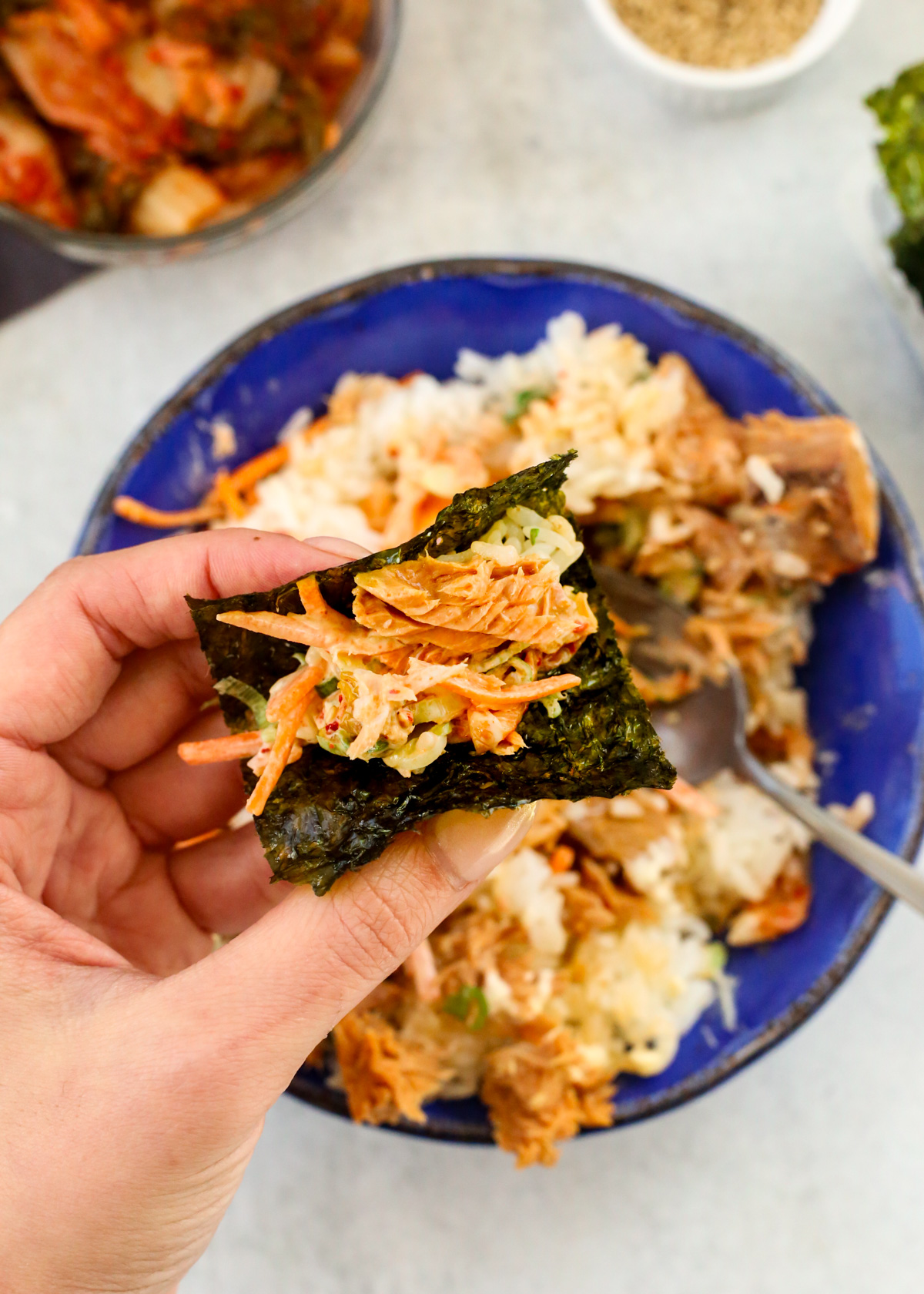 Storage Tips
​As written, this recipe assumes you'll split a large can of tuna between two servings. This can be great if you're eating at home and have someone to share with, but if not, you'll have a whole 'nother portion ready to go. I personally think chamchi deopbap tastes best on the first go-round, but I can't deny how convenient it is to have one that's literally ready to eat.
Cover or seal in an airtight container. You can store it in the fridge for a few days. And remember, the texture of the rice is best when reheated, so use the microwave to heat in short increments until it's warmed through.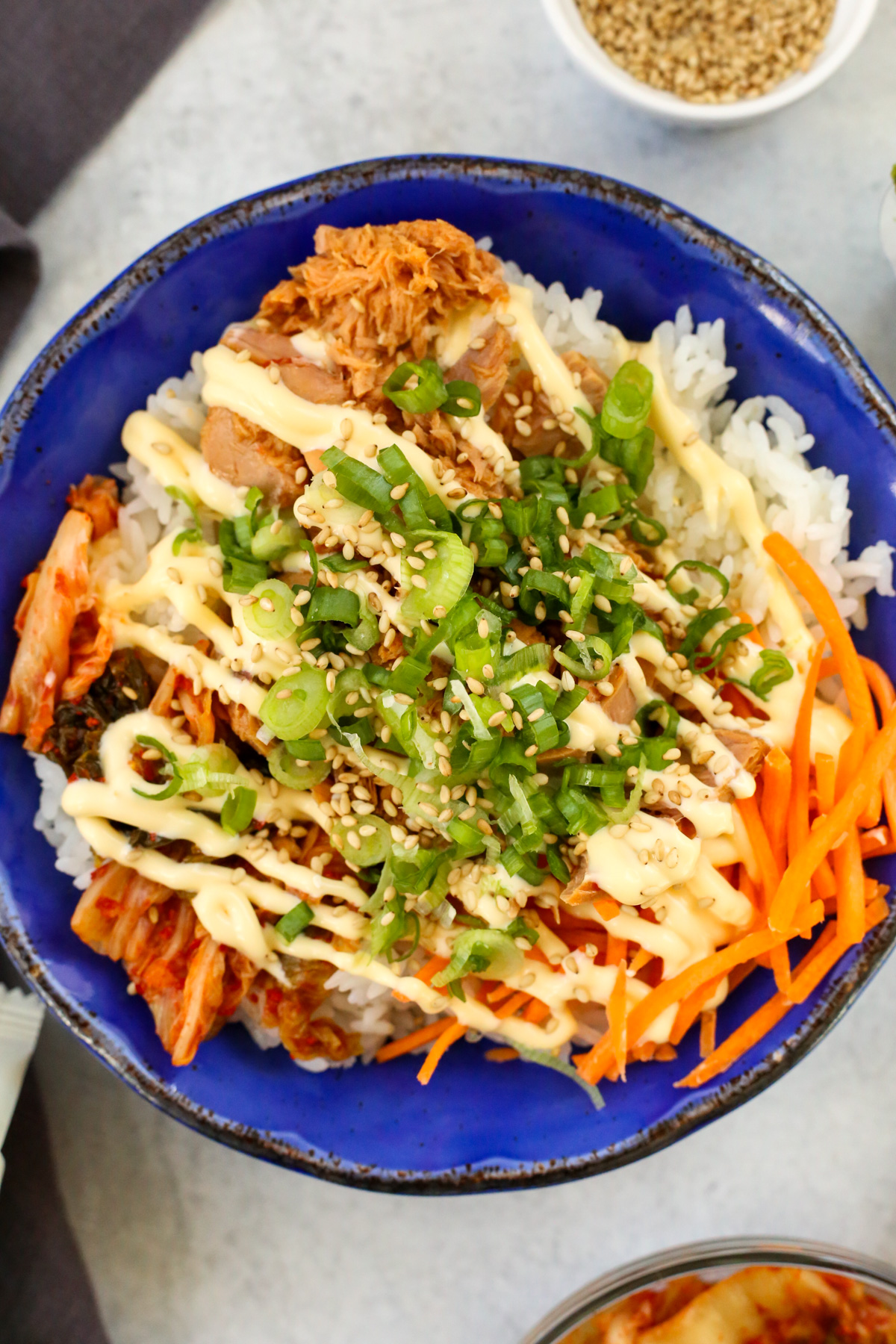 Chamchi Deopbap (Korean Tuna Rice Bowl)
This easy meal comes together in minutes with some reheated white rice, a can of tuna, and kewpie mayo. It's a low-effort recipe you can use for a quick lunch or lazy dinner.
Ingredients
2

cups

white rice

,

cooked or reheated

1

can

tuna

,

packed in oil or seasoned, drained

1/2

cup

napa cabbage kimchi

,

approximately

1/2

cup

matchstick carrots

,

approximately

2-3

tbsp

kewpie mayo

,

approximately

2

green onions

,

thinly sliced

1/2

tbsp

toasted sesame seeds

2

packages

gim or nori snack sheets
Instructions
Reheat the pre-cooked rice for two minutes in the microwave (or until warmed through) and divide between two serving bowls.

Use kitchen shears to cut kimchi into bite-sized pieces (as needed). Layer this on top of the rice in each bowl so it starts to warm up from the heat of the rice. Adjust the amount according to your taste preferences.

Next, open the can of tuna. Drain most or all of the liquid off to avoid soggy rice, then flake it apart and divide between each bowl.

Add the carrots and any additional kimchi you want to use. Drizzle the kewpie mayo over the top.

Finally, garnish with plenty of sliced green onions and toasted sesame seeds. Grab a package of gim or nori (dried and roasted sheets of seaweed) for serving. Enjoy!
Notes
Store leftovers in an airtight container. Refrigerate up to 3 days and reheat in the microwave before serving. 
Nutrition
Serving:
1
serving
,
Calories:
410
kcal
,
Carbohydrates:
50
g
,
Protein:
22
g
,
Fat:
13
g
,
Saturated Fat:
2
g
,
Polyunsaturated Fat:
7
g
,
Monounsaturated Fat:
3
g
,
Trans Fat:
0.03
g
,
Cholesterol:
36
mg
,
Sodium:
444
mg
,
Potassium:
396
mg
,
Fiber:
3
g
,
Sugar:
2
g
,
Vitamin A:
5550
IU
,
Vitamin C:
4
mg
,
Calcium:
80
mg
,
Iron:
3
mg
I think quick meals like this are so underrated. Chamchi deopbap (Korean tuna rice bowl) has been a reliable, easy meal for years and I hope you enjoy it as much as I do! If you try it, let me know what you think by leaving a rating or comment. Feedback is always welcomed!
And as always, thanks for stopping by the Street Smart Nutrition blog. I invite you to browse around to find more recipes and gentle nutrition tips from a registered dietitian. Cheers to more fearlessly nourishing meals!