Let me introduce you to Oi Muchim, a Korean spicy cucumber salad that's simple yet flavorful. It's a refreshing side dish (especially during the hot & humid summer months) and takes just minutes to make. Keep reading to learn more about this delicious recipe!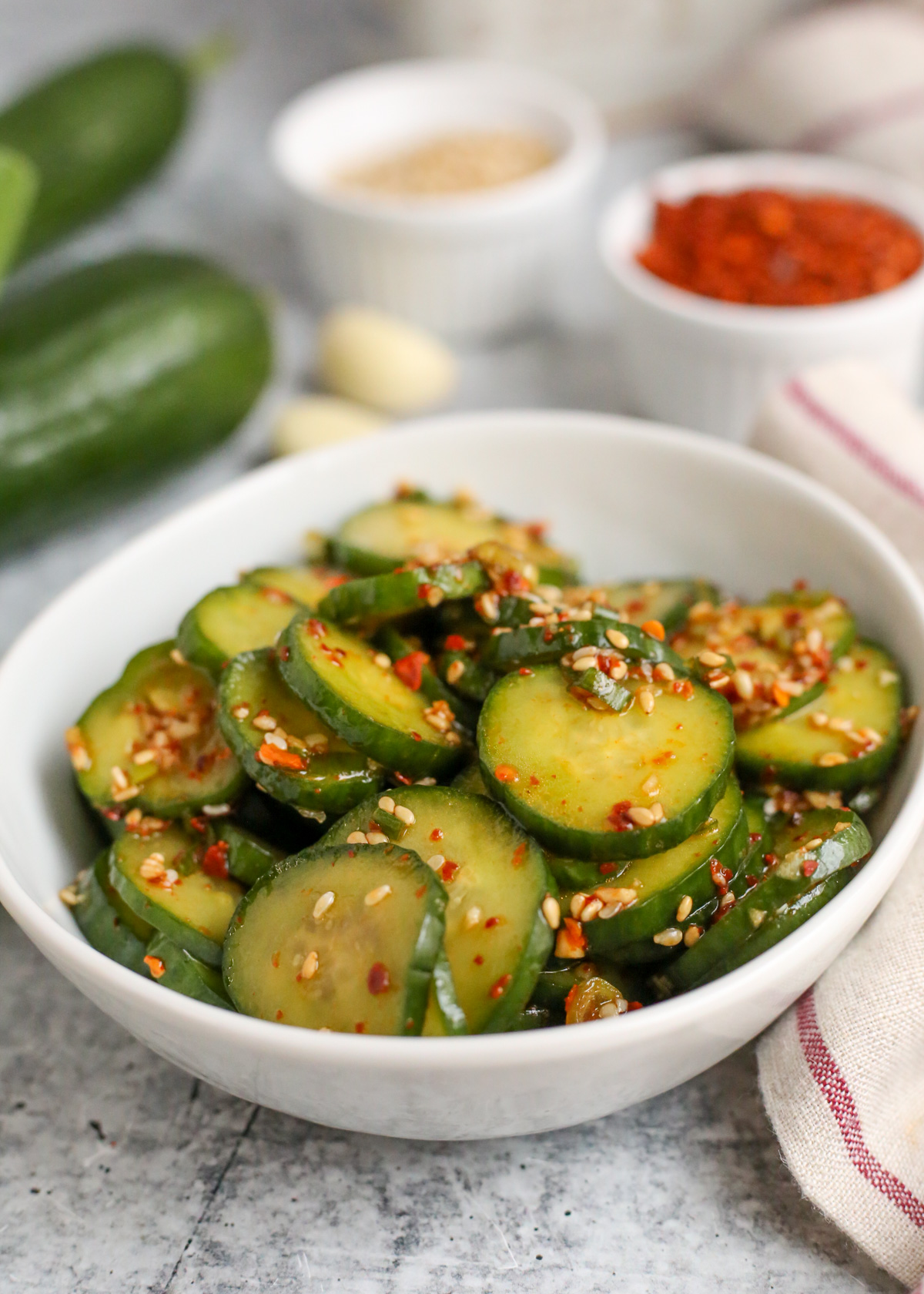 Why You'll Love This Recipe
This is my preferred way to eat cucumbers, which I feel mostly "meh" about most of the time. But the fact that this recipe gets me excited about cucumbers should say a lot about how good it is!
This delicious salad is mostly crisp cucumbers, but with layers of salty, spicy, and sweet flavors throughout.
All you need is 10 minutes, a sharp knife and a cutting board, and that's it! Even measuring spoons will be optional after you make it a few times.
If you're on social media, you've likely seen some version of this cucumber salad recipe going viral. It's so easy to recreate it at home!
Ironically, a different cucumber recipe is one of the most popular posts of all-time. Check out my Quick-Pickled Cucumbers and Onions if you want a slightly different version!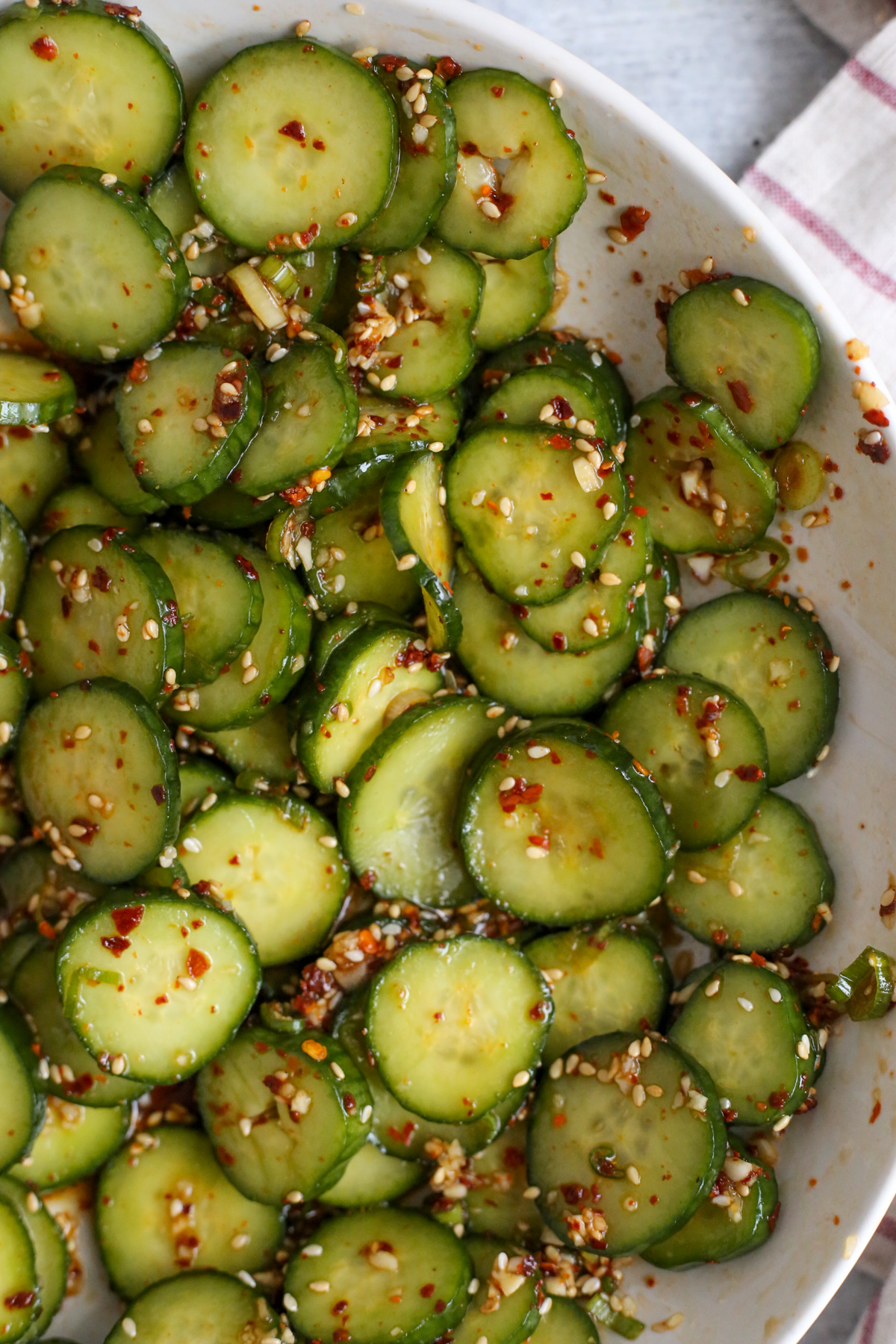 Ingredients You'll Need
​Head to the recipe card for measurements, but first gather up the following ingredients for this spicy cucumber salad:
Cucumbers. Any type of cucumber with a thin skin works well. Obviously, in Korea, any oi muchim recipe is traditionally made with Korean cucumbers. That variety is less common where I live in the United States, so my top pick is Persian cucumbers for their smaller size. You can also use English cucumbers, Kirby cucumbers, or Japanese cucumbers.
Green onion. As my favorite Korean YouTube channel (Aaron & Claire) says, "more green onion, more delicious!" And I agree! I use at least one green onion, but feel free to add more or less depending on your tastes.
Garlic
Soy sauce. I use low-sodium soy sauce, but you can also swap for tamari if you need a gluten-free option.
Toasted sesame oil. Do not skip this! It thickens the seasoning sauce and helps it nicely coat each piece of sliced cucumber, plus adds so much flavor.
Gochugaru. Korean red pepper flakes also essential, they add a hint of spicy flavor and a striking deep red color.
Toasted sesame seeds
Sugar. This balances the salty, spicy flavors and only a small amount is needed.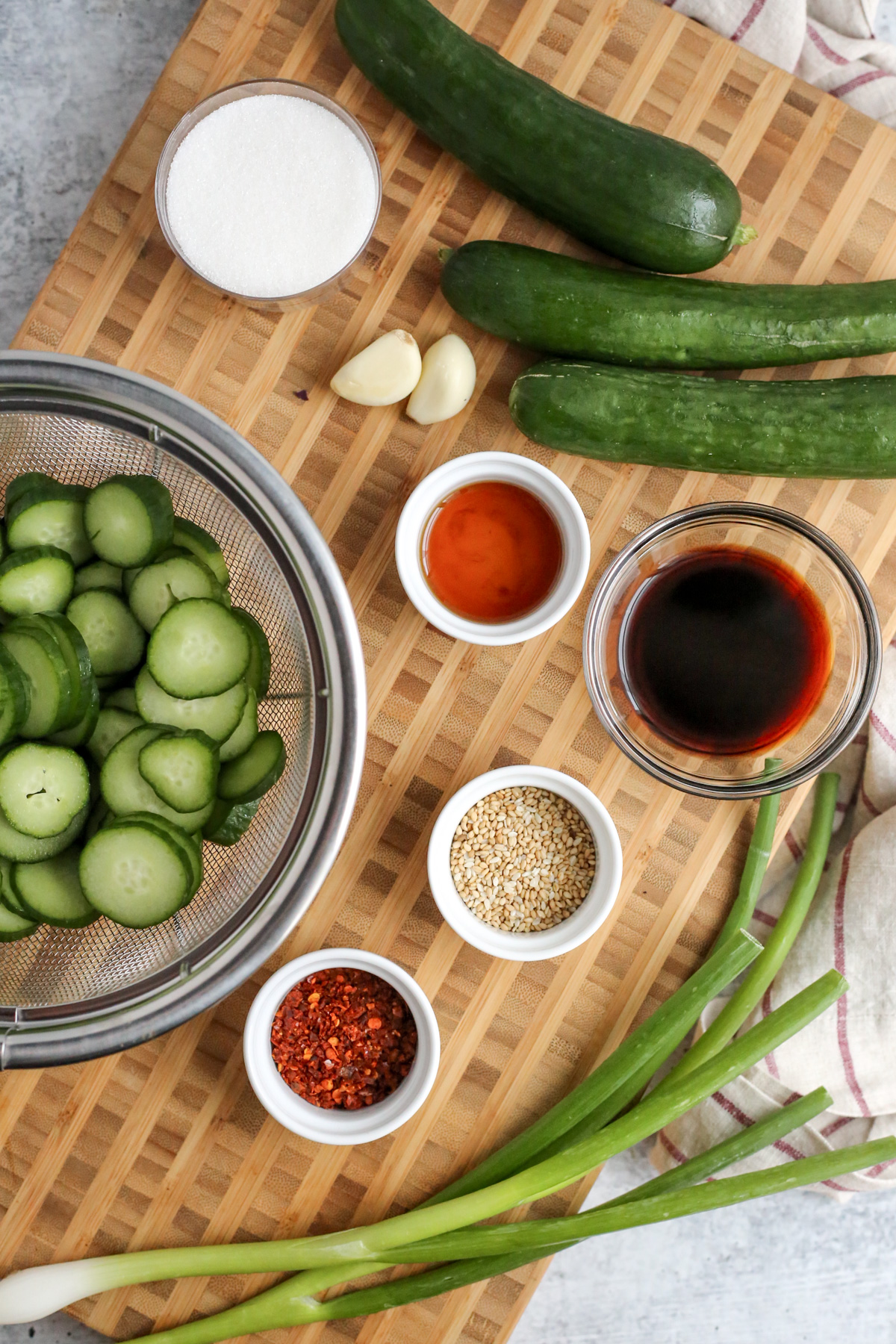 As you can see, you only need a handful of simple ingredients to make this spicy Korean cucumber salad recipe. Most grocery stores stock these items nowadays. But if you're having any trouble, plan to visit your local Asian market if you have one, or look online for delivery options.
Variations of Oi Muchim (Korean Cucumber Salad)
In Korean cuisine, there's something called sohn mat (손맛), which means "hand taste." Basically, it's the unique flavor of a dish that comes from the hand of the cook who prepares it. Think of it like the special touch or "secret sauce" that can't fully be captured by a recipe. Rather, it comes from experience and connection to food that's made with enthusiasm, care, and attention to detail.
This is really important to me, not only because I'm Korean-American, but also because I value flavor and satisfaction as an anti-diet dietitian. Intuitive eating has some parallels to this because it's only through unsubscribing to diet rules (like, "don't add sugar!") and developing your own sohn mat that you'll learn what a dish needs to taste "right" to you. So there are endless variations of oi muchim and cucumber salad recipes out there. I haven't tried all of them, or made most of them. But I really encourage you to explore some of these variations if they sound appealing to you.
Add different veggies alongside the sliced cucumber, like thinly sliced sweet onions or matchstick carrots.
You might try a splash of rice vinegar or fish sauce.
Keep the sauce ingredients the same, but try it with a different type of cucumber. Or, simply slice or chop it into different shapes if you prefer.
And while this crunchy Korean cucumber salad is similar to cucumber kimchi (oi kimchi), it's not the same! This simple salad is not fermented, although it is seasoned with some of the same ingredients you'd find in the kimchi version.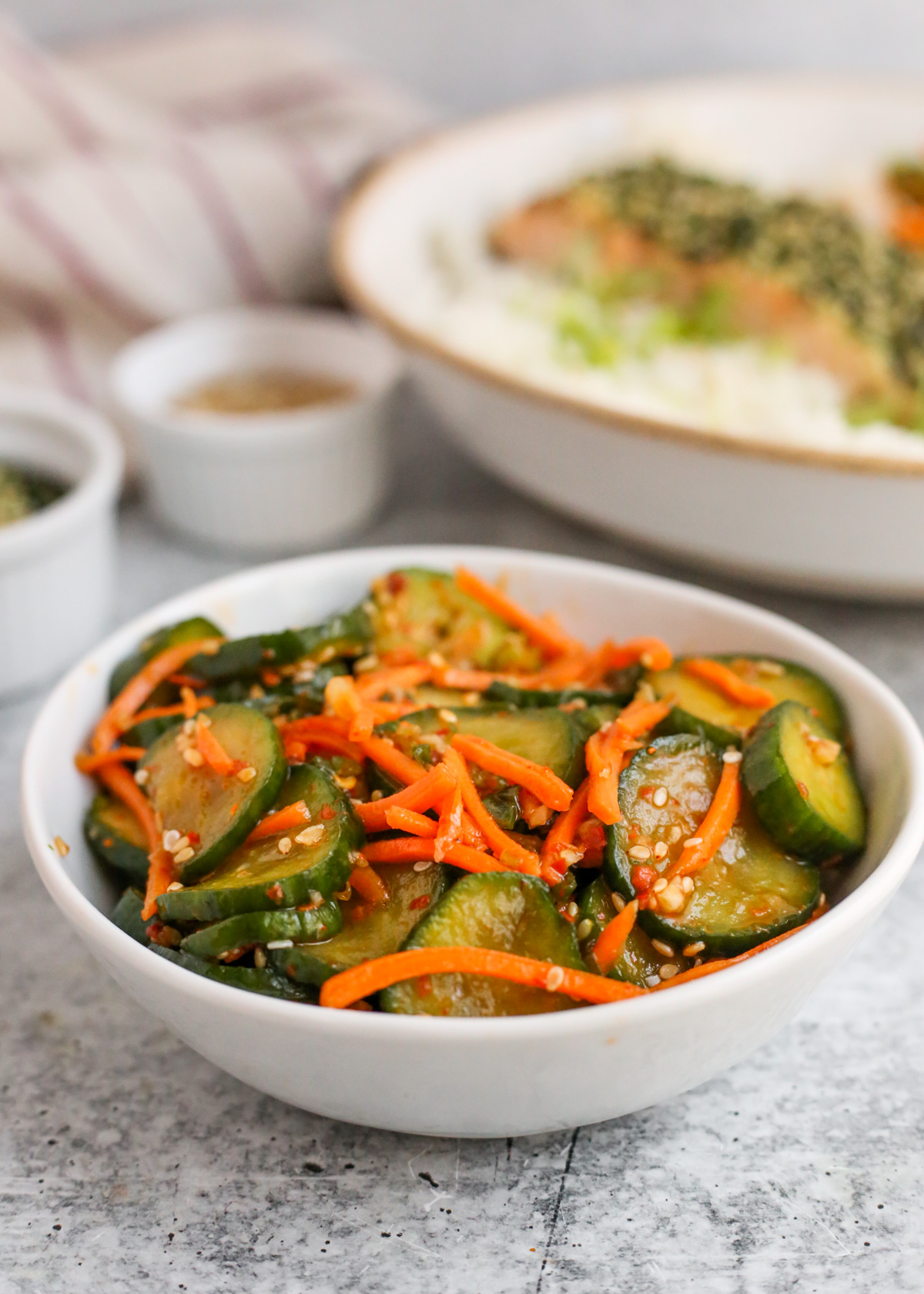 How to Make Oi Muchim (Korean Cucumber Salad)
This cucumber side dish is such an easy recipe! It really just depends on how long it takes to do the minimal slicing and chopping. After that, everything can be mixed in one large bowl.
First, sliced the cucumbers into thin rounds. If you're using a bigger type of cucumber, try slicing in half before slicing diagonally or into half-moons. Maangchi has the best of example of that in her recipe for oi muchim.
Street Smart Nutrition Tip: It's best to use a cucumber without a lot of seeds if possible. But you can't always know that until you cut it open! If that's the case, just use a spoon to scrape out the middle portion with all the seeds before slicing. This will help keep the cucumbers crisp for longer.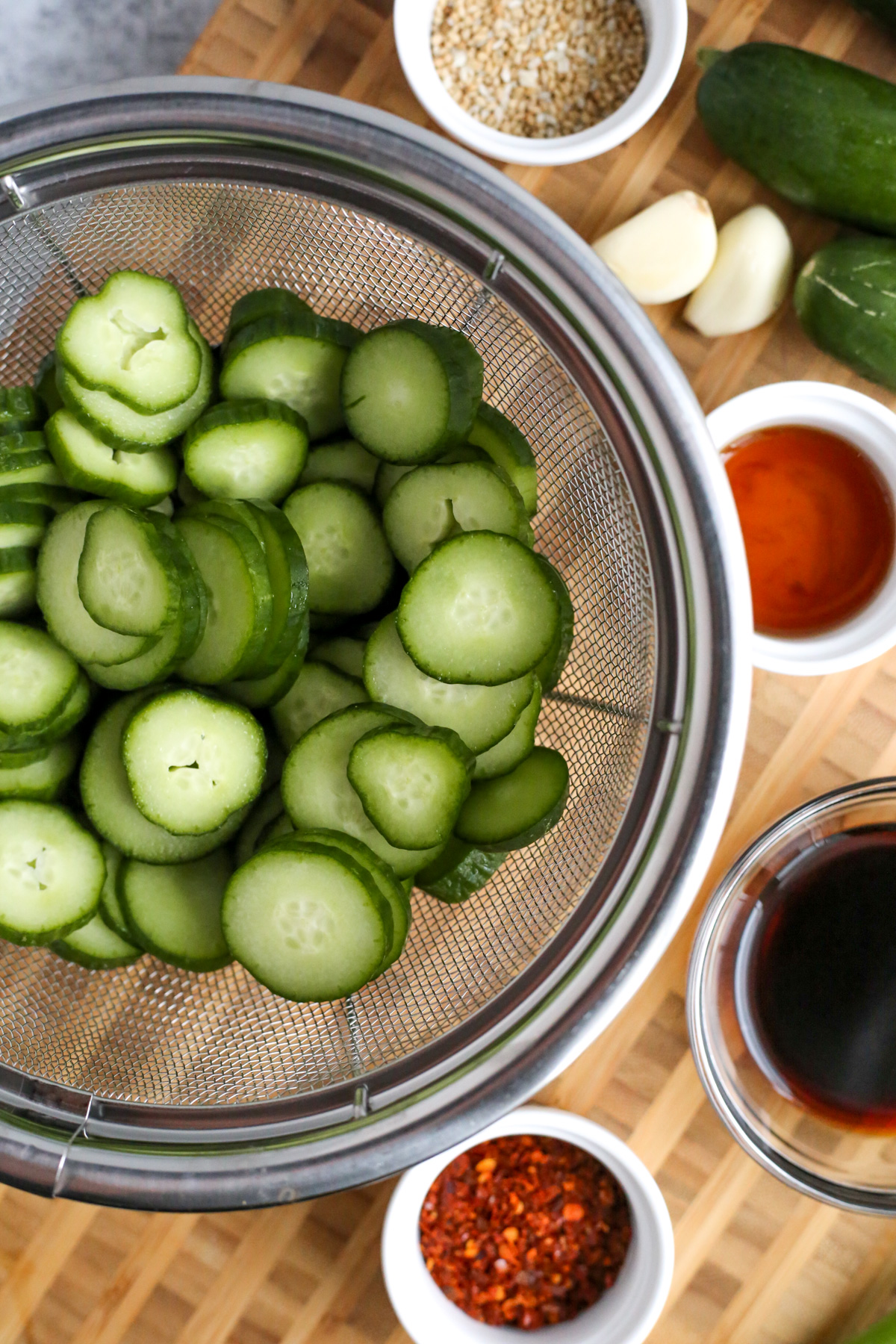 At this point, you could salt the cucumbers and let them drain excess moisture for 10-15 minutes. Personally, this turns out too salty for my tastes but if you try this, be sure to rinse under cold water before moving to the next steps.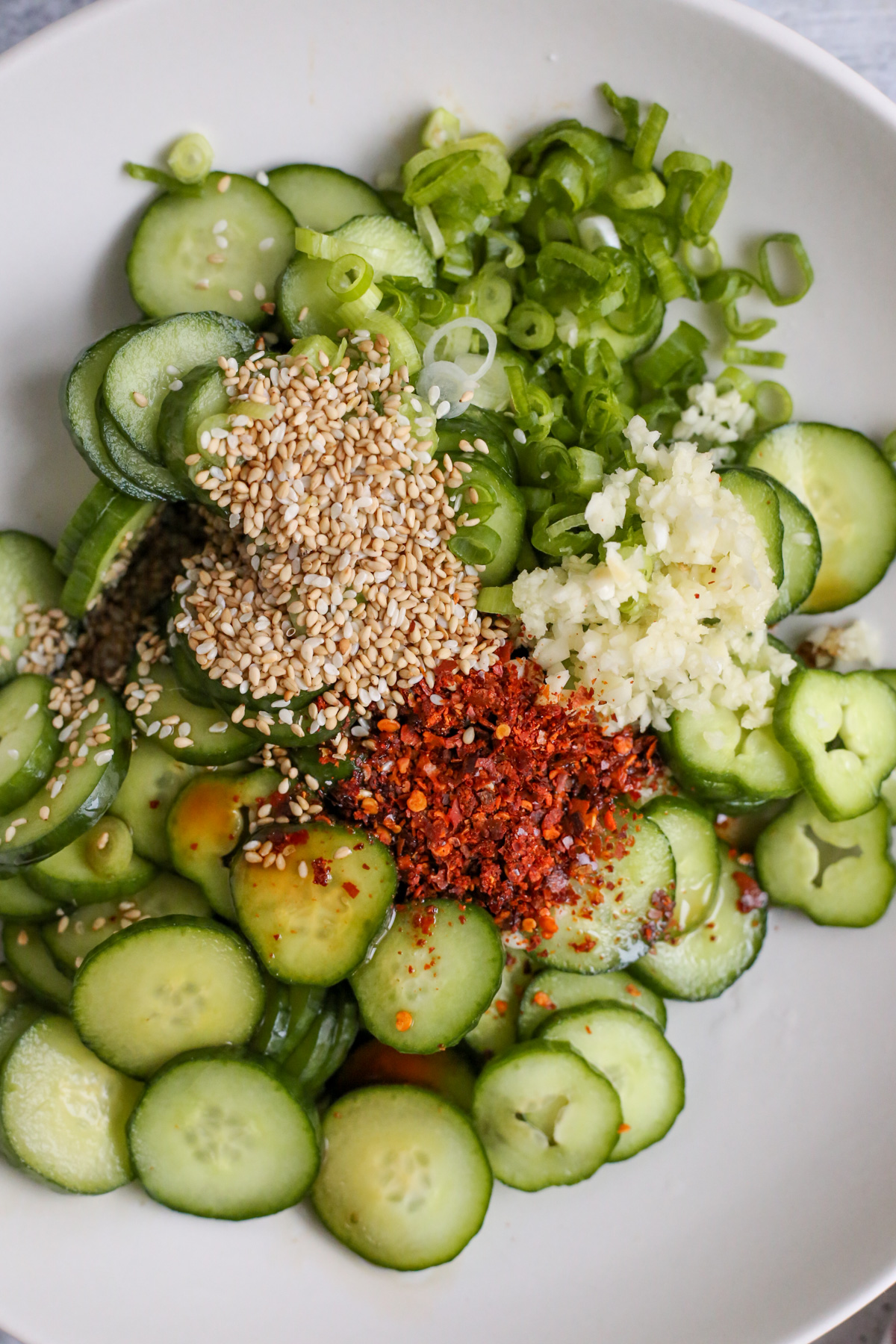 Add the sliced cucumbers to a large mixing bowl, then add the rest of the ingredients: minced garlic, sliced green onions, gochugaru (Korean red chili flakes), toasted sesame seeds, toasted sesame oil, soy sauce, and a little bit of sugar.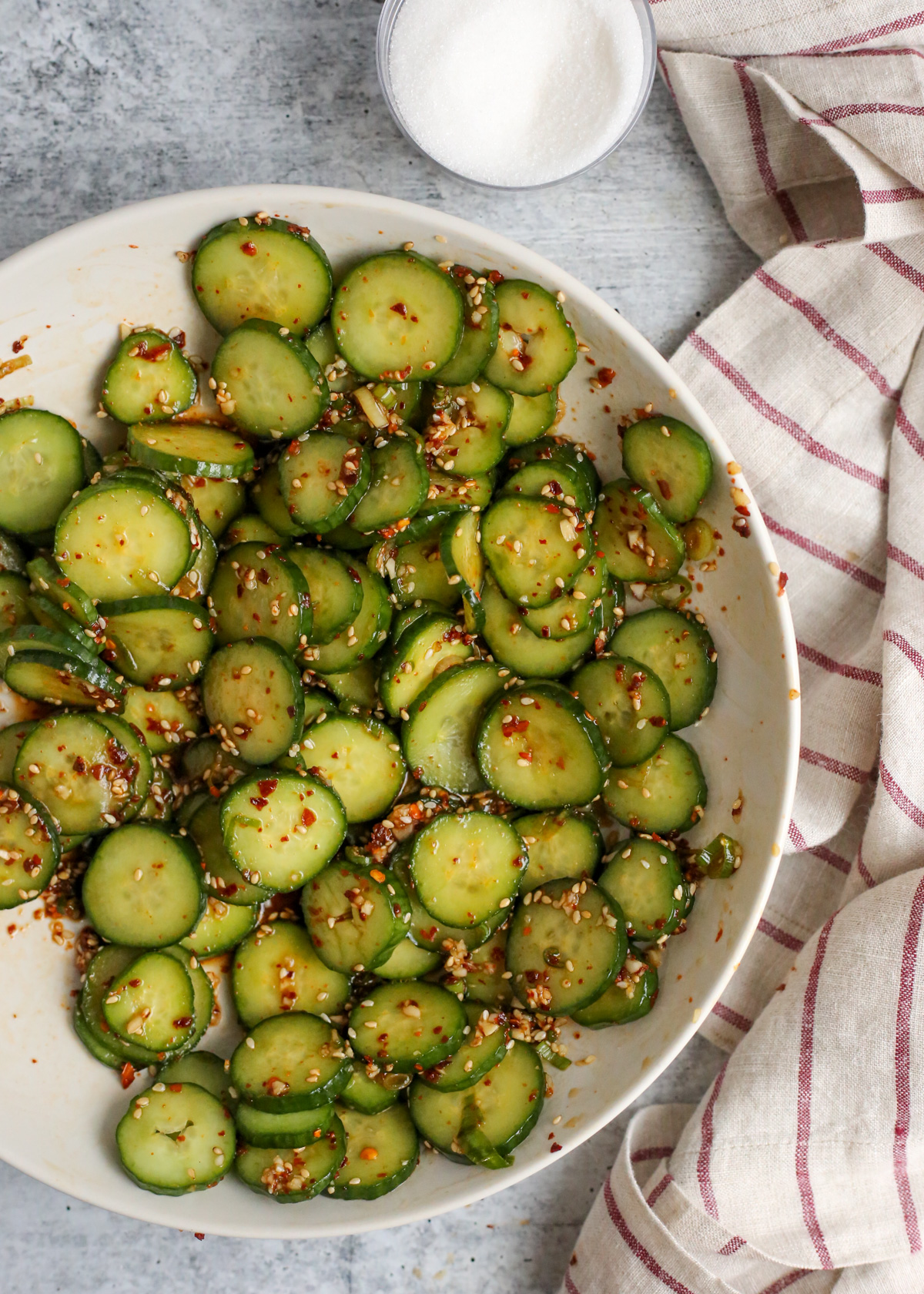 Mix everything well, then taste to adjust the seasonings if needed. Once everything is coated in the simple sauce, you're ready to dig in!
Serving Suggestions
Oi muchim is a Korean cucumber side dish, so it's typically served alongside other banchan (small shared side dishes) to accompany a main meal. I always look forward to the array of different options at Korean barbecue or Korean restaurants. And you can enjoy a version of that at home! Simply portion some of the finished oi buchim into a small bowl. Serve it with white rice and anything else you prepare for the main course. Or get creative and add it to other rice dishes.
This side dish is light and tangy, and although some might think it's spicy, to me the heat is very subtle. It can cut through the richness of grilled meats and even be a tasty burger topping.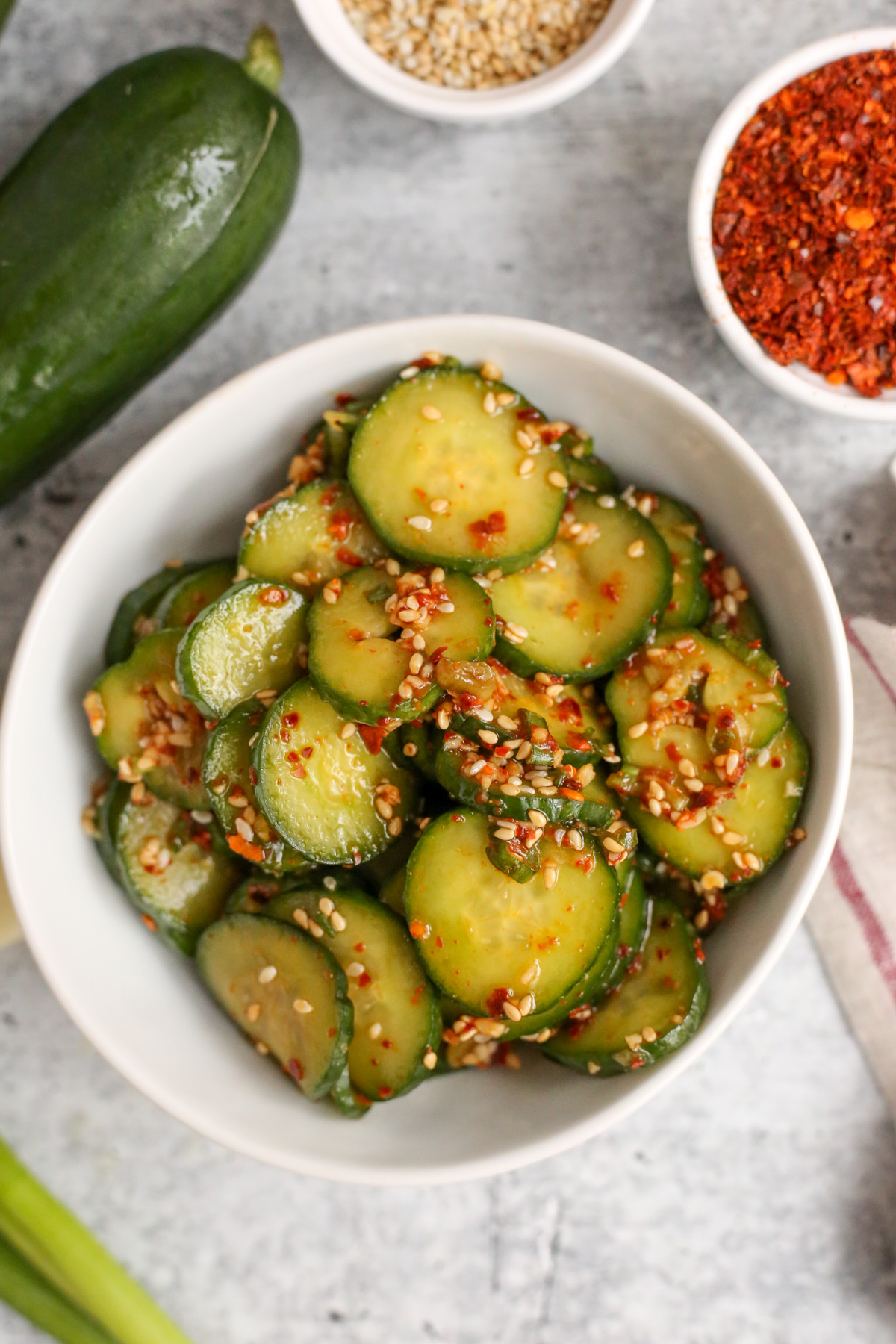 Storage Suggestions
This Korean cucumber salad recipe is best eaten within the first couple of days. While it technically can last longer than that, after the first day the sliced cucumbers will be much softer and less crispy. The cucumbers will lose water, leading to excess liquid pooling at the bottom. This could also dilute the flavor of the sesame oil, garlic, gochugaru, and other seasonings.
If you don't mind that, no problem! But I think it's important to manage expectations. Here's what I recommend:
After preparing your oi muchim, transfer the cucumber salad to an airtight container. I personally really like the ones with the snap-on lids because they are leakproof and come in a variety of sizes, like these from Rubbermaid.
If leaving in a mixing bowl or serving bowl, seal tightly with press & seal wrap.
Store in the refrigerator and use within 1-2 days for best results.
And if we're being honest, I've never once had a problem with plowing through this recipe in 1-2 days. Or less! It has so much refreshing crunch, during the humid summer months this is pretty much my go-to! Here's the full recipe for my Oi Muchim (Korean Cucumber Salad):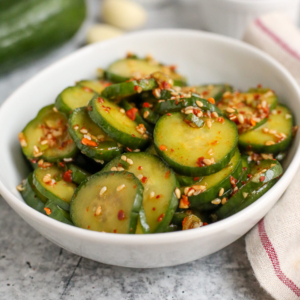 Oi Muchim (Korean Cucumber Salad)
This Korean cucumber salad recipe is quick and easy, taking just minutes to prep! Store in the fridge and enjoy chilled, crunchy, seasoned cucumber as a side dish, snack, or topping for your main meal.
Equipment
chefs knife and cutting board

Measuring Spoons

tongs or chopsticks
Ingredients
6

Persian cucumbers

1

green onion

1-2

cloves

garlic

,

finely minced

1

tbsp

low sodium soy sauce

1

tbsp

toasted sesame oil

1-2

tsp

gochugaru

,

or red pepper flakes

1-2

tsp

toasted sesame seeds

1

tsp

sugar

,

white granulated
Instructions
Wash and dry the cucumbers, then slice into thin rounds. Place in a large mixing bowl or storage container.

Mince the garlic and slice the green onion into thin slices. Add to the cucumbers, along with the soy sauce, sesame oil, gochugaru, sesame seeds, and sugar.

Use tongs or chopsticks to mix all ingredients together, making sure the cucumbers are coated. Cover the bowl or seal the storage container. Refrigerate to enjoy chilled, or serve immediately as a side dish or snack.
Notes
The cucumbers will release water as they sit, which may soften them or create soggy pieces. To avoid, eat within 1-2 days for best results, or strain excess liquid before serving. 
Nutrition
Serving:
1
serving
,
Calories:
37
kcal
,
Carbohydrates:
3
g
,
Protein:
1
g
,
Fat:
3
g
,
Saturated Fat:
0.4
g
,
Polyunsaturated Fat:
1
g
,
Monounsaturated Fat:
1
g
,
Sodium:
103
mg
,
Potassium:
107
mg
,
Fiber:
1
g
,
Sugar:
2
g
,
Vitamin A:
178
IU
,
Vitamin C:
2
mg
,
Calcium:
16
mg
,
Iron:
0.3
mg
All that's left to do now is decide how to serve your cucumber salad! I guarantee once you taste it, you'll immediately want to throw together another batch. If you enjoy it, be sure to leave a rating and comment to let me know what you think. Then save this post to share with family or friends. Especially if they're growing cucumbers in their garden!
And as always, thanks for stopping by the Street Smart Nutrition blog! You can find more and follow along on Instagram and YouTube, and don't forget to sign up for my newsletter so you never miss a new post. Cheers to more fearlessly nourishing meals!