What do you make when you have too many cucumbers? Quick Pickled Cucumbers and Onions! Refrigerator pickles are beyond easy and add crunch to any recipe. Learn how to quick pickle your extra cucumbers, plus ideas for how to use them!
---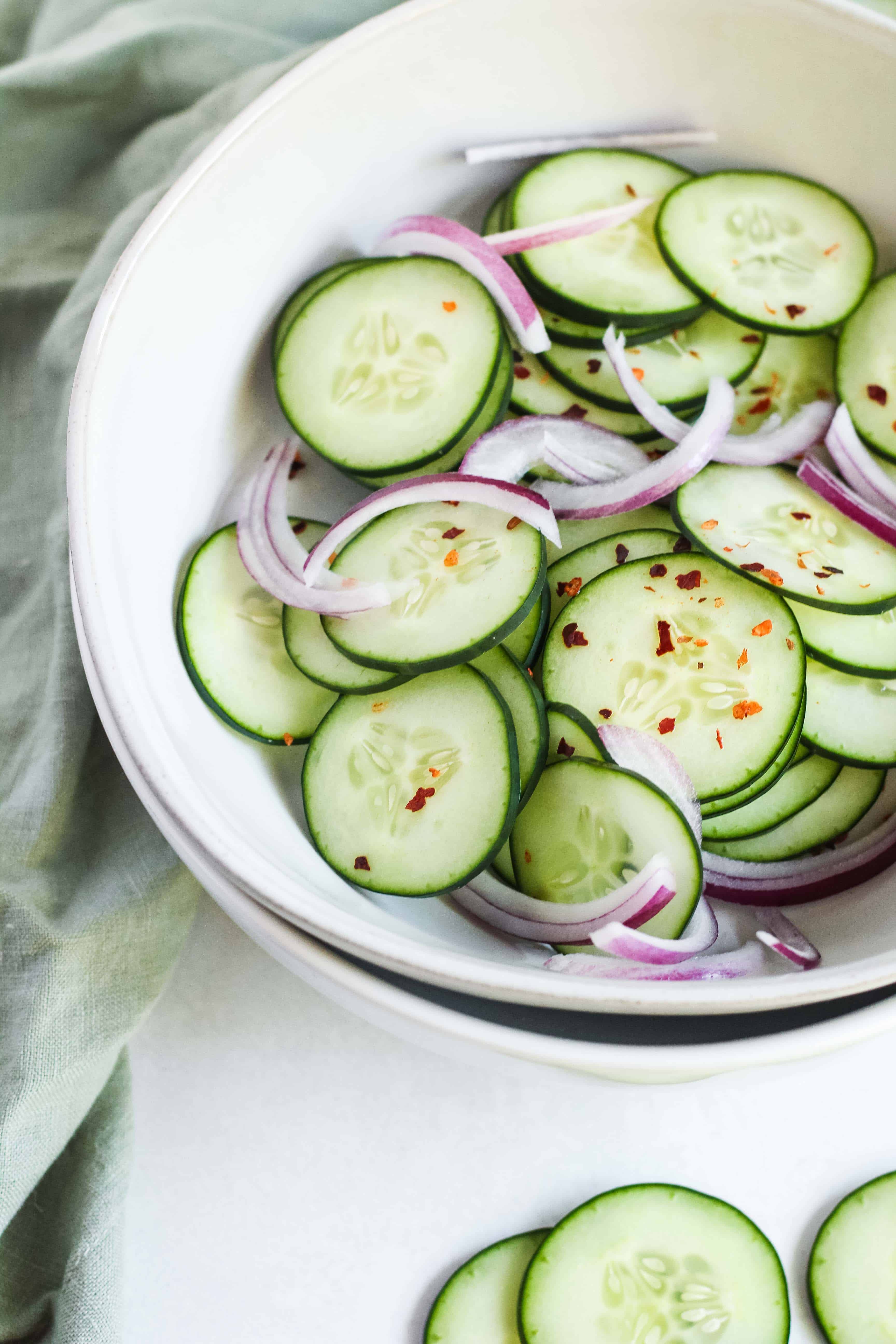 When I first moved back to Kansas City in 2013, I discovered a gem of a farmer's market. I made a point to go as often as I could to mingle in the crowd, enjoy a fresh-baked pastry, and carry home as much fresh produce as I could. Not long ago, I moved to a new apartment that's only a few blocks away and I love how much closer it is!
But that means sometimes I snag a good deal that leaves me with more than what I can eat on my own. Take cucumbers, for example. I love them on sandwiches, in salads, dipped into all kinds of delicious things (like this Roasted Sweet Potato Hummus or Curry Tuna Salad). But that only gets me so far. It just about breaks my heart to toss (what used to be) perfectly good produce in my compost bucket. My best-laid plans to eat my way through my produce purchases sometimes falls short.
That's when I turn to these Quick Pickled Cucumbers and Onions! It buys me a little more time to enjoy them without wasting food since they can store up to a week in the refrigerator. Here's how I do it!
How to Make Quick Pickled Cucumbers and Onions
It really couldn't be simpler to make pickled cucumbers if you have a mandolin slicer. I snagged one a few years ago after not having one for a long time. I remember helping my dad slice potatoes when I was a kid and it always kind of freaked me out – it's a miracle I never amputated the tips of any of my fingers! But it's super convenient for these. I just set it on the thinnest setting and slice my cucumbers into a bowl. From there, I add thinly sliced red onions and the rest of the ingredients.
Toss everything together, pack in glass jars, and you're pretty much done.
If you don't have a mandolin, or they just freak you out too much, try slicing with a chef's knife. They won't be as uniform but pickled cucumbers don't have to be perfect. Another option: slice in matchsticks for a slightly different shape (and honestly, a lot easier than trying to balance a round vegetable as you slice it).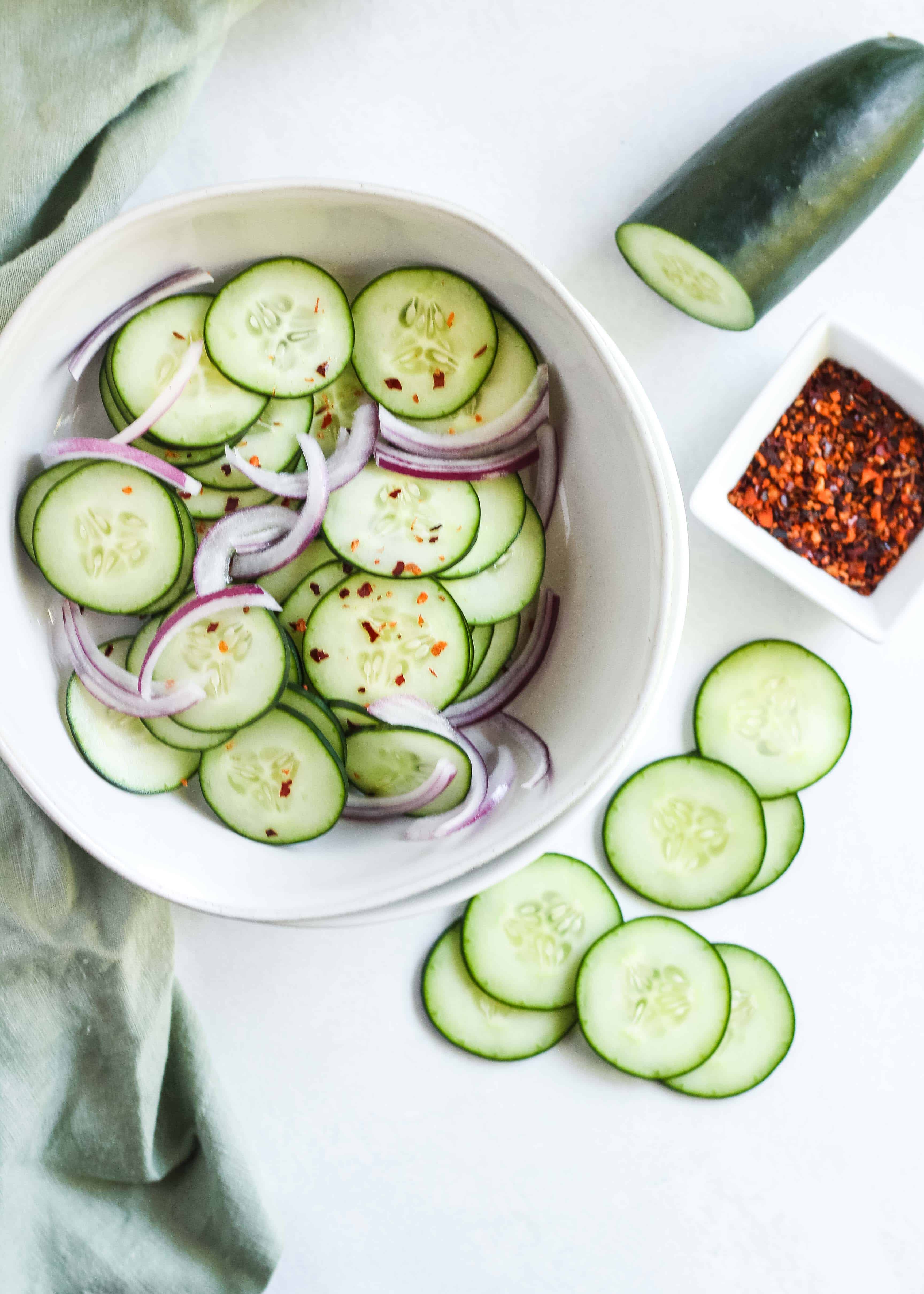 How to Use Quick Pickled Cucumbers and Onions
There is no shortage of traditional and creative uses for quick pickled cucumbers and onions. Since they combine some sweetness with some sour elements, they can play well with just about anything. Here are a few of my favorite ways to enjoy pickled cucumbers:
As a sandwich topping, especially for pulled pork sandwiches, anything BBQ, or with these Gochujang Pork Sandwiches
Stack them high on beef burgers for summer grilling
Same goes for wraps – roll these up with your favorite fillings for wraps. Just be sure to shake off any extra liquid to help avoid a soggy texture
Try these on tacos. You can replace the slaw or other veggies with these quick pickled cucumbers and onions for an easy way to change up your routine for taco night
Throw them onto the side of any grain- or rice-based bowl. Try it with my Korean-Inspired Gochujang Meatballs
Add them to your charcuterie boards or cheese boards when you're entertaining
And the easiest way to enjoy quick pickled cucumbers and onions: straight out of the jar! They're a super simple snack especially when the days are long and hot and you are craving something cool and crispy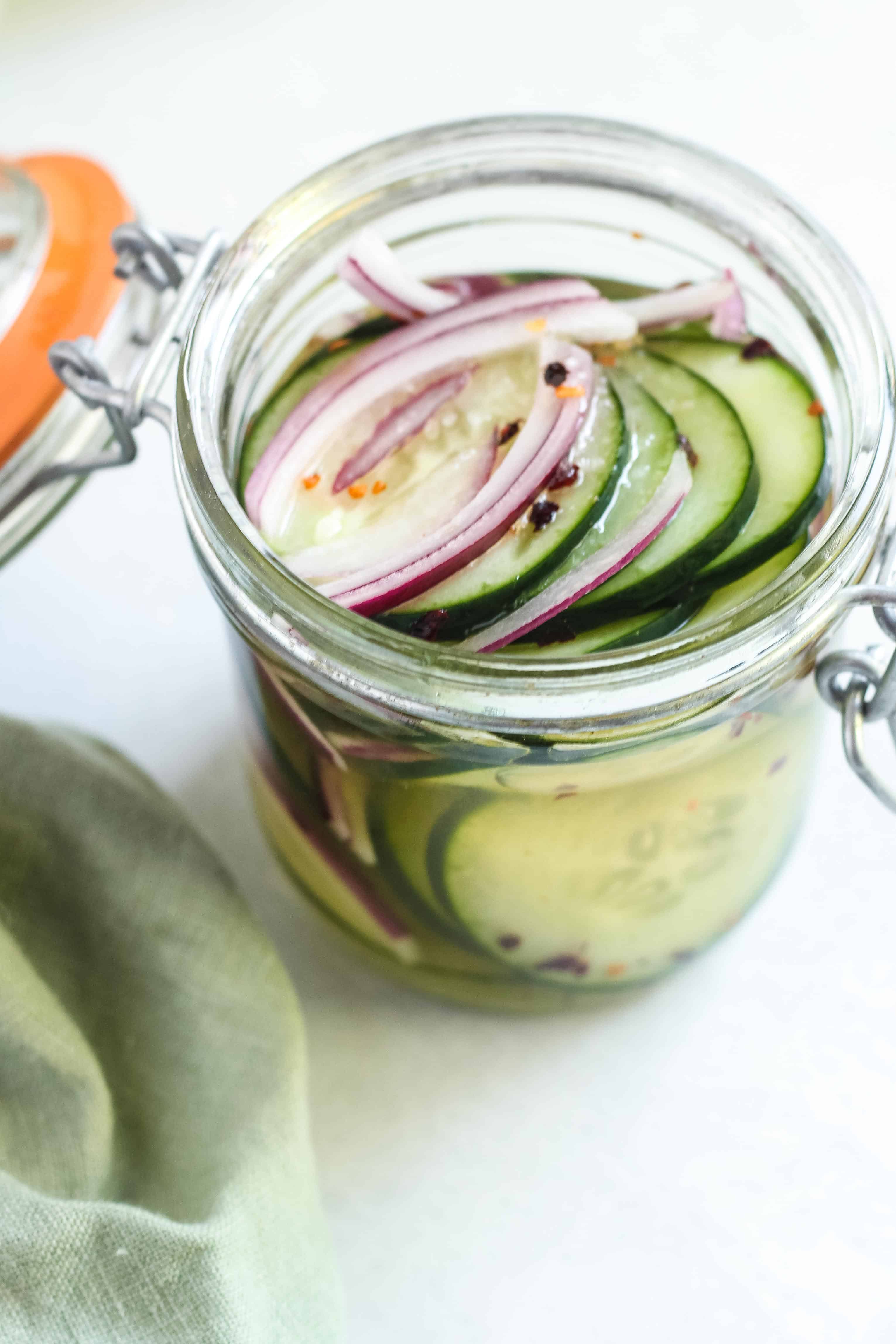 Variations of Quick Pickled Cucumbers and Onions
Although I'm partial to the simple refrigerator pickles shown here, there are lots of ways to mix things up. If you're feeling creative, try these suggestions for other variations on quick pickled cucumbers and onions:
Rice vinegar is somewhat of a specialty ingredient and it definitely impacts the flavor. Try using white vinegar instead or if you really like something sweeter, apple cider vinegar is also an option.
Swap the red chili flakes for black pepper, or create even more spice by adding a jalapeño
If you have too many cucumbers, this is a great way to use them up. But sometimes you're overrun with other summer produce. Try adding thinly sliced carrots or radishes to the mix if you want another version of crunchy, crispy textures
If you have an awkward amount of fresh herbs that you need to use up, add them to the mixture. The flavors will infuse and compliment the cucumbers and onions, especially summer herbs like basil, oregano, and dill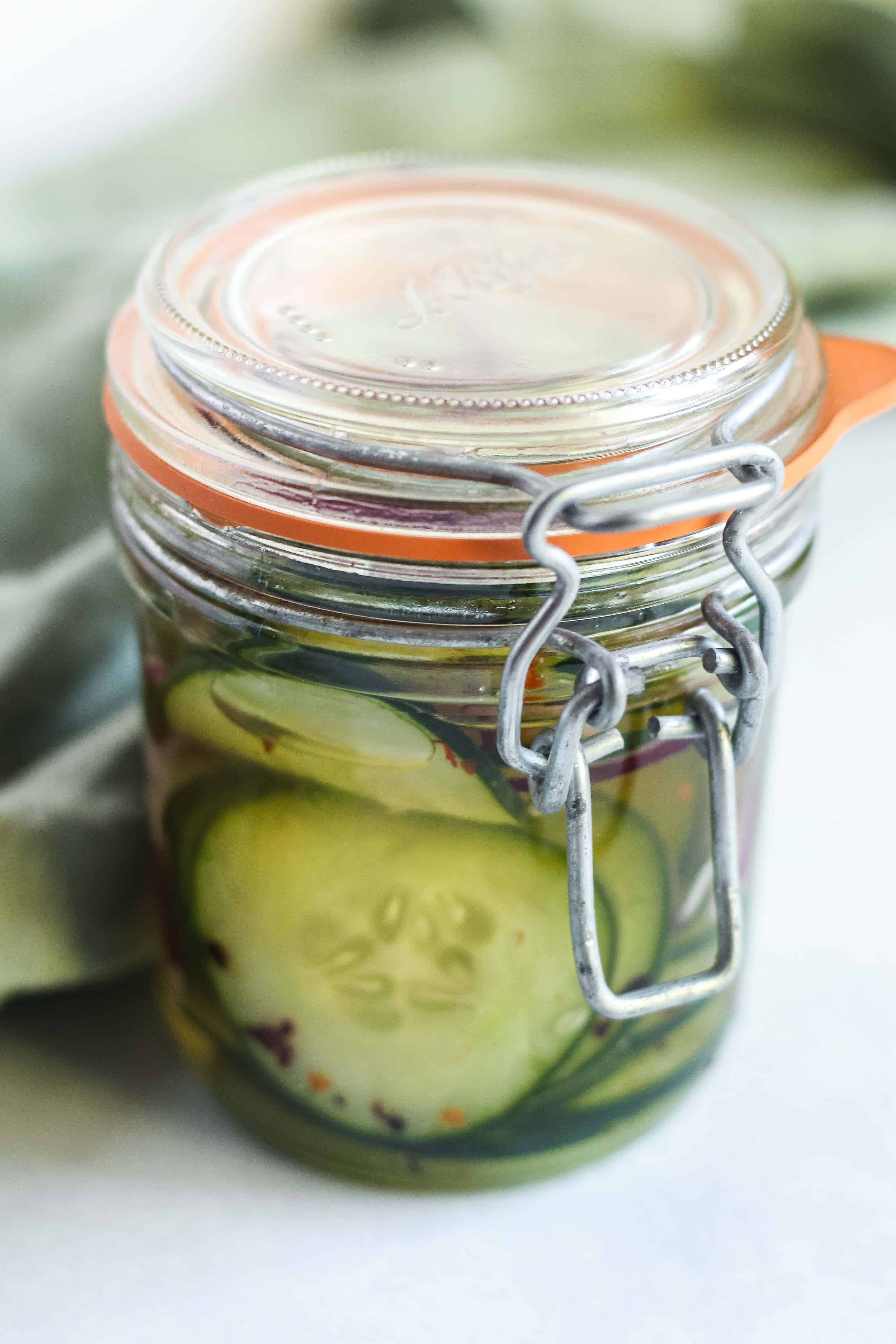 Good luck keeping these refrigerator pickled cucumbers around once they're made! If, by chance, you happen to have some leftover, just stash them in a sealed container like these glass jars. The texture will soften slightly the longer they're stored, so for best results use within a week.
Here are the glass jars I used – they're perfect for stacking or packing!
Here's the Recipe for Quick Pickled Cucumbers and Onions!
Quick Pickled Cucumbers and Onions
Try these sweet and sour quick pickled cucumbers for an easy side dish or for adding to sandwiches, wraps, and more
Equipment
Mandolin Slicer

Cutting Board

Knife

Mixing Bowl

Tongs

Glass Storage Jars
Ingredients
1

large

cucumber

,

very thinly sliced

1/4

red onion

,

very thinly sliced

1

cup

rice vinegar

3/4

cup

sugar

2

tsp

red chili flakes
Instructions
Use a mandolin to thinly slice the cucumber. Add to a mixing bowl and toss with the thinly sliced red onion and red chili flakes.

Transfer to a glass storage container or jar. Whisk the sugar and rice vinegar together until sugar is dissolved, then pour over the cucumbers and onions.

Seal and refrigerate for at least 30 minutes. Use within three days for best quality.
Nutrition
Serving:
1
g
,
Calories:
50
kcal
,
Carbohydrates:
8
g
,
Protein:
0.5
g
,
Sodium:
1
mg
,
Fiber:
0.5
g
,
Sugar:
7
g
,
Vitamin C:
7
mg
Love this easy recipe for quick refrigerator pickles? Give it a rating or leave a comment, then be sure to save it and share it!