Potato nutrition has gotten pushed out of the spotlight, but it's a great tool to provide valuable nutrition for athletes and active people. Learn more about the benefits of potato nutrition, plus get the recipe for Chimichurri Potato Breakfast Tacos!
---
Do you have a favorite way to eat potatoes?
French-fried, baked, roasted, grilled, hash-browned, mashed, smashed, or any other way you slice 'em, I think they're great. I used to go to town on mashed potatoes (usually mixed together with corn and gravy). My parents were big on family meals when we were young so I have a lot of early food memories of enjoying potatoes in their various forms. And my dad taught me how to use a mandolin and NOT slice the tips of my fingers off to make massive skillets of crispy fried potatoes with onions and kielbasa. Also a good thing.
So I guess you could say I was pro-carb before the need to be pro-carb ever even existed. Who knew one day I'd have to speak up to defend the potato against the wave of low-carb, no-carb diet trends. But, here we are!
Potatoes are a staple ingredient in my house because:
We love carbs
They're inexpensive
They're easy to cook
I  mean, I fail to see any downsides here (insert heart-eyes emoji). While I have my other favorites, it's not unusual for me to prep a few baked potatoes, roasted potatoes, or mashed potatoes for the week so I have some pre-made options for lunch and dinner. This got me thinking…what about breakfast?
The meals I seem to consistently struggle with the most are the ones I probably prep for the least. Sure, I can grab a granola bar or jar of overnight oats, but there are times when I want (and need!) a savory option to feel truly satisfied. This is especially true after tough morning workouts. Whether I'm enjoying a long run, going to my favorite boot camp class, or lifting something heavy, my appetite is raring to go when I get finished.

This recipe was born from the idea of prepping some ingredients ahead of time so when it's time to eat, I can just assemble and enjoy. The roasted potatoes and chimichurri sauce can be made days in advance if needed. Just allow the potatoes to cool before storing (this helps you avoid a soggy texture) and reheat when you're ready. And the oil in the chimichurri sauce may need some time to thaw before serving but pulling it out to sit on the counter for ~30 minutes does the trick. Finally, you can always prep the eggs in advance and reheat, but if you prefer them fresh it takes only minutes to quickly scramble some eggs for these tacos.
I'm partial to this Lemon Chimichurri Sauce, grab the recipe HERE! And you can find more flavor inspiration in this recipe for a Summer Salmon Salad with Grilled Peaches and Chimichurri.
And let's be honest – sometimes after a grueling workout this is all I have the energy for! Refueling is an important priority, but I always advise my clients to match their meals with their energy levels. If you have time and energy to cook from scratch for every meal, go for it! But if not, it's OK to find little ways to make it easier on yourself.

Potato Nutrition
I know I've mentioned the highlights already but here are some other reasons why potatoes can be a key source of nutrition in your recipes:
A medium potato (5.2 oz) with the skin provides 110 calories, no fat, no sodium or cholesterol, 30 percent of your daily value of vitamin C, and more potassium than a medium banana.
Potassium is an important electrolyte that aids in muscle, cardiovascular and nervous system function. A medium potato (5.2 oz) with the skin contains 620 milligrams of potassium, more than a medium-size banana.
Carbohydrate is important for optimal mental and physical performance. A medium potato (5.2 oz.) with the skin has 26 grams of quality carbohydrate.
With as much – if not more – of several essential vitamins and minerals found in spaghetti, brown rice, or whole-wheat bread, potatoes are a smart addition to your other favorite performance foods (compared on a per-serving basis).
I opted for a petite potato medley in this recipe. Petite potatoes are nutritionally the same as their full-sized counterparts and make for an eye-catching dish thanks to the various colors you see. The red potatoes hold their texture really well, giving you something firm to bite into. Yellow potatoes (my personal favorite) have a rich, almost buttery texture after they cook. And the purple potatoes add a pretty pop of color.
Street Smart Nutrition Tip: I used to think "baby" or "new" potatoes were their own type – they're actually just petite potatoes, harvested before they grow to the size we typically see in grocery stores!
Performance Meal Planning With Potatoes
I'm an active person and work with a lot of active people. Some of them consider themselves athletes, some not so much. Regardless of how you get active, providing your body with energy and nutrition is a universal need! Sure, elite athletes have unique demands, but something I love about sports nutrition is that the same basic ingredients can provide athletes of all levels and abilities with what they need to fuel their bodies and recover.
A few of the priorities after training or exercise include carbohydrates, a moderate amount of protein, a source of fat (for satiety, taste, and to assist with nutrient absorption), and sodium and potassium as important electrolytes. Hydration is another key aspect, so don't forget your fluids!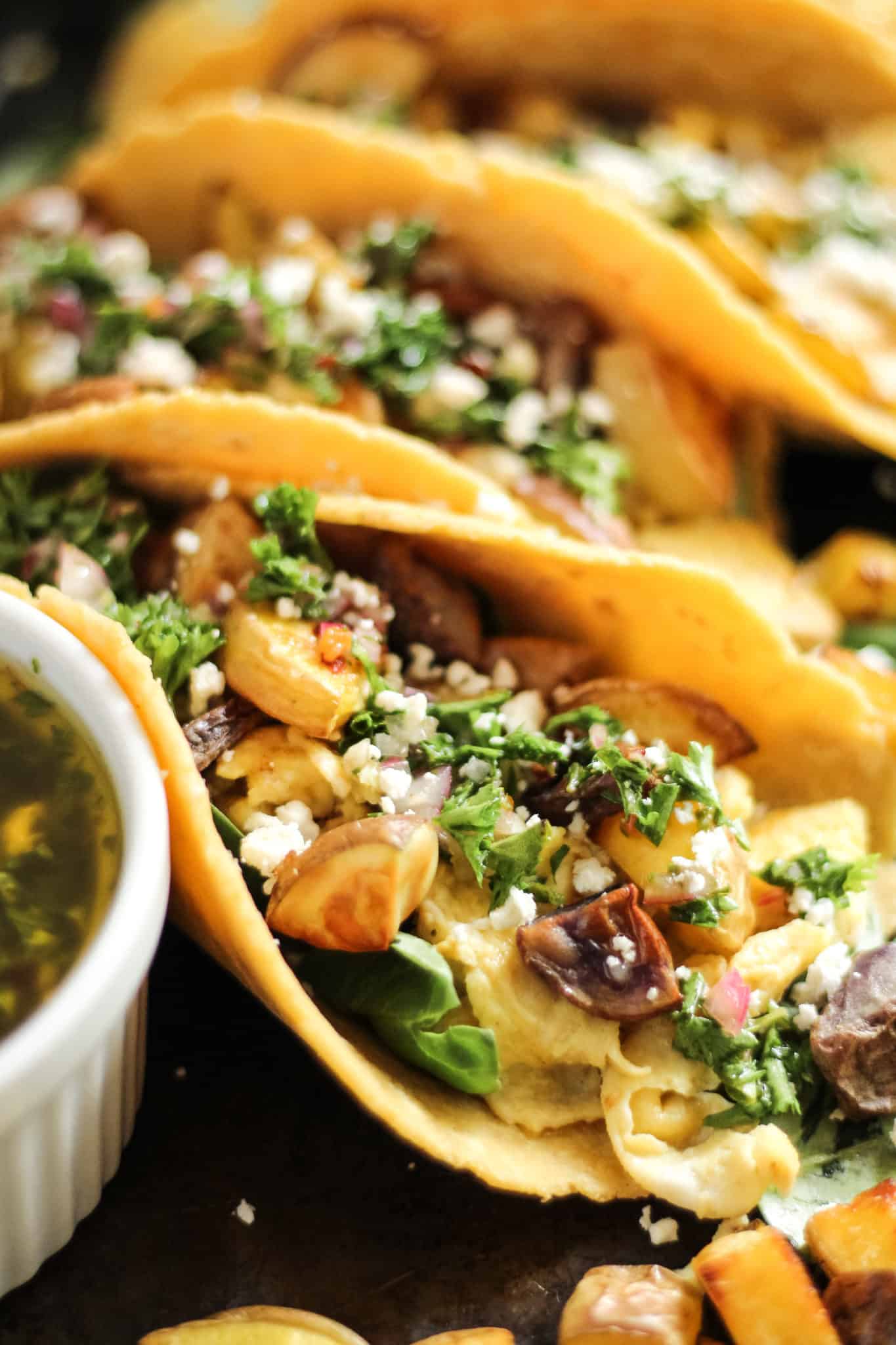 This recipe provides all of the above, so check it out and consider including potatoes in your weekly meal prep efforts. Did someone say breakfast tacos for dinner??
Because that's what I'm having…
Here's the recipe for Chimichurri Potato Breakfast Tacos!
Chimichurri Potato Breakfast Tacos
Roasted potatoes and corn tortillas provide energizing carbohydrates to fuel your day or refuel after a tough workout. Try these breakfast tacos for dinner or substitute other roasted veggies!
Ingredients
1

lb

small or new potatoes

Coarse sea salt and pepper to taste

4

large

eggs

8

corn tortillas, 6" size

1 1/2

cup

spinach

1

ounce

cojita or goat cheese crumbles
Basic Chimichurri Sauce
1/3

cup

olive oil

2

tbsp

red wine vinegar

1/2

cup

fresh parsley, packed

3

tbsp

fresh oregano

4

cloves

garlic

2

tbsp

finely minced red onion

1

tsp

red chili flakes

1/4

tsp

coarse sea salt
Instructions
Basic Chimichurri Sauce
Prepare the onion and garlic by finely chopping with a chef's knife. Add to a small mixing bowl.

Wash and dry the fresh herbs, remove stems, and finely chop. Add to the mixing bowl, along with all remaining ingredients. Stir to combine, then allow to sit while the rest of the ingredients are prepared.
Breakfast Tacos
First preheat the oven to 400 degrees F. While oven is heating, wash and dry potatoes, then chop into 1/4" cubes. Then spread in a single layer on a nonstick or prepared baking sheet. Season with salt and pepper to taste.

Roast 10-12 minutes, then flip. Allow to roast another 10-12 minutes, until the potatoes are browned and crispy. If desired, switch oven settings to "BROIL" for the last 3-4 minutes of roasting.

Meanwhile, gently whisk together the eggs and scramble in a non-stick or cast iron skillet until cooked to your preference. If desired, heat tortillas in the warm skillet before building the tacos.

To build the tacos: add the fresh spinach, then layer the scrambled eggs and roasted potatoes on top. Drizzle chimichurri sauce over the top of each taco, then sprinkle with cheese. One serving equals two tacos and 1-2 tablespoons chimichurri sauce. Serve immediately. 
Notes
This recipe yields ~2/3 cup prepared chimichurri sauce. Store leftovers in the refrigerator and allow to thaw at room temperature prior to use. 
Nutrition
Serving:
4
servings
,
Calories:
345
kcal
,
Carbohydrates:
49
g
,
Protein:
14
g
,
Fat:
12
g
,
Saturated Fat:
3
g
,
Cholesterol:
189
mg
,
Sodium:
296
mg
,
Potassium:
816
mg
,
Fiber:
8
g
,
Sugar:
2
g
,
Vitamin A:
2242
IU
,
Vitamin C:
37
mg
,
Calcium:
180
mg
,
Iron:
5
mg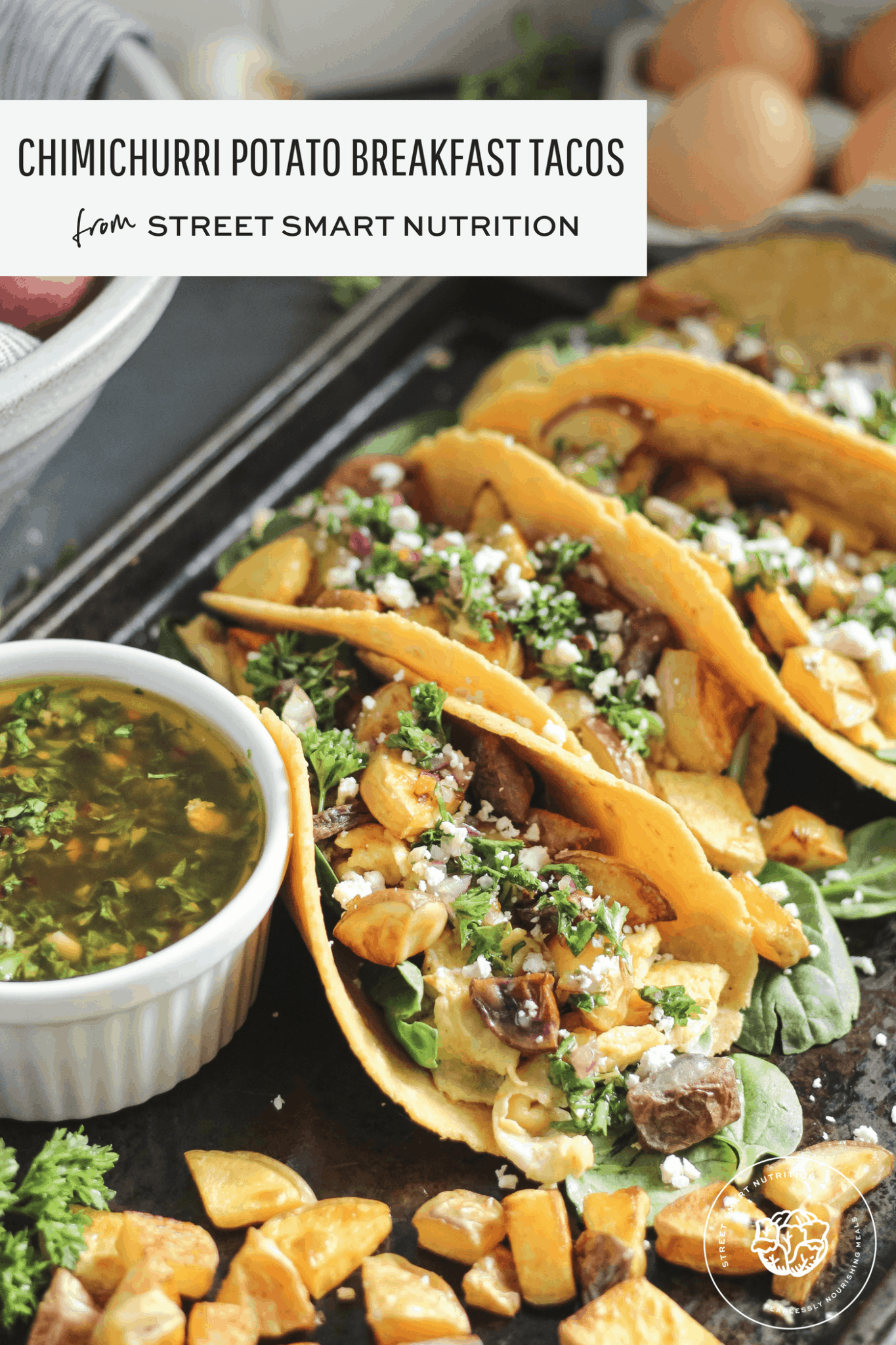 Looking for more tasty recipes featuring potatoes? Check out my Hash Brown Potato Bowl and Sheet Pan Honey Mustard Chicken with Roasted Veggies.