If you've never tried grilled peaches before, buckle up! Your taste buds are in for a treat with this Summer Salmon Salad with Grilled Peaches and Chimichurri. Is your mouth watering yet? If so, read on for this summer salmon salad recipe!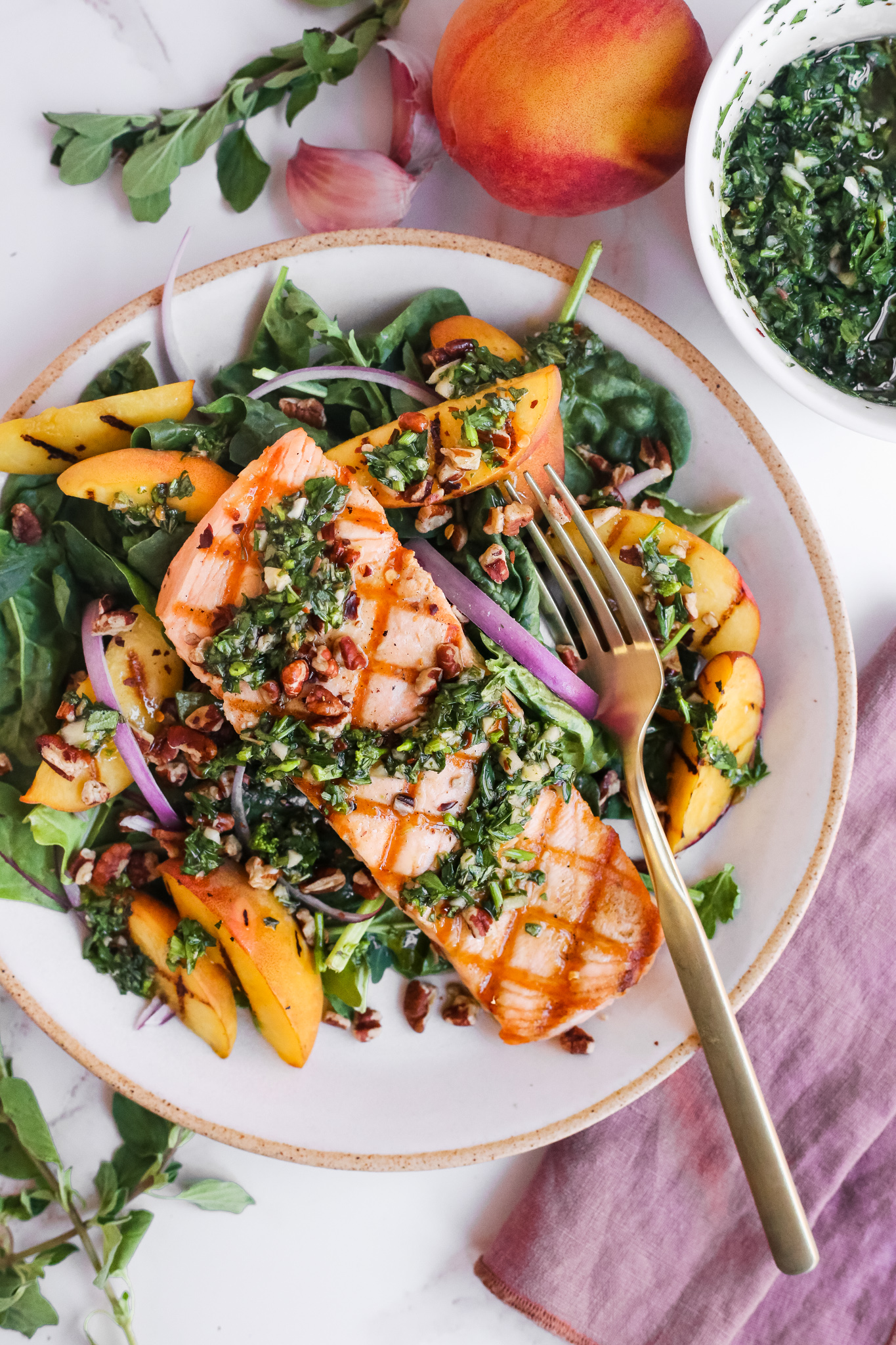 In a continuous and unrelenting effort to one-up myself with #SaladsThatDontSuck, I bring you this summer salmon salad. Does your mouth instantly start watering as soon as you see anything covered with grill marks?
Let your eyes feast for just a moment: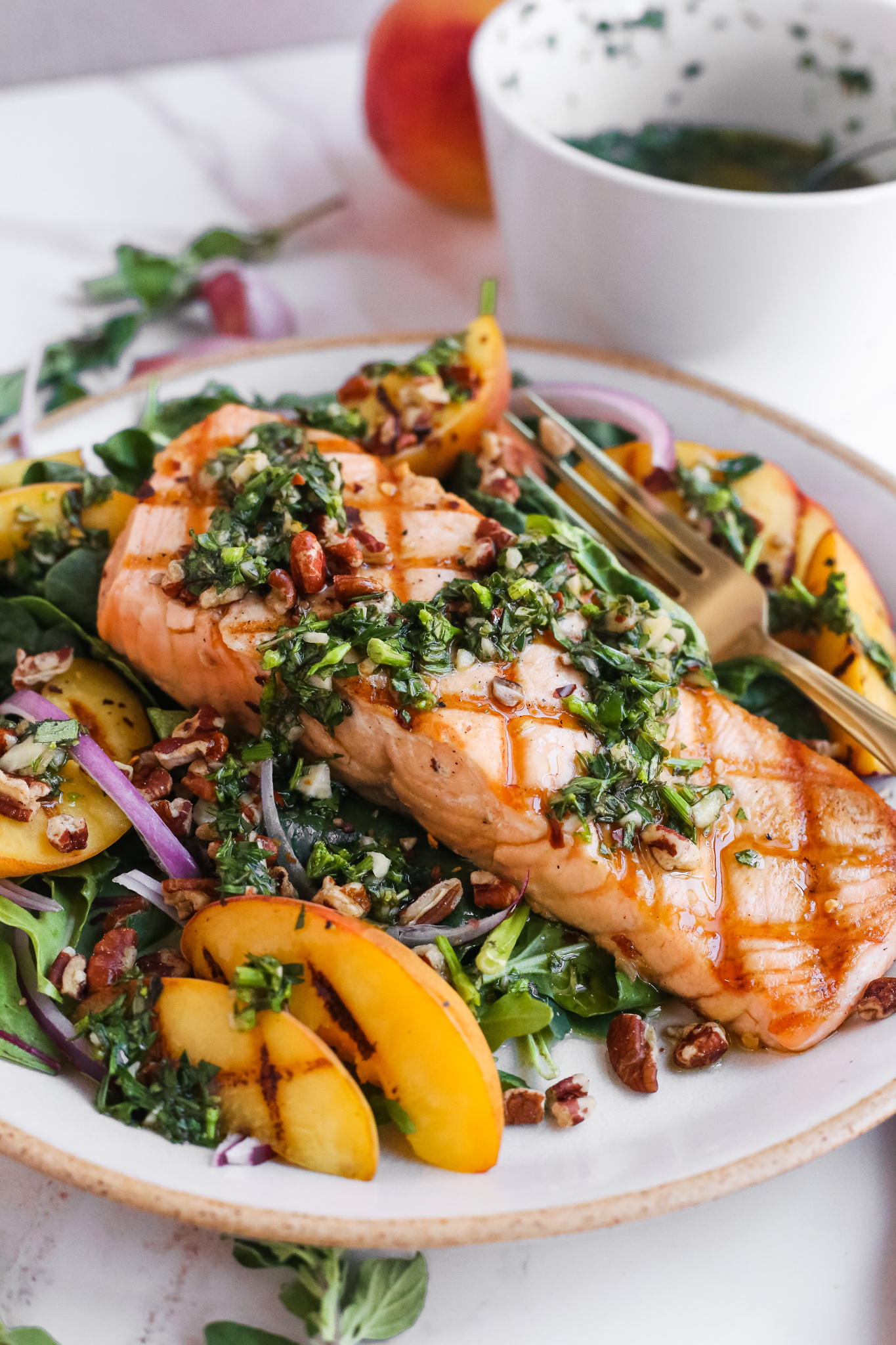 Why You'll Love This Summer Salmon Salad Recipe
If you've hung around for a while, you know it's kind of my thing to make salads that don't suck. They're the antidote for anyone who claims they don't like salad, or has only been eating a sad, soggy pile of greens with little enthusiasm.
And if you're new here, welcome! This summer salmon salad with grilled peaches is a great way to get introduced to how amazing a well-built salad can be. Here's why I think you're going to love it:
It's one of the most flavorful salad recipes I've ever come up with…seriously, this is taking my love affair with chimichurri and grilling to a whole 'nother level!
The recipe is very forgiving, so don't be shy about skipping measurements or making swaps to please your palate.
You can double-up on your grilling efforts by prepping other proteins, fresh veggies, or fruits for other meals.
That last one is actually my favorite part of grilling. If I'm going through the effort to heat it up, clean it off, and do any grill top cooking, I'm going to make the most of it and load that thing up! Grilling just feels like summer to me and I want to enjoy it as much as I can.
When I first started sharing recipes, I didn't have a grill due to the constraints of apartment living. But this stovetop option was a good stand-in until I could get a full-size grill. Now we also have a 28″ Blackstone Griddle and I love using it for any summer salmon recipe, too!
Ingredients You'll Need
​Before you get started, make sure you have the following salad ingredients:
Fresh salmon fillets, or salmon fillets thawed from frozen. The cooking times are based on Atlantic salmon, so adjust accordingly if you're using wild salmon. Check out my Best Guide for What to Buy to learn more.
Salad greens like spring mix, baby spinach, or peppery arugula
Peaches
Red onion
Pecans, shelled and roughly chopped into smaller pieces
For the chimichurri, you will also need:
Olive oil
Red wine vinegar
Flat leaf parsley
Fresh oregano
Garlic
Red pepper flakes
Coarse salt, like sea salt or kosher salt in a coarse grind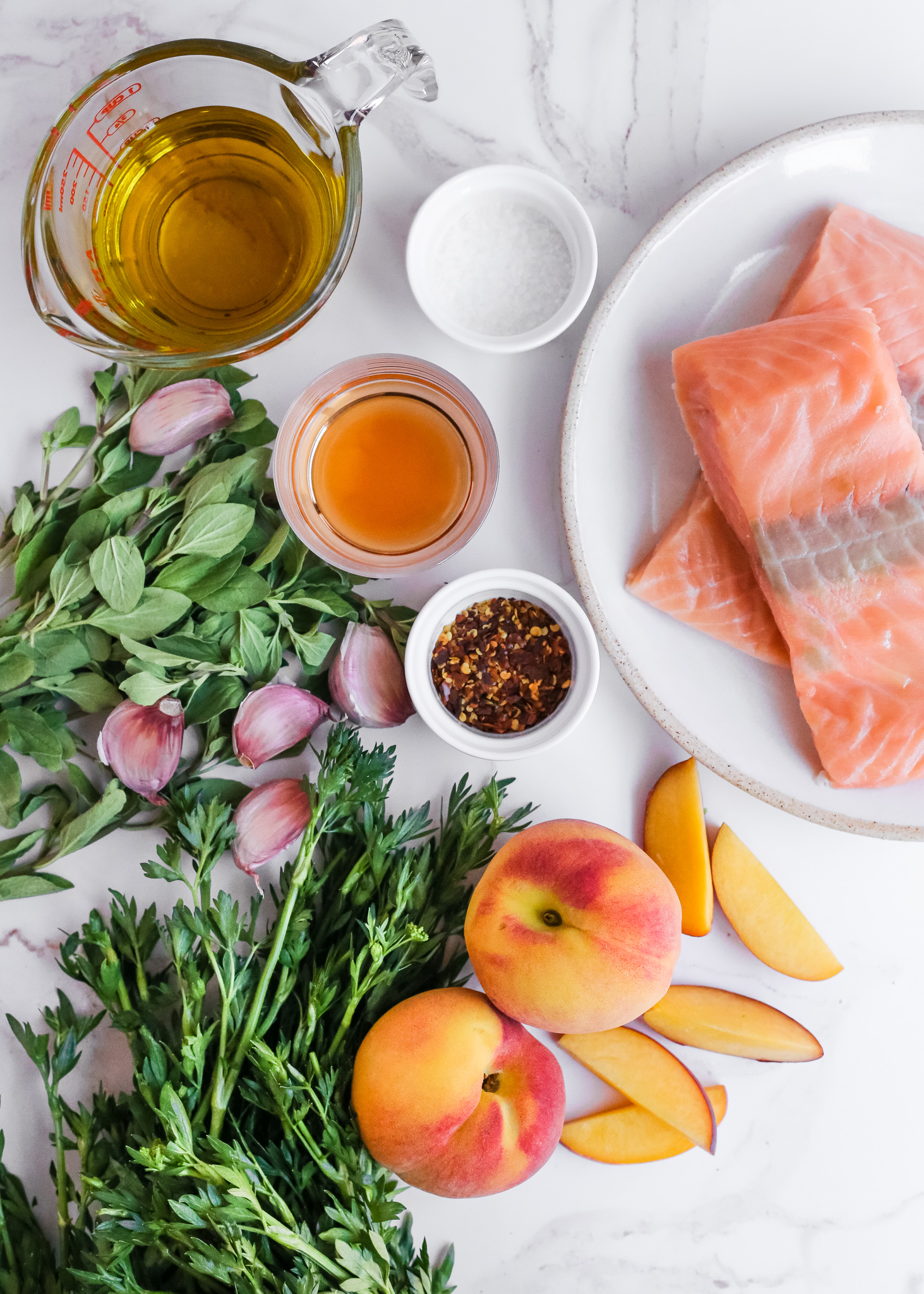 Street Smart Nutrition Tip: If using dried oregano instead of fresh, start with about three teaspoons and add more according to taste preferences. You can also swap frozen or canned peaches for fresh, but be aware they may not maintain a firm texture when grilled because of the excess moisture. To help, pat them as dry as possible before searing them. And of course, canned salmon can always be a stand-in for fresh salmon fillets. Just drain and scoop on top of the salad (no need to grill if using canned salmon).
As for equipment, you will need a cutting board and sharpened chefs knife, plus a paring knife which can really help with fresh peaches. Grab your measuring cups & spoons, a small bowl for prepping the chimichurri, tongs, and an indoor grill pan if you're not cooking outside.
A Note on Chimichurri
Chimichurri is a parsley-based condiment and sauce that originated in Argentina and Uruguay (South America). Although there's debate around where its name came from, its popularity is uncontested. You'll find it served with grilled meats (asados) like steaks or sausages. But it also pairs wonderfully with poultry, seafood (like salmon or shrimp) and other ingredients like eggs, potatoes, rice, and grilled vegetables. Basically, what I'm saying is that there's a long history of using chimichurri to infuse delicious flavor into anything you cook during summer months, and you really can't go wrong.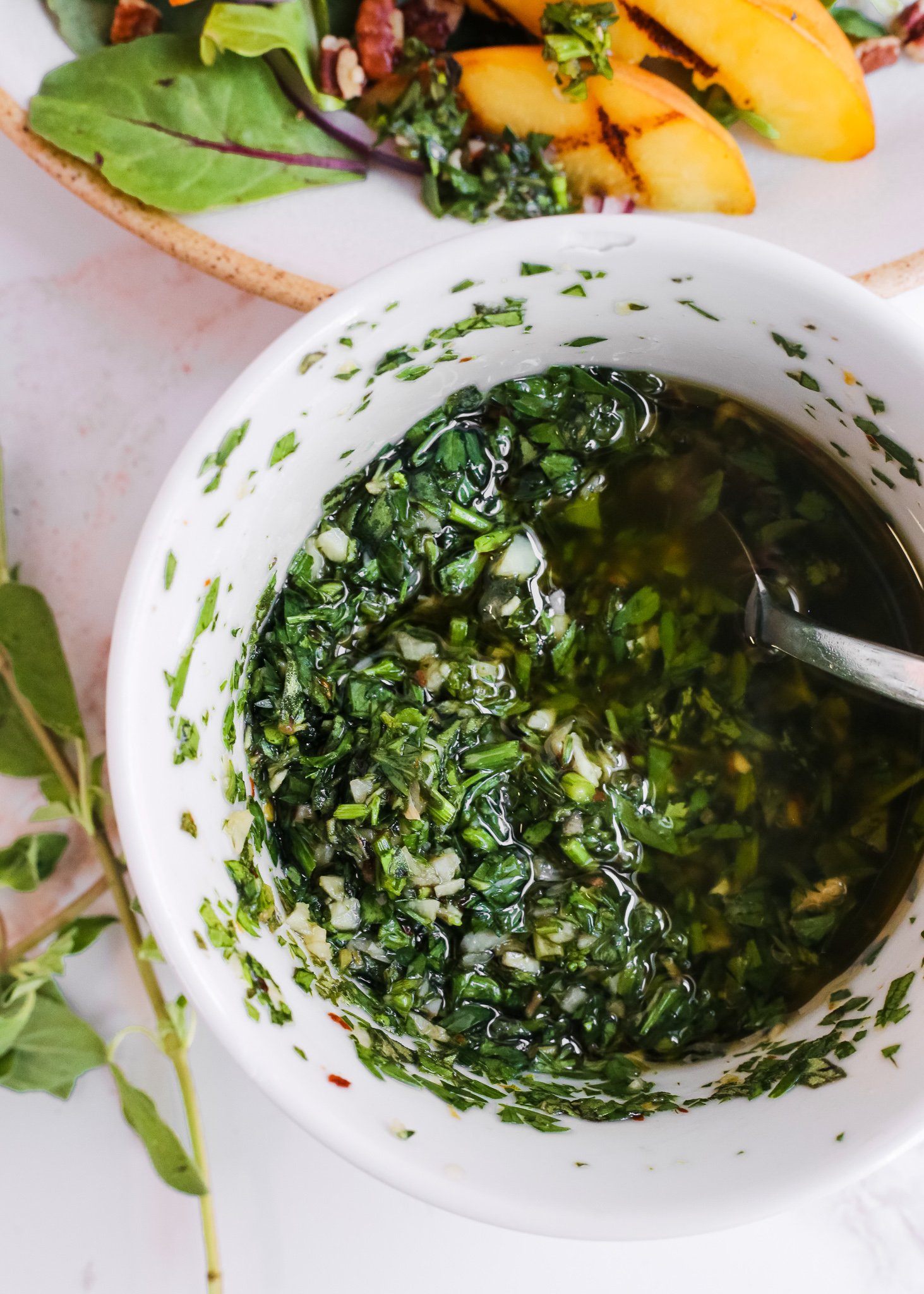 Parsley is always one of the base ingredients, along with olive oil, an acid like red wine vinegar, oregano, red pepper flakes for some heat, garlic, and salt & pepper. But you can make variations with other fresh herbs or acids (such as this one using lemon juice). There's also different approaches to how it's prepared. The more authentic and traditional versions combine ingredients by chopping with a sharp knife or a mortar & pestle. Quicker options call for a blender or food processor. There may be subtle taste differences, but to me the biggest difference between the two preparations is the texture. I personally prefer the chunkiness and irregularities of the chopped version. The blended version is smoother, more like a paste, and can be uniform in flavor.
At the end of the day, the choice is up to you. The hand-chopped version may take longer and require more knife skills or dexterity. The blended version loses some authenticity but might be more accessible or efficient for you. Either way, you'll end up with a super flavorful dressing for this summer salmon salad recipe. And hopefully you will be inspired to make it again for other dishes!
How to Make This Summer Salmon Salad Recipe
There are a few stages to this recipe, but don't be intimidated. I recommend starting with the chimichurri. This gives it time for all the flavors to fully blend together before serving.
Wash and dry the fresh herbs. Strip the oregano from the stalks or remove any woody stems. Roughly chop the fresh oregano and parsley and add it to a small bowl.
Mince the garlic and red onion, then add it to the bowl as well.
Measure and add all remaining dressing ingredients, including the olive oil and red wine vinegar. The consistency should be chunky and thick, but still easy to stir. Set this aside until you're ready to serve with the salmon salad.
From here, get your grilled preheated to a medium-high heat. Once heated, you can brush a little olive oil on the grates to help prevent sticking. Lightly season the salmon and grill for 3-5 minutes on each side, depending on the thickness. The peaches need less time, only about a minute on each side. Manage the grill according to any hot spots and transfer the peaches and salmon to a large platter once finished.
​All that's left is to assemble your summer salmon salad with chimichurri! Layer the leafy greens on the bottom, then top with the grilled salmon and peaches, red onions, and pecans. Drizzle the chimichurri over the top as a dressing, and enjoy!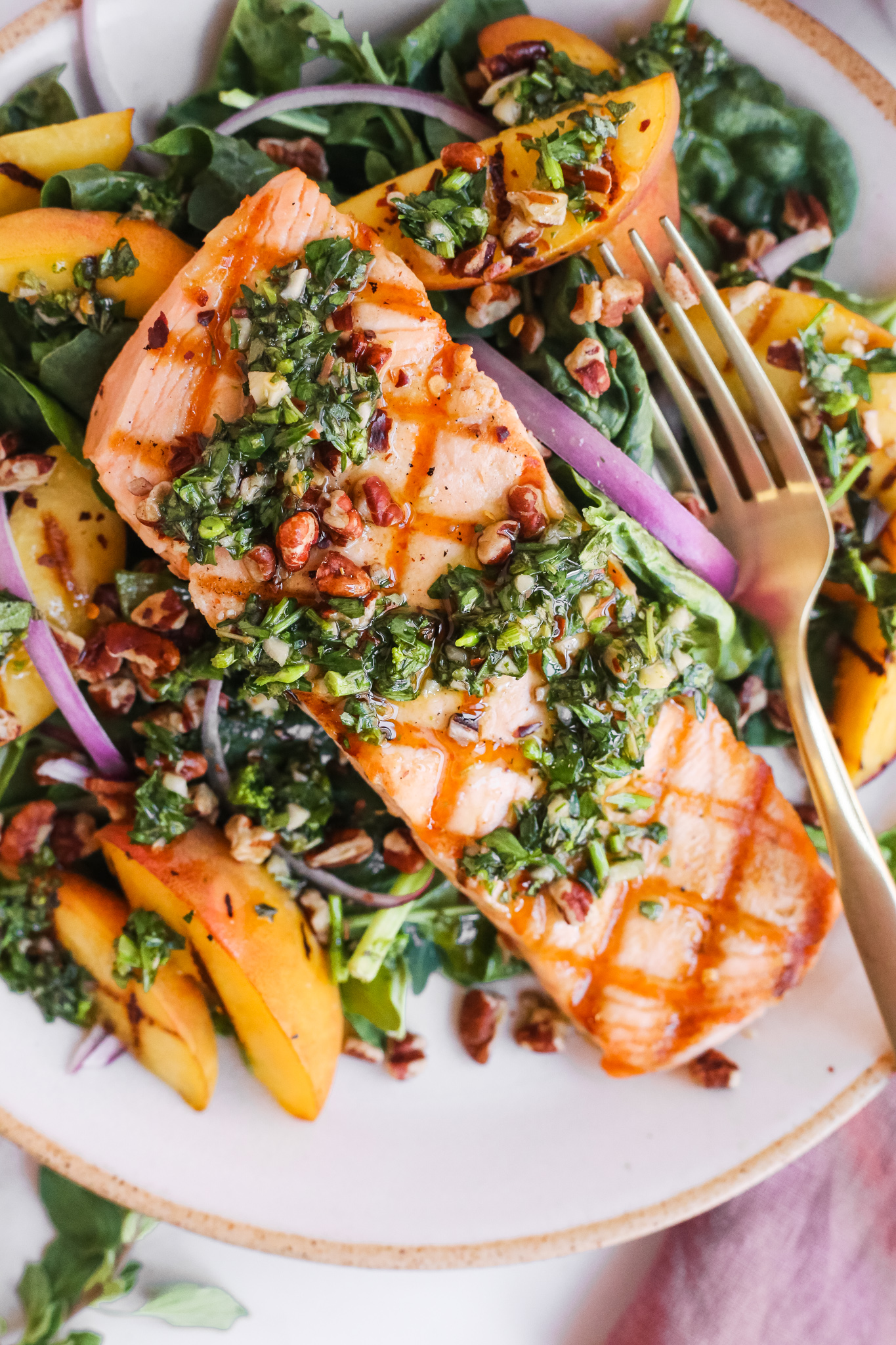 Street Smart Nutrition Tip: To get those pretty grill marks, set a time for halfway through cooking on each side. When it goes off, use tongs to give each piece of salmon a quarter turn without flipping it. This is my preferred method that seems to work like a charm every time!
Serving Suggestions and Storage Tips
I recommend serving this Summer Salmon Salad with chimichurri in a large bowl or on a big salad plate. That leaves plenty of room for the grilled salmon to rest on top of the salad greens, and more area for the chimichurri sauce to spread around. To me, that's the best part and you'll get to enjoy great flavor in every single bite!
I kept this summer salad pretty basic on purpose, since the focus is on the grilled peaches and chimichurri sauce. But if you want to add more fresh veggies, I say go for it! Juicy tomatoes, red bell peppers, and carrots can all add subtle sweetness and crunch. And you can alway swap the fresh greens for something like romaine lettuce or massaged kale.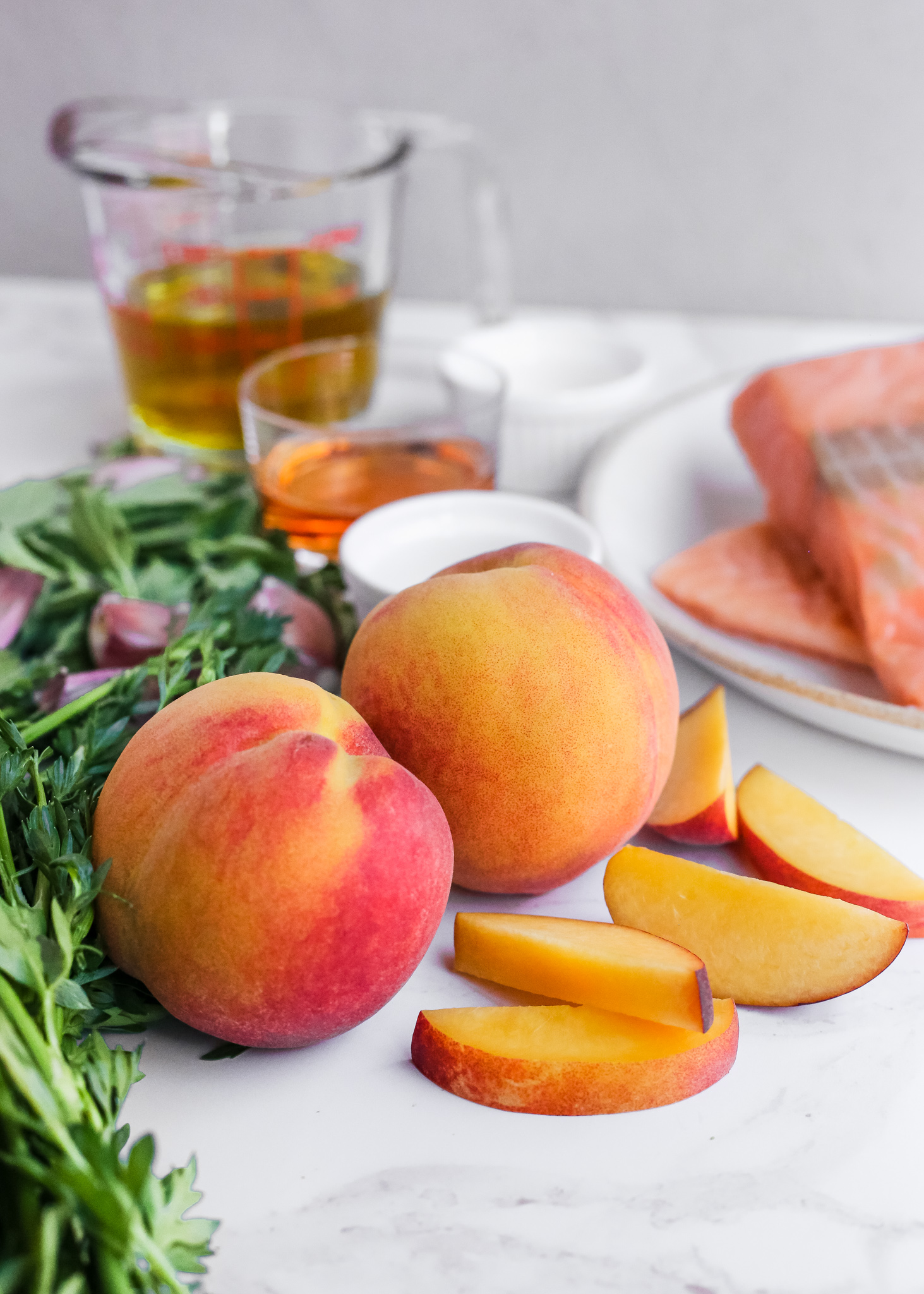 To store, place the cooked salmon in an airtight container. Seal and refrigerate, eating within 4-5 days for best results. Reheating is optional, but if you choose to microwave it, heat in short increments or flake apart for more even reheating.
The chimichurri can also be stored chilled, although you may leave it at room temperature if you plan to eat it within the next day or so. I recommend storing the salad components separately to avoid a soggy salad. Just reassemble whenever you're ready to eat and rebuild the salad just before serving.
Here's the full recipe for my Summer Salmon Salad with Grilled Peaches and Chimichurri!
Summer Salmon Salad with Grilled Peaches and Chimichurri
When I think of #SaladsThatDontSuck, this is the one that currently comes to mind. You'll love the added flavor from char marks on grilled salmon and peaches, plus a generous topping of homemade chimichurri sauce.
Equipment
outdoor grill or grill pan

cutting board and sharpened knife

measuring cups and spoons

small prep bowl

tongs and serving platter
Ingredients
Basic Chimichurri
1/2

cup

olive oil

2-3

tbsp

red wine vinegar

3

cloves

garlic

,

minced

1

cup

finely chopped flat leaf parsley

1/4

cup

finely chopped oregano

1/2

tsp

red pepper flakes

1/2

tsp

coarse ground kosher salt
Summer Salmon Salad with Grilled Peaches
4

fillets

salmon

,

skin removed

4

large

peaches

,

pitted and sliced

nonstick spray for grilling

kosher salt and pepper to taste

8

oz

salad greens, divided into 4 servings

,

arugula or spinach

1/4

red onion, sliced thin

1/2

cup

pecan pieces
Instructions
To make the chimichurri, make sure the herbs and garlic are finely minced and somewhat uniform in texture or size. Then combine all the ingredients in a small bowl, mix, and set aside until ready to serve.

Heat your grill or grill pan over medium-high heat. Start with the peaches, patting them dry and placing on the heated grill. Sear for about one minute on each side or until grill marks appear, than transfer to a plate.

Next, grill the salmon. Season each fillet with salt and pepper to taste, or other preferred grill seasoning. Place the salmon fillets on the heat grill and cook 3-5 minutes on each side. Give each piece of salmon a 1/4 turn halfway through cooking (optional for additional grill marks).

Flip the fillets and grill an additional 3-5 minutes, or until the salmon is cooked through and flaky. To assemble, place the grilled salmon on top of the salad greens, then top with the red onion, pecan pieces, grilled peaches, and drizzle with the chimichurri sauce. Serve immediately and enjoy.
Notes
Substitutions:
Swap the fresh oregano for 3 teaspoons dried oregano
If using frozen peaches, allow to thaw completely then pat dry with a paper towel to remove excess moisture
If using skin-on salmon, adjust cooking time accordingly. Remove before serving (optional)
Nutrition
Serving:
1
serving
,
Calories:
682
kcal
,
Carbohydrates:
26
g
,
Protein:
39
g
,
Fat:
49
g
,
Saturated Fat:
6
g
,
Polyunsaturated Fat:
10
g
,
Monounsaturated Fat:
29
g
,
Cholesterol:
94
mg
,
Sodium:
541
mg
,
Potassium:
1567
mg
,
Fiber:
7
g
,
Sugar:
16
g
,
Vitamin A:
7352
IU
,
Vitamin C:
45
mg
,
Calcium:
169
mg
,
Iron:
6
mg
If you liked this Summer Salmon Salad with Grilled Peaches and Chimichurri, you might find another perfect summer salad from this list:
You might also like my other salmon recipes, including my Furikake Salmon. And on the off chance you have any leftover chimichurri (meaning, you didn't drink it through a straw like I'm usually tempted to), check these out:
As always, thanks for visiting the Street Smart Nutrition blog. Cheers to more fearlessly nourishing meals!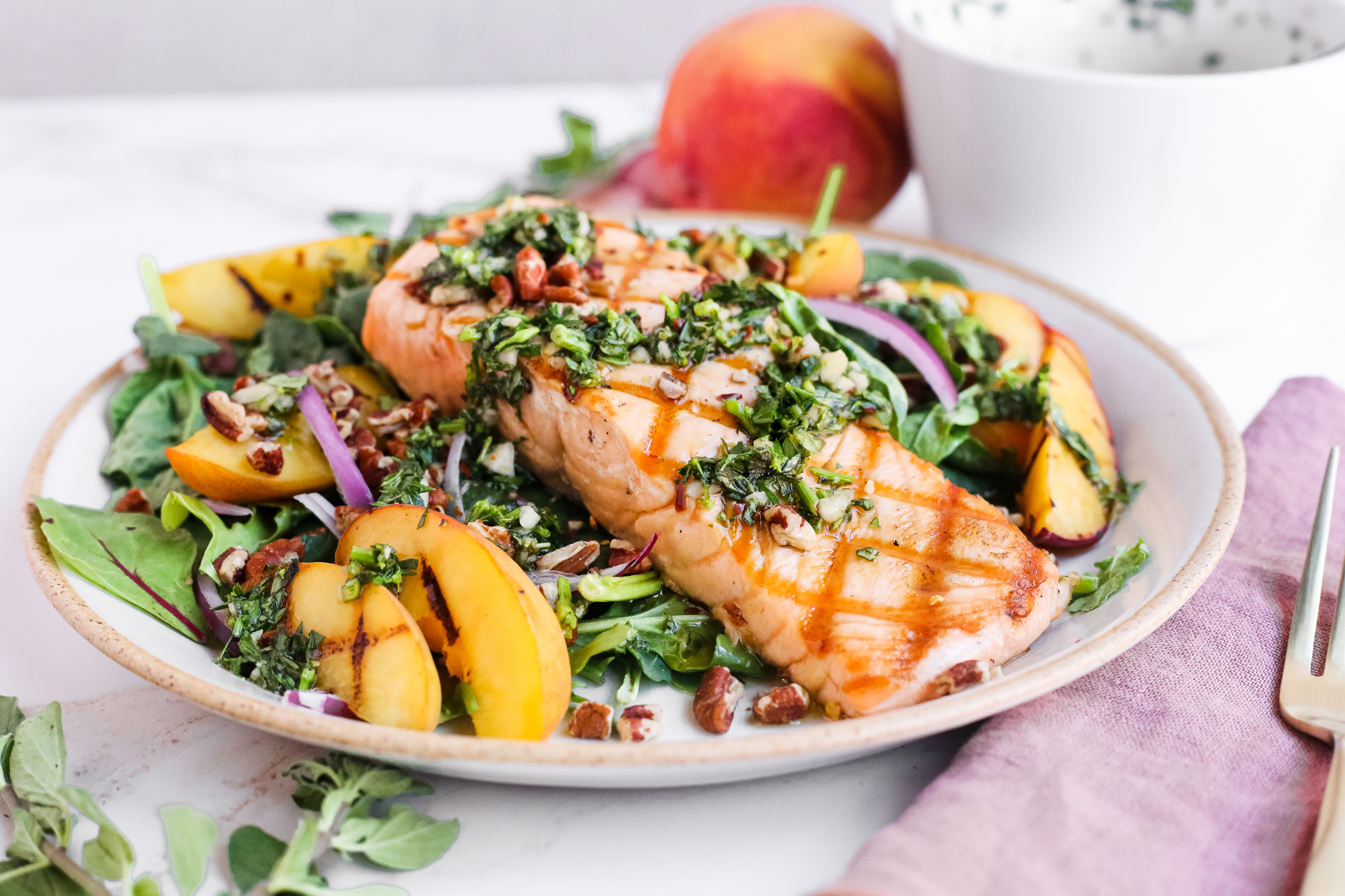 Note: This post was originally published in July 2022. It has since been updated to improve the overall quality of the information and/or images.