This easy Antipasto Pasta Salad recipe combines some of the best ingredients on an antipasto salad with your favorite pasta. There are tons of ways to customize this simple side dish!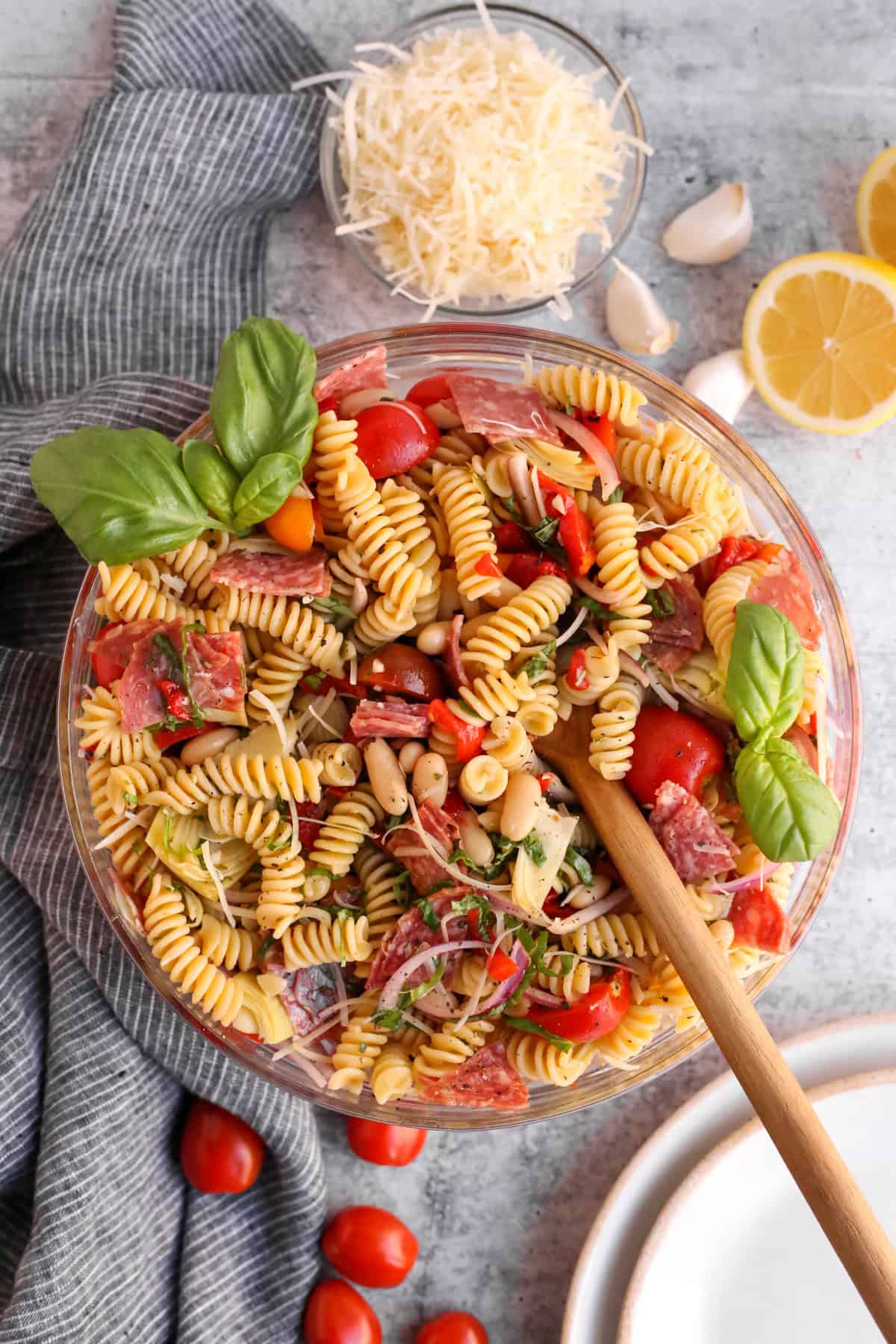 Is it just me or does it seem to be the year of the pasta salad? I'm seeing amazing recipes popping up everywhere I turn and each one seems more intriguing than the last. I think a cold pasta salad is the perfect side dish for summertime meals. Adding Italian meats makes it feel filling enough for a main dish. And since we're working on a kitchen remodel right now, big batches of pasta salad have been the best thing to cook once in our makeshift kitchen and eat all week!
Why You'll Love This Antipasto Pasta Salad
This vibrant pasta salad is always a hit with our family! Here are some reason we keep coming back to it:
It's quick to prepare. Just start the pasta boiling and use that time to chop the rest of the ingredients. You can be done in about 20 minutes from start to finish!
Customize to your heart's content with as many ingredients as you like, using whatever you have on hand at the time.
This recipe works great for meal prep, just give the chilled leftovers a quick stir before dishing it up again! You can even make a double batch of the homemade Italian dressing for salads throughout the week.
And before we get any further, let me just say…I very much understand that "antipasto pasta salad" is a contradiction. After all, "antipasto" literally means "before the pasta." In other words, the first course of a formal Italian meal.
It's not totally accurate to call this an authentically Italian antipasto pasta salad, so I won't. But let's just acknowledge that "antipasto pasta salad" rolls off the tongue a little easier than listing off all the ingredients that show up in here…also, I'm not very formal.
If you're looking for other delicious pasta salad ideas, check out my Pesto Pasta Salad with Sun-Dried Tomatoes, Beans and Greens Pasta Salad, or Chicken Caesar Pasta Salad. 
Ingredients You'll Need
You only need a few key ingredients for this colorful Antipasto Pasta Salad. Here's what you'll find in the version featured in this post:
Pasta: pick your favorite shape or use whatever is hanging out in your pantry. I like to use something like fusilli or rotini pasta, farfalle (bow tie) or penne pasta.
Marinated and fresh vegetables: I love the flavor of roasted red peppers, so that's a must-have along with canned artichoke hearts, sweet cherry tomatoes or grape tomatoes, and sliced red onion.
Hard salami or pepperoni: Slice into quarters or thin strips so they mix evenly. You can take a single package and stretch it further this way, since this ingredient can get a little spendy.
Canned cannellini beans
Cheese: I mixed in some fresh mozzarella pearls and topped it with shredded parmesan cheese.
Dried or fresh herbs: my version features fresh basil, dried rosemary, and a dried Italian herb or Italian seasoning mix. Go with whatever blend you like best and already have on hand!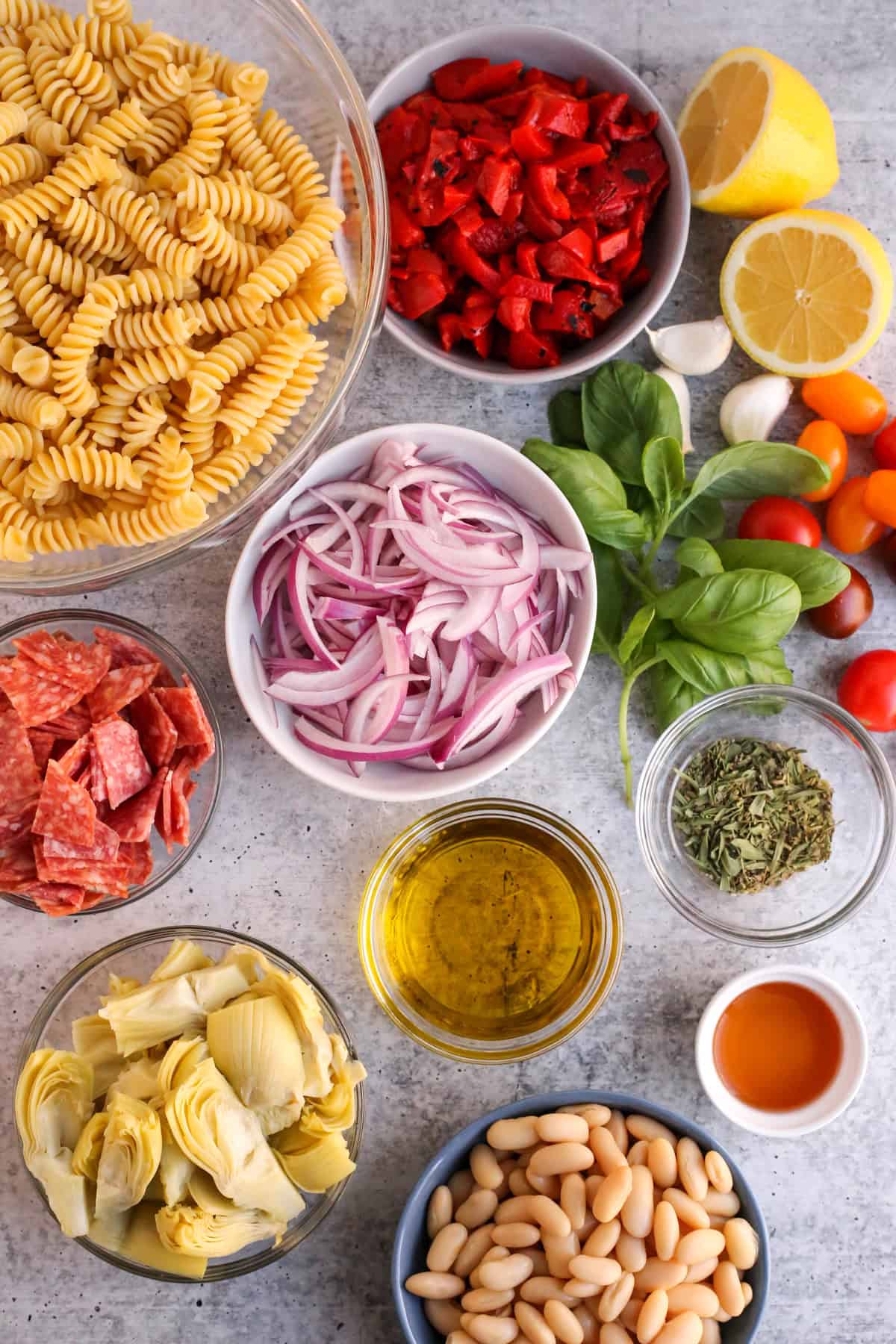 For the dressing, grab your favorite olive oil, red wine vinegar, lemon juice, minced garlic, and more of those fresh or dried herbs.
If you need a convenient way to source these ingredients, try scheduling a delivery with Instacart! You can click HERE to link to a shopping list that already includes everything for this recipe.
Something you might notice is NOT included is black olives or green olives. And you might think, "Cara, how can you possibly make a traditional antipasto pasta salad without olives?" The answer is simply because out of all the foods to be found on the face of this planet, they are one of the few that I can't stand. I know a lot of people feel very differently, so if that's you, go for it with as many olives as you want! In fact, add all of your favorite antipasto ingredients regardless of whether I included them here. This is simply a starting point to make it the perfect recipe for you.
What else can I use for this recipe?
Like I always say, my recipes are more of a guide or suggestion. So take these ideas and make any swaps or substitutions you like:
If you like a smaller pasta shape, try orzo instead. And if you're into stuffed pastas, go with cheesy tortellini.
Other antipasto favorites like marinated mushrooms and a variety of olives (pitted and sliced or chopped).
Flavor bombs like sun-dried tomatoes or capers.
Instead of mozzarella balls, try small, bite-sized pieces of provolone cheese or other various cheeses.
Try chickpeas or red kidney beans instead of cannellini beans.
Various vegetables like shredded carrots, green bell peppers, or zucchini and summer squash. These are especially good if you grill or roast them first. Just be careful when mixing everything together as they'll have a soft texture after cooking.
Adding salad greens like spinach, arugula, or massaged kale. Fresh parsley can also work!
Swap the homemade dressing for a red wine vinaigrette or use a different type of vinegar to change up the flavor.
If you want a vegetarian version of this antipasto pasta salad, simply leave out the pepperoni or salami. If you're going full vegan, swap for a dairy-free alternative for the mozzarella cheese.
How To Make Antipasto Pasta Salad
This pasta salad recipe comes together in no time since you can do the majority of the prep steps while the pasta is boiling. Boiling the pasta is the only cooking required. The full recipe should take about 20 minutes total. Maybe less if your stove can boil water faster than mine!
I recommend the following order of operations:
Fill a pot with water and bring it to a boil on the stovetop. Salt the water with a generous sprinkle of kosher salt (optional) and add the pasta. Cook according to the package directions for al dente pasta, which is usually 8-11 minutes depending on the shape and type of pasta.
Meanwhile, drain and rinse the canned ingredients. Roughly chop the roasted red peppers and cut the artichoke hearts into quarters or smaller. You can pat them dry with a paper towel if they seem excessively wet.
Finish the knife work with the fresh ingredients, pepperoni or salami, and anything else you plan to add to your antipasto pasta salad.
Combine the ingredients for the dressing in a small jar. Seal the lid and shake to mix everything well, or just whisk it all together in a small bowl or measuring cup.
Once the pasta is done, drain and refresh until cool running water. This prevents it from cooking any further and brings the temperature down so you don't wilt all the other ingredients.
Add the pasta to a large bowl with all the other antipasto ingredients. Gently fold it all together until well combined, then drizzle the dressing over the top and mix again.
That's it! You can serve as is, or chill it in the fridge until you're ready to eat.
If you're making this in advance, hold off on adding the dressing until you're ready to serve. This keeps the other flavors fresh and the pasta won't absorb too much extra liquid, which could make it soggy.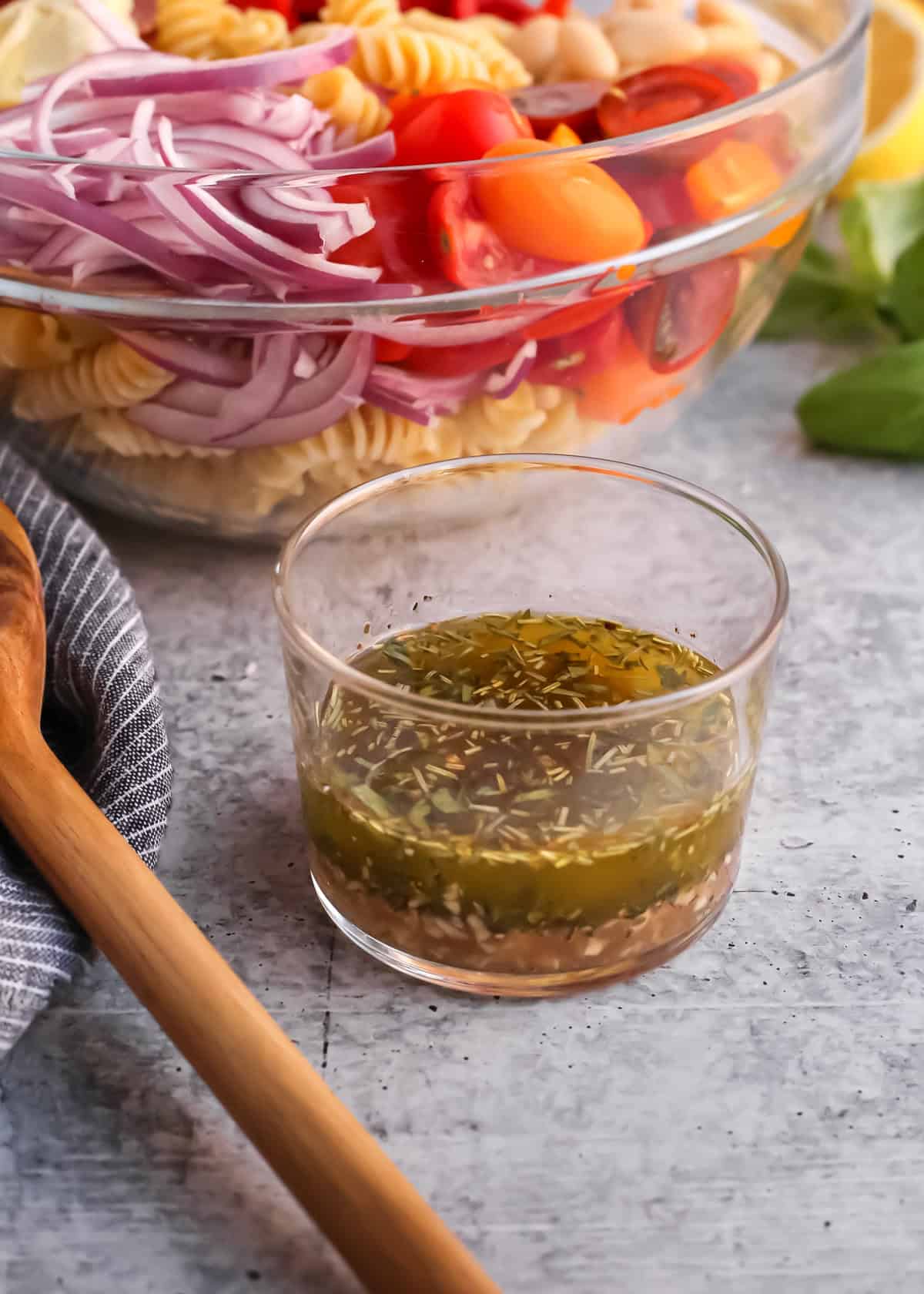 This antipasto pasta salad recipe is sure to be a favorite, especially during the warmer months. My family loves it for potlucks and barbecue dinners, so I can personally vouch for it as a delicious pairing for anything grilled or smoked. There's tons of flavor in every bite, plus vibrant colors and satisfying textures!
Storage Tips
This is a good pasta salad for leftovers or meal prep. It should taste just as good the next day. Most of the ingredients are sturdy enough to hold up, unlike more delicate ingredients like baby spinach or crisp veggies. Store leftovers in an airtight container for up to 3-4 days. No need to reheat before serving again, just enjoy chilled or at room temperature.
Another tip to try: pour half of the dressing to mix in at the time of cooking, then reserve the rest to add before reserving. This can refresh the flavor if you feel like it needs it. You can also give it a squeeze of fresh lemon juice or drizzle of olive oil to achieve the same thing.
Here's the full recipe for my easy Antipasto Pasta Salad!
Antipasto Pasta Salad
This simple Italian-style antipasto pasta salad is ready in just 15 minutes. Serve it fresh or chill it for leftovers.
Equipment
1 colander or fine mesh strainer
Ingredients
16

oz

pasta

,

1 box farfalle, fusilli, rotini, or similar

1/2

medium

red onion

,

sliced thin

2

cups

cherry tomatoes

,

sliced in half

12

oz

jar of roasted red peppers

1

can

artichoke hearts

1

can

cannellini beans

6

oz

pepperoni or salami

,

chopped or sliced

8

oz

mozzarella

1/4

cup

fresh basil

grated parmesan

,

for garnish, optional
For the Dressing
1/4

cup

extra virgin olive oil

2

tbsp

red wine vinegar

2

tbsp

lemon juice

2

cloves

garlic

,

minced

2

tsp

dried Italian herbs
Instructions
Prepare a pot of water and bring it to a boil over high heat. Once boiling, add the pasta and cook according to package direction for al dente, about 8-11 minutes depending on the shape and type of pasta.

Meanwhile, drain and rinse the cannellini beans. Drain the artichoke hearts and roasted red peppers and roughly chop. Slice the cherry tomatoes, onion, and basil. Cut the pepperoni or salami into quarters or thin slices. Set the ingredients aside for mixing in the final step.

To make the dressing, add all the ingredients to a small jar with a tight-fitting lid. Shake to combine or whisk all ingredients together in a small bowl or measuring cup. Set aside.

Once the pasta is cooked, drain and cool under running water before placing in a large mixing bowl. Add all of the prepped ingredients except for the dressing and mix to combine. Drizzle the dressing over the top and mix again. Season with salt and pepper to taste, garnish with fresh basil and grated parmesan cheese (if using), and enjoy.
Notes
To store, refrigerate the leftovers and enjoy within three days for best results. To avoid soggy ingredients, leave the pasta salad undressed until ready to serve again.
Nutrition
Serving:
1
serving
,
Calories:
677
kcal
,
Carbohydrates:
76
g
,
Protein:
30
g
,
Fat:
28
g
,
Saturated Fat:
10
g
,
Polyunsaturated Fat:
3
g
,
Monounsaturated Fat:
14
g
,
Cholesterol:
52
mg
,
Sodium:
1970
mg
,
Potassium:
523
mg
,
Fiber:
8
g
,
Sugar:
4
g
,
Vitamin A:
847
IU
,
Vitamin C:
41
mg
,
Calcium:
289
mg
,
Iron:
4
mg
If you try this Antipasto Pasta Salad recipe, leave a comment and rating to let me know what you think. If it becomes your new favorite pasta salad, I'd love to hear about it!
As always, thanks for stopping by Street Smart Nutrition. You can find more and follow along on Instagram and YouTube, and don't forget to sign up for my newsletter so you never miss a new post. Cheers to more fearlessly nourishing meals!
This post was originally published in March 2023. It has since been updated to improve the overall quality of the information and/or images.