Ground Beef Stroganoff is such a popular meal and incredibly easy to make! My easy ground beef stroganoff recipe without cream of mushroom soup is done in less than 30 minutes. It's a quick & cozy meal for busy weeknights, keep scrolling to see more!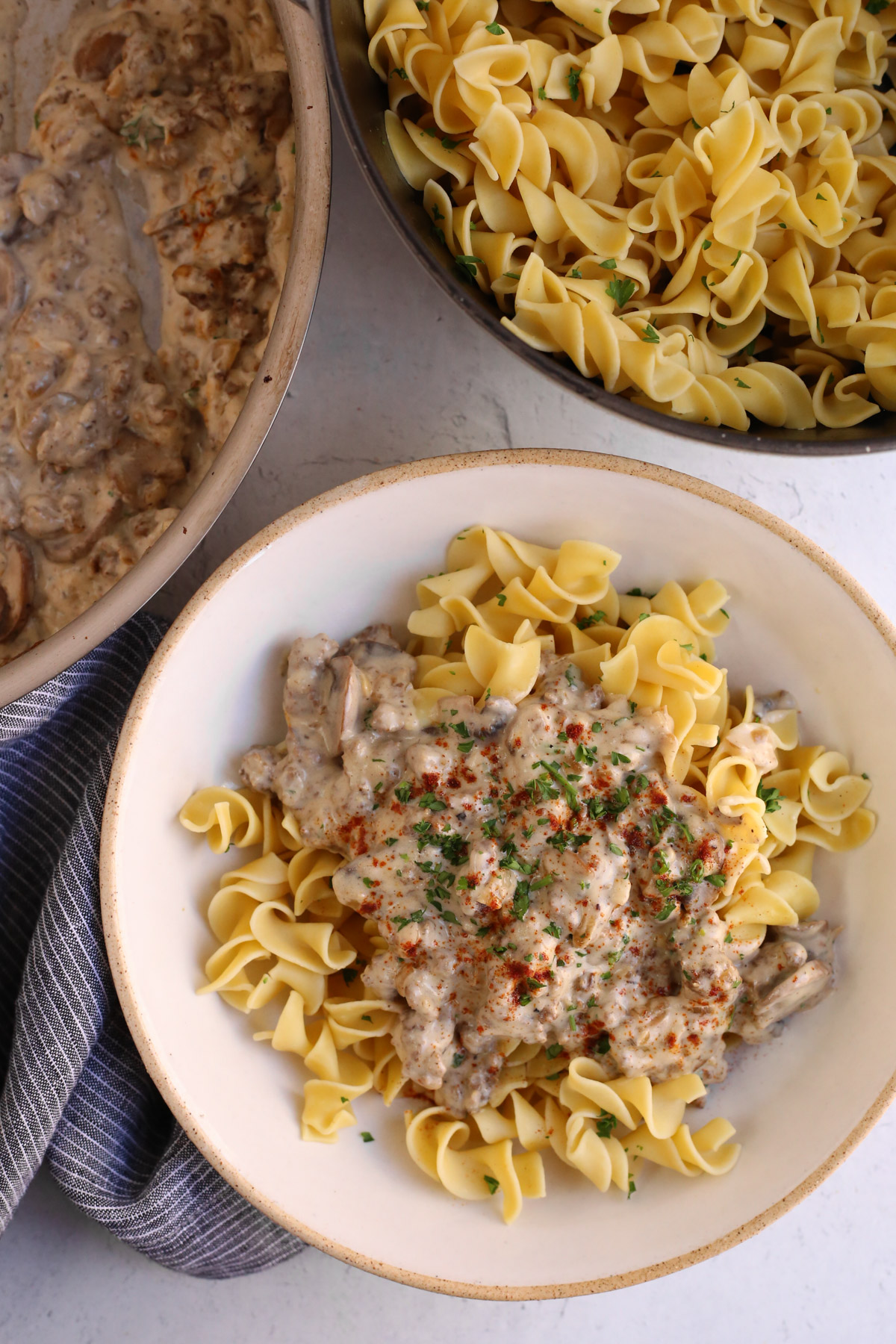 Did you grow up on Hamburger Helper? Shoutout to this family favorite, I think it was one of the meals we ate most often. I wouldn't say I was a picky eater as a kid, but I had this thing where I would go through my plate to separate the ground beef from the noodles. I still ate everything but I just preferred the noodles without the small pieces of ground beef mixed in.
I'm really glad I got over that because I probably never would have tried this version of ground beef stroganoff! I first made it for a client to share on my Instagram page, but it was too good not to update for the blog!
Why You'll Love This Ground Beef Stroganoff Recipe
The smooth, creamy sauce sauce is so easy to make with just a few key ingredients and a basic cooking technique.
Minimal dishes! You can make pretty much everything in one skillet, plus just one pot to boil water for the egg noodles.
It's great as leftovers. Double this recipe for easy-to-reheat and eat again later (we did a lot of this during pandemic lockdowns)
Beef stroganoff originated in Russia and the first known recipe showed up in 1871. It was originally made with pieces of sautéed beef and a sauce made with mustard and sour cream. Now it's popular throughout the world and may be served with rice, pasta, or even potatoes. And in modern times, a ground beef version can be simpler for home cooks.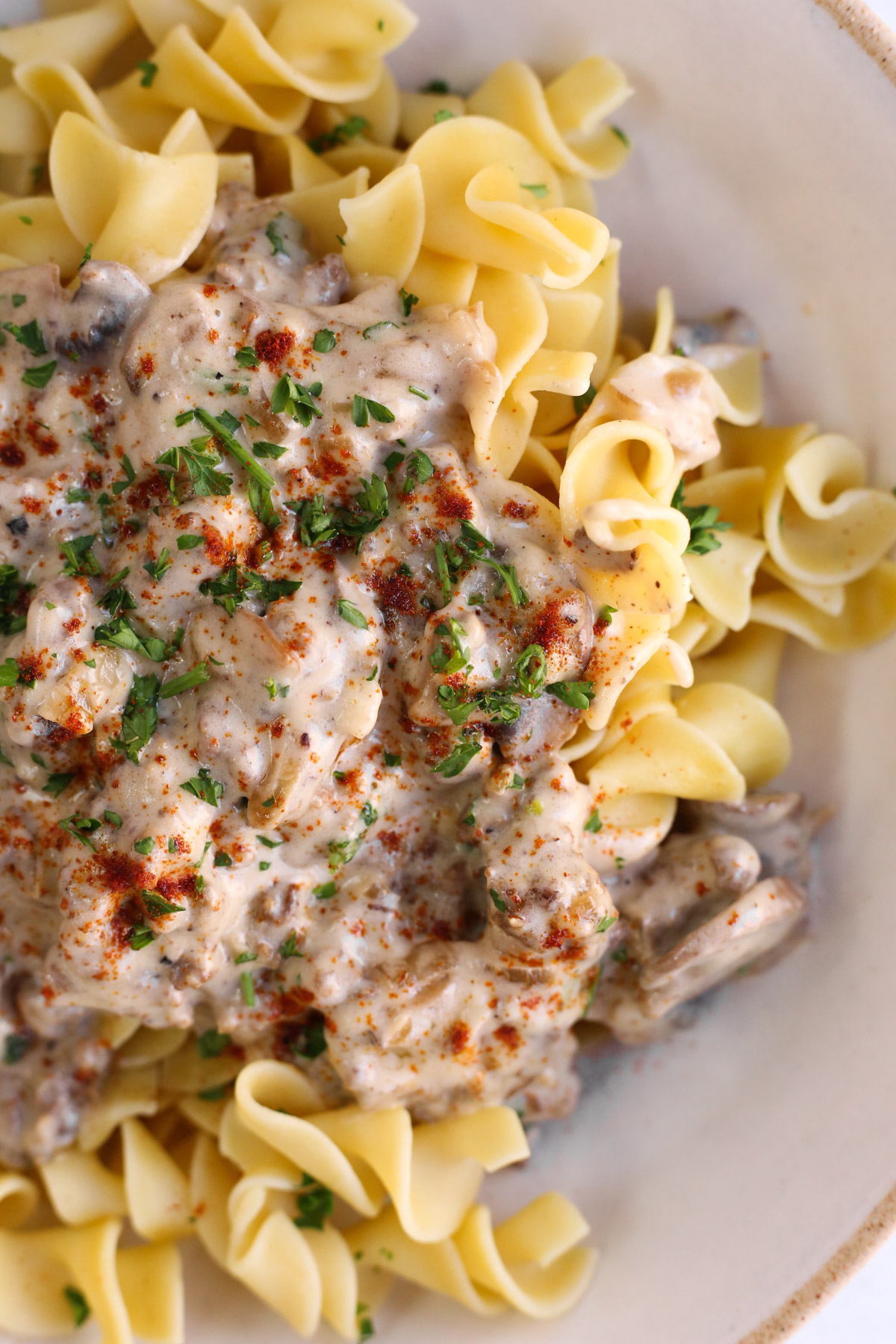 Ground Beef Stroganoff Ingredients
There are tons of variations on easy beef stroganoff recipes, but here are the key ingredients for this one:
Mushrooms: While some recipes don't include mushrooms, I think they're essential! I always use white button mushrooms or brown cremini mushrooms, also called baby bella mushrooms. Fresh mushrooms add so much umami flavor. Once they cook down, they mix right in with the cooked ground beef to make the sauce seem extra thick. I also used some onion, and if you want to experiment with other veggies, just make sure they're diced small so they cook quickly.
Beef Broth: This is used to deglaze the pan and grab all the little cooked-on bits (AKA, "fond") from the bottom of the pan. I'll usually use a low sodium beef broth but use whatever you prefer or already have in your pantry. Chicken broth will also work but won't have as much beefy flavor.
Heavy Cream and Sour Cream: Don't be shy about using full fat dairy! It doesn't take much to get a rich, creamy, silky smooth sauce. Just remember to add the sour cream after turning off the heat so it doesn't curdle as you mix it in. Trust me, you won't miss out on anything if you make this beef stroganoff without cream of mushroom soup!
Dijon Mustard: I love cooking with mustard and it adds a subtle tanginess from the vinegar. Dijon mustard has a more intense flavor than yellow mustard (plus it doesn't really impact the color of the sauce). If you don't have it or prefer to use something else, you can use a splash of white wine vinegar or Worcestershire sauce instead.
Ground Beef: Of course! You can't forget this element since it's in the name of the recipe. I used a mix of 85/15 because I want that higher fat content for the roux to make the sauce. If you use a more lean ground beef, just know you might need a little extra oil to get the same effect.
And don't forget some tender egg noodles!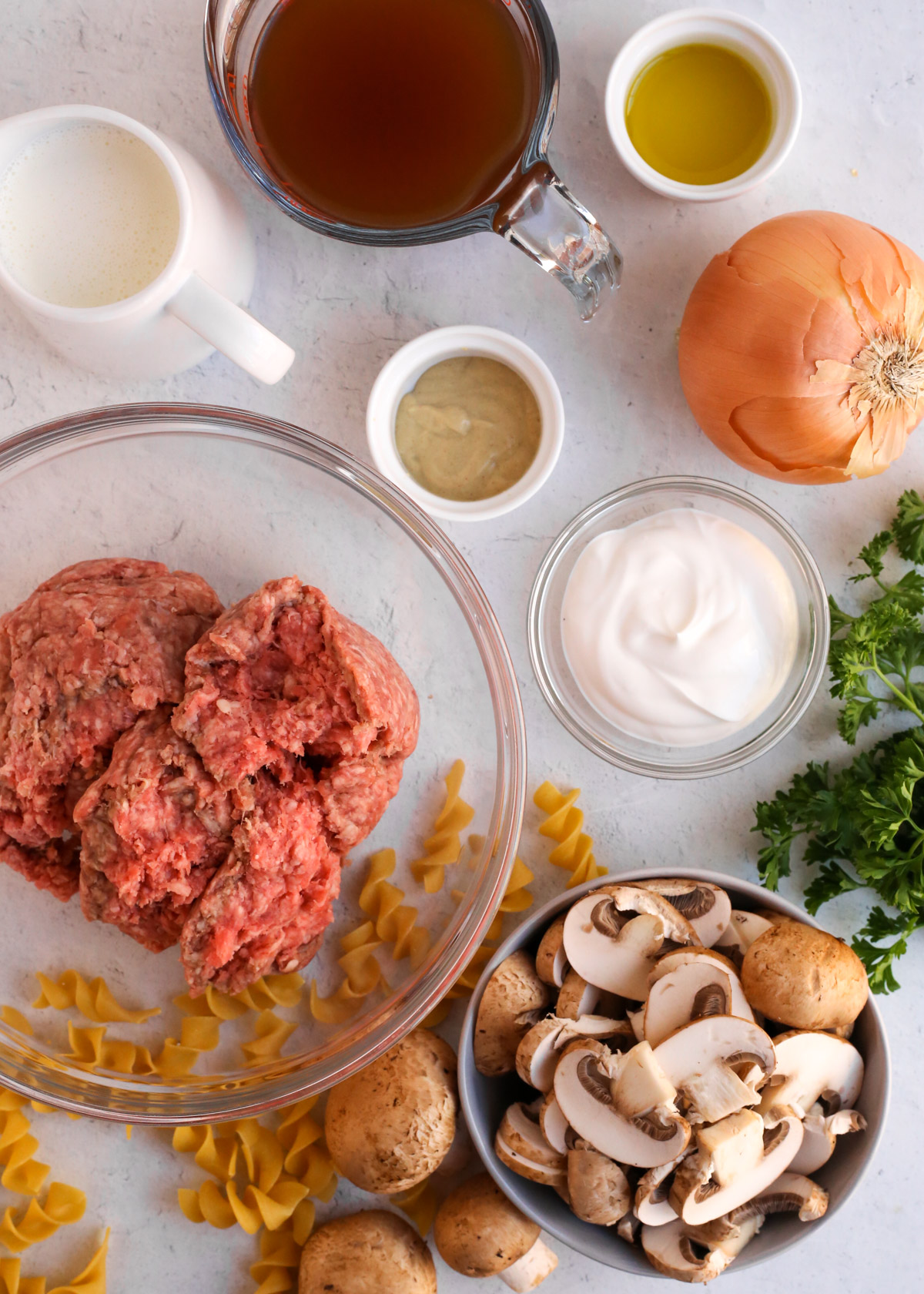 The full list of ingredients is featured in the recipe card below, but the last thing I'll mention is some garnish! The fresh parsley and smoked paprika add some bright colors and extra flavor. I personally really like that, but it's a "nice to have" feature, not a "have to have" feature if you're in a giant hurry or don't have those ingredients. Your ground beef stroganoff will still taste amazing without them!
Can I use something other than ground beef?
Sure! Ground beef is incredibly easy to cook with. Plus you can find it anywhere (usually at a pretty good price).
But it's not the most traditional cut for authentic beef stroganoff. If you're looking for something else, try:
Beef Stew Meat
Ribeye or Sirloin Steak
Flank Steak or Skirt Steak (my personal favorite if using a steak cut)
Street Smart Nutrition Tip: If you use something other than ground beef, adjust the cooking time as needed. For best results, season and sear the pieces of stew meat or steaks for 2-3 minutes on each side to develop some browned outer edges. For tips on cooking a skirt steak without a grill, check out this post for a tutorial.
How To Make Ground Beef Stroganoff
To make this easy ground beef stroganoff recipe, you just need to trust the process. Other recipes will call for a cornstarch slurry or cream of mushroom soup to thicken the sauce. But I prefer to use the fat and oil in the skillet to make a basic roux with all-purpose flour.
For a play-by-play on how to make the most of this recipe, check out this video. You can find this and more on my YouTube channel for Street Smart Nutrition.
Here are the basic steps for my easy beef stroganoff recipe:
Prep the fresh ingredients (mushrooms, onions, and garlic), then sauté in a large skillet over medium heat with a small amount of cooking oil.
Remove the mushroom mixture then add the pound of ground beef to the hot pan. I adjust the heat to medium-high heat to get a nice browning effect, and once the ground beef is cooked add the mushroom mixture back in. Reduce the heat to low heat.
Dust the flour over everything and mix it in. The flour should quickly soak up the fat and oil and cling to the ground beef and mushrooms, making an almost paste-like consistency. Stir it around a little bit, but don't overwork it.
Pour in the broth to deglaze the pan, scraping any browned bits from the bottom of the pan.
Stir in the heavy cream and bring to a simmer. The sauce should thicken within a few minutes or less.
Add the other flavor elements (dijon mustard, black pepper, salt or MSG), then remove from heat.
Finally, stir in the sour cream until well mixed and serve over noodles.
The noodles can cook simultaneously to ensure everything is done at the same time. Cook according to package directions for al dente noodles.
Street Smart Nutrition Tip: A roux is equal parts flour and fat, so if you're using a leaner mix of ground beef, add 1-2 tsp oil or butter to the skillet before mixing in the flour.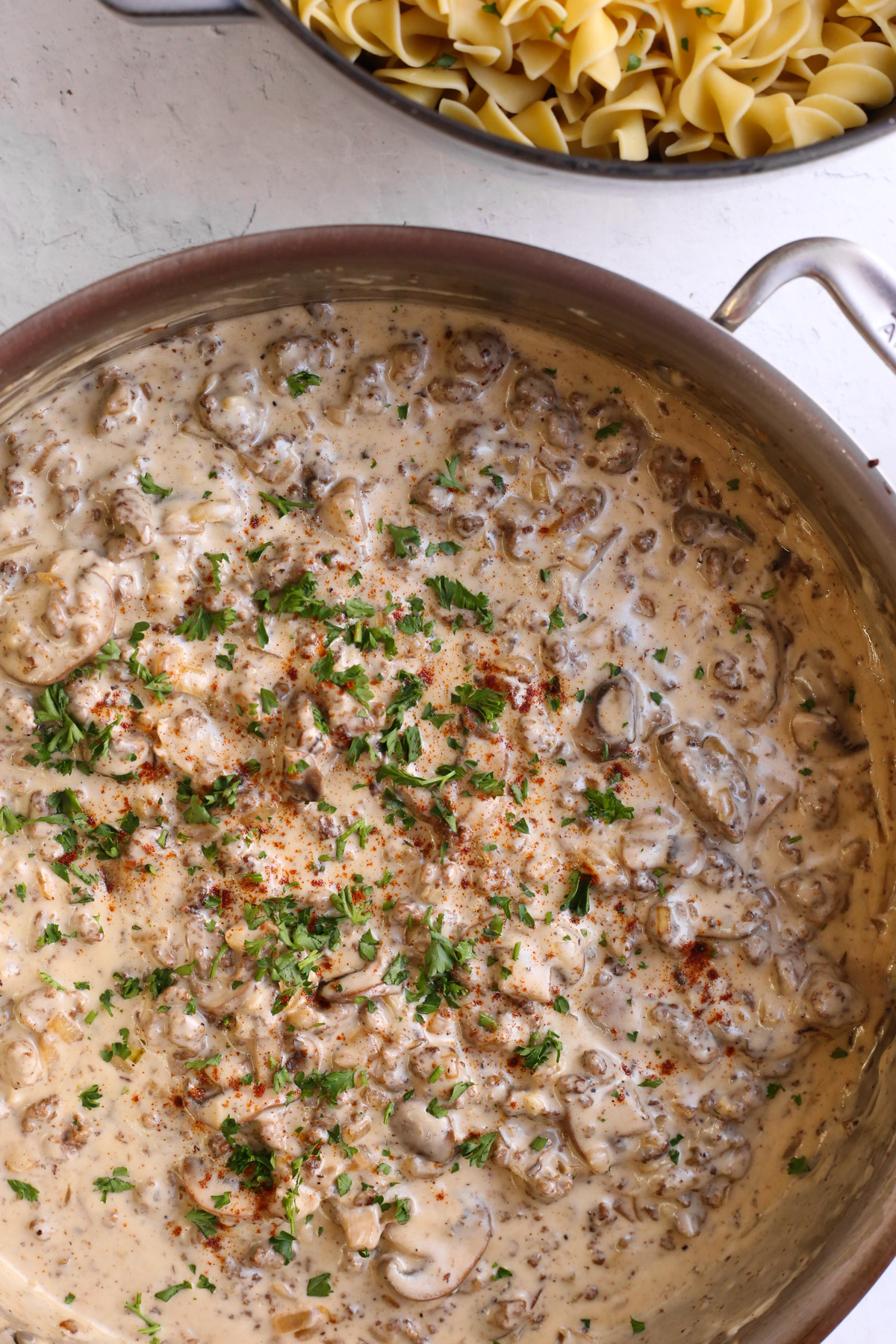 Cooking Tips for Maximum Flavor
I've tried some ground beef stroganoff recipes that seem bland or under seasoned. I prefer really intense, savory flavors. But everyone's taste preference are different!
Here are my best tips for getting the most flavor when you cook:
Don't go totally salt-free. You might think a "no salt added" beef broth is best, and if you're following a low-sodium diet, stick with whatever you need to do to minimize salt intake. But you can make up for it with MSG, which has 2/3 less sodium than table salt and adds pure umami flavor.
Let the ground beef cook all the way…and then some. If you allow it to develop a little bit of crisp around the edges, you'll enjoy the benefits of added texture plus well-browned flavor. I think that's the best part!
Be generous with the garlic, mustard, or garnish. My recipes are simply suggestions, so you can make changes as you see fit without anyone's prior approval. Make it your own by adjusting the amounts or adding something totally different!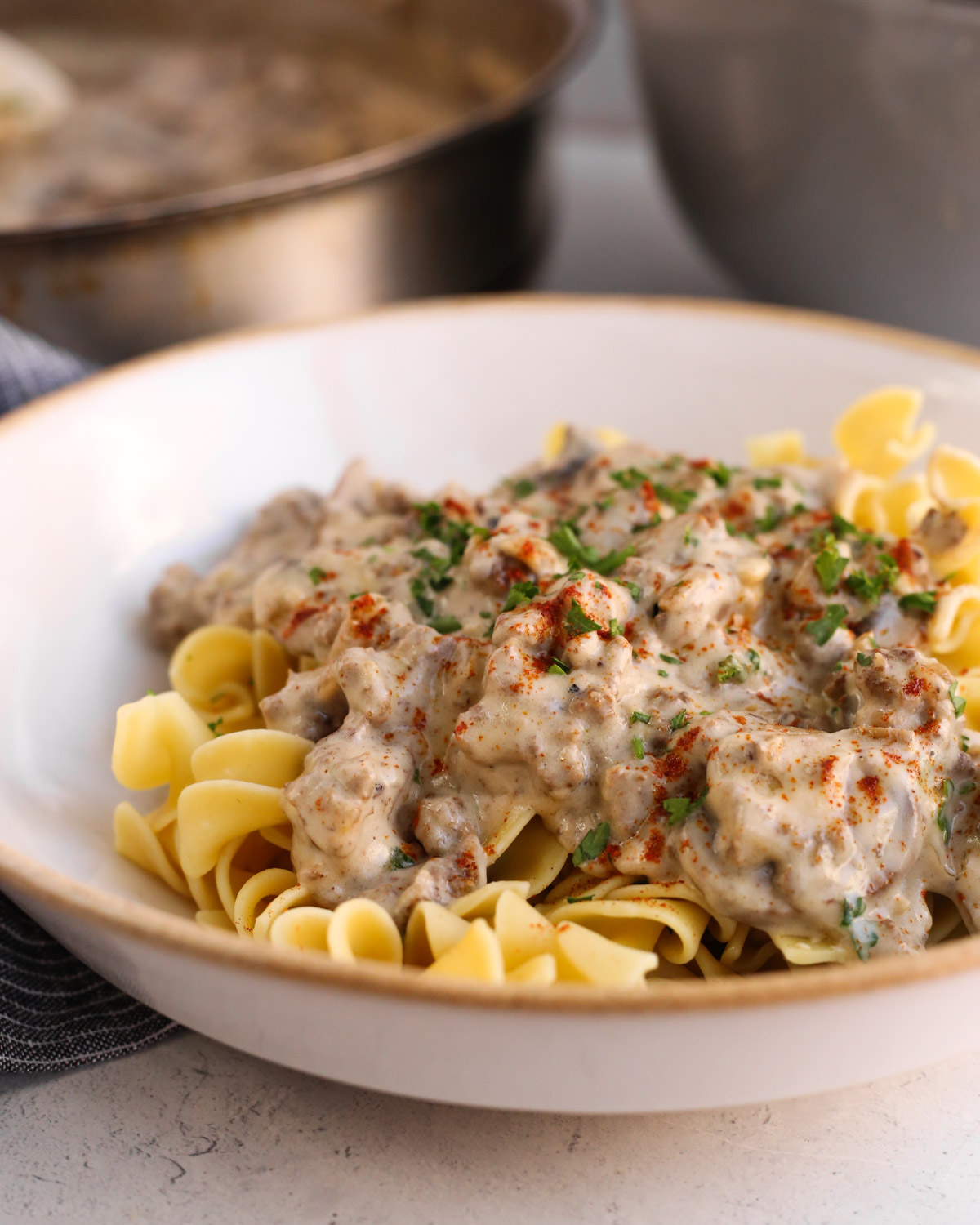 Serving and Storage Suggestions
My go-to pairing for this is a simple side salad, usually a bagged salad mix or a version of this Caesar Salad. Salads are a great option for extra veggies but they're not the only option! I've also paired with roasted veggies from a sheet pan or air fryer.
Like I mentioned above, you can also try this ground beef stroganoff over potatoes or rice. I personally haven't tried mashed potatoes, but a friend mentioned that's their favorite. And it kind of makes sense since you're basically making a creamy mushroom gravy…I might have to try that next time!
As for leftovers, seal them in an airtight container and refrigerate. The next time you're ready to eat, just pop it in the microwave. Finish it off within 3-4 days for best results.
Here's the full recipe for this easy ground beef stroganoff without cream of mushroom soup!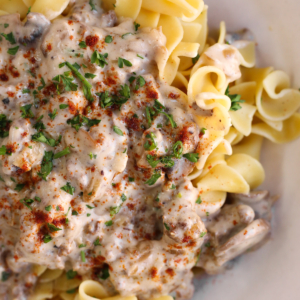 Easy Ground Beef Stroganoff
This quick & cozy weeknight recipe is full of flavor! You'll love my easy method for making a rich, creamy sauce without cream of mushroom soup.
Ingredients
1 1/2

lbs

ground beef

,

(85/15)

1

tbsp

olive oil

1

medium

yellow onion

,

diced

8

oz

cremini or button mushrooms

,

sliced

2

tbsp

all-purpose flour

1 ¼

cup

beef broth

1

cup

heavy cream

⅓

cup

sour cream

1 ½

tbsp

dijon mustard

3

cloves

garlic

,

minced

½

tsp

black pepper

½

tsp

MSG,

or swap for ¼ tsp salt

Parsley and smoked paprika for garnish

,

optional

1

package

egg noodles

,

16 oz

Water

,

to boil the noodles
Instructions
Heat a large skillet over medium-high heat. Once heated, add the olive oil and sauté the onions for two minutes. Add the mushrooms and cook another 5-6 minutes. Once they're even browned, add the garlic and cook for another minute.

Transfer the mushroom mixture to a bowl and use the same pan to fully brown the ground beef. Cooking until there is no pink remaining and the edges begin to crisp.

Meanwhile, bring a large pot of water to a boil over high heat. Once boiling, add the egg noodles and cook according to package directions. Once done, drain and return the pot.

To make the sauce, add the mushroom mixture back to the skillet with the cooked ground beef. Reduce heat to low. Dust the all-purpose flour over everything and stir it in to make a paste-like texture.

Stir in the beef broth to deglaze the pan, the add the heavy cream and bring it to a simmer. Cook 1-2 minutes or until it thickens to a gravy consistency.

Turn off the heat before adding the sour cream (to avoid curdling), dijon mustard, black pepper, and MSG (or salt). Mix well until everything is well combined. Serve over egg noodles and garnish with chopped parsley and smoked paprika (optional).
Notes
To store leftovers, store in airtight containers and refrigerate. To reheat, microwave in 30-40 second increments, stirring and repeating, until heated through. Enjoy leftovers within 4 days for best results.
Nutrition
Serving:
1
g
,
Calories:
721
kcal
,
Carbohydrates:
48
g
,
Protein:
31
g
,
Fat:
45
g
,
Saturated Fat:
20
g
,
Polyunsaturated Fat:
2
g
,
Monounsaturated Fat:
17
g
,
Trans Fat:
1
g
,
Cholesterol:
181
mg
,
Sodium:
335
mg
,
Potassium:
689
mg
,
Fiber:
3
g
,
Sugar:
4
g
,
Vitamin A:
702
IU
,
Vitamin C:
3
mg
,
Calcium:
94
mg
,
Iron:
4
mg
​I hope you find this to truly be an easy dinner recipe! I'd love to know what you think, so please leave a rating or comment if you give it a try.
And as always, thanks for stopping by the Street Smart Nutrition blog! You can find more and follow along for more easy recipes on Instagram and YouTube (plus all the other social media platforms), and don't forget to sign up for my newsletter so you never miss a new post.
Cheers to more fearlessly nourishing meals!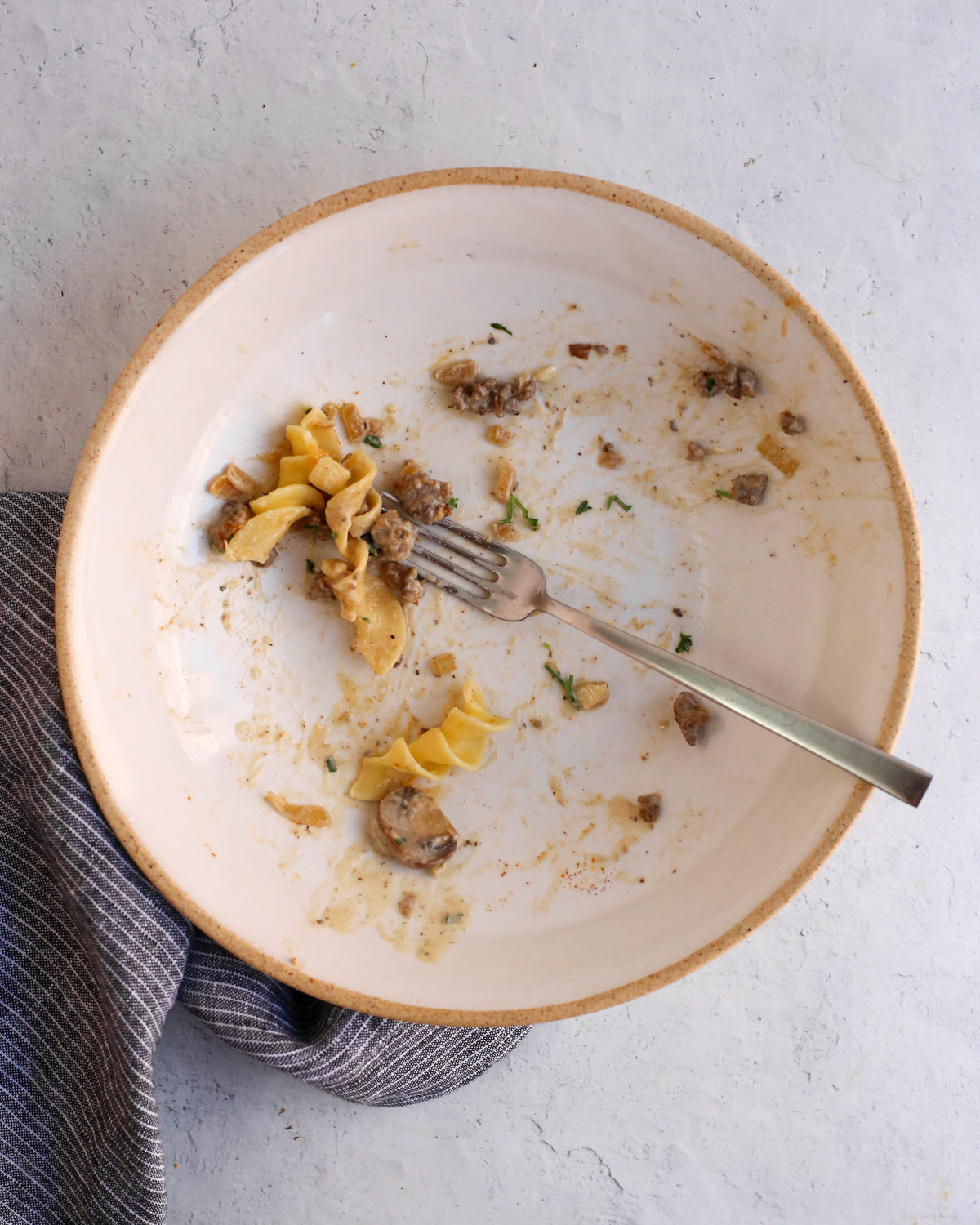 Note: This post was originally published in November 2022. It has since been updated to improve the overall quality of the information and/or images.