These Esquites-Inspired Mexican Street Corn and Rice Bowls are a versatile side dish. With the addition of protein, it can become a full meal! The flavors are inspired by Mexican elotes (on-the-cob street corn) and esquites (off-the-cob street corn). I recommend using pantry staples, plus it's ready in just 30 minutes!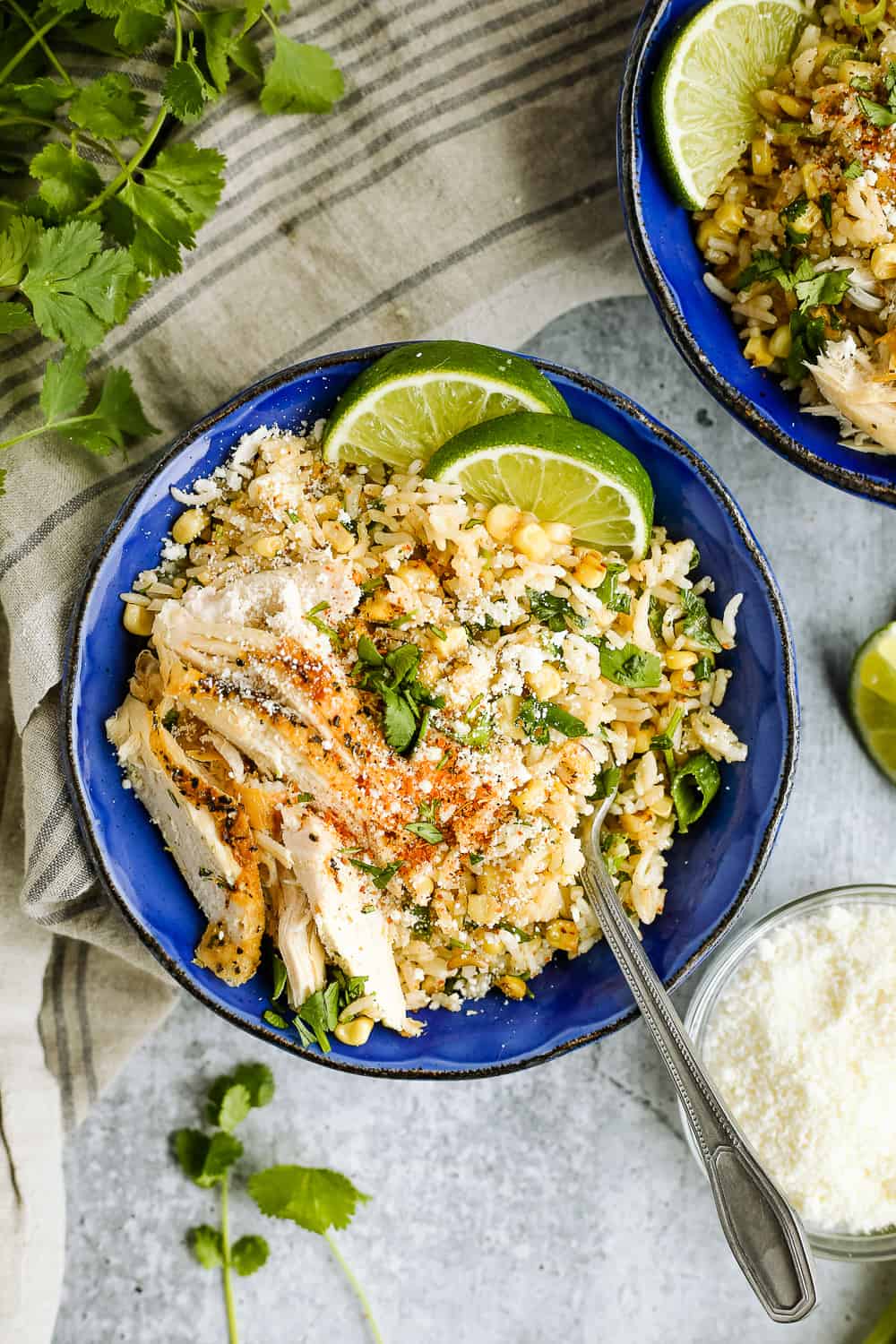 May is AAPI Heritage Month and kicks off with the Cinco de Mayo holiday. That was the idea behind this rice bowl featuring the classic flavors of Mexican esquites.
Rice is a pretty ubiquitous ingredient, used in cuisines around the world. In fact, I remember attending a training for dietitians about cultural competence several years ago. One of the panelists said she poses this question to clients to learn more about their food preferences and culture: How do you cook rice?
I sometimes use that question when I'm working with clients for nutrition coaching. We talk about which dishes they grew up with, how they learned to cook rice, who taught them, and what they like about it.
Of course, I have my answers to all those questions based on growing up with electric rice cookers, as many Asian and Asian-American families do. You can read more about that in this post (and snag a recipe for Korean-Inspired Beef and Rice Bowls)!
But Asian and Asian-American families aren't the only folks relying on rice. It shows up in cuisines from around the world, and has long been a staple in Mexican and other Latin American cuisines, too.
Why You'll Love This Recipe
You can choose your own culinary adventure here. Want more cilantro? Go for it. Make it meal? Easily done. Start with my recipe as a base and let your taste preferences guide you from there.
It's full of flavor…need I say more? When I was recipe testing, I heard, "It tastes like the last bite of a Chipotle burrito" and that was pretty high praise!
It deserves a starring role in your meal prep efforts, since the rice, corn, or full recipe can be prepped in advance and enjoyed later.
A Little More About Rice
There are many varieties of rice. I'm using U.S.-grown long-grain white rice for this esquites-inspired recipe. I grew up mixing canned corn into cooked white rice, although I'm not sure who in my family started that trend. I love the combination of crunchy, sweet corn kernels mixed with the soft, fluffy rice.
Cooking with U.S.-grown long-grain rice can help stretch your grocery dollars. Bagged rice is a shelf-stable, affordable, and versatile ingredient that pairs well with many other foods. Rice is grown in California, Louisiana, Mississippi, Missouri, Arkansas, and Texas, so shopping for U.S.-grown rice helps support farmers in your state or region.
No matter what you use, U.S.-grown rice is going to provide carbohydrates to fuel your body and your brain. It will also give you more than 15 vitamins and minerals such as iron, zinc, and important B-vitamins like folic acid.
Short-grain or sushi rice has a different starch content, which helps make it feel stickier than long-grain rice varieties. Long-grain rice is more common in Mexican or Latin cuisines. You might recognize it from the side dishes commonly served in Mexican restaurants in America. When cooked, it's lighter, fluffier, and more separated than the medium or short grain counterparts.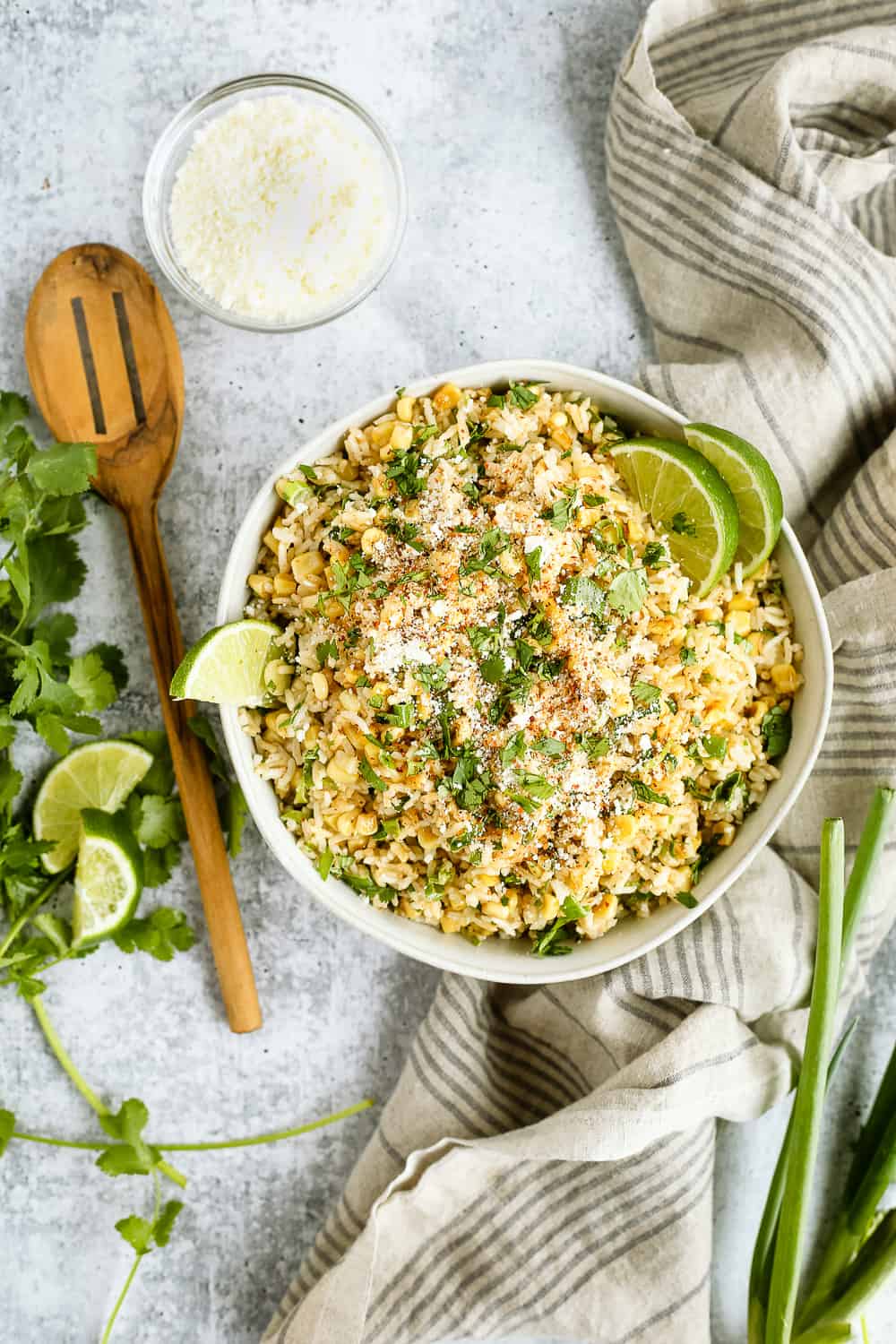 Ingredients You'll Need
Here's what you'll need to make these esquites-inspired Mexican Street Corn and Rice Bowls:
Ingredients: U.S.-grown long-grain white rice, frozen or canned white corn, fresh cilantro, green onions, mayonnaise, one lime, cojita cheese, and your preferred blend of seasonings. I used some ground chipotle powder, garlic, and Tajin, a combination of chili peppers, lime, and salt.
Street Smart Nutrition Tip: While sweet yellow corn is a more common variety in the United States, corn in Mexican cuisine is considerably less sweet. Look for white corn (canned or frozen) for a more authentic version, but if none is available or easily found, use any variety of corn you have on hand. Same goes for the rice!
Equipment: Electric rice cooker (if you have one) or large pot with lid for cooking rice, non-stick skillet, measuring spoons and measuring cups, and a soft spatula or spoon for stirring and serving. You'll also need a sharpened chef's knife and cutting board.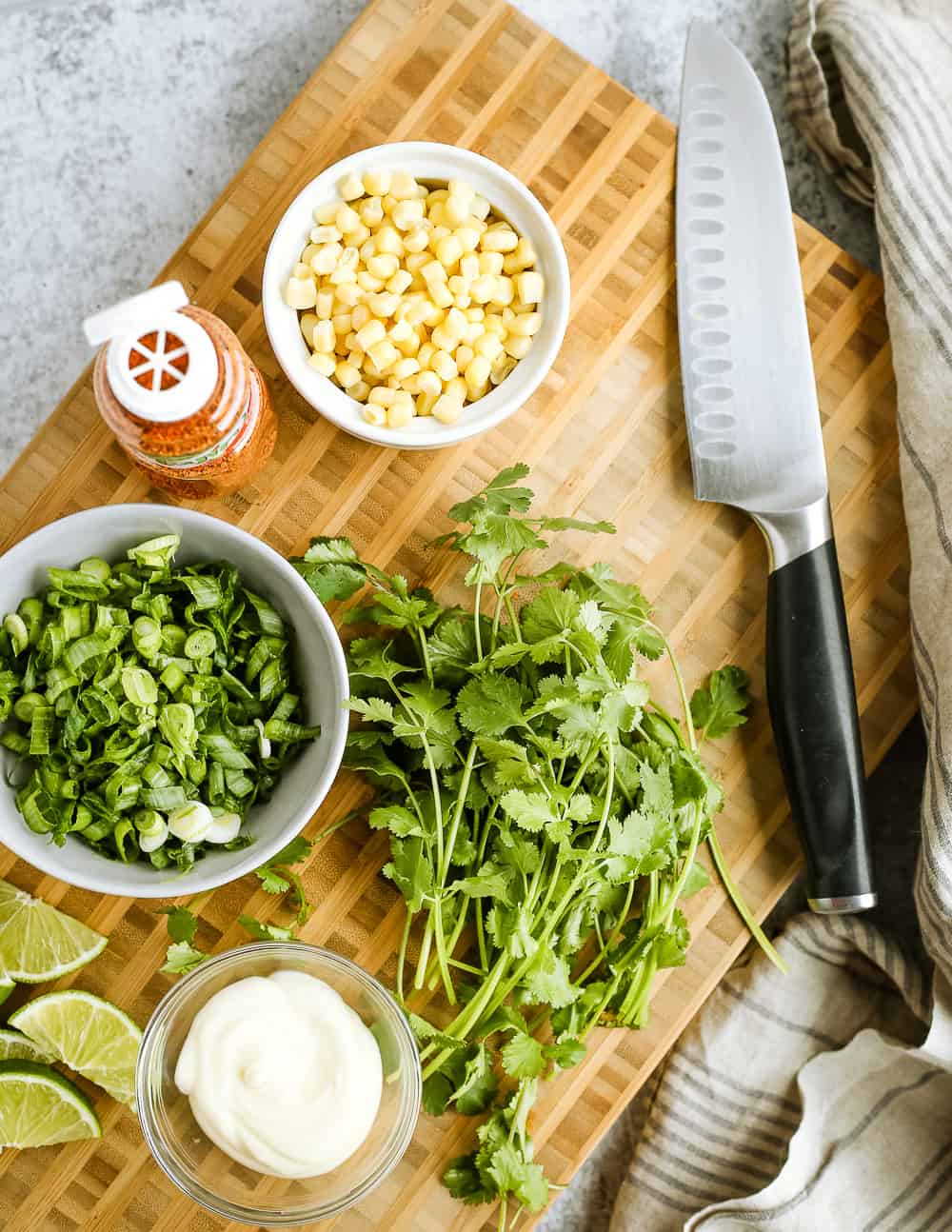 How to Make Mexican Street Corn and Rice Bowls
You're going to love how simple this recipe is!
The most time-consuming step is cooking the rice. See the recipe card below for tips on cooking rice on the stovetop or with an electric rice cooker. As the rice nears the end of cooking, you'll have time to prepare the remaining ingredients.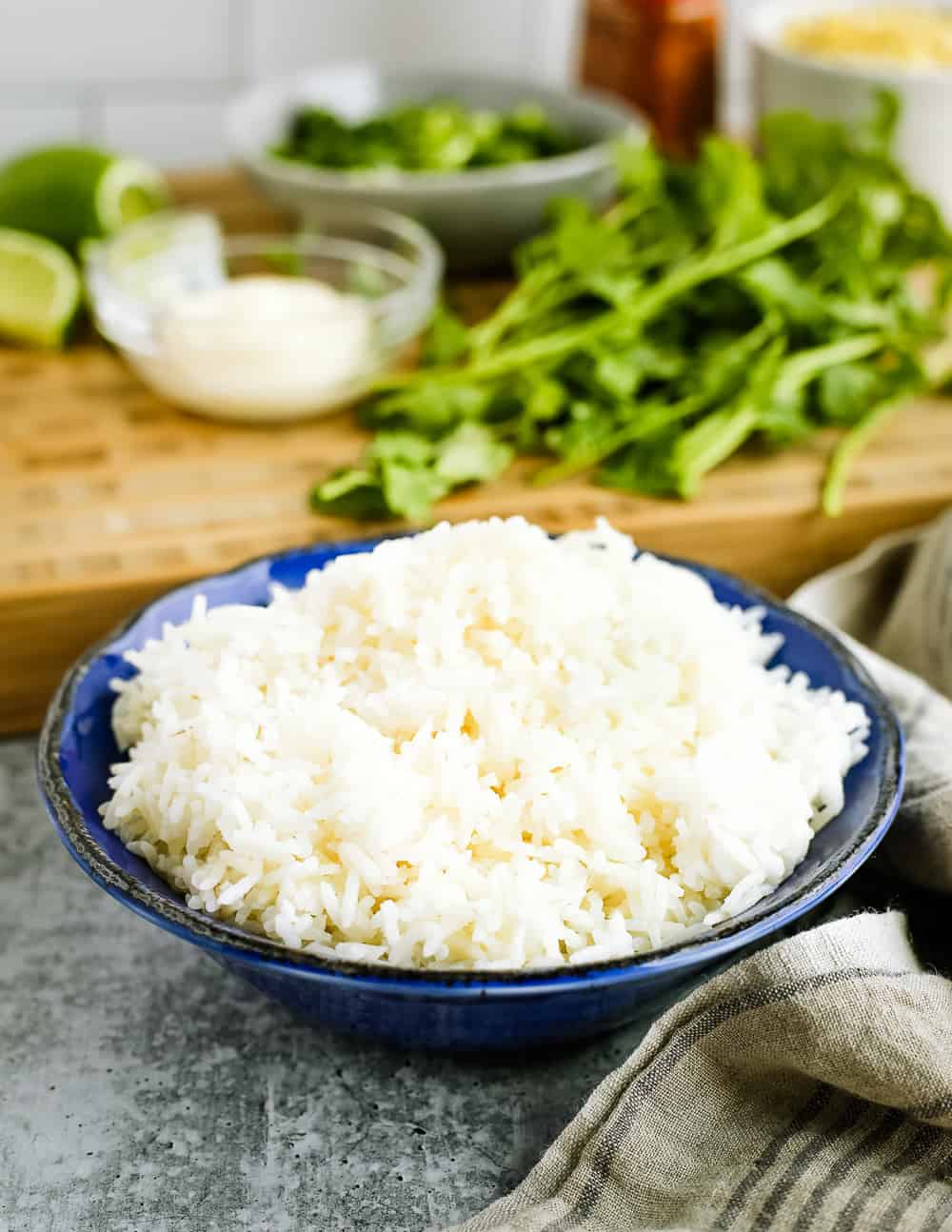 Here's how to finish the rest of the recipe:
Prep your corn by thawing (if cooking with frozen) or draining (if using canned).
Heat the cooking oil in a medium skillet. Once heated, add the corn, season with a little bit of salt, and cook until it begins to roast and brown. The key here is patience, because if you're constantly stirring, the corn won't develop those charred edges.
Once the corn is done (about 5-10 minutes), remove the skillet from the heat. While it cools off a little bit, mix the remaining ingredients together in a small bowl.
Combine everything together with the cooked rice in a larger mixing bowl, or reserve a little bit of the mayo mixture to drizzle on top.
Garnish with some additional cilantro or tajin, and you're done!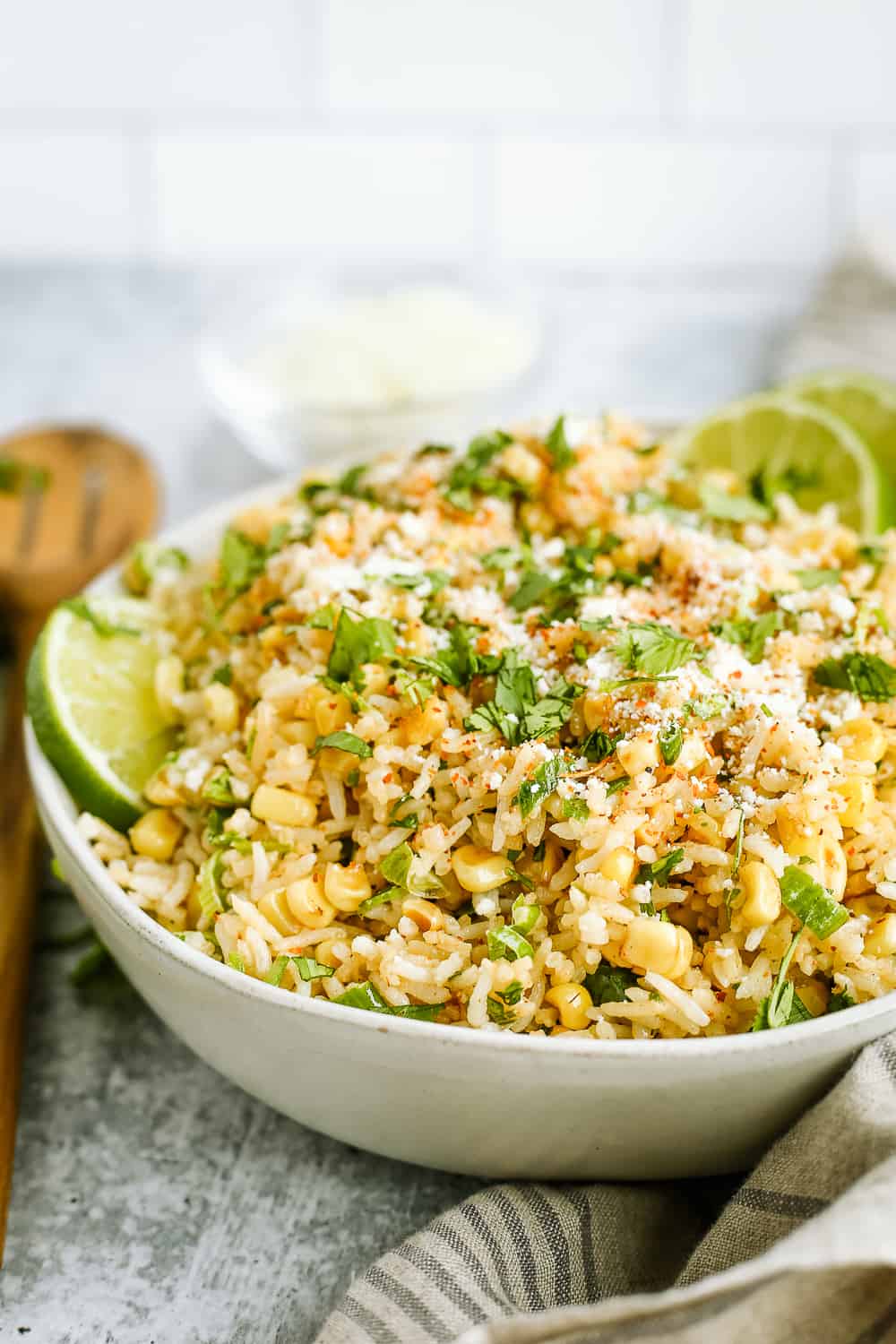 Can you make it a meal?
Of course! Although this recipe is delicious as a side dish, it can also shine as the main event on your dinner table.
One of my favorite ways to turn this into a complete meal-in-a-bowl is to add some shredded rotisserie chicken on top. I rely on pre-cooked rotisserie chickens from my local grocery store because they save me so much time! I can also make several meals out of a single purchase, then use the leftovers to make some homemade chicken stock.
To use this method, simply carve off white meat, dark meat, or a combination from your pre-cooked chicken. Layer that on top of your Esquites-Inspired Mexican Street Corn and Rice Bowl, or mix it all in before serving. Add additional cilantro or seasonings according to your tastes, and you're all set!
Note that adding this option means the recipe is no longer vegetarian or plant-based. See below for a few other suggestions that will work for a vegetarian or pescatarian diet.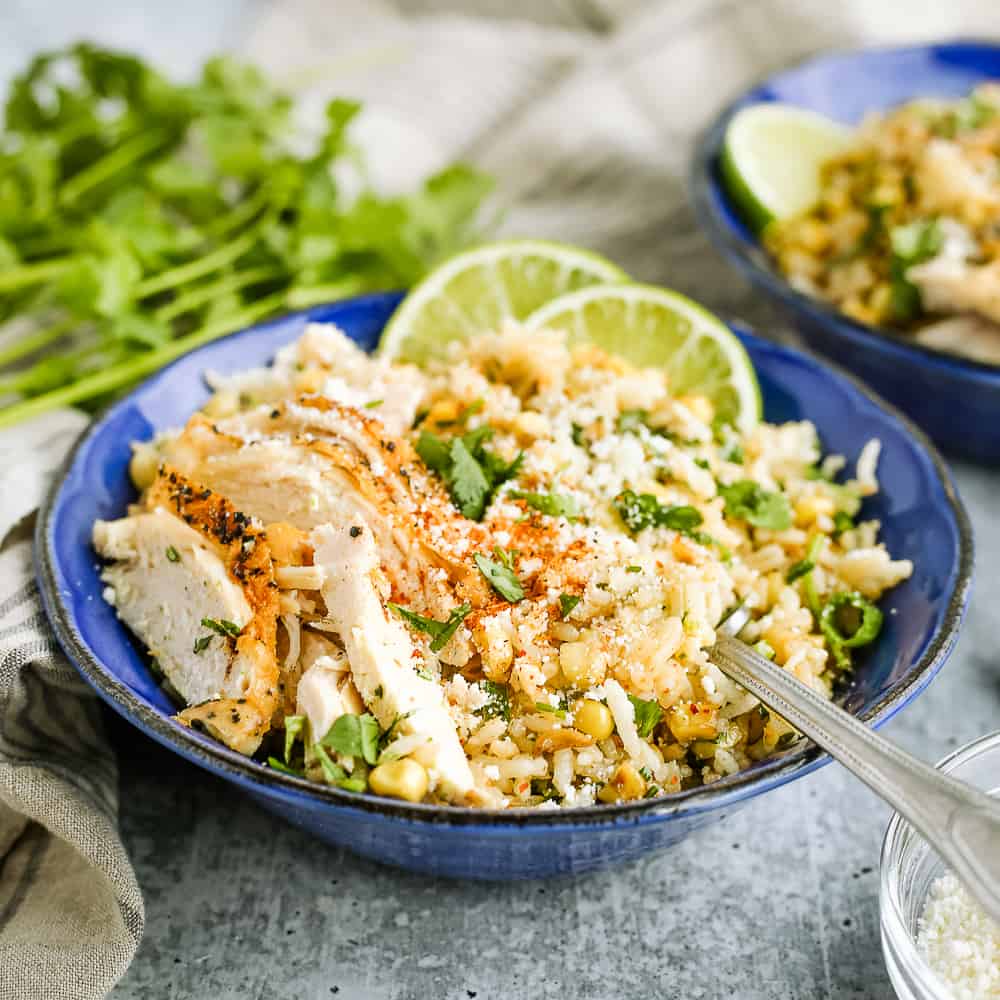 Here are some other ideas to make a meal out of these esquites-inspired rice bowls:
A skewer of grilled shrimp
A hard-boiled egg, sliced
Sliced avocado with black beans or frijoles-style beans
Served in a large tortilla to make a burrito
If you're serving a crowd or want to scale the recipe to make more for meal prep purposes, simply keep the same ratios. Normally, you cook rice using a 1:2 ratio of uncooked rice to liquid. However, we want this rice to be a bit on the dry side since the sauce will create enough stickiness and moisture. Use a 1:1.75 ratio instead. For the mayonnaise mixture, simply use equal parts mayonnaise with sour cream, or substitute Mexican crema if you have it available and prefer the flavor.
Here's the full recipe for my Esquites-Inspired Mexican Street Corn and Rice Bowl!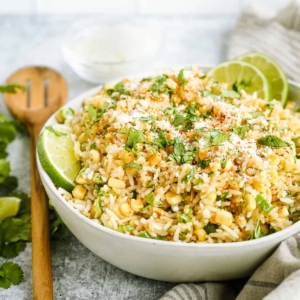 Mexican Street Corn and Rice Bowls
This esquites-inspired recipe uses familiar ingredients that may already be hanging out in your pantry! Enjoy the fresh, bold flavors of summer in this side dish (or add your favorite protein to make it a meal)
Ingredients
1 1/2

cups

U.S.-grown long-grain white rice

2 3/4

cups

water

1

tsp

kosher salt

,

divided

2

cups

white corn

,

frozen or canned

1

tbsp

cooking oil

,

canola

3

medium

green onions

,

thinly sliced

1/3

cup

chopped cilantro

3

tbsp

mayo

3

tbsp

sour cream or Mexican crema

1

tsp

tajín

1/2

tsp

ground chipotle powder

1/4

cup

cojita cheese

,

grated

1

large

lime

,

cut into wedges
Instructions
To Cook Rice on the Stovetop
Measure the water into a saucepan and bring to a boil over high heat. Add half of the divided salt, and once boiling, add the U.S.-grown long-grain white rice. Reduce heat to a simmer and cover with a tightly sealing lid.

Cook, without stirring, according to package directions (or about 20 minutes). Remove from heat then fluff with a fork before continuing with remaining instructions.
To Cook Rice Using a Rice Cooker
Measure the uncooked rice, water, and half of the divided salt into the bowl of the rice cooker (rinse first if desired to reduce stickiness). Adjust settings, if applicable, and seal the lid. Once timer goes off, fluff with a fork before continuing with remaining instructions.
For Mexican Street Corn and Rice Bowls (Elotes-Inspired)
As rice cooks, heat the cooking oil in a skillet. Once heated, add the white corn. Toast in the skillet for 5-10 minutes, stirring occasionally, or until the corn becomes roasted and browned around the edges. Remove from heat and set aside.

Meanwhile, chop the cilantro and slice the green onions into thin slices.

Combine the mayonnaise, sour cream, remaining salt, Tajín, and chipotle powder in a small bowl. Set aside.

When rice is finished cooking, transfer to a large mixing bowl. Add the roasted corn, chopped cilantro, green onions, and mayonnaise mixture and fold together to combine. Garnish with lime wedges, cojita cheese, and additional spices if desired. Serve immediately.
Notes
Recipe, as written, yields 6-8 servings as a side dish or 4 servings as an entree when paired with your preferred protein. 
If using an electric rice cooker, adjust cook time according to your appliance. Cook time may be longer than the 30 minutes estimated for cooking rice on the stovetop.
Nutrition
Serving:
1
serving
,
Calories:
305
kcal
,
Carbohydrates:
50
g
,
Protein:
5
g
,
Fat:
10
g
,
Saturated Fat:
2
g
,
Trans Fat:
1
g
,
Cholesterol:
6
mg
,
Sodium:
453
mg
,
Potassium:
236
mg
,
Fiber:
3
g
,
Sugar:
5
g
,
Vitamin A:
282
IU
,
Vitamin C:
8
mg
,
Calcium:
35
mg
,
Iron:
1
mg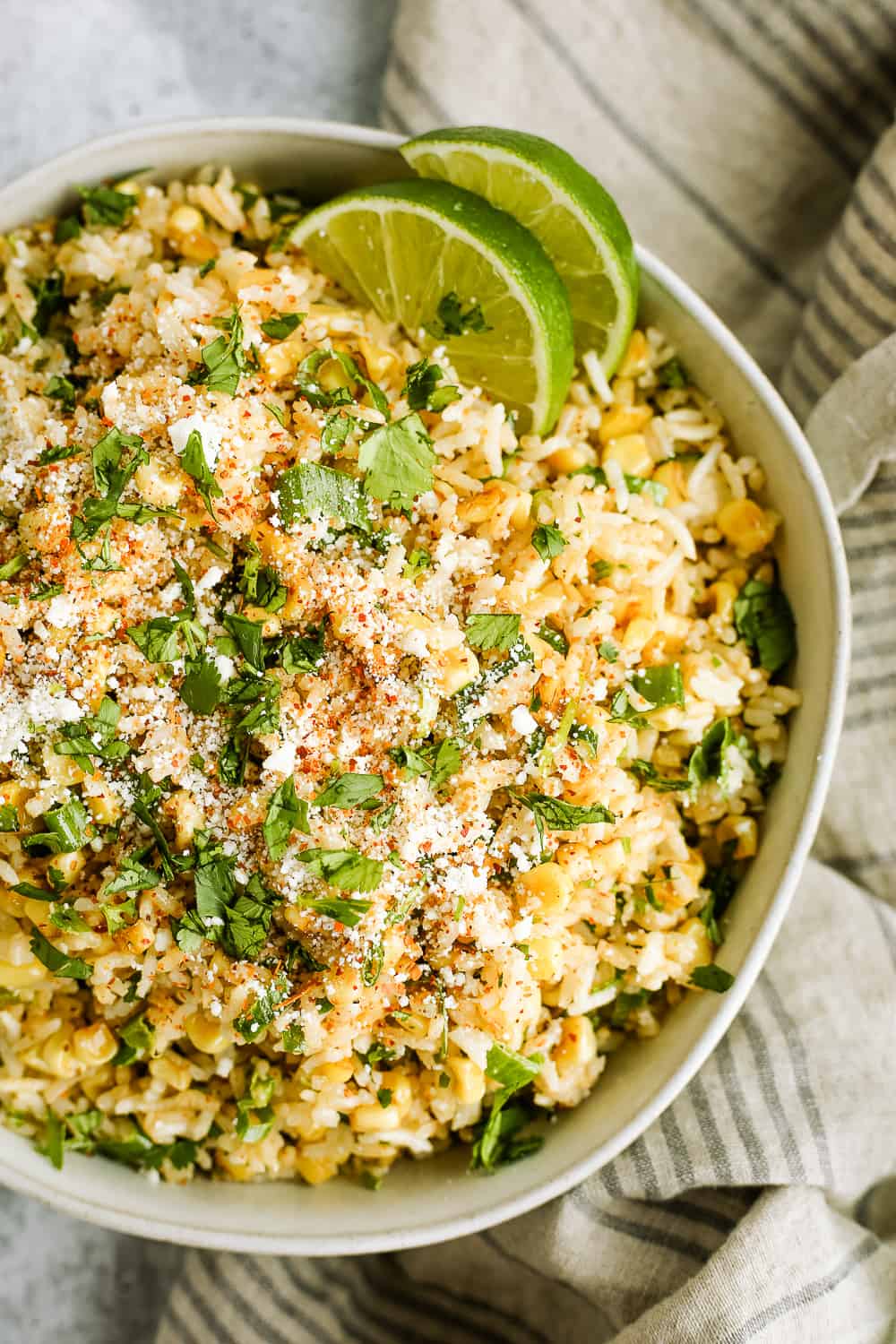 A Note on Elotes and Esquites
I really love learning about other cultures through their food. Developing recipes and experimenting in the kitchen is one way to do that. I tried to learn a little more about elotes and esquites in the process of working on this one.
Elotes refers to this style of corn when it's on the cob. It may be served on a wooden skewer or eaten by hand. There is also an off the cob version, called esquites (ehs-KEE-tez). It is typically served in cups, so this rice bowl is actually more similar to that preparation.
My recipe for esquites-inspired corn and rice bowls is not designed to represent authentic Mexican cuisine – it's the result of my desire to use ingredients that are widely available without being too expensive. I always wanted to create a dish that is filling, delicious and satisfying to me. I hope you feel the same if you give it a try!
If you enjoyed this rice-based recipe, you might also like: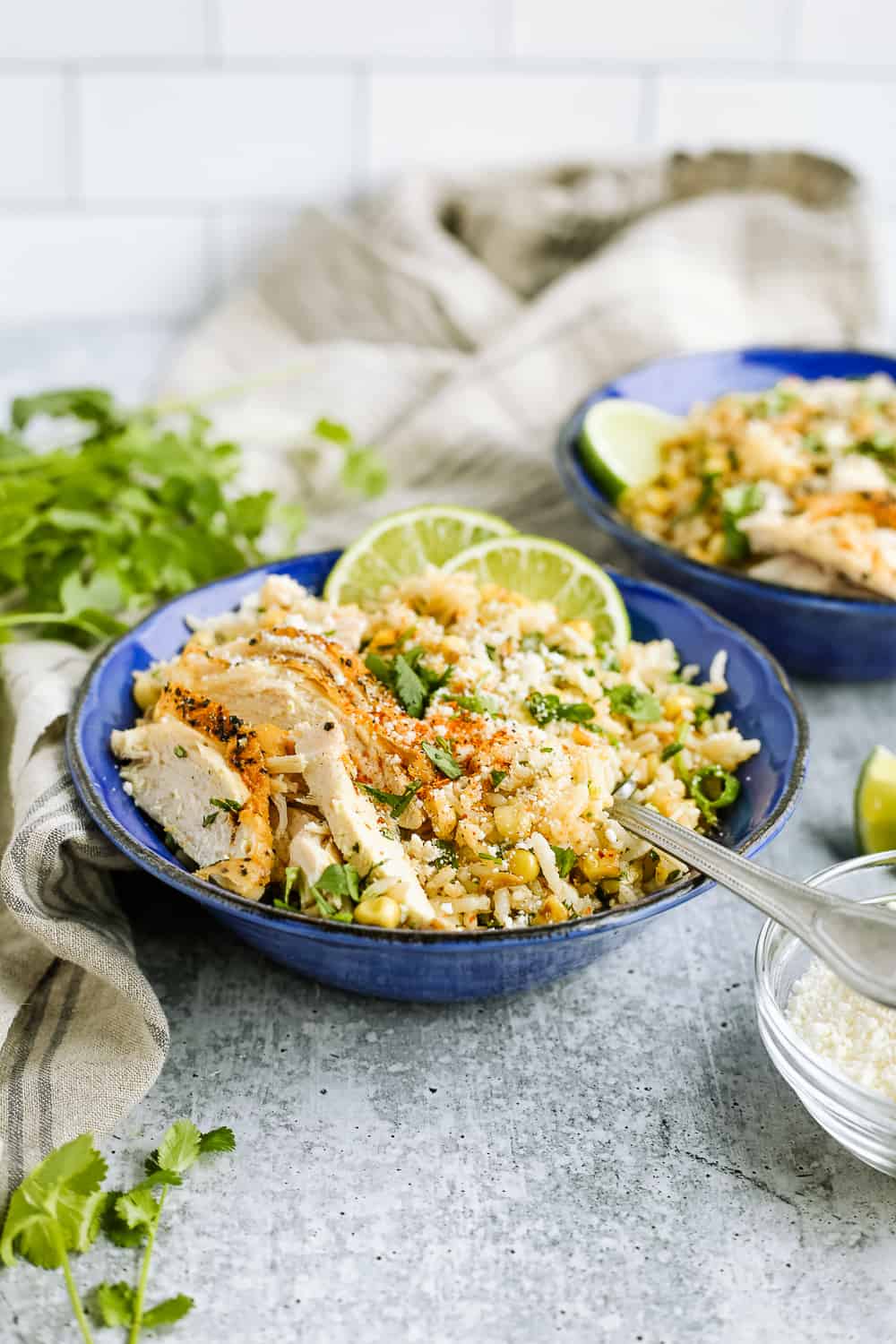 Disclosure: This recipe was originally created in partnership with the USA Rice Federation. I was compensated for my time and have made minor edits and updates since it was first published in 2021. Thanks for supporting the brands that support Street Smart Nutrition!