This Brown Rice and Sweet Potato Hash is an easy way to cook with familiar ingredients from your pantry and freezer. Plus, it's ready in just 30 minutes! Scroll to see the full recipe and learn how to cook brown rice on the stove, too. 
Disclosure: This recipe and blog post were created in partnership with the USA Rice Federation. I was compensated for my time. As always, all opinions are my own. Thanks for supporting the brands that support Street Smart Nutrition!
---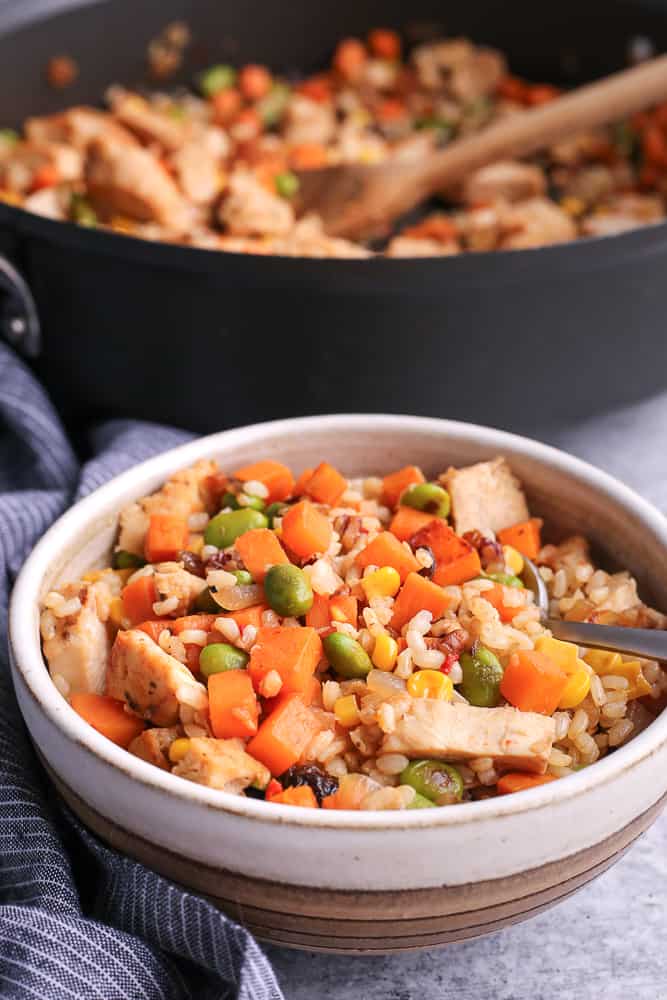 Homecooked meals are tough to beat, but they're even better when they use ingredients you already have and don't take all night to cook. I'm excited to partner once again with the USA Rice Federation to share how I've been using U.S.-grown rice in simple recipes.
Just take a peek at this hearty dish! Don't be fooled – it's quick and simple. With just a handful of ingredients, you can whip up a skillet meal in no time.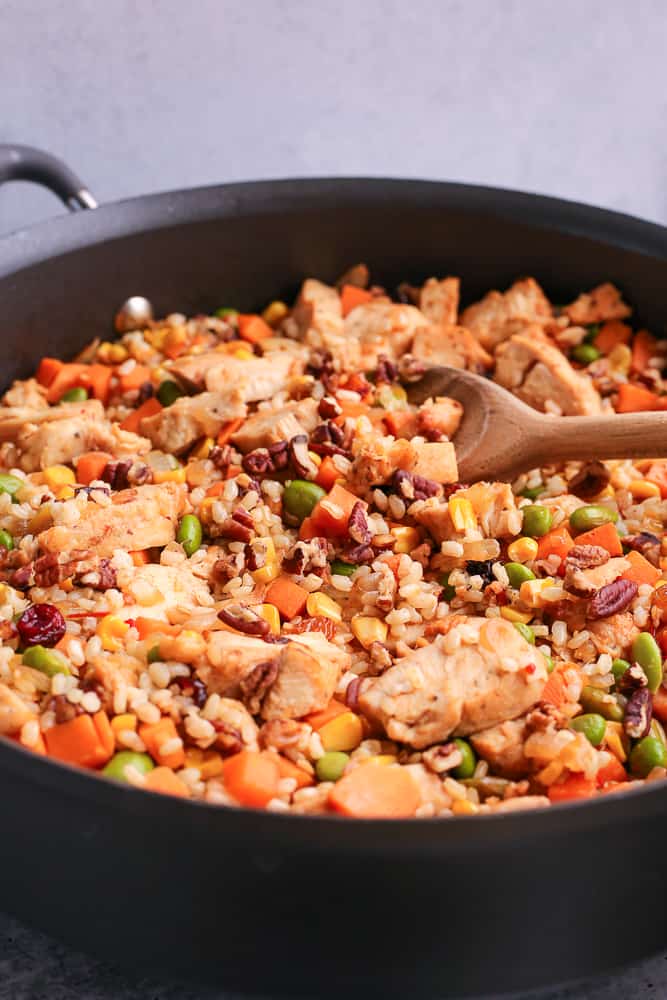 Brown rice recipes
Cooking with U.S.-grown brown rice is a great idea when you're minimizing your trips to the grocery store. Bagged rice is a shelf-stable, affordable, and versatile ingredient that pairs well with many other foods. Rice is grown in California, Louisiana, Mississippi, Missouri, Arkansas, and Texas, so shopping for U.S.-grown rice helps support farmers in your state or region.
In this case, my brown rice recipe was inspired by a few different dishes. First, a sweet potato hash is a family favorite we often prepare for breakfast (with eggs) or with greens and other veggies (for dinner). Fresh greens are tough to come by right now, so instead, I turned to frozen, canned, or more shelf-stable veggies to replace them.
Second, I recall a succotash-style recipe I prepared in one of my food service management courses in college. It was the first time I tasted succotash and learned what it was. Traditionally, succotash is an American dish made with corn and lima beans. However, when I found a bag of frozen shelled edamame in my freezer, this recipe started coming together.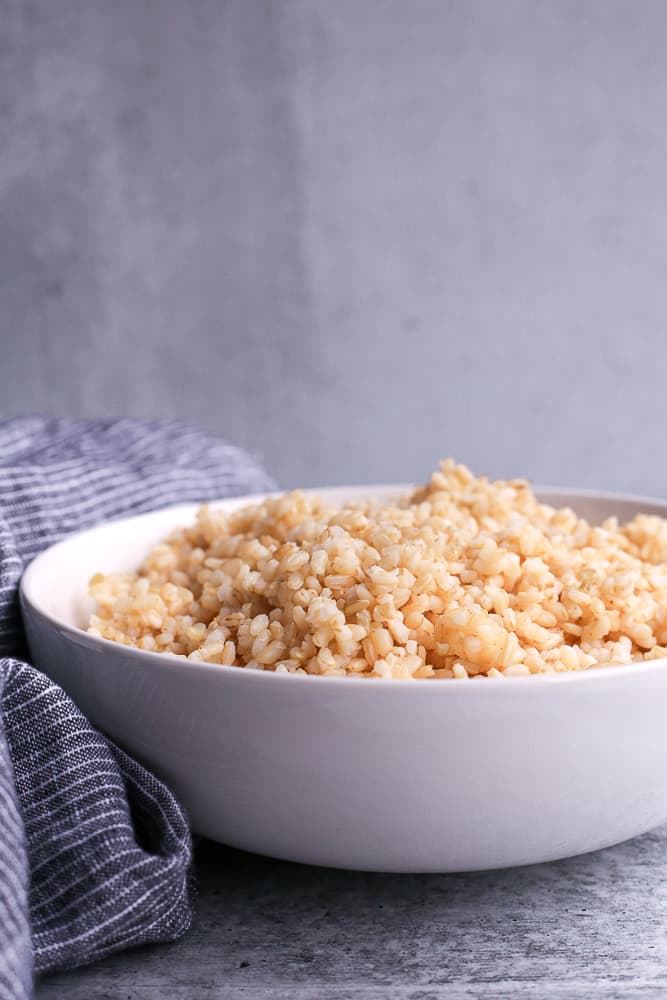 If you're brainstorming brown rice recipes of your own, remember that pairing a whole grain like brown rice with a legume (such as beans, peas, or peanuts) increases the nutrient density of your meal. When these plant-based proteins are combined, you can enjoy a meal with or without additional protein sources and trust that your body will get the key nutrients it needs for good health.
Rice is a naturally gluten-free whole grain that provides complex carbohydrates. This type of carbohydrate is digested more slowly and provides energy. This has been so key for me when I feel sluggish and exhausted!
Rice also provides more than 15 vitamins and minerals, including folic acid and other B-vitamins, as well as iron and zinc. And if you're using short grain brown rice (like I did for this recipe), you'll get more dietary fiber than medium and long grain brown rice.
If you're looking for more inspiration for brown rice recipes, check out my Easy Weeknight Fried Rice with Rotisserie Chicken or Stuffed Poblano Pepper with Chimichurri Rice and Chorizo!
How to cook brown rice on the stove
If you're cooking brown rice on the stove, these simple steps will help you get the best flavor and texture. Other options for cooking include a rice cooker, the "Rice" setting on some electric pressure cookers (AKA, the Instant Pot), or ready-to-eat varieties like heat-and-serve pouches or frozen steamer bags of rice.
To cook brown rice on the stove
Set a saucepan or pot on the burner and measure your water. Use a 2:1 ratio of water to uncooked brown rice. For example, if you plan to make this Brown Rice and Sweet Potato Hash, you'll need about 1 cup of uncooked brown rice and 2 cups of water.

Pour the water into your saucepan and add a pinch of salt. Bring to a boil over high heat.

Once the water is boiling, add the uncooked brown rice. Reduce heat to medium, then cover and simmer for about 30 minutes.

Once liquid is fully absorbed, remove from heat and fluff with a fork.
At that point, you'll be able to serve, store, or add it to the other ingredients to complete your recipe. It's really that easy to cook brown rice on the stove and get great results! The most challenging part is resisting the urge to lift the lid and peek. By allowing steam to escape, you lose heat, which in turn affects the texture of your rice. The same goes for stirring – once you get your rice added and simmering, just leave it be!
Brown Rice and Sweet Potato Hash
Now that you've perfected your technique to cook brown rice on the stove, you're ready to put those skills to work! This 30-minute meal will come together in a hurry while your brown rice is cooking. If you're using prepared or leftover rice instead, simply add at the end of cooking and allow it to heat through before serving.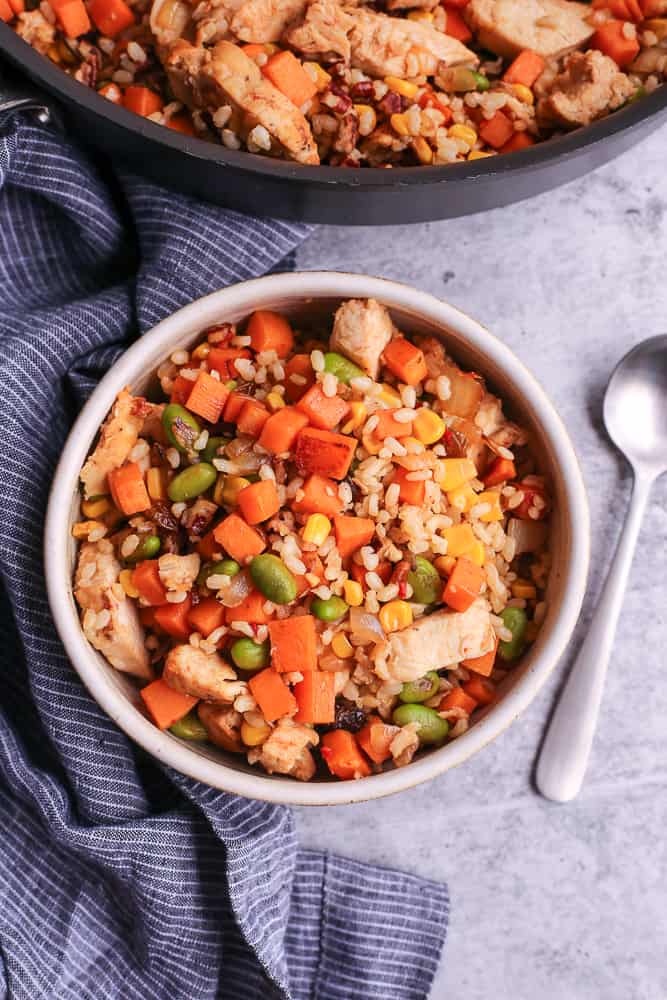 As I mentioned, this recipe for my Brown Rice and Sweet Potato Hash was born from necessity. I had a sweet potato and U.S.-grown brown rice, of course, along with a can of corn, an onion, frozen shelled edamame, and frozen chicken. What I did not have was a desire to trek to the grocery store.
After rummaging through my pantry for a few more minutes, I uncovered pecans and dried cranberries and knew a hash-style meal was coming right up. Use this recipe as a guide for your own skillet- or hash-style meal. Try substituting other canned or frozen veggies, or swap the chicken for another protein if desired. Before serving, you can top it with a sauce or dressing (like this Balsamic Honey Mustard Vinaigrette) or keep the seasonings low-key. You really can't go wrong with this forgiving brown rice recipe so don't be afraid to experiment!
Here's the recipe for my 30-Minute Brown Rice and Sweet Potato Hash
Brown Rice and Sweet Potato Hash
This versatile 30-minute meal lets you shop your pantry and freezer to make a nourishing meal that comes together in one skillet. Get ready for leftovers!
Equipment
Saucepan

Liquid Measuring Cup

Cutting Board

Chef's Knife

Large Nonstick Skillet

Spoon or Spatula
Ingredients
1

cup

U.S-grown short-grain brown rice

,

uncooked

2

cups

water

1

pinch

salt

2

tbsp

olive oil

,

divided

1/2

large

yellow onion, minced

,

about 1 cup

1

large

sweet potato, chopped into 1/4" cubes

,

about 3 cups

1

cup

sweet corn kernels

,

frozen or canned

1

cup

frozen shelled edamame

1/2

cup

chopped pecans

1/2

cup

dried cranberries

2

cups

cooked chicken

,

shredded or chopped

1/2

tsp

garlic powder

Fine sea salt and pepper

,

to taste
Instructions
Add the water to your pot along with a pinch of salt. Bring to a boil over high heat.

Add the uncooked brown rice, then reduce to a simmer. Cover the pot with a lid and allow to cook about 30 minutes, or until all liquid is absorbed and the rice is fully cooked.

While the rice is cooking, prepare the other ingredients. Heat one tablespoon olive oil in a large nonstick skillet over medium-high heat. Once the oil is heated and glistening, add the yellow onion. Allow to cook 5 minutes, or until onions become translucent and the edges begin to brown.

Add the chopped sweet potato and the remaining olive oil. Allow to cook over medium to medium-high heat, stirring occasionally. After about 10-12 minutes, add the corn, edamame, and garlic powder. Stir to combine.

As the sweet potatoes finish cooking, add the pecans, dried cranberries, and cooked chicken. Once rice is cooked, add to the skillet and fold all ingredients together. Season with salt and pepper according to taste and serve immediately. Season with fresh or dried herbs and spices (optional) or stir in a sauce or dressing if desired.
Notes
The sweet potatoes will cook evenly if they are chopped into the same size. Larger cubes will add to your cooking time, but be sure not to overcook very small cubes or they may become too soft. 
Nutrition
Calories:
437
kcal
,
Carbohydrates:
54
g
,
Protein:
20
g
,
Fat:
17
g
,
Saturated Fat:
2
g
,
Cholesterol:
35
mg
,
Sodium:
80
mg
,
Potassium:
603
mg
,
Fiber:
6
g
,
Sugar:
12
g
,
Vitamin A:
7949
IU
,
Vitamin C:
5
mg
,
Calcium:
61
mg
,
Iron:
2
mg
Here's that Honey Mustard Vinaigrette I mentioned. It's a delicious topper for this Brown Rice and Sweet Potato Hash!
Simple Honey Mustard Vinaigrette
This is one of my favorite simple DIY dressings. I use it on salads, side dishes, pasta, and as a marinade. The possibilities are endless so get creative!
Ingredients
1/2

cup

olive oil

1/4

cup

white vinegar

2

tsp

dijon mustard

2

tsp

honey or agave nectar

2

garlic cloves

,

minced (optional)

Fine sea salt and pepper to taste
Instructions
Combine all ingredients into a small mason jar or container with a sealed lid. Shake until ingredients are well mixed. Serve immediately or store in the fridge for up to 3-4 days.
Notes
Adjust sweetness by increasing or decreasing the amount of honey or agave nectar used.
Nutrition
Serving:
1
serving
,
Calories:
128
kcal
,
Carbohydrates:
2
g
,
Protein:
1
g
,
Fat:
14
g
,
Saturated Fat:
2
g
,
Sodium:
15
mg
,
Fiber:
1
g
,
Sugar:
1
g
,
Vitamin C:
1
mg
,
Calcium:
1
mg
,
Iron:
1
mg
If you try this recipe and enjoy it, be sure to share or save it to repeat it later!