If #TacoTuesday wasn't your favorite day of the week before, it might be now. Whether you're in the mood for actual tacos or taco salad, these sofritas tacos are smoky, savory, and simply perfect with sweet cilantro slaw. 
You're probably thinking…"What the heck is a sofritas (?) and why would I want to make it." And that's totally cool. Because until recently I didn't have a great answer for you. Sofritas became very highly publicized after Chipotle introduced them to their menu as a vegetarian or vegan option.
I appreciate the gesture. But in my mind, it was a scheme to get us plant-based Tex-Mex enthusiasts to pay more for something that would still end up drowning in guacamole. I never gave them a try (mostly because I'm not the biggest fan of the chain after their marketing team took things in a weird direction) but wanted to recreate my own version in the comfort of home.
So, to answer the question of why you might want to try there, just take a look below: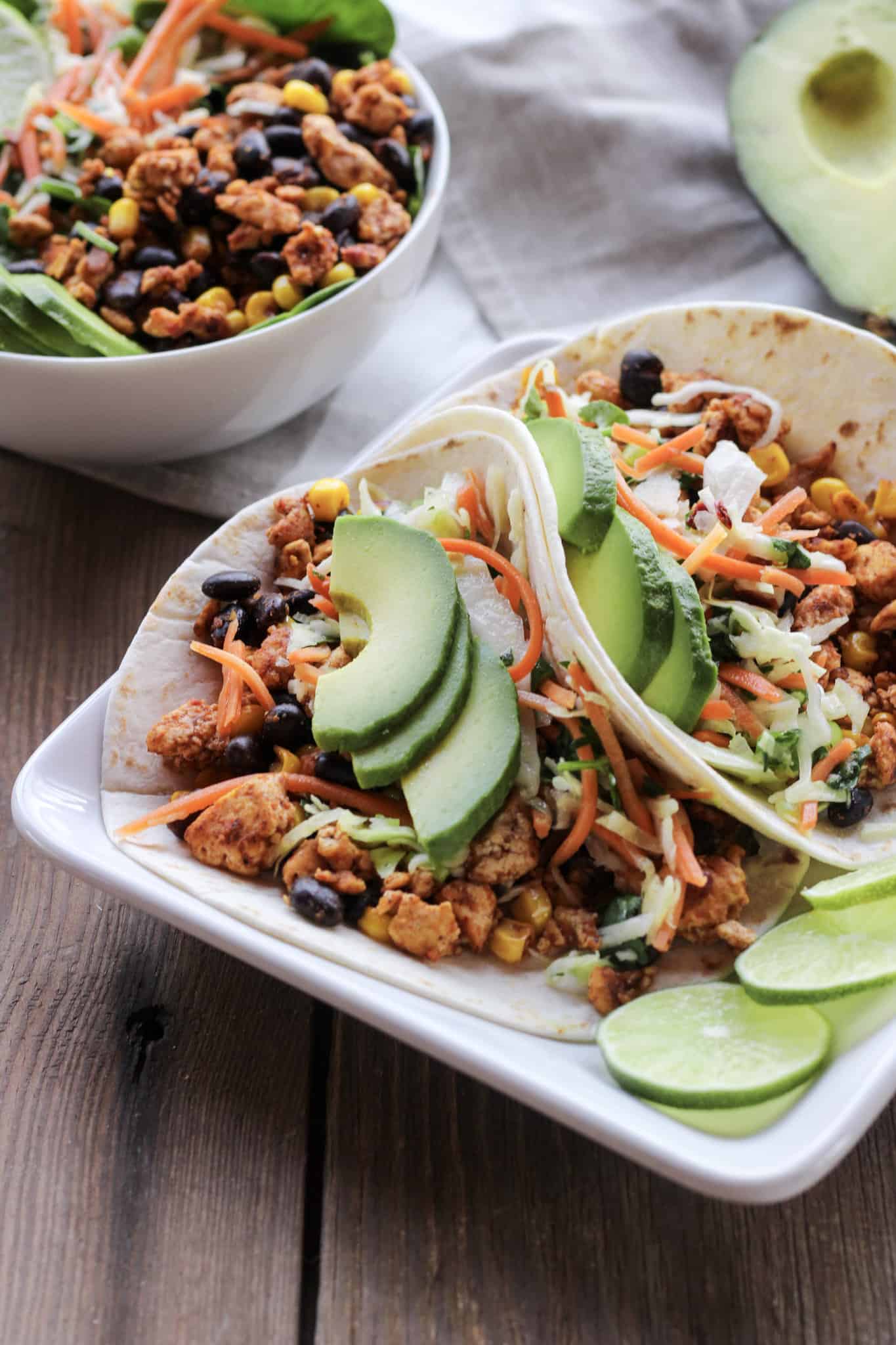 Tofu offers a plant-based protein option that works for vegetarians and vegans alike, and might even convince an omnivore to embrace more Meatless Monday meals. It's a blank slate because honestly, by itself, it doesn't taste like anything. To be even more honest, the texture isn't all that great either. When I hear people bash on tofu I think the same thing I do when they bash on vegetables: "Ahhhh. They've just never had a good experience with [insert favorite food HERE]. This is your chance, Cara, you can convert them. Let's do this." 
And I gladly accept that challenge.
[Tweet "Never tell a #dietitian you don't like something. THEY WILL FIND A WAY TO MAKE IT DELICIOUS"]
The key is starting with firm or extra-firm tofu that's well drained. Tofu is usually packed in liquid, and we want it to crumble (not smash). I usually set the block on a plate, cover it with a paper towel, place a cutting board on top, then place another plate or bowl on top. I add potatoes, canned beans, etc. to the top – basically anything that adds some weight and pressure will get the job done. Do this first, while prepping the slaw or sauce, then drain the excess liquid before adding the tofu to the skillet.
The next key is cooking the tofu over high heat while keeping the stirring to a minimum. You want to break it apart enough to create the crumbly texture, but then allow it to brown and crisp up a little bit. Not so different than what you might do with ground beef. Texture issue solved because this firms it up into something you can actually chew.
Add the smoky, spicy sauce and the flavor issue is solved. Simmer with beans (for fiber), corn (for sweetness), and serve it up with your favorite taco toppings. Personally, I like a little crunch so I whipped up this super simple Sweet Cilantro Slaw. Adjust the spice and heat by adding fresh or pickled jalapeños, more crushed red pepper, or additional pepper in the sauce itself.
This versatile recipe is a favorite because sometimes I crave ALL the carbs. So I make tacos.
Then there are times I crave ALL the green things. So I pile up the leafy stuff and make a salad.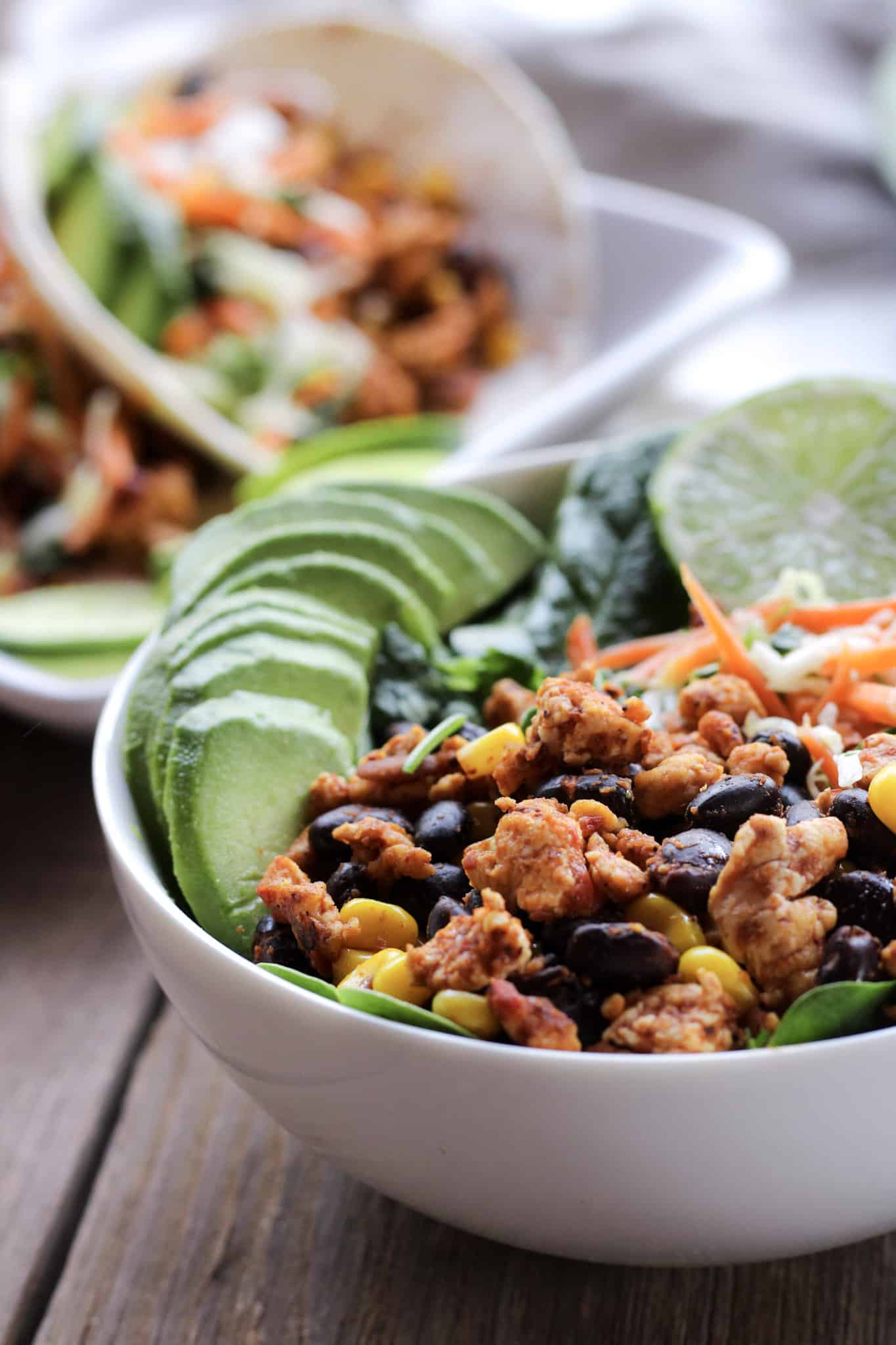 Either way, it's a complete balanced meal that costs a fraction of the fast-casual version.
What's your go-to #TacoTuesday combo?
[Tweet "Want to mix #TacoTuesday with #MeatlessMonday? Try these Sofritas Tacos from Street Smart Nutrition"]
Sofritas Tacos with Sweet Cilantro Slaw
These delicious plant-based tacos will become a new favorite for #TacoTuesday - or, anytime you want to mix up your traditional taco toppings!
Ingredients
SOFRITAS
1

package

firm or extra firm tofu

,

14 oz

1

tbsp

olive or canola oil

1 to 2

chipotle chilis

1

tbsp

adobo sauce

1

roma tomato

,

chopped

3

cloves

garlic

1

tsp

honey or agave

1/4

tsp

coarse sea salt

1

tsp

cumin

1

tsp

chili powder

1

can black beans

,

drained and rinsed

1

cup

sweet corn kernels
SWEET CILANTRO SLAW
1

cup

shredded carrots

1

cup

shredded red or green cabbage

1/2

cup

cilantro

,

chopped

2

green onions

,

thinly sliced

1

lime

,

juiced

1/4

tsp

coarse sea salt

1/4

tsp

crushed red pepper

1 1/2

tsp

honey or agave
Instructions
Drain the tofu and remove excess water by pressing between two flat plates. Add to a large nonstick skillet with the olive oil or canola oil. Heat the pan to medium-high or high heat. Roughly crumble the tofu with a spatula to break it into small pieces.

While the skillet is heating, combine the chipotle peppers, adobo sauce, tomato, garlic, honey or agave, salt, cumin, and chili powder in a small blender or food processor. Pulse until a smooth paste begins to form. Set the sauce aside.

As the tofu cooks, keep stirring or flipping to a minimum to allow for browning. Cook uncovered to allow steam to escape the skillet. After 10-12 minutes, add the sauce, black beans, and corn. Stir to combine, then allow to cook for 5 minutes more to blend the flavors. Remove from heat.

Add the cabbage, carrots, cilantro, and green onions to a large mixing bowl. Add the lime juice, olive oil, salt, crushed red pepper, and honey or agave and mix well to combine.
FOR TACOS
Heat flour or corn tortillas before serving if desired. Spoon the sofritas mixture into each tortilla, then top with the sweet cilantro slaw. Add additional garnishes such as avocado, pico de gallo or salsa.
FOR TACO SALAD
Allow the sofritas to cool slightly after cooking. Add 2 cups of leafy greens such a baby spinach, field greens, or arugula to a bowl. Spoon the sofritas mixture onto the top, along with the sweet cilantro slaw, sliced or diced avocado, or additional toppings of your choosing.
Nutrition
Serving:
1
serving
,
Calories:
311
kcal
,
Carbohydrates:
41
g
,
Protein:
18
g
,
Fat:
10
g
,
Saturated Fat:
1
g
,
Sodium:
1565
mg
,
Potassium:
659
mg
,
Fiber:
12
g
,
Sugar:
9
g
,
Vitamin A:
6228
IU
,
Vitamin C:
23
mg
,
Calcium:
203
mg
,
Iron:
4
mg
SaveSave