Sorghum flour is a great choice for gluten free home baking! Check out this recipe for Gluten Free Chocolate Chip Cookies with Sorghum Flour.
---
Roll out of your Easter weekend and straight into these Gluten Free Chocolate Chip Cookies with Sorghum Flour! This is hands-down my most successful attempt at gluten free baking so far. See how I did it below.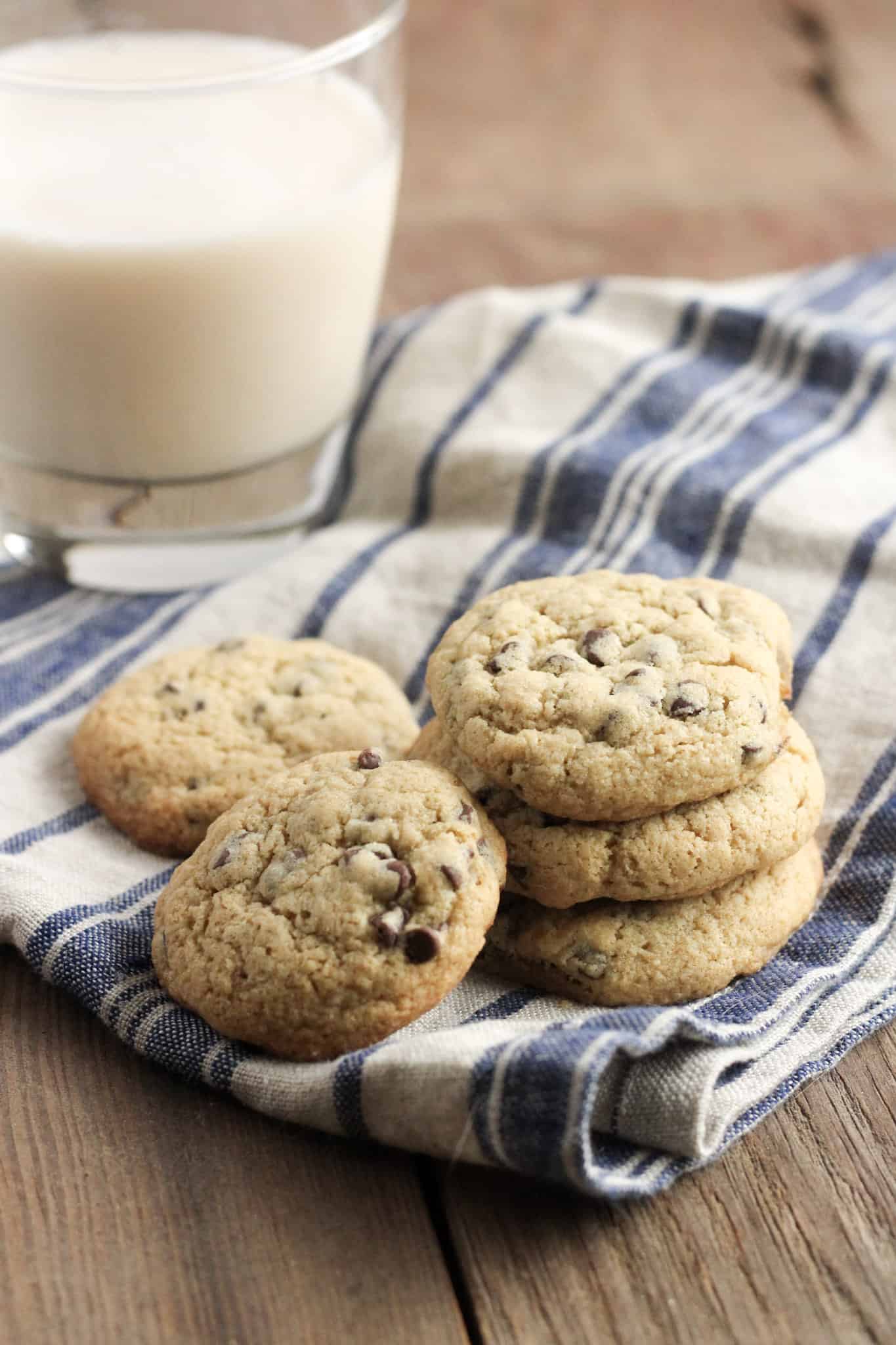 Now let me be clear: these cookies may be gluten free, but that doesn't mean they're more or less healthy than any other cookie. A cookie is still a cookie, regardless of how it's made. A gluten free diet is absolutely necessary for some people, but if you tolerate wheat and gluten products in your diet, avoiding them is just another form of restricted or restrained eating.
The healthiest cookie = the one you enjoy the most. Food should not cause pain. But it should also not cause guilt or shame.
Which is why I continue to chow down on these guys the day after not one, but TWO, Easter feasts with the family. Non-diet living for the win!
[Tweet "The healthiest cookie = the one you enjoy the most. Check out a new contender for favorite cookie"]
Looking for another version of gluten free baking with sorghum flour? Check out this Gluten Free Cardamom Apple Galette. 
The main reason I wanted to give this recipe a shot is my hatred of food waste. I had a random assortment of gluten free flours left over from a previous project, including a bag of all-purpose sorghum flour from Nu Life Market. Sorghum is a whole grain (naturally gluten free) and there is a LOT of it grown in my home state of Kansas. I spent the last month diving a little deeper into sorghum and how it's grown here, which fed my constant need for new knowledge about where food comes from.
So of course I wondered if sorghum flour cookies could become a thing…and sure enough! These sorghum flour chocolate chip cookies are a big hit, even among those in the family who have no issues with gluten.
Gluten-Free Baking
My history with gluten-free baking is troubled at best. I never fully embraced it because I didn't see a personal need for it, but I want to understand it to better relate to clients or patients who need it. My half-hearted attempts never turned out satisfactory and I chalked it up to a lack of effort on my part. Well, I think it's safe to say I've finally turned the corner with this one!
And these gluten-free chocolate chip cookies are a hit with the family, too. I may or may not have let them eat more than a few before enlightening them that these cookies were special. I'm pretty sure sorghum flour cookies were never on their radar for something they thought they'd be eating…but I suppose that's sort of what you get when you're related to a dietitian with a food blog?
Gluten Free Baking Reminders
I will say up front I am far from expert status when it comes to gluten-free baking. But, here's a few things I've learned along the way that you might find helpful, too:
It will taste good, but it might also taste different. Prepare for a slightly different texture or mouthfeel, which results from the lack of gluten in the dough. You may find it "gritty" or "grainy" but not necessarily in a bad way. The classic flavor of a chocolate chip cookie is still here, and it's still delicious!
You might have to search for ingredients. Xanthan gum isn't exactly a staple in most pantries. It's widely used in the food industry, but is not a produce I usually have on hand. Look for it in the specialty health section or online markets. Xanthan gum helps create the sticky quality of the raw dough, helping to bind it together while it bakes. This recipe will result in a much crumblier cookie if you skip the xanthan gum, so I can't recommend it!
Check your ingredient lists. If you're cool with gluten, no need to check as carefully. But if you and gluten aren't so cool, make sure your other ingredients don't contain hidden sources. Some things like oats (not appearing in this recipe, but may show up in others) are processed on equipment that also processes wheat or gluten-containing grains, which can cause cross-contamination So, just to be safe, verify everything is gluten free before starting if you need to avoid gluten altogether.
A Note About Xanthan Gum: Yes, this is a more premium (AKA, expensive) ingredient. It's frustrating how ingredients necessary for sticking to a GF diet and preserving quality/tatste/texture are so pricey, but keep in mind you're using a small amount. Unless you're baking all the time, a small bag should last you through many batches!
Have you experimented with gluten free baking yet? If you're new to the game like I am, this simple recipe is a great place to start! Give it a shot and if you like what you try, share it and tag #streetsmartnutrition.
Have a great rest of your week!
Here's the recipe for Gluten Free Chocolate Chip Cookies with Sorghum Flour:
Gluten Free Chocolate Chip Cookies with Sorghum Flour
Try your hand at gluten free baking with sorghum flour. This twist on the classic chocolate chip cookie is a great way to get started!
Ingredients
1 3/4

cups

all-purpose sorghum flour

1/4

cup

brown rice flour

1/4

cup

tapioca flour

2

tsp

xanthan gum

1

tsp

baking soda

1/2

tsp

kosher salt

1

cup

butter

,

softened

1/2

cup

sugar

1/2

cup

brown sugar

,

packed

1

tsp

vanilla extract

2

eggs

1 1/2

cups

mini chocolate chips
Instructions
In a large mixing bowl, cream the butter, sugar, and brown sugar together until smooth. Add the eggs and vanilla extract and mix well.

Combine the sorghum flour, brown rice flour, tapioca flour, xanthan gum, baking soda, and salt in a separate bowl. Mix to combine, then add to the wet ingredients and mix well. Add the chocolate chips, mixing again, then chill in the refrigerator until firm. Preheat the oven to 375 degrees F while the dough is chilling.

Line your baking sheets with parchment paper. Form one inch balls from the dough and place on the baking sheet, flattening slightly. Bake for 10 to 12 minutes or until golden brown. Remove from oven and allow cookies to cool on a baking rack. Enjoy warm or store in an airtight container until ready to serve.
Notes
Tapioca flour is sometimes labeled as tapioca starch.
Nutrition
Serving:
1
cookie
,
Calories:
87
kcal
,
Carbohydrates:
16
g
,
Protein:
1
g
,
Fat:
2
g
,
Saturated Fat:
1
g
,
Cholesterol:
10
mg
,
Sodium:
76
mg
,
Potassium:
34
mg
,
Fiber:
1
g
,
Sugar:
10
g
,
Vitamin A:
37
IU
,
Vitamin C:
1
mg
,
Calcium:
19
mg
,
Iron:
1
mg
[Tweet "#GlutenFree Chocolate Chip Cookies made with sorghum flour, from the Street Smart Nutrition blog"]