This Walnut Crusted Salmon recipe is a heart-healthy way to enjoy baked salmon! Whether you cook it on a sheet pan or in the air fryer, it's finished in less than 30 minutes. Add this easy salmon recipe to your list of simple weeknight dinners!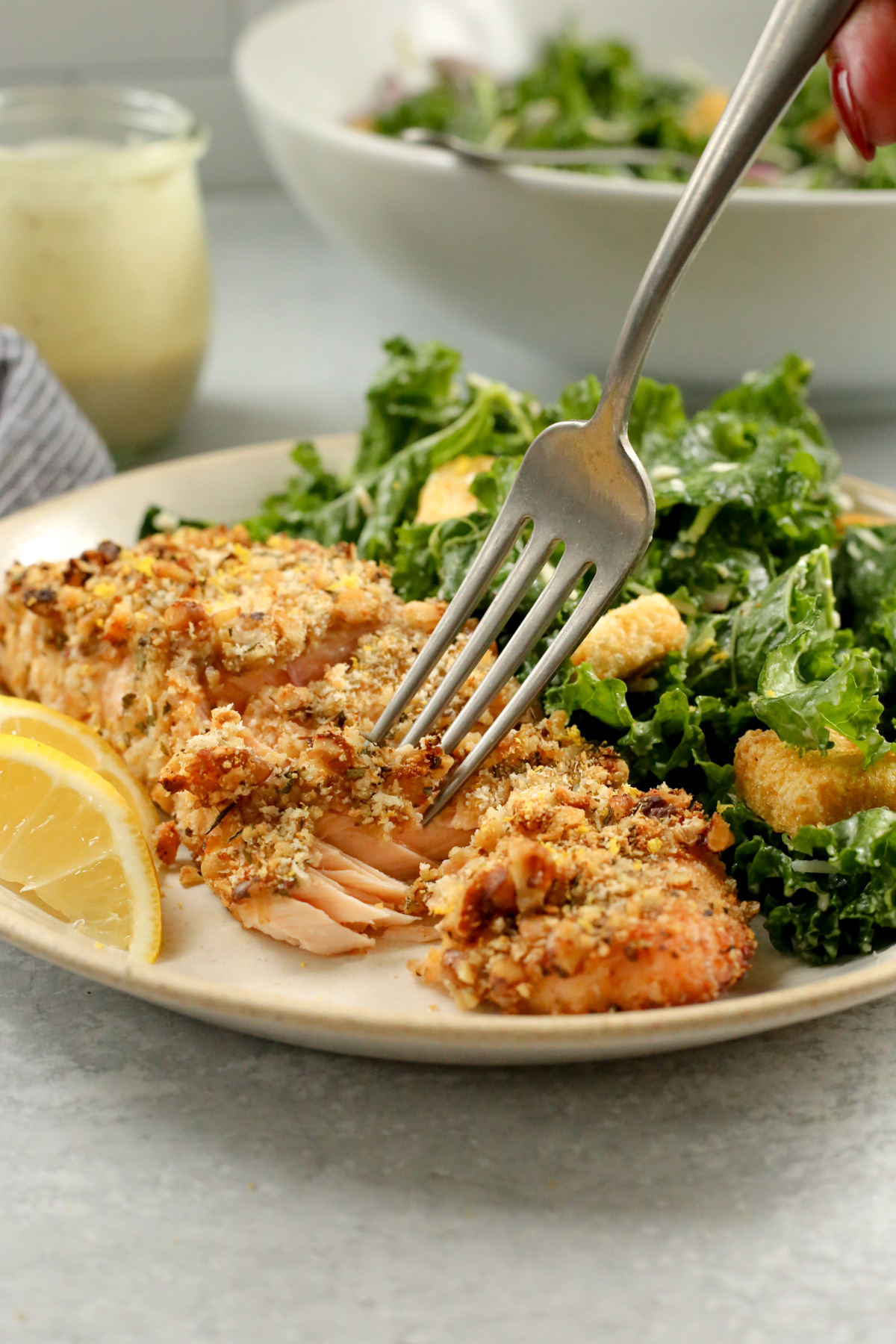 We landed in a bit of a rut with our weeknight dinners recently. We love our stir fries and salads, but I wanted to change it up a bit. I love cooking salmon (and really, any kind of seafood) so it seemed like the right time to perfect my walnut crusted salmon recipe!
After a few rounds of testing, this is what I landed on. The flaky salmon is coated with a layer of maple dijon glaze, then topped with a mixture of crushed walnuts, bread crumbs, and lemon zest. The result: a meal fit for a restaurant, but easy enough to make on busy weeknights!
Why You'll Love This Walnut Crusted Salmon Recipe
It takes your basic baked salmon to a whole new level. The crunchy walnut crust adds so much texture and flavor!
Not to mention nutrition as well. Salmon provides heart-healthy omega 3s, or essential fatty acids we have to get from our diet since our bodies can't make their own. And walnuts provide the plant-based version (ALA) along with some fiber for an added nutrition boost.
It takes only a couple minutes to throw this recipe together. You even have time to prep some sides while the salmon cooks (more on that below).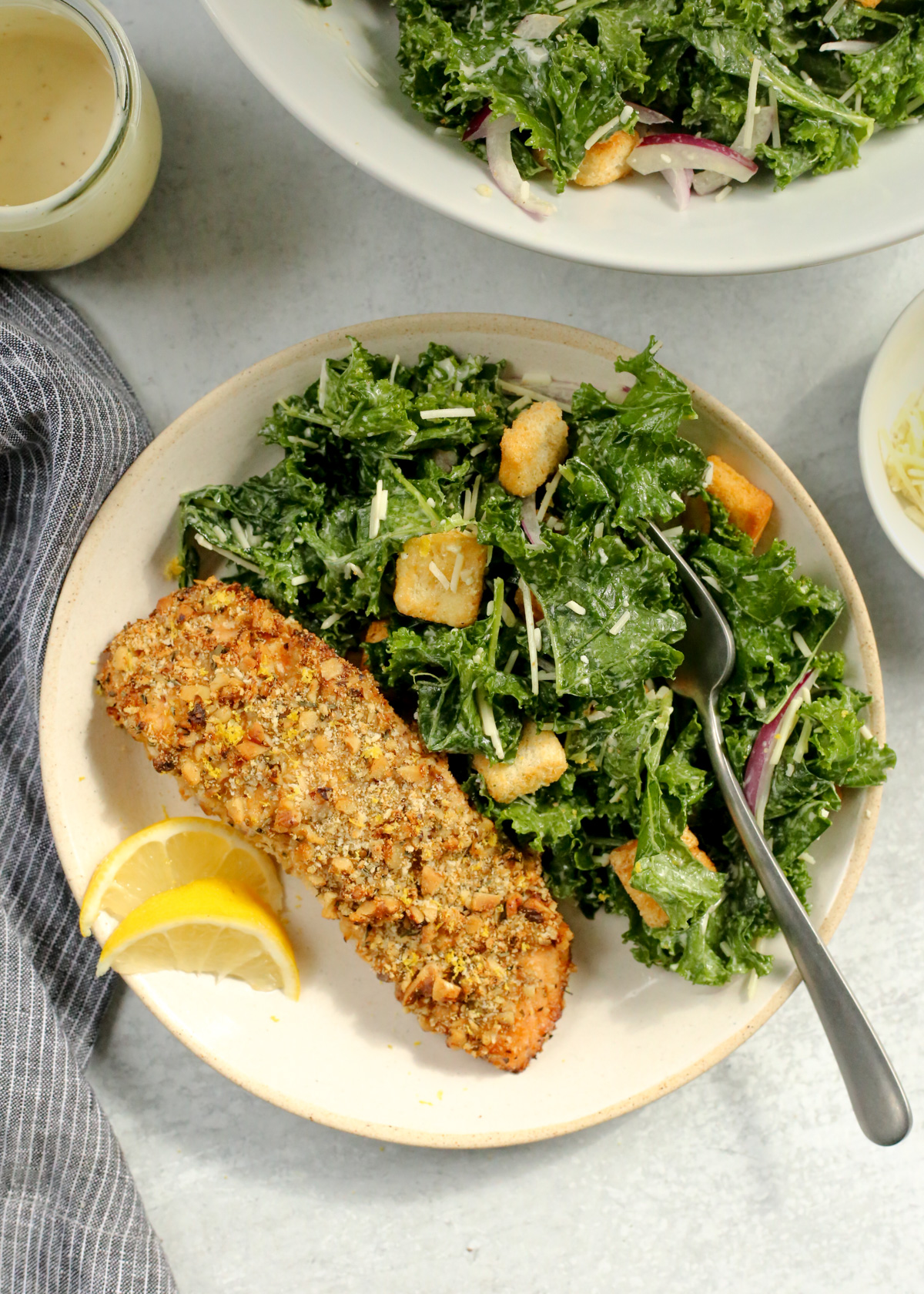 Ingredients You'll Need
This delicious recipe only needs a handful of ingredients. You might already have them in your pantry, but if not, add these to your shopping list. You can also set up a convenient grocery delivery option through our partner Instacart – just click HERE to shop.
Salmon fillets. I used four fillets weighing 6 oz each. Mine had the skin removed already, but this recipe works fine with skin-on salmon. Just be sure to coat the top (skinless) sides and cook with the skin side facing down.
Salt, pepper, or All-Purpose MSG Seasoning Blend. I also added a pinch of dried Italian herbs.
Chopped walnuts
Panko breadcrumbs
Dijon mustard or whole grain mustard
Maple syrup. If you don't have any, honey makes a great substitute.
Lemon zest. Consider this optional, especially if you don't have lemons or feel like zesting. But I think it adds some nice fresh flavor and makes for a pretty garnish if you include it.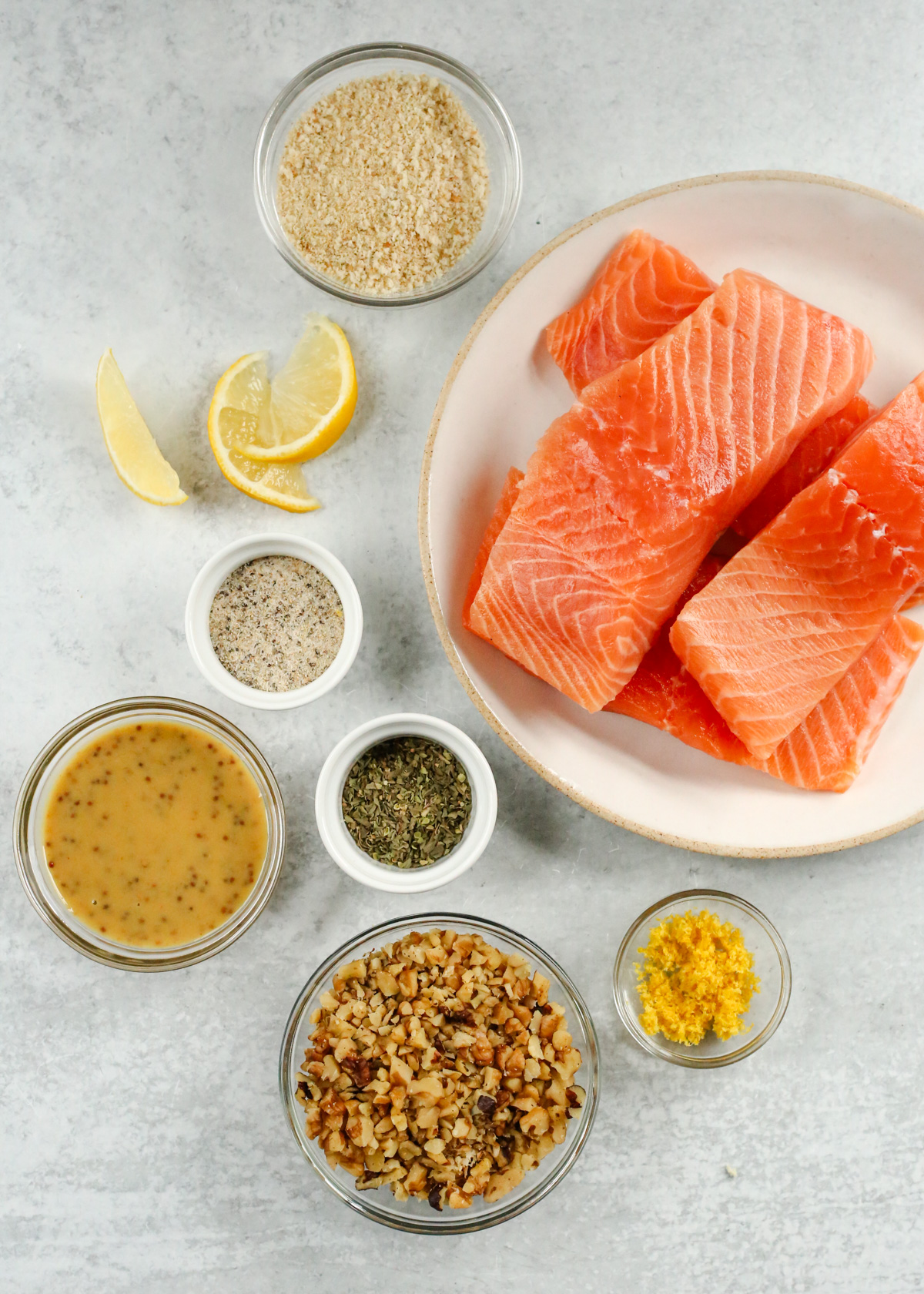 Street Smart Nutrition Tip: This recipe, like most salmon recipes, assumes you're using Atlantic salmon. If cooking with wild Alaskan salmon, which may have a slightly lower fat content, reduce the cooking times by 2-3 minutes to avoid overcooking it. Be sure to check out my post on Alaskan vs. Atlantic Salmon to find a helpful guide for what to buy.
As far as equipment, you'll want a cutting board and sharpened knife to chop the walnuts. A lot of recipes for walnut crusted salmon will call for a food processor to help with this, but to be perfectly honest with you, I think that's more trouble than it's worth.
This recipe calls for such a small amount that it doesn't take but a minute or less to chop them to a small size. By the time I drag out the food processor, set it up, and break it down again for cleaning, it doesn't seem like I've saved any time or energy. But if you find that option to be easier, just pulse the walnuts a few times to get them to small, crumbly consistency.
Be sure to also have a microplane or zester for the lemon, a sheet pan and foil or parchment paper (if cooking as a sheet pan dinner) or a little bit of cooking spray if you're cooking with an air fryer.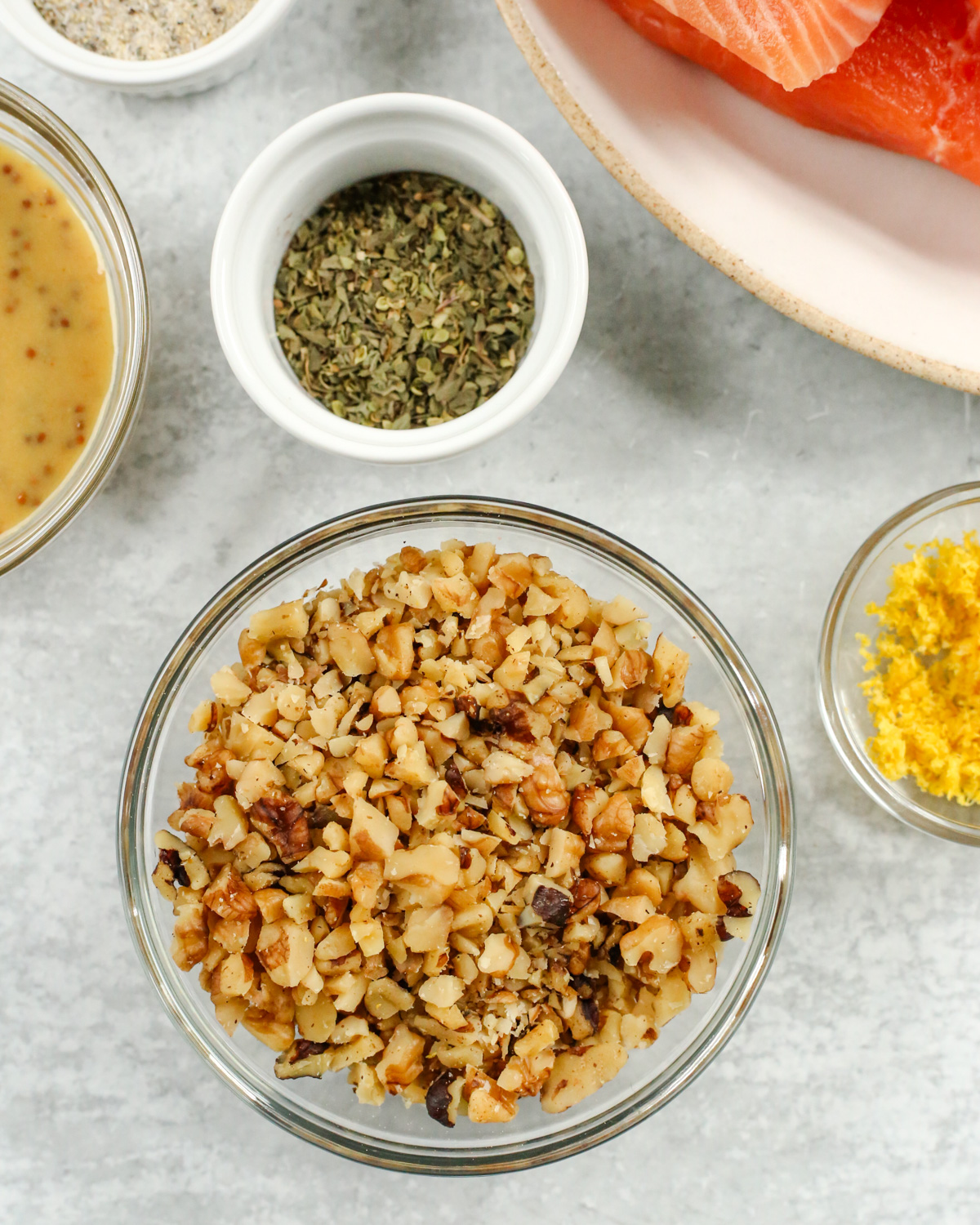 How To Make Walnut Crusted Salmon
Follow these simple steps and you'll be well on your way to a delicious meal!
Gather the ingredients for the walnut mixture. Zest the lemon and roughly chop the walnuts into small pieces.
Combine the panko breadcrumbs, chopped walnuts, lemon zest, and dried herbs (if using) in a small bowl. Use a fork or small whisk to mix everything together.
Next, pat the salmon fillets dry with some paper towels. Season lightly with salt, pepper, or an all-purpose seasoning blend.
Stir together the maple syrup and dijon mustard. Brush or spoon the glaze over the top of the salmon. Don't worry if some drips down the sides, but try to spread it evenly across the top if you can.
Use a clean spoon to add the walnut-breadcrumb mixture on top. Gently press it into the glaze, helping it stick without sliding off.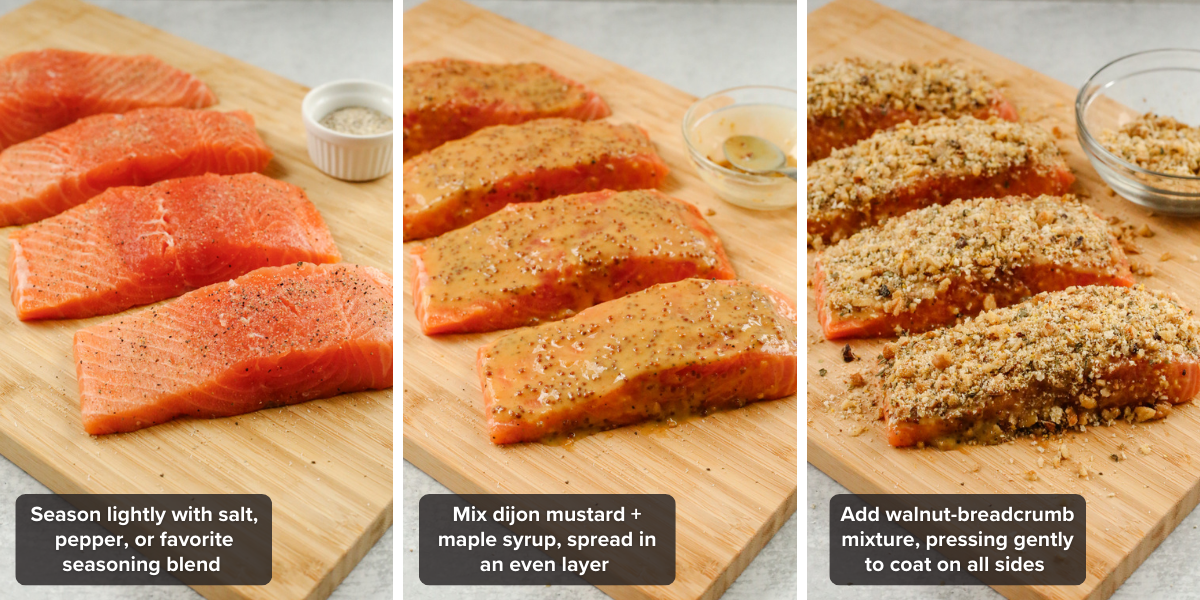 I found this to be the easiest way to get the walnut mixture onto the salmon without making a giant mess in the kitchen. The first time I tried testing this recipe, I spread the walnut mixture on a plate and flipped the fillets upside down. It kind of worked…but not really. Honestly, more of the glaze ended up sliding off onto the plate than what was left on the salmon!
From here, you're ready to place the salmon onto your sheet pan or in the air fryer, depending on which cooking method you're using. Scroll down to the specific instructions for each, or refer to the recipe card.
As you can see below, there is a bit of a difference between the sheet pan and air fryer version. Although both were equally flavorful and delicious, the air fryer helped the crunchy topping develop more browning. The air fryer also cooks slightly faster, but you should preheat the basket the same way you preheat an oven.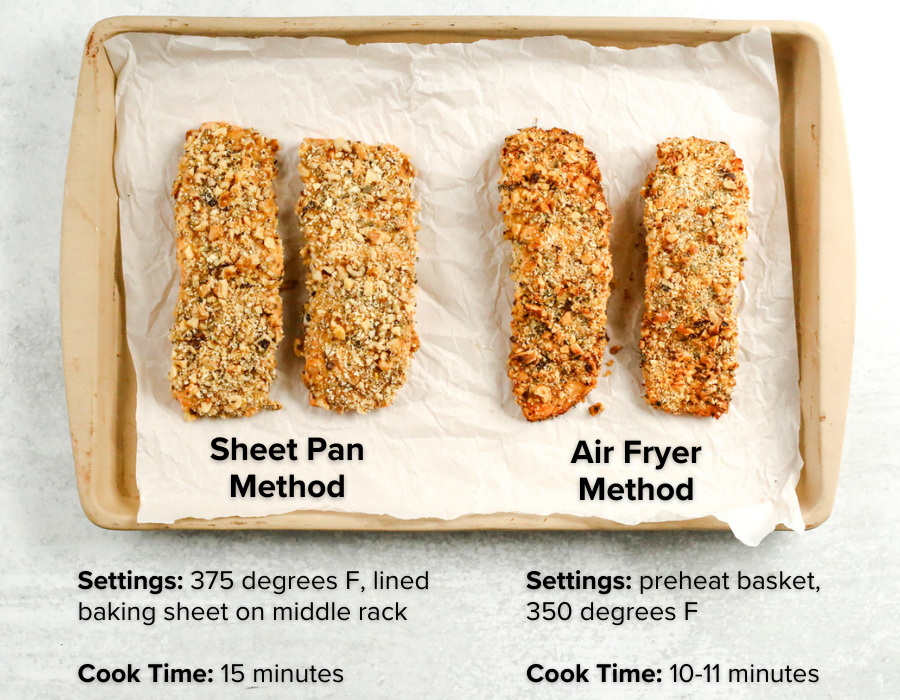 Baking Instructions (Sheet Pan)
Place your baking sheet on the middle rack. Bake for 12-15 minutes. Since you won't be able to see the salmon below the walnut crust, use a meat thermometer if you have one to verify doneness. Salmon should cook to a minimum internal temperature of 145 degrees F at its thickest part.
If the salmon flakes easily when poked and pulled with a fork, you know it's ready to eat!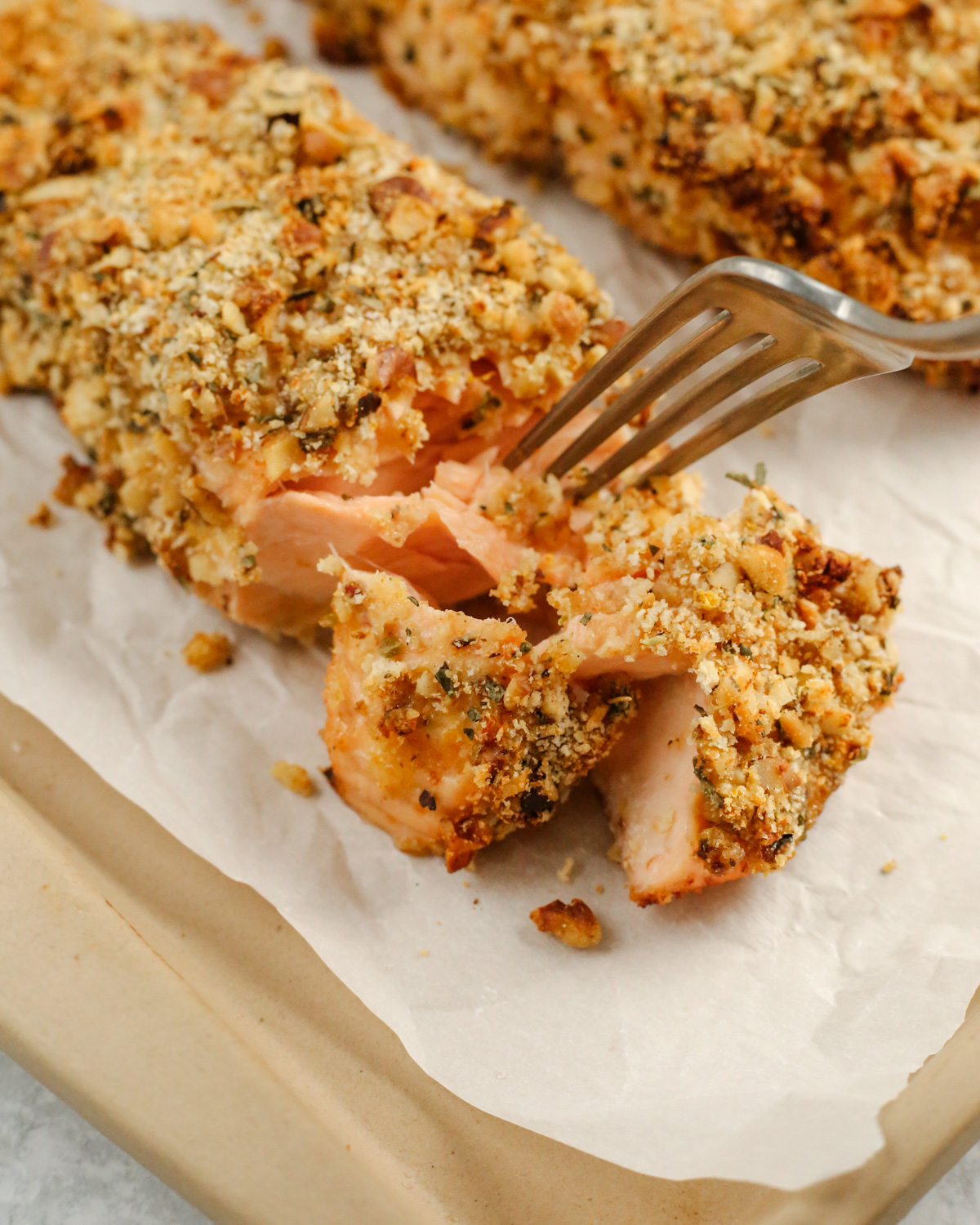 Air Fryer Instructions
Preheat the basket for 4-5 minutes. Once your salmon is coated in the walnut mixture, spray lightly with cooking spray before placing it in the air fryer basket. Cook at 350 degrees F for 10 minutes.
Note: These settings are based on the COSORI Pro II Air Fryer Oven Combo. If you have a different model, you may need to adjust the temperature or timing to achieve the same results.
What to Serve with Walnut Crusted Salmon
This walnut crusted salmon recipe is practically begging you to pair it with something green! I usually love a bright, colorful dish but this is one of the most beige recipes in my current rotation.
Here are a few suggestions:
Make my 10-Minute Kale Caesar Salad, which uses just 5 ingredients, in the time it takes the salmon to cook. That's what you see pictured alongside the salmon in some of these photos.
Maple-Mustard Brussels Sprouts use some of the same ingredients, plus you can bake them in the oven at the same time on a separate sheet pan
Throw together an easy, low-effort side salad like this Broccoli Slaw featuring apples and walnuts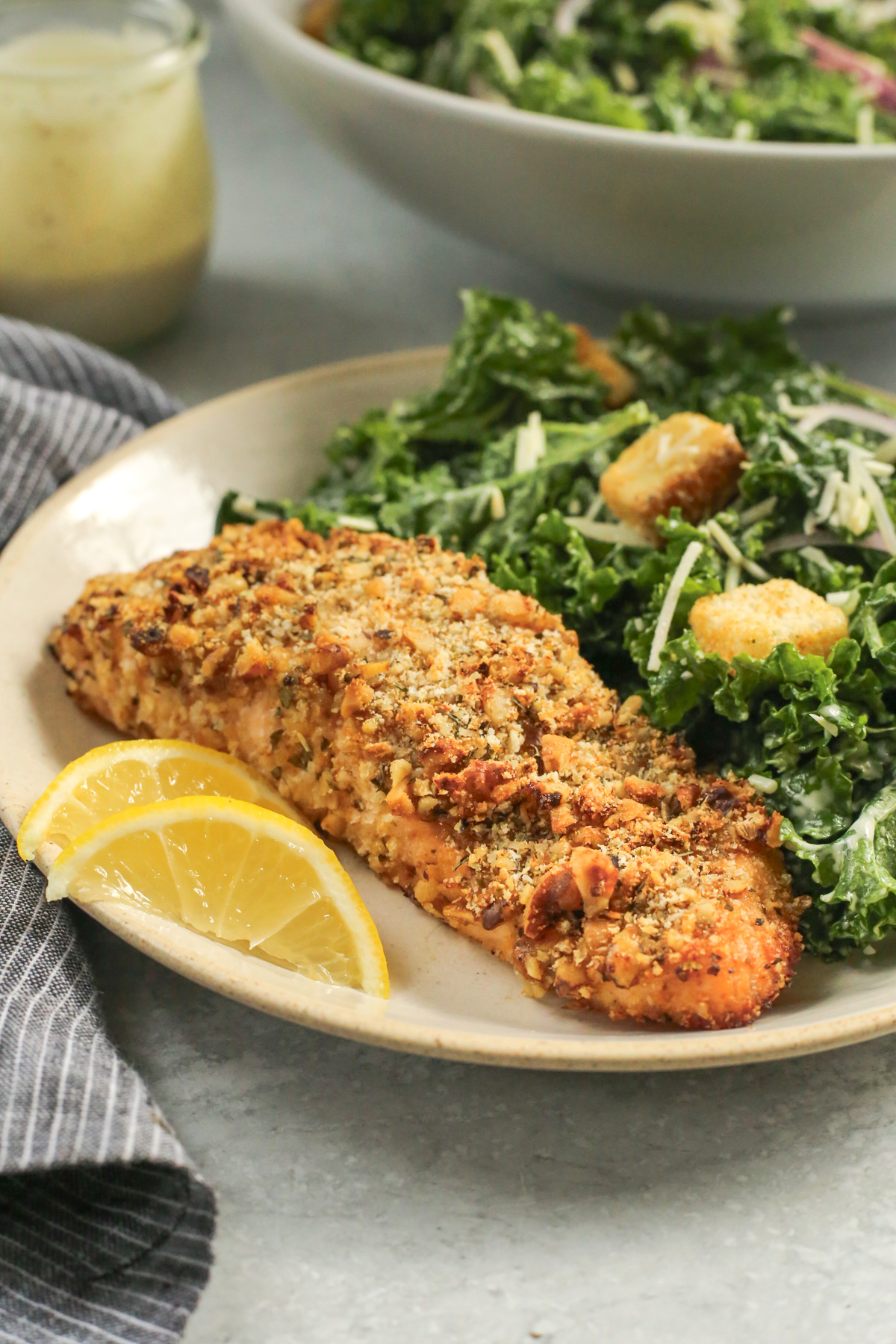 It's your dinner table, so make sure it's something you enjoy and actually want to eat. My suggestions are strictly that, so let your culinary creativity be your guide!
Storage and Meal Prep Tips
If you end up with leftovers, store them in an airtight container in the fridge. They should last 3-4 days. To reheat, simply pop it in the microwave to heat in short bursts until the salmon is warmed through.
One important thing to note is that the walnut crust will likely not have the same crunchy texture as it did the first time you serve it. So when it comes to meal prep, I don't think this is one of the best salmon recipes. There's nothing wrong from a food safety standpoint, but it just won't be the same after it's cooked fresh. But if you don't mind that, you can prep multiple servings to eat throughout the week, using the same reheating tips I mentioned above.
But enough of that, it's time to cook! Here's my Walnut-Crusted Salmon recipe!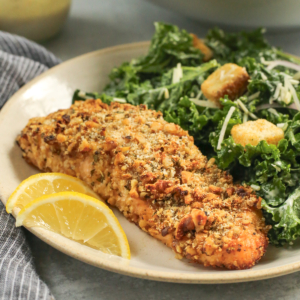 Walnut Crusted Salmon (Sheet Pan or Air Fryer)
You're going to love this flaky salmon coated in a crunchy walnut crust. The maple-dijon glaze adds even more flavor, and both cooking methods can get dinner on the table in less than 30 minutes.
Equipment
sheet pan or air fryer

nonstick cooking spray

cutting board and sharpened knife

measuring cups and spoons

spatula and serving utensils

2 small mixing bowls
Ingredients
4

6 oz

salmon fillets

,

thawed if cooking from frozen

1

cup

walnuts

,

chopped

1/4

cup

panko breadcrumbs

1/2

tbsp

lemon zest

1

tsp

dried Italian herbs

2

tbsp

dijon or whole grain mustard

1

tbsp

maple syrup
Instructions
Use a small bowl to mix the walnuts, breadcrumbs, lemon zest, and dried herbs. Set aside.

Pat the salmon dry with paper towels, then season lightly with a seasoning blend of your choice.

Use the second small bowl to mix the dijon or whole grain mustard with the maple syrup. Use a spoon or basting brush to coat the salmon with an even layer.

Spoon the walnut mixture on top of the glaze, gently pressing into the salmon to adhere it. You can also press some of the crust mixture into the sides of the salmon if you prefer an all-over coating.
Sheet Pan Cooking Instructions:
Preheat the oven to 375 degrees F.

Arrange the coated salmon fillets on a lined or nonstick baking sheet. Leave at least one inch between each piece to allow air to circulate in between.

Bake for 12-15 minutes or until the salmon is flaky and the internal temperature reaches 145 degrees F. Use a meat thermometer to verify if possible. Allow to cool slightly, then serve and enjoy!
Air Fryer Cooking Instructions:
Preheat the basket for 4-5 minutes.

Spray the coated salmon lightly with cooking spray. Carefully place the salmon fillets in the air fryer basket, leaving at least 1 inch between pieces. Work in batches if needed if using a smaller air fryer.

Cook for 10 minutes, uninterrupted, or until the crust is golden brown and the internal temperature reaches 145 degrees F. Use a meat thermometer to verify if possible. Allow to cool slightly, then serve and enjoy!
Notes
You may or may not use all of the prepared glaze or coating. Discard any remaining ingredients that come in contact with the uncooked salmon as a food safety precaution (do not save or reuse).
Nutrition
Serving:
1
serving
,
Calories:
466
kcal
,
Carbohydrates:
11
g
,
Protein:
39
g
,
Fat:
30
g
,
Saturated Fat:
4
g
,
Polyunsaturated Fat:
18
g
,
Monounsaturated Fat:
6
g
,
Cholesterol:
94
mg
,
Sodium:
186
mg
,
Potassium:
994
mg
,
Fiber:
3
g
,
Sugar:
4
g
,
Vitamin A:
80
IU
,
Vitamin C:
1
mg
,
Calcium:
67
mg
,
Iron:
3
mg
​I'd love to know if this becomes your new favorite salmon recipe! Leave me a rating or comment to let me know what you think.
And before you go, be sure to check out some other recipes that can help you use up any leftover walnuts:
As always, thanks for stopping by the Street Smart Nutrition blog. Cheers to more fearlessly nourishing meals!