This simple Kale Caesar Salad recipe needs just five ingredients. This is hands-down (no pun intended) the easiest massaged kale salad you'll ever make, inspired by the traditional Caesar salad. Grab your bunch of kale, wash your hands, and let's get started!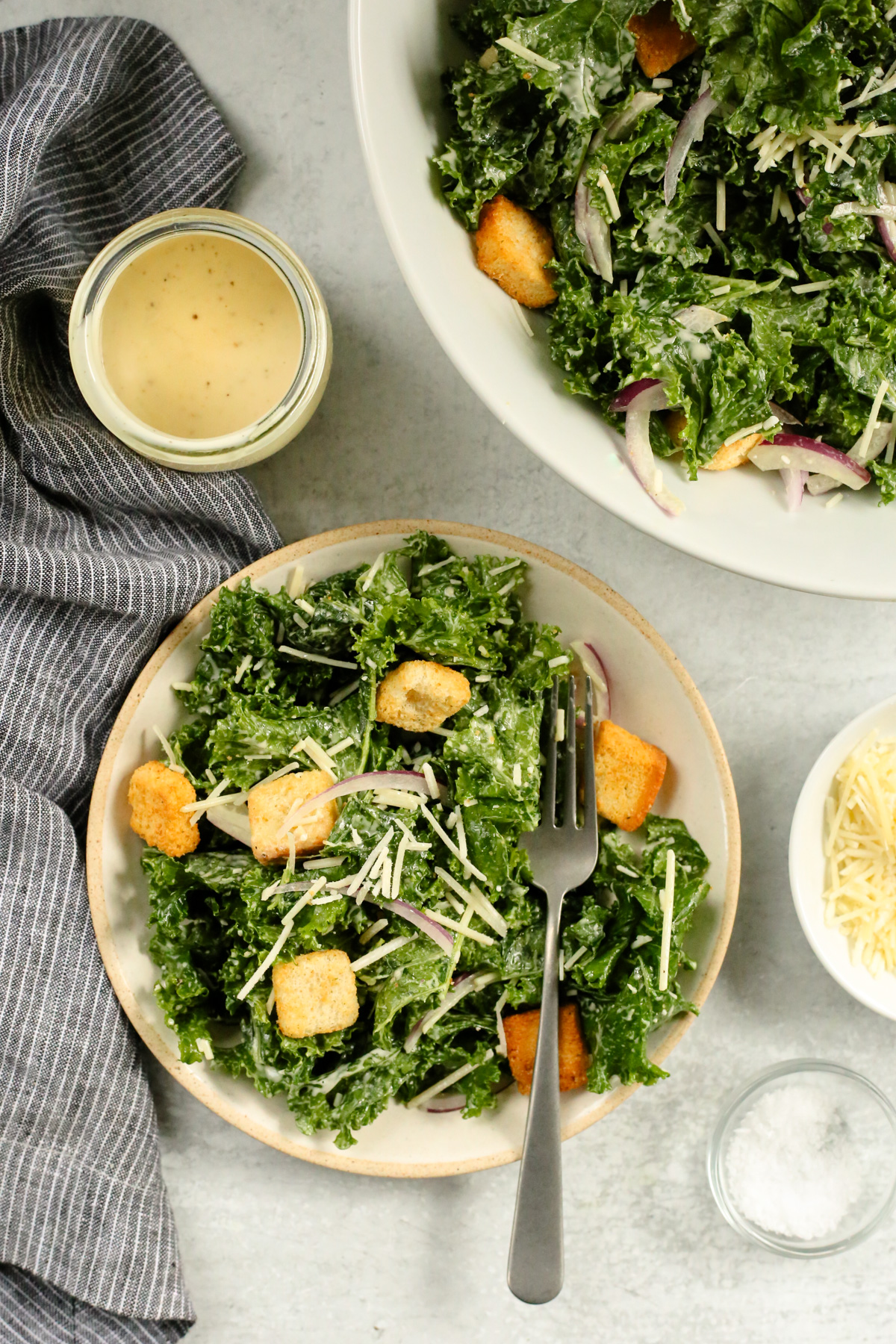 There was a time when I almost swore off of kale salads. Every time I tried to order one, the pile of raw kale made my jaw sore by the end of it. I felt like a ruminant animal, just chewing and chewing and chewing. Needless to say, that made it pretty tough to become a fan of kale! In fact, that's what I had in mind when I came up with "salads that don't suck." Whatever the opposite of a sucky salad is…that's what I wanted.
Thankfully those days are in the distant past because now when it comes to kale salads, I'm all about them! The key is to massage the kale first (something many restaurants skip right past). Tender kale > tough kale, and the extra steps and messy hands are so worth it.
This kale salad recipe joins forces with another favorite of mine: Caesar salad dressing. I played around with it this year, putting it on everything from pasta salad to beans and toast. Now it's time for a massaged kale salad to get the Caesar treatment!
Here's what you'll need to make it for yourself!
Kale Caesar Salad Ingredients
Fresh kale. Go for curly kale, or just the standard leafy green kale you see in the produce department. Some other Kale Caesar Salad recipes call for lacinato kale (also called dinosaur kale or Tuscan kale) but I haven't tested this recipe with that variety.
Red onion
Parmesan cheese
Croutons. Crunchy croutons of a signature part of any good Caesar salad, so don't skip these! Just know you also don't have to go out of your way to make homemade croutons. We use store-bought or premade garlic croutons for convenience.
Caesar dressing
Street Smart Nutrition Tip: ​If you want an easier time massaging the kale, add a bit of olive oil and pinch of salt to your ingredient list. Technically, I guess this makes it a 7-ingredient recipe but I typically don't count these pantry staples among the core ingredients.
There's absolutely nothing wrong with using a store-bought Caesar Salad dressing. A traditional Caesar dressing uses olive oil, lemon juice, dijon mustard, raw egg yolk, anchovy paste, Worcestershire sauce, or other ingredients you might not want to mess with for a simple side salad. There are plenty of brands out there that I think taste just fine. While they may not have the same deep umami flavor I love in a homemade Caesar dressing, they are perfectly safe to eat despite being more "processed."
If you do want a homemade recipe to try, start with my Easy Homemade Caesar Salad Dressing. It's made with kewpie mayo, so that umami flavor is front and center, plus no raw egg yolks which can make it not only simpler to prepare, but also less of a food safety risk.
How to Make a Kale Caesar Salad
When it comes to making a kale salad that doesn't suck, you've got to get your hands dirty! Well, you know what I mean. Make sure your hands are very, very clean (or throw on some gloves) but the effort is worth it.
Here's a quick tutorial for Massaged Kale 101:
Strip the kale leaves from the stems. You can chop them for a stir-fry or hash to avoid wasting them.
Tear the kale into bite-sized pieces and add to a large bowl. Give it a quick rinse with cold water or run it through a salad spinner if you have one, drying the kale as much as possible.
Drizzle a small amount of olive oil and add a pinch of salt. Then (with clean hands) start to work the kale in your hands, squeezing tightly releasing as you manually mix it.
After about one minute of continuous work, the kale should look quite different (see below). Instead of dry and tough, it should appear tender and moist, with less volume and a more vibrant color than before. That's how you know it's ready!
​From here, all you need to do is thinly slice the red onions, add the parmesan cheese and half of the croutons, and drizzle with Caesar salad dressing. You'll note that I didn't put exact measurements in the recipe card for these ingredients. That's because in my experience, everyone likes their own ratio of salad to dressing. There's also times when I prefer more or less, just depending on the day or my mood or appetite. All this to day, a recipe is merely a suggestion, so don't get too caught up in the numbers and build your salad according to the way you like it best.
Grab a pair of tongs and tilt the bowl so you can grab and toss the salad components. This is a great way to distribute the creamy dressing throughout and coat the massaged kale evenly. When you're ready to serve, top it with the remaining croutons for some extra crunch, and enjoy!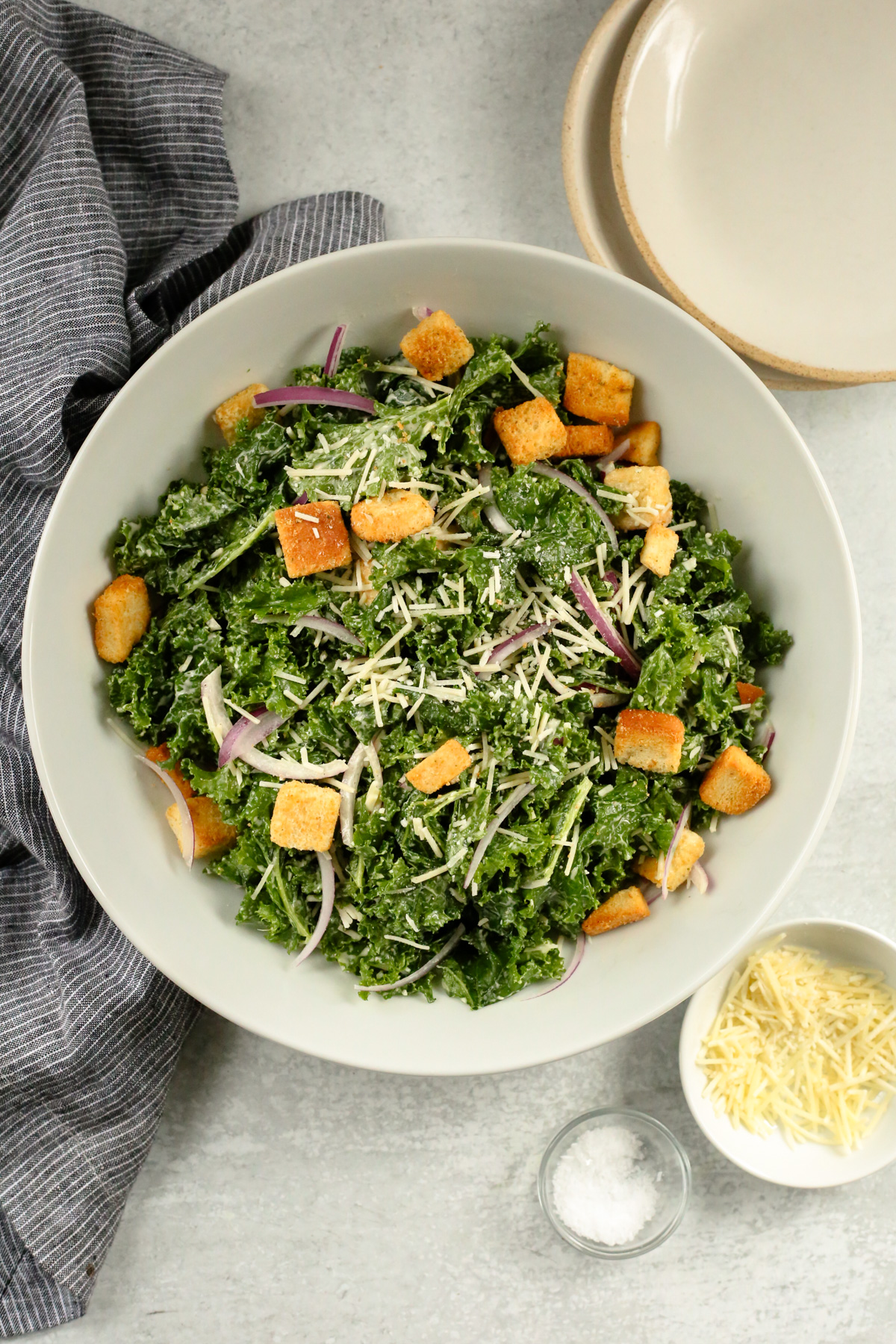 Serving Suggestions
Want to up the ante on this massaged Kale Caesar Salad? Here are my best tips to somehow make it even better:
Chill it down in the fridge for 20-30 minutes before serving. This can work well for a family-style meal or potluck, as the chilled kale and dressing will seem fresher than a salad served at room temperature. The key here is to wait on adding the croutons until just before serving, otherwise they'll absorb moisture and get soggy.
Add a protein to make it an entree salad instead of a side salad. Top picks include chicken, shrimp, tinned fish like anchovies, hard-boiled eggs, crispy chickpeas, or anything else you love to douse with Caesar dressing.
Bulk it up with extra veggies. There's literally no rule that says you have to hold steady at just five ingredients. Try cherry tomatoes, roasted or shredded Brussels sprouts, diced or sliced cucumbers, matchstick carrots, or anything else that tickles your fancy.
And since a classic Caesar salad is usually made with romaine lettuce, it goes without saying that you can mix some chopped romaine in there, too. I've seen several other Kale Caesar Salad recipes from other food bloggers who use this strategy (like this one from Love & Lemons). This is a good way to avoid food waste if you have extra romaine or not enough kale.
Storage Tips
I typically don't recommend fresh salads like this one for meal prep. But there's always an exception, and this Kale Caesar Salad is it!
The hearty kale is still sturdy enough to hold its structure in the fridge for at least a few days. Normally, I would never add the dressing to a salad I plan to store. But when I tried it with this recipe it seemed only slightly less fresh on Day 3.
I think four days is probably the max I would go. And like I mentioned above, whatever you do, do not add the croutons until you're ready to eat. Otherwise, they just keep soaking up the moisture and basically turn back into soggy bread. No thank you.
But you really can't go wrong if you make this on the day you plan to eat it. Here's the full recipe for my version of an easy massaged Kale Caesar Salad!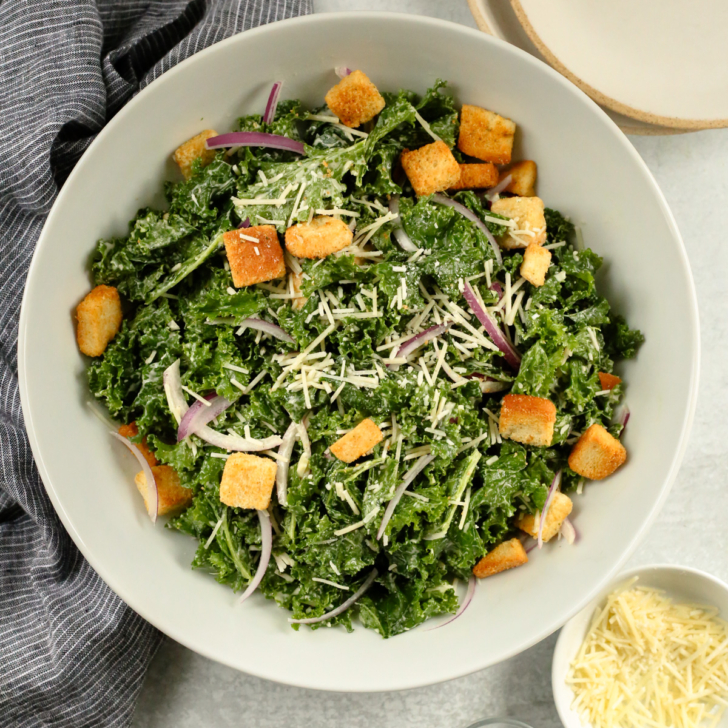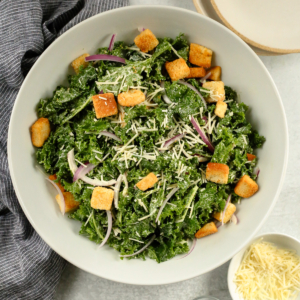 5-Ingredient Kale Caesar Salad
Inspired by a traditional Caesar Salad, this version made with massaged kale is ready in less than 10 minutes with just a handful of ingredients. Simple, versatile, and so, so satisfying, you're going to love this easy Kale Caesar Salad!
Equipment
cutting board and sharpened knife

salad tongs

large mixing bowl or serving bowl
Ingredients
8-10

cups

fresh kale

,

stripped from stems and roughly torn

1

tbsp

olive oil

1/4

tsp

coarse sea salt

1/2

medium

red onion

,

thinly sliced

Caesar dressing,

homemade or store-bought

parmesan cheese

,

shredded or shaved

croutons
Instructions
To Massage the Kale:
Strip the kale leaves from the stems. Tear the kale into bite-sized pieces and add to a large bowl. Give it a quick rinse with cold water or run it through a salad spinner if you have one, drying the kale as much as possible. 

Drizzle a small amount of olive oil over the kale and add a pinch of salt. Then (with clean hands) start to work the kale in your hands, squeezing tightly releasing as you manually mix it. 

Continue for about one minute, or until the kale appears moist, tender, and has reduced in volume. The color should appear deeper and more vibrant. At this point, advance to the next section to build a Kale Caesar Salad.
To Build the Salad:
Transfer the massaged kale to a large bowl if not already in one. Thinly slice half of a red onion and add to the bowl.

Use your preferred amount of parmesan cheese, croutons, and Caesar salad dressing. With tongs, toss and mix the salad until the kale is evenly coated with the creamy dressing and the other ingredients are well distributed.

To serve, plate in bowls or onto salad plates. Top with any remaining croutons, along with any other desired garnishes such as cracked black pepper (optional). Serve and enjoy alongside your main dish.
Notes
As written, this Kale Caesar Salad recipe yields four small servings, intended for use as a side dish. For entree portions, reduce yield to two large servings for quantities listed above.
Nutrition
Serving:
1
serving
,
Calories:
140
kcal
,
Carbohydrates:
9
g
,
Protein:
6
g
,
Fat:
11
g
,
Saturated Fat:
2
g
,
Polyunsaturated Fat:
4
g
,
Monounsaturated Fat:
4
g
,
Cholesterol:
4
mg
,
Sodium:
344
mg
,
Potassium:
606
mg
,
Fiber:
7
g
,
Sugar:
2
g
,
Vitamin A:
16746
IU
,
Vitamin C:
157
mg
,
Calcium:
447
mg
,
Iron:
3
mg
I hope you enjoy this Kale Caesar Salad recipe!
If you like how it turned out, let me know – ratings and comments are always welcome! Then be sure to check out some of my other salad recipes, especially if you're craving more of that classic Caesar flavor.
And as always, thanks for stopping by the Street Smart Nutrition blog. You can find more and follow along on Instagram and YouTube (plus all the other social media platforms), and don't forget to sign up for my newsletter so you never miss a new post.
Cheers to more fearlessly nourishing meals and plenty of salads that don't suck!