Wave goodbye to boring beans, these Caesar Beans on Toast are next level! Toasty bread, creamy beans coated with Caesar dressing, and plenty of veggies layered on top – it might seem like an unusual mashup but it will be love at first bite.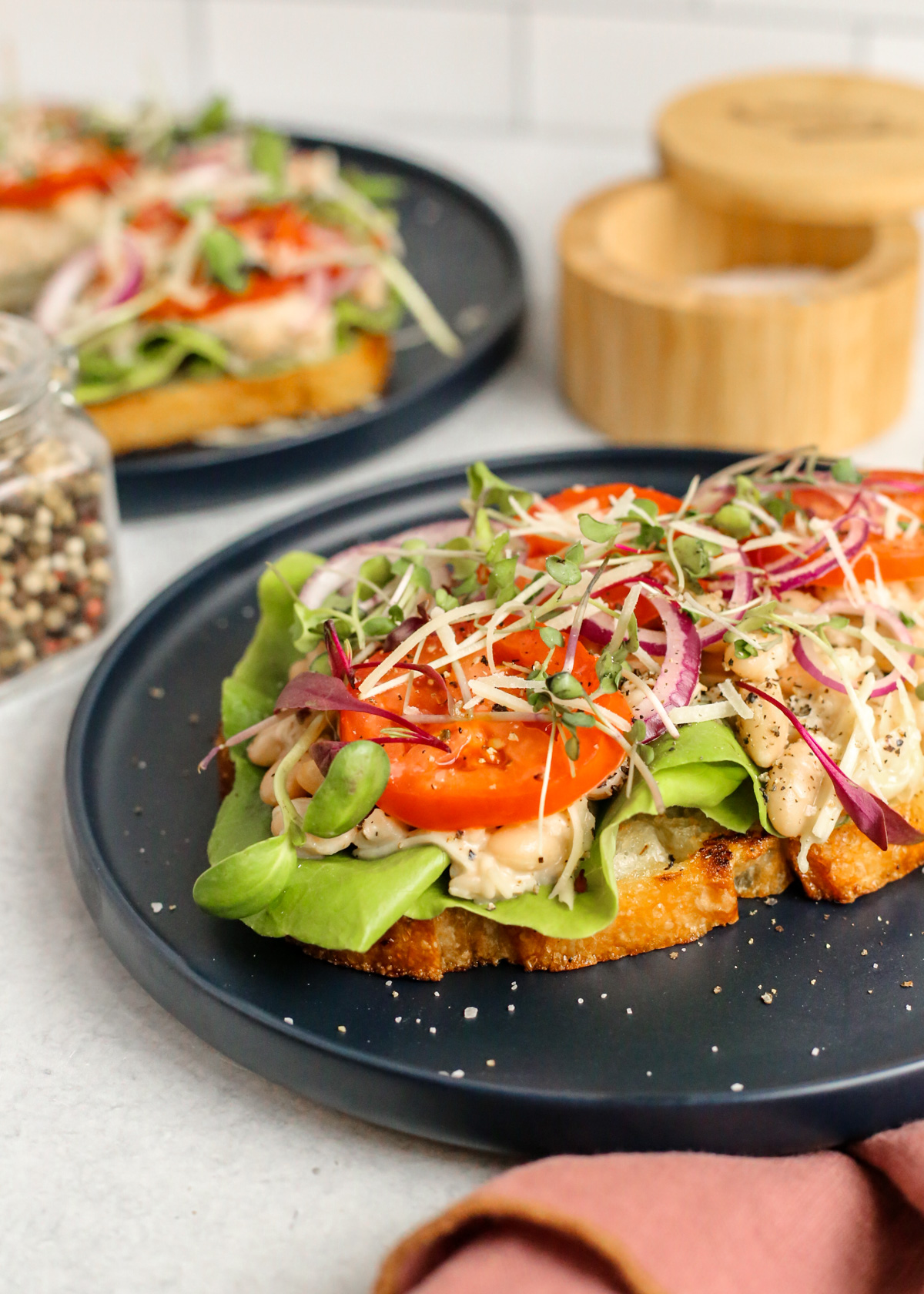 As someone who is chronically online, I don't miss too much when it comes to trendy food. And to be quite honest, I'm not always impressed. The fad foods come and go like clockwork and once the trend passes, I rarely think about them again.
But I could not get Caesar beans out of my head.
After seeing a few takes from content creators on TikTok and Instagram, and Kale Me Maybe's toast version, I knew I had to put my own spin on it. So it's true, the origin story of these Caesar Beans on Toast is a little cringe. But this is one trend that never got the love it deserves. This is my attempt to bring it back!
Why You'll Love These Caesar Beans on Toast
If you love Caesar salad…or carbs…or savory flavor jam-packed into every bite…or all of the above, you can skip to the next section. But let me just brag on this toast a little more:
I'm always searching for my next umami bomb, and the simple, savory flavor in this recipe is so, so satisfying. You have the anchovies in the Caesar dressing (plus the tomatoes + salt) to thank for that.
Most of us could use a few more beans in our routine. The current recommendation is a 1/2 cup serving 3x per week. And wouldn't you know it, that's exactly what this recipe calls for!
It can be yours in less than 10 minutes. Maybe less than 5 minutes. But I like to under promise and over deliver, so we're going to stick with 10.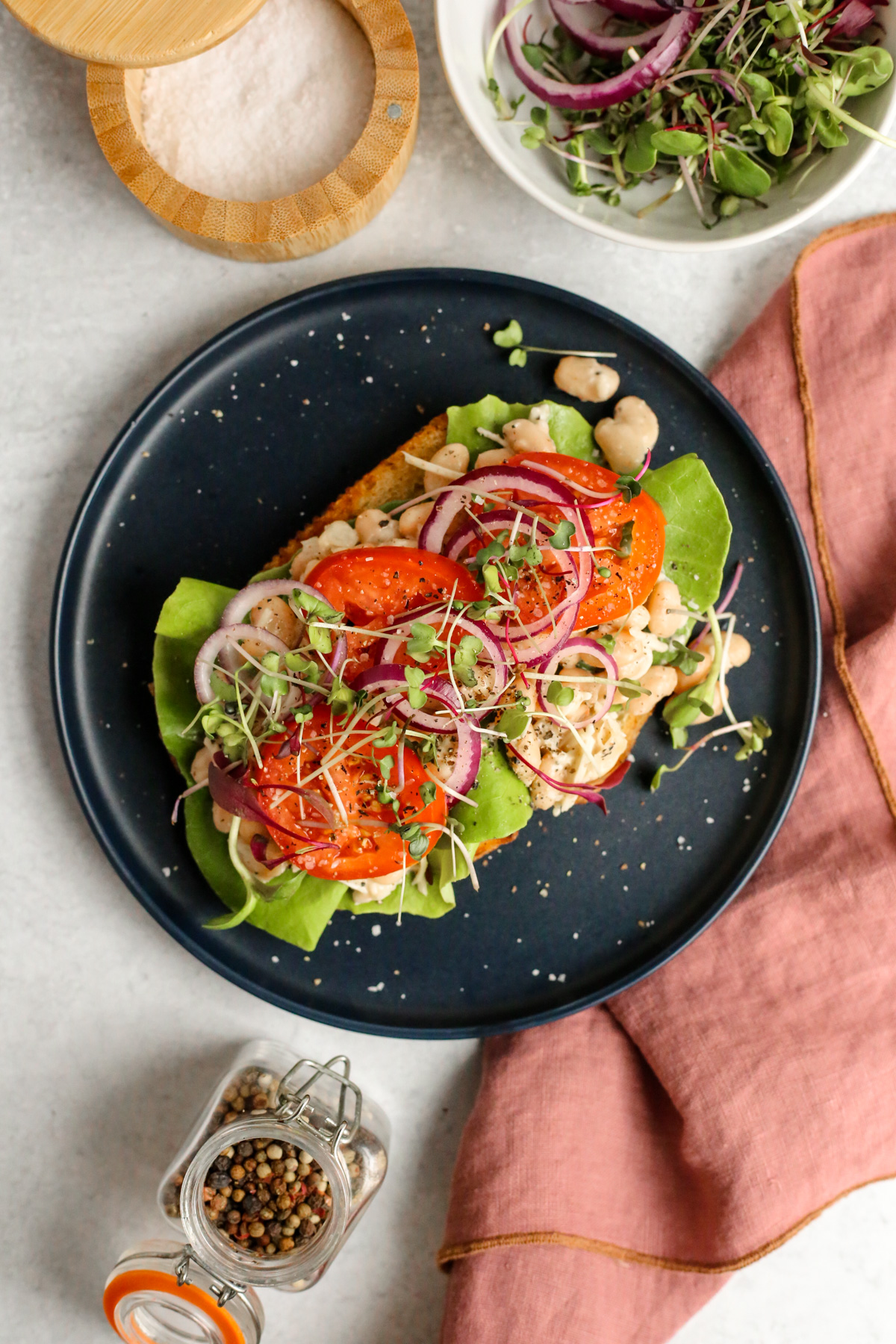 And no, this is definitely not a riff on authentic British beans on toast. While there's absolutely nothing wrong with the humble combination of saucy beans on toasty bread, to me, that feels like comfort food meant for colder weather. In the summertime, there's such an abundance of fresh produce that it just begs for a good recipe like this!
And if you have leftover dressing, save it for an Easy Caesar Salad, Grilled Romaine Caesar Salad, or Chicken Caesar Pasta Salad. These are all easy recipes that can be topped with any leftover beans you didn't use for this one.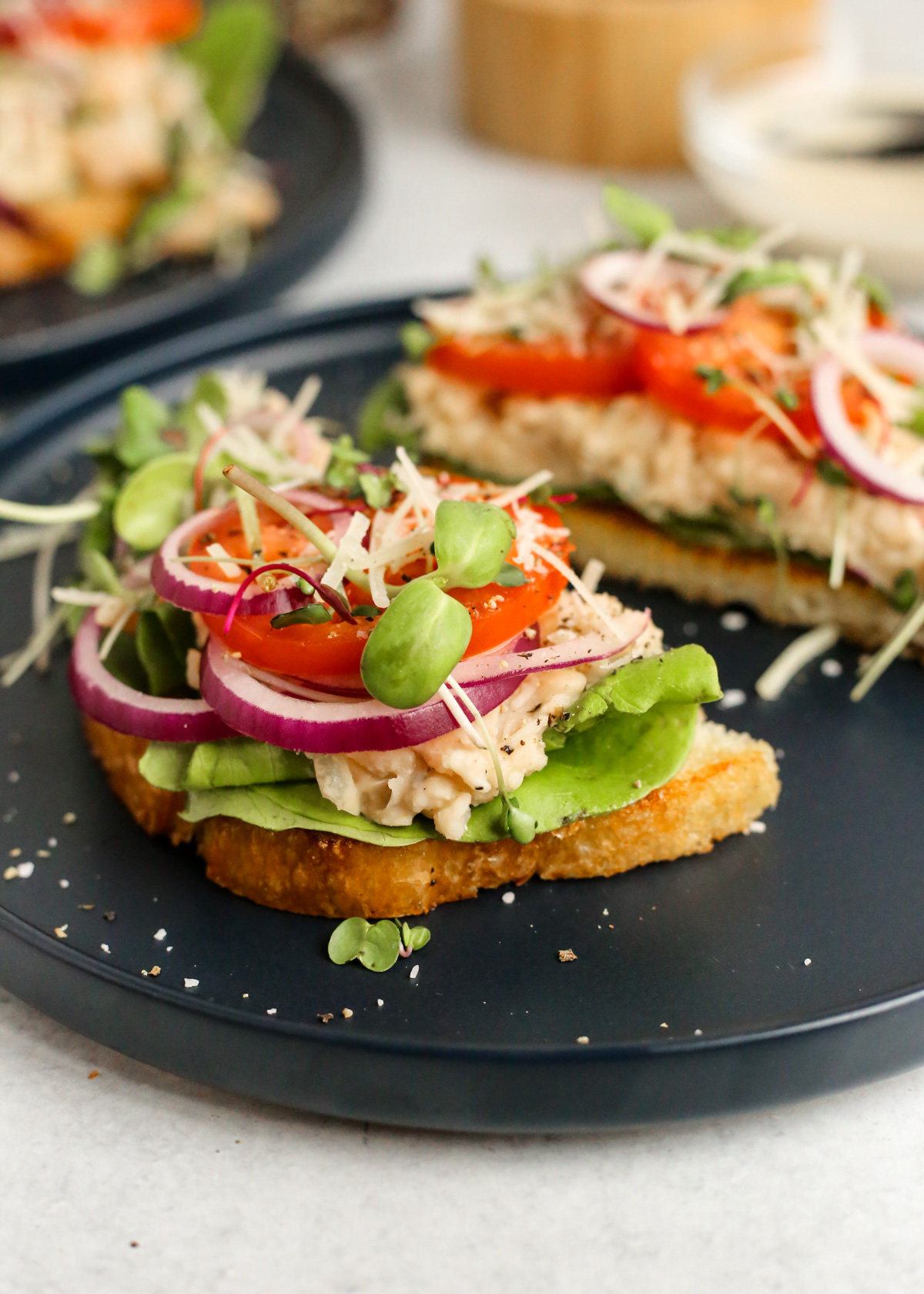 Ingredients You'll Need
Sourdough bread
Olive oil
Canned white beans. I recommend cannellini beans, Great Northern beans, navy beans, or chickpeas (garbanzo beans). I went with Great Northern beans since I had an extra can after making my Great Northern Bean Soup, but use whatever kind of beans you have.
Caesar dressing. This can be a store-bought salad dressing (bonus points for convenience) but do not underestimate the power of a good caesar dressing made from scratch. If you want a delicious DIY version, try my Homemade Caesar Salad Dressing recipe. It's made without raw egg so
Parmesan cheese
A few slices of tomato and red onion. If you've got them, summer-ripe cherry tomatoes also taste amazing!
Bibb or butter leaf lettuce. You can also use some chopped or shredded romaine lettuce, spinach, arugula, or other leafy greens.
Fresh herbs or micro greens for garnish. Totally optional, but adding this makes it feel #fancy.
Flaky sea salt and black pepper
This list will cover the basic Caesar Beans on Toast recipe, but feel free to add whatever you like! Try adding a smear of anchovy paste, squeeze of lemon juice or lemon zest, fresh parsley, or red pepper flakes. All of these ingredients should be easy to find at any grocery store. But if you're going for upmost convenience, schedule a grocery delivery. Instacart is a great option, especially since clicking HERE will provide a shopping list to save even more time!
Benefits of Canned Beans
According to the Dietary Guidelines, a "healthy eating pattern" includes a wide variety of nourishing foods, including beans, peas, and lentils (collectively categorized as pulses). Pulses provide plant-based protein, fiber, and are iron- and potassium-rich foods. They can also be quite sustainable given their tolerance for drought and minimal processing needed for drying or canning them for a long shelf life.
The official recommendation from the latest guidelines is 1.5 cups of beans, peas, or lentils per week. That's just three servings of 1/2 cup each. But there's no harm in eating more than that. In fact, there might be additional benefits, which is something the 2025 Dietary Guidelines Advisory Committee is tasked with considering for the next update. Beans are considered a high-quality carbohydrate according to the Carbohydrate Quality Food Scoring System. That's due to their higher fiber and potassium content, and lower sugar and sodium content. And past research supports that people who eat beans also consume more magnesium, a shortfall nutrient many of us don't get enough of.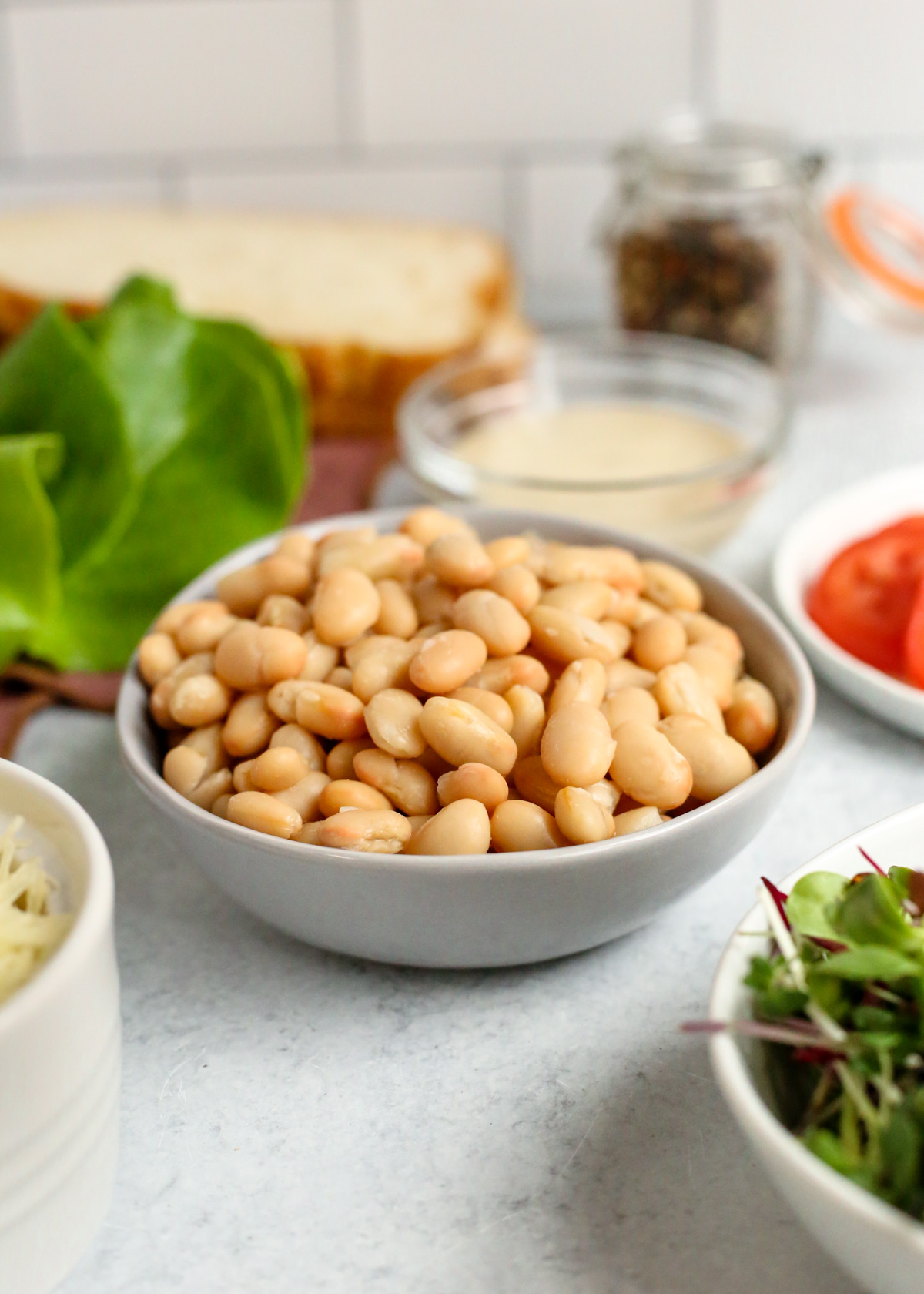 And sure, the nutritional benefits are pretty impressive. But it goes beyond that. For me, there's also a major convenience factor for canned beans. Sure, I love simmering up a big pot of beans. It can make the entire house smell good for hours, and the slow, relaxed pace can build up to a seriously delicious meal. But on a busy day, that's not the goal. Sometimes I just need to eat something, anything, and move on to whatever I have to do next. At times like these, I'm so grateful nothing but a can opener stands between me and the benefits of canned beans.
The convenience of canned beans really shines in my Great Northern Bean Soup recipe. It has a cooked-all-day flavor but you can make it on the stovetop on only 30 minutes!
How to Reduce Sodium in Canned Beans
But you might ask, what about sodium? I got you, just look for "lower sodium" or "no salt added" options. I cover this in more detail in my post about How to Make a Low Sodium Diet Taste Better. But even if you're buying a full-sodium option, you can still reduce the overall salt content by a considerable amount. By simply draining the beans AND rinsing them under cool running water, you can reduce the sodium content by about 40%. I usually rinse for about 20 seconds then set the colander in the sink to fully drain while I prep the other ingredients.
And speaking of prepping ingredients, let's me guide you through the recipe!
How To Make Caesar Beans on Toast
The simple process works the same whether you're making a single serving (as written in the recipe card) or multiple. Just adjust the cooking time accordingly for however many slices of toast you're preparing.
And I've admitted it here before but I'll say it again: a flat cast iron pan is actually my preferred toasting tool. It's been years since I had a toaster in my kitchen. I just got used to not having another countertop appliance. But regardless of what you're using, adjust the settings or burner for medium heat. Brush both sides of your slice of bread with olive oil and toast however long you need to for a perfect golden brown with a crispy exterior. The toast is basically replacing the croutons in a traditional Caesar salad.
While that's happening, prep the veggies. Tear off a few pieces of Bibb or butter leaf lettuce, slice the tomatoes, and shave off a few slivers of red onion. Use a can opener to break into your can of beans. Then drain and rinse for 15-20 seconds under running water.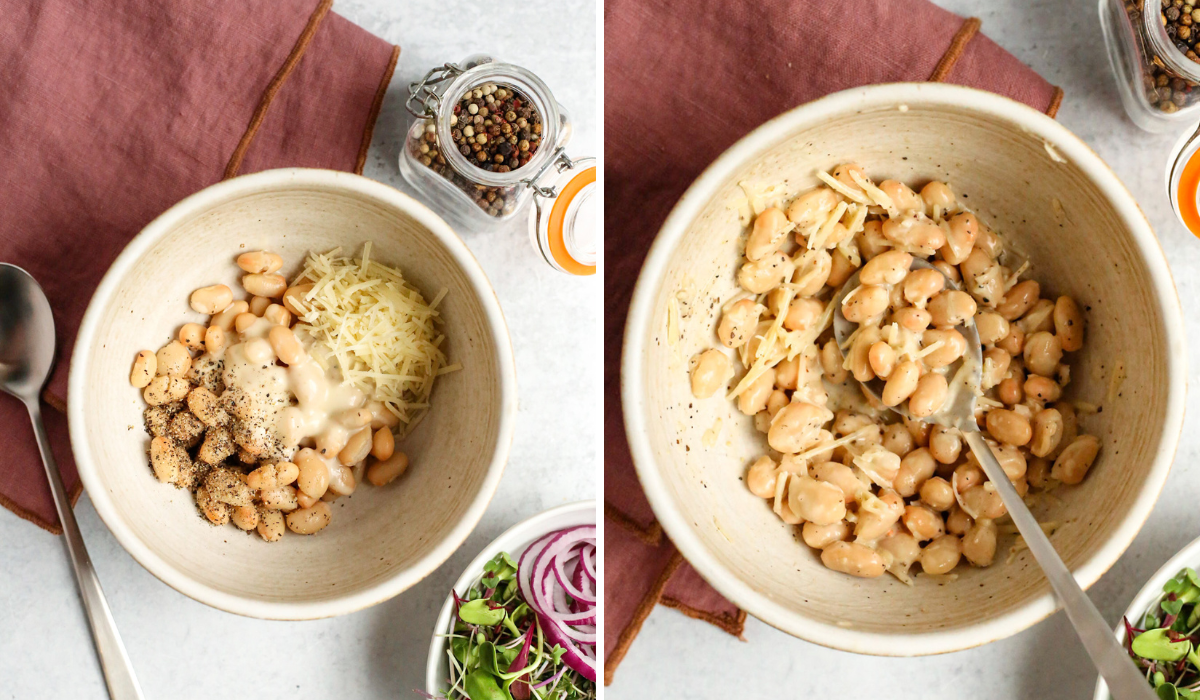 Add whatever kinds of white bean you're using to a bowl. Add the Caesar salad dressing, a generous dash of cracked black pepper, and parmesan cheese. Give it a mix until the beans are fully coated.
You can stop there, but if you prefer a more creamy texture, use the back of a spoon or fork to roughly mash the beans. If the texture seems to dry or not saucy enough, add a drizzle of olive oil at this point. This comes down to personal preference. But speaking from experience, smashed beans are more likely to stay put when you go to take a bite.
At this point, it's time to layer up your Caesar Beans on Toast! Once toasted, let the bread cool slightly before layering the lettuce, Caesar bean mixture, sliced tomatoes and onions, and any garnishes you're using. I like to add a little bit of extra parmesan cheese and black pepper, or additional salt on the tomatoes. And if I score a good deal on micro greens or fresh herbs at the farmers market, you can bet those are going on top, too.
Here's the full recipe for Caesar Beans on Toast! Don't worry about exact measurements, I'm confident your version of this no-fail recipe will taste amazing!
Caesar Beans on Toast
It'll be love at first bite when you taste these Caesar Beans on Toast! It's a simple recipe that packs in tons of savory flavor and fresh vegetables. Enjoy the benefits of canned beans with this unique beans on toast recipe.
Equipment
toaster

small mixing bowl

cutting board and sharpened knife
Ingredients
1

slice

sourdough bread

,

or similar thick-sliced bread

1/2

cup

white beans

,

cannellini, Great Northern, navy, chickpea, or similar

1

tbsp

Caesar salad dressing

1

tbsp

parmesan cheese

,

shredded

2-3

slices

tomato

2-3

slices

red onion

2-3

pieces

Bibb or butter leaf lettuce

micro greens or fresh herbs

,

for garnish, optional

black pepper and flaky sea salt

,

to taste
Instructions
Brush both sides of the bread with olive oil and toast to your preferred doneness using a toaster, cast iron pan, or skillet on the stovetop over medium heat.

Meanwhile, drain and rinse the canned beans for 15-20 seconds. Set the colander in the sink to drain while preparing the slices tomatoes, red onion, and fresh lettuce.

Place the beans in a small mixing bowl and add the Caesar dressing, black pepper, and parmesan cheese. Stir together until all the beans are evenly coated, or use the back of the spoon to roughly mash the beans into a chunky, thick consistency.

Once the toast is done, allow to cool slightly before layering the lettuce, Caesar beans, sliced tomatoes and red onions, and any desired garnishes. Slice in half (optional) and serve. Enjoy right away for best results.
Notes
While the toast and fresh veggies aren't the best option for meal prep or leftovers, the remaining canned beans can be mixed into a new batch of Caesar Beans and stored in the fridge for up to 4 days. 
Nutrition
Serving:
1
serving
,
Calories:
419
kcal
,
Carbohydrates:
61
g
,
Protein:
19
g
,
Fat:
12
g
,
Saturated Fat:
3
g
,
Polyunsaturated Fat:
6
g
,
Monounsaturated Fat:
3
g
,
Cholesterol:
9
mg
,
Sodium:
653
mg
,
Potassium:
759
mg
,
Fiber:
8
g
,
Sugar:
6
g
,
Vitamin A:
561
IU
,
Vitamin C:
10
mg
,
Calcium:
193
mg
,
Iron:
6
mg
I simply can't wait for you to try this recipe! I was seriously impressed and it left me thinking why I had never considered this combination before. If you try it, come back and let me know. Ratings and comments are always appreciated, and I'd love to know what you think!
And as always, thanks for stopping by the Street Smart Nutrition blog! You can find more and follow along on Instagram and YouTube, and don't forget to sign up for my newsletter so you never miss a new post. Cheers to more fearlessly nourishing meals!