This Balsamic Strawberry Avocado Toast is like a flavor party on your plate! Enjoy this avocado toast recipe for an easy breakfast or snack option. Don't blame me if you end up craving a second slice!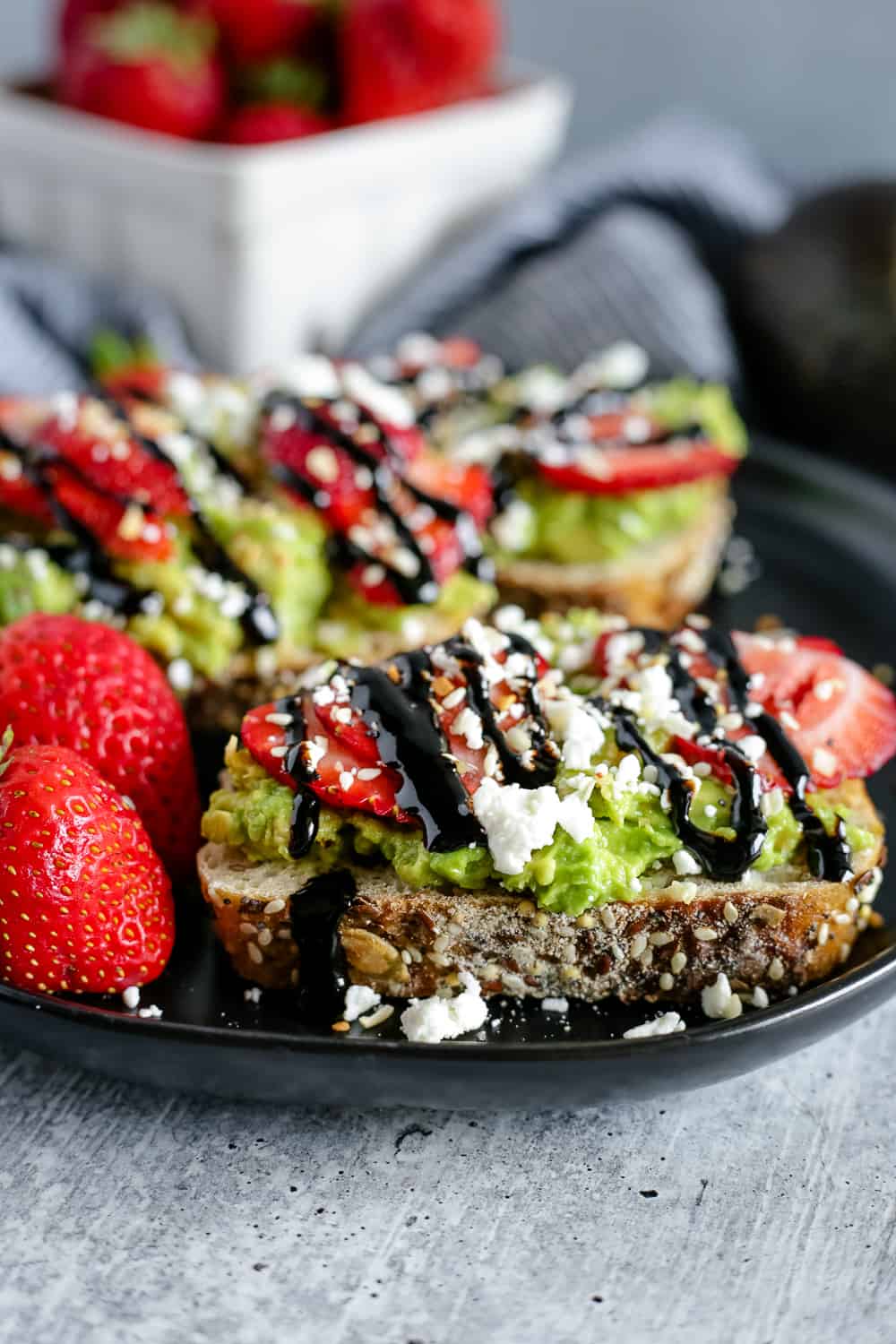 You know when you have the perfect avocado? The one that's ready to eat like…right now?
This is the avocado toast recipe you need. Quick, before you miss that window of opportunity for the perfectly ripe avocado!
I kid (sort of) but it can be really frustrating to spend money on fresh produce, only to have it go bad before you can use it. That's partly why I'm such a fan of avocado toast. The main reason, which goes without saying, is that it's freaking delicious (not to mention filling and nourishing). But it's also a great way to use up ripe avocados and other ingredients before they spoil.
And yeah, yeah, yeah, they say millennials are spending too much money on avocado toast and that's why they can't buy houses. I'll spare you the curiosity of wondering if I agree with that (I don't) but this is a restaurant-quality recipe you can make at home!
Why You'll Love This Balsamic Strawberry Avocado Toast
You can make this easy breakfast in minutes. Toasting is optional!
It can double as a snack (especially great for post-workout) or if you're feeling ambitious, make individual toasts or crostinis for brunch or appetizers.
There are lots of ways to customize it, just scroll down to see my notes below!
Ingredients You'll Need
The basics of avocado toast are pretty self-explanatory so I won't bore you with that. But in addition to a ripe avocado and your favorite bread, make sure you have:
Fresh strawberries
Balsamic glaze. This is balsamic vinegar that's been reduced and sweetened, so it has a thick, rich, syrupy consistency. Absolutely delightful to drizzle over both sweet and savory dishes!
Feta cheese crumbles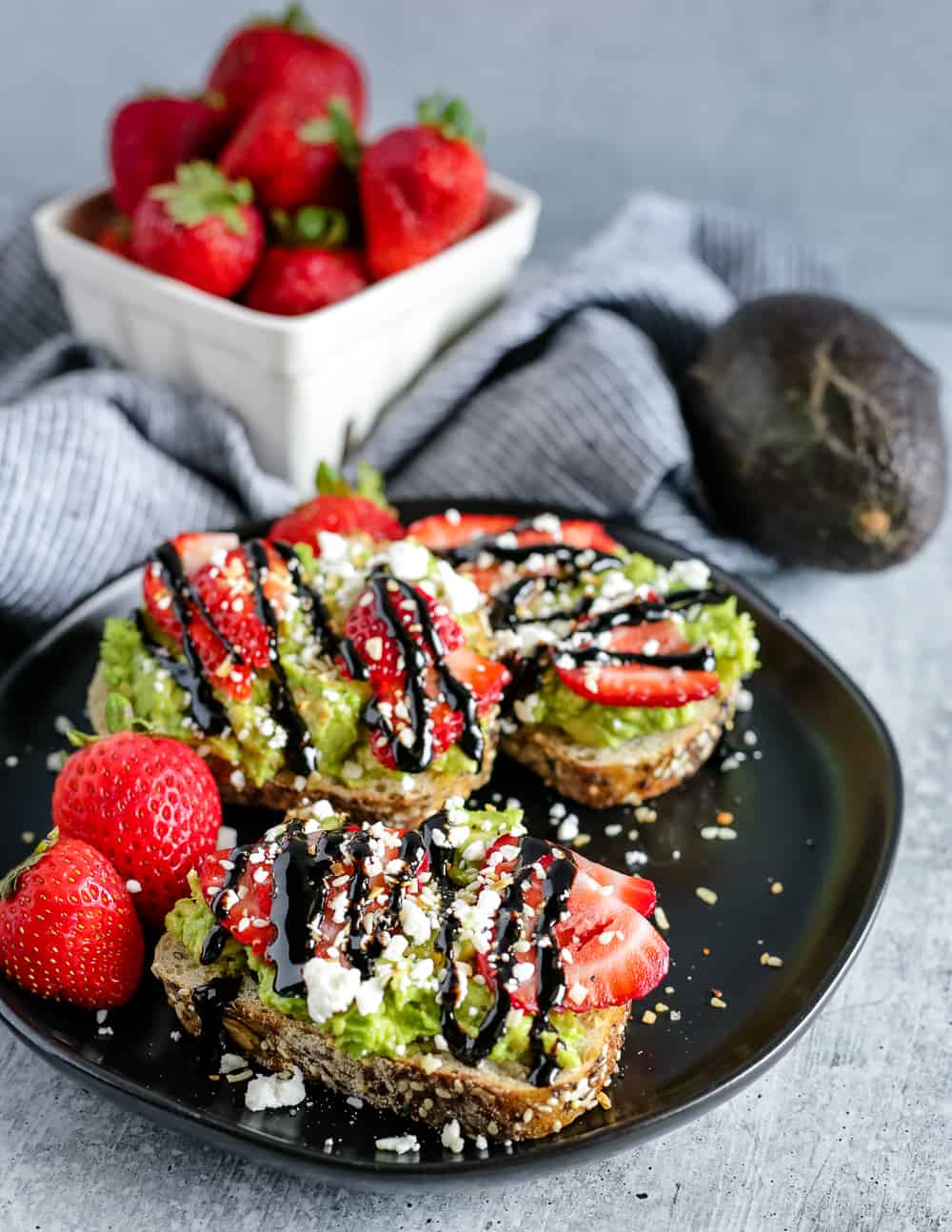 Can I use frozen strawberries?
Well…technically, yes. But if you have the option, I recommend using fresh strawberries. A fresh, ripe strawberry has so much flavor and that nice firm texture. Plus, frozen berries can leave you with lots of extra liquid as they thaw. You run the risk of soggy toast if you don't thaw and drain ahead of time. For me, that's an extra step and extra time that's not really worth it.
Frozen strawberries are wonderful for other things, but I'm not convinced this Balsamic Strawberry Avocado Toast is one of them. Keep them frozen for now and save them for other favorites! They could be a great option for my Korean Strawberry Milk.
How To Make Balsamic Strawberry Avocado Toast
There's really no wrong way to make this delicious and colorful strawberry avocado toast. My best advice: try not to use an avocado that's either too ripe or not ripe enough.
Here are my best tips for making this version of avocado toast:
Start with great bread. Sometimes I jokingly call myself "Cara Carbstreet" but in all seriousness, I'm serious about good bread. For this avocado toast recipe, I go for a thick slice from a hearty whole-grain loaf. It's even better if it's a seeded version, meaning you can actually see visible seeds mixed into the loaf and sprinkled throughout the crust. This will help keep all your toppings in place compared to a thinner, more flimsy slice. And when you have dense, chewy bread with more texture and structure, it can make for a more filling meal or snack. Plus, all that whole grain goodness provides fiber. That's a win-win-win in my book.
Toast, but don't burn, the bread. You want the flavors of the strawberries and other toppings to shine, so be careful not to toast your bread too much. A little charred flavor is fine, but if you burn it black that might be the only thing you can taste! I like to make mine on a cast iron griddle because the flat surface heats evenly. Also…I don't have a toaster. But if you're using a toaster, try turning it to a lower setting.
Mash, but don't puree, the avocado. It's easy to do when you have a perfectly soft and ripe avocado, but leave a few chunks in the mix after you get it out of the peel. This is key for giving all those toppings a solid place to land without sliding off as soon as you pick it up.
Of course, it all comes down to personal preference. So if you have a strategy that gets you your version of perfect avocado toast, go for it!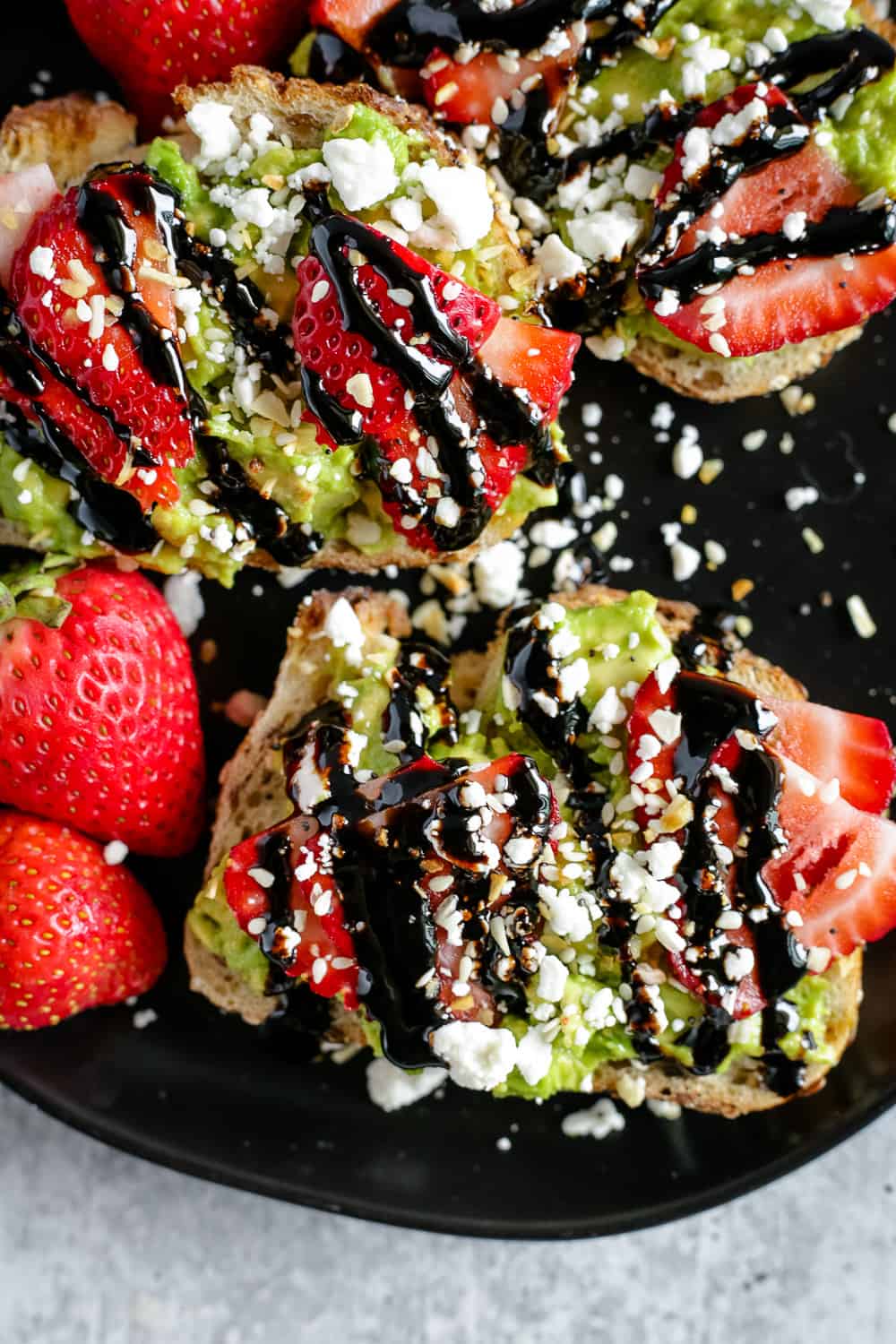 Swaps and Variations
Get as creative as you'd like with this Balsamic Strawberry Avocado Toast recipe!
Here are a few ideas if you need some substitutions or swaps:
Try using a bagel or whole-grain English muffin instead of sliced bread. And if you need a gluten-free option, look for GF-friendly versions of any of these.
If strawberries aren't in season (or aren't looking good) you can use any other berry. Blueberries, raspberries, and even sliced or chopped cherries will pair well with balsamic glaze.
Speaking of balsamic glaze, you can usually find it near the oils, vinegars, and salad dressing section of your grocery store. If not, you can try making your own by reducing balsamic vinegar in a small saucepan over medium heat until it becomes thick and syrupy. Or, just skip this altogether and simply drizzle a small amount of balsamic vinegar over your toast.
Feta is interchangeable with goat cheese, blue cheese, or other crumbly cheeses for this avocado toast recipe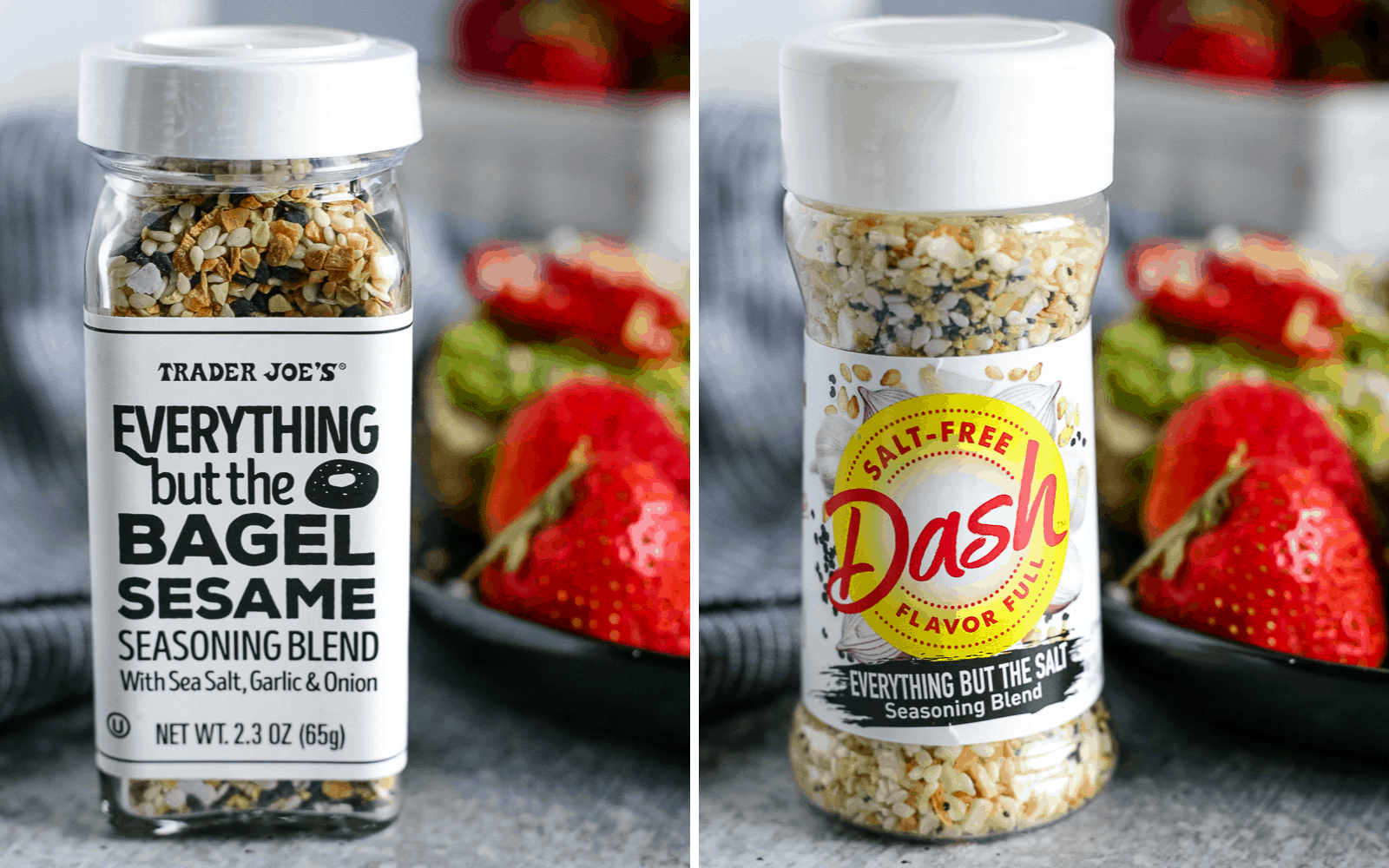 The last ingredient on this Balsamic Strawberry Avocado Toast is Everything But The Bagel Seasoning. If you're a fan, I'm sure you've already found plenty of uses for this stuff! But why not add an avocado toast recipe to the mix?
I really like the classic, assuming I can actually find it! But if this isn't available in your area or you prefer a salt-free option, there's also an "Everything But The Salt" mix from Dash, which used to be called Mrs. Dash.
Here's the recipe for Balsamic Strawberry Avocado Toast!
Balsamic Strawberry Avocado Toast
This easy avocado toast recipe is a colorful option for breakfast, snacks, or brunch!
Equipment
toaster,

or cast iron pan

paring knife and spoon

small cutting board
Ingredients
2

slices

whole grain, seeded bread

1

large

avocado

6

large

strawberries

,

thinly sliced

1/4

cup

feta cheese

1

tbsp

balsamic glaze

1/2

tbsp

bagel seasoning
Instructions
Toast the bread to your preferred level of crunch in the toaster or on the stovetop.

Meanwhile, slice the avocado and remove the pit. Score with a small knife, then scoop into a small bowl. Mash lightly with the back of a spoon, then spread onto each slice of the toasted bread.

Top with the sliced strawberries and feta cheese crumbles. Top with a drizzle of the balsamic glaze and bagel seasoning. Serve immediately.
Notes
This toast is best served fresh, so it's not a good candidate for meal prep or making ahead of time.
Nutrition
Serving:
1
serving
,
Calories:
320
kcal
,
Carbohydrates:
31
g
,
Protein:
9
g
,
Fat:
20
g
,
Saturated Fat:
5
g
,
Polyunsaturated Fat:
3
g
,
Monounsaturated Fat:
11
g
,
Cholesterol:
17
mg
,
Sodium:
545
mg
,
Potassium:
693
mg
,
Fiber:
10
g
,
Sugar:
7
g
,
Vitamin A:
236
IU
,
Vitamin C:
58
mg
,
Calcium:
163
mg
,
Iron:
2
mg
If you enjoy this avocado toast recipe…
You might also like this Summer Stone Fruit Salad or my Vegan Pomegranate Salad – they both combine the creamy goodness of avocado with fresh fruit flavors!
And as always, thanks for stopping by the Street Smart Nutrition blog! You can find more and follow along on Instagram and YouTube, and don't forget to sign up for my newsletter so you never miss a new post. Cheers to more fearlessly nourishing meals!
This post was originally published in November 2020. It has since been updated to improve the overall quality of the information and/or images.