Is there a more perfect pairing than eggs and tacos? These Scrambled Egg Breakfast Tacos are piled high with fresh veggies and tons of flavor. It's a favorite recipe for relaxed weekends, great for either breakfast or brunch!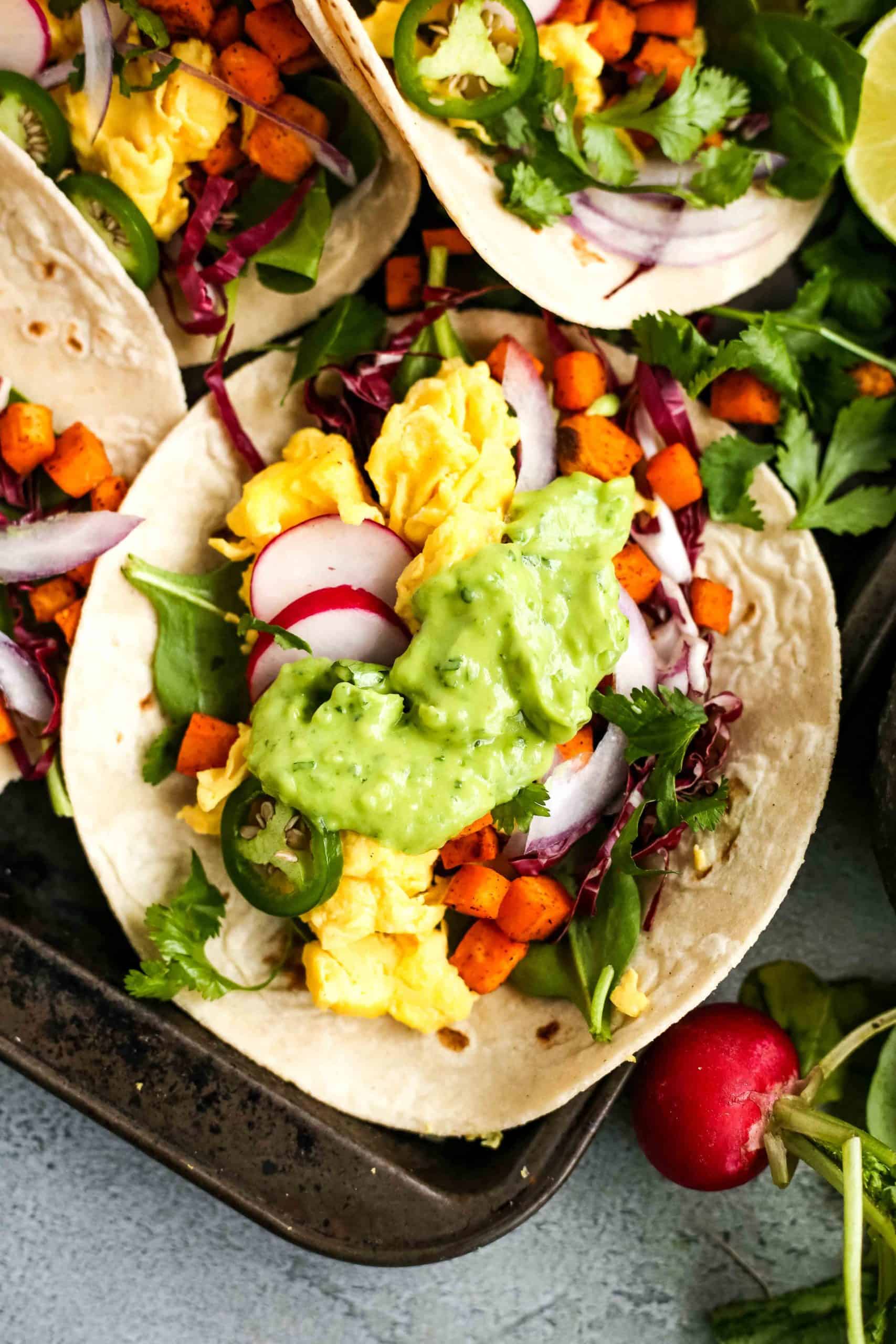 Eggs are a staple in my kitchen, and for good reason! They never let me down when a meal needs some extra protein. Whether it's a bowl of ramen, fried rice, or savory oatmeal, I can always count on eggs. And when we have a slow morning to prep a hearty breakfast or weekend brunch, we turn to these easy breakfast tacos!
Why You'll Love These Scrambled Egg Breakfast Tacos
I mean, it's a soft tortilla piled high with fluffy eggs, veggies, and sauce. What's not to love? But here are a few more reasons to add this recipe to your menu ASAP:
You can use up random leftovers or partially chopped veggies to help reduce food waste and clear some space in your refrigerator.
It's one way to enjoy a plant-based meal without going full vegan. Eggs offer so much great nutrition (more on that below) and these scrambled egg breakfast tacos don't rely on other proteins typically found in traditional breakfast foods.
There's plenty of room for personal preference to customize each taco or please a crowd who all want different fillings.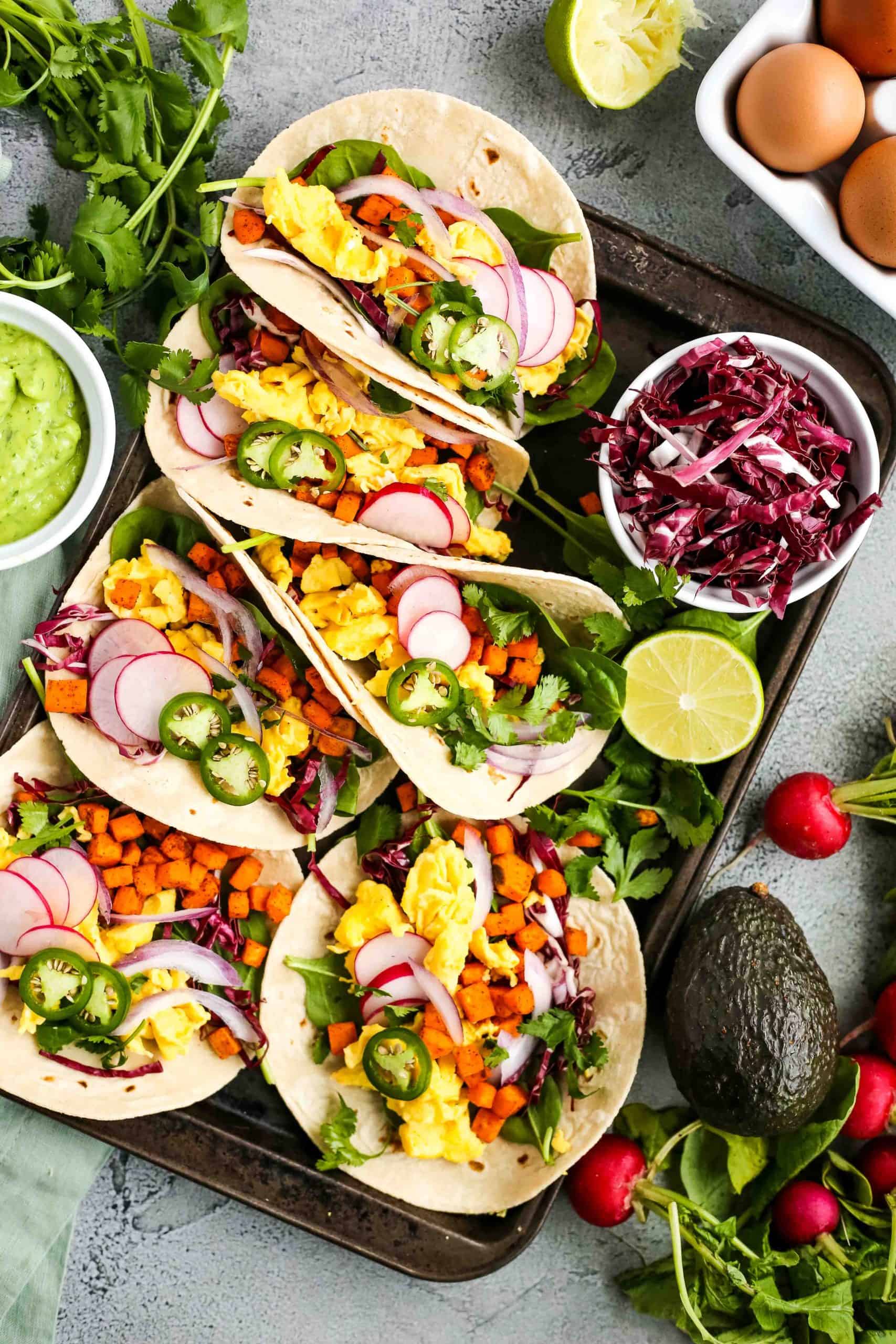 You've heard the saying, "breakfast is the most important meal of the day." But truly, these scrambled egg tacos work any time of day. Anyone else a fan of breakfast for dinner? My hand is way up there. But before we get to the recipe, let's chat a little about egg nutrition.
Health Benefits of Eggs
As a dietitian, it goes without saying that nutrition is important to me. But it's also important that your food choices reflect your values, personal preference, individual nutrition needs, and  budget. While eggs won't be an option for 100% vegan diets, they can offer a lot of benefits for everyone else. They can be a delivery vehicle for under-consumed nutrients or food groups like vegetables. Dietary fiber, anyone? And the fat in eggs can help with the absorption of carotenoids and fat-soluble vitamins.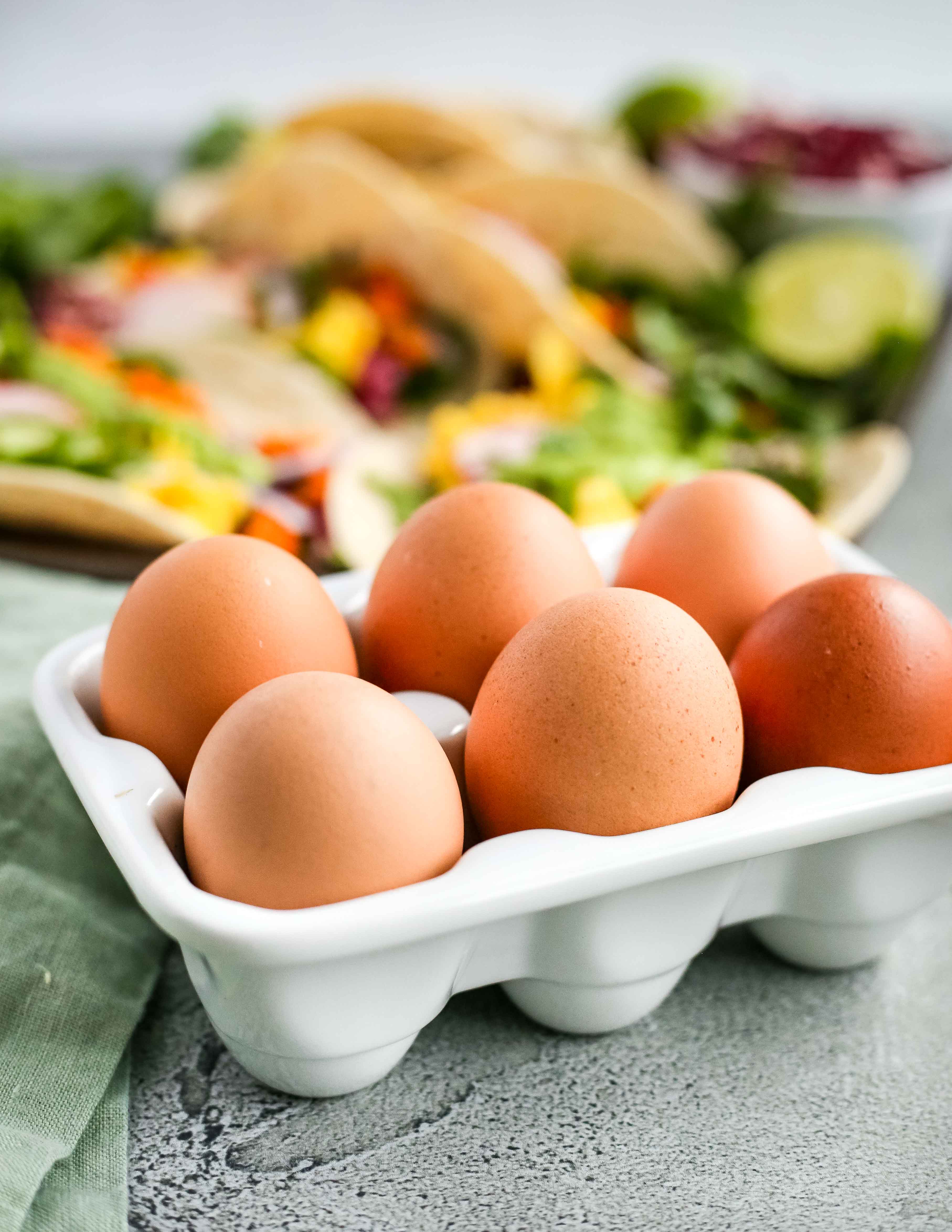 Plus, eggs are one of the most affordable sources of high-quality protein out there. Eggs provide a good or excellent source of eight essential nutrients, and are the easiest way to get enough choline, which I'll talk more about later.
A large egg is an excellent source of vitamin B12, biotin, iodine, selenium, and choline.
A large egg is a good source of riboflavin, pantothenic acid, and protein.
Additionally, eggs are one of the few foods that naturally contain vitamin D (1 mcg per large egg)
And I'm so glad we're getting on board with eating the whole egg. When you toss the yolk, you miss out on nutrition since many of these essential nutrients are found in the yolk. Many of us are also trying to reduce food waste and be more budget-conscious, so don't toss those yolks! Plus, it's just one less step when you're making scrambled eggs for these breakfast tacos.
But back to choline for just a bit…we need to talk about eggs and the role they play in brain health!
Eggs for Brain Health
Brain health seems to be a growing focus in health care, with concerns about everything from concussion recovery protocols to improving focus and performance to early brain development in infants and children. One of the key nutrients that play a big role in brain development is choline. Like I mentioned above, eggs are an excellent source of choline, providing about 150 mg in one large egg. That's one of the highest choline contents of any food!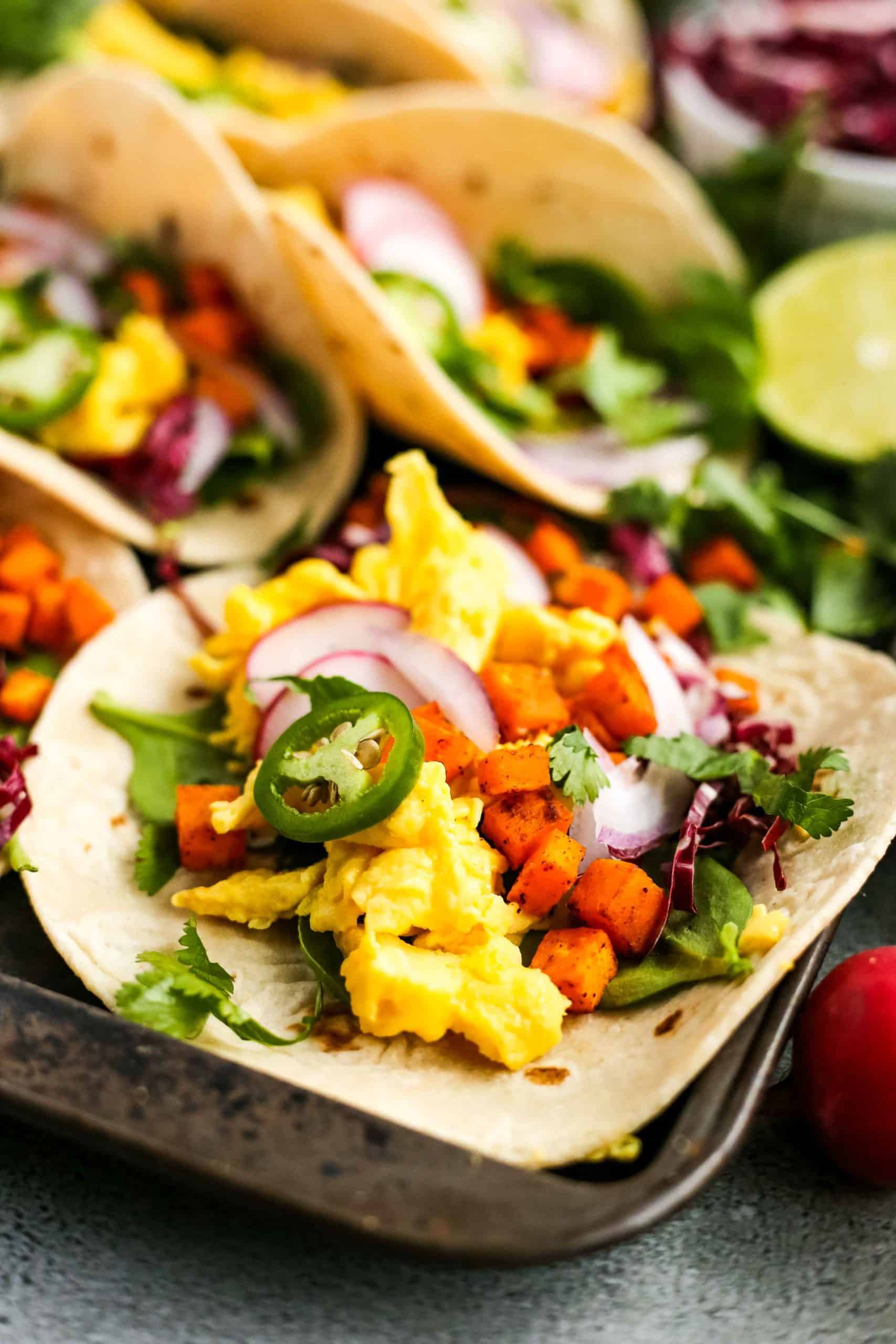 Choline is critical for brain development, starting during pregnancy. Despite its importance, though, many Americans aren't getting enough choline. It's estimated that 90% of us, including approximately 90% of pregnant women, fall short of the choline recommendations. But two large eggs supply more than half of the recommended amount, making them one of the simplest solutions to help close a nutrition gap.
And for the rest of us, choline is still important. It plays a role in brain health and supports healthy brain function at all stages of life. I hope this helps shed light on just one of the ways eggs can support a healthy diet, but we don't eat individual nutrients. We eat food! So let's get into the recipe for these Scrambled Egg Breakfast Tacos.
Ingredients You'll Need
​Besides the eggs, which are clearly the star of the show, you'll also need:
Tortillas. Look for small or smaller tortillas, like a 6-inch size. And up to you whether you go with flour tortillas, corn tortillas, or both. 
Sweet potato
Olive oil
Ground chipotle, chili powder, garlic powder, or taco seasoning
Leafy greens like baby spinach
Radicchio. If you're not a fan of the more bitter taste or can't find it, swap for red cabbage instead. 
Sliced or diced red onions
Radishes
Cilantro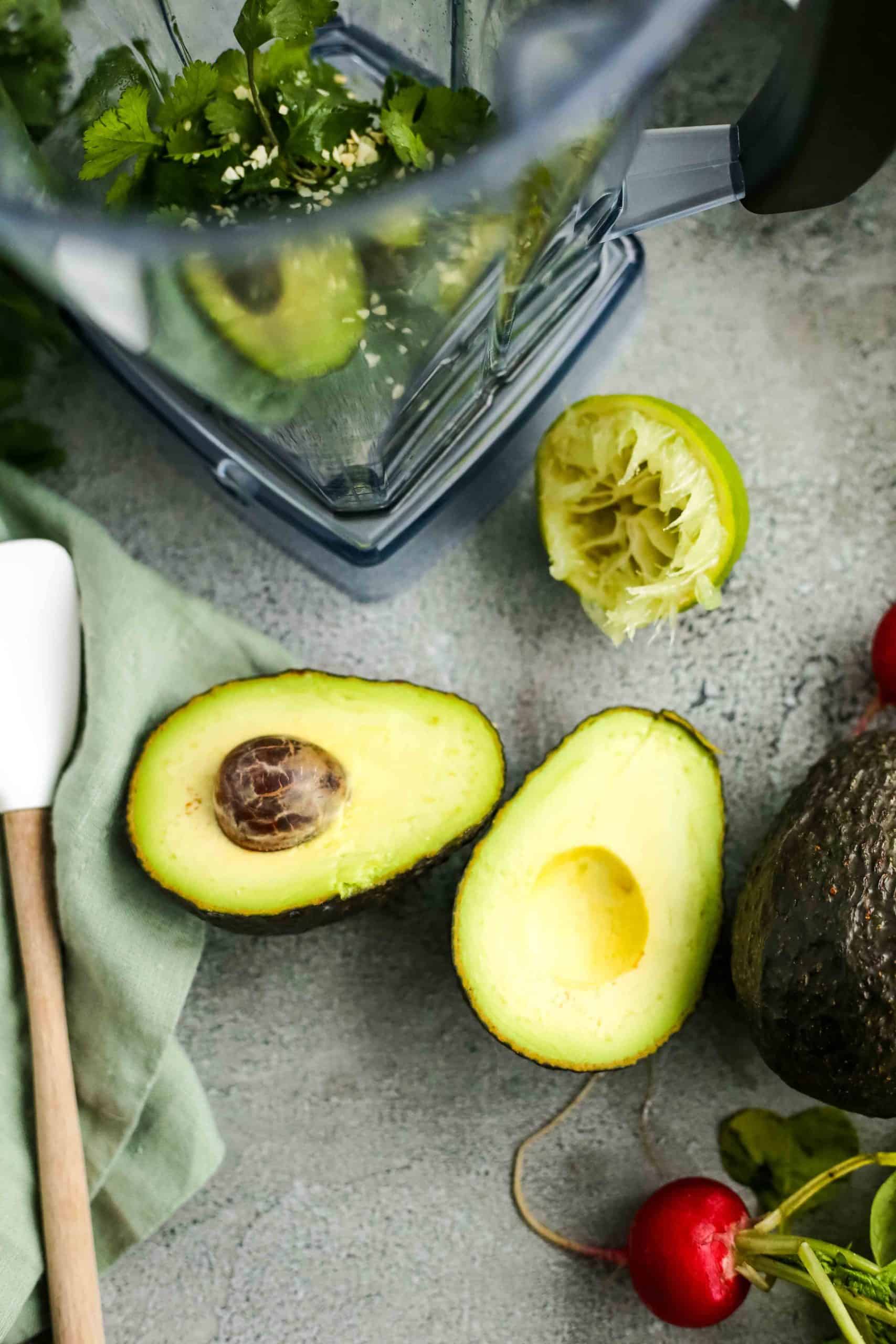 And the sauce is a non-negotiable, don't skip it! It's worth pulling out these extra ingredients:
Avocado
Jalapeno 
More cilantro
Lime juice
Garlic, cumin, salt, and pepper
All ingredients should be easy to find in your favorite grocery store. But if you need a convenient option for delivery, click HERE to get a list from Instacart. It's a great way to stock up on any essentials for this recipe or other favorites. 
How to Make Scrambled Egg Breakfast Tacos
​Don't be intimidated by the number of ingredients. The prep work goes faster than you realize and it only takes a few minutes to cook the eggs on the stove top. And the order of operations matter, because while the sweet potatoes are roasting you'll be able to slice and dice your other taco toppings or prepare the sauce.
Preheat your oven to 400 degrees F. Peel the sweet potato and carve into a rough dice, with pieces small enough they'll work in a handheld taco. Toss them with some olive oil and seasonings, then spread them in a single layer on a baking pan. Roast for about 10 minutes, flip, then 5-10 minutes more until they're tender and starting to brown around the edges.
Meanwhile, mix up the sauce by adding all ingredients to a blender or food processor. Pulse to combine until it's creamy and mostly smooth. Transfer it to a small ramekin or serving bowl and chill until it's time to serve.
Slice the radishes into thin slices and shred or roughly chop the radicchio or red cabbage. Dice the red onion and chop the cilantro.
Crack the eggs into a small bowl and whisk with some salt and pepper. Heat a large skillet (cast iron or nonstick) over medium heat. Add a little olive oil if needed, then pour the egg mixture into the center of the pan. Drag a rubber spatula across the bottom as the eggs cook, breaking them into small curds. After a few minutes, they should be fully cooked and you can transfer to a serving bowl.
Line everything up next to a stack of warm tortillas and you can dig in!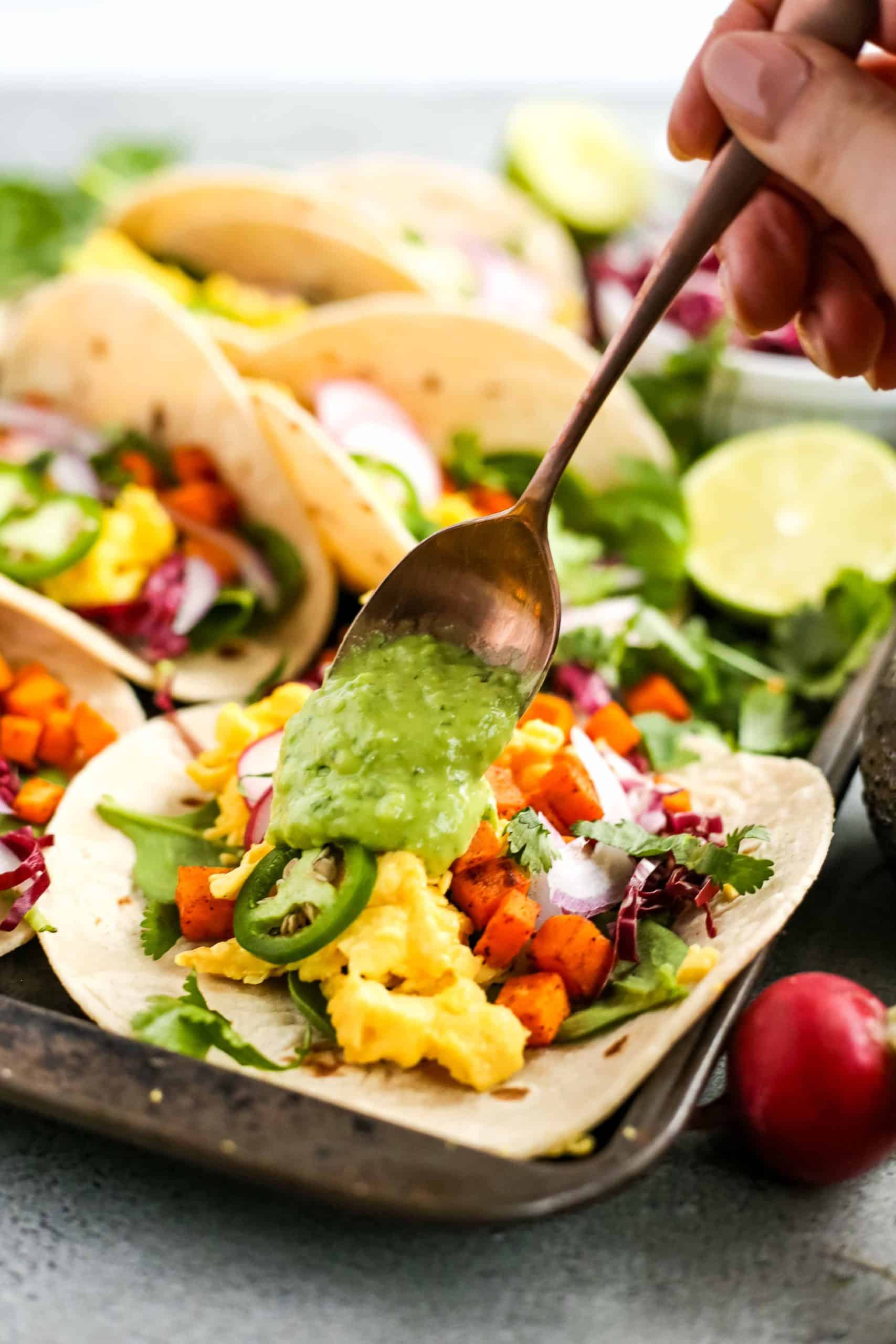 Serving Suggestions
As always, adjust this breakfast taco recipe for your personal needs. You can always make a swap or substitution, such as hard taco shells instead of soft corn tortillas. And it's always fun to add more options, so here are a few ideas:
Slice a red bell pepper or green pepper for additional veggies. Pico de gallo, fresh salsa, and salsa verde also count!
Blend green onions into the sauce or slice for taco toppings.
Try a drizzle of your favorite hot sauce if you want even more great flavor.
Serve with sour cream, Mexican crema, or plain Greek yogurt. A little cheese also never hurts!
Add black beans or refried beans.
Just remember it's very easy to get carried away and overfill your breakfast tacos with your favorite toppings. This makes them a little messy to eat. But really, if that's the worst of your problems you're doing pretty good! These Scrambled Egg Breakfast Tacos can also easily convert into breakfast burritos or burrito bowls, using the egg mixture as a base to pile on all the toppings of your choosing.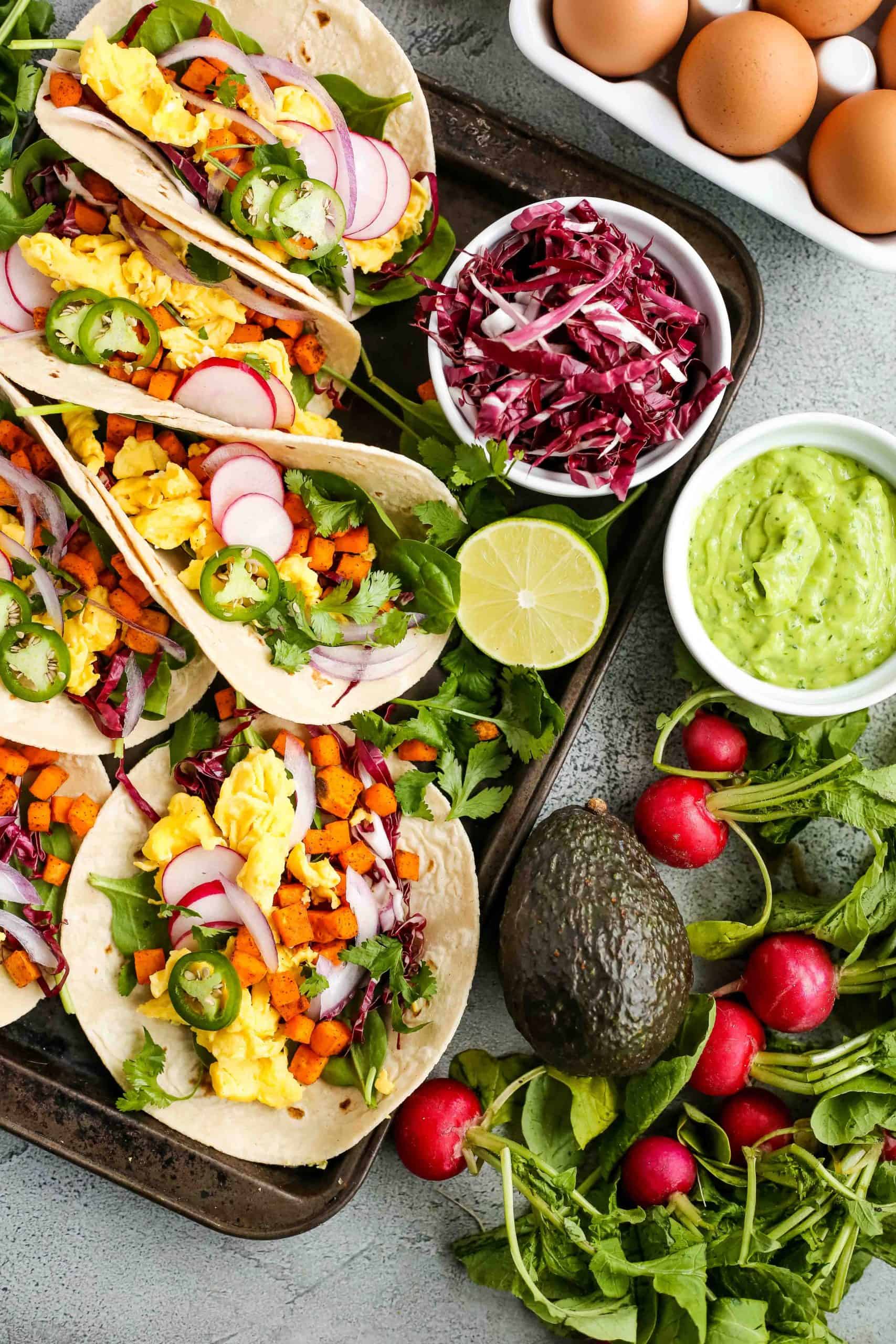 Store any leftover veggies or sauce in airtight containers to mix into salads or sandwiches. You can refrigerate them for up to 3-4 days.
So with that, let's get into the full recipe. Here you go!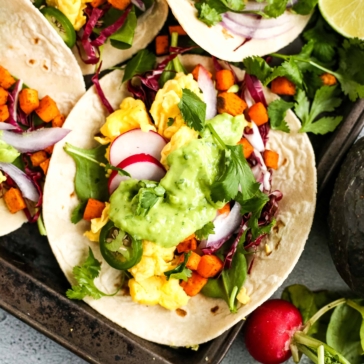 Scrambled Egg Tacos with Creamy Avocado Sauce
These delicious scrambled egg tacos with become a new favorite way to make breakfast tacos! Pair with a creamy avocado sauce and tons of fresh veggies for a complete meal to start your day.
Equipment
Sheet Pan

cutting board and sharpened chefs knife

vegetable peeler

blender or food processor

Large Skillet,

cast iron or nonstick

rubber spatula and serving utensils
Ingredients
For the Sauce
1

large

avocado

2

tbsp

olive oil

1/2

jalapeno

1/4

cup

cilantro

,

leaves and stems

1

clove

garlic

1/2

lime

,

juiced

1/4

tsp

ground cumin

Kosher salt and pepper to taste
For the Tacos
6 to 8

6-inch

tortillas

,

corn or flour

1

medium

sweet potato

,

diced small

3

tsp

olive oil

,

divided

1/2

tsp

ground chipotle or taco seasoning

4

large

eggs

1

cup

baby spinach

1/4

small

radicchio

,

shredded, about 2/3 cup

1/2

cup

red onion

,

sliced or diced

3

large

radishes

,

sliced thin

1/4

cup

cilantro

,

finely chopped, for garnish
Instructions
For the Sauce
Add all ingredients to your blender and pulse to combine. Continue to blend on high speed until smooth. Transfer to a ramekin or small bowl, cover, and chill until ready to serve.
For the Tacos
Preheat your oven to 400 degrees F. Peel the sweet potato and cut into small cubes (small dice). Toss with half of the olive oil and ground chipotle, then arrange in a single layer on a baking sheet. Roast for 10 minutes, flipping halfway through.

While the sweet potatoes are roasting, crack the eggs into a small mixing bowl and whisk to combine. Heat a nonstick or cast-iron skillet over medium-high heat. Add the remaining olive oil, and once oil is heated, add the eggs. Stir occasionally, using a spatula to break the cooked eggs into small pieces. Once eggs are fully cooked, transfer to a bowl and cover.

To build the tacos, arrange the tortillas on a serving platter. Layer in the baby spinach, shredded radicchio, roasted sweet potatoes, sliced radishes, red onion, and scrambled eggs. Garnish with one tablespoon of the prepared sauce, then add additional cilantro if desired.
Notes
Note that the smaller the dice, the faster the sweet potatoes will cook, so adjust cook time accordingly.
If desired, slice the remaining half of the jalapeno and use it to garnish your  breakfast tacos. 
Leftover avocado sauce may be stored in the refrigerator. Use within 3-4 days for best results. 
Nutrition
Serving:
1
taco
,
Calories:
294
kcal
,
Carbohydrates:
28
g
,
Protein:
8
g
,
Fat:
17
g
,
Saturated Fat:
3
g
,
Cholesterol:
124
mg
,
Sodium:
284
mg
,
Potassium:
434
mg
,
Fiber:
5
g
,
Sugar:
4
g
,
Vitamin A:
5934
IU
,
Vitamin C:
10
mg
,
Calcium:
70
mg
,
Iron:
2
mg
These delicious breakfast tacos should leave you completely full and satisfied. Personally, that's my favorite way to start a relaxed weekend. If it also becomes your new favorite, you might feel ready for a nap afterwards. Don't blame me! If you try this recipe and love it, leave a rating or comment to let me know what you think.
And if you'd like to learn more about how eggs can support a healthy lifestyle, visit IncredibleEgg.com. Plus, you'll find more nutritious egg recipes for breakfast, lunch, dinner, and snacks. As always, thanks for visiting the Street Smart Nutrition blog, and cheers to more fearlessly nourishing meals!
Disclosure: This post is sponsored by The Incredible Egg when it was first published in March 2020. I was compensated for my time and as always, all opinions are my own. It has since been updated to improve the overall quality of the information and/or images. Thank you for supporting the partners who support Street Smart Nutrition!