Did you know you can make an entire homemade ramen noodle recipe in your microwave? Game changer! This easy microwave ramen bowl with eggs is a simple way to enjoy the flavor and nutrition of eggs for dinner. Be sure to check out the other featured dinner egg recipes, too!
Disclosure: This post is sponsored by The Incredible Egg. I was compensated for my time and as always, all opinions are my own. Thank you for supporting the partners who support Street Smart Nutrition!
---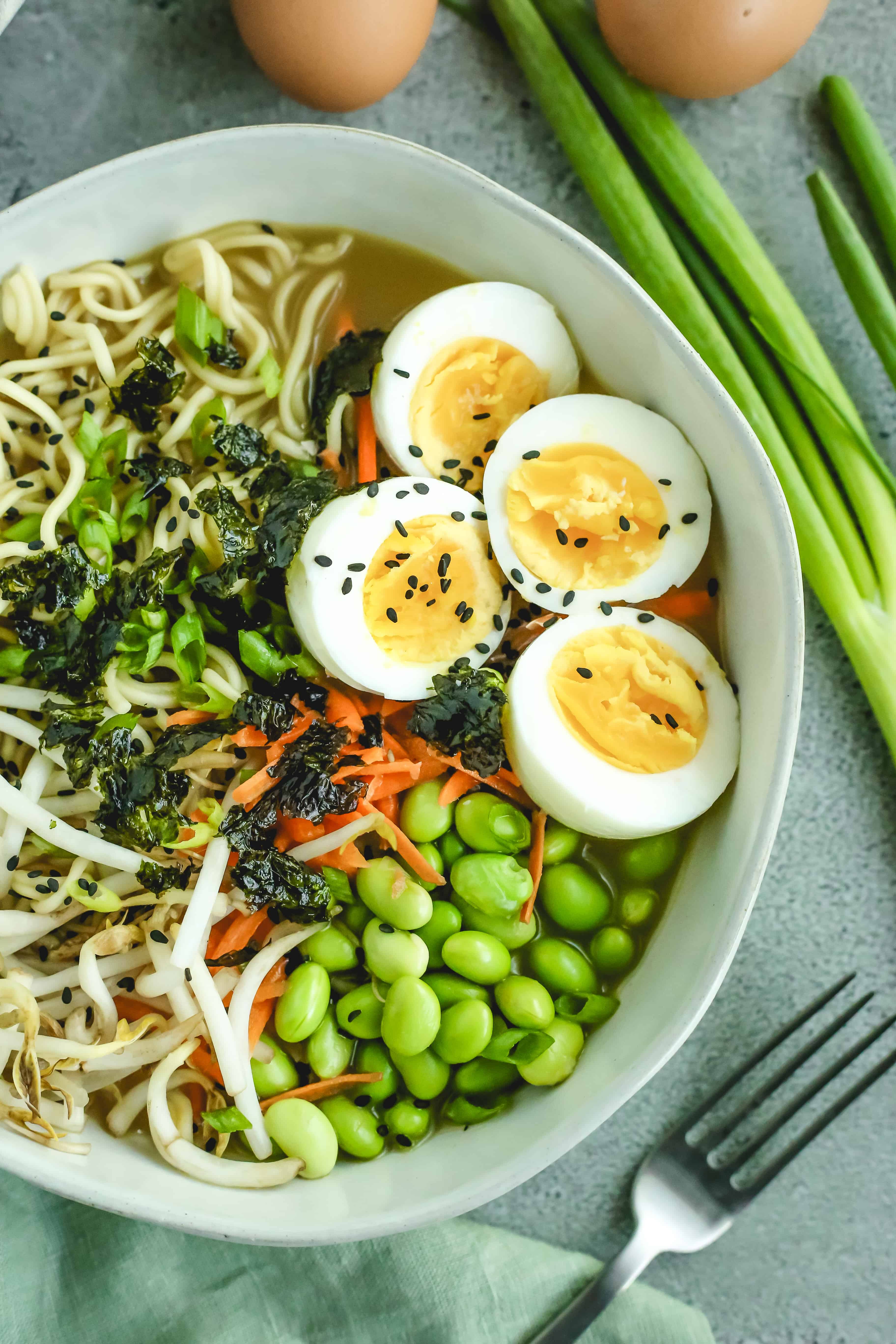 How often do you realize it's late afternoon and you have no idea what you're going to have for dinner? It's all too common! In fact, it happens to me at least a couple times each week despite knowing how helpful meal planning is. But life gets busy, the days move fast, and sometimes getting dinner on the table quickly is a struggle. So that's why I'm excited to partner with The Incredible Egg to showcase a solution!
What's for Dinner? Dinner Eggs!
Trust me, I'm not claiming credit for "breakfast" for dinner. But as a dietitian, I'm always reminding clients and their families that a food as versatile and nutritious as an egg isn't limited only to the morning meals!
I always have eggs in my fridge and on my grocery shopping list as a go-to ingredient. I have a feeling you might, too! When I started scheming up this recipe for an easy homemade ramen bowl, it sent me back to the good ol' days when I was a college student with only a microwave at my disposal. If I could only travel back in time, I'd be eating a LOT better on my shoestring budget if I had to do it over again!
Even if you've graduated to a fully equipped kitchen, there are times when you don't want to turn on the stove or oven to cook dinner. Microwave cooking sometimes gets overlooked for other cooking methods, but it's reliable, convenient, and can save a lot of time and energy because there's usually less prep work and clean up involved. Plus, eggs are one of the most affordable sources of high-quality protein. A single large egg has six grams of protein and all nine essential amino acids.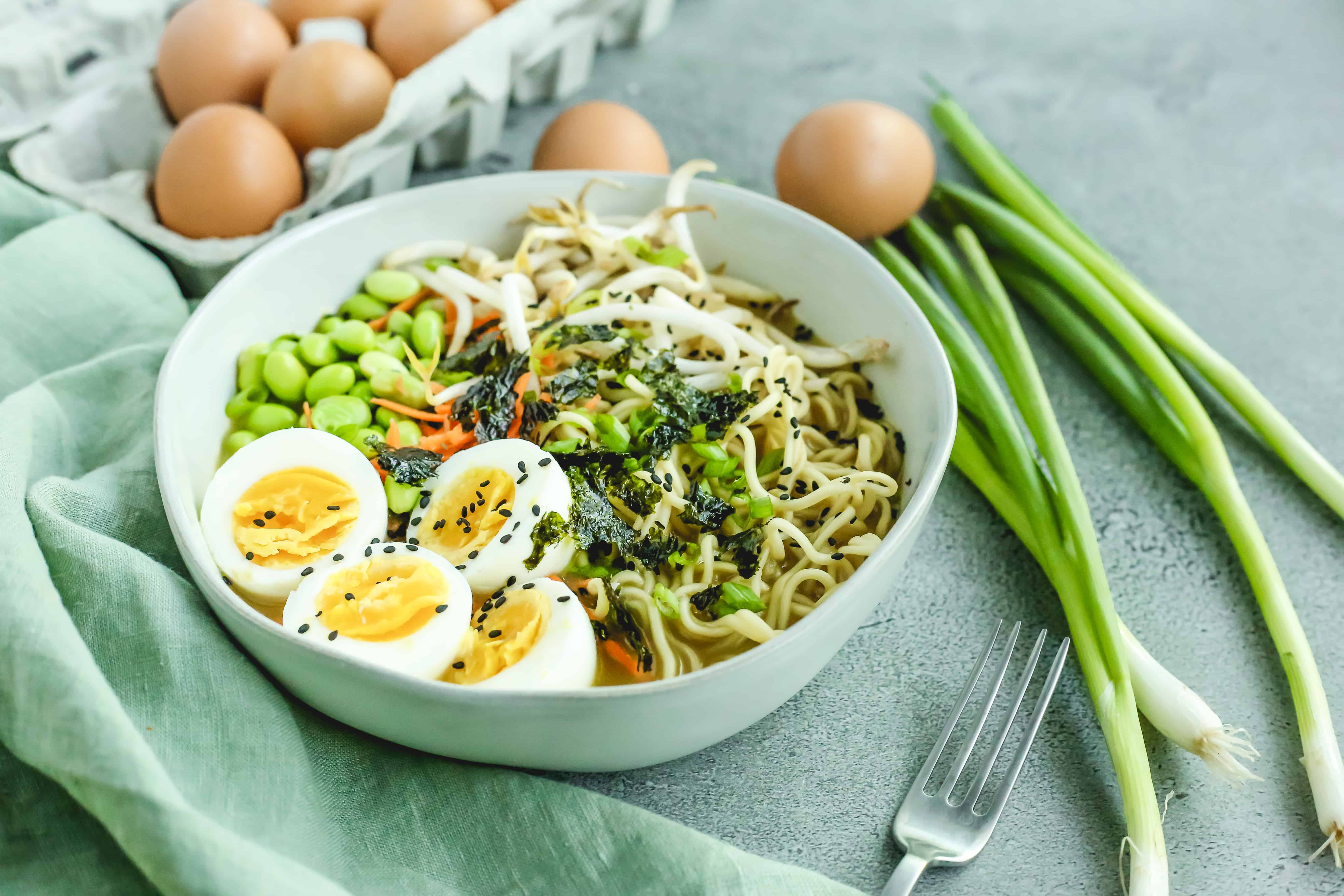 Here are a few more fun facts about the nutrition in eggs:
Eggs are one of the only foods that naturally has vitamin D (1 mcg in a large egg, or 6% of your daily needs), which along with calcium, is critical for building strong bones.

 

Don't toss the yolk! Yolks house most of the egg's nutrients like vitamin D, vitamin B12, iron and more than 40 percent of the protein in an egg.
The yolk also has fat-soluble nutrients like vitamins D, E, A, choline and the carotenoids, lutein and zeaxanthin. And, if you're monitoring screen time, I recently learned the lutein and zeaxanthin found in egg yolks can help protect eyes from blue light.
So I suppose you could say there are more than a few "eggs-tremely" good reasons to enjoy some dinner eggs!

 
Homemade Ramen Noodles with Eggs
This easy microwave ramen bowl is a simple dinner solution that can be ready in less than half an hour – in fact, depending on your microwave settings, you can go from start to finish in about 20 minutes! And although this is a "homemade" version, don't think you need to start from pure scratch. Here are some of the ways I sped up the process to make it faster and easier to get dinner on the table!
Use plain ramen noodle "nests" that cook quickly in the microwave, no stovetop needed
Purchase frozen, shelled edamame and transfer to the fridge to thaw overnight or the morning of
Look for shredded/grated carrots in the produce section or buy a small amount off of the salad bar
Same with green onions – if you're not going to use them for another recipe, just source from the salad bar or prepped food section (or skip altogether!)
Use a prepared ramen broth – you can either try a DIY recipe and freeze leftovers to thaw later, or look for readymade versions in the same section as other stocks and broths
If you're really in a hurry, you can even purchase eggs that have already been hard boiled. Just slice and add at the end of cooking to let the hot broth reheat them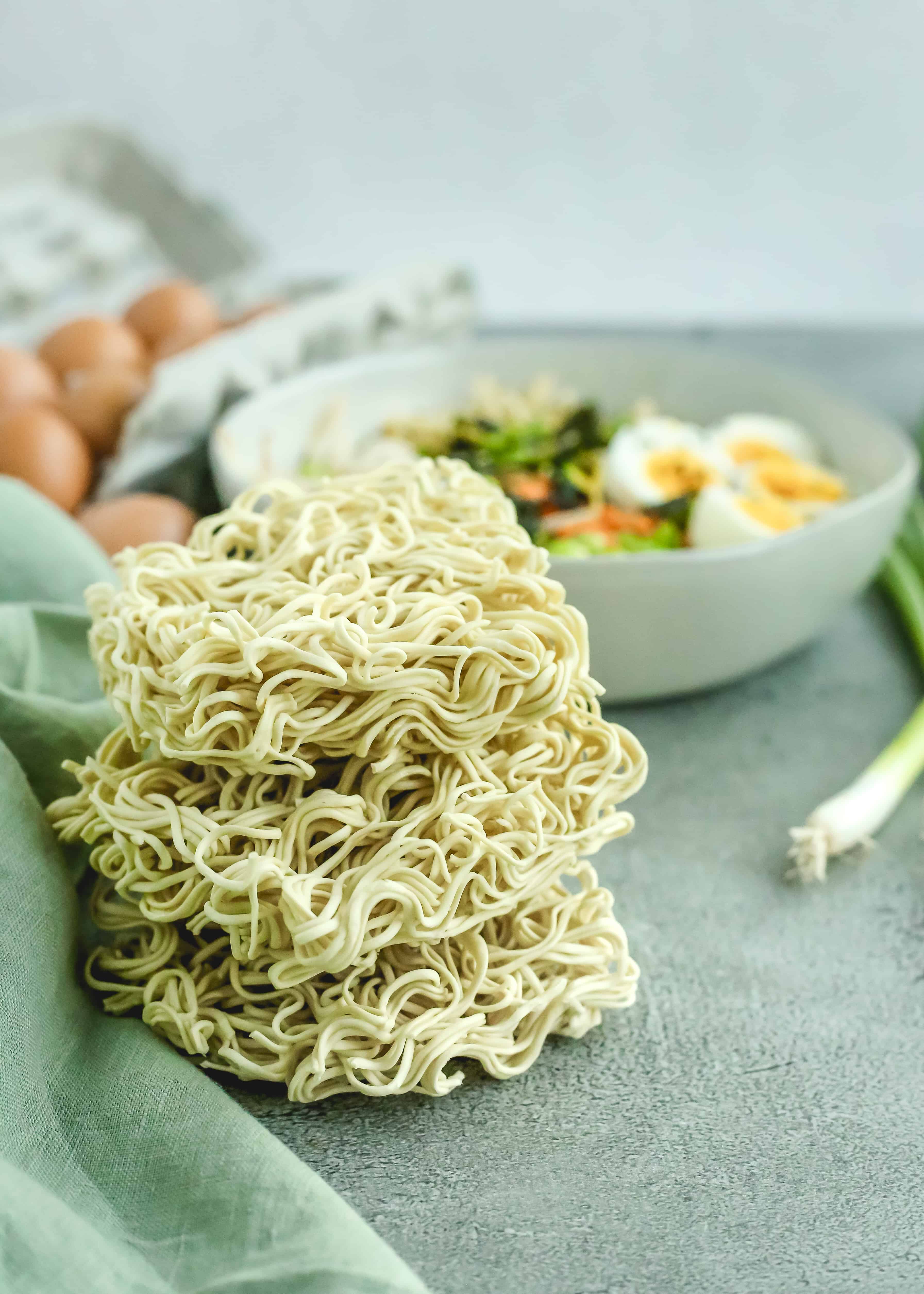 If you've never attempted the microwave version of soft- or hardboiled eggs, you may want to give this a trial run first. It's all about making sure the eggs are completely covered with water. An exploding egg is no joke! But once you've mastered the technique, you'll always have an option for a quick and easy protein boost to any meal. Of course, there's nothing wrong with going the traditional route and boiling your eggs on the stovetop. 
SAFETY NOTE: When soft boiling eggs in microwave, it is very important to make sure the eggs are fully submerged in water to prevent them from bursting.
Be sure to adjust the cooking time based on your preference. While I'm normally a fan of runny yolks with my breakfast, I prefer my dinner eggs to be more on the solid side.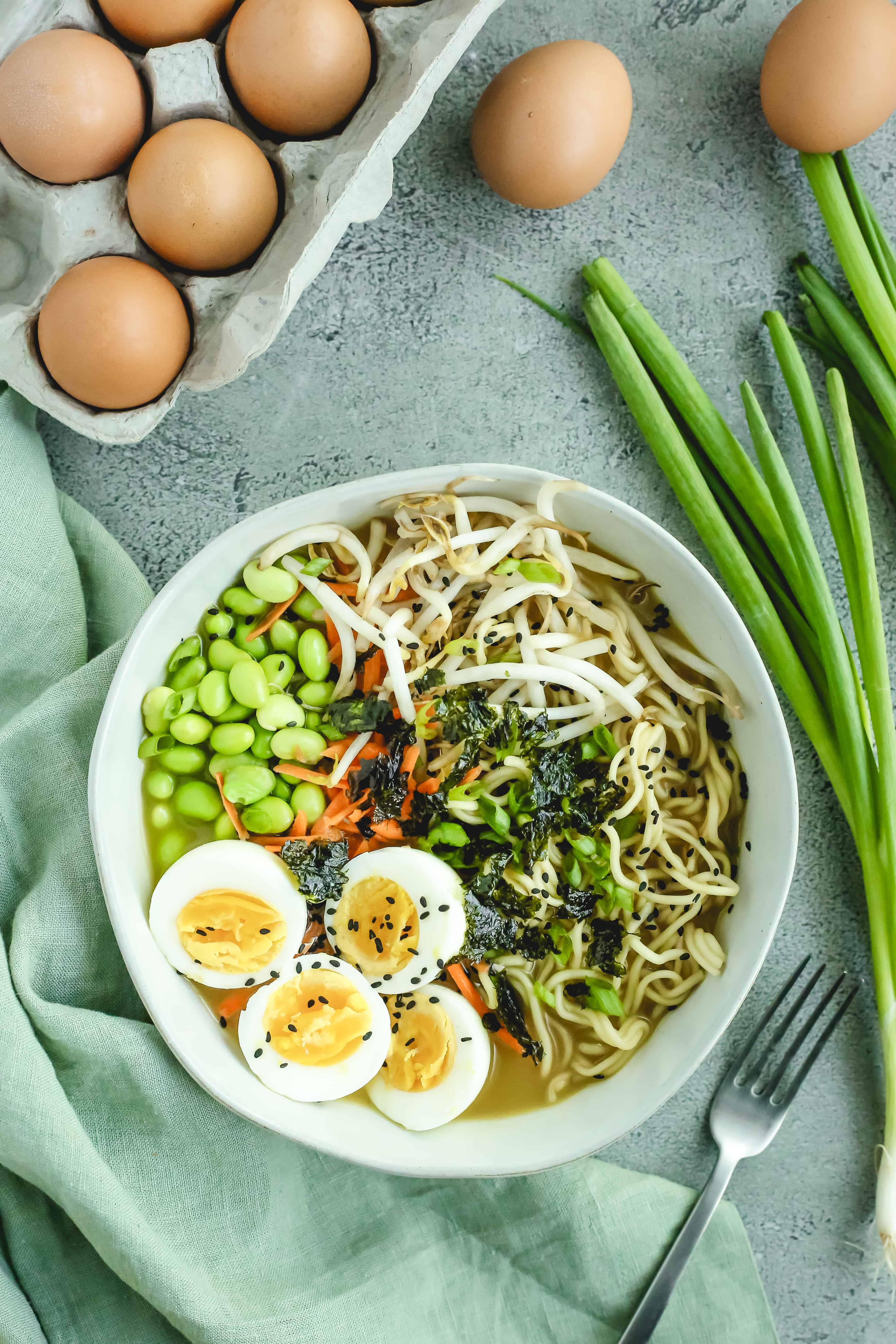 While ramen might seem like a stretch away from the traditional, I was able to find all the ingredients for this dinner egg recipe at my local grocery store. In the past I would have made at least one extra stop to find specialty ingredients at the Asian market, but now I'm seeing more and more diverse ingredients featured in the places I already shop.
While big retailers and national chains are your best bet for one-stop shopping, don't feel pressured to go out of your way. You can substitute a low sodium chicken broth if ramen broth isn't an option or swap the garnishes for something you already have at home. Fresh spinach or sliced onions and mushrooms would also pair well with this homemade ramen bowl!
Dinner Egg Recipes
Need more inspiration for busy weeknight meals? There's no denying eggs are delicious, nutritious, versatile and easy. Here are a few more examples of how you can pair them with nearly anything!
Upgrade your regular dinner. Pizza, sandwiches, tacos, pasta…they're all better with eggs!
When in doubt, just #PutAnEggOnIt. This might be a side dish, layered into your favorite recipes, or simply added to the top. You can even get creative with a toppings bar for things like tacos, pizza, or flatbreads.

 

Check out some of the "eggs-elusive" Dinner Egg recipes created by The Incredible Egg:
But you've made it to the part you've been waiting for. Let's check out this ramen recipe!
Here's the recipe for Easy Microwave Ramen with Eggs!
Easy Microwave Ramen with Eggs
Short on time but craving a hearty meal? Warm up with this easy homemade ramen noodle recipe with eggs - it can be made using only your microwave!
Ingredients
2

large

eggs

,

soft boiled

2

oz

dried ramen or udon noodles

1 1/2

cups

ramen broth

1/2

cup

water

,

if needed

1/3

cup

shelled edamame

1/3

cup

shredded carrots

1/3

cup

mung bean sprouts

1

tsp

ginger paste

1/2

tsp

low sodium soy sauce

1

small

green onion

,

thinly sliced

nori flakes

,

for optional garnish

sesame seeds

,

for optional garnish
If Boiling Eggs in Microwave:
Instructions
To Soft Boil an Egg on Your Stovetop
Add water to a small saucepan, deep enough to cover your eggs. Bring to a boil over high heat then reduce heat slightly. With water still simmering, carefully add the eggs using a slotted spoon or tongs. Allow to cook for 5 to 7 minutes then carefully remove using the spoon or tongs. Place in a bowl of cold water to cool, then remove and peel away the shells.
To Soft Boil an Egg in Your Microwave
Place both eggs in a microwave safe bowl and cover with warm water. Add 1/2 teaspoon salt per egg (1 tsp total if cooking two eggs). Place in microwave and cook for 6-7 minutes, adjusting time based on the strength of your microwave. Allow to stand in hot water once cooking time is finished for more done eggs, or transfer to a bowl of cold water to chill slightly. Remove from water and peel away the shells.

SAFETY NOTE: When soft boiling eggs in microwave, it is very important to make sure the eggs are fully submerged in water to prevent them from bursting.
Easy Microwave Ramen
While the eggs are cooling, place the prepared ramen broth in a microwave safe bowl. Add the dried noodle nest and add additional liquid if needed. The liquid should just cover the dried noodles.

Place the bowl in the microwave and cook for 3 to 5 minutes. Pause to stir and break apart the dried noodle nest halfway through cooking. At this point, you may add the shelled edamame, carrots, and bean sprouts if you prefer a softer texture.

Allow to finish cooking, then add the edamame, carrots, and bean sprouts if you haven't already. Stir in the ginger paste and low sodium soy sauce. Carefully peel the eggs and slice each egg in half. Place the eggs in the ramen bowl, then garnish with green onion and nori flakes. Serve immediately.
Nutrition
Serving:
1
bowl
,
Calories:
537
kcal
,
Carbohydrates:
49
g
,
Protein:
38
g
,
Fat:
21
g
,
Saturated Fat:
8
g
,
Cholesterol:
372
mg
,
Sodium:
3887
mg
,
Potassium:
653
mg
,
Fiber:
6
g
,
Sugar:
6
g
,
Vitamin A:
7668
IU
,
Vitamin C:
11
mg
,
Calcium:
119
mg
,
Iron:
6
mg
This recipe is going to come in handy when the weather starts cooling off again. I can't wait to work it into my regular rotation of weeknight meals! What's your favorite way to enjoy dinner eggs?
Be sure to check out DinnerEggs.com for even more recipe inspiration from #EggEnthusiasts like me!