Have you heard of shakshuka? While the flavors might be inspired by Middle Eastern or North African cuisines, you likely have all the ingredients in your fridge and pantry right now. You'll definitely want to save this easy shakshuka recipe with marinara sauce!
---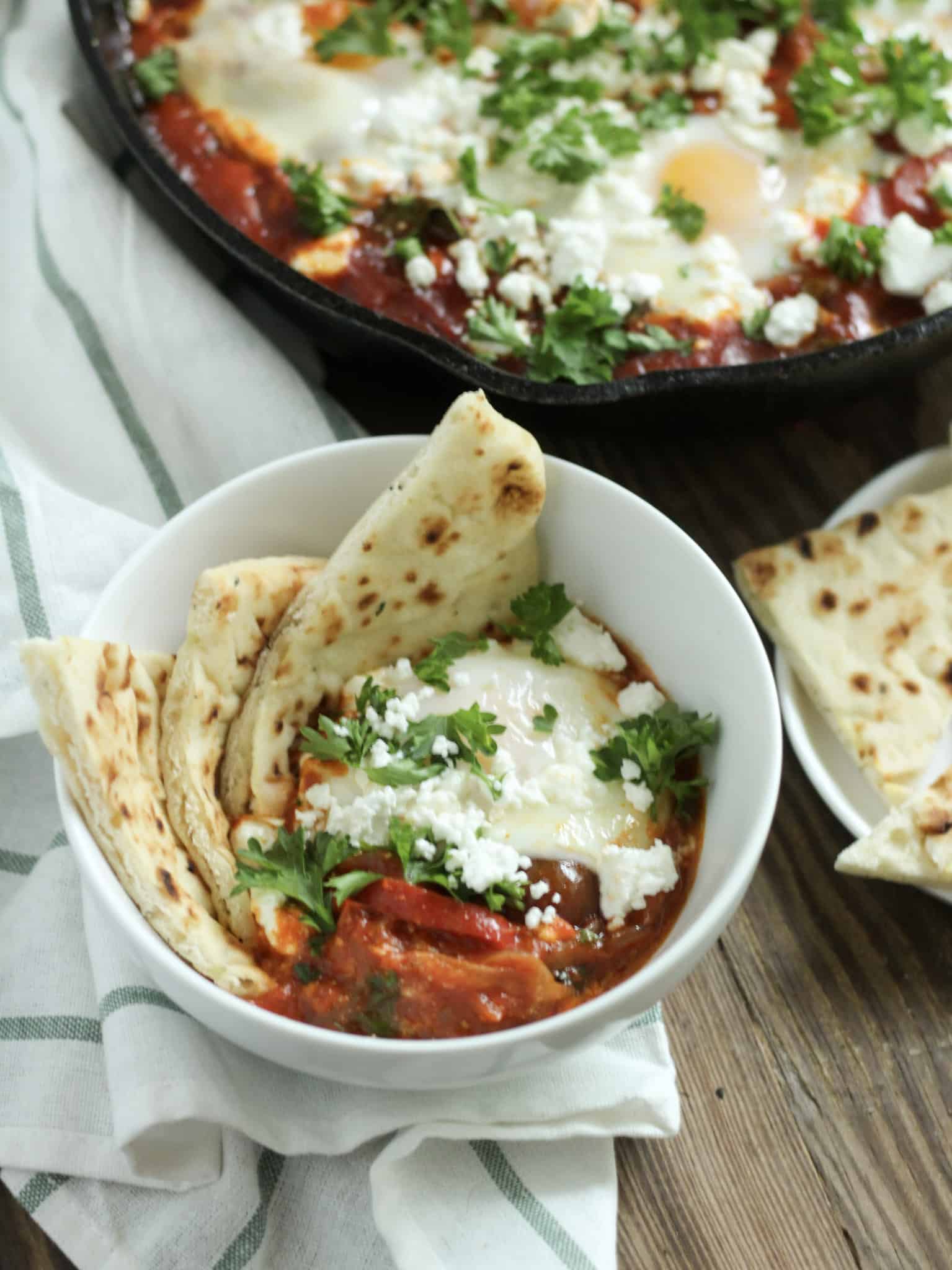 Have you ever seen a recipe that looks so dang delicious you think, "Yes, this, I must have it." But at the same time, you feel like a total noob in the kitchen and don't have a clue where to start? That was me with shakshuka with marinara sauce. I had seen it on restaurant menus and heard a few friends mention it, but I was always intimidated into thinking it was a super complicated recipe.
Not so much.
In the interest of helping you avoid feeling that way, I'm going to walk you through step by step and tell you everything you need to know to mix up a batch of your own. Let's get started on this easy shakshuka recipe!
[Tweet "Get a step-by-step guide for making a hearty meal with shakshuka and marinara sauce"]
How to Make Shakshuka with Marinara Sauce
Step 1: Get your marinara sauce
Now don't get me wrong, I love a homemade marinara or tomato sauce just as much as the next person. But that doesn't mean I don't also run out of time or freezer space! Having a great-tasting premade option is essential for busy nights. And, making this shakshuka with marinara sauce that's premade means you can skip the steps involved with making a homemade sauce of any kind.
There is no shortage of canned or jarred sauces on the shelf but I personally look for sauces that have lower sodium contents and simple, straightforward ingredients. This one (Rao's Homemade) is a brand I really like – they stay away from all the nonsense of food-fear "free-from" labels that just make me crazy. And it goes without saying it tastes great, too. But if you're looking for a more budget-friendly option, store brands are also making high-quality premade sauces, such as this one.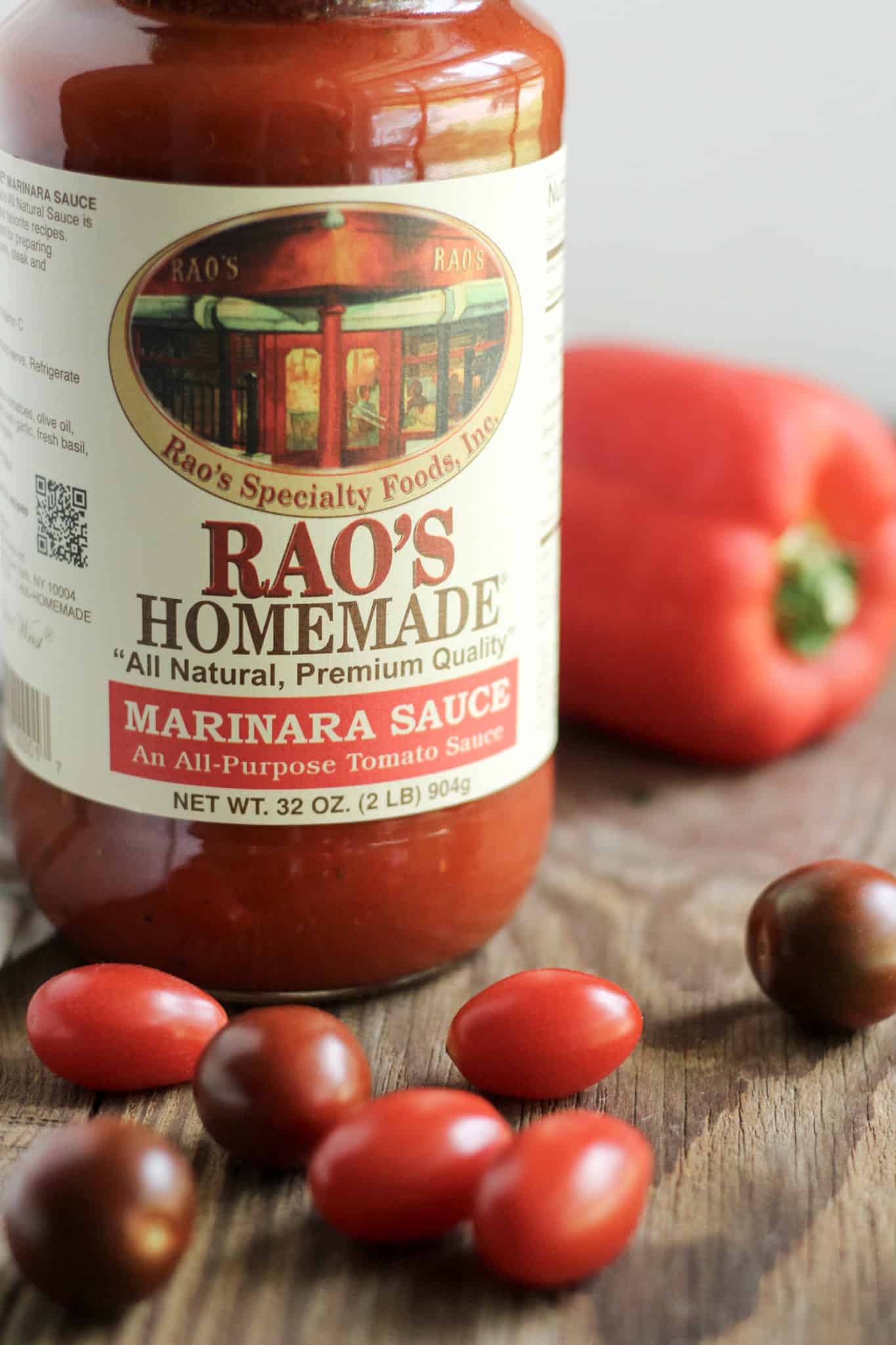 Step 2: Cook your veggies
Veggie prep can be one of the most time-consuming steps of cooking – make it easier on yourself by trying some of these strategies. For this recipe, I used one whole yellow onion and one red bell pepper. The tomatoes and spinach get added later, so you can take time to wash and prep those while the onions and peppers are cooking.
If you're new to cast iron cooking, just know that once it gets hot it's gonna stay hot. It does take a few minutes to heat though, so add the oil before turning on your stovetop so you don't end up with unheated oil going straight into a sizzling hot pan.
From here, it's up to you how long you want to cook your veggies – see the comparison below for what mine looked like after 10 minutes and 15 minutes on medium-high heat. Although there are discrepancies about how long it actually takes to caramelize onions, you should at least start to see some nice golden-brown colors. You can also see the volume in the skillet start to drop as the veggies lose some moisture and structure.
Stir every once in a while, but don't overdo it. This is coming from the one who gets all zen when she's stirring and just can't. leave it. alone. Give it a flip every few minutes to avoid sticking but let that cast iron work its magic.
Street Smart Nutrition Tip: You can buy my favorite cast iron skillet here. If you don't have cast iron, no biggie. You can try with a dutch oven, or cook veggies in a nonstick or any other skillet. Then transfer to oven-safe bakeware before adding the eggs.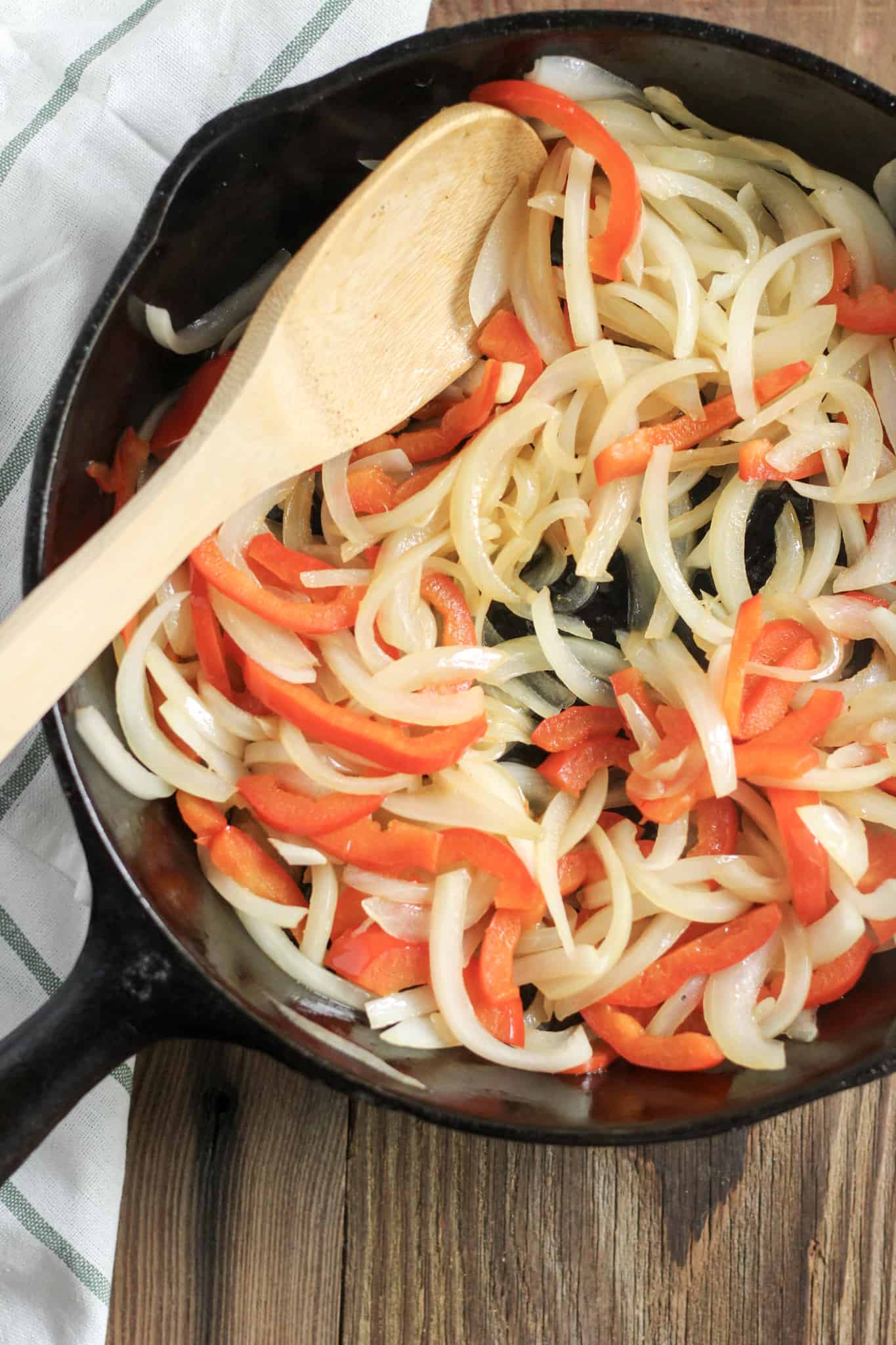 Step 3: Mix it up and add the eggs
Next, I added in my spices, halved cherry tomatoes and marinara sauce, and finally the fresh spinach. Because this will bake and additional cooking will take place, I don't want to completely obliterate these guys. After all, spinach does that disappearing act all on its own, so just a few minutes to combine and heat through is enough.
The trickiest part for me is cracking eggs and getting them to go where I want them to go. To make this easier (after all, this is an "easy" shakshuka recipe!) I cracked the eggs into a small ramekin. A coffee mug or small bowl would also do the trick. Using a spoon, I created a "nest" in the marinara sauce mixture and slid the cracked egg into it, being careful not to break the yolk or dump the whites all over the top of the sauce.
Repeat three more times (or more, if you're adding extra eggs) then DO NOT TOUCH IT AGAIN! Seriously, I was tempted to get all perfectionist on it the first time I made this and that was just not a good choice. The yolk broke, it went everywhere, tasted fine but looked like a hot mess. Go for it if you dare but just know, these eggs are going to cook just the same regardless of whether they're all lined up or it looks like a four-year-old did it. And hey, if your four-year-old wants to do it, by all means. I'm all about kids helping in the kitchen, just watch out so those lil' fingers don't get scorched!
Step 4: Bake
Preheating the oven is an important step here – don't forget it! The skillet is going to be hot and it will retain some heat. But preheating the oven ensures the hot skillet stays hot. I like to use the middle rack because it's easier to see how the eggs are cooking, but setting it on a higher or lower rack is also fine (adjust baking time as needed).
I started with 8 minutes but ended up leaving them in a little longer for a total of about 10. You want the eggs to have a little wiggle left but not be so undercooked that the whites are still runny. Once you remove the skillet from the oven, you'll have some residual heat that may cook the eggs even further. Top with feta or goat cheese, fresh parsley or other herbs, and that's it!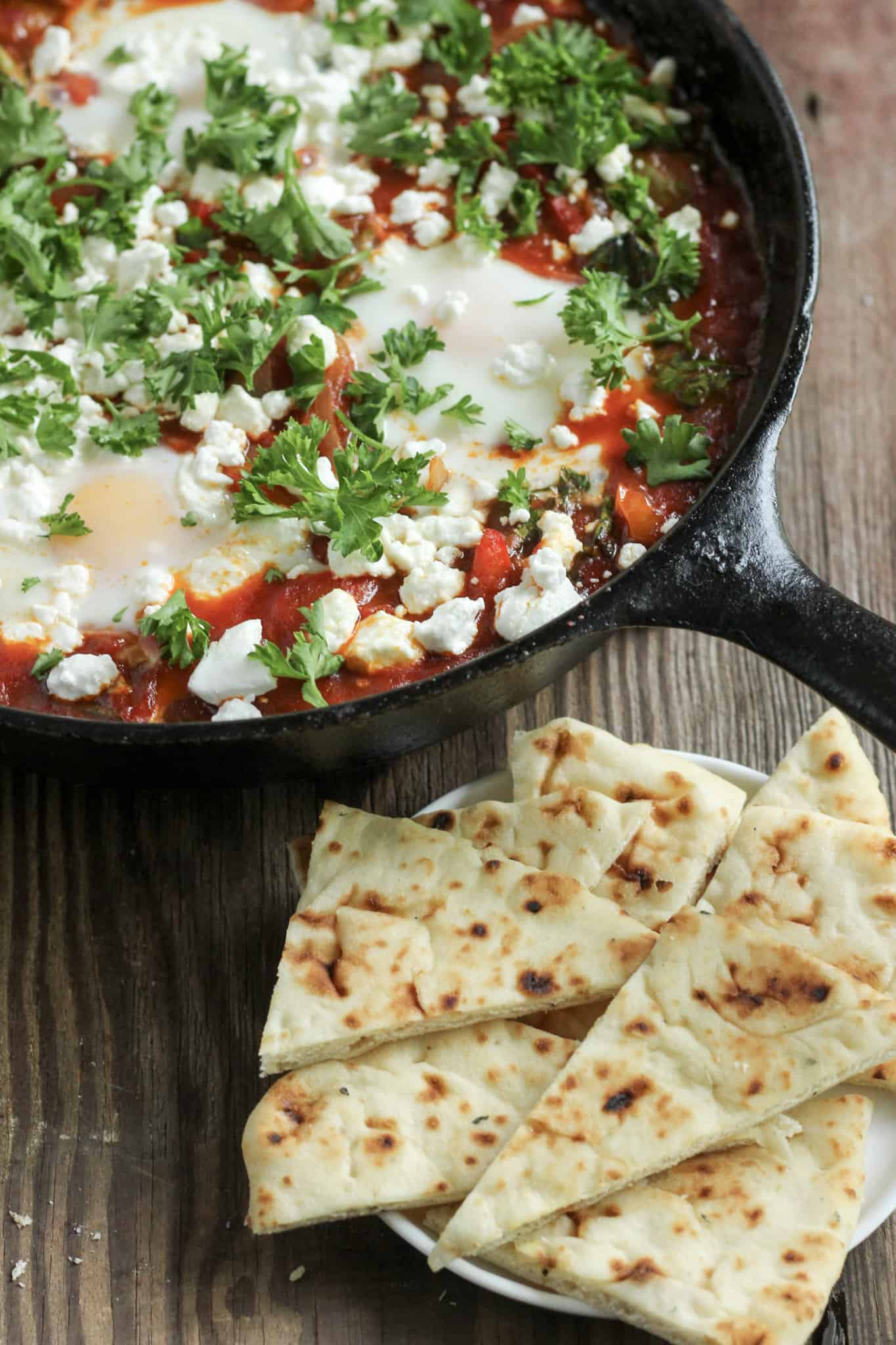 Step 5: EAT!
This one needs no explanation…that's why we're here right?! Serve your shakshuka with marinara sauce hot with whatever starch or carb you want to use to soak up that savory goodness. Highly technical terms here, but there's a lot of options. Here are a few of my favorite combos:
A grain such as rice, sorghum, couscous, barley, freekeh, etc.
Roasted or hash browned potatoes (sweet potatoes are also tasty!)
Pita bread or naan, lightly toasted or warmed
This easy shakshuka recipe is really more like a method – you can put your own twist on it however you like!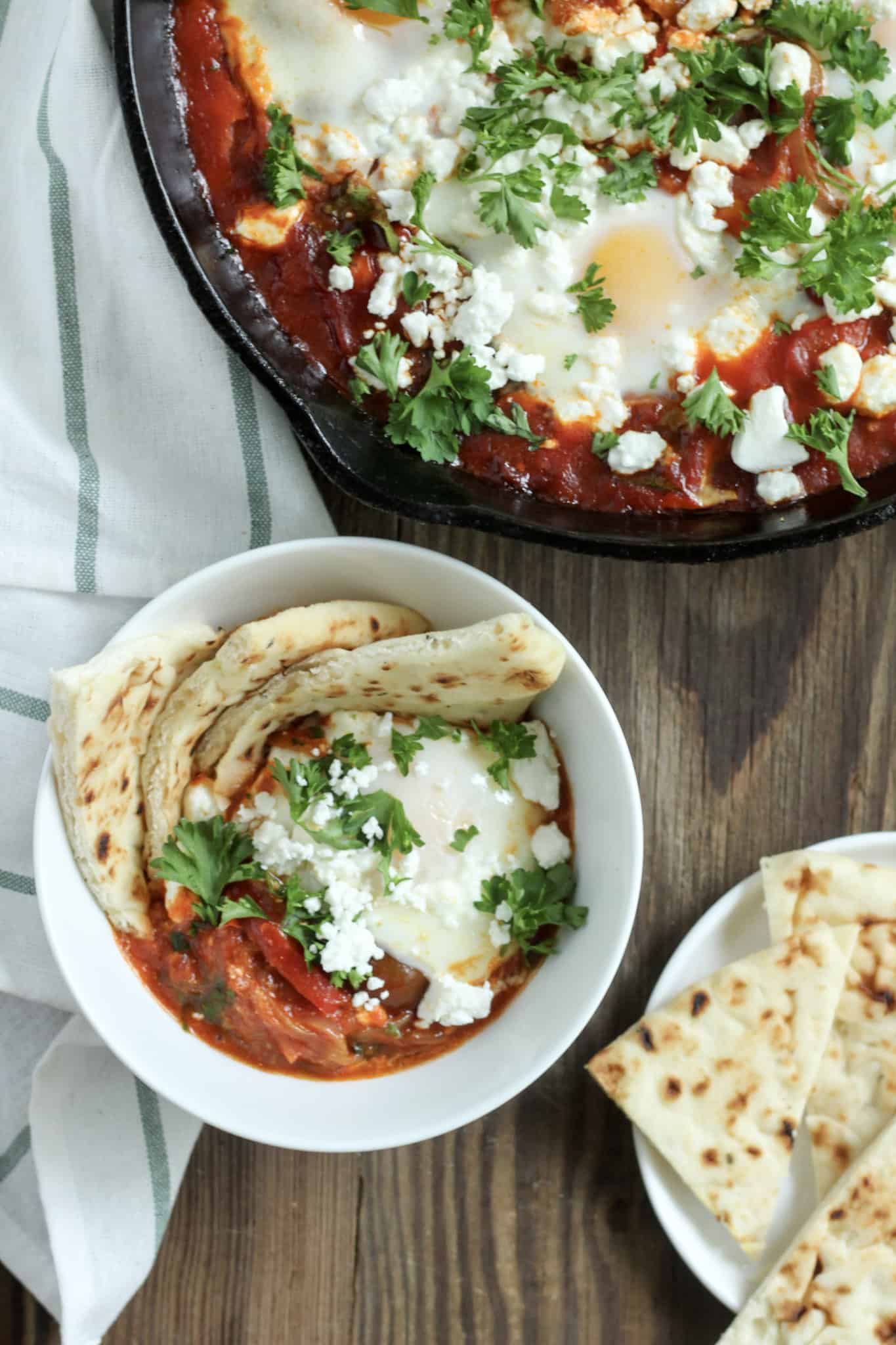 So there you have it – you're basically a shakshuka pro at this point. All you need to do is go out and do it!
Here is the recipe for Shakshuka with Marinara Sauce!
Shakshuka with Marinara Sauce
Shakshuka is sometimes called "Eggs in Purgatory" but around here it's just called delicious! Follow the step by step instructions in the blog post for a guide on how to make your own version.
Ingredients
1 to 2

Tablespoons

olive oil

1

yellow onion

,

halved and thinly sliced

1

red bell pepper

,

thinly sliced

3

garlic cloves

,

minced

1

teaspoon

ground cumin

1

teaspoon

sweet or smoked paprika

1/8 to 1/4

teaspoon

cayenne pepper

1

cup

halved cherry tomatoes

2

cups

marinara sauce

2

cups

fresh baby spinach

4

eggs

1/2

cup

feta or goat cheese

1/4

cup

chopped parsley

,

for garnish

2 to 4

pieces

of naan or pita bread

Fine sea salt and pepper to taste
Instructions
Add the oil to a cast iron skillet and preheat over medium to medium-high heat. Preheat the oven to 375 degrees F.

Add the onions and bell peppers to the skillet. Saute until onions begin to caramelize, 10 to 15 minutes. Add the minced garlic and cook until the garlic becomes fragrant (about 1 minute). Add the cumin, paprika, and cayenne and stir to combine. Add the halved cherry tomatoes and marinara sauce and mix well.

Allow the sauce to heat through, then add the fresh spinach and allow to wilt down (about 3 to 5 minutes). Taste the sauce and adjust the flavor as needed with additional spices or salt and pepper.

Make a small indentation in the sauce mixture for each egg, four total. Crack one egg at a time into a small ramekin, bowl, or cup, then gently slide it into the indentation. Repeat for each egg. Do not stir and take care to not break the yolks. Add half of the feta or goat cheese to the top, then place the skillet on the middle rack of your preheated oven.

Cook for 7 to 10 minutes or until the eggs are set but still wobbly. Remove skillet from the oven. Add the remaining feta or goat cheese and the chopped parsley to the top for garnish. Arrange four bowls for servings. Spoon 1 egg with additional sauce into each bowl. Serve hot with sliced naan or pita bread. Add additional spices, cheese, or herbs if desired.
Notes
Additional serving ideas include roasted or hash browned potatoes, rice or other grain of your choice.
Nutrition
Serving:
1
serving
,
Calories:
415
kcal
,
Carbohydrates:
47
g
,
Protein:
17
g
,
Fat:
18
g
,
Saturated Fat:
6
g
,
Cholesterol:
208
mg
,
Sodium:
1368
mg
,
Potassium:
842
mg
,
Fiber:
5
g
,
Sugar:
13
g
,
Vitamin A:
4340
IU
,
Vitamin C:
82
mg
,
Calcium:
220
mg
,
Iron:
4
mg
Which recipes have you been intimidated by? Don't be shy, drop a comment below and let me know how things are going in your kitchen!
[Tweet "Intimidating recipes can turn out to be the most delicious – like shakshuka! Check it out here"]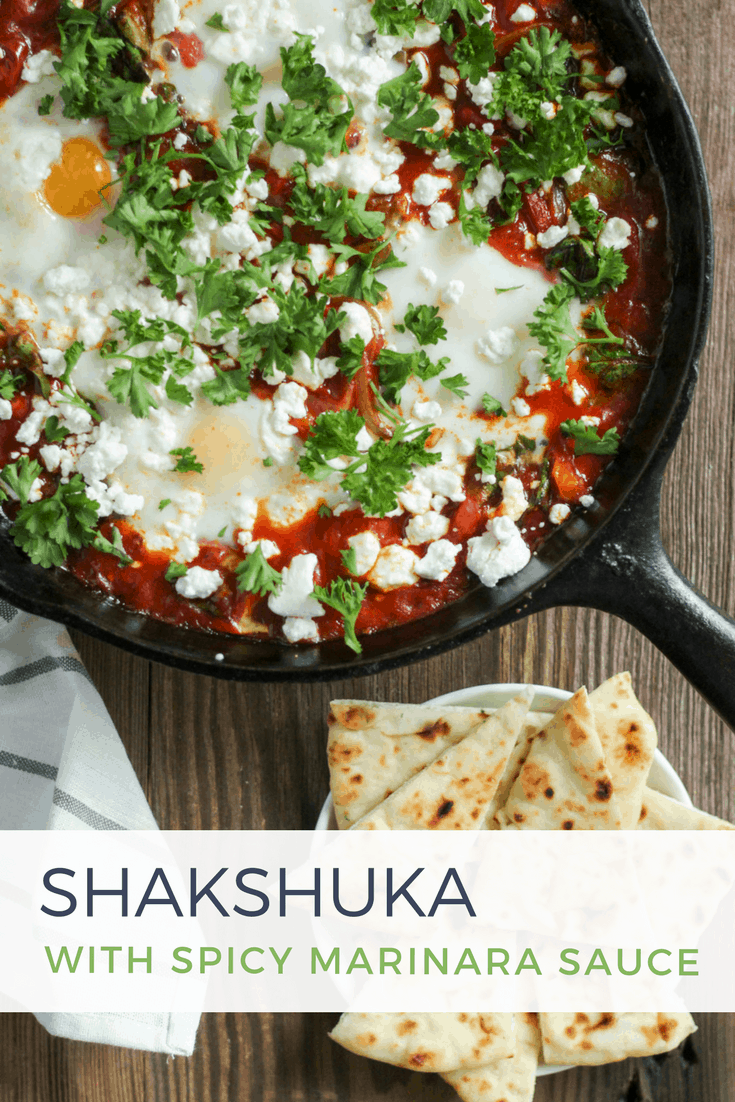 Know someone who would enjoy this recipe? Share the love below to teach them how to make shakshuka with marinara sauce!
SaveSaveSaveSave
SaveSave