Make this smoky sweet potato side dish in the Instant Pot in less than an hour. Perfect for a holiday feast or your weeknight dinner table! This recipe for Smoky Instant Pot Sweet Potato Mash will become an instant favorite. 
---
It feels like the Instant Pot "Steam" function was made for sweet potatoes. It's a simple cooking method and by the time they're finished, the skin slips right off!
That's what makes it such an ideal tool for making this Smoky Sweet Potato Mash.
This seasonal Instant Pot sweet potato side dish was inspired by the colors and flavors of fall. But you can enjoy it any time of the year. It's fancy enough to stand out on a holiday table, but simple enough you can enjoy it on a regular weeknight. The surprise flavors of smoke and orange is unexpected, but it's subtle enough to keep everyone drooling for more.
Here's how to make it!
Smoky Instant Pot Sweet Potato Mash
First, start with medium sweet potatoes. The ones I've seen in stores lately tend to be on the larger side. But it's important to look for ones that will not only fit inside your Instant Pot, but also cook evenly once they're in there.
Scrub the sweet potatoes clean and place them on the steamer rack. Pour one cup of water into the Instant Pot and seal the lid.
Press the "Steam" button to select the correct function. Adjust the time for at least 12 minutes, going up to 15 minutes if your sweet potatoes are as large as mine are.
It will take some time for the Instant Pot to build pressure and seal. I would allow for 10-15 minutes for this. Mine sometimes seems to take longer, which is frustrating when I read an Instant Pot recipe that ends up taking more total time than I expected!
Once the pressure valve is sealed, sit back and relax until the timer goes off.
Just kidding…who's doing that these days?! You might get a head start on cleaning up, wrap up some emails, finish the rest of your dinner meal prep, or hang out with your family. But when the timer goes off, flip the valve to release the pressure. Note that this is different from the "natural release" where pressure slowly drops. This speeds up the process but watch out! You'll have a lot of steam and moisture spraying out the top of your Instant Pot.
Carefully use tongs or a large spoon to transfer the cooked sweet potatoes out of the Instant Pot. The skins might slip right off, so don't be surprised if that gives you a head start on peeling them! Give them a few minutes to cool and use caution when handling them so as not to burn your fingers.
Add all your other ingredients and mash with a potato masher. You can also break out a handheld electric mixer or stand mixer, especially if you're doubling this recipe. Taste and adjust seasonings as needed (especially the liquid smoke and spice level), then serve!
This Instant Pot sweet potato side dish is simple to make but can impress your family and dinner guests with its unique flavor.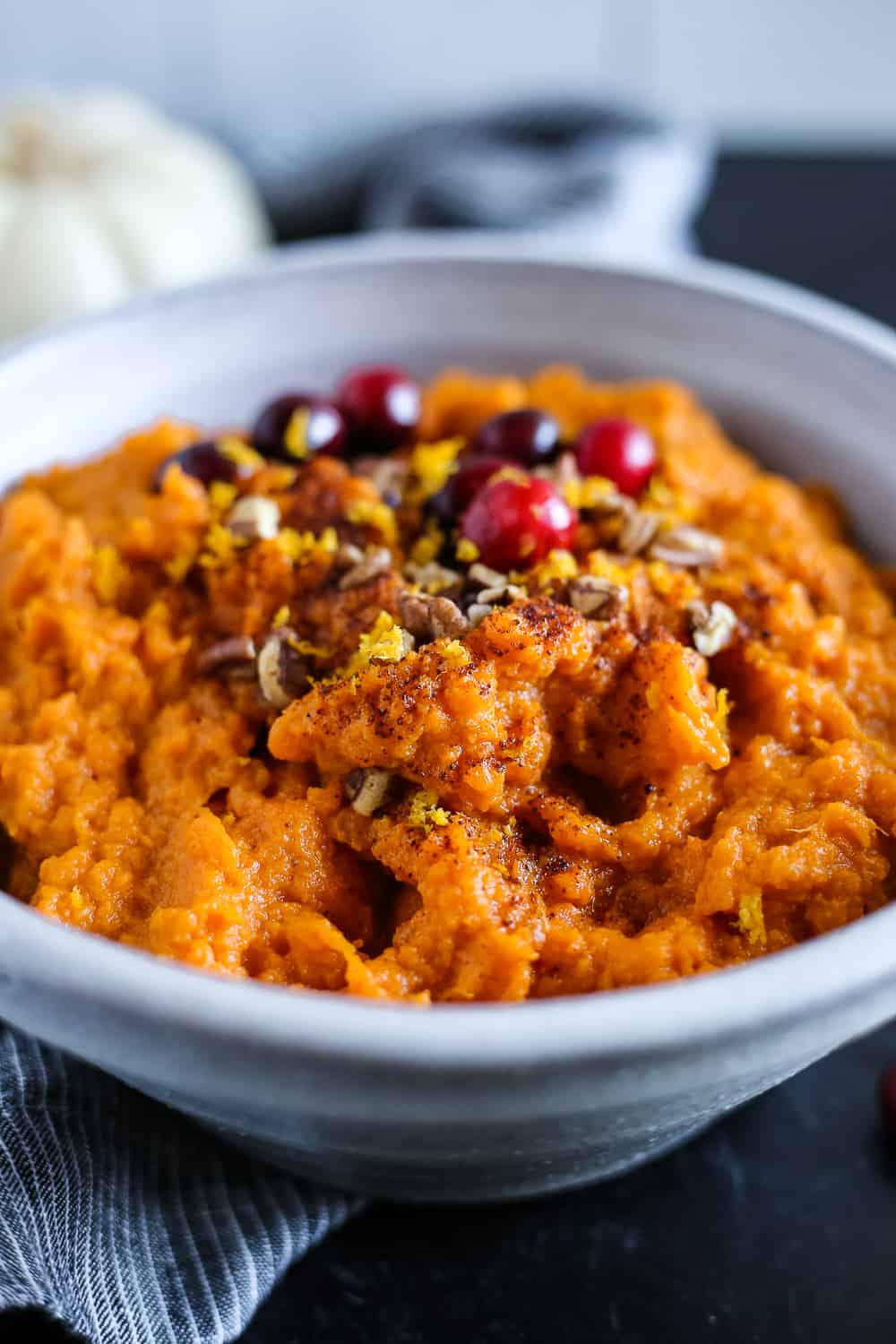 Do I have to use an Instant Pot?
Nope! I chose this option because it was easy and relatively quick. But sweet potatoes are versatile enough to handle a variety of cooking methods. Here are a few alternatives if you're skipping the Instant Pot:
Baked Sweet Potatoes. Wash and dry your sweet potatoes. Pierce with a fork, just like you would with a regular baked potato. Then, place on a lined baking sheet on the center rack of your oven. Cook at 425 degrees for 40-50 minutes, or until tender. Adjust the time as needed based on the size of your sweet potatoes.
Roasted Sweet Potatoes. Wash and dry your sweet potatoes, then peel and cut into 1″ cubes. Arrange in a single layer on a large baking sheet. Bake for about 30 minutes, flipping the sweet potatoes every 10 minutes or so for even roasting. This process is a little more work, but the smaller you chop your sweet potatoes the faster they will cook.
Microwaved Sweet Potatoes. Did you know sweet potatoes can be fully cooked in the microwave? Follow the same steps as if you were baking it, only you'll place it on a microwave-safe dish. A medium (8 oz) sweet potato only needs about 5 minutes on 100% power. This is great if you're making a smaller batch, but if you're using more than one sweet potato, I recommend microwaving them separately.
Finally, you can always use leftover sweet potatoes! If you baked up a big batch for meal prep, or have leftover roasted sweet potatoes from another meal, use 'em up.
What if my sweet potatoes aren't fully cooked?
Hey, it happens! If you start mashing your Instant Pot sweet potatoes and notice some chunks that aren't fully cooked, transfer them to a microwave-safe bowl. Microwave in 60-second increments until the uncooked chunks soften and can be easily mashed with the rest of the sweet potatoes.
How do I season my Smoky Sweet Potato Mash?
In this recipe, I season my Instant Pot sweet potatoes with a combination of salt, MSG (monosodium glutamate), orange juice, orange zest, ground chipotle, and liquid smoke.
You might be wondering why I include MSG, but the reason is simple: it makes everything taste better! MSG, or monosodium glutamate, is pure umami flavor. It's tough to describe, but it's essentially the "savory" flavor. It adds incredible depth of flavor, and since it contains only 1/3 the amount of sodium as salt, it's a great way to season your recipes without relying on an excess amount of salt. However, if you don't have this available or can't find MSG in your store, you can adjust as needed and salt to taste.
The smoky flavor in these mashed sweet potatoes comes from liquid smoke and the ground chipotle powder. I like that this gives it a bit of a kick without being explicitly spicy. You can also use smoked paprika or a combination of other spices from your pantry.
What can I serve with my Smoky Sweet Potato Mash?
Sweet potatoes are one of the most versatile ingredients. They play nice with almost everything! That's one of the reasons I love cooking with them so much.
Here are a few ideas for main dish pairings if you want to serve this sweet potato side dish at your table:
Grilled or Roasted Pork Tenderloin. Juicy, tender pork is the perfect pairing for sweet potatoes, especially when you can use it to wipe up any leftover sweet potato goodness on your plate!
Baked Chicken or Rotisserie Chicken. If you're using the Instant Pot, I'm guessing you want a hands-free hot meal. Why not marinate some chicken to bake on a sheet pan? If you're really in a hurry, pick up a rotisserie chicken and serve your favorite cuts with these smoky sweet potatoes.
If you're looking for more rotisserie chicken inspiration, check out this three-part series on What to Do With A Rotisserie Chicken. You'll learn how to debone and store your rotisserie chicken to avoid food waste and stretch your budget!
You have all your food groups covered since sweet potatoes can be a carb and a vegetable. But if have some hungry eaters, don't stop there. Here are a few other recipes you might enjoy:
And of course, you can never go wrong with a simple side salad or sheet pan of roasted veggies. After all, sometimes you just need to keep it simple in the kitchen!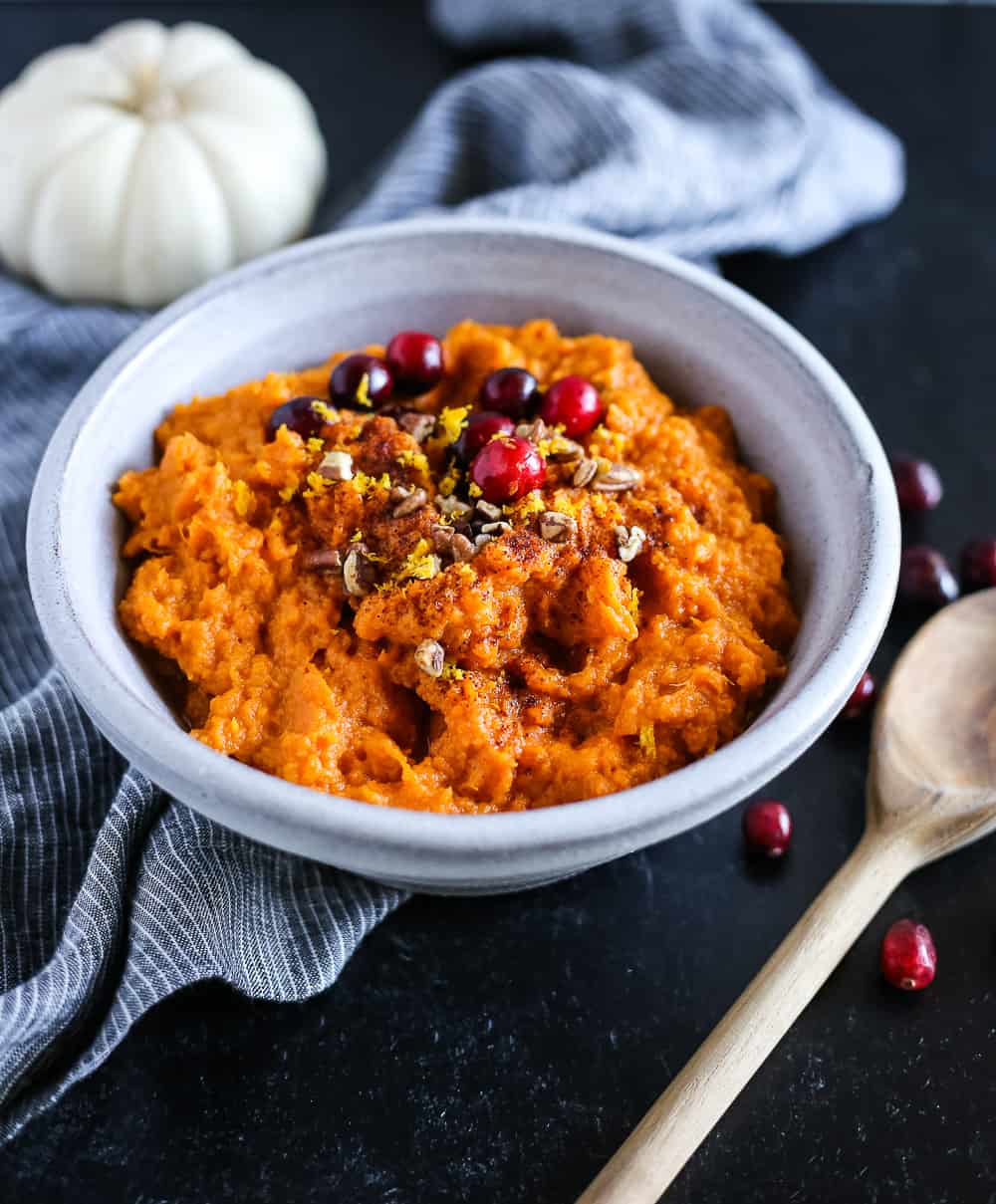 Here's the recipe for Smoky Instant Pot Sweet Potato Mash!
Smoky Instant Pot Sweet Potato Mash
These smoky mashed sweet potatoes can be made in the Instant Pot in less than 30 minutes. Enjoy this seasonal side dish any time of the year!
Equipment
Instant Pot or Electic Pressure Cooker

Zester

Measuring Cups

Measuring Spoons

Mixing Bowl

Potato Masher
Ingredients
4

medium

sweet potatoes

,

scrubbed clean

1

cup

water

1/3

cup

brown sugar

,

unpacked

4

tbsp

butter

,

or half stick

1/4

tsp

kosher salt

1/2

tsp

MSG (monosodium glutamate)

1

large

navel orange

2

tsp

orange zest

,

from the same orange

1/2

tsp

ground chipotle

3/4

tsp

liquid smoke
Instructions
Pour the water into the Instant Pot. Place the steam rack inside, then arrange the sweet potatoes on top. Seal the lid and set tp the "Steam" function.

Allow the Instant Pot to build pressure and seal. Steam the sweet potatoes inside the skins for 15 minutes. Once the timer goes off, use the quick release function to vent and release pressure.

Carefully remove the lid and use tongs to transfer the sweet potatoes to a cutting board. Remove the skins and place the peeled, cooked sweet potatoes in a large mixing bowl.

Juice the navel orange to yield 1/4 cup of juice. Stir in the juice plus all remaining ingredients. Use a potato masher to combine to a smooth consistency.

Garnish with additional ground chipotle or orange zest, chopped pecans, or cranberries, if desired. Serve immediately.
Notes
If you prefer a smoother consistency, use an electric mixer to mash and blend instead of a potato masher.
Nutrition
Serving:
1
serving
,
Calories:
190
kcal
,
Carbohydrates:
44
g
,
Protein:
3
g
,
Fat:
1
g
,
Saturated Fat:
1
g
,
Cholesterol:
1
mg
,
Sodium:
201
mg
,
Potassium:
565
mg
,
Fiber:
5
g
,
Sugar:
20
g
,
Vitamin A:
21486
IU
,
Vitamin C:
11
mg
,
Calcium:
67
mg
,
Iron:
1
mg
I hope you'll give this Smoky Instant Pot Sweet Potato Mash a try! If you try it and like it, be sure to leave a rating or comment and share with others!
And if you're as big a fan of sweet potatoes as I am, be sure to try some of my other popular sweet potato recipes. Enjoy!