Honey mustard, move aside. This holiday season, I have all the heart eyes for these Maple Mustard Brussels Sprouts with a Creamy Mustard Aioli. You'll love the simplicity of this roasted brussels sprouts recipe for your holiday gatherings!
---
Disclosure: This post was created through my partnership with Unilever® for the 2019 Agents of Change Program. Thank you for supporting the brands that support Street Smart Nutrition!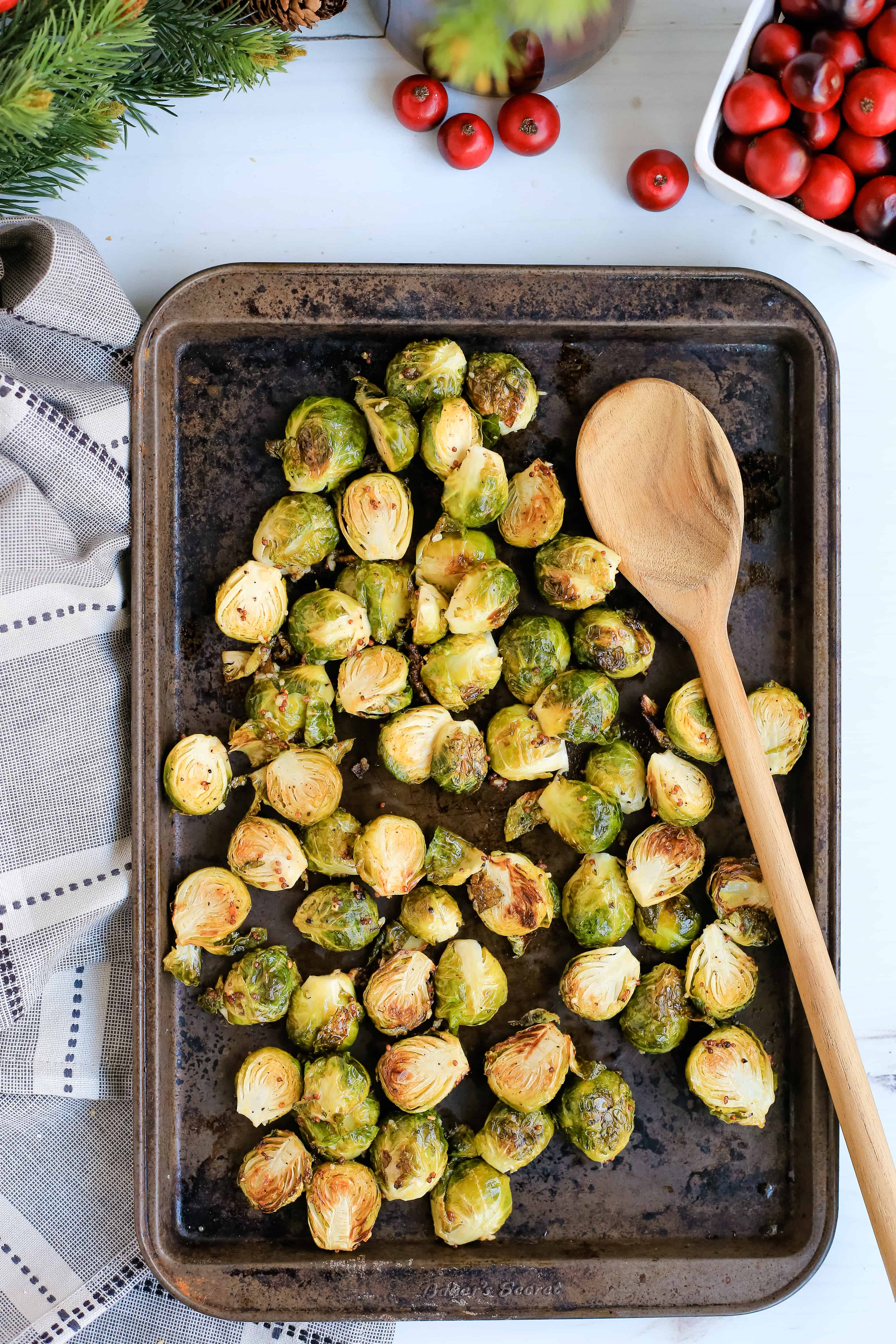 'Tis the season for all the roasted veggies!
I'm loving the cooler weather and fall and winter veggies (even if it means they come with a side of chilly weather). And I'm so excited to have a brand-new recipe for you this week!
Yes, friends, we're talking roasted brussels sprouts today. Do you remember the first time you tried brussels sprouts? For me, it was at a Thanksgiving dinner. They were cooked with onions, shredded carrots, garlic and *drum roll* bacon.
They were delicious with a capital D.
So ever since then, I've been on a mission to make veggies delicious again by sharing recipes and tips that do just that. Few things make me cringe more than someone proclaiming they hate cooked veggies. I'm convinced it's because they've never had them in a way that actually tastes good. So hopefully this roasted brussels sprout recipe will convince you if you're still on the fence!
To read more about how to make vegetables taste better, I recommend this post!
Cooking with Mustard
Roasting is one way to bring out the great flavor of vegetables. The key for roasted brussels sprouts is high heat, otherwise you won't get quite the same effect. Plus, you'll extend your cooking time and we don't want that, either!
Roasted brussels sprouts taste better because roasting softens the bitterness, changes the texture, and gives a crispy, almost caramelized outer layer that looks and tastes amazing. But how else can you add delicious flavor?
Cooking with mustard, of course! I've been a big fan of honey mustard for a long time but as I got older and my tastes evolved, I came to appreciate the yumminess of Dijon and whole grain mustard. When I teamed up with Unilever for their Agents of Change program, I was psyched to be paired with Maille®, one of my all-time favorite brands and a company that has been making delicious mustard for over 270 years!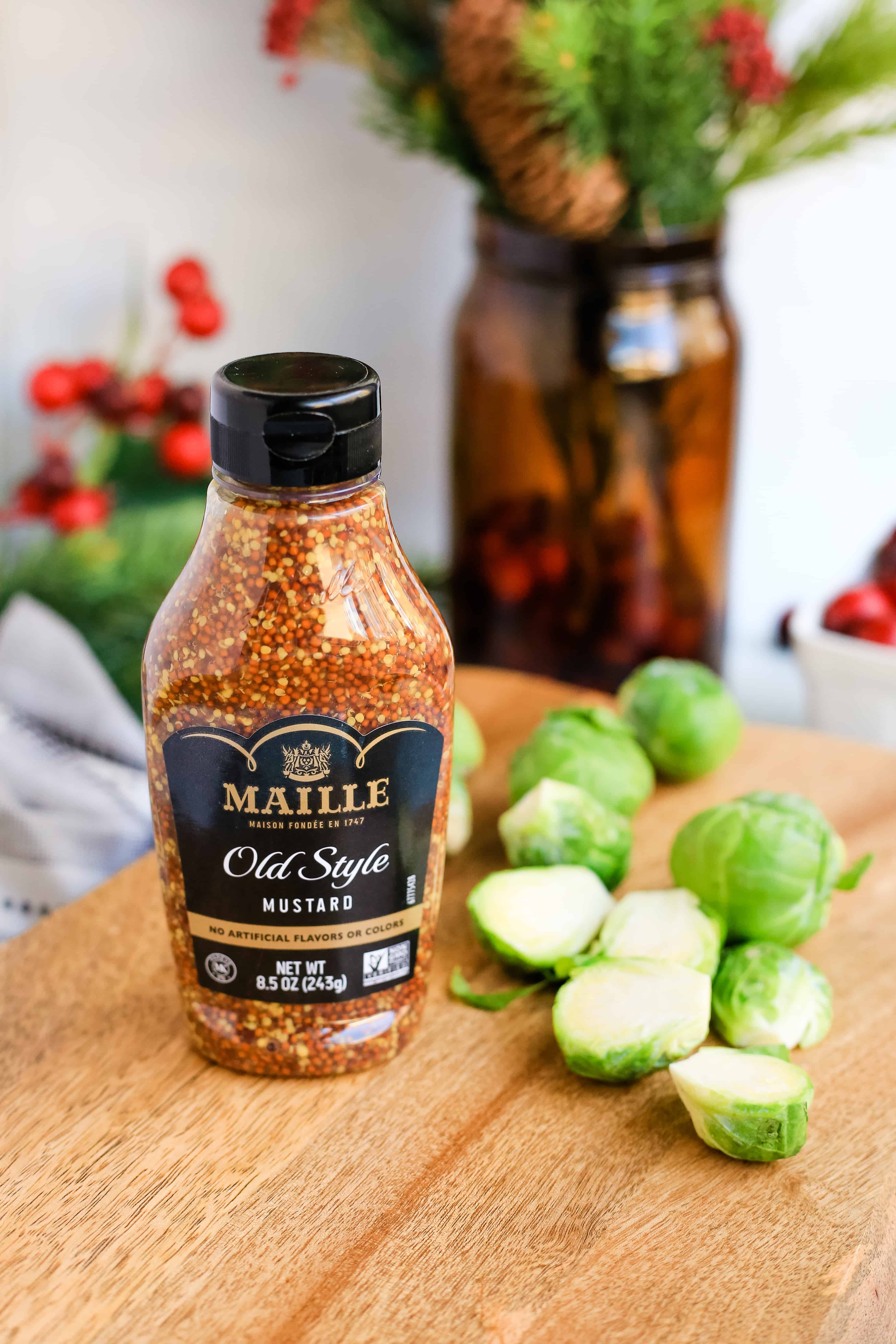 Their whole grain mustard was a legitimate gamechanger when I first started cooking with it and I've been a fan ever since! I'm thrilled to see it available in most stores these days and I recommend it to all my friends and family.
I started dreaming of a dijon aioli for these Maple Mustard Brussels Sprouts, but first, let's talk more about cooking with mustard!
What Is Whole Grain Mustard?
You're probably more accustomed to seeing stone-ground or creamy types of mustard in your grocery store. But did you know that mustard actually starts out as a seed?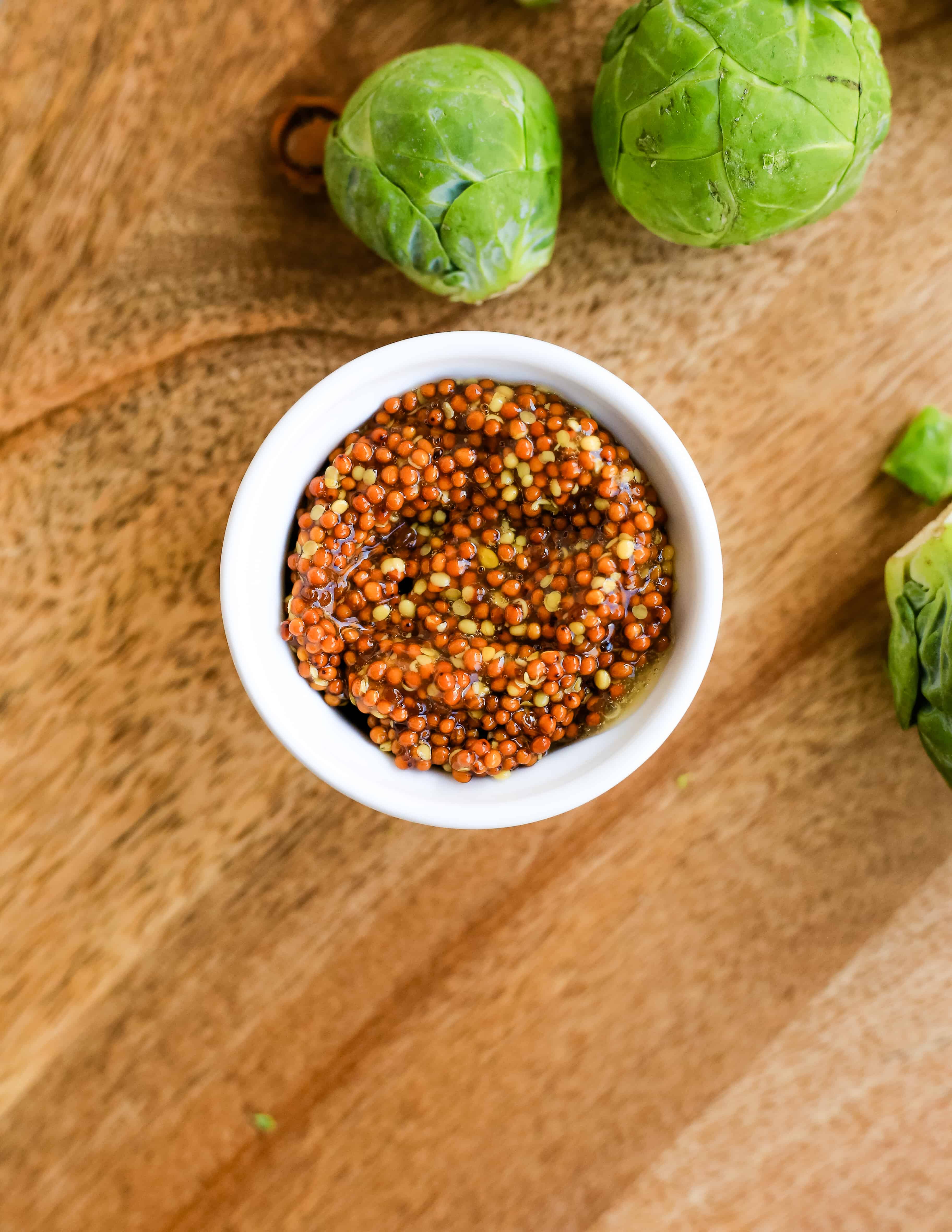 Yep! It's true – those little guys can be powdered, ground, or whipped up in any number of ways. But whole grain mustard like Maille®'s Old Style Mustard is just a prepared mustard with the mustard seeds intact.
It's a brand new texture for a lot of people and that's one of the reasons I love cooking with it so much. All you need is a spoonful to get some pretty amazing flavor in your roasted brussels sprouts dish! There's something really appetizing to me about looking down and seeing the different textures and colors in my food, and that type of satisfaction is so, so important for intuitive and mindful eating.
Maple Mustard Brussels Sprouts with Creamy Dijon Aioli
When I set out to create this recipe, I kept thinking about maple mustard brussels sprouts. It's reminiscent of one of my favorite holiday side dishes but with a little twist. Honey mustard is a thing, right? So why not maple mustard? Using a small amount of maple syrup adds just the right amount of sweetness without creating a gooey, sticky mess on your baking sheet.
This is key for quick and easy cleanup, even if you aren't prepping a full-blown holiday feast!

I found that a 16 oz. bag of whole brussels sprouts was about right for this recipe, but if you're buying them on the stalk or from a bin, be sure to account for that if you're weighing your purchase. Thankfully, this Maple Mustard Brussels Sprouts recipe is easy to scale and very, very simple. So, if you end up with more or less brussels sprouts than you planned to get, just mix up a little extra dijon aioli or save the leftovers for another day.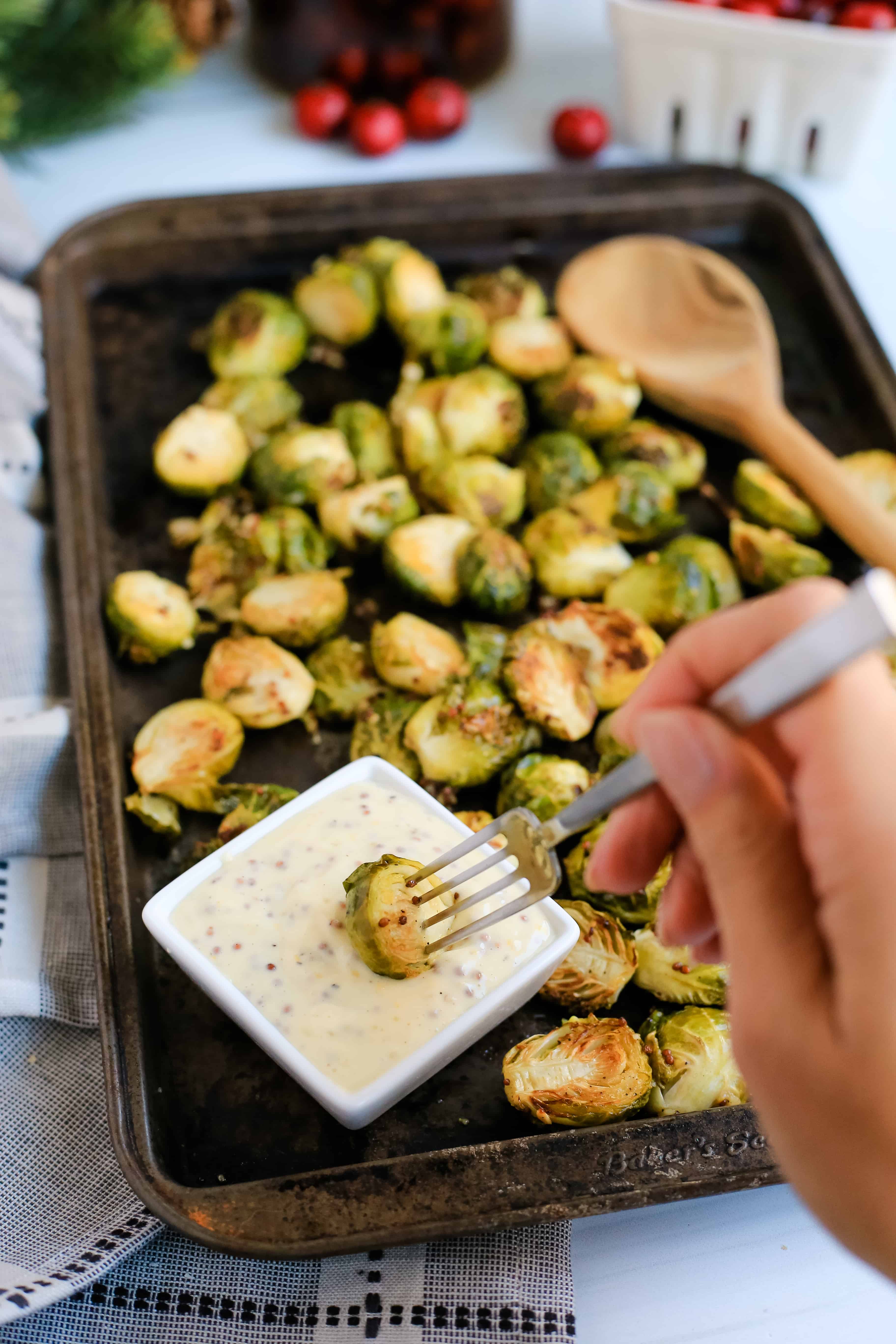 Good luck keeping your fork off the pan! These roasted brussels sprouts are best enjoyed hot and fresh out of the oven so make sure you whip up your dijon aioli beforehand. It can be prepped a few days in advance if needed, so just store it in the refrigerator in an airtight container if you choose that option.
Street Smart Nutrition Tip: I highly recommend this option because even though it's paired with roasted brussels sprouts for this recipe, it would be fantastic on sandwiches, on pork, on other roasted veggies.

Here's the recipe for Maple Mustard Brussels Sprouts with Creamy Dijon Aioli
Maple Mustard Brussels Sprouts with Creamy Dijon Aioli
Honey mustard, move aside! Whole grain mustard and sweet maple syrup are the stars of the show here. You'll love this simple recipe for a holiday side dish
Ingredients
16

oz

brussels sprouts

2

tbsp

Maille Old Style Mustard

1/2

tbsp

olive oil

1/2

tbsp

maple syrup

Fine sea salt and pepper

,

to taste
Dijon Mustard Aioli
1/2

cup

mayonnaise

2

tbsp

Maille Old Style Mustard

1/2

tbsp

white vinegar

1/2

tsp

lemon juice

1

clove

garlic

,

minced

Kosher salt and pepper

,

to taste
Instructions
Preheat your oven to 425 degrees F. Prepare a baking sheet by lining it with aluminum foil or non-stick cooking spray.

Trim the brussels sprouts and remove the stalks if needed. Chop in half or quarters until nearly uniform in size. Add to a mixing bowl along with whole grain mustard, olive oil, maple syrup, salt, and pepper. Gently toss to coat.

Spread the brussels sprouts on the prepared baking sheet in a single layer. Bake for 15-20 minutes or until the edges begin to brown and they are cooked to your desired softness.

Meanwhile, prepare the dijon aioli by combining all ingredients in a small bowl. Set aside until ready to serve.

When the brussels sprouts are finished roasting, remove from oven. Transfer them to a serving dish and serve along with the prepared dijon aioli. Enjoy immediately for best flavor.
Notes
If desired, drizzle additional maple syrup onto the roasted brussels sprouts just before serving. If needed, honey may be used as a substitute. 
Nutrition
Serving:
1
serving
,
Calories:
273
kcal
,
Carbohydrates:
13
g
,
Protein:
5
g
,
Fat:
24
g
,
Saturated Fat:
4
g
,
Cholesterol:
12
mg
,
Sodium:
377
mg
,
Potassium:
462
mg
,
Fiber:
5
g
,
Sugar:
5
g
,
Vitamin A:
873
IU
,
Vitamin C:
97
mg
,
Calcium:
59
mg
,
Iron:
2
mg
If you enjoyed this recipe for Maple Mustard Brussels Sprouts with Creamy Dijon Aioli, be sure to share it this holiday season! I'm excited to show it off to my family and friends. And don't be surprised if I whip it up on more than one weeknight for a quick side dish – simple, delicious recipes for the win!
If you enjoy delicious vegetable side dishes like this one, check out these other options: