Step up your holiday side dishes with these Truffle Goat Cheese Mashed Potatoes, made with truffle-flavored goat cheese. Instant Pot mashed potatoes for the win!
---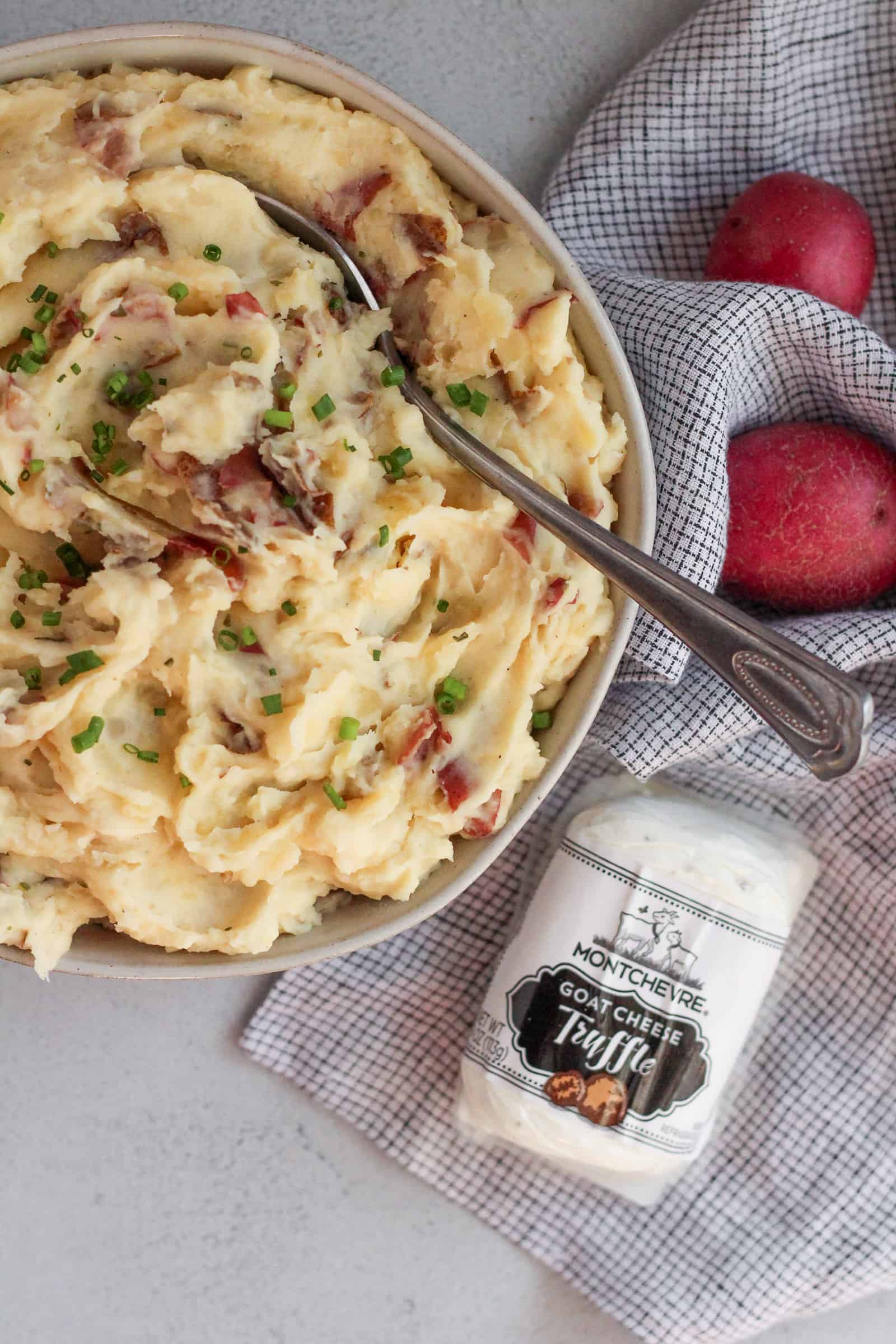 I'm really on a roll with the holiday recipes right now, and this time it's an update on the classic recipe for mashed potatoes. My version of goat cheese mashed potatoes is simple to prepare in the Instant Pot (saving you time AND energy!) and features the rich flavor of Montchevre Truffle Goat Cheese! I can find this brand at my local grocery store (HyVee) but honestly, any brand can work just as well.
Truffle Goat Cheese Mashed Potat0es
Montchevre Goat Cheese is made with fresh, high-quality goat's milk from local, independent family farms. Its traditional French cheese-making expertise allows Montchevre to ensure the rich and smooth texture of their logs, along with the fresh and mild flavor I know and love.
I like to take things up a notch for the holidays when I want a recipe to feel a little fancier.
When I was making these truffle goat cheese mashed potatoes I was so tempted to use the cheese again to come up with even more holiday recipes! I ran out of time to experiment this year, but you can do some creative cooking of your own. If you enjoy the flavor of goat cheese, it could be a way to take your recipes to the next level.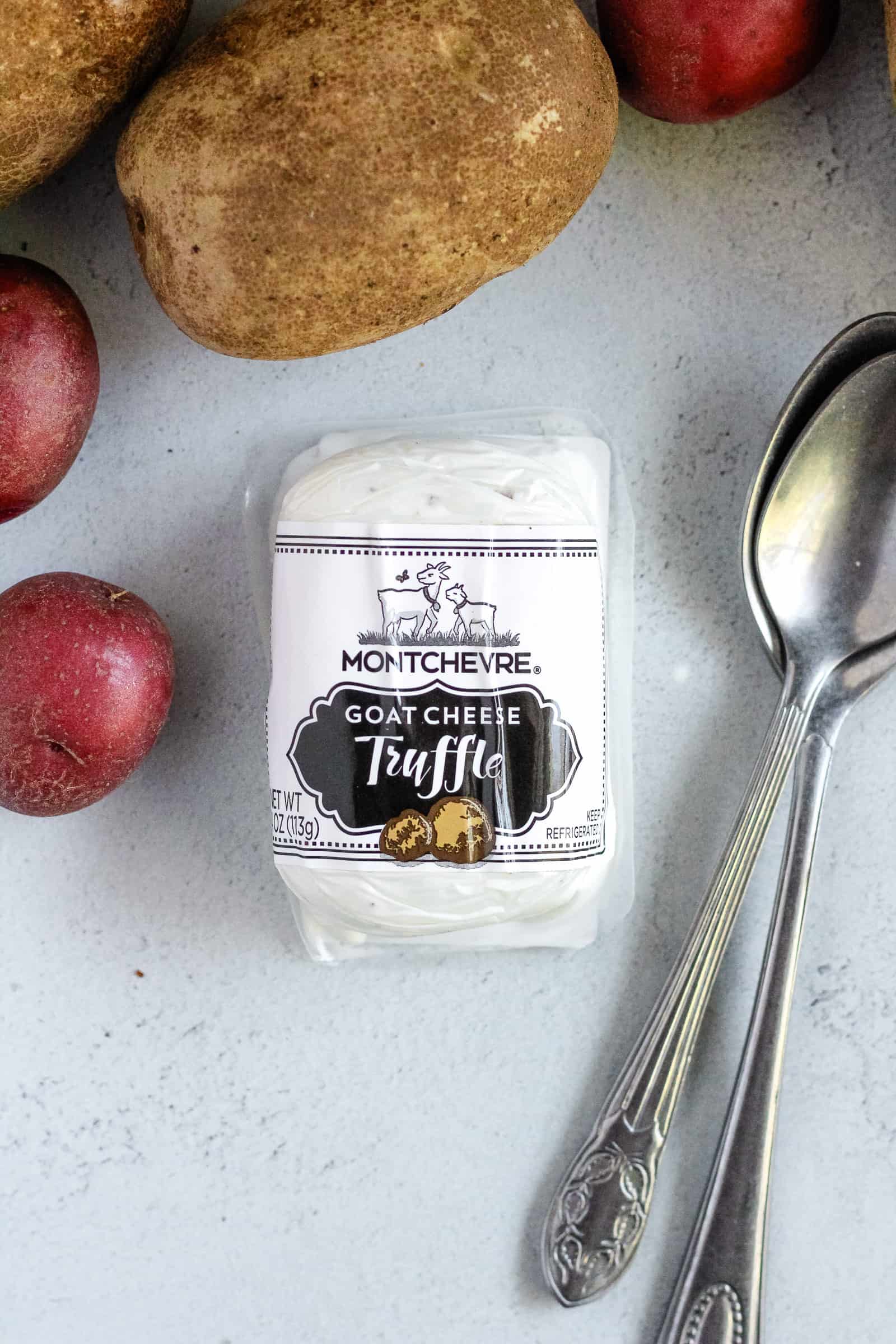 Goat cheese is high in protein, calcium, and vitamin D, plus it contains less lactose than some other types of cheese. All of these factors and its wonderful taste make it the perfect addition to your holiday table!
How to Make Instant Pot Mashed Potatoes
This may come as a surprise to you…but I really don't use my Instant Pot all that often. I've had it for quite a while now, but I don't reach for it as often as other home cooks might.
But as I got to thinking about holiday meals, it made perfect sense to make mashed potatoes in the Instant Pot. It's a perfect one-pot recipe. You don't have to calculate the hours it might take in a slow cooker or crockpot. Plus, since most Instant Pots can hold a recipe warm, it means you have even more flexibility for having it ready when you need it.
The key to even cooking is to make sure all the potatoes are about the same size. I like the leave the skin on (anyone else a fan of "dirty" mashed potatoes?) so the red-skinned potatoes are my top choice for that. No particular reason other than that I like the color in the end result. However, a high starch potato like russet or Yukon gold makes for fluffy, light mashed potatoes. I used four russet potatoes + 1 1/2 pounds of red potatoes for this recipe, and that gave me exactly the texture I was going for.
All you need in the Instant Pot is your potatoes plus enough water to cover the bottom. Seal the lid, then set to "Pressure Cook" on "HIGH" for 10 minutes. Yep, that's all it takes! It will take a few minutes to fully come up to pressure. Then once the timer counts down give it about 15-20 minutes for a natural release before removing the lid.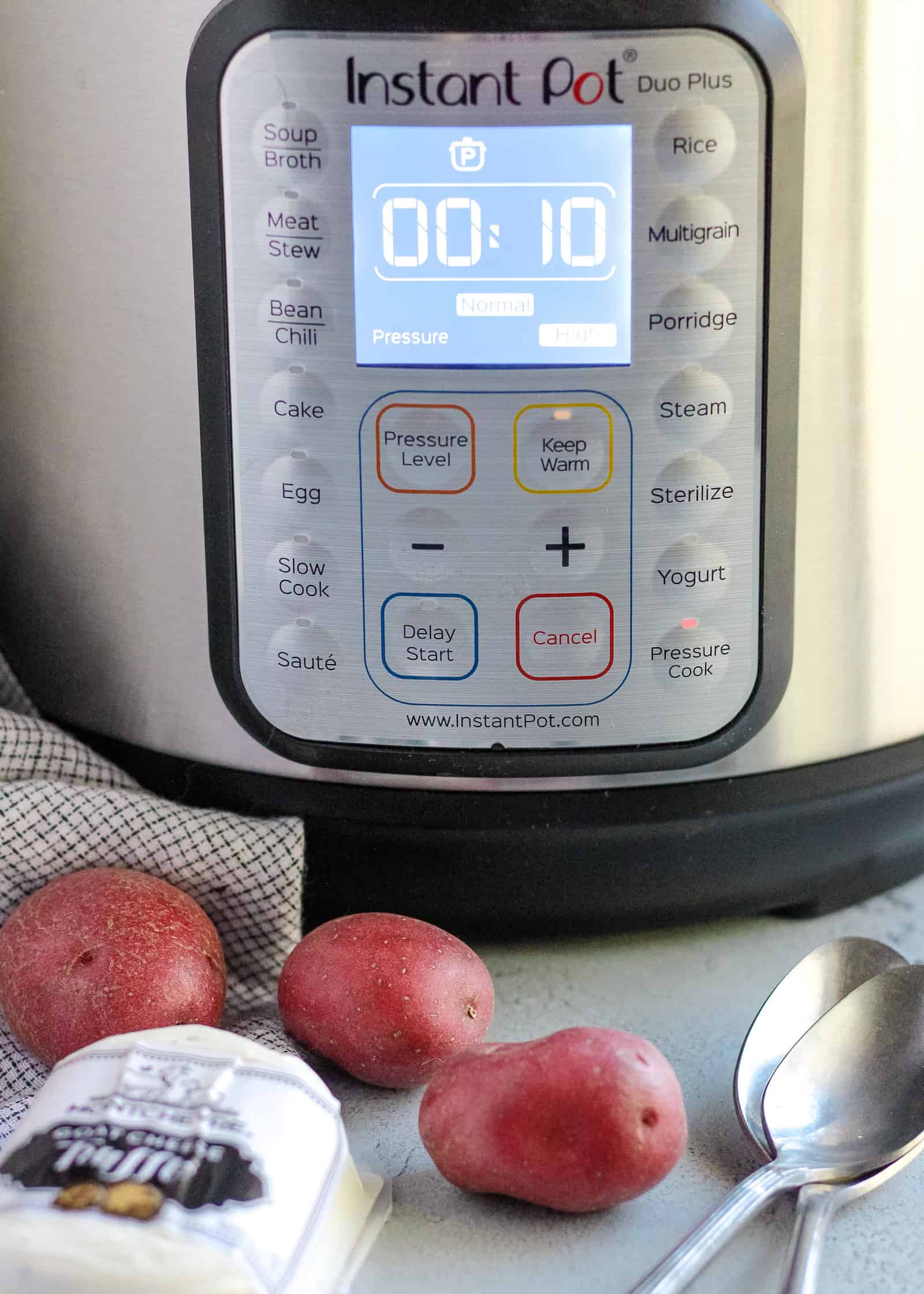 From there, drain the water and put the potatoes back into the pot.
Grab your potato masher and add the rest of the ingredients. The heat from the cooked potatoes will soften the goat cheese, making it really easy to fully mix it in as you mash away. I prefer a chunkier texture for my mashed potatoes, but if you like a creamier version, just keep going a little longer. Use a spoon to scrape the sides so you can find any big chunks that might be hiding in there.
Street Smart Nutrition Tip: Although it might be tempting, DON'T use an electric mixer to blend your goat cheese mashed potatoes. This can overmix the potatoes, turning the starches into a sticky, gluey mess. A potato masher or similar type of manual mixing will preserve the fluffy, creamy texture you're probably going for.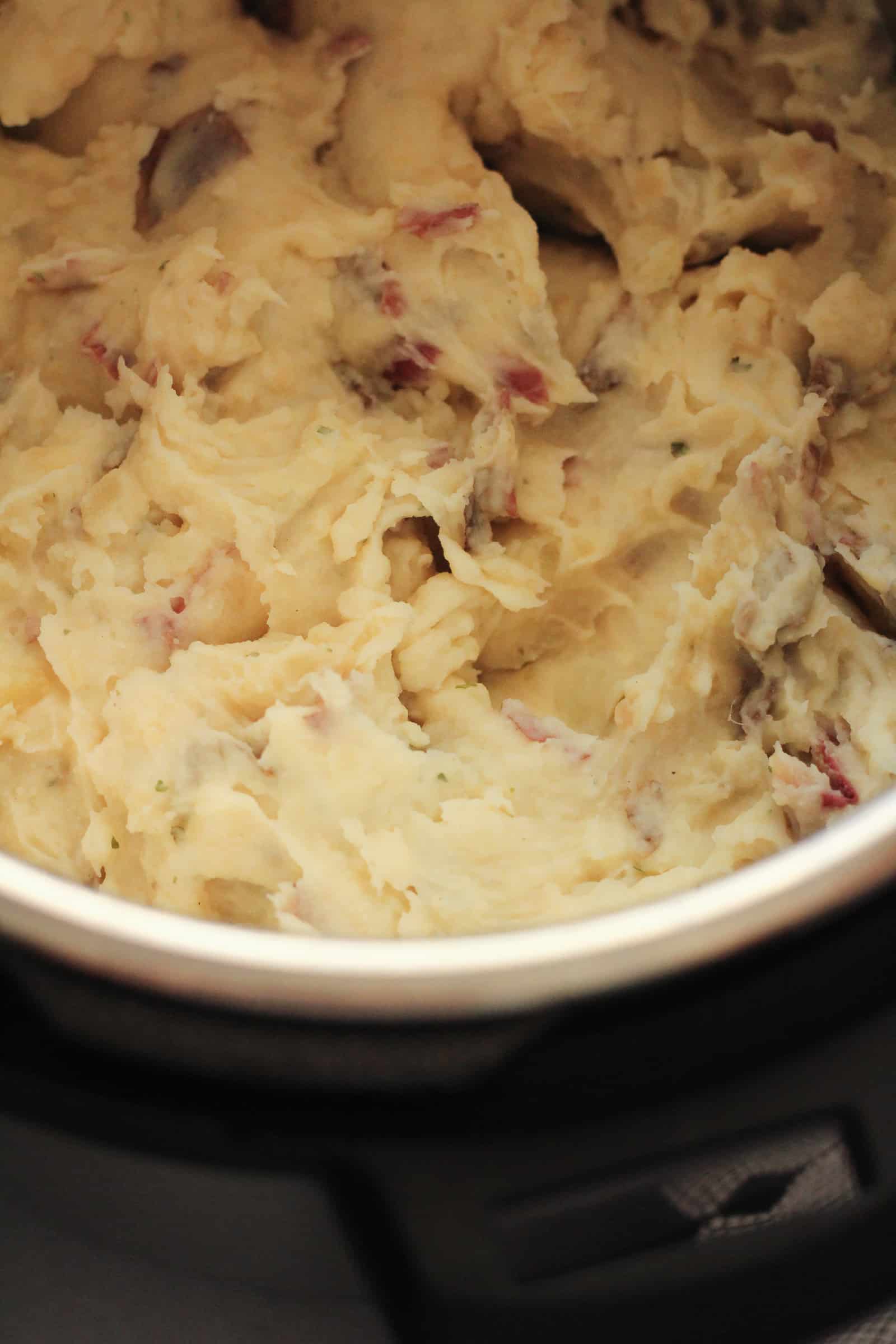 When you're finished, just transfer them to the serving bowl before they get cold! You can also keep them warm in the Instant Pot if you need more time.
Here's the recipe for Truffle Goat Cheese Mashed Potatoes!
Truffle Goat Cheese Mashed Potatoes
Mashed potatoes are a staple at any holiday feast, but this version takes it to the next level of creaminess, thanks to the addition of flavorful goat cheese.
Ingredients
1 1/2

lbs

russet potatoes

,

washed and dried

1 1/2

lbs

red potatoes

,

washed and dried

3

cups

water

1/2

stick

unsalted butter

4

oz

Truffle-flavored Goat Cheese

1/2

cup

half & half

1/2

tsp

onion powder

Kosher salt and pepper to taste

chives

,

for garnish
Instructions
Set the package of goat cheese out to soften. Chop the russet potatoes into quarters to more closely match the size of the red potatoes. 

Place the potatoes in the Instant Pot. Cover with water, then set to "Pressure Cook" on "HIGH" for 15 minutes. After cooking, allow 15 minutes natural release before removing the lid. Potatoes should be fully cooked and easily sliced with a knife.

Drain the potatoes to remove the water. Return to the Instant Pot and add all remaining ingredients. Use a potato masher to mash the potatoes to a chunky consistency and combine all ingredients. Use a spoon to scrape the sides of the pot if needed.

Transfer to a serving bowl and top with chopped chives, if using. Serve immediately.
Notes
If not serving immediately, may be held warm in the Instant Pot until ready to use.
Nutrition
Serving:
1
serving
,
Calories:
235
kcal
,
Carbohydrates:
30
g
,
Protein:
7
g
,
Fat:
11
g
,
Saturated Fat:
7
g
,
Cholesterol:
27
mg
,
Sodium:
83
mg
,
Potassium:
761
mg
,
Fiber:
3
g
,
Sugar:
2
g
,
Vitamin A:
376
IU
,
Vitamin C:
12
mg
,
Calcium:
60
mg
,
Iron:
2
mg
This recipe can be easily adjusted to feed a crowd. Now that I've got this strategy for instant pot mashed potatoes nailed down, I don't know if I'll ever make them any other way!
And I can personally vouch that the leftover goat cheese mashed potatoes are just as good the next day. Although, don't be surprised if you aren't left with any!
If you like this Instant Pot recipe, you should check out some of these other recipes, too!