This Instant Pot version turned out to be the best French Dip sandwich recipe I've ever tried! Learn the step-by-step process to make these delicious beef sandwiches in your Instant Pot or pressure cooker.

---
Disclosure: This post was sponsored by Whole Foods Market. I was compensated for my time and ingredients were purchased using a WFM gift card. This post contains affiliate links. All opinions are my own.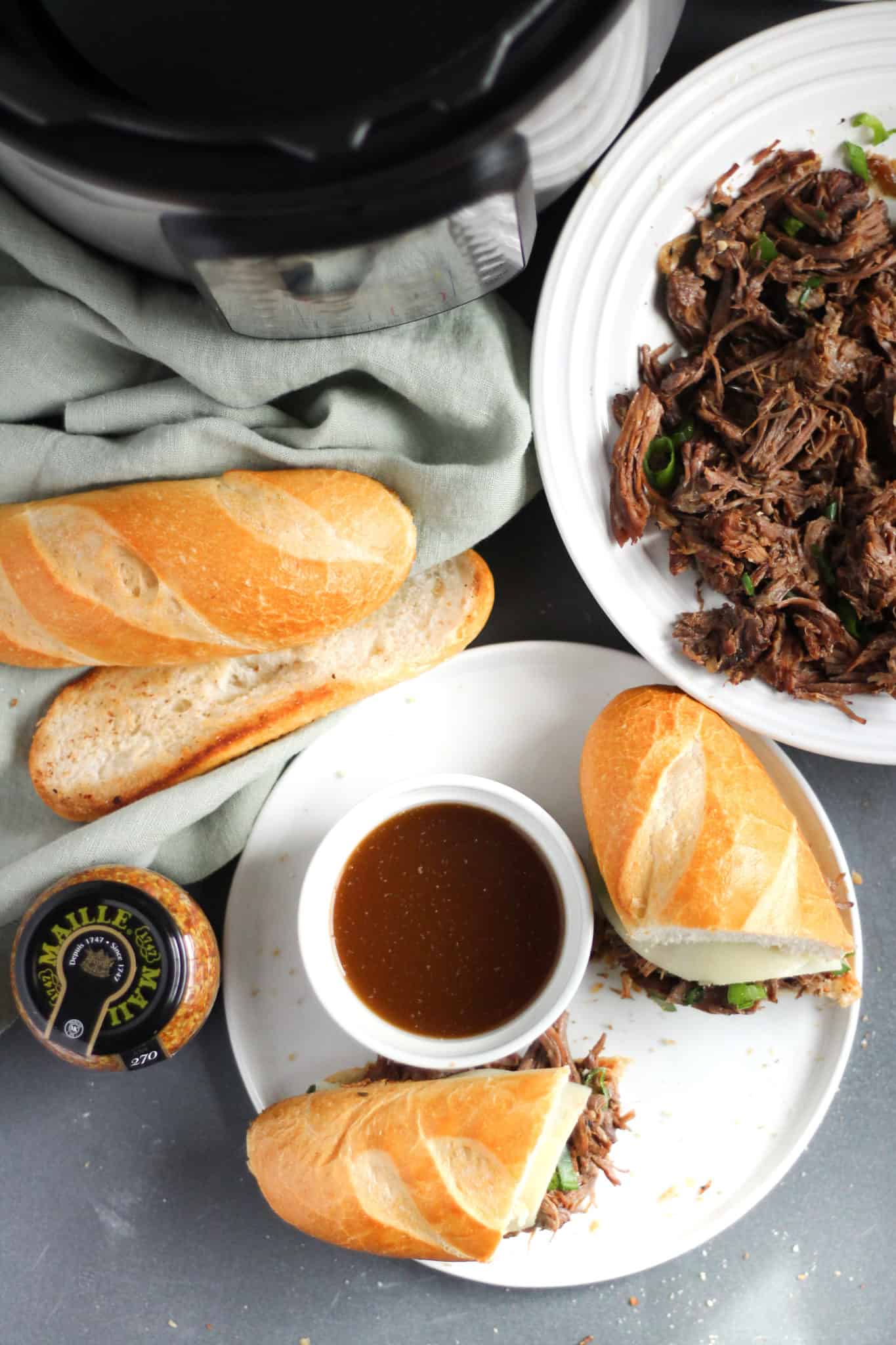 So you might have noticed there's a little buzz going on around the Instant Pot. When I first mentioned it to family, they weren't too impressed…kinda like, well, yeah, pressure cooking has been around forever and we were doing it before it was trendy. And that's true. My dad has all kinds of stories about his mom using a stovetop pressure cooker to make spaghetti sauce, canned meat, and a lot of the other foods he grew up eating. It was a good way to take cheap or tough cuts of meat and tenderize them into something edible – something really important growing up in a family without a lot of extra money laying around.
Fast forward a generation and Instant Pot recipes are everywhere. That's mostly the reason you haven't seen one on the Street Smart Nutrition blog before. Most of what I make in mine is, honestly, extremely boring. And if you really want to see how I make quinoa or beans there's no shortage of recipe posts and tutorials out there.
How to Instant Pot French Dip Sandwiches
I decided to step out of my comfort zone for this recipe, done in partnership with Whole Foods Market of Kansas. I usually make roasts in my Crock-Pot and thought this would be the perfect opportunity to see if it turned out any differently in the Instant Pot.
For anyone who's curious, the chuck roast comes from the shoulder of a cow (above the brisket). There's a lot of connective tissue running through there. It's a tougher cut but that's exactly why it's so well suited for pressure cooking. Even in a slow cooker or Crock-Pot, you can still end up with a dry or tough roast.
That was probably the biggest difference I noticed with this French Dip sandwich recipe. When it was finished the meat was unbelievably tender. Not a dry or chewy bite in the entire thing, so from now on I think I'll be relying on my Instant Pot for roasts!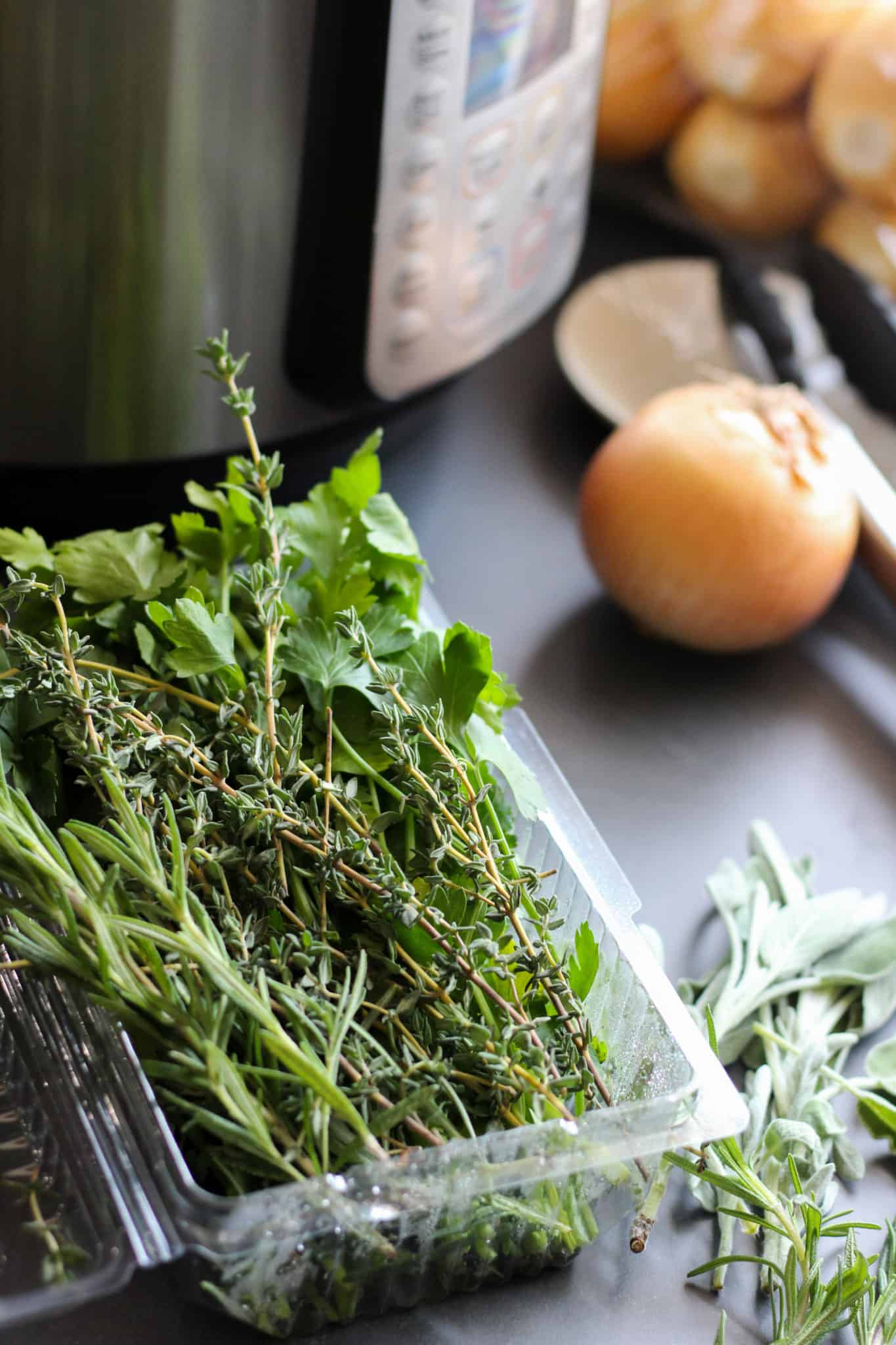 If you're new to the Instant Pot, I'll walk you through this recipe step-by-step so your Instant Pot French Dip sandwiches are sure to turn out as delicious as mine did! This recipe is broken up into a few different phases. If you tackle them one at a time, this recipe becomes much less daunting than it might look at first glance.
Trust me, if I can do it you can, too!
[Tweet "Learn how to make homemade French Dip Sandwiches in the Instant Pot, step by step!"]
1. Saute the Onions
First, gather up all ingredients so everything is within close reach. Although you can settle back once the pressure cooking starts, this first phase moves a little more quickly. Go ahead and pull your roast from the fridge to allow it to come up to room temperature (or at least take some of the chill off).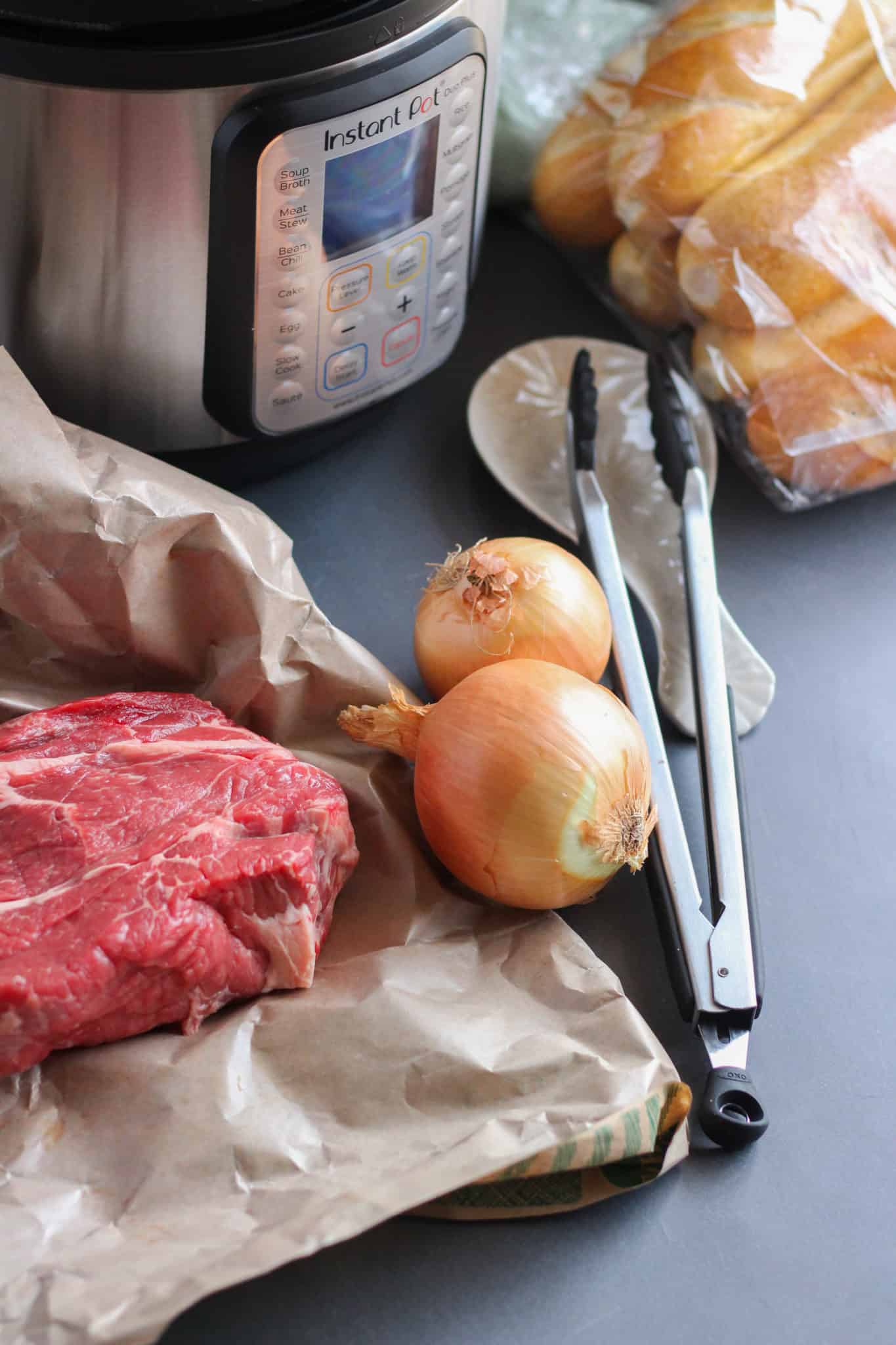 Start by slicing the onion into thin strips. Once this is done, start heating your Instant Pot on the "Saute" setting with the lid off. The oil goes in first. Once it's glistening, add the sliced onions and listen for that satisfying sizzle. Be sure to keep a long-handled spoon (or better yet, long-handled tongs) so you can reach the bottom of your Instant Pot.
Try not to stir too often at this point! Otherwise, it's tougher to get the true caramelization in the onions that brings so much great flavor.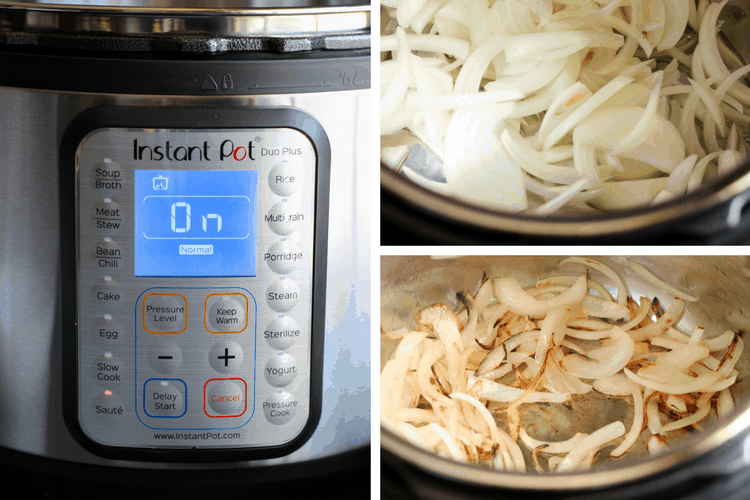 2. Sear the Meat
While the onions are sautéing, cut the chuck roast into cubes about 2 to 3 inches wide. You can cook an intact roast in a pressure cooker just like you cook a slow cooker, but the cubes speed up the process just a little bit more and can make it easier to shred afterward. I gave mine a quick dusting of pepper and steak seasoning. That's it. French Dip sandwich recipes are typically pretty salty so I decided not to add any more this time.
Note: Be sure to get a boneless chuck roast if you don't want to mess with deboning your roast. It wouldn't be a problem, because this meat will be literally falling off the bone once you're finished, but it's a personal preference.
Once the onions start to caramelize (only about 10 minutes…true caramelization takes more like 30-45 minutes) scoop them out into a bowl and set them aside. Add another small amount of oil to the Instant Pot then add the seasoned cubes of boneless beef chuck roast. Take another 10 or so minutes to sear and brown the beef of all sides.
Then add the onions back in along with the low-sodium beef stock, Worcestershire sauce, low sodium soy sauce, and garlic cloves. The sprigs of herbs go on top.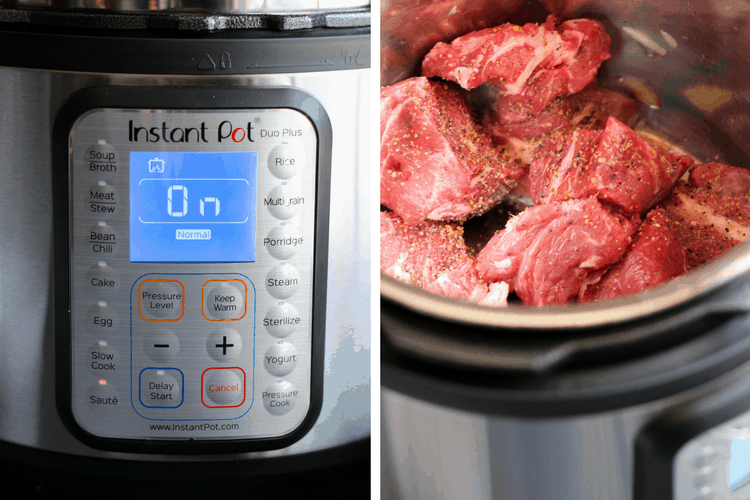 3. Set the Instant Pot
Once the herbs go in, it's time to change the Instant Pot settings. Switching over to the "Meat/Stew" setting means it needs a little time to build the pressure. So although I set it for 50 minutes, there was a little delay while the Instant Pot was heating.
But you can truly set it and forget it at this point because once it heats, the drop valve will raise, effectively sealing the Instant Pot. This is your chance to clean the kitchen, take a nap, watch your cat videos…or whatever it is you like to do to relax!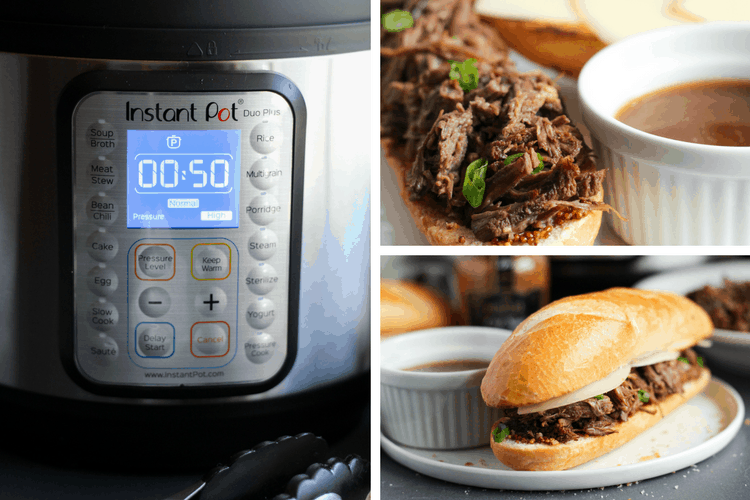 Once those 50 minutes are up, you can either choose a natural release (slower) or vent the Instant Pot to release all the built-up pressure as steam (faster). I opted for the natural release, giving the meat another 20 minutes to "rest".
Be aware that just because it rests for that time doesn't mean all the pressure is gone. You'll still need to vent the Instant Pot before removing the lid. If you're like me, that first time of switching the valve to vent will scare the s*** out of you. Mostly because all I ever heard were horror stories about pressure cookers exploding! It does make a pretty loud hissing sound you might not be ready for. But that's ok, that's what it's supposed to do!
4. Build Your Sandwich
I used the natural release time to start building my sandwiches. I gathered up my mustard, cheese, bread, and butter and toasted the hoagie buns on my flat cast iron skillet. I'm sure most people have one, but I don't actually own a toaster. I don't think these hoagie buns would fit in one anyways. I simply sliced them down the middle, lightly buttered each side, and toasted them face down for a minute or two to get them nice and crispy.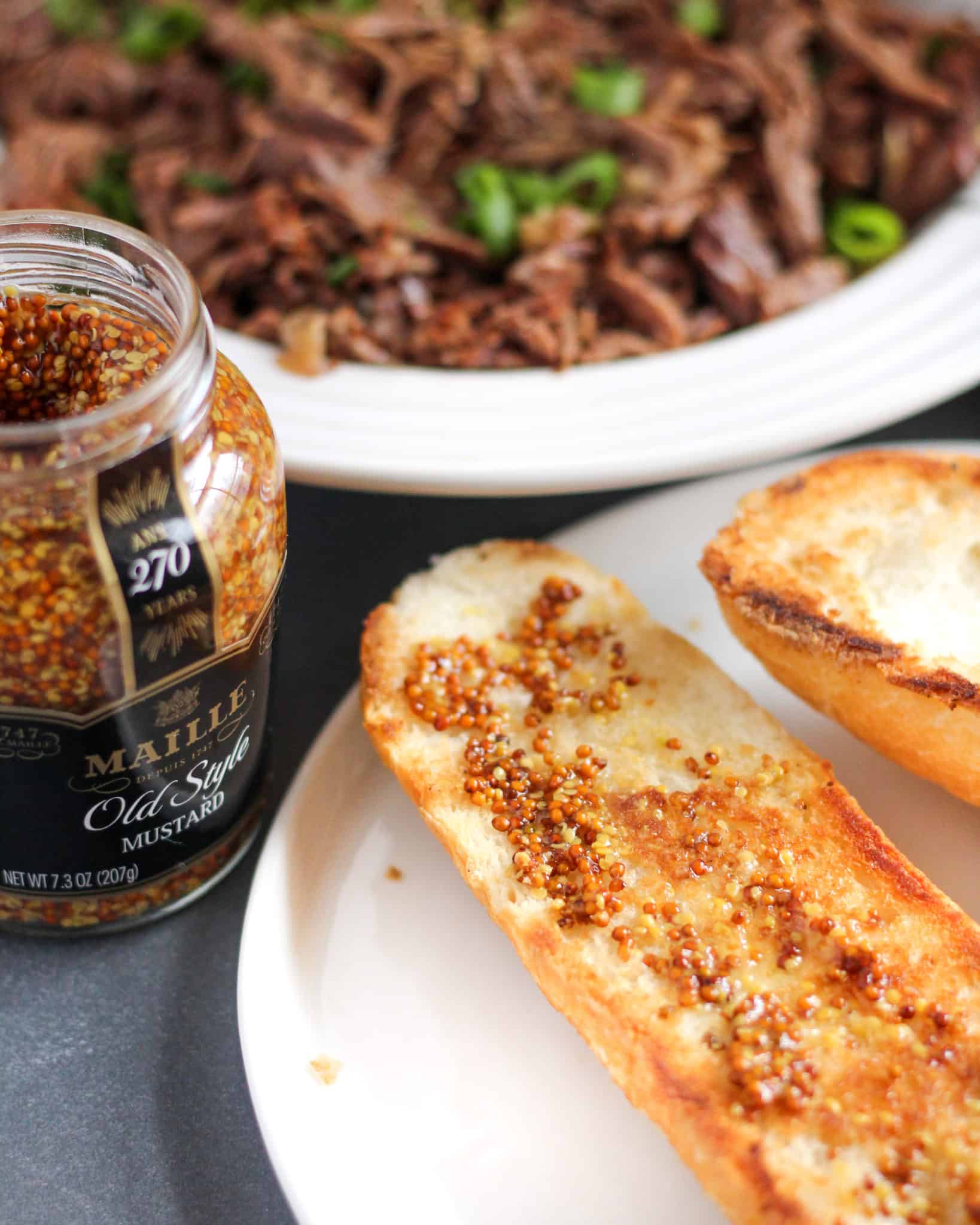 Once you remove the lid, transfer the cubes of beef and onions to a serving platter. Then use a couple of forks to shred them into smaller pieces. This should take all of about thirty seconds because this meat is gonna be tender as…well, pretty tender! Take everything that's left in the Instant pot and strain through a fine-mesh sieve or colander. That's your au jus for dipping, so I put most in a mason jar and took what I planned to use for my sandwich and put it in a smaller ramekin.
I spread the mustard on the bottom bun then added the beef and cheese on top. Give it a minute or two to let the cheese melt but don't let it sit too long – no one likes a soggy sandwich!
5. Enjoy!
This one is pretty self-explanatory, right?
It should go without saying that the last phase of Instant Pot cooking is my favorite. Although, a close second would be the time I can set it and forget it and flop on the couch because I don't have to stand over a stove to get dinner ready. Our 2 1/2 pound roast made enough for about six small sandwiches on hoagie buns about 8 inches long. However, if you have someone in your house with a hearty appetite, plan for four larger sandwiches.
Leftovers (if you have them) can get stored in the fridge for up to 5 days. But good luck with that! I have a feeling you'll like these enough to not have much in the way of leftovers.
Here is the recipe for Instant Pot French Dip Sandwiches:
Instant Pot French Dip Sandwiches
French dips aren't just for restaurants! You'll love how incredibly easy and tasty this homemade version can be.
Ingredients
2 1/2

lb.

boneless beef chuck roast

1

large yellow onion

1 to 2

tbsp

canola oil

Black pepper and steak seasoning to taste

2

cups

low sodium beef broth

1

tbsp

Worcestershire sauce

1/2

tbsp

low sodium soy sauce

3 to 4

garlic cloves

Fresh herbs

,

rosemary, parsley, thyme, and/or sage

6

hoagie buns

1

tbsp

butter

3

tbsp

whole grain mustard

6

slices

provolone cheese

,

sliced in half

2

green onions

,

thinly sliced
Instructions
Remove the roast from the fridge to remove the chill. Slice the onions and add oil to the Instant Pot. Set to "Saute" and allow oil to heat with the lid removed. Add the onions and sauté about 10 minutes, stirring occasionally, or until onions begin to caramelize.

While onion are sautéing, cube the roast into 2-3″ sections. Lightly season with pepper and steak seasoning. Remove the onions from the Instant Pot, add a small amount of oil if needed, and add the beef. Use long handled tongs to turn the cubes, allowing them to sear on each side, about 10 minutes. Once seared evenly, add the onions back in. Pour in the beef stock, Worcestershire sauce, soy sauce, garlic, and fresh herbs. Seal the Instant Pot lid and change the settings to "Meat/Stew". Set for 50 minutes, allowing a few extra minutes for pressure to build.

Once timer goes off, allow a 20 minute natural release before venting to release remaining pressure. In the meantime, slice hoagie buns in half. Lightly butter each side and toast face down on a flat skillet or in a toaster oven.

Once pressure is fully released, remove the beef from the Instant Pot and transfer to a bowl or platter. Use two forks to shred the beef. Strain the remaining liquid through a fine mesh sieve or colander into a mason jar or gravy boat and reserve cooking liquid for au jus.

Spread the whole grain mustard on the bottom of each hoagie bun. Add the shredded beef roast, then top with thinly sliced green onions and one slice of provolone cheese (cut in half to fit the bun). Add the top bun, then serve immediately with reserved au jus for dipping.
Nutrition
Serving:
1
sandwich
,
Calories:
453
kcal
,
Carbohydrates:
5
g
,
Protein:
43
g
,
Fat:
29
g
,
Saturated Fat:
13
g
,
Cholesterol:
144
mg
,
Sodium:
547
mg
,
Potassium:
893
mg
,
Fiber:
1
g
,
Sugar:
2
g
,
Vitamin A:
242
IU
,
Vitamin C:
4
mg
,
Calcium:
194
mg
,
Iron:
4
mg
So there you go, a step-by-step Instant Pot recipe for something other than quinoa, beans, or stews! You can check out one of my other Instant Pot recipes, Five Can Chili, too.
Feel free to share this French Dip sandwich recipe with someone who's looking for a tasty and easy weeknight dinner. And if you have other ideas for Instant Pot recipes you want to see, be sure to drop a comment and let me know!
[Tweet "Mix up your weeknight routine with #InstantPot French Dip Sandwiches"]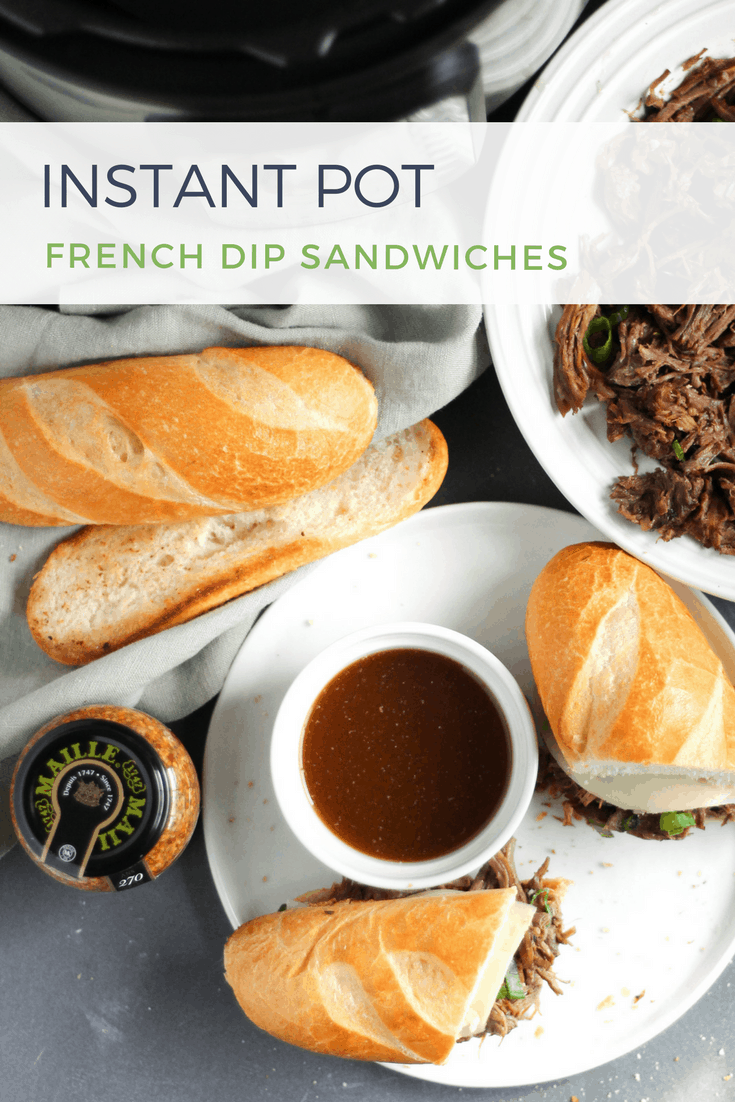 SaveSave