Make this easy Classic Instant Pot Chili recipe. Learn how easy it is to make chili in an instant pot with pantry ingredients you already have!
---
Are you tired of being inundated with Thanksgiving and holiday recipes yet??
SAME.
Actually, I'm totally guilty of doing the inundating but I'm also aware that people don't just eat holiday food for the last six weeks of the year. That's why I was really glad The Recipe Redux decided to host a soup theme this month because this is a lot more like my style of cooking. So today's recipe is an Instant Pot chili recipe that you can make as long as you have a can opener and time to chop a few veggies!

Five Can Chili
Just like the name implies, this chili features the contents of five cans: beans, tomatoes, and tomato paste. I personally love cooking with canned beans (even though you totally make those in an Instant Pot, too). These shelf-stable staples are things that I pretty much pick up from the grocery store every time I go just so we have a constant supply in the pantry.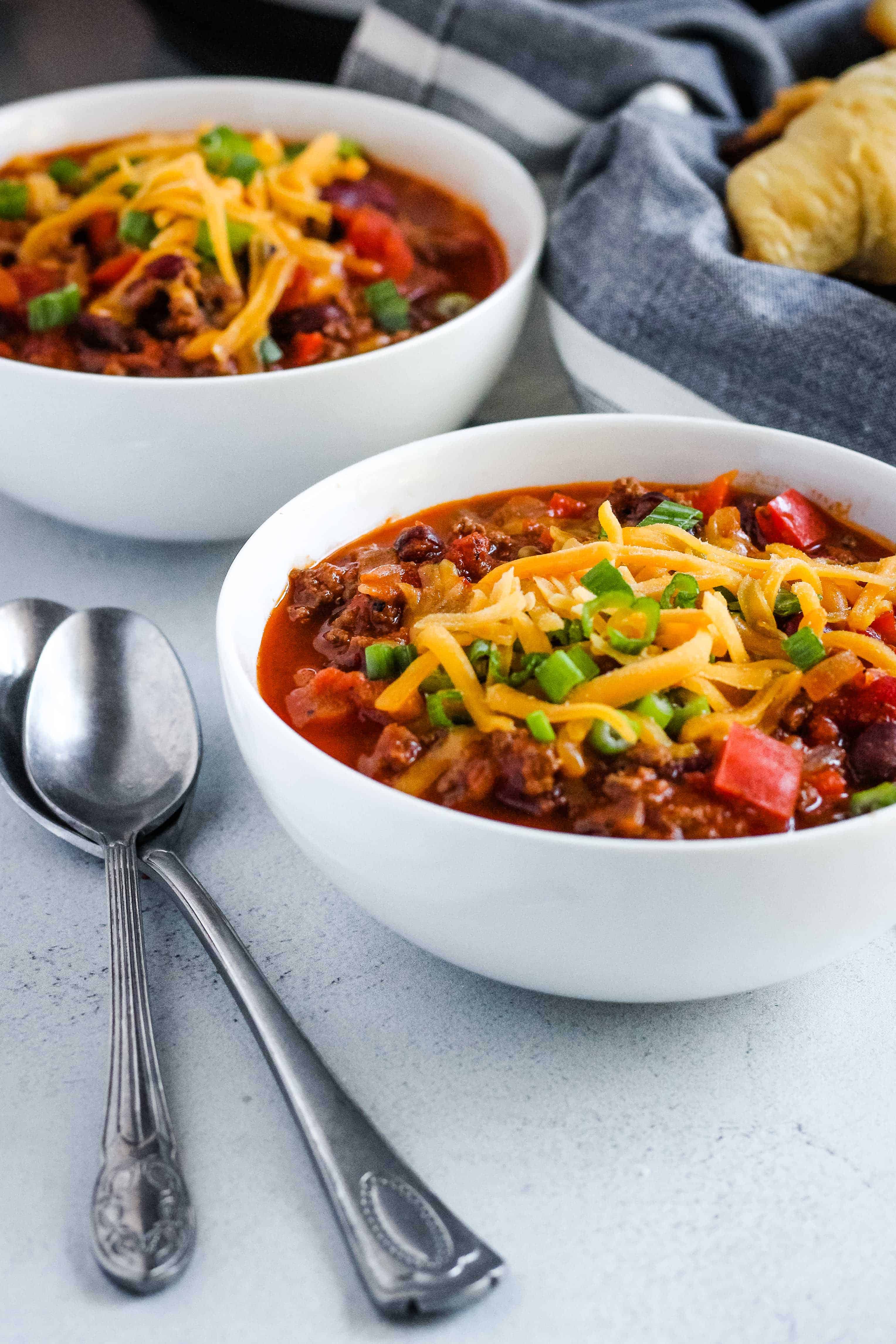 This meal is especially convenient during a busy holiday season when you're maxed out on cooking for everything else. With nothing more than a can opener, cutting board, and a sharp knife, you can get a meal on the table in less than an hour with the majority of it being hands-free cooking.
How to Make Chili In An Instant Pot
I made chili in a slow cooker or crock pot for years before I ever even attempted it in the Instant Pot. It probably has something to do with the fact that I didn't own an Instant Pot…but even after I got one I didn't spend a lot of time experimenting with or using all of the features. But since it has a predetermined setting specifically for "Chili", it seemed like something worth exploring and I'm glad I finally got around to it!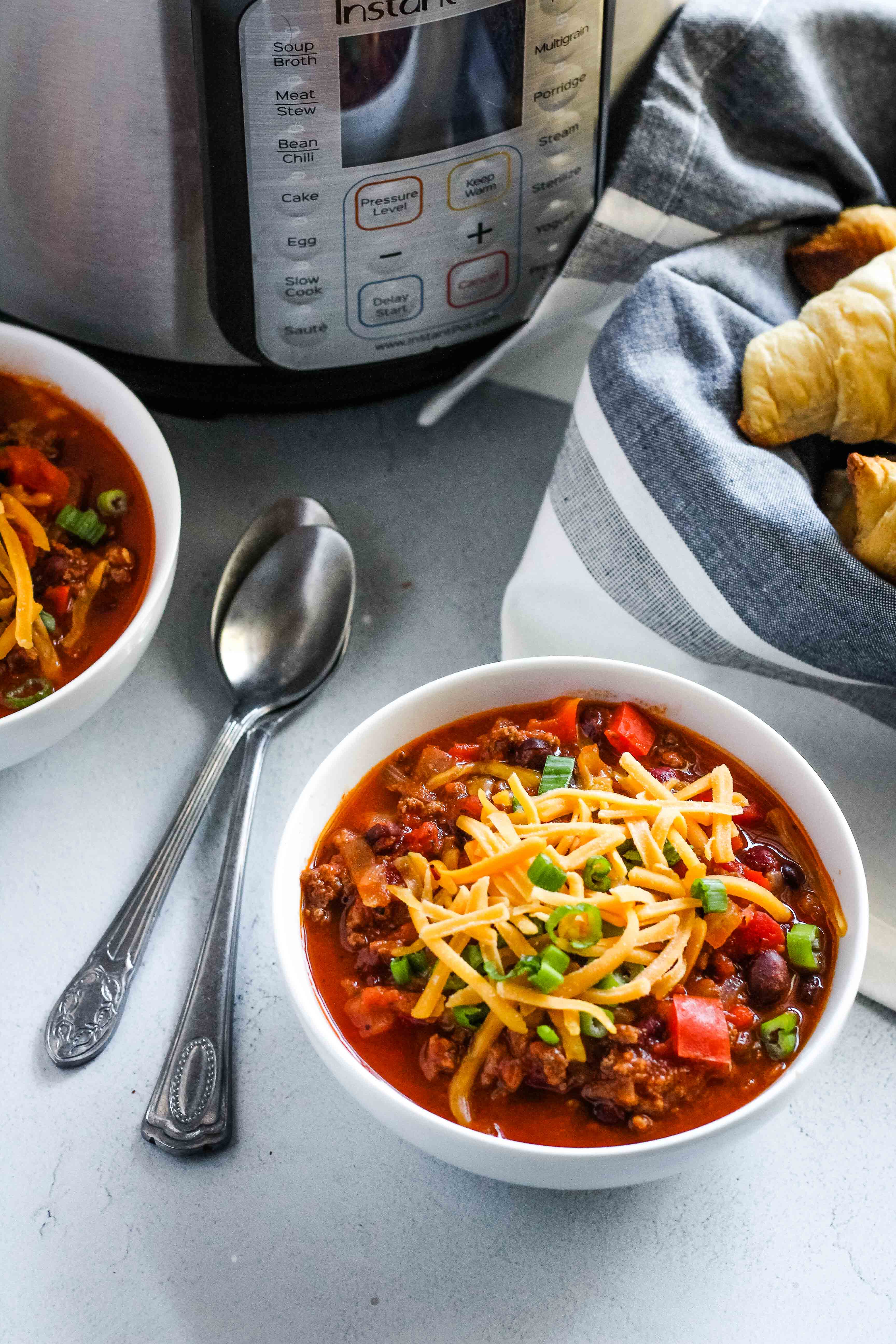 To be completely honest, I think it was all the settings and buttons on the Instant Pot display that made me feel kind of intimidated by it. I had basically no experience with pressure cooking and (like many of you probably have) heard horror stories about the lids blowing off and getting sauce on the ceiling or something.
So if you've been wondering about how to make chili in an Instant Pot, here's how I did it:
Saute: This setting allows you to brown the beef before adding the rest of the ingredients. It heats pretty quickly, so keep an eye on it and break apart the ground beef so it cooks evenly. Keep the lid off for this process.
Time: about 5-6 minutes
Bean/Chili: My Instant Pot has this specific setting, but you can also use the Meat/Stew or Pressure Cook Setting. If you have time to spare, you can also use an Instant Pot as a slow cooker. Select your setting and enter the time, then seal the lid. The pressure will start to build and the display will read, "On". Make sure the steam valve on the back is flipped to the closed position, and watch for the display to switch to the timer when it's ready. This is when the cooking time starts.
Time: usually 5-15 minutes depending on how much you fill the pot and how warm/cold the ingredients are to begin with. 
Natural Release: When the time is finished counting down, do not try to remove the lid right away – hello, high pressure! The steam valve on the back should still be closed for a natural release, meaning that the pressure inside the pot is still continuing the cook the contents. After 10-15 minutes, you can flip the valve open to release any remaining pressure, then safely remove the lid and reveal your cooked chili!
Time: about 15 minutes 

Don't Forget the Rest!
It's hard to beat a good chili recipe, but I think the toppings and sides are what really makes it a meal. I personally like to add green onions and cheese on mine, but you have a lot of different options.
Check out this version of a Sweet Potato Chili that uses Greek yogurt instead of sour cream!
Then, of course, there's the question of what you use to soak up all the great chili flavor. My personal favorite: crescent rolls. I mean, just look at them…

Yeah, all the heart eyes for crescent rolls, barely browned, and super soft and doughy in the middle. But there's also the classic cornbread or a crispy slice of French bread if that's what you're partial to.
Here's the recipe!
Instant Pot Five Can Chili
If you have a can opener and a pressure cooker, you're well on your way to a hearty winter meal with minimal prep and clean up. Easily customized and great for leftovers!
Ingredients
1

can

black beans

1

can

kidney beans

1

can

diced tomatoes

1

can

fire-roasted diced tomatoes

1

can

tomato paste

1

tbsp

canola oil

1

pound

ground beef

1

yellow onion

,

diced

1

red bell pepper

,

diced

1/2

tbsp

cumin

1/2

tbsp

chili powder

3

cloves

garlic

,

minced

6

oz

water

Kosher salt and pepper to taste
Optional Garnishes
Green onions

,

thinly sliced

Shredded cheese

,

cheddar or Monterey jack
Instructions
Dice the onion and pepper and set aside.

Add the canola oil to the Instant Pot. Place the beef inside, then select the Saute setting. Cook about 5-6 minutes, or until the beef is browned and no pink is remaining.

Add all remaining ingredients and stir to combine. Place the lid on the Instant Pot and seal, then select "Bean/Chili" and set timer for 15 minutes. The display will show "On", then switch to the timer when pressure is built.

Once the timer counts down, allow a 10-15 minute natural release before carefully releasing the remaining pressure and removing the lid. Carefully stir the chili, then transfer to serving bowls. Top with green onions and shredded cheese, if using. Serve hot.
Notes
Before storing leftovers, allow to cool slightly before storing in the refrigerator. If freezing leftovers, use within three months. 
If using a slow cooker or crockpot, adjust cooking time. Brown the beef as instructed and combine ingredients, then cook, covered, for six hours on LOW. 
Nutrition
Serving:
1
serving
,
Calories:
255
kcal
,
Carbohydrates:
19
g
,
Protein:
15
g
,
Fat:
14
g
,
Saturated Fat:
5
g
,
Cholesterol:
40
mg
,
Sodium:
302
mg
,
Potassium:
660
mg
,
Fiber:
5
g
,
Sugar:
6
g
,
Vitamin A:
1380
IU
,
Vitamin C:
38
mg
,
Calcium:
69
mg
,
Iron:
4
mg
So there you have it! This is a pretty basic Instant Pot chili recipe. Nothing too fancy going here, but it's a good base to start with to add interesting flavors or unique ingredients if that's your thing. You can also easily make this into a vegetarian or vegan chili by swapping some things around, so go crazy, make it your own!
What tips or tricks have you learned about getting a perfect Instant Pot chili?

And while you're here, don't forget to check out the other recipes featured in this month's soup theme from The Recipe ReDux. It's the first and only recipe challenge hosted by registered dietitians, and you'll find plenty of non-holiday recipes here, too!