Disclosure: I am a participant in the Amazon Services LLC Associates Program, an affiliate advertising program designed to provide a means for us to earn fees by linking to Amazon.com and affiliated sites.
---
To my beloved immersion blender: it's been too long. I know, I know, we used to have great times in the kitchen, blending up any and everything from butternut squash soup to spicy marinara sauces…then I got a little, uh, inattentive.
Making up for it now!
Roasting cauliflower is a game changer. I'm still not a huge fan of raw cauliflower (although with the right dip, I can be convinced) and steamed? Absolutely not. If it came down to steamed cauliflower or none at all, it's be a pretty easy choice…none at all. Ami right?
But roasting veggies is one of my favorite ways to infuse some fantastic flavor. The best part is that it's a hands-free cooking method, which means I can set it and forget it and walk away to more productive things. That may or may not involve sitting on the coach cuddlin' up with Wrigley, but hey, productivity can be whatever you say it is. Either way, I don't have to tend to a pot on the stove and the result is cauliflower that tastes SO MUCH BETTER.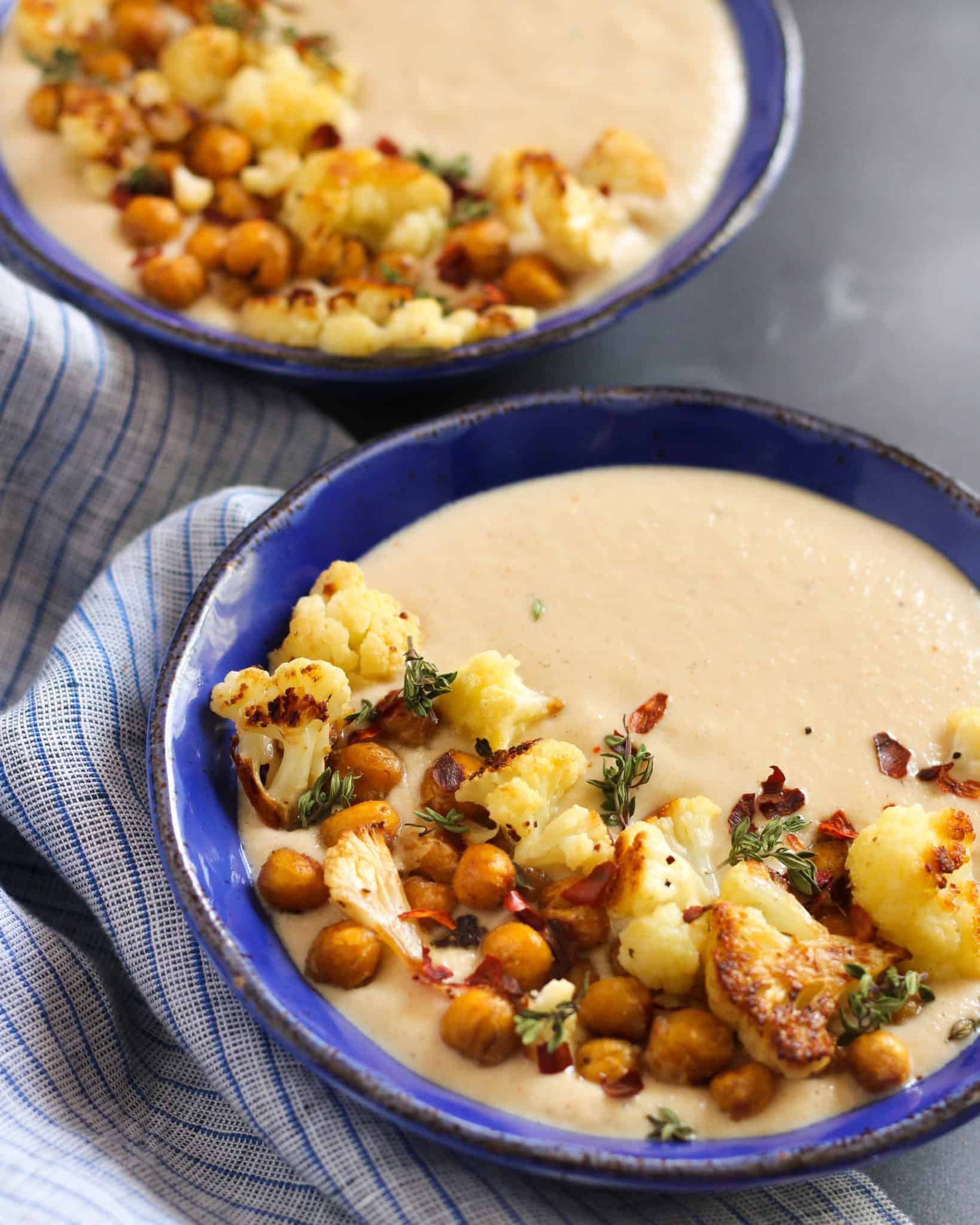 If you haven't toyed around with an immersion blender yet, you gotta check it out. If you think chopping veggies or mashing some taters is a great way to blow off some steam from a crazy day, you're really going to love how an immersion blender makes you feel.
I picked mine up via Amazon and it hasn't let me down since. Here's the model I like, which is easy to hold and handle without it getting too squirrelly for me. I like that it has adjustable speeds on a dial on the top and I can easily reach it to adjust without lifting the blade and creating a crime-scene mess in my kitchen with splatters.
If you don't have one of these, you can also use a blender or food processor. Do it in batches so as not to overfill the container. It's always a good idea to leave the lid slightly lifted for steam to escape, otherwise you're building up pressure and that can lead to a dangerous kitchen situation. Pre-immersion blender days, I relied on my Vitamix (affiliate link) and still use it on occasion. But the immersion blender is much less of a hassle to clean afterwards and can easily be stored away until the next time I need it.
This method can be used for any blended soup or sauce – here's a few other examples of recipes I've done with mine:
For this recipe using roasted cauliflower, I wanted a little spice and lots of flavor. Whenever I'm not sure where to start with that goal, I turn to one of my other favorite kitchen tools, The Flavor Bible (affiliate link). There's also a veggie-friendly version called, you guessed it: The Vegetarian Flavor Bible. I cannot say enough good things about these books – they have inspired so many amazing meals and encouraged me to try flavor combinations that I never would have guessed would pair so well together.
These books are basically encyclopedias of different foods and ingredients. Under each entry you'll find suggestions for flavor pairings that have a strong affinity for your selected ingredient. In addition, it'll guide you to make the most of your flavors by introducing herbs, spices, or acids. Don't get me wrong, I still love my cookbooks (and would even go so far as to say I'm a cookbook hoarder at times), but with these resources I could still come up with amazing meals and never open another cookbook again.
Bold statement, I know. I fully stand behind that, I love these books that much.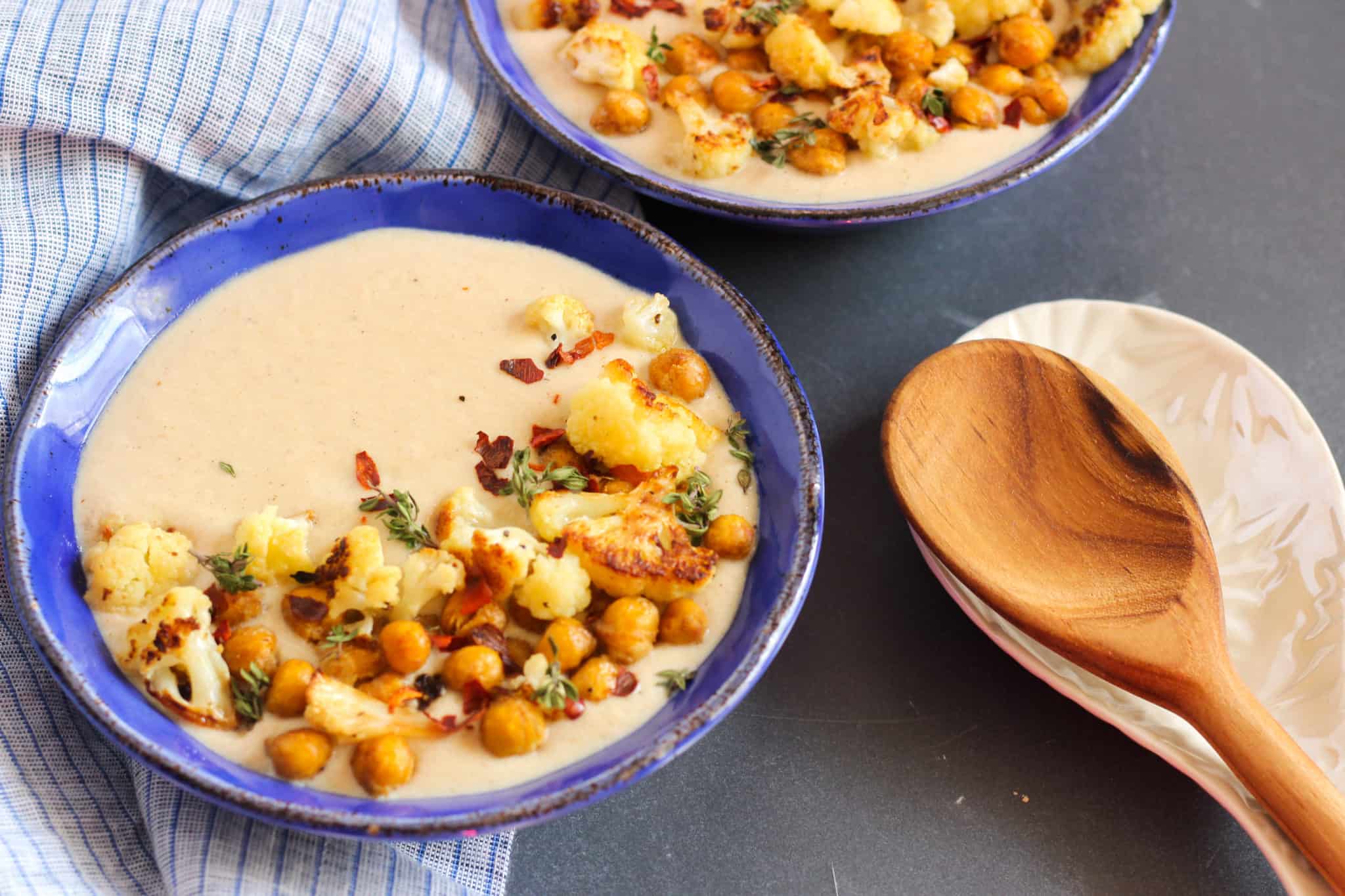 So that's why this recipe includes flavoring ingredients like cumin, roasted garlic, and thyme. There were a lot of other ingredients I wanted to try too, but I resisted the urge to dump the entire spice cabinet in there. Next time I try a roasted cauliflower soup I plan to experiment with curry blends or garam masala to throw in some other interesting tastes. Maybe also a sweet potato or carrot in the soup itself? Who knows, but with these book as a guide it's sure to taste amazing!
OK, so here's the recipe itself – although roasting time is longer than I usually do, the goal is to have the cauliflower nice and soft so it can blend to a really smooth, creamy texture. You can also have your oven pull double duty and roast up the crispy chickpeas at the same time.
Creamy Roasted Cauliflower Soup
Roasting the cauliflower adds so much flavor to this soup, but the crispy chickpeas add all the texture!
Ingredients
1

medium to large head of cauliflower

3 to 4

garlic cloves

,

peeled

1/2

tsp

crushed red pepper flakes

1/2

tsp

cumin

Fine sea salt and pepper to taste

2

tbsp

olive oil

1/2

yellow onion

3

cups

low sodium chicken or vegetable broth

1

package

,

~14 oz. silken tofu

1/2

cup

heavy cream

1

can chickpeas

,

drained and rinsed

1/4

tsp

cumin

1/2

tsp

crushed red pepper flakes

fresh thyme
Instructions
Heat the oven to 400 degrees F. Line a baking sheet with parchment paper or spray with nonstick spray. Cut the head of cauliflower into florets, including the stalks if desired. Toss with garlic cloves, olive oil, salt, pepper, cumin, and crushed red pepper. Arrange in a single layer and bake 30 minutes, flipping once if desired for even browning.

Line a second baking sheet with parchment paper or spray with nonstick spray. Toss the drained chickpeas with cumin and crushed red pepper, than arrange in a single layer. Add to the oven on a different baking rack and roast 20 minutes, or until crispy and toasted on the outside.

While the cauliflower and chickpeas are roasting, roughly chop the onion and add to the bottom of a large saucepan. Add the chicken or vegetable broth and bring to a simmer.

When the cauliflower and chickpeas are finished, remove from the oven. Set the chickpeas aside along with a small reserve of roasted cauliflower florets (for garnish). Add the remaining cauliflower and silken tofu to the simmering broth. Reduce heat and stir to combine. Using an immersion blender, blend until a thick, creamy consistency is reached (about 2 minutes). Add the heavy cream and blend again until smooth.

Serve each bowl with 1/4 of the crispy chickpeas and roasted cauliflower florets, along with fresh thyme and additional red pepper flakes if desired.
Notes
For a vegan version of this recipe, replace the 1/2 cup heavy cream with your preferred non-dairy alternative.
Nutrition
Serving:
1
serving
,
Calories:
411
kcal
,
Carbohydrates:
34
g
,
Protein:
19
g
,
Fat:
25
g
,
Saturated Fat:
9
g
,
Cholesterol:
41
mg
,
Sodium:
457
mg
,
Potassium:
1173
mg
,
Fiber:
10
g
,
Sugar:
6
g
,
Vitamin A:
603
IU
,
Vitamin C:
103
mg
,
Calcium:
150
mg
,
Iron:
4
mg
And be sure to check out recipes from other dietitians and read about their favorite kitchen tools and gadgets. The Recipe ReDux is the first and only recipe challenge created by registered dietitians, and the recipes never fail to impress!
[Tweet "See which kitchen tools and gadgets rank among the favorites for dietitians of #TheRecipeRedux"]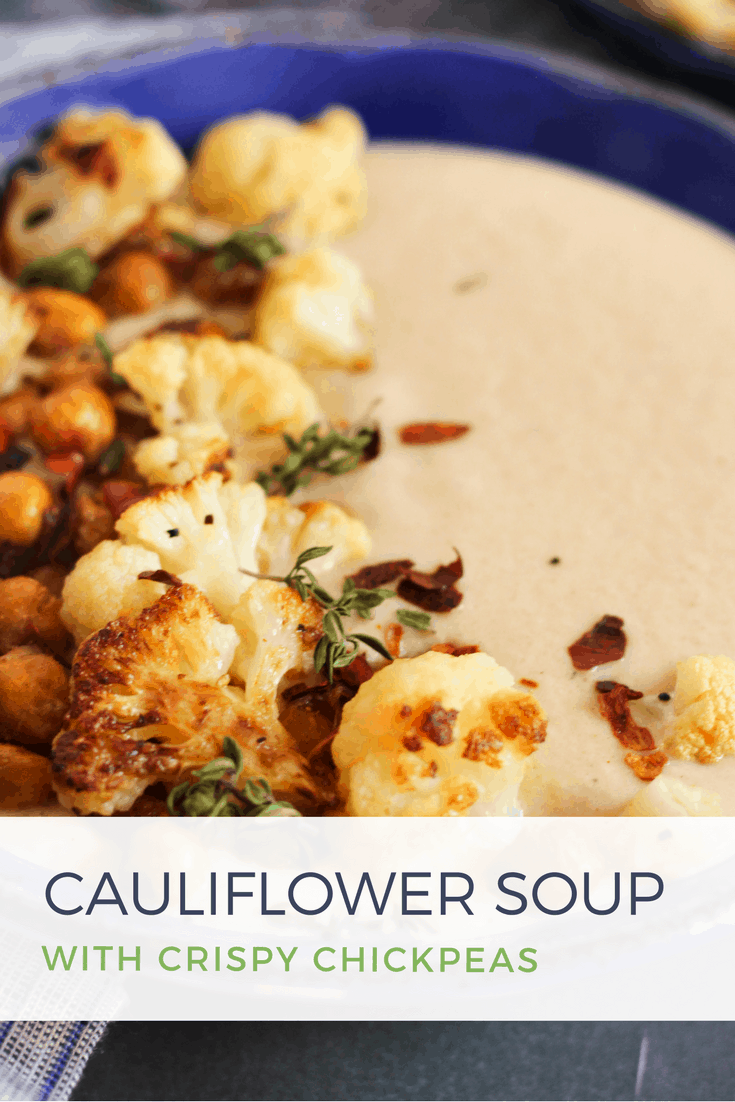 SaveSaveSaveSave