This Breakfast Stuffed Sweet Potato recipe is the meal prep-friendly breakfast of your dreams! They're packed full of nourishing ingredients like blueberries, walnuts, yogurt, and chia seeds, all lightly sweetened with maple syrup. Prep some baked sweet potatoes to get a jump start on meal prep for a busy week.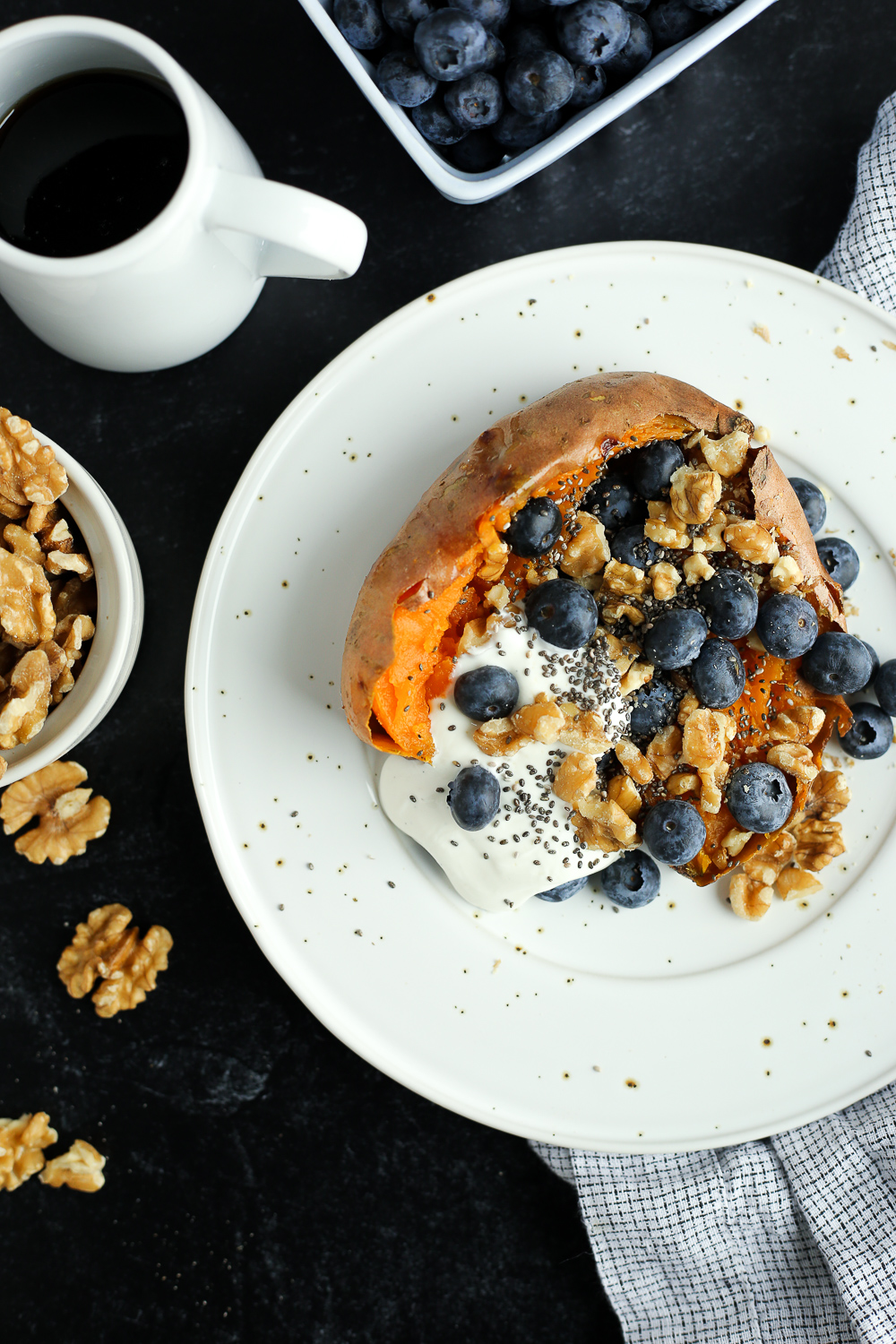 It's no secret we're pro-potato around here!
If you've been following Street Smart Nutrition for a while, you've likely seen our other stuffed sweet potatoes like the scrambled eggs version or the one with crispy chickpeas and hummus. . And don't get it twisted, we also love white potatoes – just look at how they shine in creamy, herby potato salad recipe or Goat Cheese Mashed Potatoes.
But taking center stage today is a sweetened up version: Breakfast Stuffed Sweet Potatoes with Blueberries and Walnuts! You're in for a treat if this is your first time trying a sweet version of stuffed sweet potatoes.
Why You'll Love This Healthy Breakfast Recipe
I had the opportunity to work on some really fun recipe development projects last year, and one of them inspired this breakfast stuffed sweet potato recipe. While I usually default to more savory recipes, this one highlights the natural sweetness of sweet potatoes. It's served with vanilla yogurt, crunchy walnuts, chia seeds, and a drizzle of maple syrup or honey.
These sweet spuds are a great option for meal prep. If you don't have time to bake them fresh each morning, you can bake several ahead of time and just reheat in the microwave when you're ready to eat.
This delicious breakfast recipe is so easy to customize – just swap for some different toppings and it's a great way to use up what you already have!
It's a filling breakfast with a super satisfying combo of carbohydrates, protein, fat, and fiber to keep you going until lunch.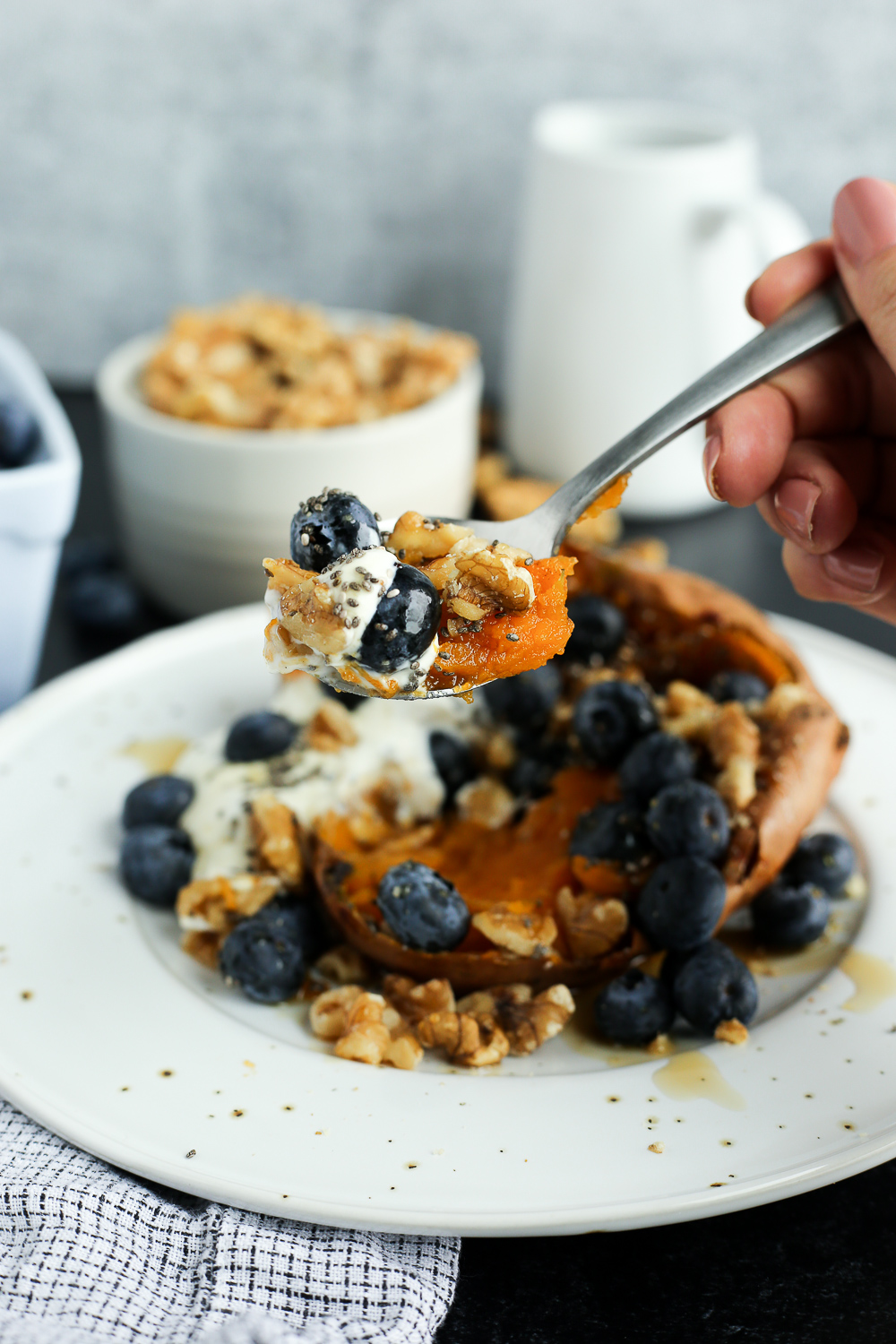 Ingredients You'll Need
There's no precise measurements needed for this breakfast stuffed sweet potato recipe. As written, this is for one sweet potato or one bigger serving. Adjust the amount of each ingredient as needed to fit your needs and preferences.
Medium sweet potato. In addition to energizing carbohydrates, potassium, and fiber, sweet potatoes provide a hefty dose of beta carotene (the precursor to vitamin A, a fat-soluble vitamin).
Walnuts. These tree nuts provide the most alpha-linoleic acid (ALA) of any nut. ALA is an essential fatty acid that can be converted to anti-inflammatory and heart-healthy omega-3 fatty acids. Walnuts also provide some protein, fiber, and magnesium.
Blueberries, which are a good source of fiber and vitamin C. Blueberries also provide essential nutrients like vitamin K, manganese, and phytonutrients called polyphenols. The most recognizable one is a group of anthocyanins that give them their deep, blue pigment.
Yogurt: Best known for the gut-friendly live and active cultures, yogurt also provides many of the same nutrients as the milk it's made from. That includes protein, calcium, potassium, phosphorus, and vitamin D (if made with vitamin D fortified milk).
Chia Seeds: These little seeds add a nice texture contrast, along with the benefits of soluble fiber. Chia seeds add a small amount of plant-based protein and essential nutrients like calcium, manganese, magnesium, phosphorus, selenium, copper, and iron. They also provide alpha-linoleic acid (ALA) like what's found in walnuts.
Maple syrup. I like some extra seasonal sweetness during the fall or winter, but If you prefer to skip, this is totally optional!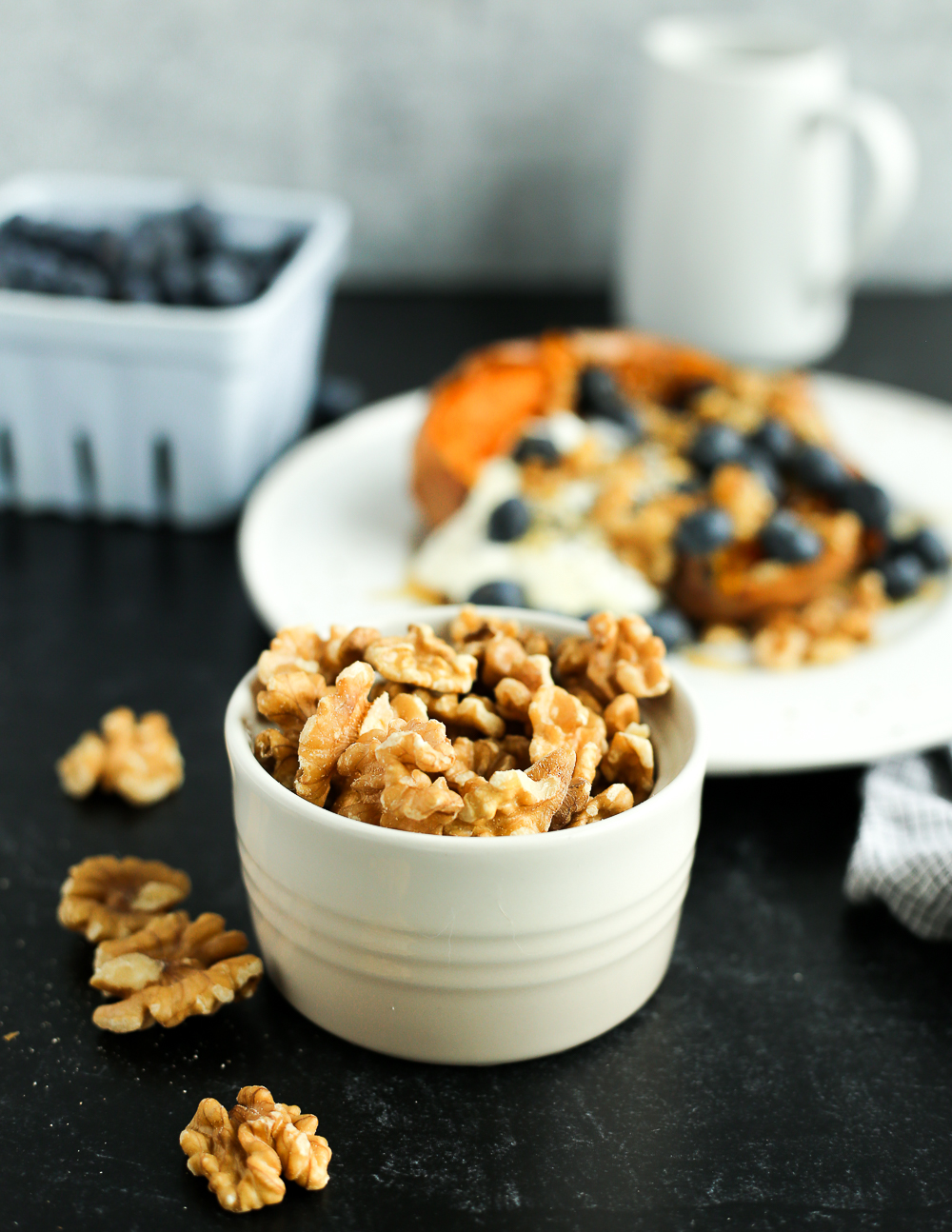 Allergy-Friendly Swaps
This is an easy recipe to modify to make it dairy-free or nut-free. And that's a good thing! As a dietitian, I know how frustrating it can be to eat with food allergies or food intolerances. Here are my top suggestions:
For a dairy-free version, swap the yogurt for a non-dairy alternative made with coconut milk or other non-dairy milk.
For a nut-free version, skip the walnuts and instead use pumpkin seeds, sunflower seeds, hemp hearts. These optionals can still provide some of the healthy fats and other benefits you'd otherwise get from the walnuts.

If it's only tree nuts you need to avoid, you can try chopped peanuts or mix in a spoonful of peanut butter.

This is already a naturally gluten-free option, so if you make modifications like adding granola, check to ensure it's a gluten-free option before using.
Side note: I often refer to The Flavor Bible to inspire my flavor pairings. I highly recommend this resource if you want to instantly upgrade the flavor of your meals and snacks! There's also a Vegetarian Flavor Bible that offers even more alternatives to modify this breakfast stuffed sweet potato recipe.
How to Make Breakfast Stuffed Sweet Potatoes
When it comes to these breakfast stuffed sweet potatoes, the first thing you need to do is bake the sweet potato. This is by far the most time-consuming step, so start here:
Heat your oven to 400 degrees F.
Wash and dry the sweet potato (or plural, if you're using the meal prep option), then pierce 6-8 times with a fork. Place on a lined baking sheet and bake 45-50 minutes on the middle rack. Once they're fork tender, remove them from the oven.
Allow the baked sweet potato to cool slightly, then slice open lengthwise. Use a fork to lightly mash each side and separate the flesh from the skin.
This is my favorite method for making batches of baked sweet potatoes. I've tried them in the instant pot and microwave, and it works. But that's not usually the most convenient option for me.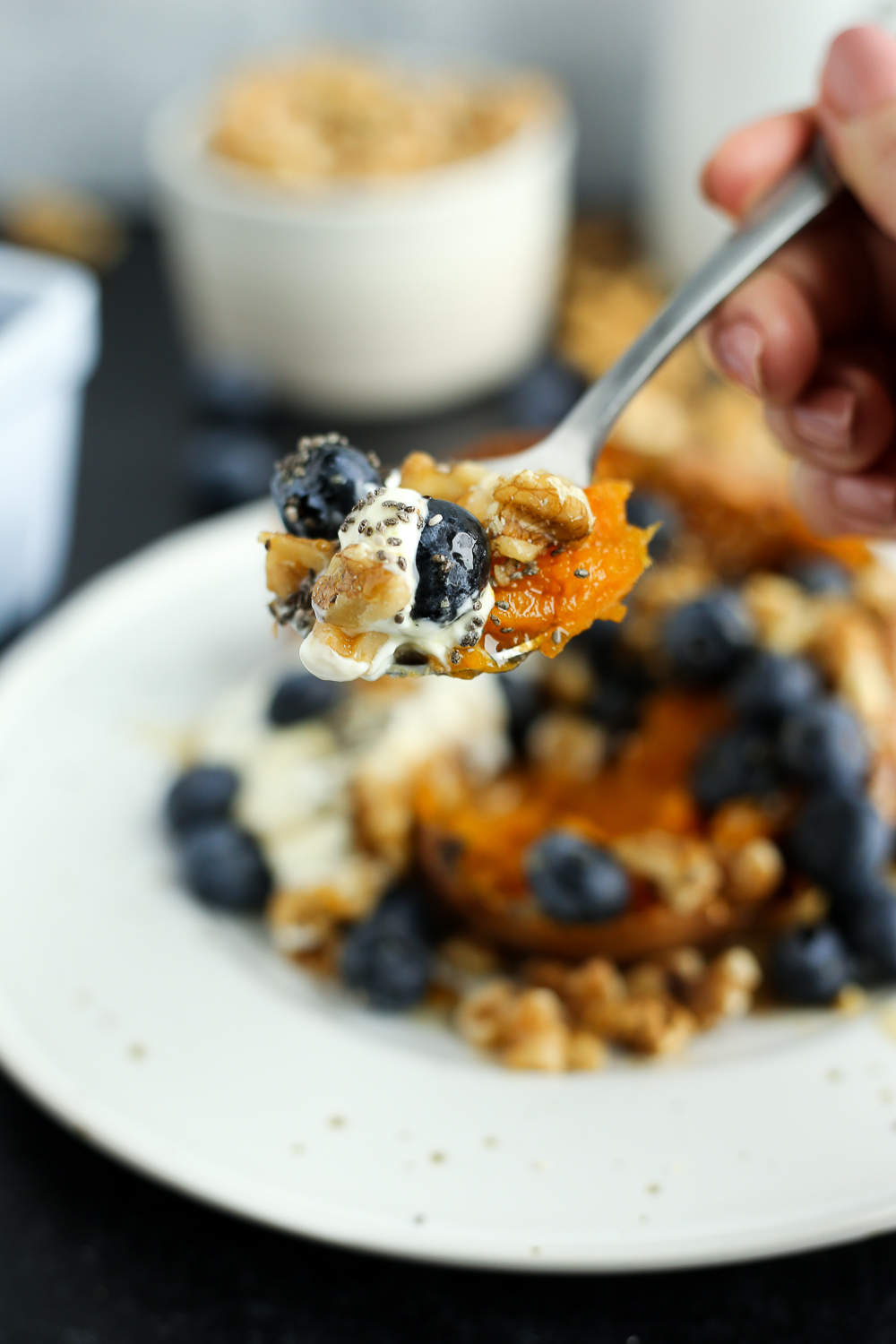 While the sweet potatoes are baking, you can rinse and dry the blueberries, chop the walnuts, and measure out the other toppings. This prep time takes just a few minutes total, so you can wait to start these steps until the sweet potatoes are fully baked. They need a few minutes to cool enough to handle without burning yourself, so that's usually when I finish these final prep steps.
From there, slice the sweet potato lengthwise and split it open. Use a fork to gently mash the inside of the sweet potato halves. Then spoon the yogurt on top, along with the blueberries, walnuts, and any other favorite toppings. Finish it off with a sprinkle of chia seeds and drizzle of maple syrup (if using). Serve and enjoy!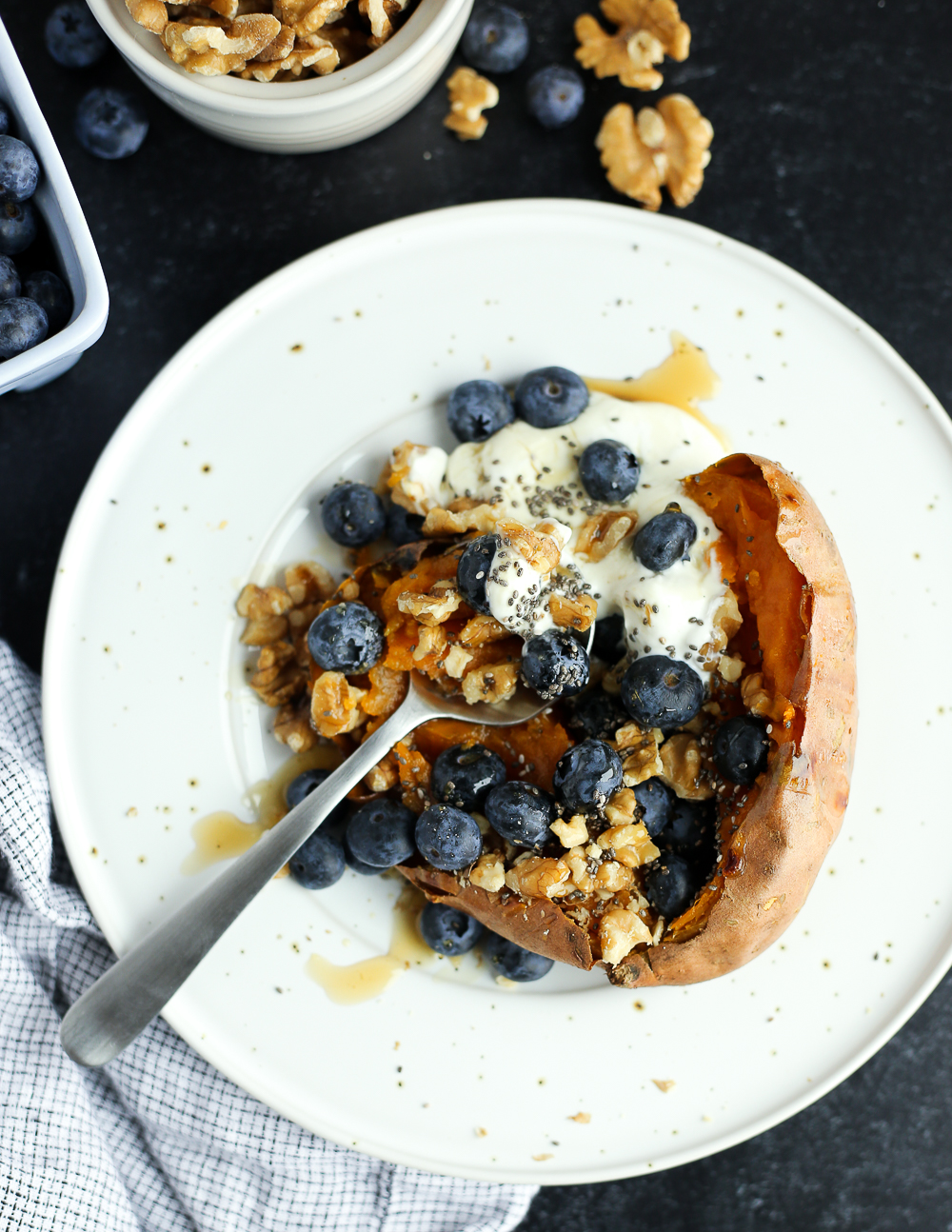 Pro Tips for Meal Prep
Meal prep is so much easier when you have the right tools and strategy. Check out my post for 10 Simple Meal Prep Tips for more!
For Leftovers: Grab an airtight container that's large enough to fit a full sweet potato without smashing it. Seal it tightly then store in the fridge for 1-2 days. I find the shelf life tends to be shorter when the other toppings are mixed in, so you're probably better off making just what you plan to eat the day of, then using the Meal Prep tips below for anything stored longer than that.
For Meal Prep: Baked your sweet potatoes until fully cooked. Let them cool until they are almost at room temperature. At this point, transfer them into individual containers or one large one. In other words, leave them whole and intact to make it simpler for storing. This also gives you so many options for different ways to use the cooked sweet potatoes if you change your mind later.
When it comes times to prep your easy breakfast, split the sweet potato open. Microwave in a microwave-safe bowl or container, then add the toppings as you would if you baked them fresh. I usually prep no more than four sweet potatoes at the beginning of the week for meal prep, but base the number off of what you need. They will store well in the refrigerator for up to five days. 
Breakfast Stuffed Blueberry Sweet Potato with Walnuts
This take on stuffed sweet potatoes is perfect for breakfast. Bake several sweet potatoes in advance for a meal prep-friendly option, or enjoy on a slow morning where you can take your time.
Ingredients
1

medium

sweet potato

3/4

cup

blueberries

,

fresh or frozen & thawed

1/4

cup

walnuts

,

chopped

1/2

cup

vanilla yogurt

1/2

tbsp

chia seeds

Maple syrup or honey

,

optional
Instructions
Heat your oven to 400 degrees F. Wash and dry the sweet potato, then pierce 6-8 times with a fork. Place on a lined baking sheet and bake 45-50 minutes or until fork tender. Remove from oven.

Allow the baked sweet potato to cool slightly, then slice open lengthwise. Use a fork to lightly mash each side and separate from the skin.

Stuff the sweet potato with blueberries and walnuts, then add the vanilla yogurt on top. Garnish with the chia seeds and a drizzle of maple syrup or honey (if using). Serve immediately.
Notes
If using this recipe as a meal prep option, bake the sweet potatoes ahead of time and store in the refrigerator. To reheat, microwave in 30 second increments until warmed to your desired temperature, or remove from the skin and mash before heating to serve bowl-style.
Nutrition
Serving:
1
serving
,
Calories:
582
kcal
,
Carbohydrates:
85
g
,
Protein:
16
g
,
Fat:
23
g
,
Saturated Fat:
3
g
,
Polyunsaturated Fat:
15
g
,
Monounsaturated Fat:
3
g
,
Trans Fat:
1
g
,
Cholesterol:
6
mg
,
Sodium:
208
mg
,
Potassium:
1269
mg
,
Fiber:
13
g
,
Sugar:
38
g
,
Vitamin A:
32184
IU
,
Vitamin C:
18
mg
,
Calcium:
350
mg
,
Iron:
3
mg
I hope you find this to be a great breakfast for busy mornings. I find it so helpful to have these ready-to-go options when I don't have much time for cooking!
If you try this recipe, please let a rating or comment to let me know what you think. And as always, thanks for stopping by the Street Smart Nutrition blog. Cheers to more fearlessly nourishing meals!
Disclaimer: This post was originally published in January 2022. It has since been updated to improve the overall quality of the information and/or images.