Meet my new favorite make-ahead breakfast: Chocolate Banana Overnight Oats! When you need a nutritious breakfast for busy mornings, look no further than this overnight oats recipe that can be made in minutes.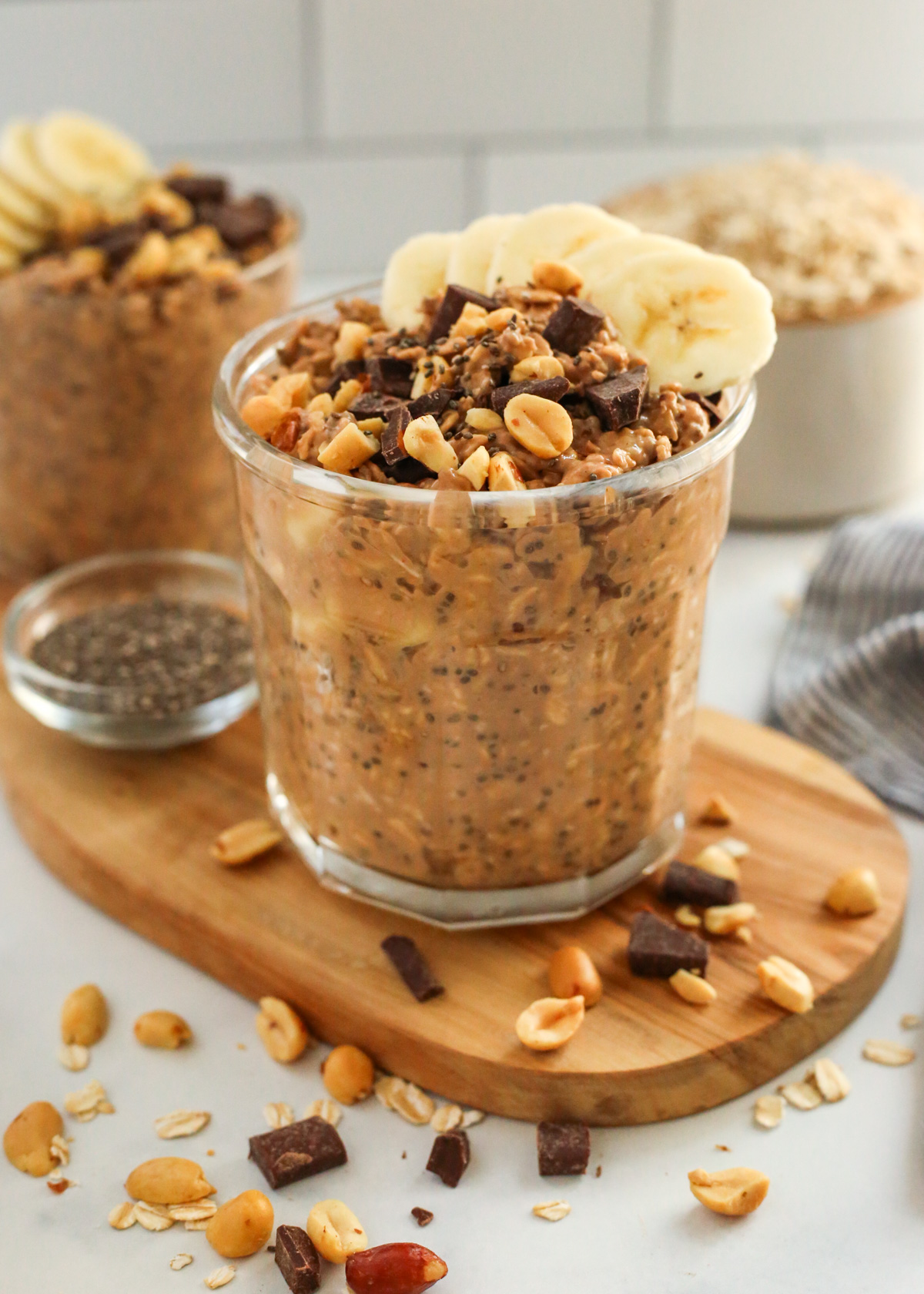 It's kind of a pet peeve of mine when recipes open with, "It tastes just like [insert heinously indulgent treat]!" Ok, not just kind of. That stuff really bugs me.
Because if I said, "These overnight oats taste like a healthy chocolate covered banana for breakfast!" it implies a chocolate covered banana is somehow devoid of nutrients unless it's shaped into a socially acceptable breakfast version. You see this all the time, especially with meal replacement bars and diet foods. That's getting off on a tangent, and I could go on and on, but I share that just to point out that you can have bananas for breakfast, you can have chocolate for breakfast, you can have both or neither for breakfast (or any other time) if you want.
Now that that's cleared up, I will just say I truly love chocolate covered fruit of any kind, including bananas. So why not put them into a reliable overnight oats recipe for a quick and convenient breakfast meal prep option?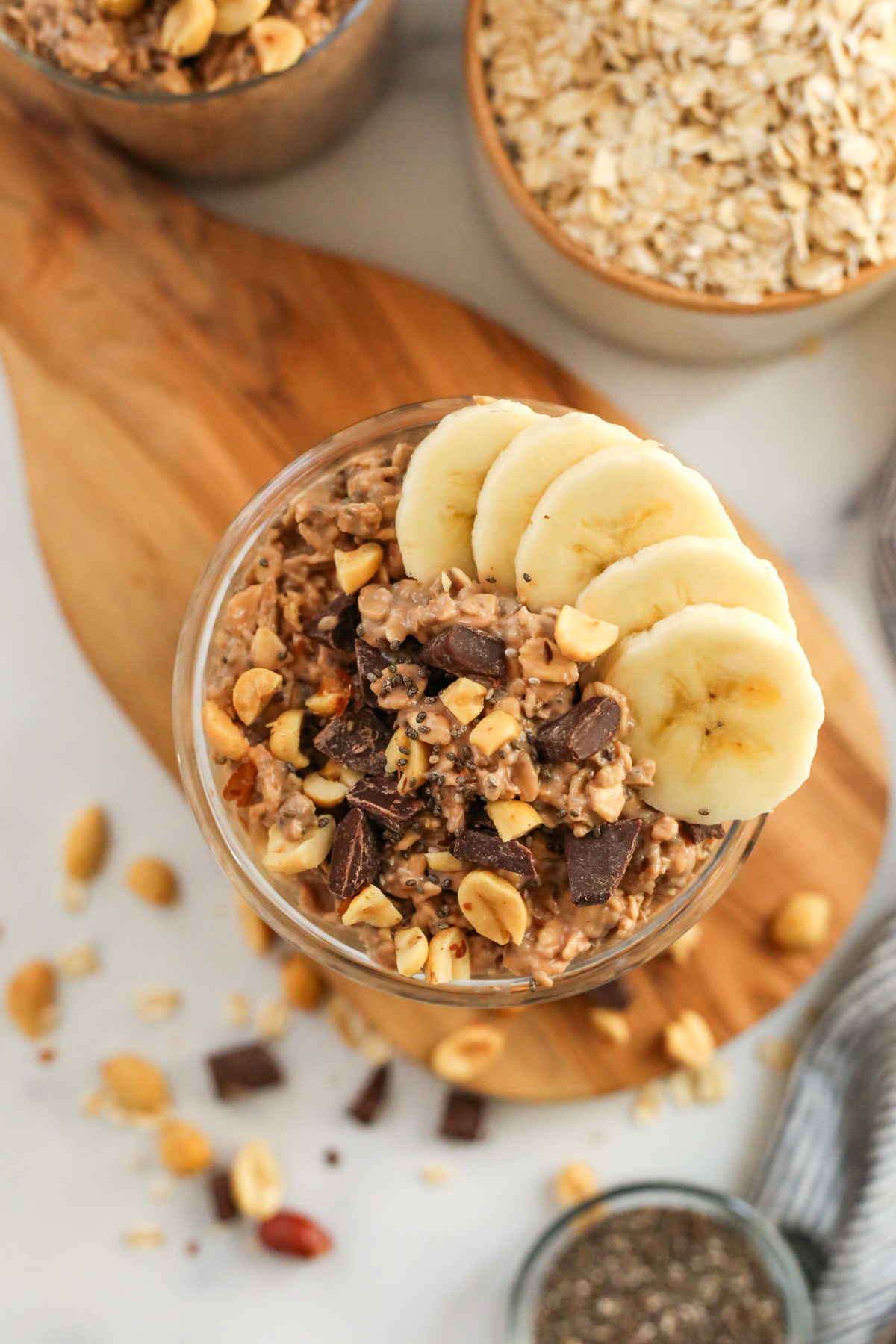 Why You'll Love Chocolate Banana Overnight Oats
I mean, yes…they do resemble a chocolate covered banana. But here's a few more reasons to love them:
Overnight oats are a great way to immediately up your fiber intake for the day. Most of use aren't eating enough fiber, but between the old-fashioned oats, the banana slices, and the chia seeds, it's enough to satisfy the dietitian in me.
And speaking of satisfaction, this overnight oat recipe is seriously satiety inducing. The combo of fat, fiber, and protein should help you feel full and fueled, and the creamy texture makes it go down easy.
The prep process is straightforward with simple ingredients. Do it the night before while making dinner or cleaning the kitchen and you'll be set for a hearty breakfast the next day.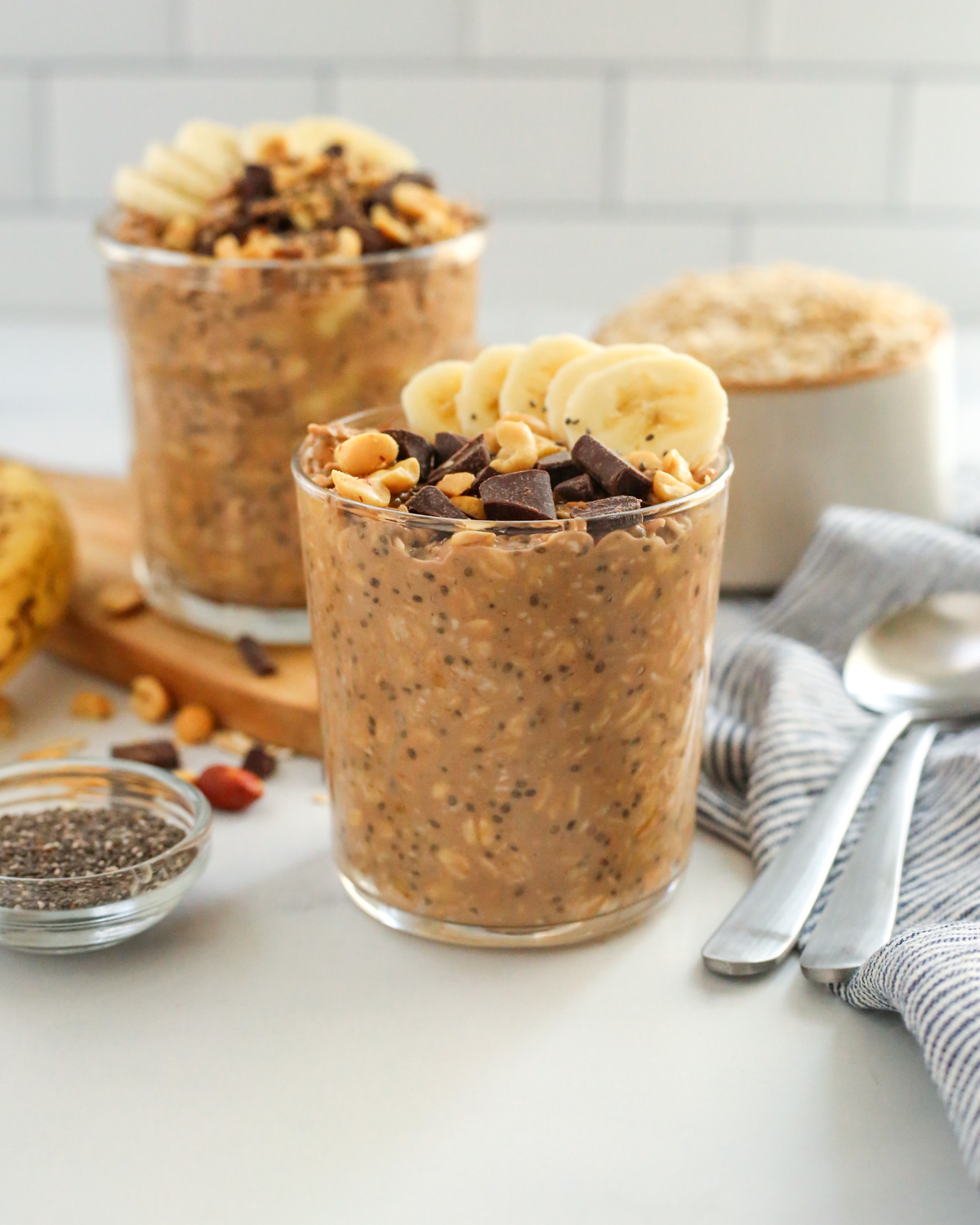 Chocolate Banana Overnight Oat Ingredients
Hopefully these simple ingredients are already hanging out in your pantry. But if not, click HERE to get a ready-to-stop list through InstaCart. Their convenient grocery delivery service could save you a trip to the grocery store!
Old-fashioned oats or rolled oats. If possible, avoid quick oats (instant oats) or steel-cut oats when making overnight oats, as the texture can be too gummy with the former and harder to chew with the latter.
Chocolate milk
Peanut butter, creamy or crunchy
Bananas. I try to strike a balance between overripe bananas, which won't hold their shape, and underripe bananas, which are more starchy than sweet. When your bananas have a few brown spots on them and smell sweet and banana-like, they're at the perfect stage to get mixed into overnight oats.
Pinch of salt
Chia seeds
Chocolate chips or chocolate chunks. Use milk, semi-sweet, or dark chocolate depending on preference and availability.
Peanuts, shelled and crushed. This is for garnish, meaning it's completely optional, so if you want to simplify or don't like the texture, just skip this step.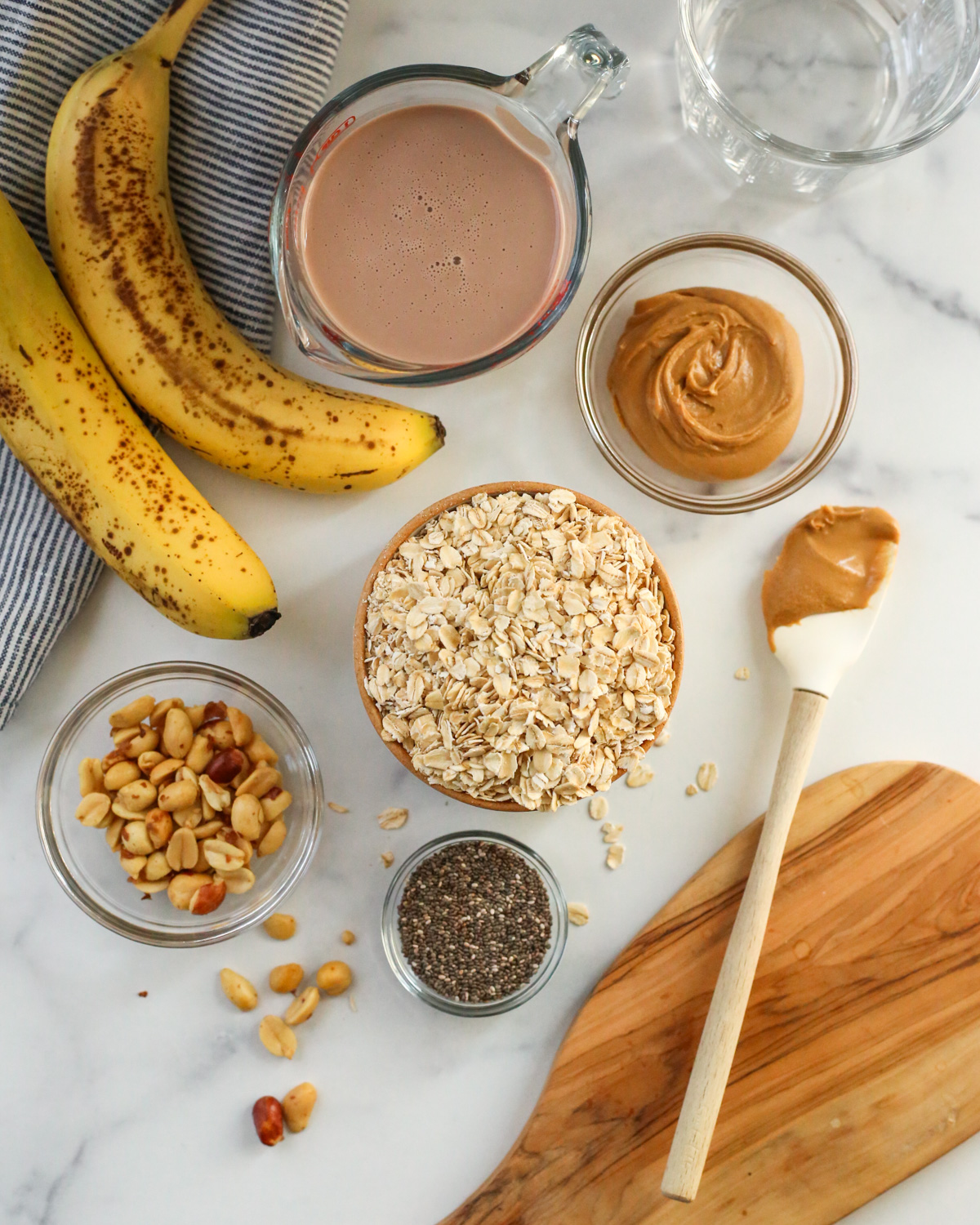 Swaps and Substitutions
One of the best things (in my opinion) about overnight oats is their versatility. For example, just look at the range from my Berry Cherry Overnight Oats to Peaches and Cream to this Chocolate Banana version with peanut butter. There are endless combinations you can try.
Here are some suggestions that will work well in this Chocolate Banana Overnight Oats recipe:
Use any type of milk you prefer. I personally want the creaminess and protein from cow's milk, it just makes for a thicker texture. But you can use any non-dairy milk including almond milk, oat milk, or soy milk. Know that you may have a less creamy texture but you can adjust by adding a protein powder or using less liquid
Using chocolate milk provides plenty of chocolatey goodness, but if you use regular milk or a plant-based milk, you'll need to add chocolate flavor another way. Try cocoa powder with sweetener of your choice, or add extra chocolate chips or chocolate chunks. If using cacao nibs, note that these are usually unsweetened.
Swap the peanut butter for almond butter, sunflower butter, or any other nut butter alternative. This keeps the recipe flexible for peanut allergies (just make sure to swap the peanuts in the garnish, too) or for school settings where policies don't allow peanuts.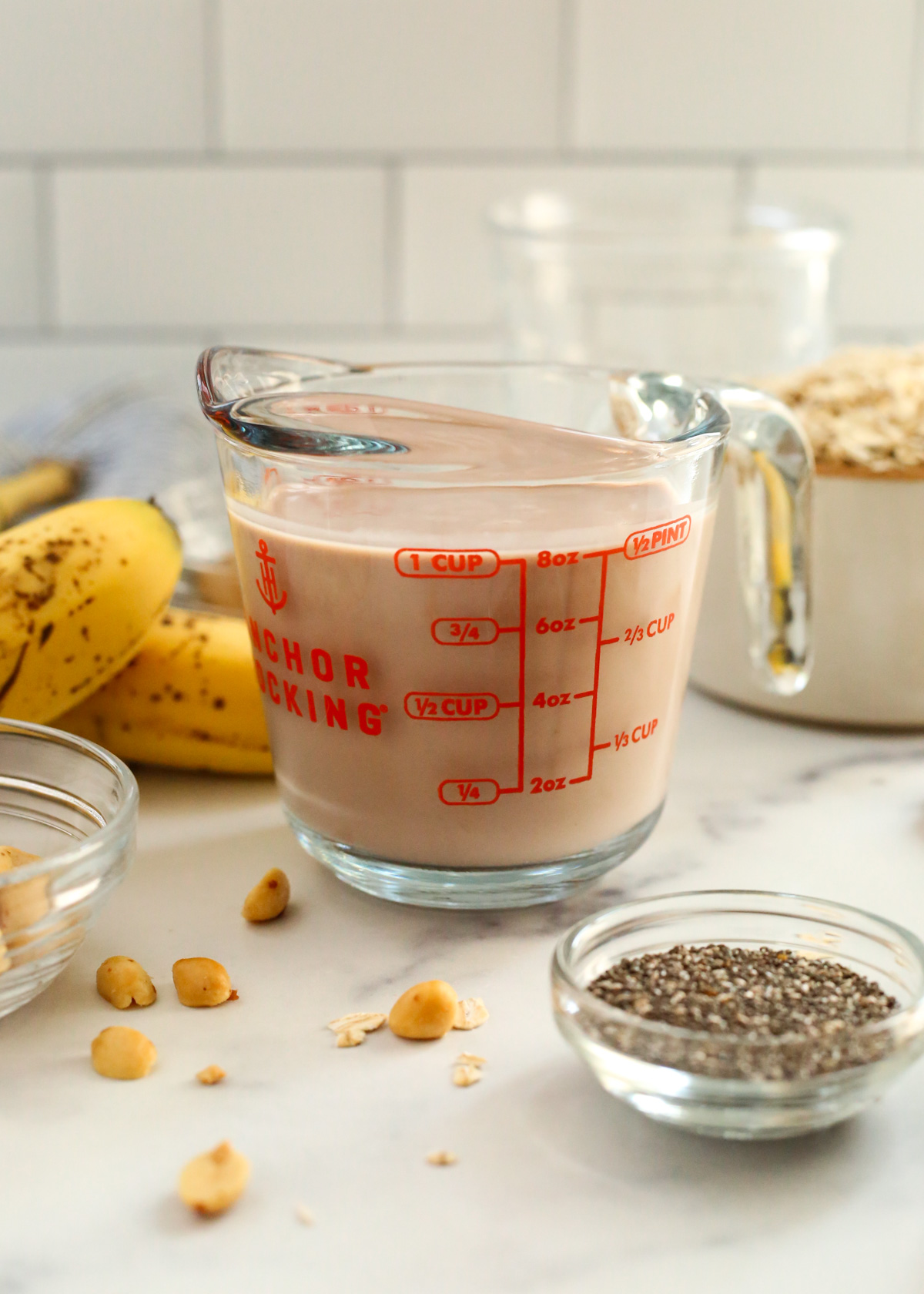 And of course, you can always add any of your favorite toppings. That's always the perfect way to ensure you get what you want and need from any meal or snack.
How to Make Chocolate Banana Overnight Oats
Making overnight oats is as easy as 1-2-3! Follow these fool-proof steps for a super simple make-ahead breakfast:
Measure all ingredients except the chocolate chips and peanuts, and peel and slice the bananas. Add everything to a mixing bowl. 
Give it a good stir. While it may look like the peanut butter won't mix in, it should combine with everything pretty easily once you add the milk.
Transfer the overnight oats into whatever you're storing them in. Seal the lid and store in the refrigerator for at least four hours or overnight.
That's it! The next morning when breakfast time rolls around, all you have to do is pop the lid off, grab a spoon, and dig into a delicious breakfast.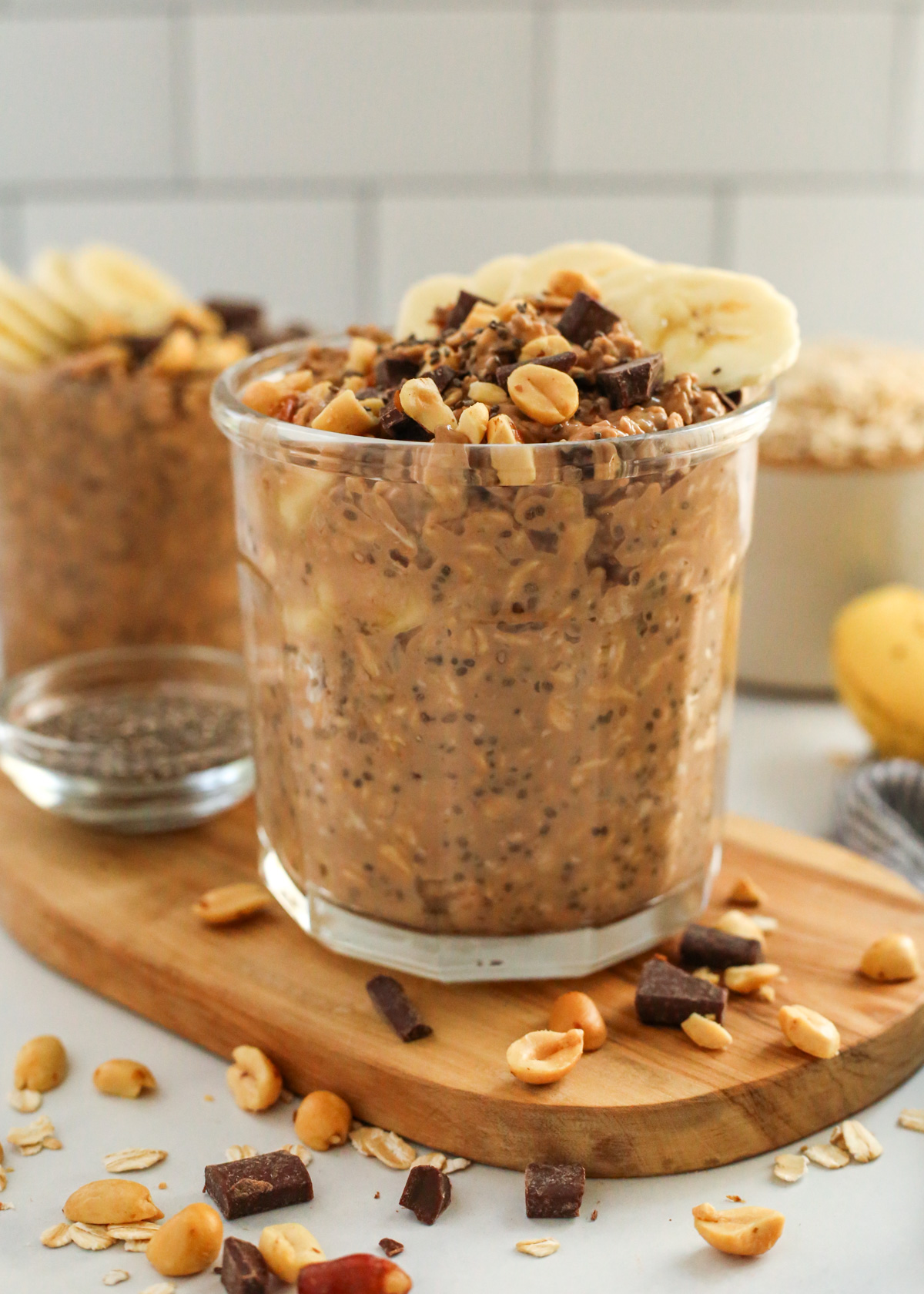 How long will overnight oats last?
My general rule of thumb is 4-5 days max. At that point, the texture starts to take a turn for the worse and you're better off making a smaller amount if you don't get through the whole batch within that time. And while overnight oats look slightly more appetizing when portioned into small mason jars, it's simpler to store altogether in one big airtight container. This also offers more flexibility on serving size, but it's your call.
Note that the bananas will brown…that's just the way it goes. While this won't greatly impact flavor, I'll be honest. They won't look pretty. Here's what mine typically look like when I'm not making them look more aesthetic for the blog.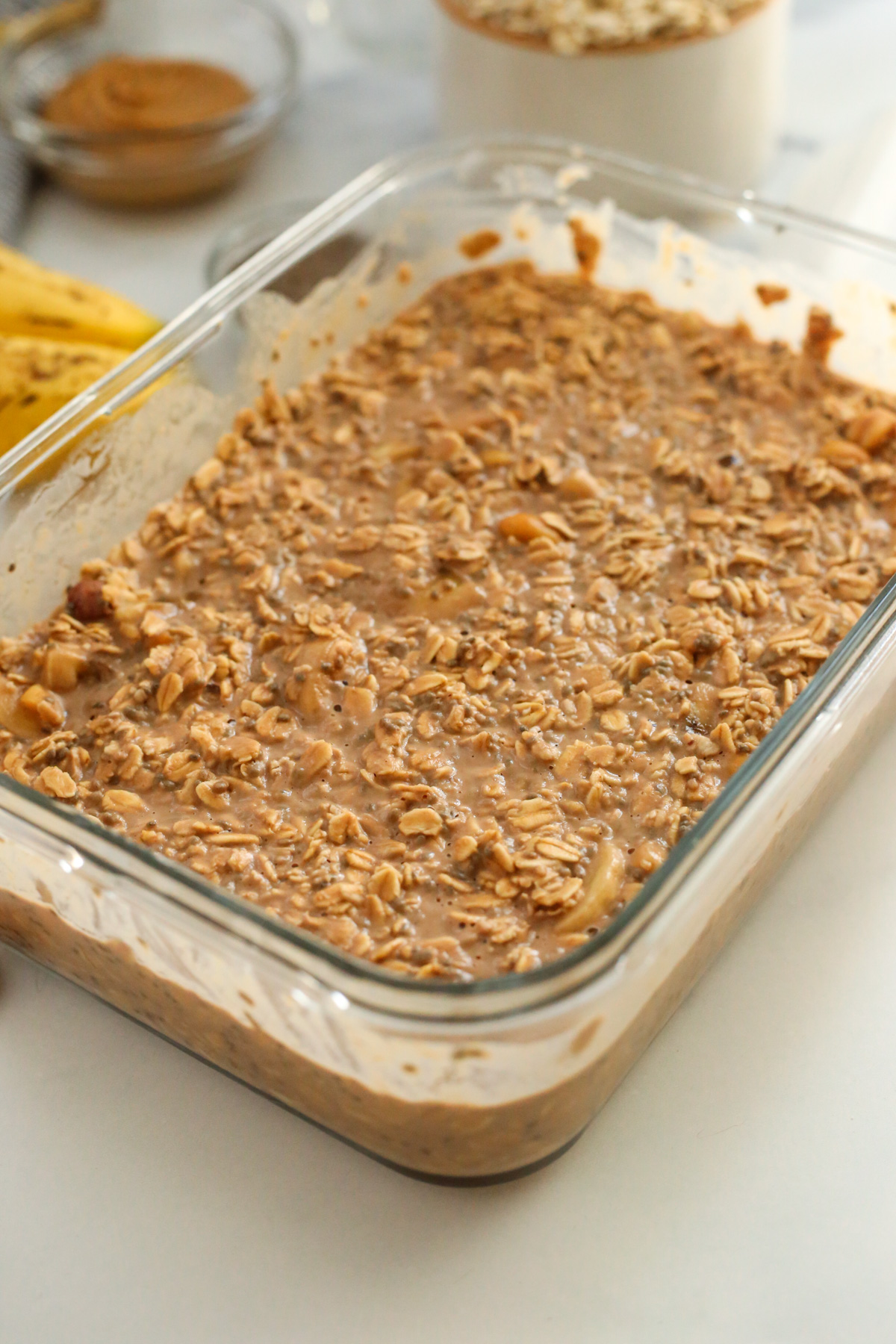 Street Smart Nutrition Tip: Having a variety of sizes for storage containers is so handy. If you need to restock or want to add to your collection, check out my favorites in my Amazon Storefront. 
While you can freeze overnight oats for up to three to six months, I personally don't do that because I want to conserve freezer space for other things. I can't speak to how this Chocolate Banana Overnight Oats recipe would do with freezing and thawing. 
Also…whether you wait for frozen overnight oats to thaw or wait for them to chill, you're going to be waiting. I'd rather have fresh batch, especially when the recipe is as easy as this one!
Chocolate Banana Overnight Oats
This easy make-ahead breakfast is a game changer for busy mornings. Enjoy a delicious breakfast with the flavors of ripe banana, chocolate, and peanut butter mixed into creamy and thick overnight oats.
Equipment
measuring cups and spoons

cutting board and small knife

airtight storage containers
Ingredients
1 1/2

cups

rolled or old-fashioned oats

1 1/2

cups

chocolate milk

,

whole

1/3

cup

peanut butter

,

creamy or smooth

1

large

banana

,

sliced, or 2 small or medium bananas

1

tbsp

chia seeds

1

pinch

salt

,

kosher or sea salt

3

tbsp

roasted peanuts

,

crushed

3

tbsp

chocolate chips

,

milk or dark chocolate
Instructions
Add the oats, chocolate milk, peanut butter, chia seeds, and salt to a mixing bowl. Stir to combine, ensuring the peanut butter is well distributed.

Gently fold in the sliced bananas. Once fully mixed, transfer into a storage container or mason jars with tight-sealing lids. Chill in the refrigerator for at least four hours, or overnight.

When ready to serve, remove from the fridge. Add the chocolate chips and crushed peanuts on top, along with additional banana (optional). Serve and enjoy!
Notes
Store in the refrigerator for up to 5 days. 
Yield, as written, is at least four servings. If you find this recipe to be extra filling, adjust to 6 servings or reduce the amount of oats and chocolate milk to one cup each. 
Nutrition
Serving:
1
serving
,
Calories:
466
kcal
,
Carbohydrates:
53
g
,
Protein:
15
g
,
Fat:
24
g
,
Saturated Fat:
7
g
,
Polyunsaturated Fat:
5
g
,
Monounsaturated Fat:
9
g
,
Trans Fat:
0.01
g
,
Cholesterol:
11
mg
,
Sodium:
193
mg
,
Potassium:
612
mg
,
Fiber:
7
g
,
Sugar:
22
g
,
Vitamin A:
115
IU
,
Vitamin C:
4
mg
,
Calcium:
168
mg
,
Iron:
2
mg
If this becomes your new favorite breakfast, I want to hear about it! Ratings and comments are always appreciated so don't be shy about letting me know what you think. This easy breakfast recipe has been a popular one for us this year. I genuinely hope you enjoy it, too.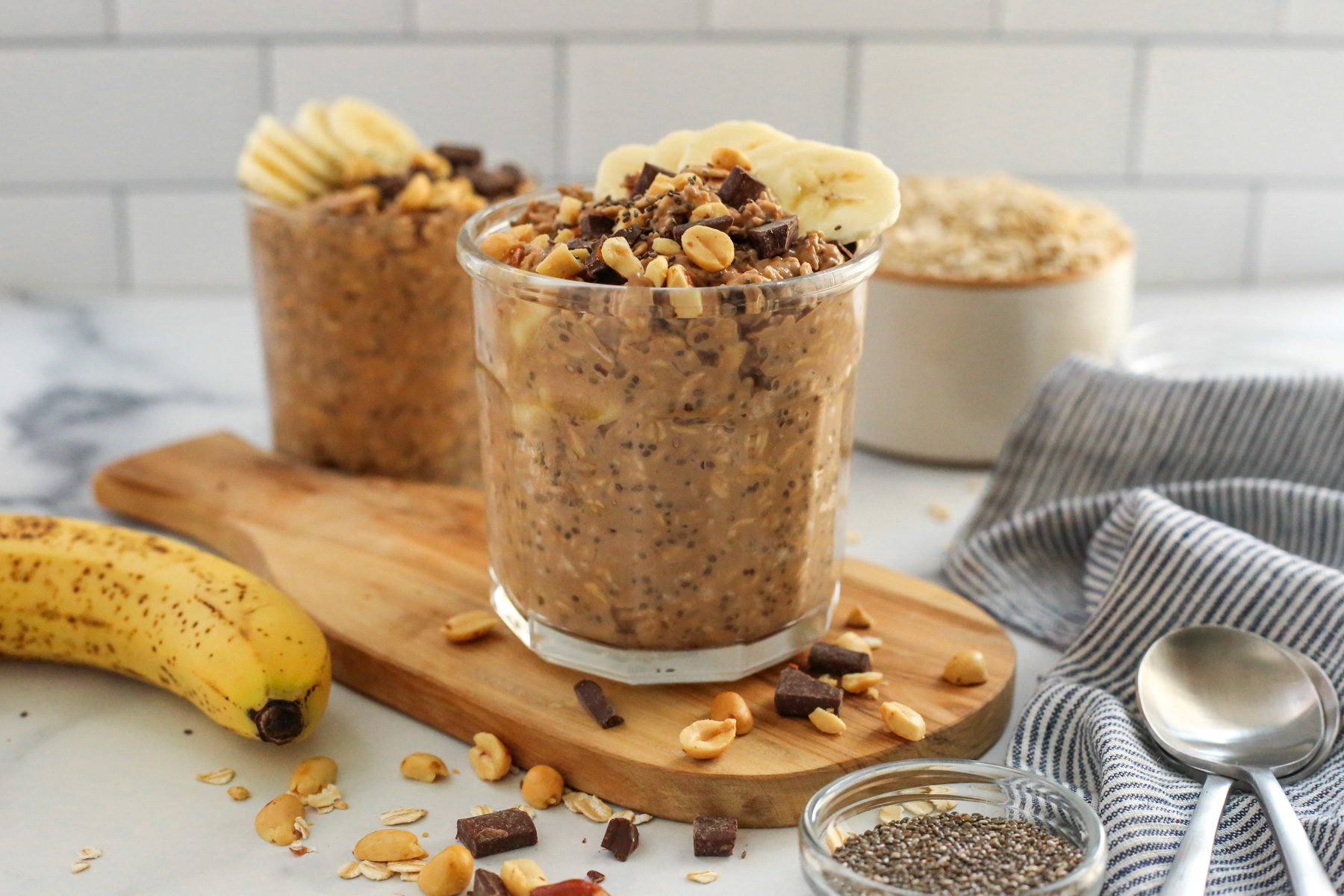 And as always, thanks for stopping by the Street Smart Nutrition blog! You can find more and follow along on Instagram and YouTube (plus all the other social media platforms), and don't forget to sign up for my newsletter so you never miss a new post.
Cheers to more fearlessly nourishing meals!