Break out the mason jars, you'll want to stock the fridge with these Berry Cherry Almond Overnight Oats! Sweet cherries and fresh berries team up with quick oats and almonds for a creamy, dreamy breakfast that's ready in minutes.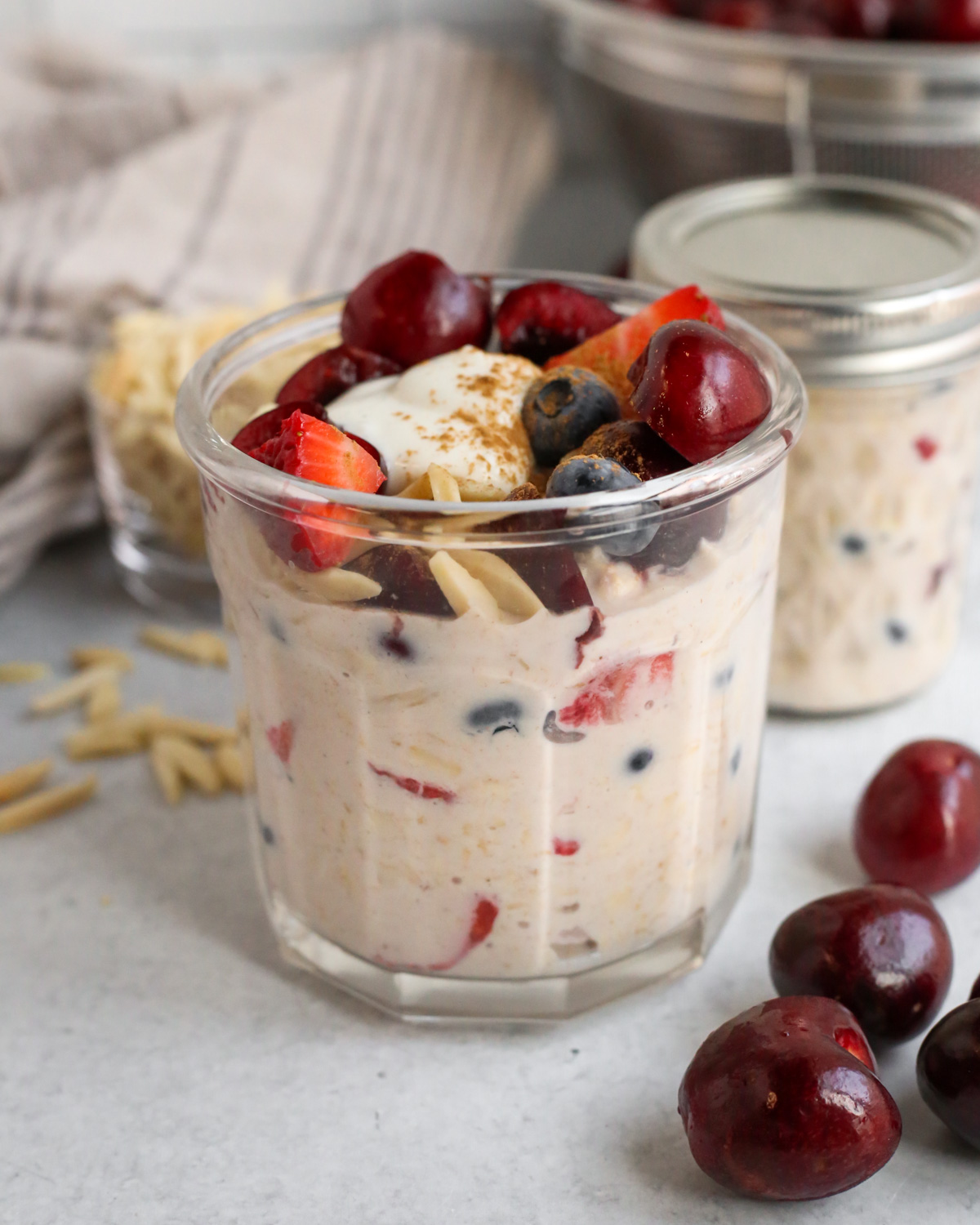 Here's a random fact about me: I was an overnight oats denier for a long time. Very late to the game. The thought of cold oatmeal was totally unappealing to me and I was happy to stick to hot cereals only. But while attending a conference in Portland, I found myself in a predicament. With limited time before the opening session, I could either skip breakfast, buck up and pay an ungodly amount at the cafe across the street, or try the overnight oats recommended by the barista in the hotel's breakfast bar. He seemed like a generally trustworthy person based on how he remembered my order from the day before, so I went with it.
And now here I am, raving about my Berry Cherry Almond Overnight Oats recipe on the Internet.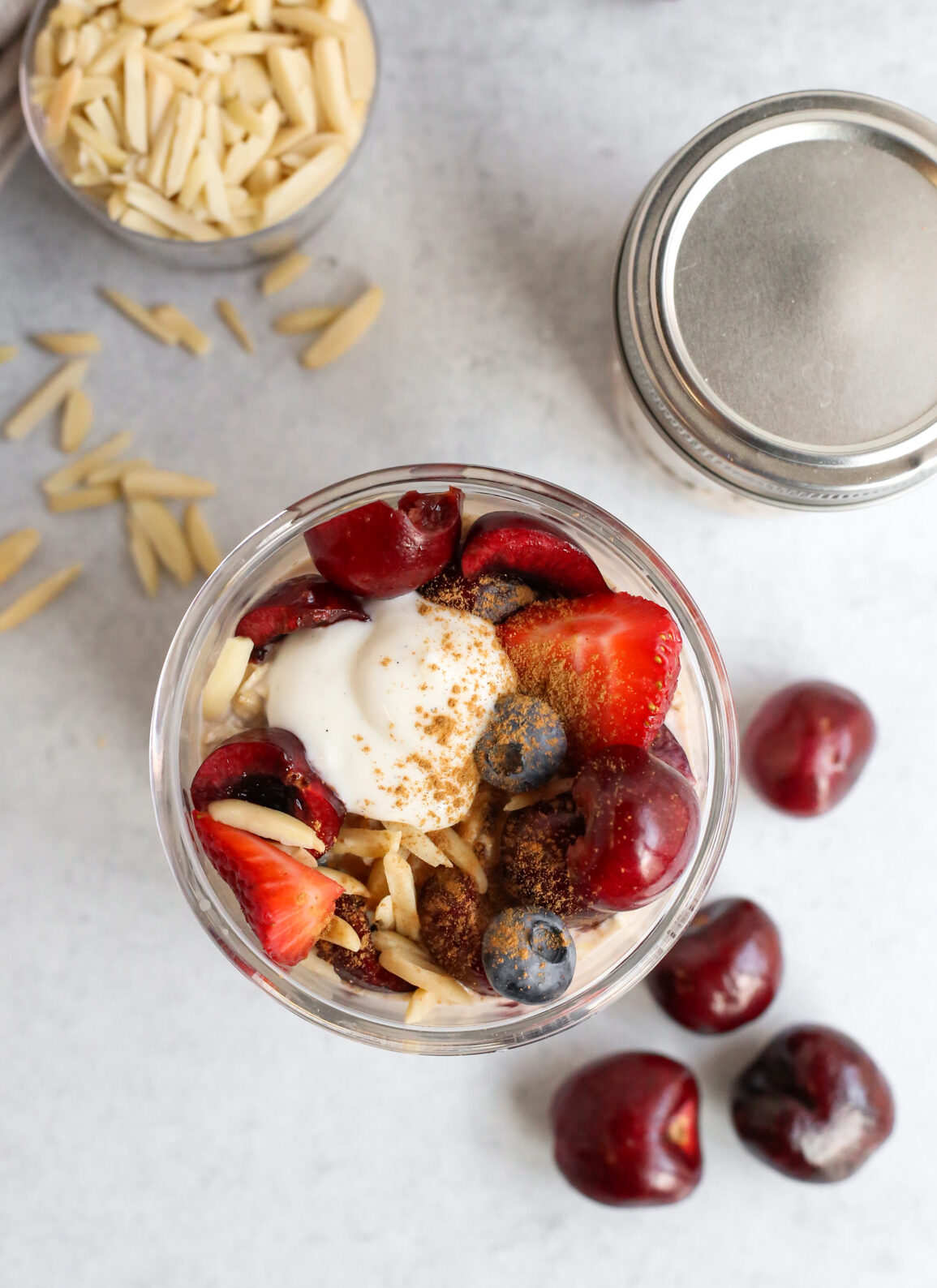 But seriously…I really changed my tune about cold oatmeal after trying them for the first time. Overnight oats are so much more than that! Shoutout to that barista in Portland!
Why You'll Loving Prepping for Breakfast
When we look through the lens of gentle nutrition, prepping meals ahead of time doesn't have to be rigid or restrictive. In fact, it can be a big component of self-care. And while you might assume that strategy is best suited for lunch or dinner, in reality, it works just as well for breakfast!
Start the day with a balanced meal that provides nutrition you might not otherwise have at later meals. I'm talking whole grains, fiber, fruit, and dairy, plus enough substance to keep you fueled without distractions.
Overnight oats store well, so you can eat a little or a lot, or graze your way through a jar depending on your appetite.
You can stack it into your evening routine, which might feel less stressful than trying to throw something together first thing in the morning.
But this cherry almond overnight oats recipe isn't just for breakfast. It's a great option for a snack or after a workout. There's never a wrong time to enjoy this combo of carbs, protein, fat, fiber, and flavor.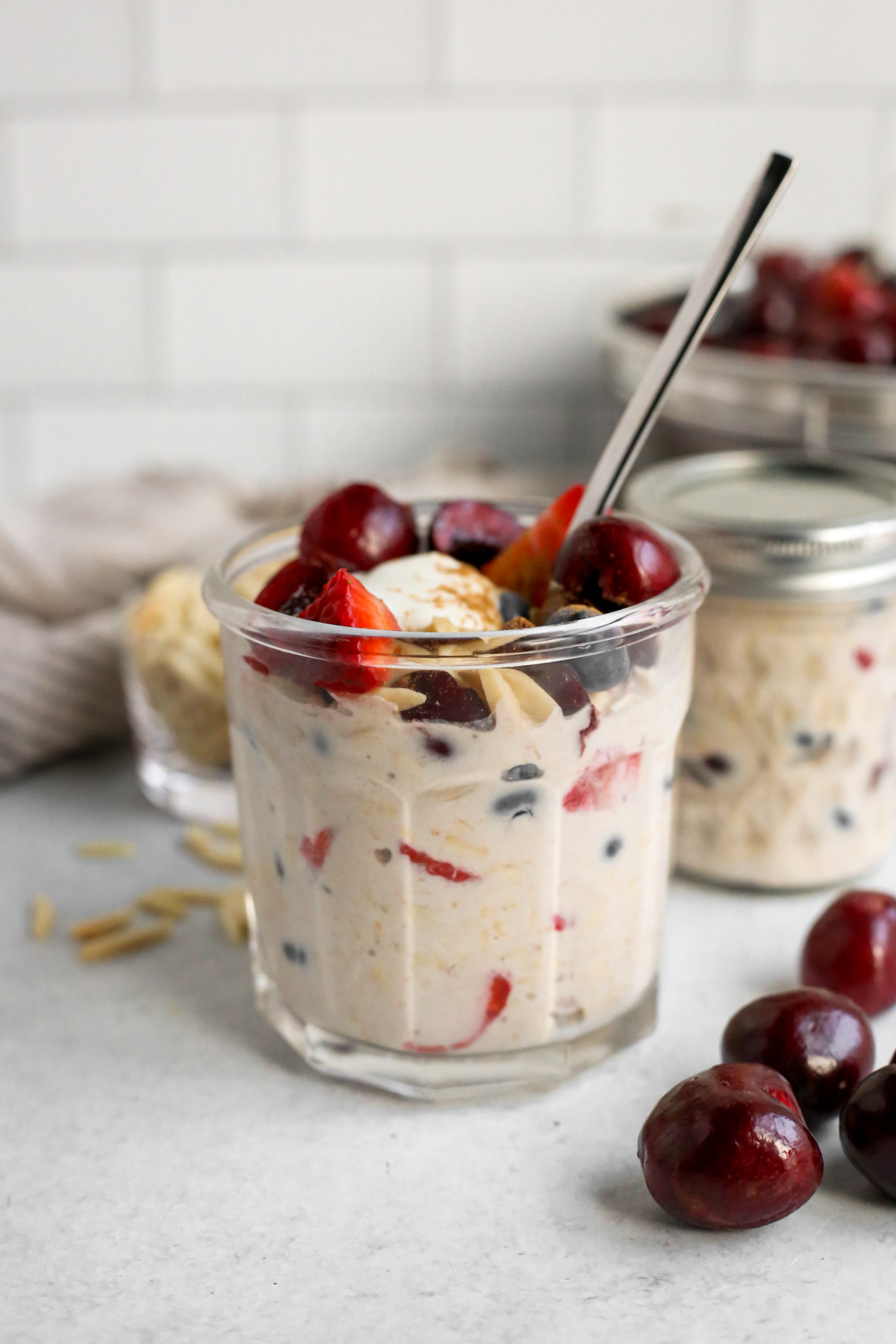 Is breakfast the most important meal of the day?
First it was, "never skip breakfast!" Then it was, "fast until noon!" Well, which is it?!
There will almost always be conflicting headlines claiming the latest and greatest for health and nutrition. And if you feel confused, I don't blame you. When you factor in busy schedules, a healthy breakfast may or may not seem like a priority.
As a registered dietitian and advocate for a non-diet approach, here's what I'll say: generally speaking, eating something is better than nothing. I'm not saying it has to be traditional "breakfast food". And I'm not saying you have to scarf something down the moment your feet hit the floor. And I'm definitely not saying you have to create arbitrary food rules around what you will or won't include for your first meal of the day. As I like to say, coffee is not a meal, so as long as you're eating a lil' something, you're doing a good job.
Ingredients You'll Need
When it comes to easy breakfast recipes, it doesn't get much easier than overnight oats. There are endless combinations of ingredients, but for these Berry Cherry Almond Overnight Oats, you will need:
Rolled oats or instant oats
Milk of your choice. I default to cow's milk because I love regular dairy milk, but almond milk or soy milk can also work well.
Vanilla yogurt. Try Greek yogurt for a little boost of protein and extra creamy texture.
Fresh cherries
Assorted berries, such as the blueberries and strawberries I used in mine.
Slivered almonds
Cinnamon and vanilla extract
Pinch of salt
You should also grab a mason jar (or two), some measuring cups and spoons, and a cherry pitter. I like this OXO Cherry & Olive Pitter because it's comfortable to use and easy to clean. You won't catch me using it for olives (one of the few foods I genuinely dislike!) but it works like a charm for fresh cherries.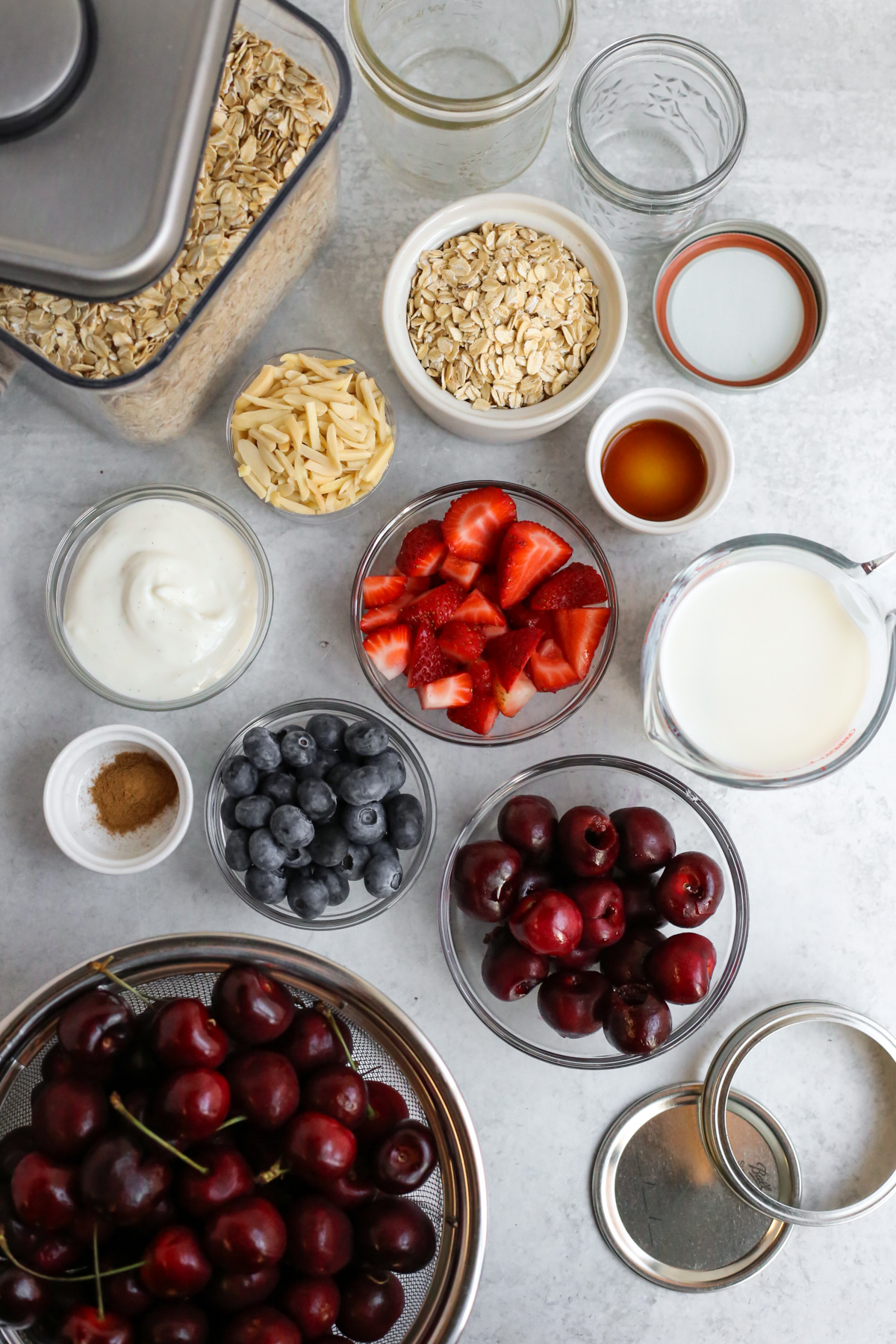 ​Everything should be easy to find in your favorite local grocery store. I notice many of them feature locally grown fresh fruits in the summertime, but depending on where you live you might score great deals at a farmers market. And if you need a convenient grocery delivery option, don't forget about Instacart! Click HERE for a shopping list based on this recipe.
What types of oats work best for overnight oats?
The best oats for overnight oats are quick cooking rolled oats, also called old-fashioned oats. They have an ideal shape and size to absorb liquid for a creamy texture without becoming too mushy.
All oats come from the same plant. So despite their subtle differences in shape and texture, they are pretty similar when it comes to nutrition. However, steel-cut oats won't do well for overnight oat recipes (better to cook and serve hot). And instant oats are chopped small, which can give you a very dense, gummy texture. If that's not an issue for cold overnight oats, go for it! The recipe will still work with virtually the same flavor.
Learn more about oats and where they come from in this recap from when I toured a Quaker Oats mill!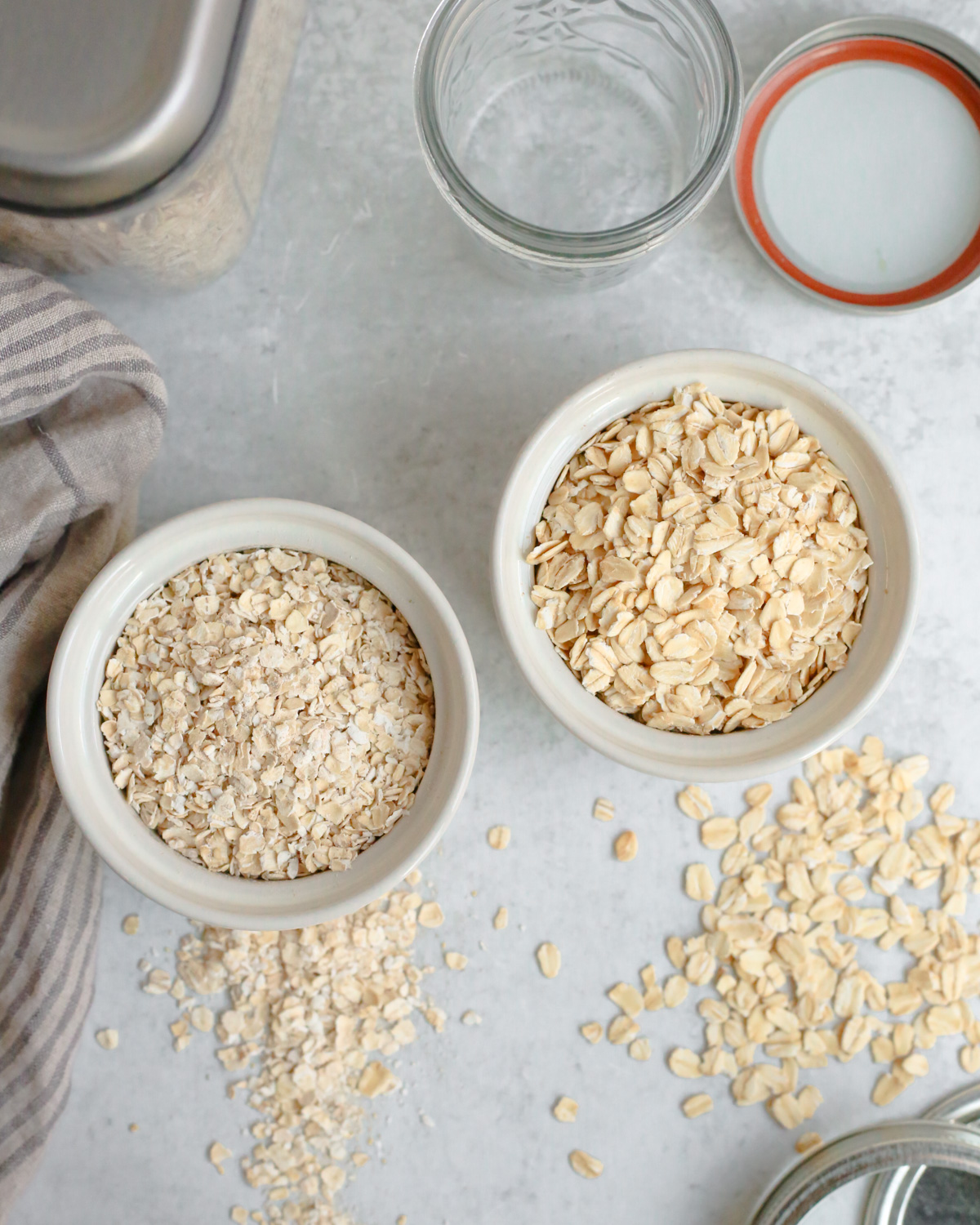 What about frozen fruit?
What about it? I'm a big fan!
I say go for it, especially if fresh cherries and berries are out of season, hard to find, or too expensive. If you use this option, be sure to check my notes in the recipe card for modified instructions.
How to Make Cherry Almond Overnight Oats
This recipe is really more like a process, and it's all about the ratios. Don't get too tied down with exact measurements (although I put some in the recipe card below). I think the best ratio for the best texture is one part oats + one part milk + 1/2 part yogurt.
The best part about using ratios vs. exact measurements is that it's easier to scale up or down. So while my recipe is written for two servings, you can cut that in half for just one. Or double or triple for many more. And you can use standard sizes for measuring cups without fraction math. I HATE fraction math.
So start by washing and drying the fresh cherries. Use the cherry pitter to prep as many as you'd like. I use about 15 cherries, or roughly one cup, for two servings of cherry overnight oats. Slice them into halves or quarters for bite-sized pieces.
Go ahead and wash and dry the blueberries and strawberries as well. Remove the strawberry stems and slice or dive them into smaller pieces. Grab about 1/2 cup of each (again, no exact measurements needed and you can also add more or less). Then mix the rest of the ingredients together in a large jar or mixing bowl. Once combined, you can portion them into individual jars or food storage containers.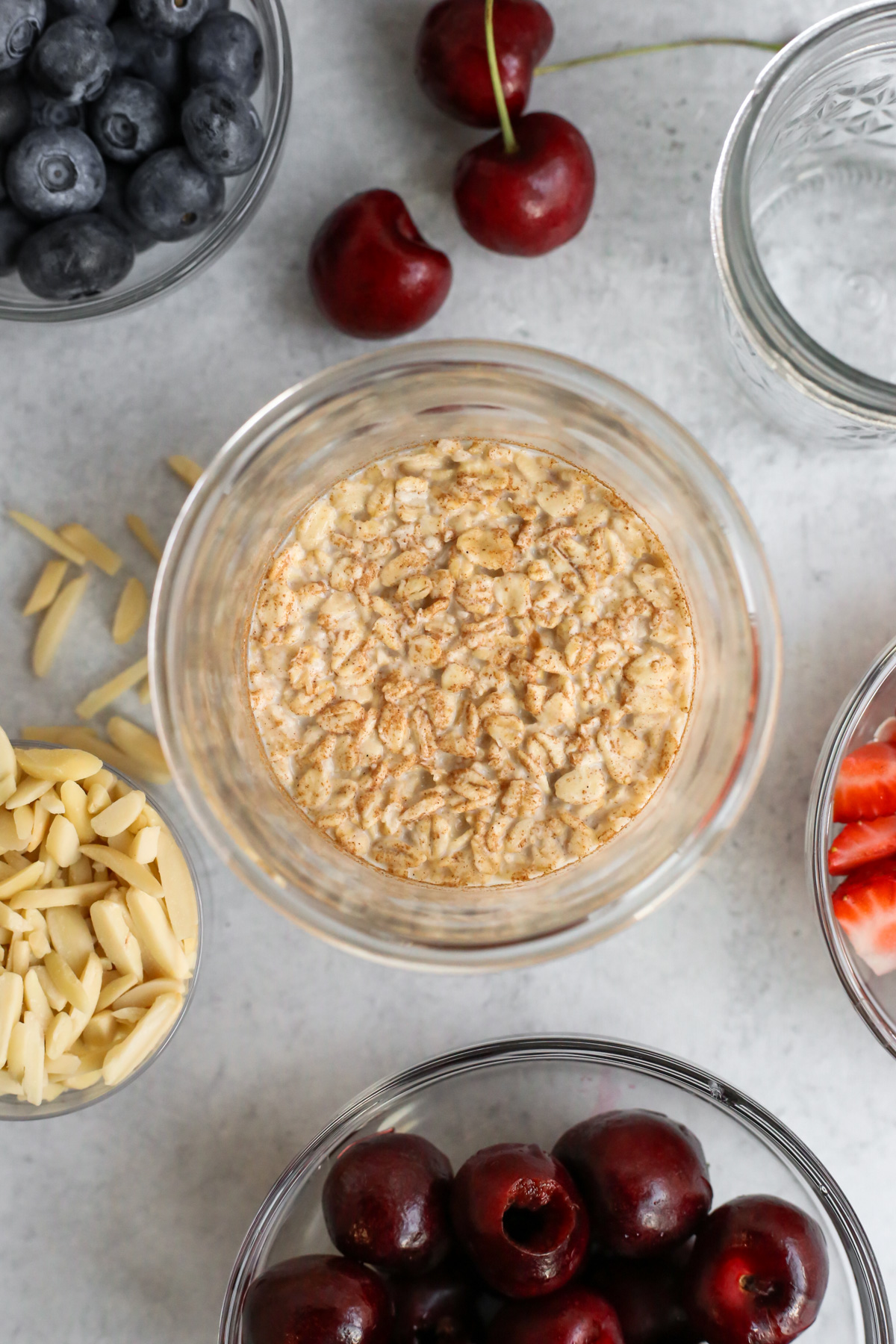 Place them in the refrigerator for at least 3-4 hours. Although they're called overnight oats, this should be enough time for the oats to soak up the liquid and soften. No cooking required! You'll know they're ready to eat when there's no liquid or milk pooling at the top. The cinnamon might collect at the surface, but just give it a good stir. Top with extra fruit, almonds, or a little bit more yogurt. Then dig in and enjoy!
How long will overnight oats last in the fridge?
When sealed in an airtight container, overnight oats should last up to five days in the fridge. This is oddly convenient, since you can prep a big batch on a Sunday or Monday night and ensure you'll have ready-made breakfasts for the rest of the week.
I don't recommend freezing overnight oats, as this can really change the texture and quality once they thaw. But since they're so simple to prepare, I think you'll quickly learn the right amount to prep for your needs without unintentionally wasting any.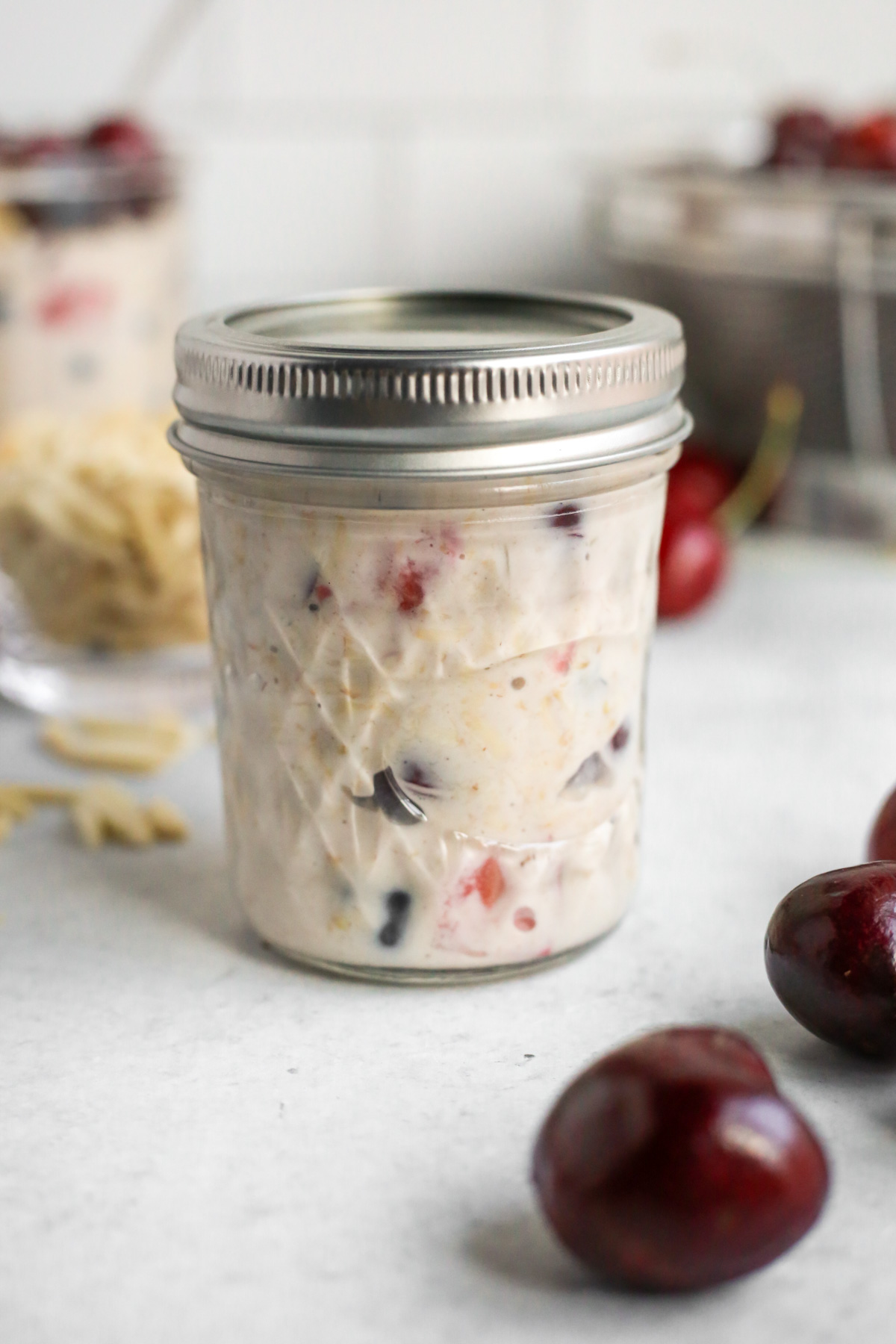 Swaps and Substitutions
​My brain is just swimming with ideas for how I'll make these cherry overnight oats next time. But for now, I'll practice some restraint and offer just a few ideas for other variations.
Mix in some chia seeds or ground flax seeds. This will thicken the texture as they absorb moisture from the milk and yogurt, but also add valuable nutrition.
When you're ready to serve, scoop some peanut butter or almond butter on top. It's sort of a PB&J situation.
Intensify the almond flavor by using almond extract instead of vanilla extract. Adjust according to taste as these extracts can be quite potent!
For nut allergies, skip the almonds and swap for peanuts, sunflower seeds, or other allergy-friendly option.
If you like a little sweetness, add chocolate chips or drizzle with a little bit of honey or pure maple syrup. If you're super into the chocolatey stuff, check out my Chocolate Banana Overnight Oats with Peanut Butter!
And of course, it goes without saying that it's always an option to add more fruit, more yogurt, more oats, more anything to get the ratio and texture you like best. And be sure to check labels carefully if you need gluten-free oats. While oats are naturally gluten free, they might be processed on the same equipment as other ingredients.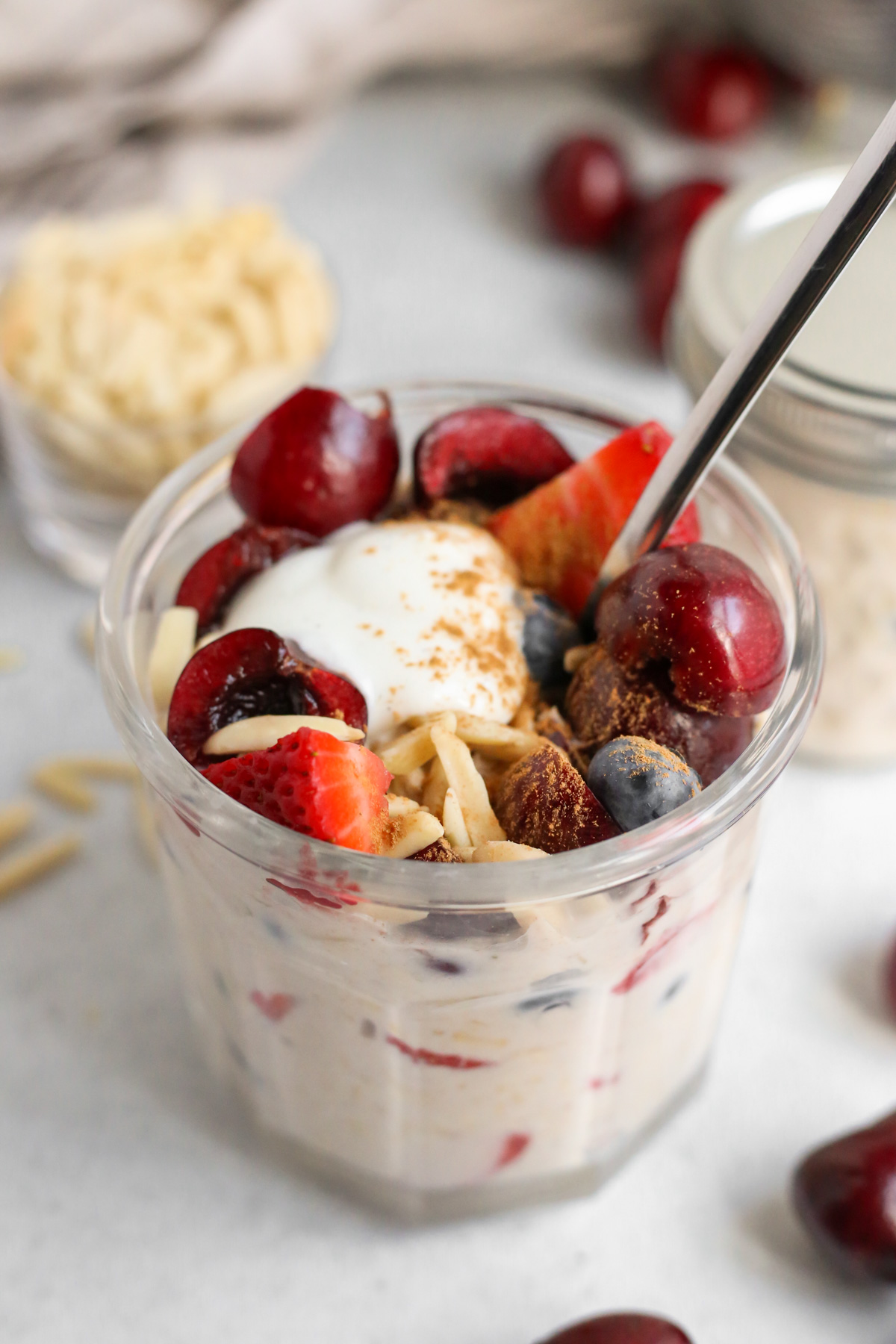 So with all of that being said, let's get into the recipe!
Berry Cherry Almond Overnight Oats
This no-cook, easy prep overnight oats recipe features pops of bright color and fresh flavor from sweet cherries and summer berries. Make it the night before for a simple breakfast to start your day!
Equipment
mason jars,

or food storage containers

measuring cups and spoons

cutting board and paring knife
Ingredients
1

cup

rolled oats

,

old-fashioned oats

1

cup

milk

1/2

cup

vanilla Greek yogurt

1

cup

sweet cherries, pitted and halved

,

about 15 cherries

1/2

cup

blueberries

1/2

cup

strawberries

,

halved and sliced

1/2

cup

slivered almonds

1/2

tsp

vanilla extract

1/4

tsp

cinnamon

,

ceylon, ground

1

pinch

coarse sea salt
Instructions
Wash and dry the fresh fruit. Pit the cherries and remove the stems from the strawberries. Slice the cherries into halves or quarters, and slice or dice the strawberries into bite-sized pieces. Combine with the blueberries and place in the jars or containers.

Add the rest of the ingredients (oats, milk, yogurt, almonds, cinnamon, vanilla extract, and salt). Stir or shake the jar to combine ingredients, then seal the lid tightly.

Place in the refrigerator for 3-4 hours or overnight. In the morning, simply remove the lid, stir, and enjoy. Option to top with additional fruit, yogurt, or almonds.
Notes
If using frozen fruit: There's no need to thaw frozen cherries, strawberries, or blueberries, as they will thaw as the overnight oats chill in the fridge. Measure and add as directed. Frozen berries will release extra liquid, which may alter the color of the finished overnight oats. If you prefer a thicker texture, reduce the amount of milk by 1/4 cups, or to taste.
Nutrition
Serving:
1
serving
,
Calories:
508
kcal
,
Carbohydrates:
66
g
,
Protein:
21
g
,
Fat:
20
g
,
Saturated Fat:
4
g
,
Polyunsaturated Fat:
5
g
,
Monounsaturated Fat:
10
g
,
Trans Fat:
0.01
g
,
Cholesterol:
17
mg
,
Sodium:
86
mg
,
Potassium:
818
mg
,
Fiber:
11
g
,
Sugar:
29
g
,
Vitamin A:
267
IU
,
Vitamin C:
30
mg
,
Calcium:
264
mg
,
Iron:
3
mg
I'm not saying this Berry Cherry Almond Overnight Oat recipe will make busy mornings any easier. But they certainly won't make them more stressful! Prepping breakfast the night before can guarantee you have something ready to eat the next morning. So I hope you try this recipe and see for yourself. I'd love to know what you think, so leave a rating or comment and let me know!
And as always, thanks for stopping by the Street Smart Nutrition blog! You can find more and follow along on Instagram and YouTube, and don't forget to sign up for my newsletter so you never miss a new post. Cheers to more fearlessly nourishing meals!
This post was originally published in August 2016. It has since been updated to improve the overall quality of the information and/or images.