Blueberry Coconut Overnight Oats with kefir are an easy meal prep option for quick breakfasts using oats. Just chill overnight for a quick breakfast – it's the easiest breakfast you'll ever prep with plenty of options to modify it for what you need!
---
Disclosure: This post contains affiliate links.
Oats are always a favorite in my kitchen because they're just so versatile. I think back to all the ways I've made overnight oats so far and I haven't gotten tired of them yet. This version of blueberry coconut overnight oats with kefir is no different!
If you're curious about the other flavors I've got, check out Peaches and Cream Overnight Oats or Berry Cherry Overnight Oats

Overnight Oats with Kefir
There's still some debate on how to say it ("kee-fir" or "keh-fear") but there's no denying it's an easy step to support a healthy gut. Adding kefir to overnight oats is going to give you an extra boost of the "good" bugs, or the probiotics that can help keep your gut happy. Oats are a prebiotic food, meaning they contain the type of fiber that helps these good bugs thrive. When paired together, they create a symbiotic relationship that does more benefit for you gut than only have one or the other.

I opted for the Vanilla flavored version in this recipe because it just plays so well with the other ingredients. But you can also find unsweetened (read: very tart) kefir, and there are also traditional yogurt-like flavors. If you're a fan of either coconut or blueberry, you can even find those at some grocery stores these days!
[click_to_tweet tweet="Combine oats and kefir for a probiotic and prebiotic boost in the morning! Plus, a recipe for Blueberry Coconut Overnight Oats" quote="Combine oats and kefir for a probiotic and prebiotic boost in the morning! "]
If you can't tolerate dairy or choose to avoid it for any reason, there are now some pretty good non-dairy kefirs on the market now.
Blueberry Coconut Overnight Oats
Do you actually have to wait overnight?
Conveniently, no. If you have just two or three hours, these can still soften enough to be enjoyed without chewing forever. And just because they're chilled in the fridge doesn't mean you have to eat them chilled either. There are plenty of times (especially during the winter months) where I'll heat up my overnight oats so I can start the day with a hot breakfast.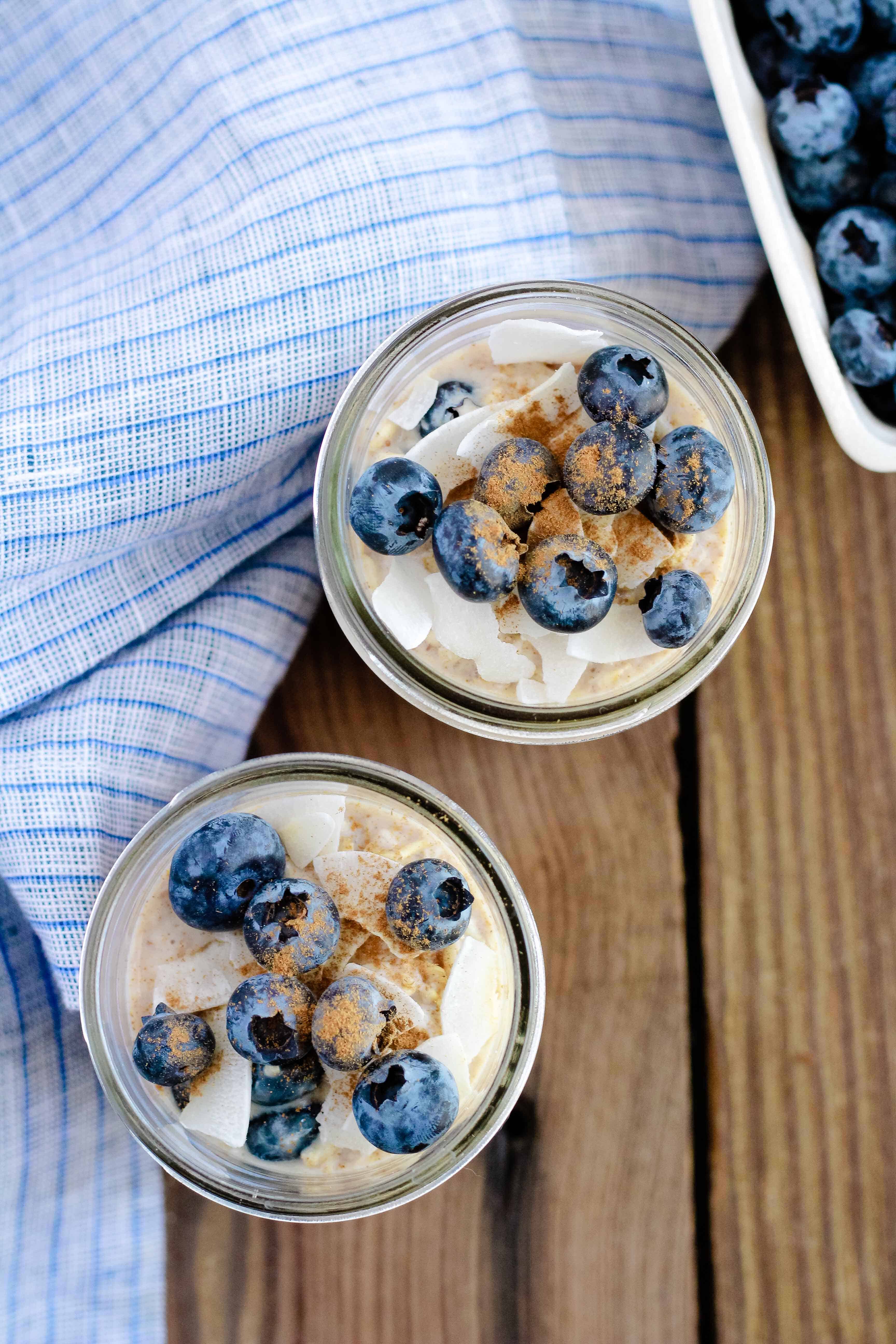 There really is no right or wrong way to mix and store your overnight oats, but I find these jars to be just the right size. The opening is also large enough to easily eat it with a spoon. That means one less dirty dish to clean!
Here's the recipe for Blueberry Coconut Overnight Oats
Blueberry Coconut Overnight Oats
Overnight oats aren't just for breakfast! Try this blueberry version as a snack any time of day.
Ingredients
2/3

cup

rolled or quick oats

1 1/3

cup

vanilla flavored kefir

1

cup

fresh or frozen blueberries

1/2

cup

flaked coconut, unsweetened

1/4

tsp

vanilla extract

1/4

tsp

ground cinnamon

1

pinch

fine sea salt
Instructions
Prepare two containers with airtight lids, such as small mason jars.

Add all ingredients to a small mixing bowl and stir to combine. Evenly divide the mixture between the two containers. Seal the lid and store in the refrigerator for a minimum of 4 hours.

When ready to serve, top with additional ground cinnamon, coconut, or sweetener of your choice (optional). Transfer to a bowl or enjoy straight from the jar.

Nutrition
Serving:
1
serving
,
Calories:
387
kcal
,
Carbohydrates:
42
g
,
Protein:
11
g
,
Fat:
21
g
,
Saturated Fat:
16
g
,
Cholesterol:
20
mg
,
Sodium:
94
mg
,
Potassium:
270
mg
,
Fiber:
8
g
,
Sugar:
17
g
,
Vitamin A:
368
IU
,
Vitamin C:
7
mg
,
Calcium:
220
mg
,
Iron:
2
mg
If you try these Blueberry Coconut Overnight Oats with kefir, be sure to share the love! Have you tried overnight oats yet?