With chopped pecans, fresh sage, and a simple brown butter sauce, this Brown Butter Mushroom Pasta recipe is the perfect cozy pasta recipe for fall. It's a simple, forgiving recipe for home cooks, but can really impress with rich flavor and beautiful colors.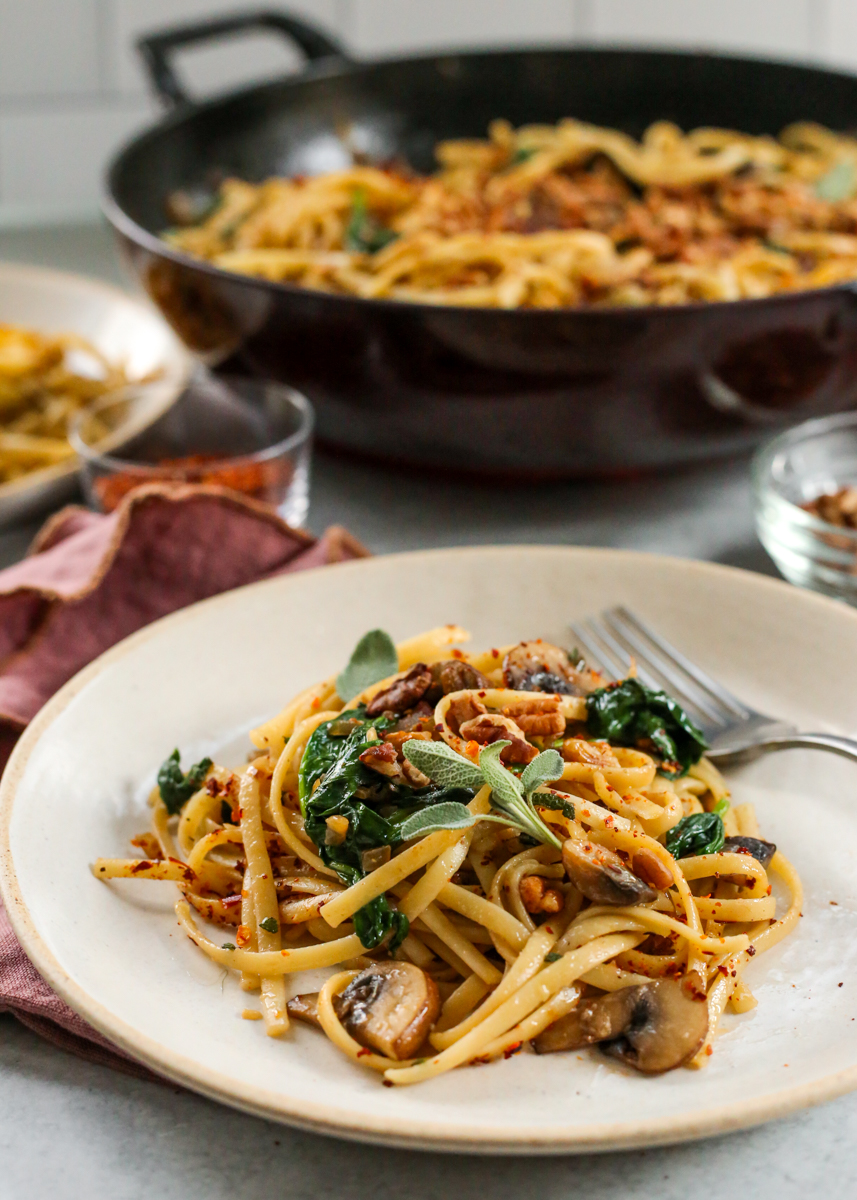 I don't know about you, but I just can't get enough of brown butter everything. Regular butter, when cooked over low heat, transforms into a delicious golden brown sauce with a nutty aroma, complex flavor, and silky texture. It's culinary magic!
That's exactly why I coat everything in this Brown Butter Mushroom Pasta with it. I mean, who doesn't love melted butter? It wraps around the perfectly cooked al dente pasta, the earthy mushrooms, the wilted spinach. And when it's topped with chopped pecans and fresh sage, it automatically becomes my new favorite pasta dish for fall.
I'm not wasting any time today, let's get right into this delicious recipe!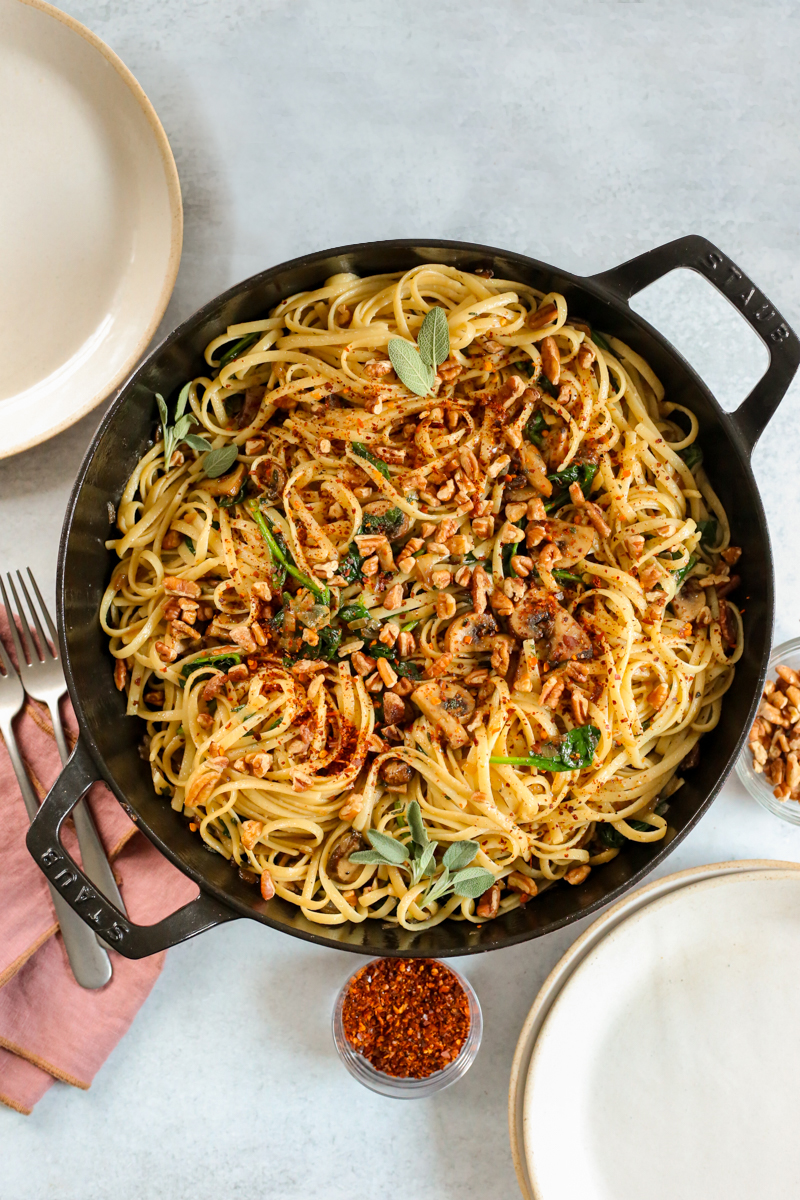 Brown Butter Mushroom Pasta Ingredients
Linguine, spaghetti, or fettuccine pasta. You can even use angel hair pasta if you like, as any of these long pasta shapes work well for this mushroom pasta recipe. 
Olive oil, to sauté the veggies
Mushrooms. Any variety can add that earthy flavor, but baby bella (brown cremini) mushrooms are probably easier to find and less expensive than oyster mushrooms or other less common varieties
Onion. Go for a yellow or sweet (Vidalia) onion if you can.
Garlic
Unsalted butter. Go for a full stick, or at least 8 tablespoons of butter.
Fresh sage leaves
Fresh spinach
Chopped pecans
Red pepper flakes for garnish (optional)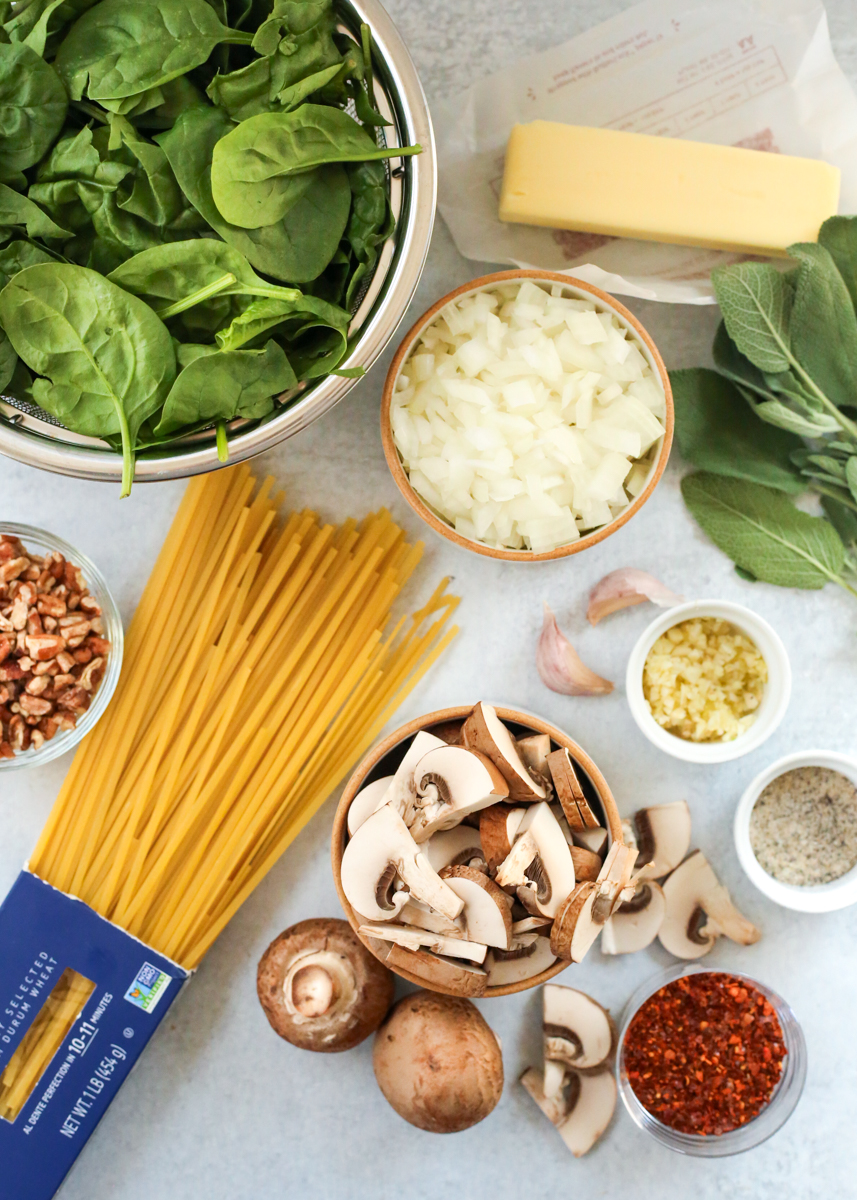 You'll also need a large pot of salted water to cook the pasta, a small saucepan to brown the butter, and a large skillet to sauté the mushrooms and mix everything together for the finished dish. Using one with straight sides (like this one) can help keep everything contained.
You can easily find all of these ingredients in most grocery stores. But you can also set up a grocery delivery for added convenience. I partner with Instacart to create ready-to-shop lists for my recipes, which you can quickly find by clicking HERE. 
Salted or Unsalted Butter?
Salted butter and unsalted butter brown via the Maillard reaction just the same. But salted butter can be more temperamental, with more foam and larger brown bits. This can be deceiving, since it will look like you've fully browned the butter, but the milk solids need more time to toast. Based on what I've read and seen, the jury is out. It seems like for baking purposes, unsalted butter is the undisputed champ. That's what I use in my Orange-Cranberry Oat Bars with Brown Butter.
However, if you're making a brown butter sauce, it may not matter as much. I prefer to use unsalted butter for consistency, and I know I can always add salt later. My best advice for this brown butter pasta dish is to use what you have on hand if you don't want to make a special purchase.
How to Make Brown Butter Mushroom Pasta
Aside from browning the butter (notes on that below), this is an incredibly simple pasta recipe. Just follow these easy steps:
Begin by prepping all the veggies. Wipe down and slice the mushrooms, dice the onions, and wash and dry the spinach and sage. You want to have this finished before you start browning the butter. It needs your undivided attention to avoid scorching it.
Set up your cooking station at the stovetop. You can prep your pot of boiling water, set out your skillet, and get the small saucepan going over low heat. At this point, plan on about 10-15 minutes total to brown the butter, and 10-11 minutes to cook the pasta to an al dente texture, not counting the time it takes to boil the water.
Melt the unsalted butter over low heat, keeping a close eye on it. Watch the bottom of the pan and stir constantly with a soft spatula once it's fully melted and starts foaming. The milk solids will start to toast and turn golden brown in color. Once it develops a nutty aroma and darker brown color, pull it off the heat immediately. 
Heat the skillet over medium or medium-high heat. Once heated, add a small amount of olive oil if needed and add the onions and mushrooms. Saute until softened and fragrant, then add the garlic and sage. Cook 1-2 minutes more, then pour in the browned butter.
Meanwhile, cook the pasta according to package directions. Once cooked, add the drained pasta to the skillet along with the spinach. The leafy greens will wilt down with the residual heat.
Use tongs to mix and fully coat the pasta. Mix in the pecans, then garnish with the red chili flakes. Serve and enjoy!
Street Smart Nutrition Tip: Check out this how-to guide for how to brown butter from Land O' Lakes. Since they specialize in pretty much all things butter, I followed their guide the first time I made brown butter. It worked like a charm and I've done it the same way ever since.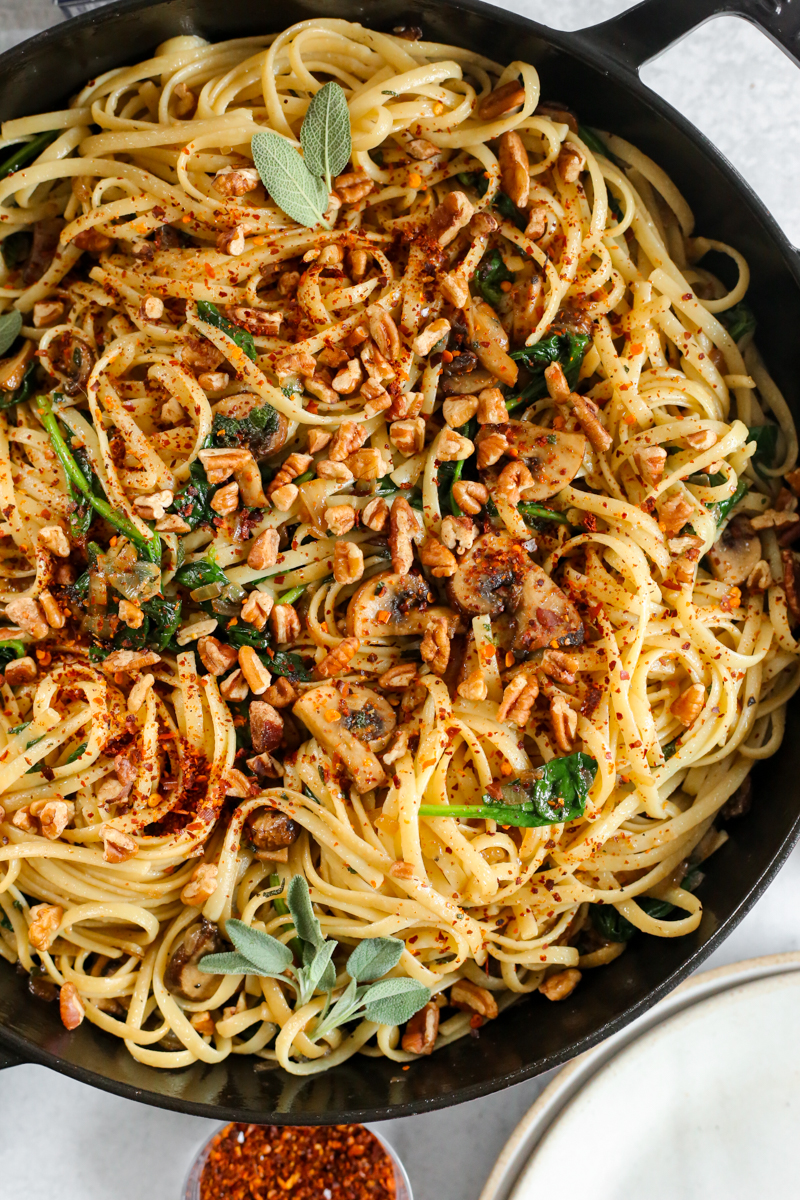 Here's the full recipe with additional notes!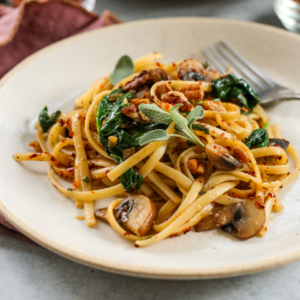 Brown Butter Mushroom Pasta with Sage and Pecans
This cozy pasta recipe is perfect for fall! A simple brown butter sauce coats the pasta, mushrooms, and spinach with rich flavor, while the pecans and sage add seasonal flavors. Serve as a vegetarian pasta side or top with your favorite protein for a complete meal.
Equipment
small saucepan

stock pot or large pot

large skillet or nonstick pan

cutting board and sharpened knife

measuring cups and spoons

soft spatula and tongs

colander or large strainer
Ingredients
1

stick

unsalted butter

,

8 tbsp

1

lb

linguine, spaghetti, or fettuccine pasta

1/2

tbsp

olive oil

8

oz

mushrooms

,

such as baby bella or brown cremini, sliced

1

medium

yellow or sweet onion

,

diced, about 1 1/2 cups

4

cloves

garlic

,

minced

1 1/2

tbsp

fresh sage, chopped

,

or 2 tsp dried sage

6

cups

fresh spinach

,

loosely packed

1/2

cup

chopped pecans

red pepper flakes, for garnish

,

optional
Instructions
Wipe down and slice the mushrooms, dice the onion, and wash and dry the spinach and sage. Mince the garlic (if not using the prepared version) and roughly chop the sage.

Start with browning the butter in a small saucepan over low heat. Melt the butter, then stir frequently with a soft spatula. Once melted, the butter should start to foam, eventually browning to a golden brown color as the milk solids toast on the bottom of the pan. Watch closely and stir constantly once the browning begins, and remove from heat as soon as it reaches a toasty, nutty aroma with deep brown color. Set aside.

Next, heat the skillet over medium or medium-high heat. Once heated, add a small amount of olive oil if needed and add the onions and mushrooms. Sauté until softened and fragrant, about 5-6 minutes.

Meanwhile, boil a large pot of salted water over high heat. Cook the pasta according to package direction for al dente, about 10 minutes. Once cooked, drain and set aside.

Add the garlic and sage to the mushroom mixture and cook for 1-2 minutes more. Pour in the brown butter and stir to combine. Add the spinach on top and allow it to wilt.

Add the drained pasta to the skillet and use tongs to mix and coat evenly with the brown butter. Mix in the pecans, then serve with a garnish of red pepper flakes (if using).
Notes
Store leftovers in the refrigerator for up to 4-5 days. To reheat, microwave in short bursts until heated through, then re-garnish with pecans, sage, or red pepper flakes. 
Nutrition
Serving:
1
serving
,
Calories:
516
kcal
,
Carbohydrates:
63
g
,
Protein:
13
g
,
Fat:
24
g
,
Saturated Fat:
11
g
,
Polyunsaturated Fat:
3
g
,
Monounsaturated Fat:
9
g
,
Trans Fat:
1
g
,
Cholesterol:
40
mg
,
Sodium:
33
mg
,
Potassium:
539
mg
,
Fiber:
5
g
,
Sugar:
4
g
,
Vitamin A:
3289
IU
,
Vitamin C:
11
mg
,
Calcium:
75
mg
,
Iron:
2
mg
Serving Suggestions
I recommend pairing this Brown Butter Pasta with Sage and Pecans with simple side dishes. You spend enough time and effort browning the butter, let the rest be easy!
Pair with a side salad, like an easy Caesar salad. You can also heat up a can of green beans, roast some broccoli, or glaze some carrots. And I personally think it's a good idea to enjoy this with a nice glass of wine. That's just me, though!
As written, this is a vegetarian pasta recipe. So if you're looking for more protein to round out your meal, you can add anything you prefer to use. Some of my personal favorites include shredded or chopped rotisserie chicken or roasted pork tenderloin medallions. You can also top with parmesan cheese or add crumbles of goat cheese or feta, along with a few cracks of black pepper if you want.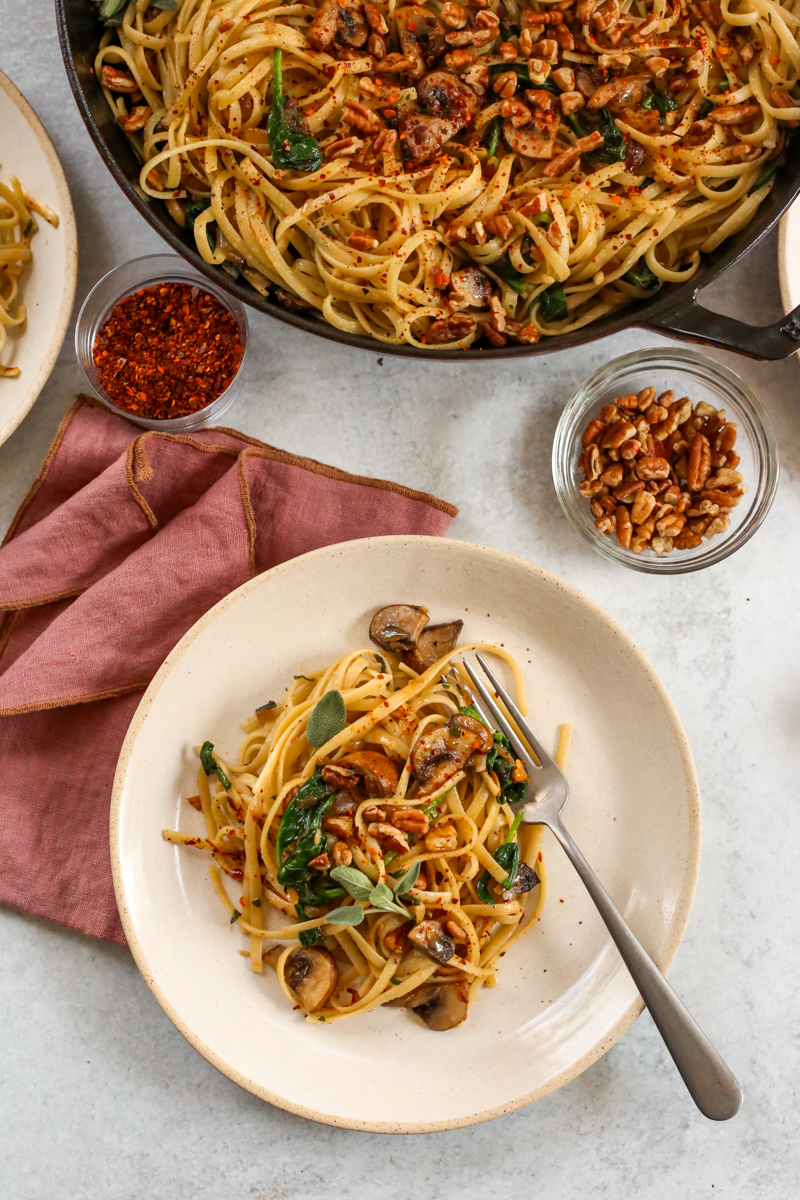 Storage Tips
This dish stores well as leftovers thanks to the hearty nature of cooked pasta. Simply seal the brown butter mushroom pasta in an airtight container and refrigerate for up to 4-5 days.
To reheat, transfer your portion to a microwave-safe bowl or plate. Heat in short bursts of 30-40 seconds, stirring in between to ensure even reheating. You only need 1-2 minutes total. To serve, garnish again with chopped pecans, sage, or crushed red pepper flakes. Enjoy!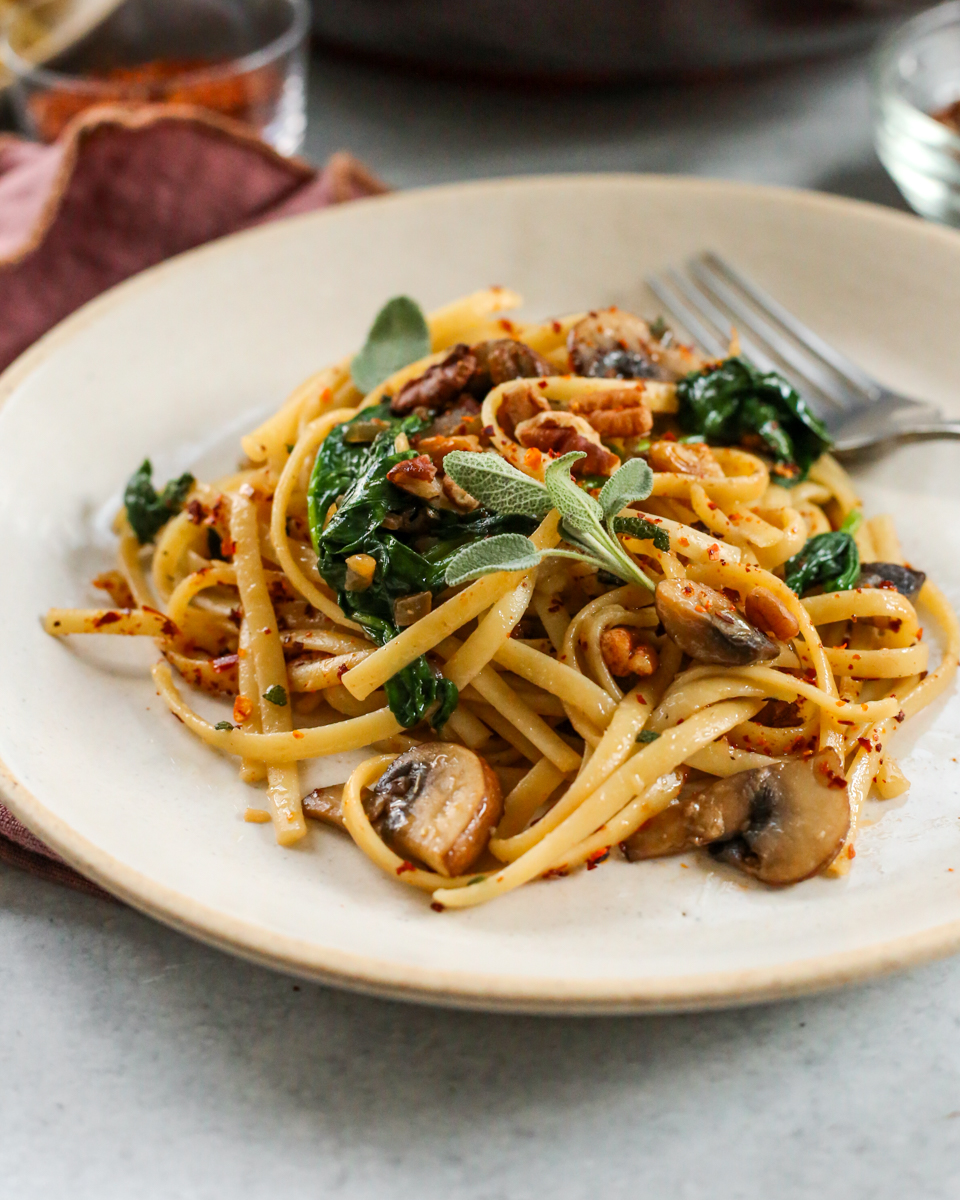 If you liked this recipe for Brown Butter Mushroom Pasta with Sage and Pecans, you might also like these recipes. They're some of my most popular posts during autumn!
And as always, thanks for stopping by the Street Smart Nutrition blog. You can find more and follow along on Instagram and YouTube (plus all the other social media platforms), and don't forget to sign up for my newsletter so you never miss a new post.
Cheers to more fearlessly nourishing meals!