You won't miss the meat in this savory, Stir Fry Mushroom Noodles recipe! This recipe uses three types of mushrooms with a flavorful sauce using plenty of garlic and ginger. Save it for the next time you score a great deal at the grocery store or farmers market. Pair with ramen noodles for a quick weeknight meal.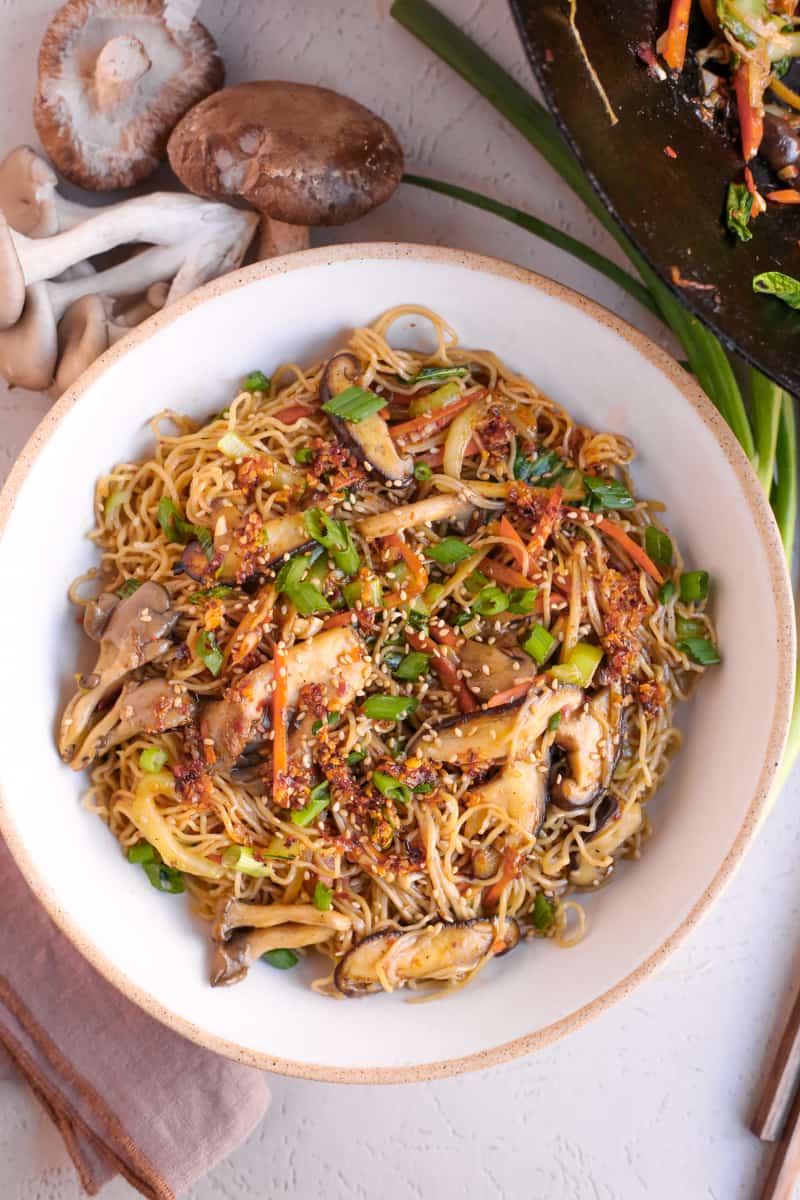 If you're craving a big ol' bowl of noodles, I've got just the thing for you! These mushroom noodles are inspired by yakisoba and chow main recipes, which are popular throughout the Japanese and Chinese diaspora, respectively. These stir fried noodles are packed with flavor from all the garlic, ginger, and chili oil.
I really wish you could taste them through the screen but just see for yourself!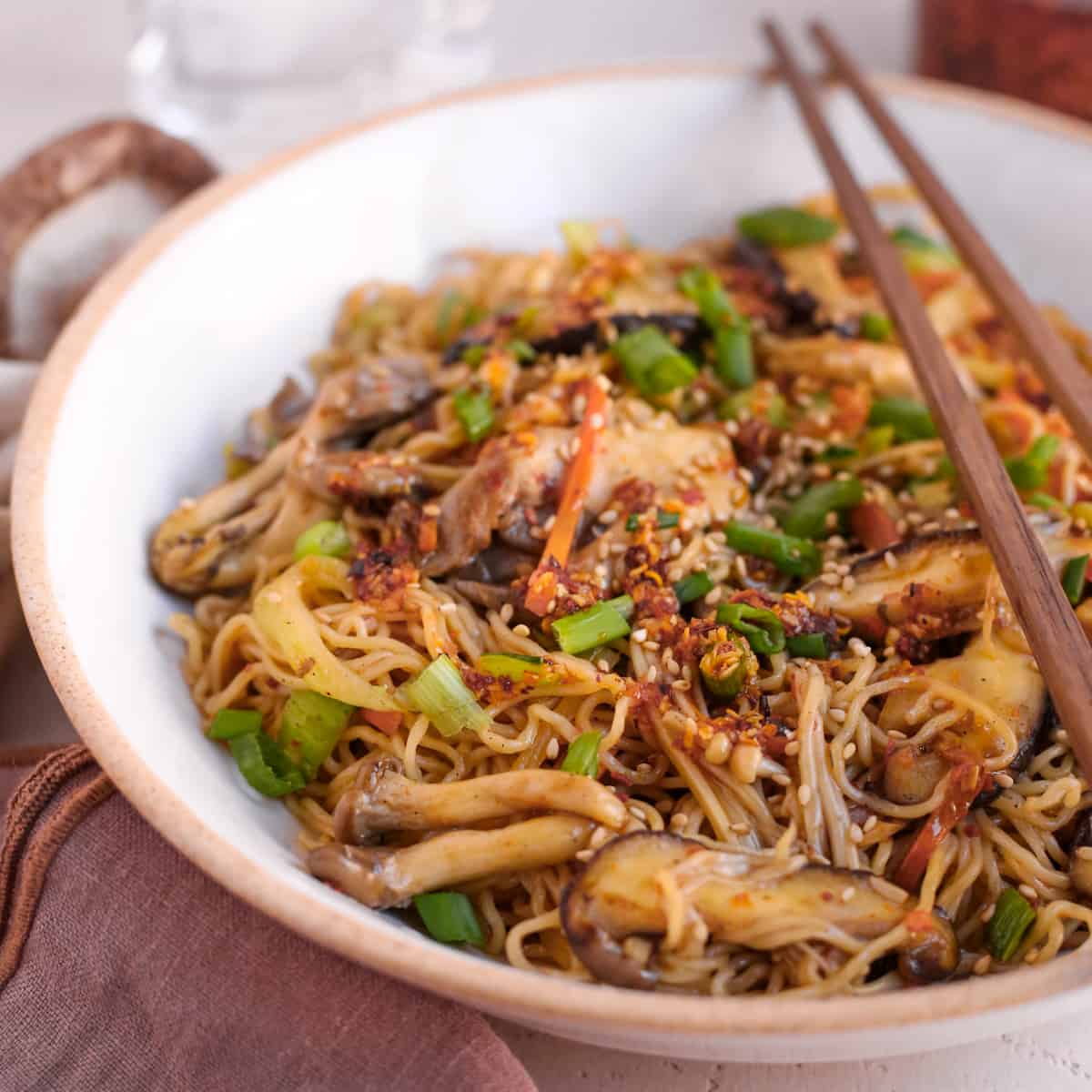 Why You'll Love These Stir Fry Mushroom Noodles
Stir fries are probably our No. 1 go-to recipe for quick weeknight meals. We never seem to get bored! Even with meatless versions, there are so many options for different sauces, vegetables, and rice vs. noodles. I was on a kick with this Crispy Orange Tofu and Edamame recipe for a while. Any my Easy Beef Stir Fry with Skirt Steak is one of my most popular recipes. But now I can't get enough of this one!
It uses ramen noodles, an inexpensive and easy-to-cook option. You can also swap for your preferred type of noodles, whether dried noodles or fresh noodles.
There's not one, not two, but THREE mushroom varieties featured here. But you can use any assortment of mushrooms, no problem. Just keep the overall volume the same and your version will still turn out great.
The spice level and flavor are totally customizable. Add more or less garlic, ginger, and chili oil to suit your taste buds, or add another seasoning to make it your own.
Ready to get started? Here's a shopping list for all the ingredients needed to make these garlic mushroom noodles!
Ingredients You'll Need
This mushroom noodles recipe is incredibly forgiving. It's easy to customize so while I offer some measurements in the recipe card down below, feel free to break loose from that and make your own version.
I recommend including these general categories for this easy stir fry meal:
Mushrooms. You can't really have a mushroom stir fry without them! More on the different varieties below, but make sure you're buying fresh mushrooms with a firm, dry texture. They should not be slimy. To clean them, just brush gently to remove dirt or debris, then wipe with a wet cloth or paper towel. And if you're cooking them right away, you can also give them a quick rinse under cold water.
Thinly sliced vegetables. I probably go overboard with the number of veggies I add to stir fries. But I can't help it! Everything just tastes so good by the time it's coated with the sauce. For this one, I'm using thinly sliced carrots, a yellow onion, and baby bok choy. Baby boy choy has a more mild flavor than its full-size counterpart but that's just my personal preference. You could also use broccoli, bell peppers, snow peas, chili peppers, or cauliflower if you prefer.
Garlic and ginger. These aromatics provide a ton of flavor for this mushroom stir fry recipe. Don't be shy about adding more! I think using fresh ginger is worth it, but in a pinch you can use the premade paste from the refrigerated produce section. And yes, I hear you, mincing garlic isn't the most enjoyable prep job. If you want to use the pre-minced version, that's totally fine! I use that sometimes, too.
Chili flakes and chili oil. I personally love a little spice in all my stir fries. I usually use gochugaru (Korean red chili flakes) because I always have a ton of it on-hand. But use whatever you can find and tastes the best to you. We're not here to make a Michelin-starred meal, we're just trying to get dinner on the table.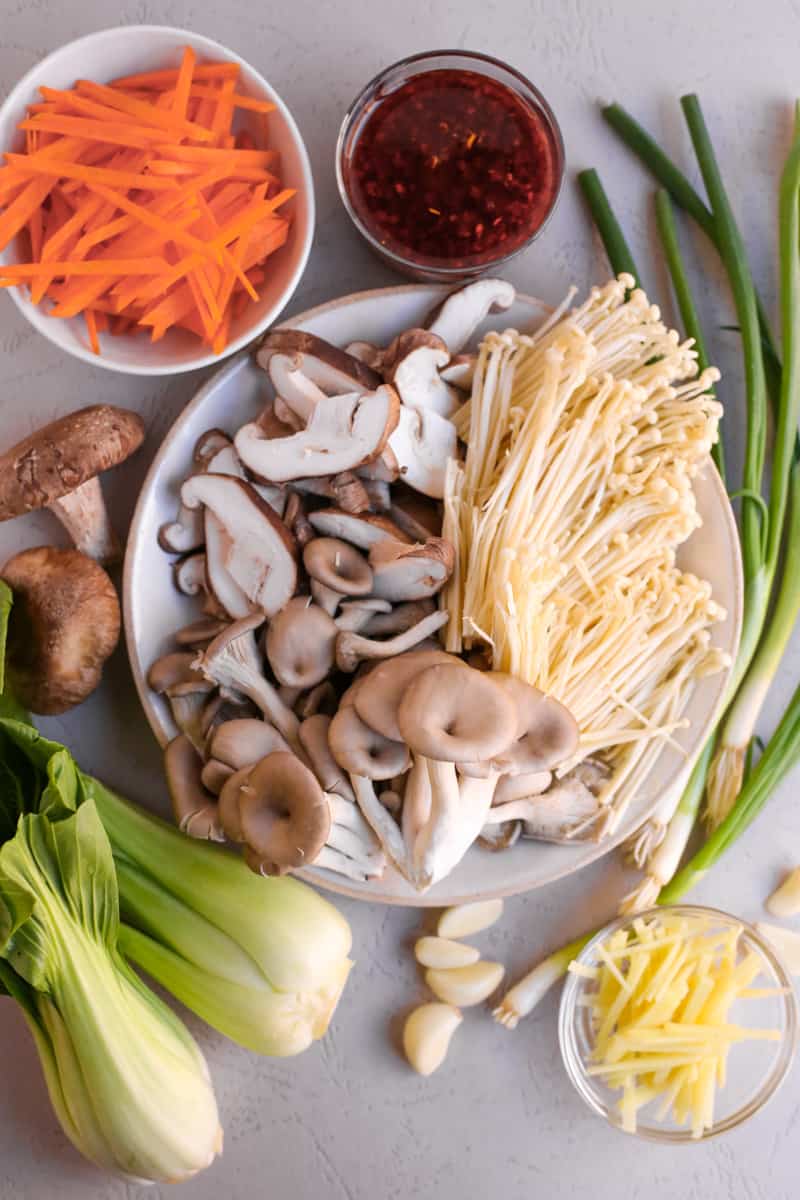 A couple of notes on noodles: These stir fried noodles are similar to Japanese-style yakisoba noodles or Chinese American chow mien noodles. They both use a wheat-based noodle with a thin shape. I usually use a few bricks of instant ramen noodles and save the seasoning packets for other recipes. To me, the best part is that they cook quickly but have a satisfying chewy texture. What's not to love?
Best Mushrooms for Stir Fry Mushroom Noodles
You might be wondering, what type of mushrooms should I use for this recipe?
The short answer: whatever kind you can find that you enjoy eating! My little local co-op market usually only carries one or two varieties, usually cremini mushrooms (AKA baby Bella mushrooms). I've made this mushroom stir fry recipe with brown and white button mushrooms. It never disappoints with the earthy flavor and meaty texture.
But when they're available, I splurge a little and get these instead:
Shiitake Mushrooms: These are super meaty, which is great for a vegan recipe like this. Fresh shiitakes also have a slightly smoky flavor and dense texture so they can hold their own against big, bold flavors. Remove the woody stems and slice lengthwise.
Oyster Mushrooms: These mushrooms grow in clusters and have a soft, almost velvety texture. If you can manage to get the edges crispy…ugh, so freaking good! I break mine apart for stir fries. And the entire mushroom is edible so no need to trim the bottoms unless you just prefer the way it looks.
Enoki Mushrooms: These are super fun to cook with but can also be challenging to find. Try your local Asian grocer or Korean market. I usually find them packaged, so I cut through the plastic wrapper to trim the base in one slice. As they cook, they'll naturally break apart on their own so no chopping needed.
Pre-sliced mushrooms. This is the ultimate time-saving hack. Although they're usually only available for baby bella or cremini mushrooms, they eliminate the need to spend extra time slicing or chopping.
Street Smart Nutrition Tip: Enoki mushrooms should never be eaten raw! This is a food safety precaution so always make sure they're fully cooked. They're very thin and delicate, so they'll break apart in this mushroom noodles recipe. By the time you serve it, they'll blend right in with the slender noodles and other thinly sliced veggies.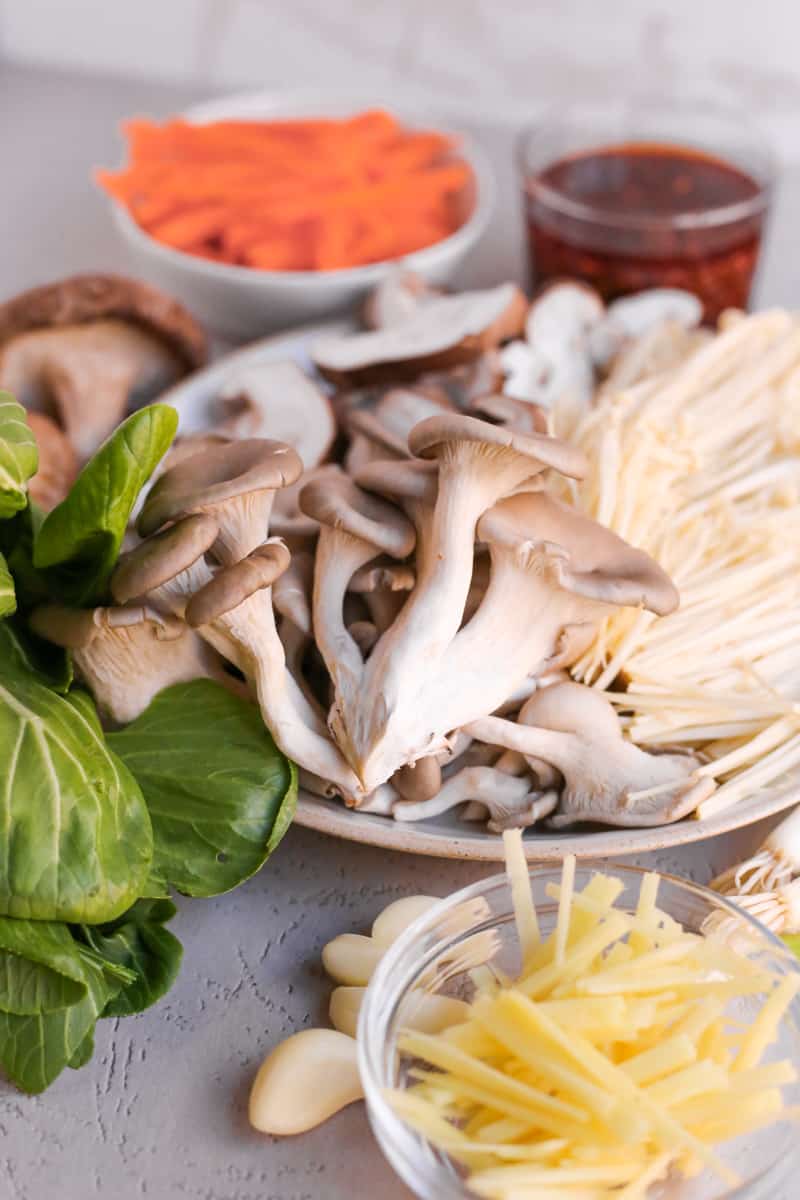 Like I said, any type of mushroom can work in this stir fry noodle recipe. You can learn more about all the different varieties with this helpful resource from The Mushroom Council. Just click on any of them to learn about flavor notes, how to select and prepare them, and some recipe inspiration.
No matter what kind you use, try to get roughly the same volume to keep a similar ratio of mushrooms to veggies, ramen noodles, and sauce. And if mushrooms are super pricey or not looking so great, feel free to skip and add more carrots, onions, bok choy, or any other vegetable to your stir fry!
No matter what kind you use, try to get roughly the same volume to keep a similar ratio of mushrooms to veggies, ramen noodles, and sauce. And if mushrooms are super pricey or not looking so great, feel free to skip and add more carrots, onions, bok choy, or any other vegetable to your stir fry!
How to Cook Stir Fry Mushroom Noodles
If you're making a stir fry for the first time, don't be intimidated! The process moves fast but that's the best part. Your stir fry mushroom noodles will be ready to eat in no time.
Here's how to do it:
Get all your veggies sliced and prep. Place them near your cooking area, either organized on the cutting board or using small prep bowls. At this time, go ahead and whisk together the sauce ingredients in a small bowl or jar.
Bring a pot of water to a boil and cook the noodles according to package directions. Once cooked, drain and rinse briefly with cold water.
Start to heat your wok or large skillet over high heat. Add the cooking oil and once heated, cook the veggies in batches to avoid overcrowding. In order of longest cooking time to shortest: carrots and shiitake mushrooms, onions, oyster mushrooms, then enoki mushrooms.
Transfer each batch to a serving bowl. For the last batch, reduce the burner to medium-high heat and add the bok choy and green onions, minus the green tops of each, ginger, and garlic. Cook them briefly until you can smell that garlic and ginger, them add the sauce and stir in the cooked noodles.
Drop the heat to medium-low heat at this point. The sauce will quickly thicken and you can add back the cooked mushrooms and veggies.
Garnish and serve your stir fry mushroom noodles while they're nice and hot!
Pro Tips for Better Stir Fries
We cook a LOT of stir fry recipes. That's because they're relatively quick, easy to customize so we never get stuck in a rut, and super satisfying. I've picked up a few tips along the way, so here's how to make your basic stir fry recipes even better:
Prep and chop all ingredients before you ever start cooking. Stir fries cook over high heat so once you start it's going to go quick! You don't want to overcook anything because you had to stop and chop something else. It also helps if all your ingredients are about the same size. This helps them cook evenly. But don't stress about it, we're not aiming for perfection here!
And speaking of high heat, get your wok or skillet fully heated first. This can help prevent sticking if you're using cast iron or stainless cookware. Plus it helps your assortment of mushrooms and other veggies develop a nice sear for more flavor.
Don't overcrowd your wok or skillet. You'll end up steaming your ingredients and without that pan-frying effect, you could be adding cooking time. I personally like my veggies to still have a little firmness and snap to them, and overcrowding the pan is the number one way to get soggy, soft veggies. Cook in batches if you need to, using a large mixing bowl to hold whatever isn't in your pan.
And while you don't need a wok or special cookware to make a great stir fry, the curved bowl can really change how you cook! The sides stay a little cooler, allowing you to push ingredients around. If something is close to being overcooked or has a more delicate texture, you can keep it out of the deeper part pretty easily. I use one with a single long handle like this one.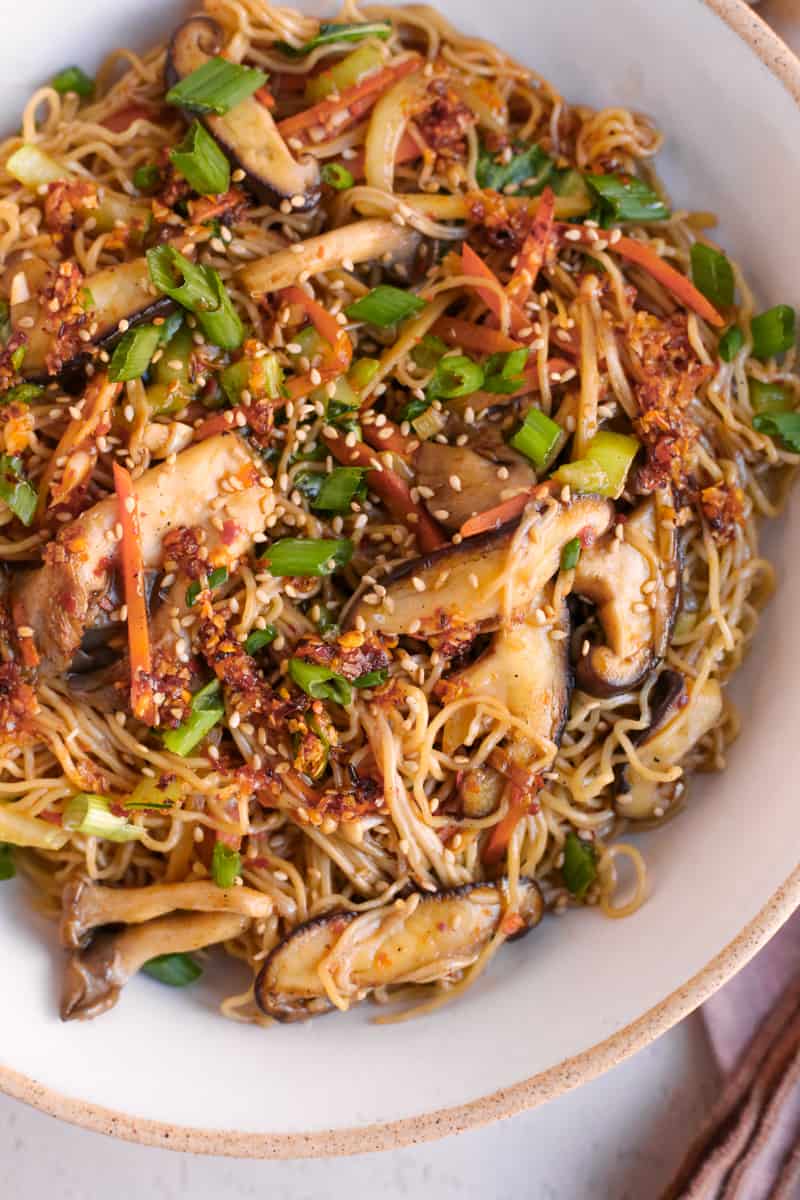 Serving Suggestions and Storage Tips
This recipe is vegan as writtengvbrt so we serve it as a side dish or use it as a base for an added protein. You can easily make it an all-in-one meal by adding a protein like tofu, chicken thighs, flank or skirt steak, or whatever you like best.
Make sure to serve your mushroom noodle stir fry with plenty of extra garnishes, too! I set out chili oil, toasted sesame seeds, and a bunch of green onions when we make this simple recipe.
And when it comes to storage, I'll just say, "good luck!" We regularly clear through the whole dish. But if you happen to have leftovers, simply seal in an airtight container. Stash them in the fridge for up to five days. When you're ready to reheat this mushroom noodles recipe, just pop them in the microwave for 30-45 seconds at a time. Stir in between to make sure the saucy noodles and veggies reheat evenly. Then add more garnishes to freshen up the flavor and enjoy!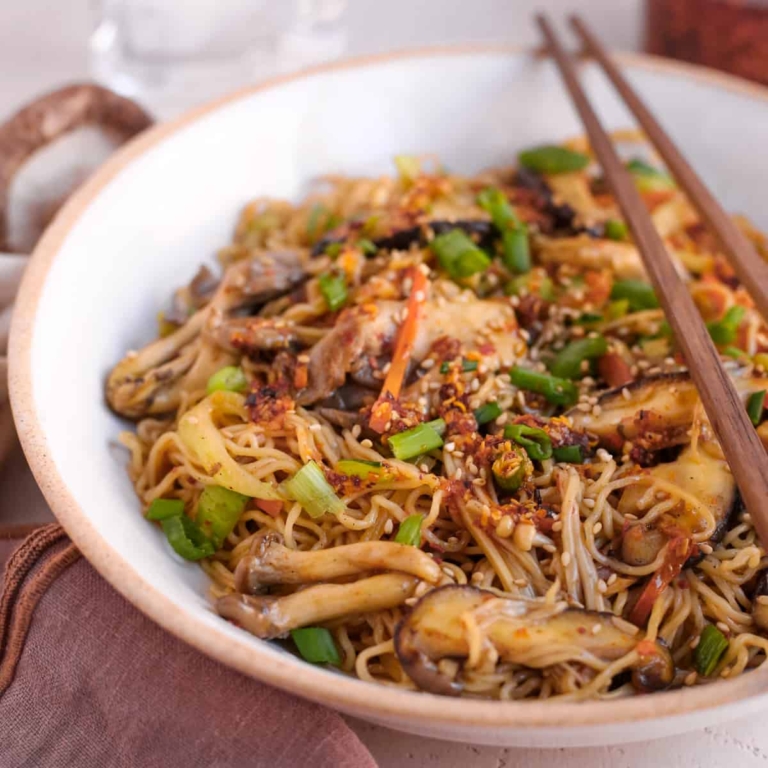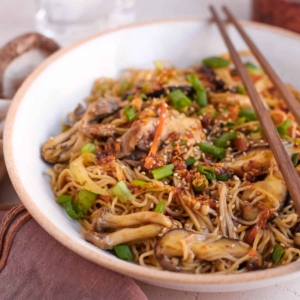 Stir Fry Mushroom Noodles with Garlic and Ginger
This simple stir fry recipe with mushroom noodles is a delicious option for quick weeknight meals. Enjoy with as much ginger, garlic, and chili oil as you like!
Equipment
large skillet or wok

cutting board and sharpened knife

measuring cups and spoons

small prep bowls,

various sizes

long-handled spoon,

heat-proof
Ingredients
2

tbsp

peanut oil

,

or other neutral-flavor oil

12

oz.

shiitake, oyster, and enoki mushrooms

,

sliced to similar sizes

1

cup

thinly sliced carrots

1

small

yellow onion

,

thinly sliced

3

heads

baby bok choy

,

sliced with leafy greens separated

1

bunch of green onions

,

sliced thin with green tops separated

1/4

cup

vegetable broth

2

tbsp

low sodium soy sauce

1

tbsp

rice vinegar

2

tsp

red chili flakes

4

cloves

minced garlic

2

tbsp

ginger root

,

thinly sliced or minced

1/2

tbsp

cornstarch

1/2

lb

of ramen-style or yakisoba noodles

,

or 2–3 packages instant ramen noodles

chili oil

,

for garnish

toasted sesame seeds

,

for garnish
Instructions
Prep all vegetables and stage in prep bowls near your cooking area. For the sauce, whisk together veggie broth, soy sauce, rice vinegar, red chili flakes, half of the minced garlic and cornstarch. Set aside.

Pre-cook the ramen-style noodles according to package directions and rinse with cold water. Set aside.

Preheat your wok or skillet to high heat and add the peanut oil. Cook in batches to not overcrowd the pan. In order of longest cooking time to shortest: carrots and shiitake mushrooms, onions, oyster mushrooms and enoki mushrooms. Cook 2-3 minutes per batch or until the mushrooms and veggies are softened and starting to brown.

Transfer out the cooked mushrooms, carrots, and onions as batches complete cooking, then add the bok choy (minus the greens), the white bottoms of the green onions, and the ginger and remaining garlic.

Make some room then add the sauce and stir in the noodles. Reduce to medium-high heat. Flip several times to coat the noodles and allow the sauce to thicken.

Reduce the heat to medium-low. Add back the cooked mushrooms, onions, and carrots.

Garnish with toasted sesame seeds, sliced green onions, and as much chili oil as you like. Serve immediately.
Nutrition
Serving:
1
serving
,
Calories:
378
kcal
,
Carbohydrates:
50
g
,
Protein:
10
g
,
Fat:
17
g
,
Saturated Fat:
6
g
,
Polyunsaturated Fat:
3
g
,
Monounsaturated Fat:
7
g
,
Sodium:
1499
mg
,
Potassium:
669
mg
,
Fiber:
5
g
,
Sugar:
4
g
,
Vitamin A:
5754
IU
,
Vitamin C:
5
mg
,
Calcium:
49
mg
,
Iron:
4
mg
To say I'm excited for you to try these Stir Fry Mushroom Noodles would be an understatement. You're in for some seriously good eats with so much great flavor! If you try it, be sure to let me know what you think. Rating the recipe card or leaving a comment is a great way to let me know if you think these mushroom noodles deserve the hype.
And as always, thanks for stopping by the Street Smart Nutrition blog! For more posts like this, follow along on social media (Instagram, YouTube, and all the rest). And don't forget to sign up for my newsletter so you never miss a new recipe. Cheers to more fearlessly nourishing meals!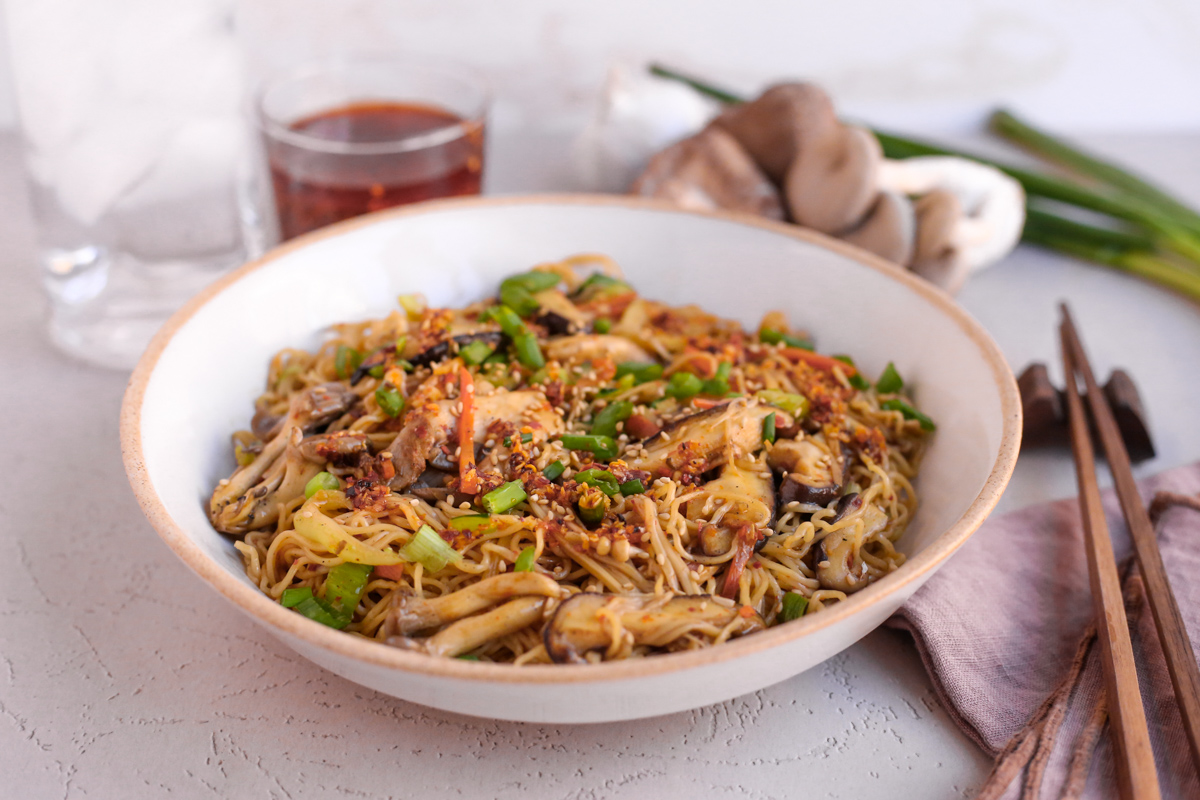 Disclosure: This post was originally published in October 2022. It has since been updated to improve the overall quality of the information and/or images.