Believe me when I say this crispy orange tofu recipe is "soy" good! It's filling and satisfying thanks to plant-based protein, plus it's served with stir-fried veggies, a sweet orange sauce, and lo mein noodles. Read more to learn about the health benefits of soy foods and get the full recipe!
---
Disclosure: This post is sponsored by Soy Connection, the Soy Nutrition Institute (SNI), and the United Soybean Board. I was compensated for my time. As always, thank you for supporting the partners who support Street Smart Nutrition!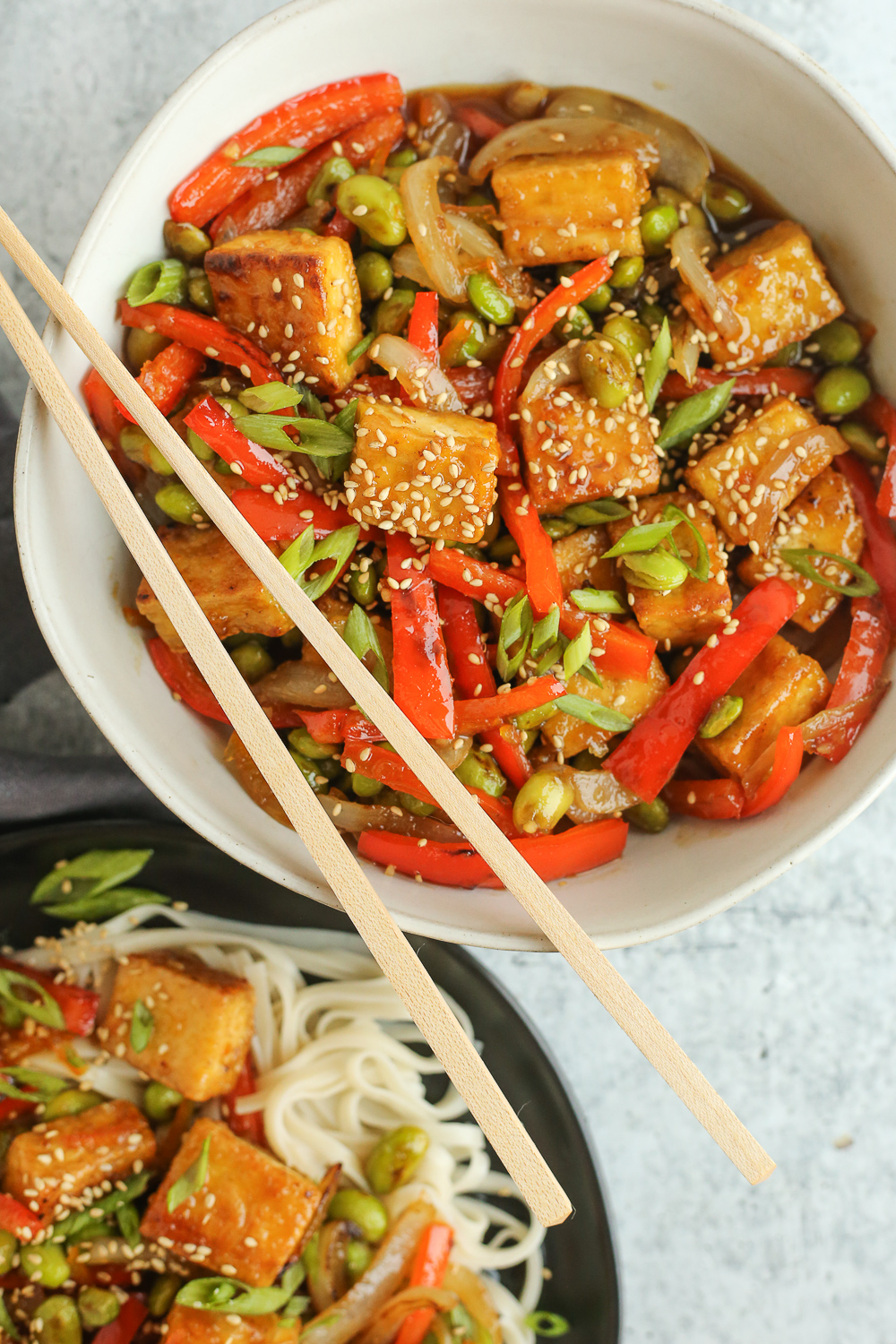 Feast your eyes upon my newest stir fry creation: Crispy Orange Tofu! If you've been following me for a while, you know stir-fries are a staple in my kitchen. We eat them at least once a week (sometimes more) and this time I'm putting soy foods front and center. I partnered with the team at Soy Connection, the Soy Nutrition Institute, and the United Soybean Board to share more about why I'm such a fan of tofu and edamame.
Here's why you'll love this vegetarian stir fry recipe with Crispy Orange Tofu:
Who doesn't love a good orange sauce? This version uses orange marmalade (which includes the juice + the peel) for a punch of sweet, slightly tart, orange flavor.
Tofu is a versatile protein for many purposes – once you master this technique for pan-frying, the sky's the limit for other dishes!
Using frozen edamame is a huge time saver. Thaw a bag in the fridge the night before, or run under cold water in a colander. You have a filling and nourishing option with hardly any prep or cooking equipment needed.
But before we dig into the orange tofu recipe, here's a little more behind the nutrition of soy foods!
Basics of Soy Nutrition
Soy shows up in many forms, including tofu, edamame, tempeh, miso, and soymilk. Soy also comes in the form of heart-healthy soybean oil (AKA, vegetable oil). The nutrients and energy in these foods vary, but soy foods can provide varying amounts of B vitamins, fiber, high-quality plant-based protein, and some important minerals like potassium and magnesium.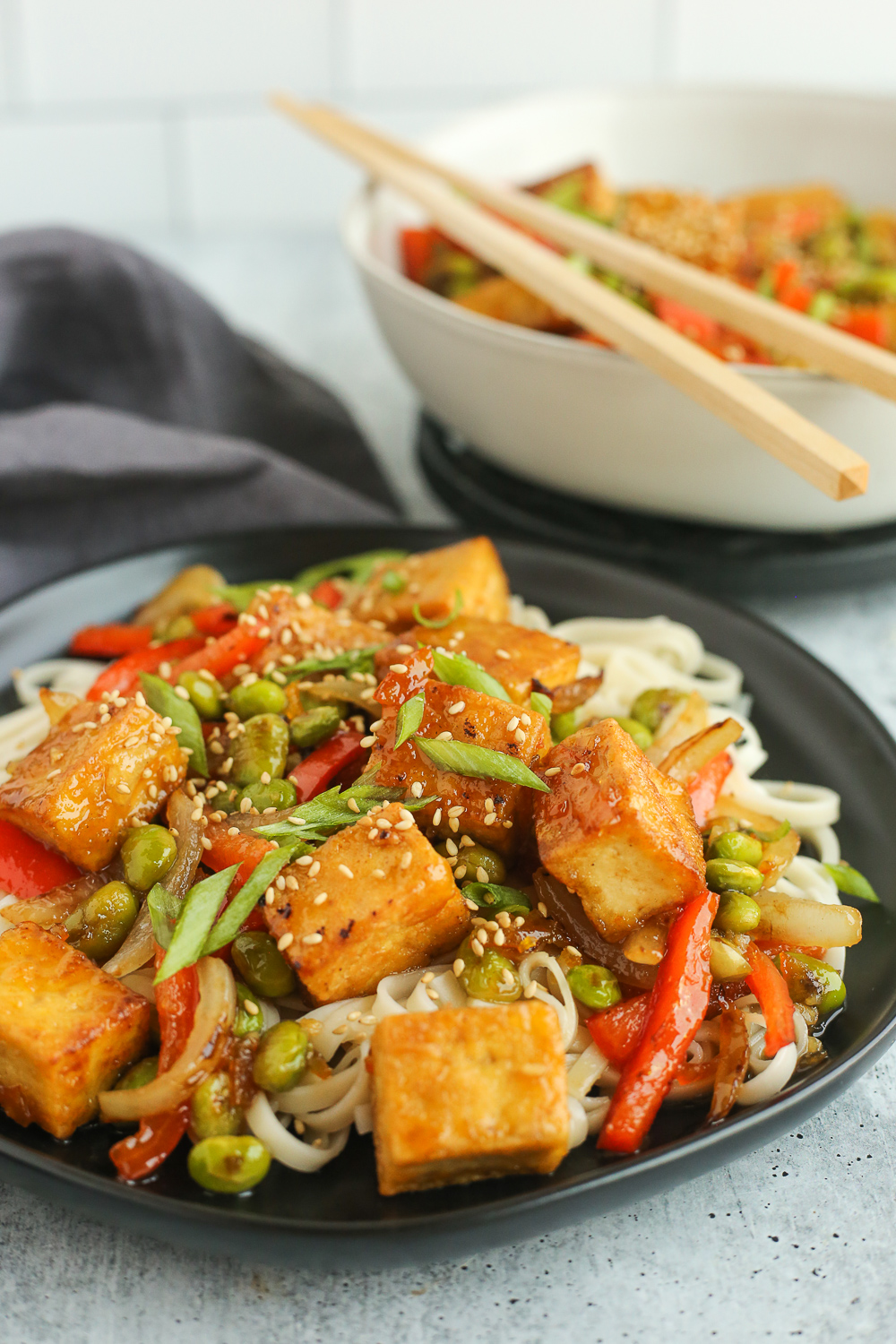 One particularly interesting nutrition asset in soy foods is a group of phytonutrients called isoflavones. Isoflavones are a type of phytoestrogen (plant estrogen) that may have numerous health benefits when consumed as part of a varied diet. Here are some fast facts about isoflavones:
Soy foods are one of the best dietary sources of isoflavones

 

They are a highly researched topic, with more than 1,000 scientific articles about isoflavones published annually
Much of the research focuses on the role of isoflavones in chronic disease prevention, including reducing the risk of osteoporosis, heart disease, and breast or prostate cancer
Emerging research suggests soy may improve skin health, including reducing wrinkles
Overall, soy foods have been shown to support the growth and development of children as well as adults. For example, soy protein promotes gains in muscle mass and strength in individuals engaged in resistance exercise training.
Street Smart Nutrition Tip:If you're a fan of podcasts, Episode 148 of the Sound Bites Podcast with registered dietitian Melissa Joy Dobbins offers another way to learn about soy nutrition.
What about soy allergies?
Soy is one of the "Big 8" allergens. The "Big 8" refers to the eight foods thought to account for 90% of food allergies among Americans.  However, among these eight foods, the prevalence of soy allergy is the lowest. Estimates are that only about 3 out of every 1,000 adults are allergic to soy protein and an estimated 70% of children outgrow their allergy by the age of 10.
Even though soy foods are proven to be safe for nearly everyone, those with a soy protein allergy are an exception. If you have a soy allergy or think you might have a soy allergy, check with your doctor or healthcare team.
What about cooking with soybean oil?
Soybean oil is extracted from soybeans and has a neutral flavor. You can use it for roasting, frying, and even baking since it won't impact the flavor of your finished recipe. It's commonly marketed as "vegetable oil" so when you see this on the ingredient list for other recipes, start thinking of it as "100% soybean oil".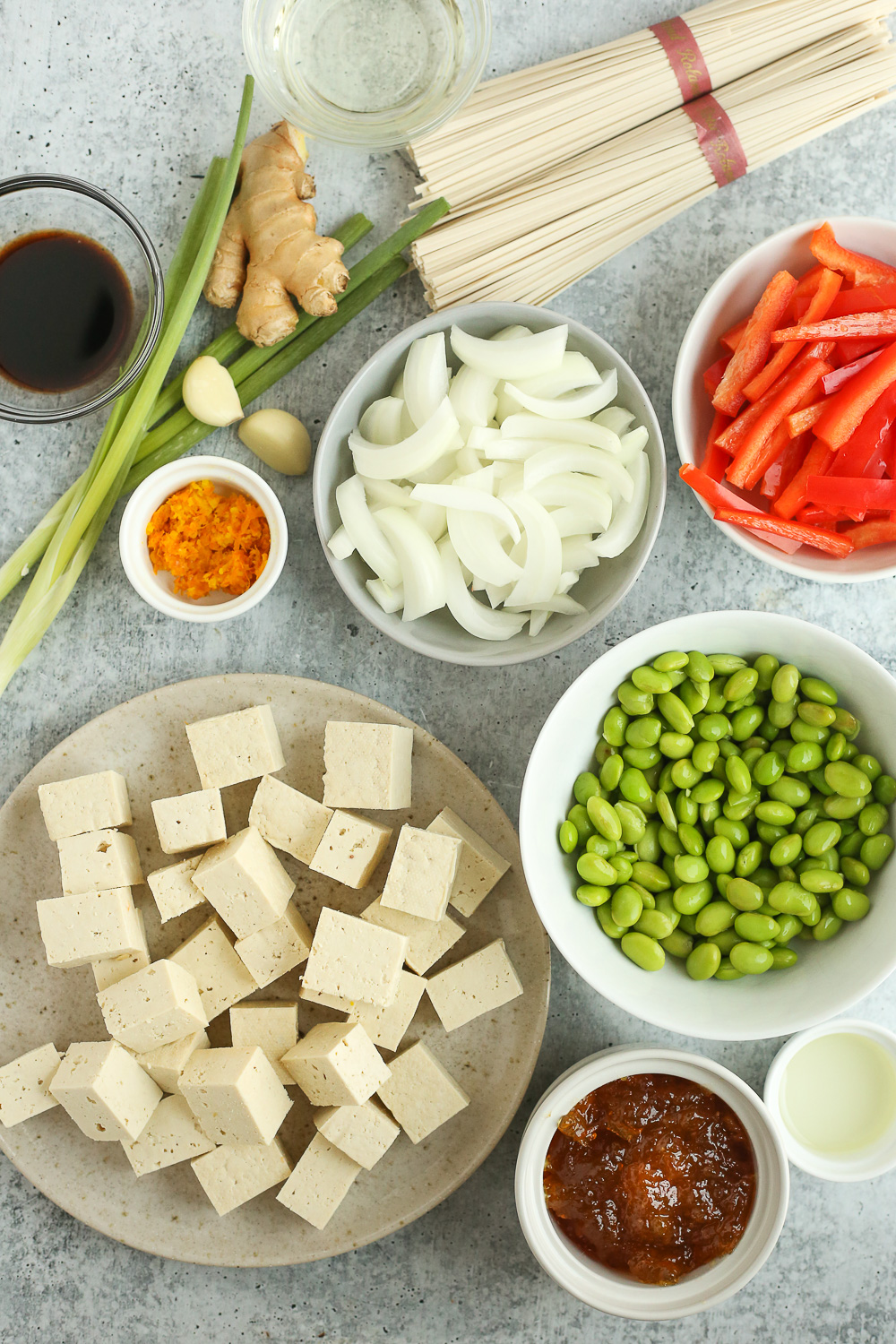 Soybean oil contains mostly omega-6 polyunsaturated fatty acids, the type of fat that lowers blood cholesterol.  In fact, in 2017, the United States FDA approved a health claim for soybean oil and heart disease based on its ability to lower cholesterol levels. Soybean oil also provides omega-3 fat and vitamin E. 
Myths abound about the "inflammatory" nature of omega-6 fatty acids, but as a dietitian, I follow the available evidence. These concerns about inflammation have been rejected by the American Heart Association. 
In fact, new research concludes that soybean oil lowers the risk of coronary heart disease without causing any undesirable effects, meaning it's safe to use in recipes like this vegetarian stir fry. There is also a newer type of soybean oil (high oleic soybean oil) that contains more monounsaturated fatty acids compared to traditional soybean oil, but this oil is not widely available in grocery stores yet.
Soybean oil has a relatively high smoke point of 450 degrees F. An oil's smoke point is the temperature at which the fats in the oil start to oxidize (break down). There is some concern that consuming oils heated past their smoke point could be harmful, so it's generally a good idea to avoid using an oil with a lower smoke point for high-heat cooking methods like deep-frying, stir-frying, or roasting.
That high smoke point is what makes soybean oil so well suited for this vegetarian stir fry recipe. I've found two keys for making good stir-fries: first, use high heat; and second, don't overcrowd my pan. So with that, let's get into the recipe!
Crispy Orange Tofu with Edamame
Here's what you'll need to make this vegetarian stir fry recipe with orange tofu:
Ingredients: extra firm tofu, 100% soybean (vegetable) oil, cornstarch or tempura batter, a large bell pepper, onion, and edamame for the stir fry. The sauce ingredients include orange marmalade, low-sodium soy sauce, rice vinegar, orange zest, garlic, ginger, and MSG (monosodium glutamate). You can also include lo mein noodles (my recommendation) or rice for serving.
Street Smart Nutrition Tip: As you're shopping, keep in mind that although labels will say "vegetable oil" the majority of the time you're really getting 100% soybean oil. To verify, check the ingredient list on the back label to see that "soybean oil" is the only ingredient. And MSG is pure umami and can add savory flavor without additional sodium. If you don't have this ingredient or prefer to avoid it, simply leave it out or salt to taste after cooking. 
Note that there will be a slight difference in using tempura batter versus cornstarch. Tempura batter contains wheat flour, baking powder, and seasonings, so it will end up being a bit thicker (and therefore, crispier) after cooking than cornstarch alone. You can find tempura batter at Asian markets or grocery stores. It's also available online.
Equipment: a large skillet or wok, plus a saucepan for cooking. You'll also need the standard cutting board + sharpened knife, measuring cups and spoons, tongs, a microplane or zester, and something heavy to press the tofu.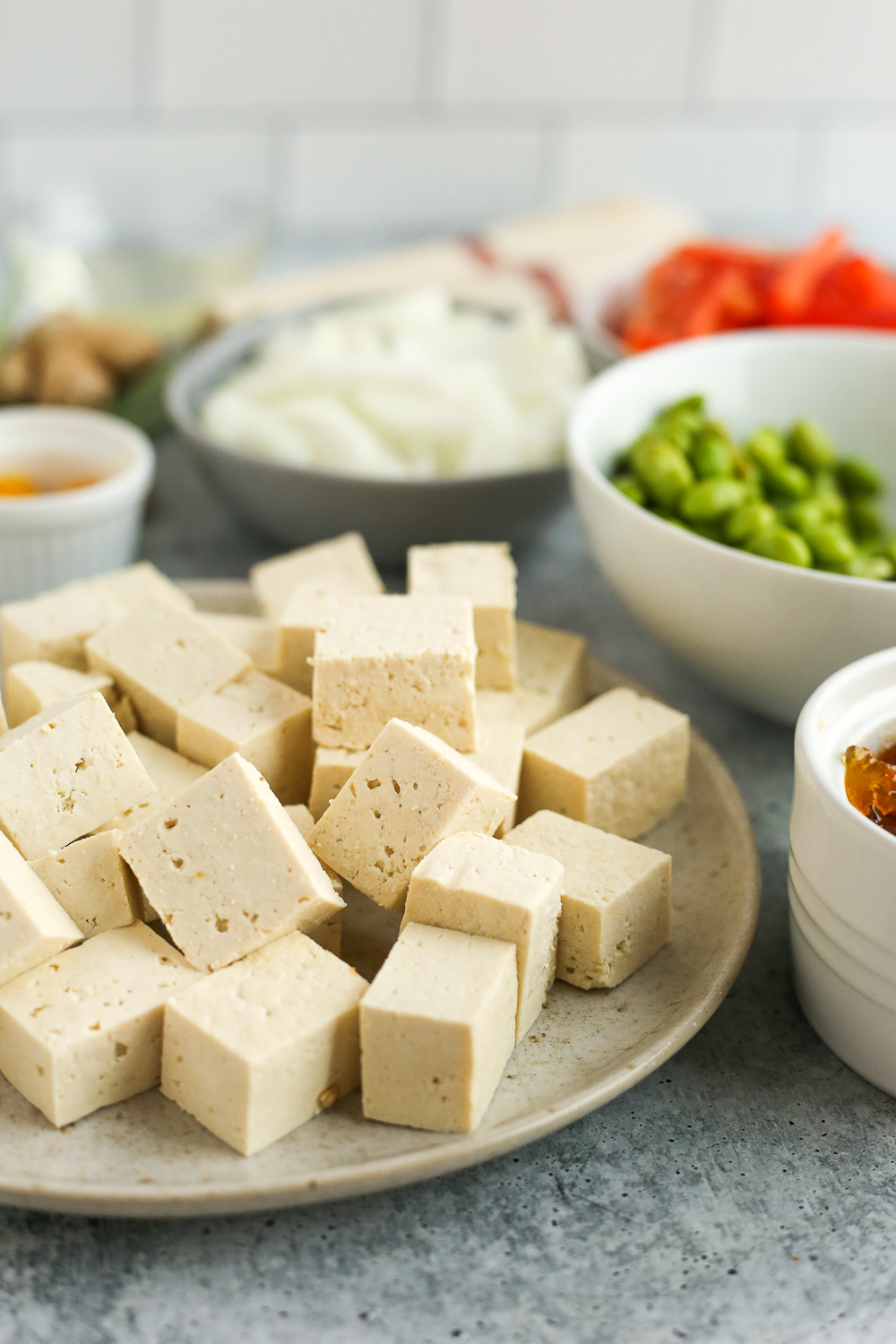 What's the best way to press tofu?
I like to place my block of tofu on a paper towel on a plate or shallow bowl. Then I take a clean cutting board and stick that on top. I use my cast iron skillet (which is fairly heavy) to squeeze out any extra liquid. It doesn't take long – by the time I've chopped or sliced my other ingredients, my tofu is ready to go!
This recipe is one of my best attempts to recreate the deliciousness that is crispy orange tofu. It shows up in some of my favorite takeout dishes and I love having the option to prepare it at home.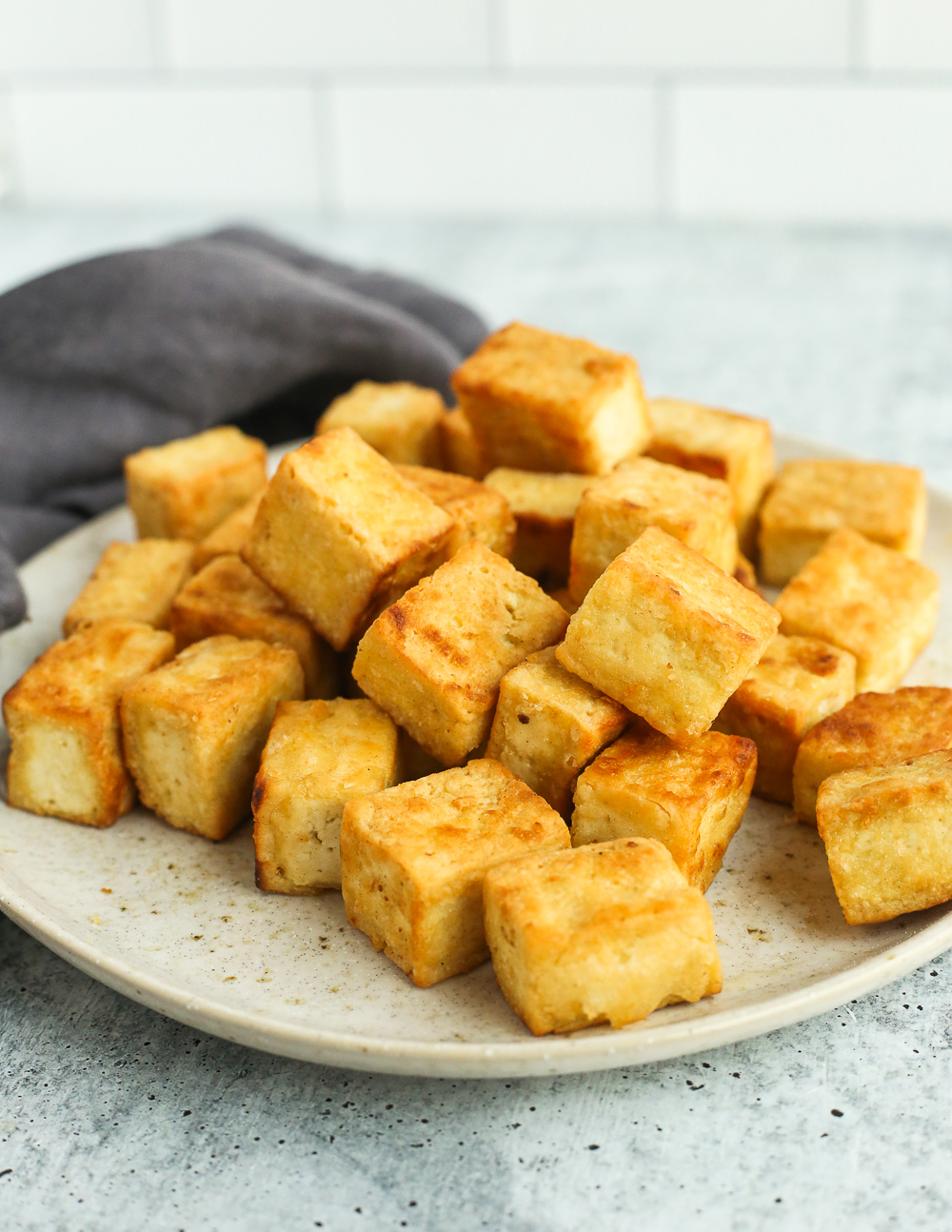 I like to use extra-firm tofu because it has a dense enough texture to stand up to pan-frying without breaking apart. You can also find super-firm (a little less common) or firm and either option would work in this vegetarian stir fry recipe. You'll notice I cut mine into rather large chunks, but that's a personal preference. I like being able to bite into something hearty and satisfying, and it's also easier to grab and flip with tongs while I'm cooking!
This orange tofu recipe was inspired by one of my favorite sauces: orange sauce! Using orange marmalade makes it incredibly easy to whip up at home, and you can scale this recipe if you want to make your version extra saucy. And I know I mention this all the time, but stir fry recipes can feature any or every vegetable you want to include. I chose red bell peppers and yellow onions because they are naturally a little bit sweet, just like the orange sauce. But broccoli, carrots, mushrooms, or snow peas would be delicious alongside the shelled edamame, too!
What can you do with leftover Orange Tofu?
Leftovers can be stored in the fridge and eaten within 4-5 days. However, you'll notice that upon reheating, the crispy tofu ends up, well…not so crispy anymore. There's nothing nutritionally different, it's just a texture thing. There's no good trick to avoid that unless you repeat the cooking steps for a fresh batch of Crispy Orange Tofu.
Vegetarian Stir Fry with Crispy Orange Tofu and Edamame
This vegetarian stir fry features crispy, pan-fried tofu glazed in orange sauce, served alongside edamame, stir-fried vegetables, and lo mein noodles. The sauce is deceptively simple so you can enjoy this meal again and again!
Ingredients
14

oz

block of extra firm tofu

2

tbsp

vegetable oil (100% soybean oil)

,

divided

1/4

cup

tempura batter or cornstarch

1

large

red bell pepper

,

thinly sliced (about 1 1/2 cups)

1

medium

yellow onion

,

thinly sliced (about 1 1/2 cups)

1

cup

shelled edamame

,

thawed

2

medium

green onions, sliced

,

for garnish

1/2

tbsp

roasted sesame seeds

,

for garnish
For the Orange Sauce
3/4

cup

orange marmalade

1/2

tbsp

orange zest

2

tbsp

low sodium soy sauce

1

tbsp

rice vinegar

2

cloves

garlic

,

minced

1

tbsp

ginger

,

minced

1/2

tsp

MSG (monosodium glutamate)
(Optional) Lo Mein Noodles
8

oz

lo mein noodles

,

(Chinese egg noodles)

water to fill a large saucepan
Instructions
Remove the block of tofu from the package and drain the liquid. Set the block of tofu on a plate lined with a paper towel, then place a clean cutting board on top. Set a heavy item (such as a skillet or several books) on the cutting board to press the excess liquid out of the tofu.

In the meantime, prep the veggies by thawing the shelled edamame and slicing the red bell pepper and onion into thin slices. Prepare the sauce by combining all ingredients and stirring to combine. Set aside.

Prep the tofu by cutting the block into large cubes. Place the cubes in a large Ziploc bag with the tempura batter or cornstarch and shake to coat. Remove the coated tofu from the bag and transfer it to a plate.

To cook the tofu, heat a nonstick or stainless steel skillet over medium-high heat. Once heated, add 1 1/2 tbsp and heat until glistening. Add the coated cubes of tofu to the skillet in a single layer and pan-fry, without stirring, for 2-3 minutes. Once a golden-brown crust begins to form, rotate the cubes and repeat the cooking process until the tofu is crispy on all sides (about 10-12 minutes total). Transfer to a bowl or plate to hold warm.

Heat the remaining oil in the skillet, maintaining high heat, then add the sliced onions. Cook 1-2 minutes, stirring occasionally, then add the sliced red bell peppers. Cook another 2-3 minutes, stirring occasionally, then add the thawed edamame. Cook until the vegetables develop sear marks (about 2-3 minutes) then add the crispy tofu back to the pan.

Add the prepared sauce and toss to combine until all ingredients are evenly glazed with the orange sauce. Remove from heat, garnish with sliced green onion and toasted sesame seeds (if using), and serve.
(Optional) Lo Mein Noodles
Fill a saucepan with water and bring it to a boil over high heat. Once boiling, add the lo mein noodles and cook according to package directions, or about 3 minutes.

Remove from heat, strain, and serve.
Notes
As an alternative, this recipe can also be served with rice. 
Nutrition
Serving:
1
serving
,
Calories:
550
kcal
,
Carbohydrates:
95
g
,
Protein:
18
g
,
Fat:
13
g
,
Saturated Fat:
6
g
,
Polyunsaturated Fat:
2
g
,
Monounsaturated Fat:
2
g
,
Trans Fat:
1
g
,
Sodium:
475
mg
,
Potassium:
522
mg
,
Fiber:
5
g
,
Sugar:
41
g
,
Vitamin A:
1400
IU
,
Vitamin C:
63
mg
,
Calcium:
108
mg
,
Iron:
3
mg
If you like this vegetarian stir fry with Crispy Orange Tofu and Edamame, you might also like these recipes that feature edamame, too!
And to learn more about soy nutrition, included the latest research updates, check out the resources at Soy Connection or the Soy Nutrition Institute.
Wondering about the link between soy and breast cancer? You can read more about the soy estrogen myth in this post for Nutrition Myths vs. Facts: Is It Safe to Eat Soy?