One of the most common nutrition myths I hear as a dietitian is that soy and soy foods are not safe to eat. Why? There's been a soy estrogen myth for nearly 30 years and a fear that soy foods are linked to breast cancer. Let's take a closer look at the myths and health benefits of eating soy.
---
There are many misconceptions surrounding soy and soy foods. The soy estrogen myth sparked a controversy that has continued for many years despite research and evidence that soy foods are, in fact, safe for most people.
Soy foods include products like tempeh, tofu, miso, edamame, and soybean oil (which usually shows up as "vegetable oil" in supermarkets). Soy provides a good option for plant-based protein, fiber, and is rich in several key nutrients. I shared more about the basics of soy nutrition in this recipe post for a vegetarian stir fry with crispy orange tofu and edamame.
So even though we have a solid foundation of research supporting the benefits of soy, many people are still afraid to include it. This fear is based on shaky science and misinformation. Let's take it back a few decades, shall we?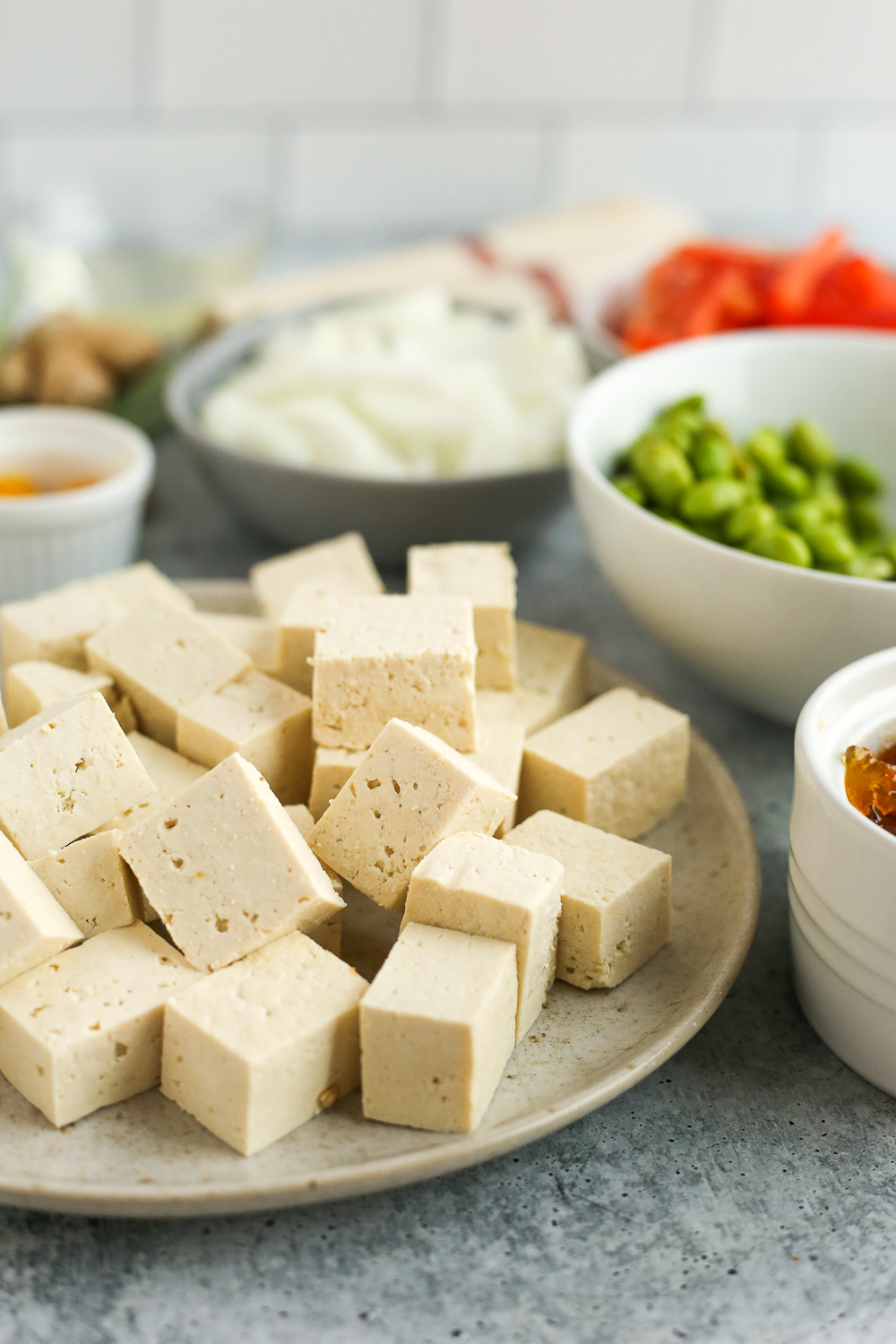 How did the soy estrogen myth start?
Before we really break down the myth, it's important to mention this: soy is one of the richest dietary sources of a group of phytonutrients called isoflavones.
What exactly are isoflavones?
Isoflavones mainly act as phytoestrogens (plant estrogens) and are naturally occurring. Humans also produce their own forms of the hormone estrogen. Estrogen plays various roles in the human body. But it's mostly known for its important role in sexual and reproductive health and development. Phytoestrogens have some important functions for plants and can be part of their defense mechanisms, especially against certain types of fungi. Estrogen (in humans) and phytoestrogens (in plants) have a very similar chemical structure, yet they behave very differently.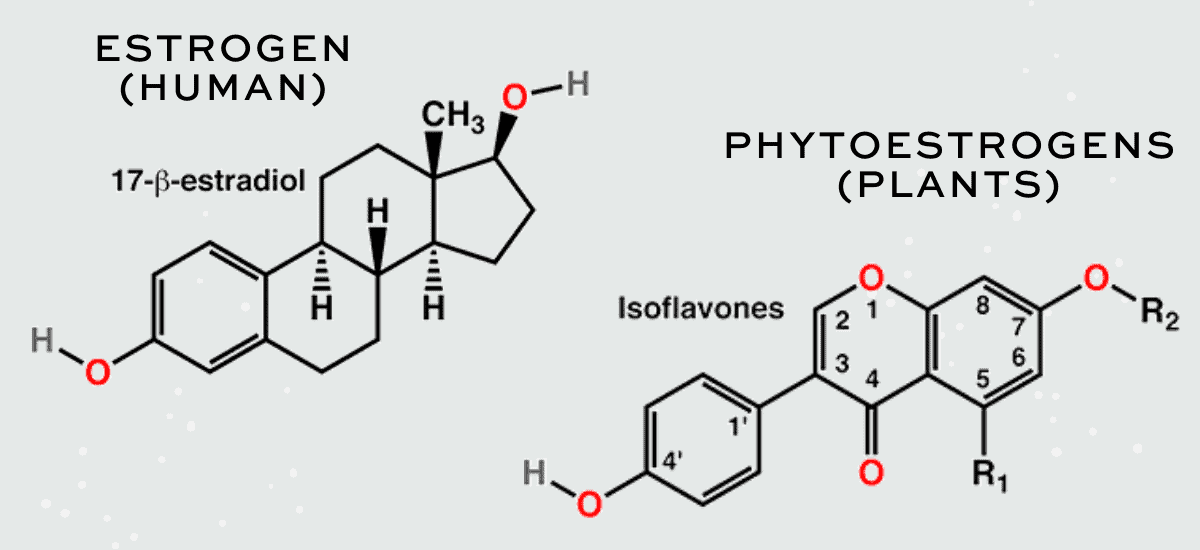 Soy has the highest concentration of phytoestrogens (as isoflavones), but they're also found in other legumes, some whole grains (like wheatberries and oats), and some types of seeds (like flax and sesame seeds). Do you eat grapes? You're getting some phytoestrogens in the form of resveratrol. You can even find lower levels of phytoestrogens in commonly eaten foods like rice, spinach, and coffee.
In the human body, isoflavones can bind to estrogen receptors in cells just like the forms of estrogen our bodies make on their own. That contributed to the concerns about whether it's safe to eat soy. The fear was that consuming isoflavones in your diet could fuel the growth of estrogen-specific breast cancer. Another fear what the eating lots of soy could lead to worse outcomes for women already diagnosed with breast cancer or in remission from breast cancer.
However, while estrogen binds to receptors ERɑ and ERβ, isoflavones only bind to and activate ERβ. This is important to note because the two estrogen receptors have different tissue distributions, and when activated, can have different and sometimes opposite physiological effects. Because isoflavones prefer ERβ they are believed to have tissue-specific effects and are classified as selective estrogen receptor modulators (SERM) [1].
Myths About Soy and Cancer
So even though phytoestrogens show up in other foods, and we gained a better understanding of the mechanisms and functions, the focus turned to the isoflavones in soy in the late 1990s. During that time, a series of animal studies were published that showed isoflavones could stimulate the growth of existing breast tumors in mice [2, 3]. Of the three isoflavones found in soybeans (genistein, daidzein, and glycitein), it was believed that genistein stimulates tumor growth.
These animal studies fueled a lot of fear and mistrust around eating soy. On the surface, it seemed the soy estrogen myth might have some ground to stand on. However, these claims were never proven by or replicated in studies involving healthy women and women with breast cancer. Both mice and rats metabolize isoflavones very differently than humans as well as each other [4] so we can't necessarily draw sturdy conclusions from studies relying on rodent models. 
Additionally, the mice used in these studies were athymic, ovariectomized mice. "Athymic, nude" mice are a special type of lab rodent that do not have a normal thymus gland. They're often used in cancer research. That's because the lack of a normal thymus gland prevents them from rejecting tumor cells, which would alter the outcomes of the research for obvious reasons.
"Ovariectomized" mice have their ovaries surgically removed. They're used in estrogen research because if they kept their ovaries, the researchers would have to contend with a female mouse's own hormone production. So although using this type of animal model can control for certain important variables, it also means we can't rely on them to determine how the effects would show up in humans. In fact, when studies were repeated in different animals models that were more similar to humans (meaning, intact ovaries and thymus glands) there was a complete loss of the tumor-stimulatory effect of genistein.
It wasn't until 2009 that the earlier animal studies were proven wrong. Clinical data now shows that high doses of isoflavones do not have an effect on the growth of breast cancer [5]. At this point, it's been over ten years since science has disputed these initial claims to show that isoflavones are actually not harmful.  
So is it safe to eat soy?
Here's the bottom line: soy does not cause breast cancer. If you've ever wondered, "Is it safe to eat soy?" rest easy, it is! The soy estrogen myth is indeed a myth.
Consuming soy and soy foods like tofu, edamame, tempeh, and miso are all safe and beneficial for most people (except those with a soy allergy). Soy is a great way to add more plant-based protein to your diet and is full of fiber and other nutrients. Cooking with soy is incredibly versatile, just add it to appetizers, main dishes, or enjoy it as a snack.
But don't take my word for it – just looks at the many cultures and cuisines that have historically used soy and soy foods for generations. Soybeans were first cultivated in China over 3,000 years ago. Many East Asian cultures have innovated various preparations for soy that translated into popular foods like soy milk, tofu, and edamame for American consumers.
This can sometimes be an example of cultural appropriation, in that "exotic" or "foreign" foods are first met with resistance, then later embraced, by American palettes. While the cultural appropriation of food is nuanced topic, when it comes to soy, there's no reason to avoid eating it due to health concerns.
As the popularity and availability of soy foods go up, so does the potential for reaping health benefits from eating them. You no longer have to venture far and wide to find them; most supermarkets carry multiple options for frozen edamame (both shelled and unshelled), tempeh, miso, and tofu. It can range from very soft, silken varieties, which are great for adding to smoothies and thickening sauces, to firm and extra firm, which are ideal for battering and pan-frying, stir-frying, or baking.
Potential Health Benefits of Soy for Breast Cancer
Remember when I mentioned there are sometimes different and opposite physiological effects? Not only is it safe to eat soy, but soy can actually be protective against breast cancer in some cases.
There has been extensive research on the topic of soyfoods and their role in breast cancer prevention. In 2013, a meta-analysis was published that analyzed epidemiological studies. This analysis looked closely at 12 studies that took place in Asia. It found an association with a higher intake of soyfoods and a 29% reduction in the risk of developing breast cancer [5]. This review also indicated that the greatest opportunity for benefit comes from consuming soy earlier in life. Eating a variety of soy foods during childhood and adolescence may further reduce the risk of developing breast cancer. The latest research in this area is really compelling. A pilot study found that consuming approximately one serving per day of soy can reduce the risk of breast cancer by as much as 60% [6], especially in young or adolescent girls [7, 8].
Other clinical studies have shown that consuming soy after being diagnosed with breast cancer can be beneficial [9]. If we look to prospective epidemiologic studies involving over 11,000 breast cancer survivors, we see that post-diagnosis soy intake is associated with a statistically significant reduction in recurrence and mortality. We have historically seen this with the rates of breast cancer being much higher in the United States than in many Asian countries for example, where soy products are a major diet staple. We can further see how the soy estrogen myth should be put to rest because, in 2012, the American Institute for Cancer Research and the American Cancer Society supported that breast cancer patients can safely consume soyfoods. 
If you or someone you care about is wondering about the soy estrogen myth or the link between soy and breast cancer, I hope you'll hang onto this post to share and learn more!
---
If you want some ideas to try to include more soy in your meals, check out these recipes!
You can also use edamame as a simple snack option. Check out my other simple meal prep snack ideas HERE!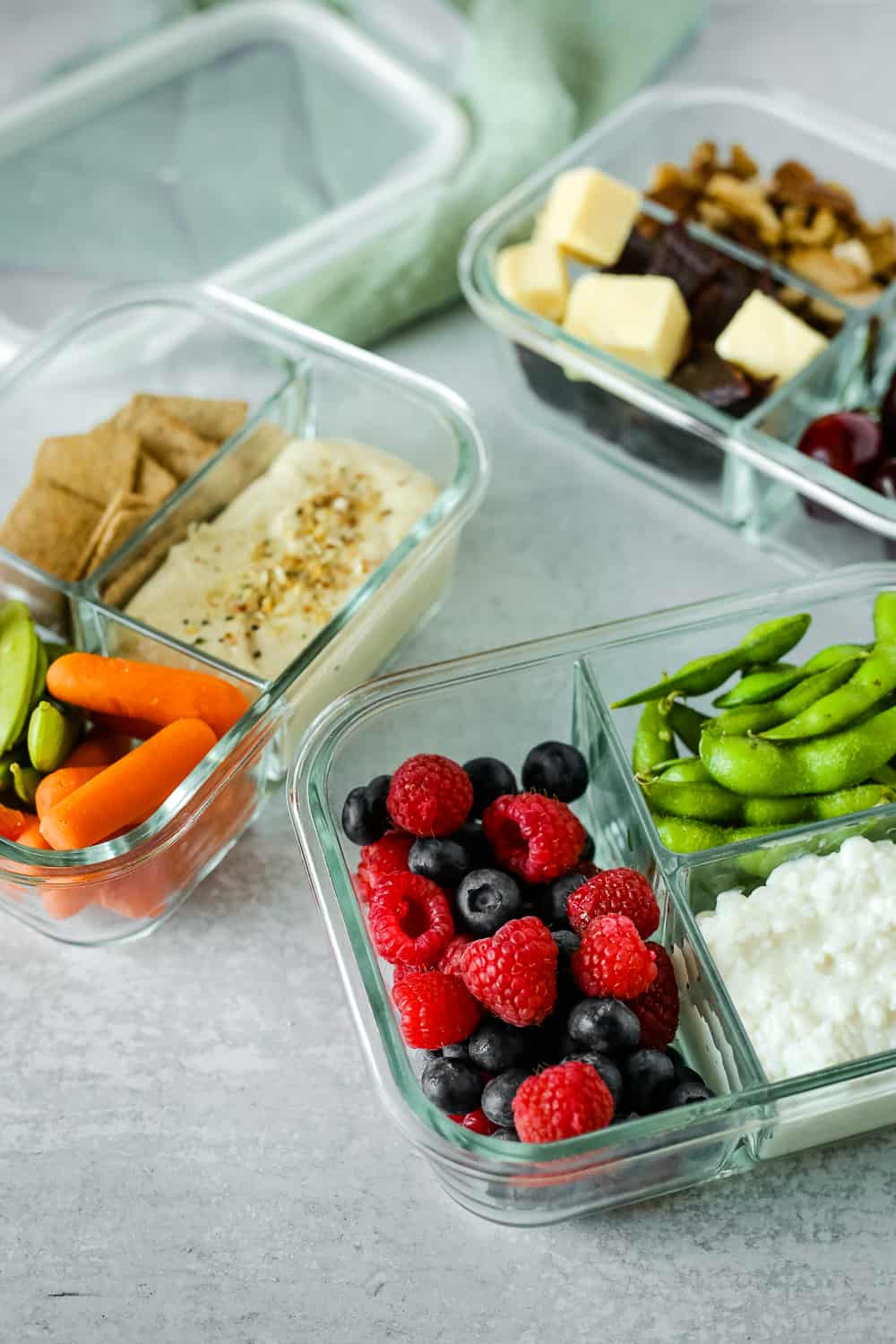 References:
Soy + Women's Health Fact Sheet

. (n.d.). Default. Retrieved August 2, 2021, from

https://www.soyconnection.com/soy-information-health-professionals/soy-women's-health-fact-sheet

Hsieh CY, Santell RC, Haslam SZ, et al. Estrogenic effects of genistein on the growth of estrogen receptor-positive human breast cancer (MCF-7) cells in vitro and in vivo. Cancer Res. 1998;58(17):3833-8. https://pubmed.ncbi.nlm.nih.gov/9731492/
 Helferich WG, Andrade JE, Hoagland MS. Phytoestrogens and breast cancer: a complex story. Inflammopharmacology. 2008;16(5):219-26. https://pubmed.ncbi.nlm.nih.gov/18815740/
Setchell KD, Brown NM, Zhao X, et al. Soy isoflavone phase II metabolism differs between rodents and humans: implications for the effect on breast cancer risk. Am J Clin Nutr. 2011;94(5):1284-1294. doi:10.3945/ajcn.111.019638

Nechuta, S. J., Caan, B. J., Chen, W. Y., Lu, W., Chen, Z., Kwan, M. L., Flatt, S. W., Zheng, Y., Zheng, W., Pierce, J. P., & Shu, X. O. (2012). Soy food intake after diagnosis of breast cancer and survival: An in-depth analysis of combined evidence from cohort studies of US and Chinese women123.

The American Journal of Clinical Nutrition

,

96

(1), 123–132.

https://doi.org/10.3945/ajcn.112.035972

Sartippour MR, Rao JY, Apple S, et al. A pilot clinical study of short-term isoflavone supplements in breast cancer patients. Nutr Cancer. 2004;49(1):59-65. https://pubmed.ncbi.nlm.nih.gov/15456636/

Messina M, Hilakivi-Clarke L. Early intake appears to be the key to the proposed protective effects of soy intake against breast cancer.

Nutr Cancer

. 2009;61(6):792-798.

doi:10.1080/01635580903285015

Korde LA, Wu AH, Fears T, et al. Childhood soy intake and breast cancer risk in Asian American women.

Cancer Epidemiol Biomarkers Prev

. 2009;18(4):1050-1059.

doi:10.1158/1055-9965.EPI-08-0405

Hooper L, Madhavan G, Tice JA, et al. Effects of isoflavones on breast density in pre- and post-menopausal women: a systematic review and meta-analysis of randomized controlled trials. Hum Reprod Update. 2010;16(6):745-6. https://pubmed.ncbi.nlm.nih.gov/20511398/