If you need a simple, savory snack for a mid-afternoon break, look no further than this Simple Sesame Edamame Hummus recipe. It also makes an easy appetizer if you're feeding a crowd!
---
This Simple Sesame Edamame Hummus is made with frozen shelled edamame and it's soy easy to make!
See what I did there?
OK, OK, maybe I'm the only one who can't get enough of that food pun, but we could all use a little levity now and then. And if you're like me, you need a little simplicity, too. Simple recipes like this one are one of the ways I preserve my energy (and sanity!) for what really matters.
When I say this edamame hummus recipe is simple, I really mean it. You only need a handful of ingredients and a food processor or blender and you're all set. You can whip this up in minutes and enjoy it as a snack all week. Or, I've recently tried it as a spread on sandwiches and wraps and it's a delicious way to add some flavor and filler to what might otherwise be a little boring.
Simple Sesame Edamame Hummus
Here's what you need to make this Simple Sesame Edamame Hummus:
Ingredients: a bag of frozen, shelled edamame (they usually come in 8 oz. bags), a few cloves of garlic, tahini, sesame oil, lime juice, and some MSG and sesame seeds for a garnish
Equipment: A food processor or blender, plus a soft spatula for scraping the sides. Measuring cups, measuring spoons, and a cutting board and chefs knife is also helpful
And if you're in the market for a new food processor, let me hook you up with a discount! Use the code "streetsmartrd" at Nutribullet online (affiliate link) to save 15%!
Toasted sesame oil adds a ton of flavor to this recipe, but if you don't have it you can also use olive oil. Usually, you can use a 1:1 ratio if you swap it out, but adjust as needed once you start blending.
What is Hummus?
Hummus is a thick, creamy dip that originated in the Middle East, where chickpeas are abundant. The earliest mention of hummus goes all the way back to the 13th century, but since then, its path to popularity has traced through the cuisines of various Mediterranean and Middle Eastern cultures. Chickpeas are part of the legume, or bean, family and can be found in the canned food aisle.
Another signature ingredient of hummus, besides chickpeas, is tahini. Tahini is made from sesame seeds. The sesame seeds are covered in bran, which protects the inner seed. To make tahini, the seeds are crushed to remove the bran. Then the sesame seeds can be toasted, ground, and combined into a paste. Tahini is commonly used in recipes for hummus and helps create the thick, creamy texture we know and love.
Edamame hummus uses the same basic concept as traditional hummus but uses edamame (soybeans) instead of chickpeas.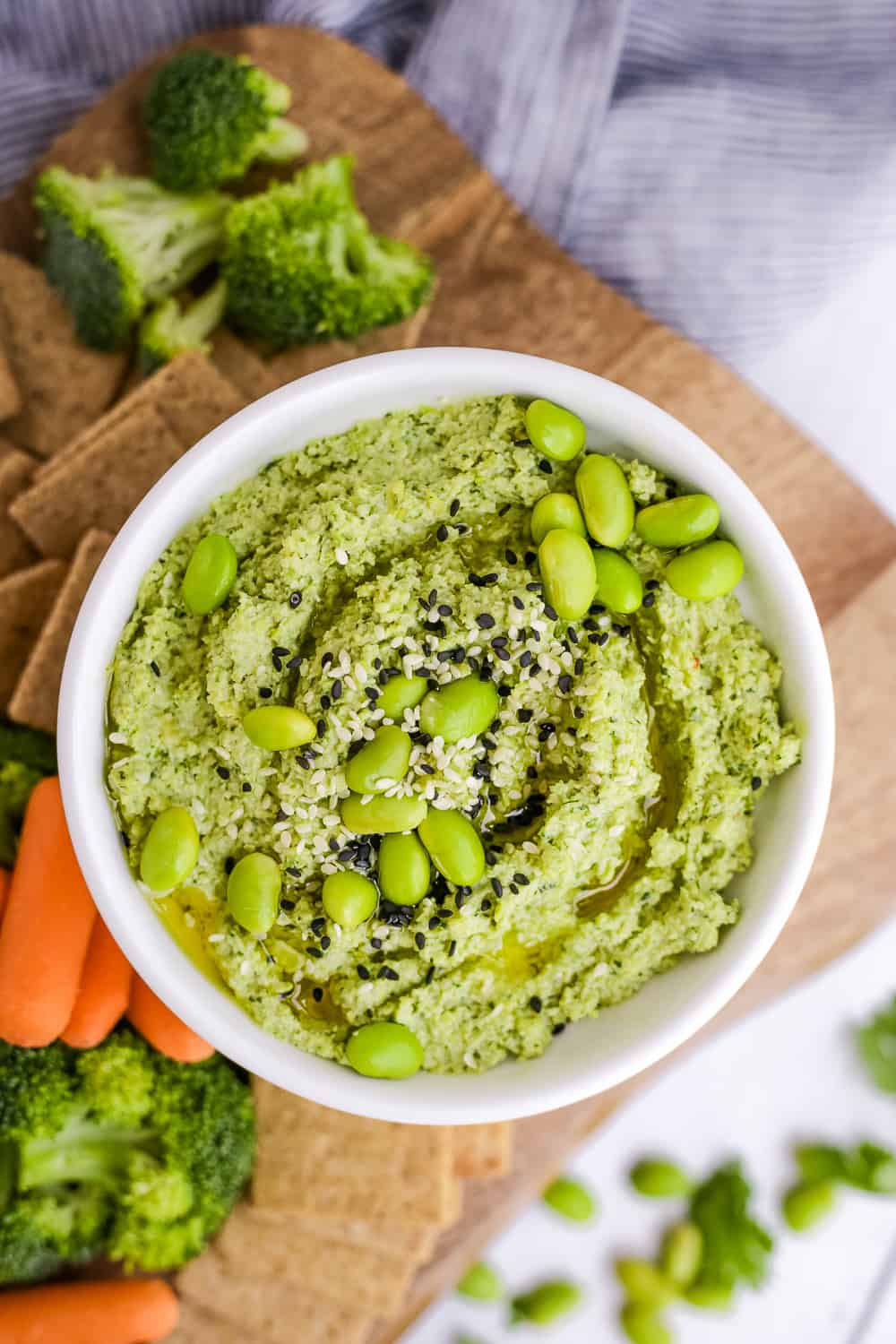 The result is a vibrant green color and a slightly chunkier texture. I still enjoy making traditional hummus or buying it at the store when it's more convenient, but this was a fun way to experiment with new flavor combinations.
I also like to go through my freezer from time to time and use up what I already have. It's easy to forget what's in there – especially when it gets shoved to the back – so this helps me reduce food waste and avoid accidentally buying the same ingredient twice.
How do I make Edamame Hummus?
For this simple hummus recipe, make sure you're starting with thawed edamame. It will be much more difficult to blend together in your food processor if they are still frozen. You can set the bag in the fridge overnight to thaw. Or, if you're short on time or you tend to forget (like me!) empty the bag into a colander, then place the colander in a mixing bowl. Run under warm water into the bowl and allow to sit for a few minutes. Once thawed, lift the colander out of the mixing bowl and you're ready to go!
From there, add the remaining ingredients to the bowl of your food processor. You'll notice this recipe calls for MSG (monosodium glutamate) instead of salt. I prefer to use MSG whenever possible because it contains approximately tw0-thirds less sodium than table salt. It's also pure umami flavor, something that I think adds a lot to recipes that normally might rely on salt for flavor.
Street Smart Nutrition Tip: If you don't have MSG or prefer to avoid it, replace with 1/2 tsp of fine sea salt. You can also add a splash of soy sauce. Regardless, taste your hummus after blending and adjust the flavor as needed.
Pulse the food processor blades a few times to get it going, then blend away! You may need to pause to scrape the sides of the bowl, but the mixture should come together into a creamy, thick consistency. Once blended smooth, transfer it to a serving bowl or storage container.
What can I serve with Edamame Hummus?
Short answer: anything you want!
The longer answer is that it depends on what you like. I personally enjoy crunchy, raw veggies, so I added some baby carrots and broccoli to my serving platter. If you like crunchy textures, crackers or pita chips can be another yummy option.
Here are some other ideas:
Pretzels or pretzel chips
Raw bell peppers, sliced
Raw radishes, cut in half or quarters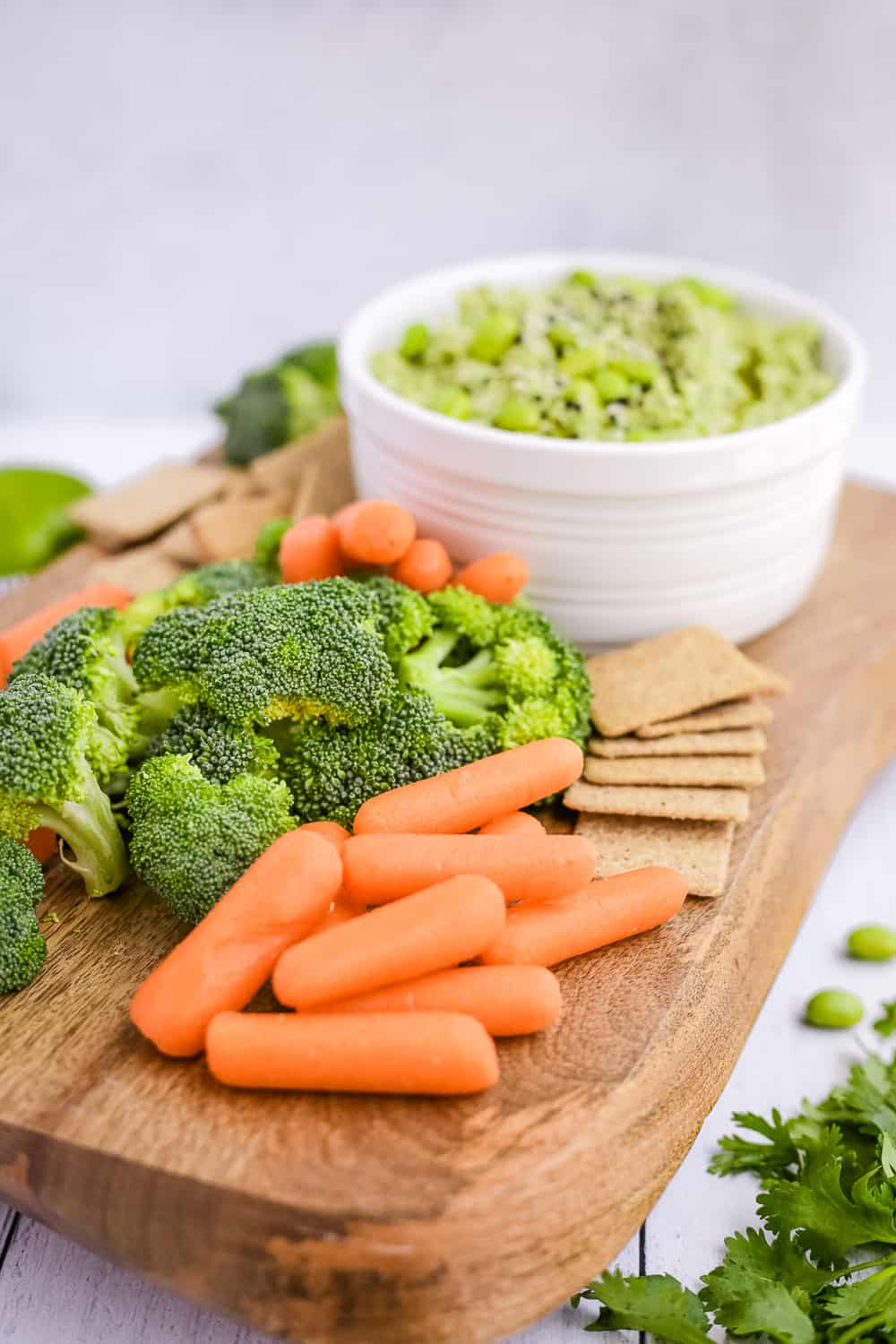 And don't forget, you can also use it as a spread on sandwiches or wraps. This Sesame Edamame Hummus can add a boost of protein and fiber to plant-based sandwiches, or spread it onto a bagel or English muffin with eggs for a breakfast option. Get creative!
Here's the recipe for my Simple Sesame Edamame Hummus
Simple Sesame Edamame Hummus
This simple dip is soy delicious! Just a handful of ingredients that blend together into a yummy snack or spread.
Equipment
Food Processor

Measuring Cups

Cutting Board

Chef's Knife

Soft Spatula
Ingredients
8

oz

shelled edamame

1/3

cup

tahini

2

tbsp

sesame oil

1/4

cup

lime juice

2

cloves

garlic

1/4

cup

cilantro

1/2

tsp

MSG

White or black sesame seeds

,

for garnish
Instructions
Measure and add all ingredients except the sesame seeds to the bowl of a good processor.

Pulse several times, then blend on medium-high speed. Pause to scrape the sides of the bowl if needed. Continue mixing until a thick, creamy texture forms.

Transfer to a serving bowl or storage container. Garnish with sesame seeds, or drizzle with additional sesame oil if desired. Serve immediately or store in the refrigerator for up to four days.
Notes
If using frozen edamame, thaw prior to blending in the food processor.
Nutrition
Serving:
1
serving
,
Calories:
256
kcal
,
Carbohydrates:
12
g
,
Protein:
10
g
,
Fat:
21
g
,
Saturated Fat:
3
g
,
Sodium:
11
mg
,
Potassium:
357
mg
,
Fiber:
4
g
,
Sugar:
2
g
,
Vitamin A:
81
IU
,
Vitamin C:
10
mg
,
Calcium:
67
mg
,
Iron:
2
mg
If you enjoyed this Simple Sesame Edamame Hummus recipe, be sure to check out these other dips and appetizers!
Have you ever tried making a homemade hummus recipe? I'd love to hear about it! Or, if you give this recipe a try, be sure to leave a comment and rating and let me know what you think!