If you're familiar with miso, you already know how its savory, salty flavor can enhance soups and stews. And if you're new to cooking with miso, you're in luck! This easy slow cooker Butternut Squash and Sweet Potato Soup with Miso is a great way to get familiar with this delicious ingredient.
'Tis the season for hearty soups that warm you from the inside out! If you're like me, you're always at least a little chilly in the fall and wintertime. It feels so good to wrap your hands around a hot bowl of soup this time of year. That's what inspired this recipe!
Why You'll Love This Slow Cooker Soup Recipe
The rich flavor of miso enhances the sweetness of the vegetables, plus warming spices like ginger create an amazing aroma as it cooks.
It's made in the slow cooker so you can enjoy hands-free cooking.
The creamy, thick texture is thanks to soft or silken tofu, which adds enough protein to make it hearty enough for a main dish.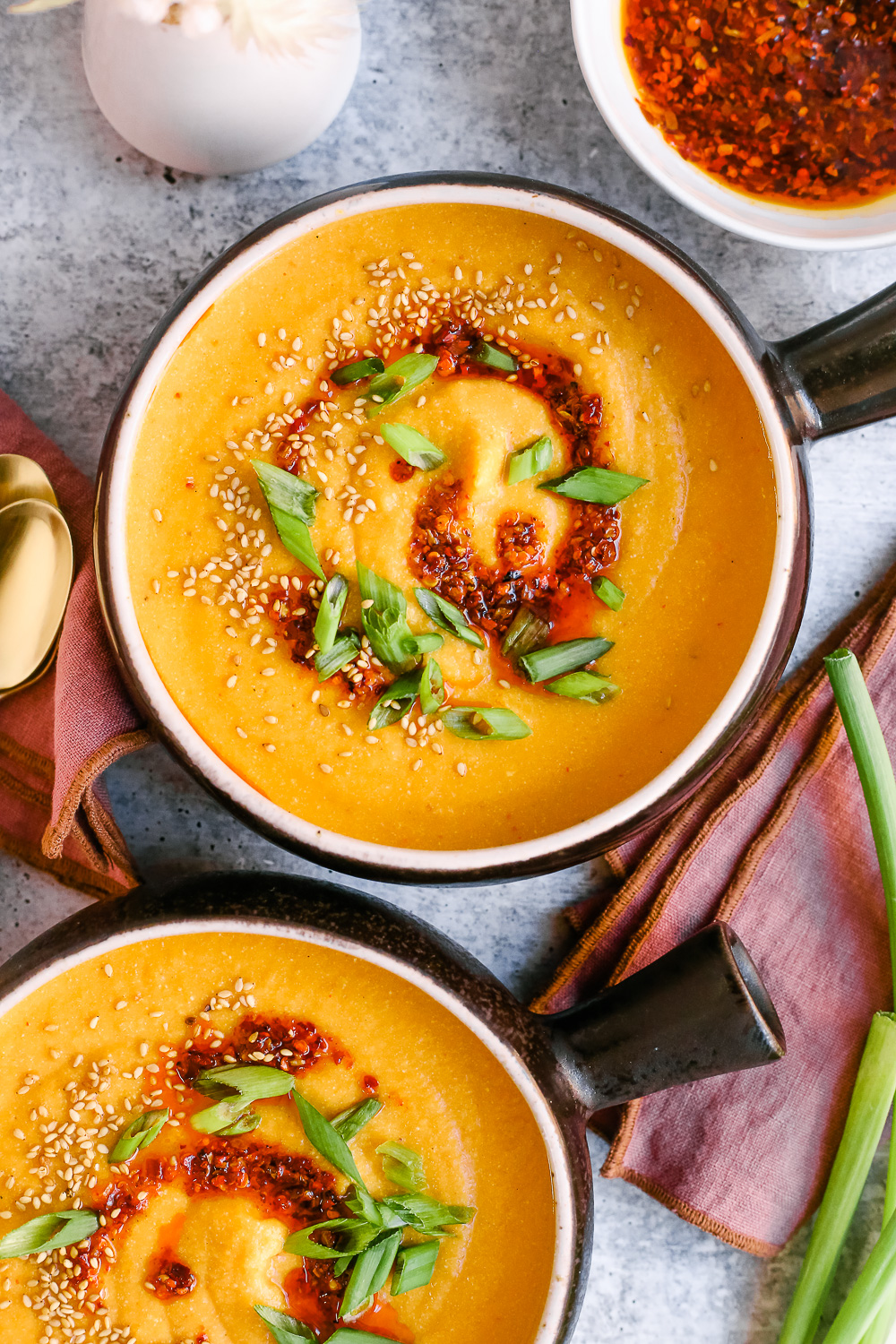 Butternut Squash and Sweet Potato Soup with Miso
I typically always have a container of miso in my fridge. We use it often in stir-fry sauces, marinades, salad dressings, and more! Check out my Sweet Miso Pork Stir Fry or Miso Mushroom Steel Cut Oat Risotto for some recipe inspiration. And it goes without saying that adding miso to a soup recipe takes the flavor to the next level.
What is miso?
Miso is a traditional Japanese ingredient made from fermented soybeans. The texture is a thick paste, almost like peanut butter. The fermentation happens when koji, a type of mold sourced from steamed white rice, is introduced to soybeans or grains like barley, rice, or buckwheat. Enzymatic reactions take place during fermentation and aging, which can last anywhere from a few days to a few years.
There are hundreds of unique types of miso, each varying based on the ingredients, how long it's fermented, the climate of the region, and how it's stored. In Japan, miso is classified based on the koji that is used. Over time, different regions naturally developed different types of miso. As mentioned above, miso is categorized into three types: rice miso, barley miso, and soybean miso, depending on which koji is used for miso manufacturing.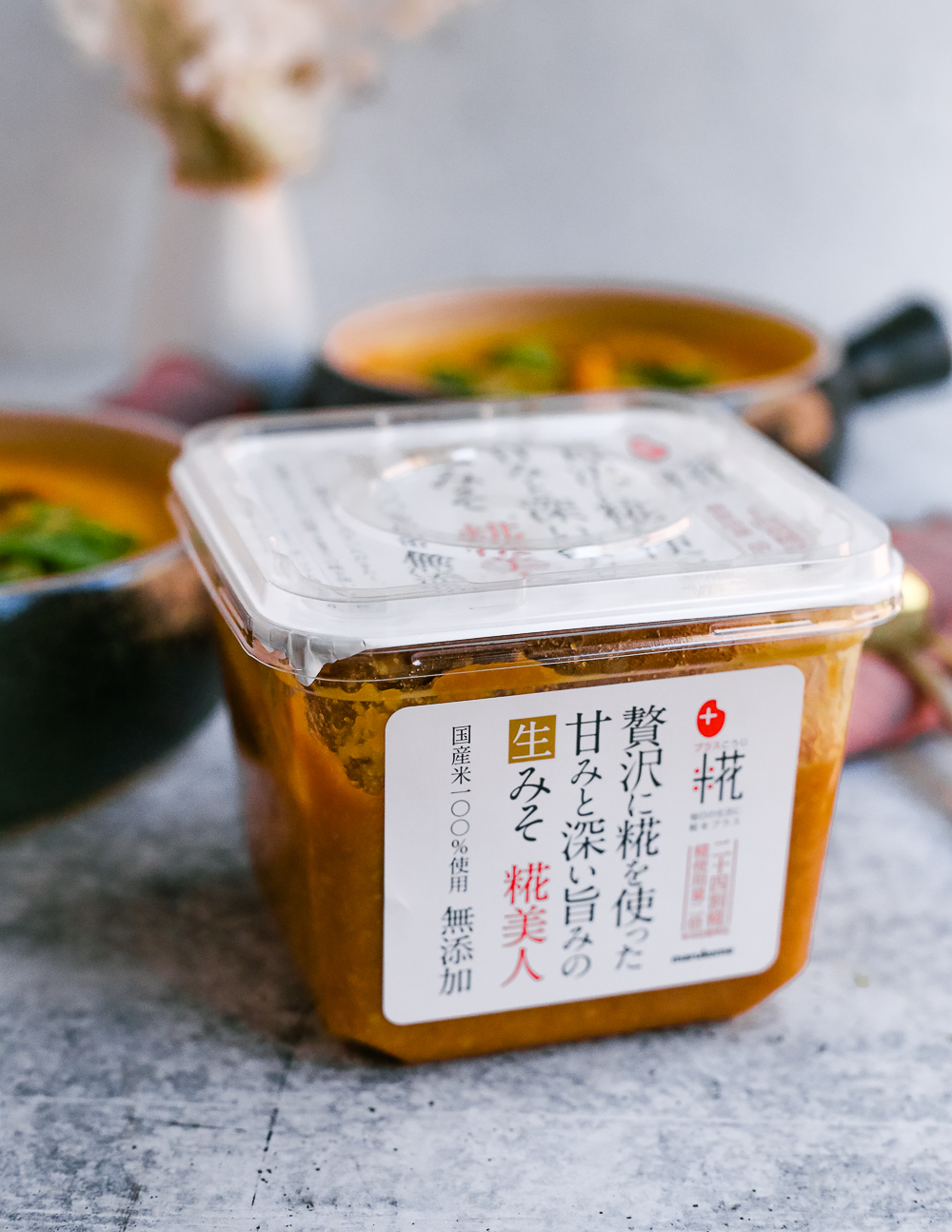 The type of miso I used for this Butternut Squash and Sweet Potato Soup recipe is mildly sweet and deeply savory. That's because it uses a higher ratio of koji than other types of miso. As you can see, it has a nice caramel amber color and chunky texture, compared to some of the other miso pastes that may be lighter in color or mashed to a smoother consistency.
Health Benefits of Miso
As a fermented food, miso can offer some unique health benefits. The fermentation process promotes the growth of probiotics, the beneficial bacteria associated with gut health. Some probiotic strains found in miso, such as Lactobaccilus and A. oryzae strains, may help reduce symptoms related to digestive conditions like IBD (inflammatory bowel disease).
A one ounce serving of miso (28g) provides 12% of your daily manganese, 10% vitamin K, 6% copper, and 5% zinc (based on RDI or Recommend Dietary Intake). Miso provides B vitamins, vitamin E, calcium, iron, magnesium, selenium, phosphorus, and choline. Soybean miso is also considered a complete protein because it contains all the essential amino acids.
How do you store miso?
Keep your miso in the refrigerator and you can enjoy it for months to come. Since it is a fermented food, there's little risk of it spoiling quickly, but generally, you should try to use it within a year. Containers can allow air inside, which leads to oxidation, and that could create some off-flavors.
However, if you're a fan of miso, you probably don't struggle with this problem!
What can I make with miso?
Beyond the obvious (soups!) miso can be used for almost any dish where you want to feature savory, umami, salty flavors.
Soups, stews, and chilis
Stir fry sauces
Marinades or glazes
Noodle dishes like ramen or udon
Savory salad dressings
Braised or roasted vegetables
Mixed with condiments like mayonnaise, cream cheese, or tahini for spreads and sandwich toppings
And this is a great segue back to the main attraction: my Butternut Squash and Sweet Potato Soup with Miso!
How to Make Slow Cooker Soups with Miso
This slow cooker recipe is a spin on a traditional blended soup using a base of sweet potatoes and butternut squash. Both of these vegetables are available year-round in most grocery stores but hit their prime during fall and winter. Butternut squash provides beta-carotene, a precursor to vitamin A that can support your immune health. It also provides the carotenoids lutein and zeaxanthin, which can support eye health. Sweet potatoes are rich in beta carotene as well, and both ingredients add vitamin C, potassium, and fiber to this recipe.
I think a slow cooker is an ideal way to cook with miso in a soup because of the gentler heat and longer cooking time. For best results, add half of the miso before cooking and add the remaining half before blending. This may seem like an extra step, but trust me, the final flavor makes it worth it!
It really helps to have a reliable slow cooker, so here's my top pick: Crock-Pot 6-Quart Programmable Cook & Carry Slow Cooker.
I also really recommend having an immersion blender to spare you the hassle of transferring the soup in and out of a blender!
Here's the recipe for my Miso Butternut Squash and Sweet Potato Soup with all the details!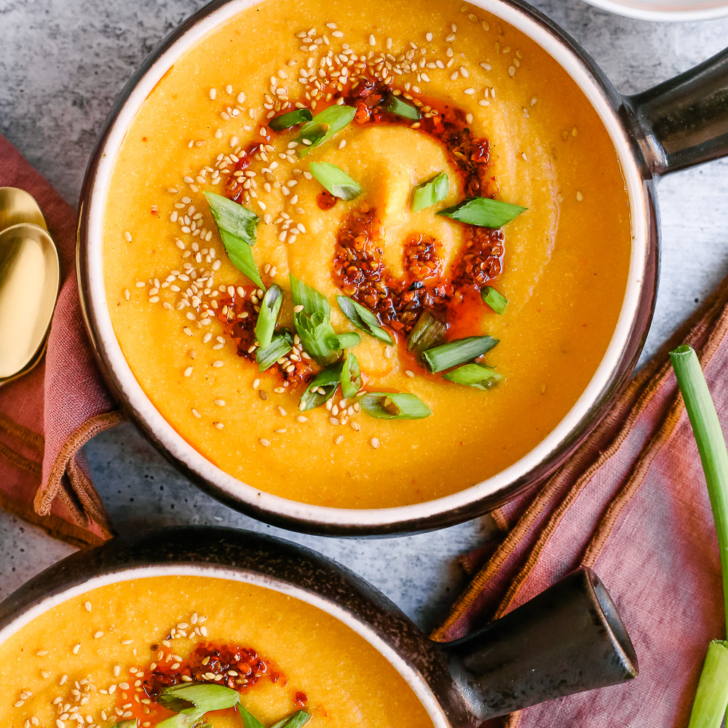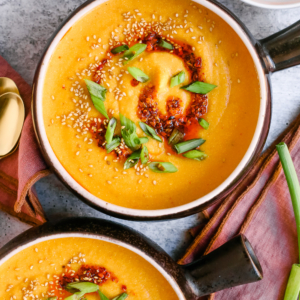 Butternut Squash and Sweet Potato Soup with Miso
This rich, creamy soup is cozy and delicious, and easy to prepare in a slow cooker! Miso, ginger, and chili oil will warm you up from the inside out!
Equipment
Slow Cooker or Crock Pot

measuring cups and spoons

cutting board and sharpened knife

vegetable peeler

Ladle

blender, immersion blender, or food processor
Ingredients
2

large

sweet potatoes

,

peeled and roughly chopped

1

medium

butternut squash

,

peeled, deseeded, and roughly chopped

1/2

white onion

,

diced

1

tbsp

sesame oil

3

cloves

garlic

,

minced

1 1/2

tbsp

fresh ginger

,

roughly chopped

3

cups

low-sodium vegetable broth

3

tbsp

miso paste

,

divided

1

tsp

red pepper flakes

1

pinch

kosher salt

14

oz

soft or silken tofu

Green onions, toasted sesame seeds, chili oil

,

for garnish
Instructions
Prep the butternut squash and sweet potato by peeling and roughly chopping into cubes less than 1" wide. Try to chop into similar-sized pieces to ensure even cooking. Place in the bowl of your slow cooker.

Meanwhile, heat the sesame oil in a skillet over medium-high heat. Once the oil is heated, saute the diced onion for 2-3 minutes or until fragrant and translucent. Add the garlic and ginger and cook 1-2 minutes more or until the ginger softens. Remove from heat and add to the bowl of your slow cooker.

Pour in the vegetable broth and add half of the miso paste, red pepper flakes, and salt. Stir to combine, then cover and cook on LOW heat for 4 to 5 hours (or HIGH heat for 3-4 hours).

Towards the end of cooking, drain the block of soft tofu and chop into cubes. Remove the lid of the slow cooker and add the tofu and remaining miso paste.

Blend in batches or use an immersion blender to puree the soup to a smooth consistency. Add additional vegetable broth as needed if you want a thinner consistency.

To serve, ladle the soup into bowls and garnish with a drizzle of chili oil, sliced green onions, and toasted sesame seeds. Serve immediately and enjoy!
Notes
Store leftovers in the refrigerator for up to five days. Reheat in the microwave in short bursts, stirring to ensure even reheating, or on the stovetop over low heat. 
Nutrition
Serving:
1
serving
,
Calories:
365
kcal
,
Carbohydrates:
67
g
,
Protein:
12
g
,
Fat:
7
g
,
Saturated Fat:
1
g
,
Polyunsaturated Fat:
4
g
,
Monounsaturated Fat:
2
g
,
Sodium:
600
mg
,
Potassium:
1488
mg
,
Fiber:
11
g
,
Sugar:
15
g
,
Vitamin A:
44209
IU
,
Vitamin C:
45
mg
,
Calcium:
188
mg
,
Iron:
4
mg
Disclosure: This post was sponsored by Marukome when it was originally published in February 2022. It has since been updated to improve the overall quality of the information and/or images. As always, thanks for supporting the partners who support Street Smart Nutrition!