As the weather warms up, you will see a slew of colorful produce show up in your grocery store or farmers market. And I don't know about you, but this gets me in the mood for some #SaladsThatDontSuck! But with more variety than ever, it can get confusing as you're selecting fresh produce. If your recipe calls for one of these red leafy vegetables, keep reading to learn the difference between radicchio vs. red cabbage.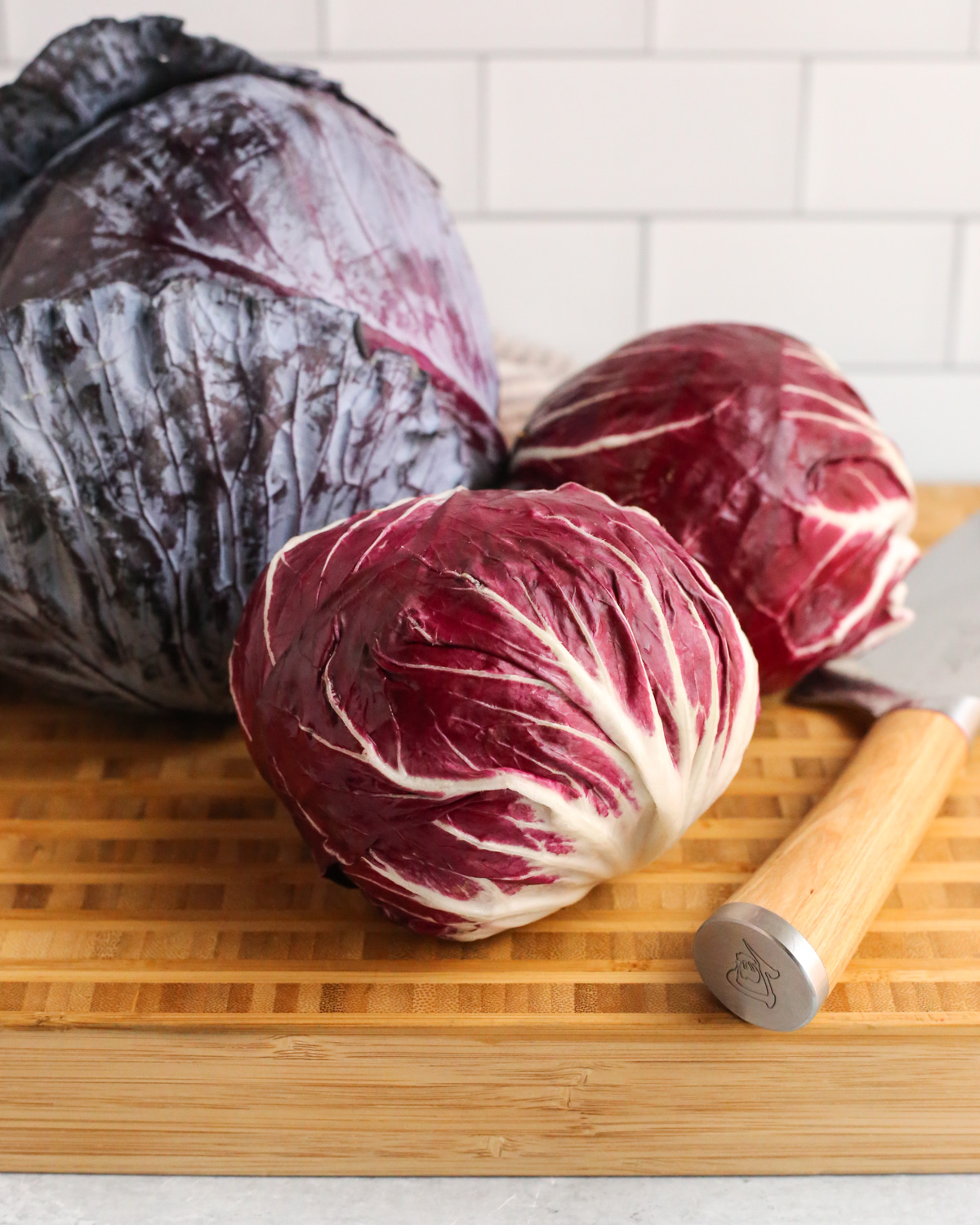 When seen side-by-side as shown above, it's quite apparent they're different. But out in the real world, where you may not see them next to each other, it can be a bit more tricky. So let's start with the basics!
Radicchio vs. Red Cabbage
Both of these leafy veggies will be instantly recognizable for their beautiful red colors! They really stand out compared to other leafy greens with, well, green colors. Red cabbage (or purple cabbage) is used much more commonly in the United States, while radicchio is more likely to show up in Mediterranean-style or Italian cuisine.
One of the key differences between red cabbage vs. radicchio is the appearance. Specifically, the white veins that start at the stem and radiate into the rest of the vegetable. Just take a look at a side-by-side comparison: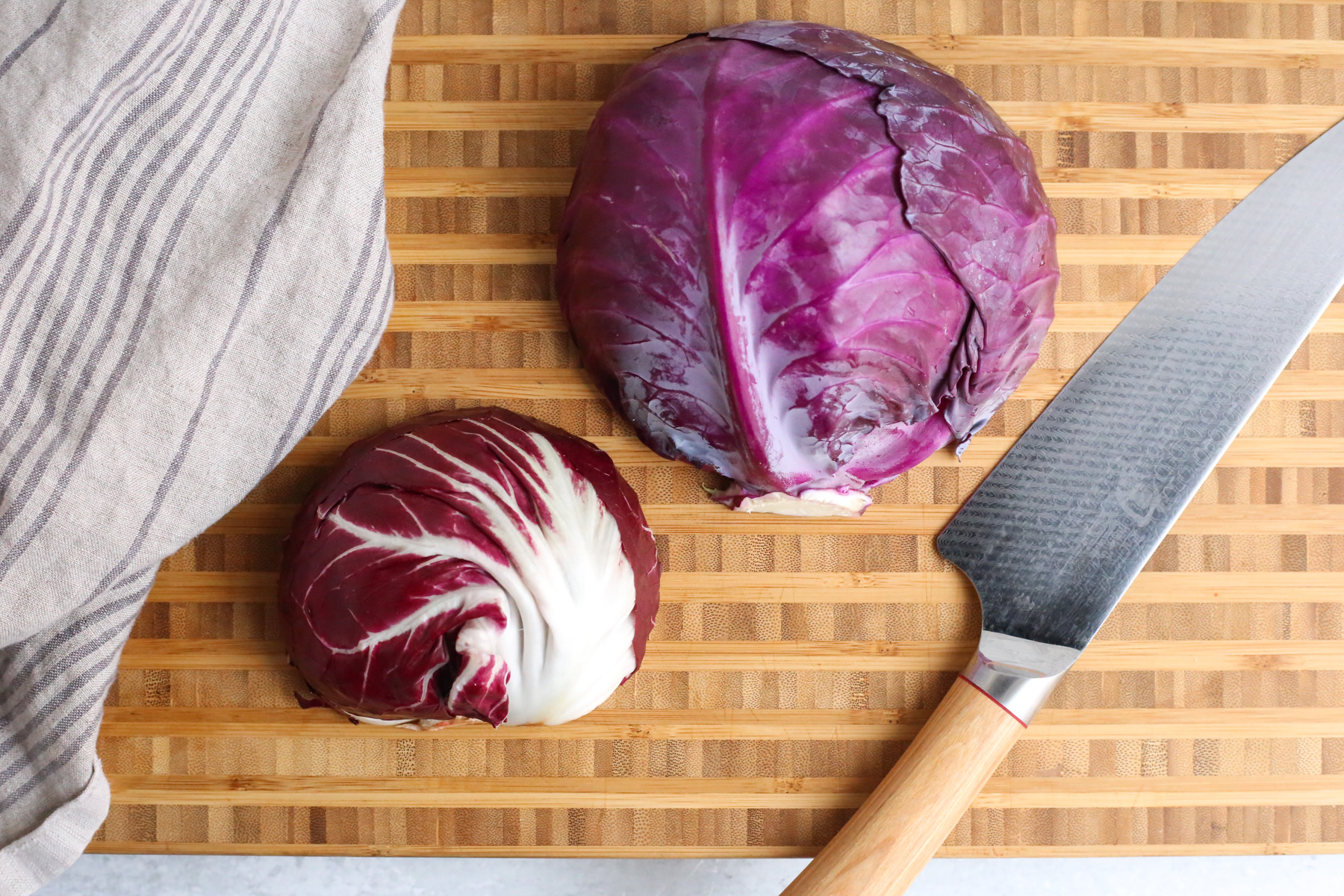 You'll also notice a difference in red cabbage vs. radicchio in this cross section view. You can tell the red cabbage is packed much more densely and has crunchier, less tender leaves: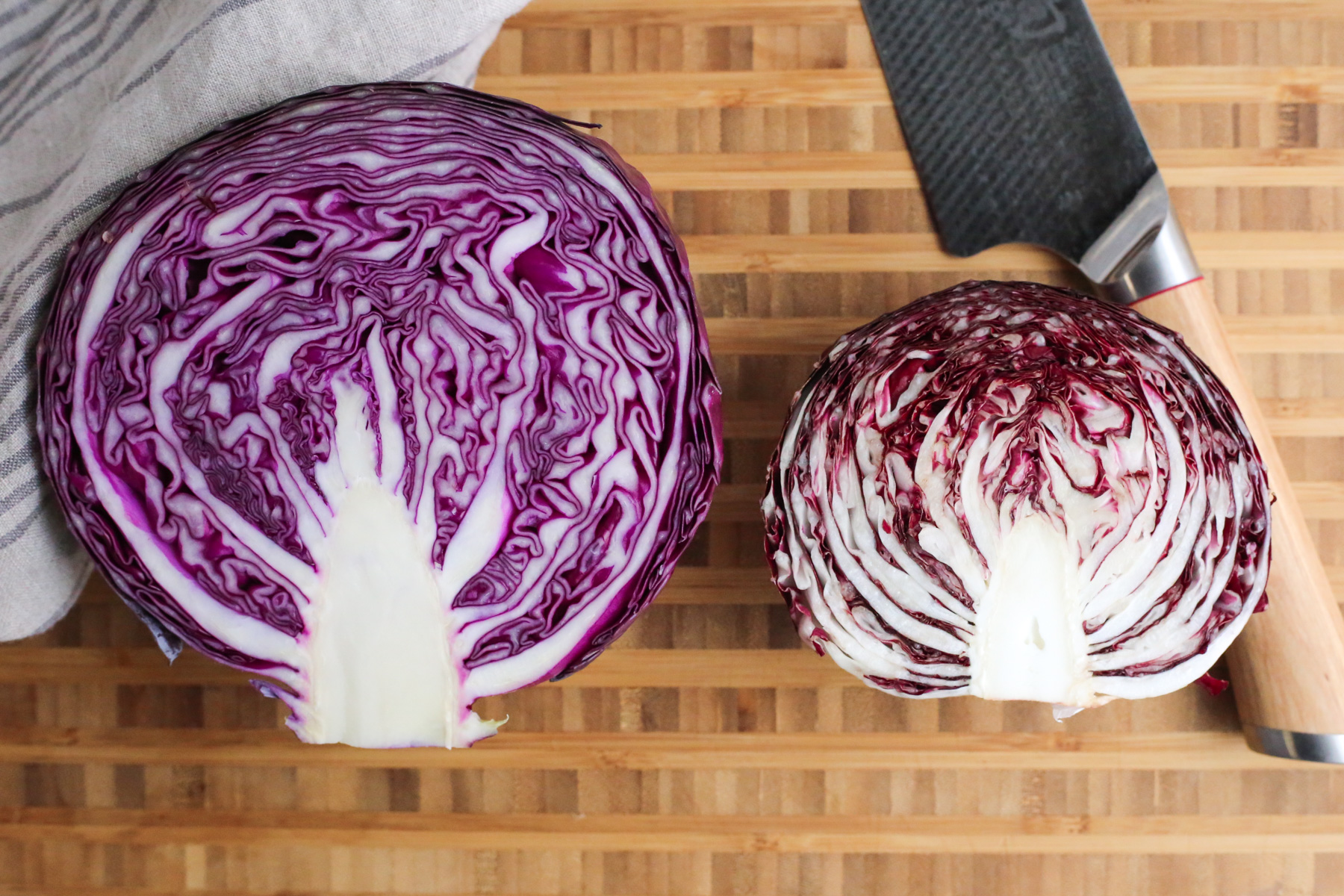 Red cabbage is part of the Brassicaceae family, which includes other cruciferous vegetables like broccoli, Brussels sprouts, and its close counterpart, green cabbage. Meanwhile, radicchio is a member of the chicory family, which includes dandelions and Belgian endive.
There are several types of radicchio, the most widely available option being chioggia radicchio. And at least here in the United States, you probably won't have much luck finding other varieties of radicchio. Other varieties, like Castelfranco or Treviso radicchio, are usually imported from the Mediterranean region.
And if you're into super random information that might only be useful for trivia night, read this post from the New York Times. I stumbled across it when doing my research for this post and it goes into a lot of details. It's from 1988, making it older than me!
Health Benefits and Nutrition
Both red cabbage and radicchio offer similar benefits and nutrition. Both are vegetables, so naturally fat free, cholesterol free, very low in sodium. They also offer some dietary fiber. Fiber can be beneficial for heart health or reducing risk of cardiovascular disease by managing blood pressure.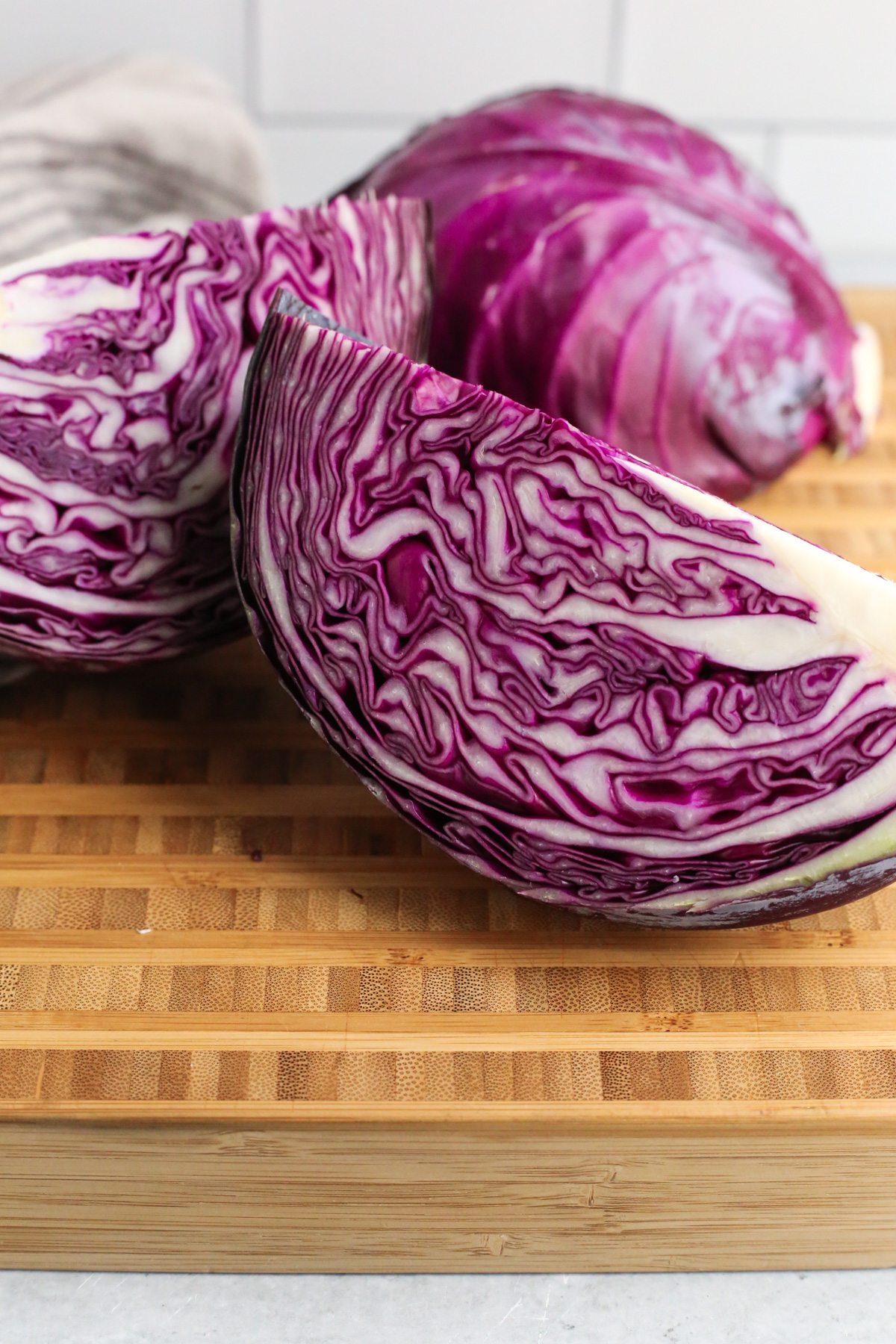 While many sources will claim there are numerous health benefits to eating red cabbage and radicchio, keep in mind these recent studies usually look at individual nutrients vs. the food or ingredient as a whole. Regardless, several key nutrients found in both red cabbage and radicchio may be beneficial:
Vitamin C: a water-soluble vitamin with an important role for cell structure and collagen production, immune health, and protecting cells of the body against free radical damage
Vitamin K: a fat-soluble vitamin linked to bone health and blood coagulation (blood clotting)
Anthocyanins: this type of phytochemical contributes to the vibrant red and purple color of red cabbage and radicchio, and may help reduce oxidative stress (a type of inflammation in the body)
The number of vitamins and nutritional value is comparable to other similar vegetables, so here's the bottom line: enjoy any option as often as you'd like, especially since most of us aren't eating the recommend number of servings for fruits or vegetables each day.
Don't get too caught up in the tiny details of nutrition. Just know that a serving of raw radicchio or a serving or red cabbage will do your body good!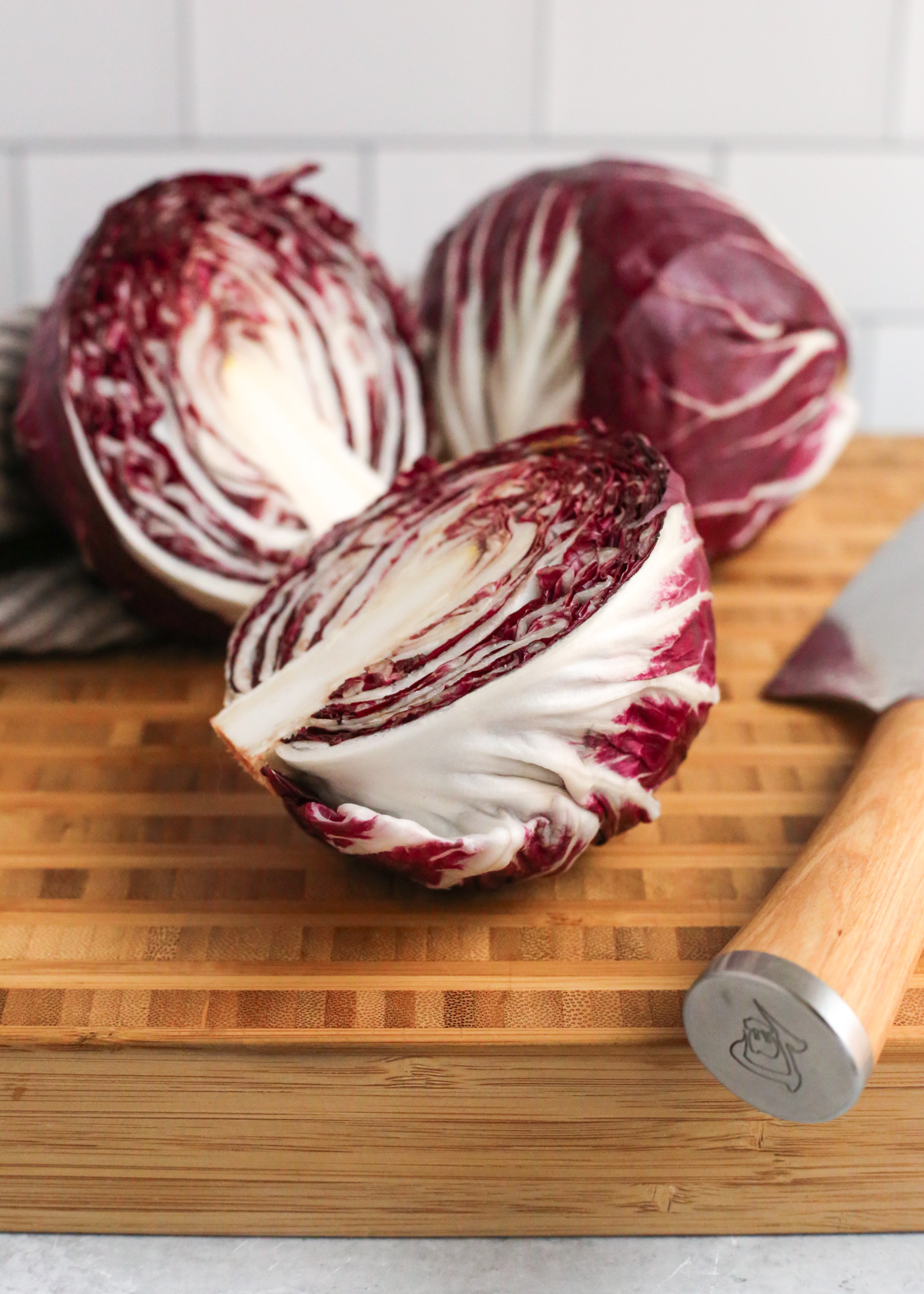 How to Select Red Cabbage vs. Radicchio
When looking for a red cabbage, find one that is solid and feels heavy for its size. The leaves should be tightly packed and the shape should be round. Look for leaves with minimal discoloration, although that's usually very normal and can easily be fixed by peeling back the outer leaves before using. The purple color depends on the pH of the soil its grown in, so it's normal to see some variation.
When shopping for radicchio, you'll notice the shape may be less round and more elongated. The leaves won't be as tightly packed or dense as red cabbage. Look for leaves that seem fresh, crisp, and tender, avoiding anything that is bruised, limp, or yellowed. The color will be vibrant maroon. This will clearly stand out from the white veins that streak along each leaf starting at the base.
However, depending on the variety of radicchio, you might also get a small, round shape like what I found at my local grocery store. The flavor and texture is still enjoyable for salads and other recipes. So if selection is limited don't be afraid of using whatever option you have.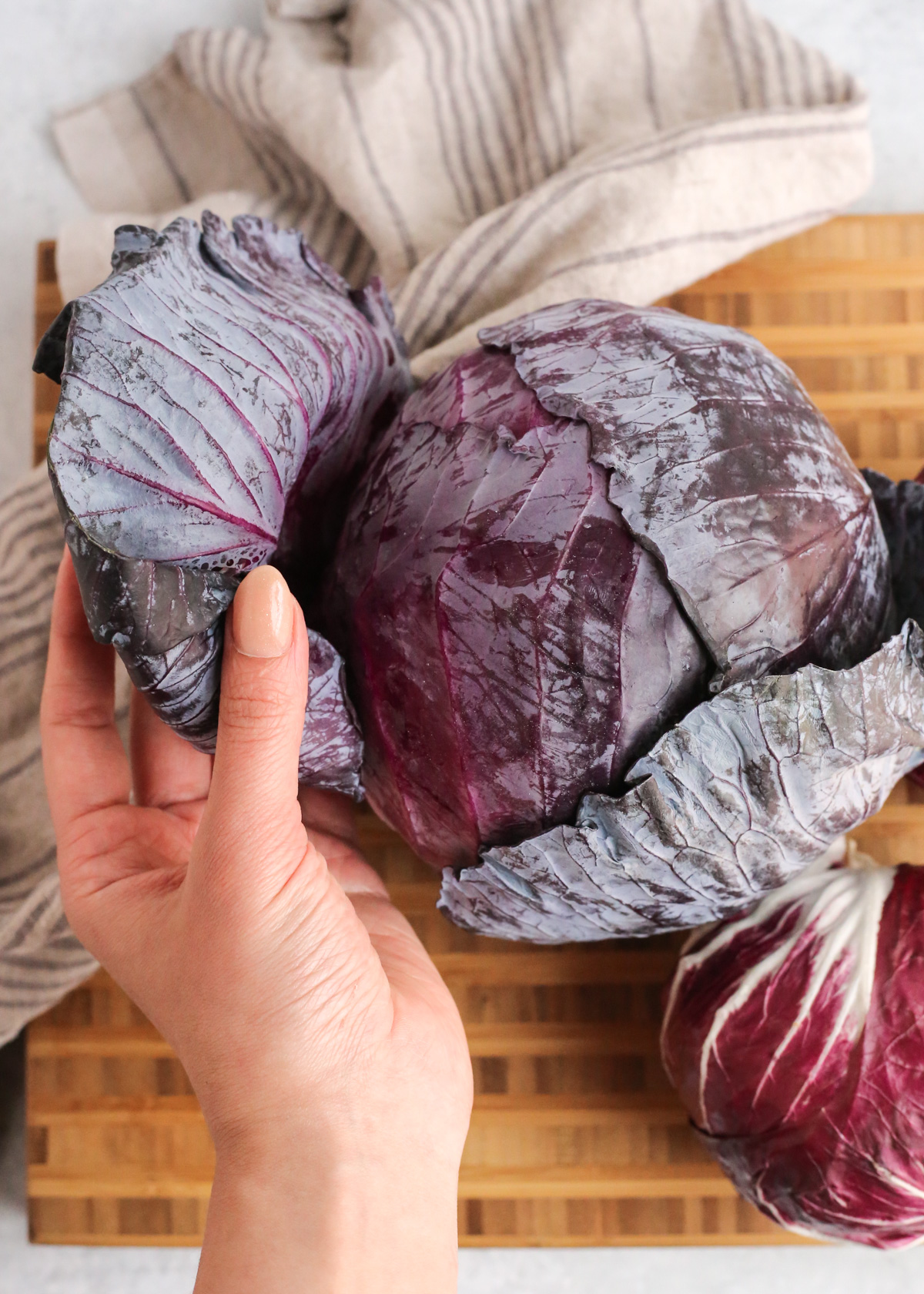 It's normal to see some outer leaves with damage or discoloration. If the red cabbage or radicchio is not refrigerated, you'll also notice wilting. To easily fix this, simply peel off and discard the outer leaves prior to cutting, cooking, or serving.
How to Store Red Cabbage vs. Radicchio
Despite their subtle differences in color, texture, and nutrition, you can treat your red cabbage and radicchio nearly the same when you get home from the grocery store.
Seal your red cabbage or radicchio in an airtight bag or bin. Keep both ingredients chilled. Washing before storing might shorten the storage life, but I understand why you might want to wash and prep your veggies when you get it home. This strategy can save a lot of time later if you're trying to prep a meal in a hurry.
An intact red cabbage or radicchio might last up to two weeks in the crisper drawer of your refrigerator in low humidity. Use washed and/or sliced red cabbage and radicchio within about 3 days for best quality.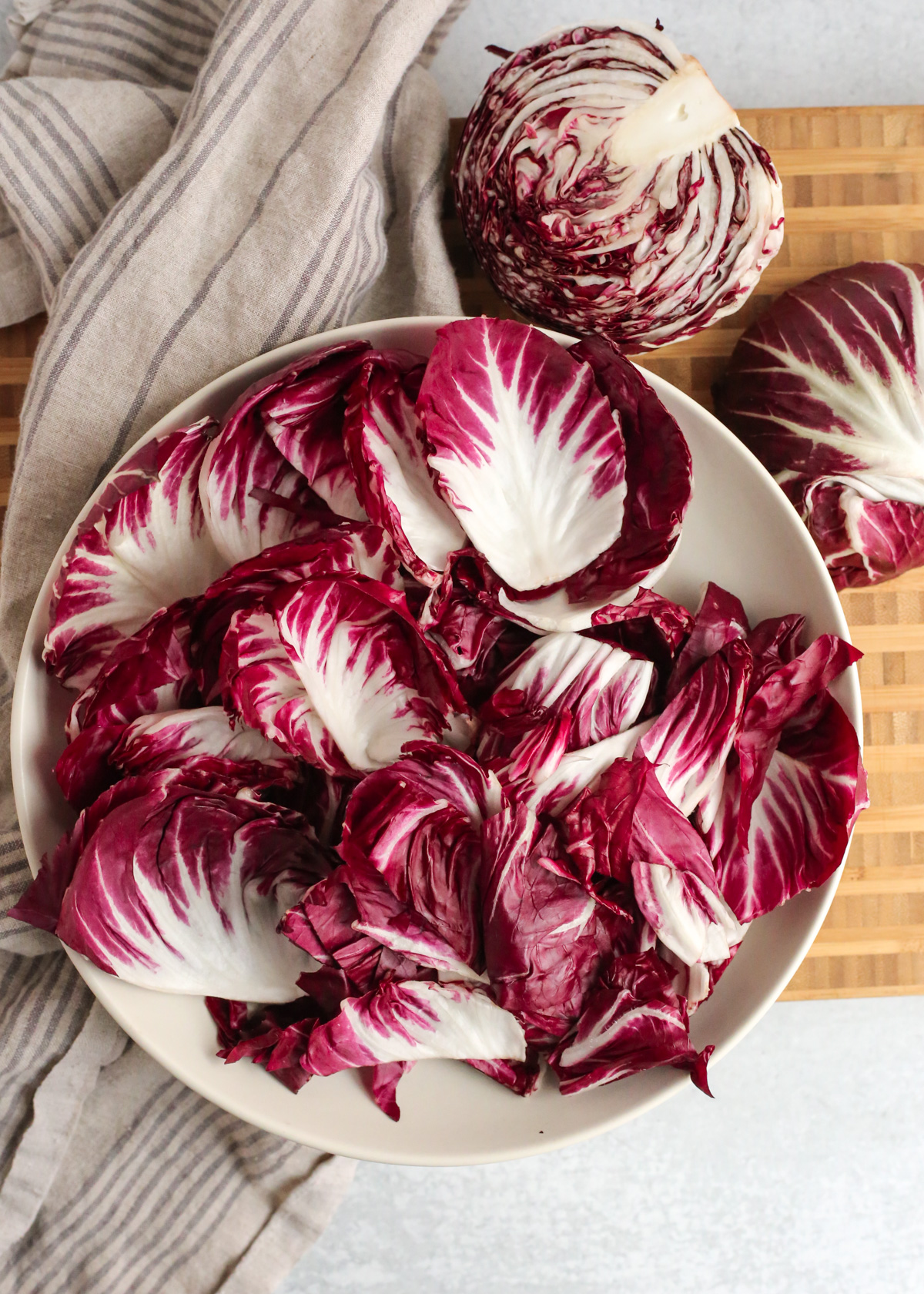 Alternatives and Substitutions
If you're making a new recipe for the first time, you want to do everything you can to make sure it turns out as delicious as possible. That means following the instructions to a T and picking out the correct ingredients. But if you're like me, some items just aren't available or are way too expensive for my budget. So what can you use instead of red cabbage or radicchio in a recipe?
Here are some of the different vegetables I recommend trying instead of red cabbage for similar color, flavor, or texture:
Green Cabbage
Red Onions
Red Chicory
Coleslaw mix (pre-shredded and extra convenient!)
And these alternatives should work well in recipes calling for radicchio:
Belgian Endive
Curly Endive
Italian Chicory
Romaine Lettuce
Red Leaf Lettuce
Arugula
Can red cabbage and radicchio be used interchangeably? For the most part, yes!
But one general rule of thumb I use (based purely on personal preference) is that if the recipe is raw, I'll use either. But if I'm braising, roasting, stewing, or otherwise cooking for the recipe, I use red cabbage vs. radicchio. And remember that radicchio may be more expensive and harder to find, so you can always use red cabbage as a radicchio substitute.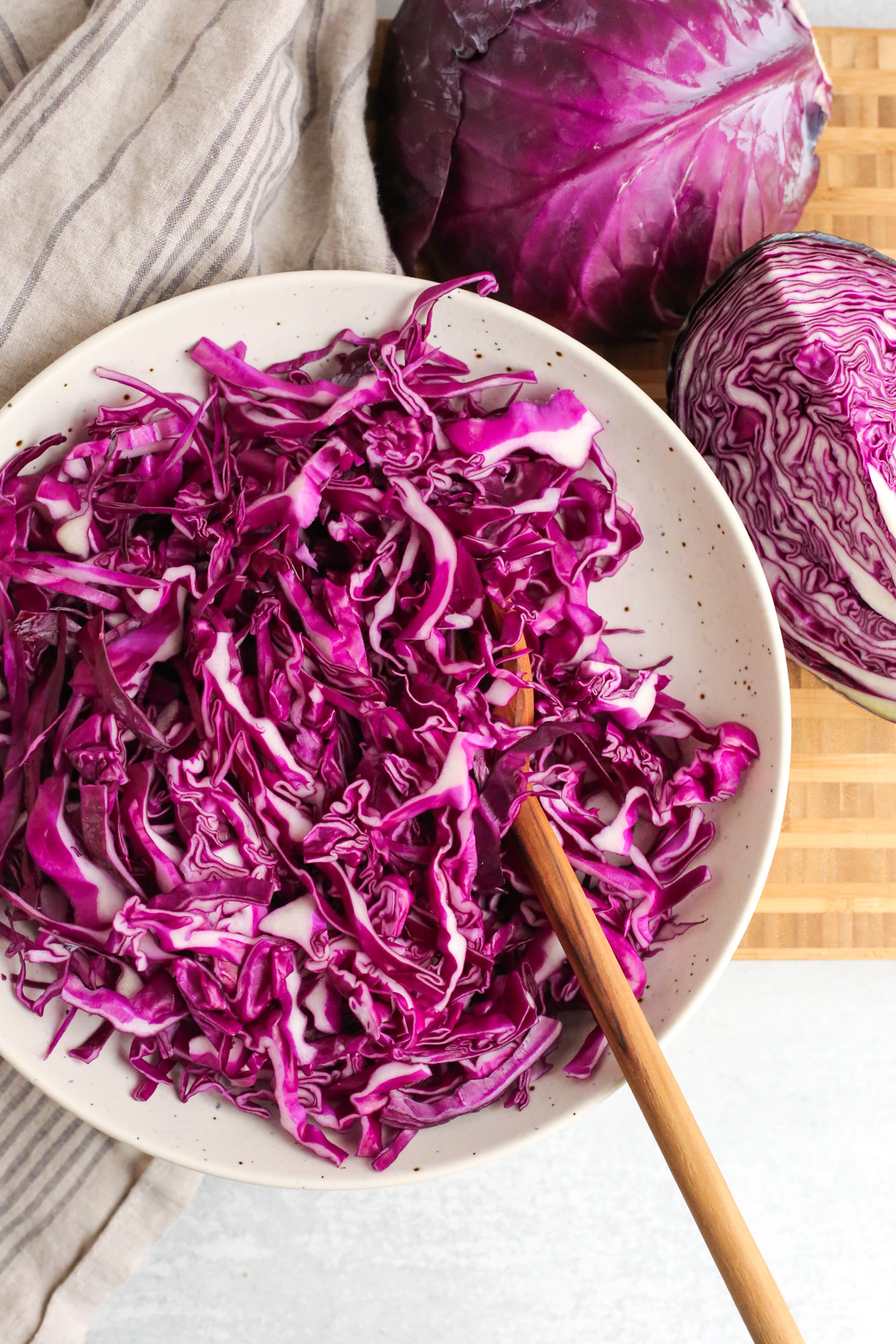 Flavor Pairings for Red Cabbage and Radicchio
Both of these leafy vegetables have a slightly bitter flavor, although it is much more noticeable with radicchio vs. red cabbage. When it comes to flavor pairings, I always like to reference "The Flavor Bible". I consider this the best thing for figuring out flavor pairings and I use it all the time. If you're ever looking for a gift idea for the foodies in your life, I highly recommend it!
Try these pairings for red cabbage: apples (especially Golden Delicious) or apple cider, bay leaf, lemon juice or lime juice, white or black pepper, blue cheese, pancetta, caraway seeds, nutmeg, and dry red wine or red wine vinegar
And here are some suggestions for radicchio: anchovies, bacon, capers, fennel, garlic, lemon juice or lemon zest, Dijon mustard, olive oil, prosciutto, balsamic vinegar or red wine vinegar, walnuts, gorgonzola cheese, parmesan cheese, and pine nuts
Street Smart Nutrition Tip: Cooking red cabbage or radicchio can fade the color of the leaves to a dull, dark color (almost blue). To prevent this, make sure to include acidic ingredients like lemon juice when cooking to keep a bright, vibrant reddish purple color.
Finally, here are some delicious ideas if you're looking for recipe inspiration with red cabbage or radicchio:
---
Now you're a pro at recognizing red cabbage vs. radicchio! Both options will be a great addition to enjoy more vibrant color in your meals. I hope you use this information to create some #SaladsThatDontSuck this season.
Thanks for reading and as always, cheers to more fearlessly nourishing meals!