If you're firing up the grill, leave some space for the veggies! This Green Salad with Lentils features grilled vegetables, feta cheese, and a simple dressing. It's a great addition to your summer meal rotation!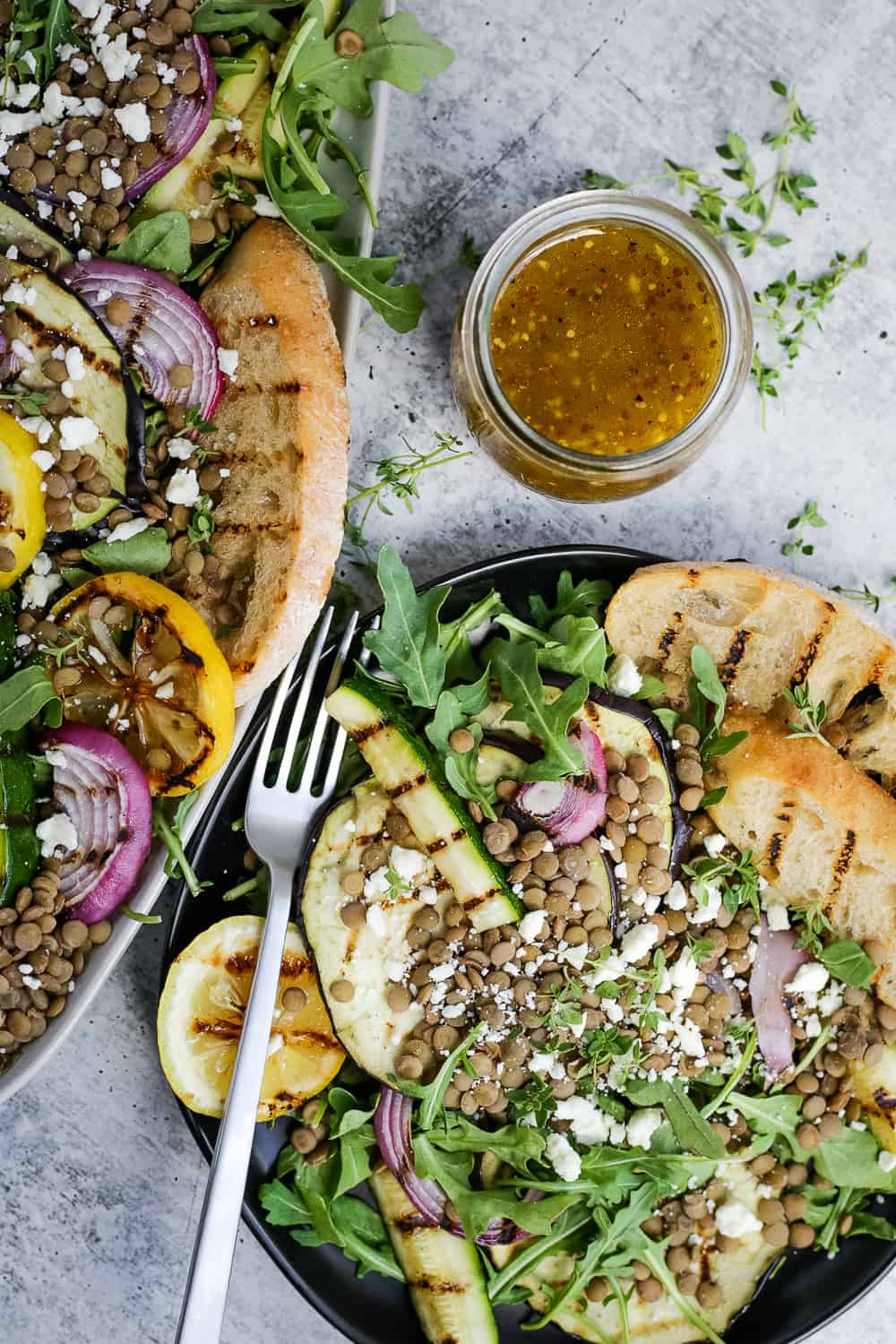 You are going to love this lentil salad recipe! As you know, salads that don't suck are kind of my thing, and this one does not disappoint. It's a hearty salad full of delicious flavor, making it a great option anytime you're enjoying some summertime grilling!
Why You'll Love This Green Salad with Lentils
You can take full advantage of summer's bounty with this recipe! It's basically just a delivery method for tons of fresh produce, and while you can make it any time of the year, it somehow just tastes better on a hot day.
Grilling can add so much flavor with pretty minimal effort. High heat cooking can give your ingredients those beautiful char marks that look great on your plate, too!
Adding lentils to any recipe can instantly boost the nutrition and satisfaction. Lentils provide plant-based protein, fiber, and flavor, plus they can be a sustainable option for cooking at home. More on that below!
Plus, this can easily convert to a vegan lentil salad by skipping the cheese. It's versatile, simple, and such a stunner. Let's get into it!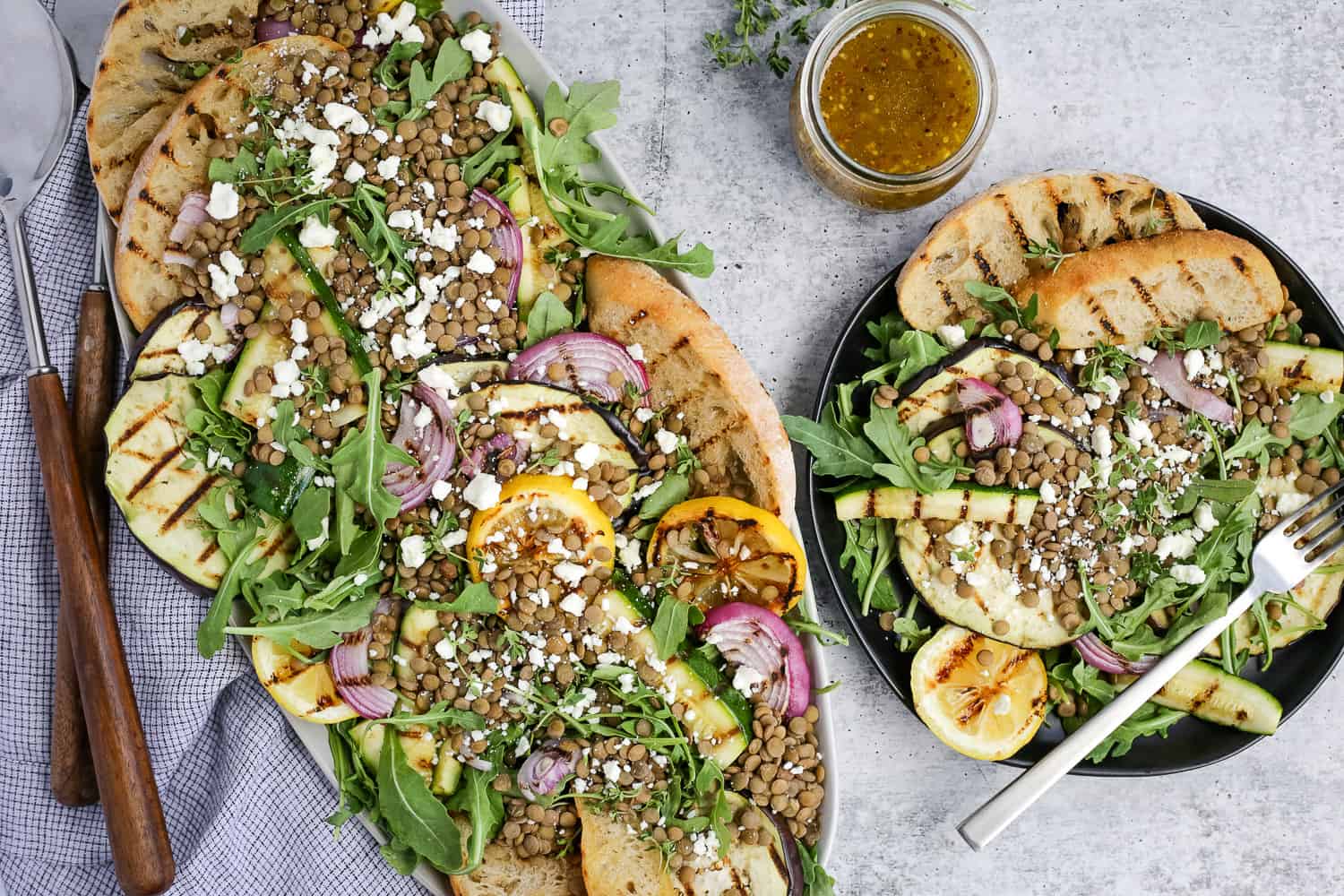 Ingredients You'll Need
For the salad ingredients, make sure you have:
Brown lentils. You can also use beluga lentils, French lentils (also called Le Puy lentils), or even green split peas. All of these alternative lentil varieties will hold their shape and texture after cooking.
Low sodium vegetable broth. Cooking the lentils in broth infuses savory flavor, which I'm a big fan of. However, this is totally optional and you can easily swap for the same volume of water, salted or unsalted.
Eggplant
Zucchini
Red onion
Arugula, or other type of leafy, bitter greens
Lemon
Feta cheese
Thick-sliced bread, like sourdough, ciabatta rolls, or a French baguette
Fresh herbs for garnish. Again, this is optional but adding fresh thyme (which is what I used), basil, or parsley can instantly elevate this green salad with lentils to a restaurant-quality meal.
Street Smart Nutrition Tip: While you can swap the brown lentils for the mentioned varieties, I recommend avoiding red lentils for this particular recipe. While ideal for soups, stews, and dal, they lose their shape and break down while cooking. That's less than idea for a salad like this one, so just keep that in mind if you plan to try this recipe!
For the dressing ingredients, you will need:
Olive oil. Go with your favorite, whether that's extra virgin olive oil or otherwise. Use something high-quality and fresh for best flavor.
White wine vinegar
Whole grain mustard or dijon mustard
Honey
Garlic
Salt and black pepper
Measurements are listed in the recipe card below. Hopefully some (most?) of these ingredients are staples in your kitchen, but if you need to make a purchase, they're readily available almost everywhere. If you need the convenience of a grocery delivery, click HERE to find a complete shopping list courtesy of Instacart.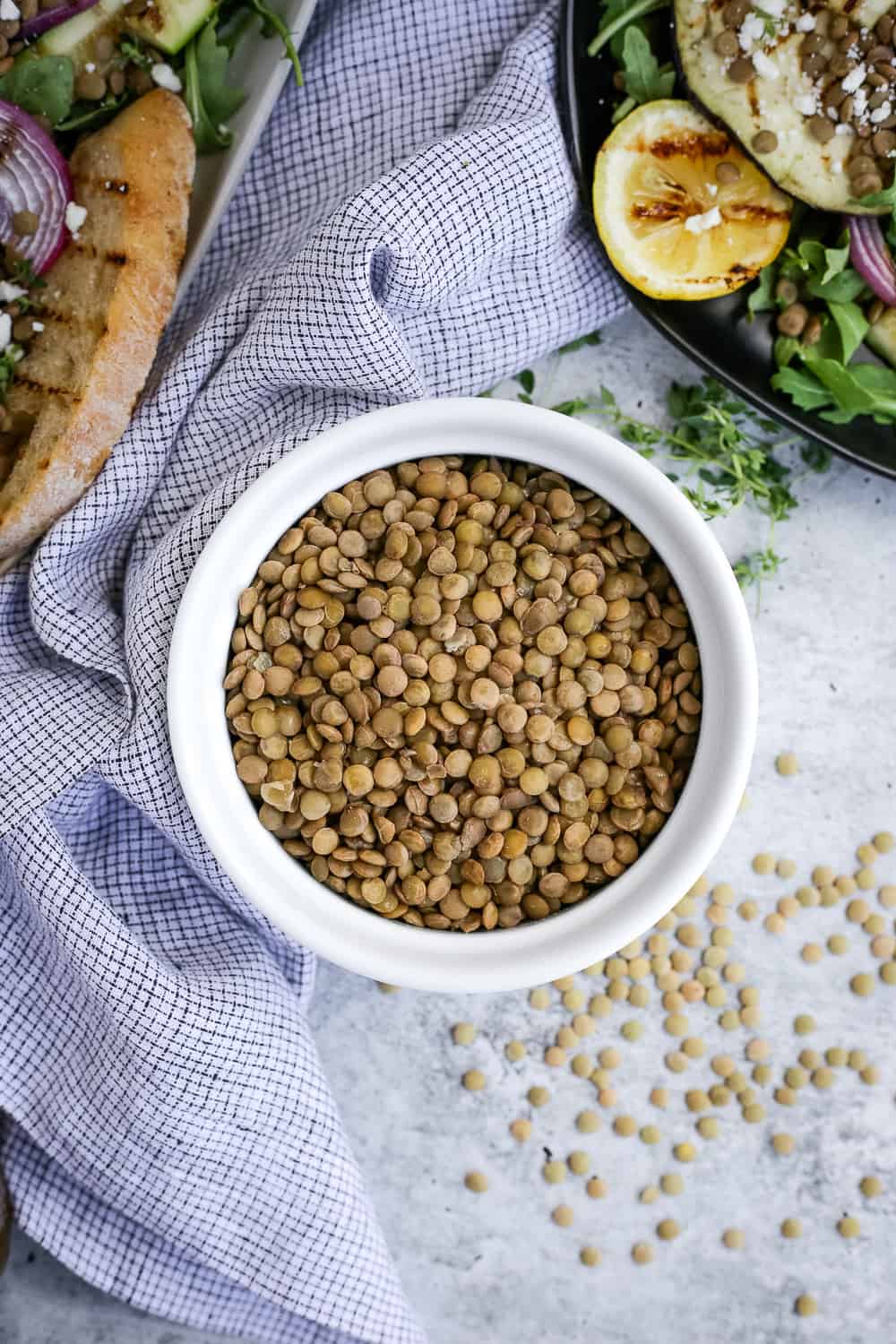 What are pulses?
Let's pause here so I can sing the praises of pulses. Especially lentils!
Pulses are the food group that includes beans, lentils, chickpeas, dry peas. Sometimes they're also referred to legumes. And it's true, they are part of the legume family, but "pulses" refers only to the edible seed within the pods of these plants. You're probably most familiar with beans and chickpeas (AKA, garbanzo beans). But lentils are incredible diverse and versatile with their own set of benefits.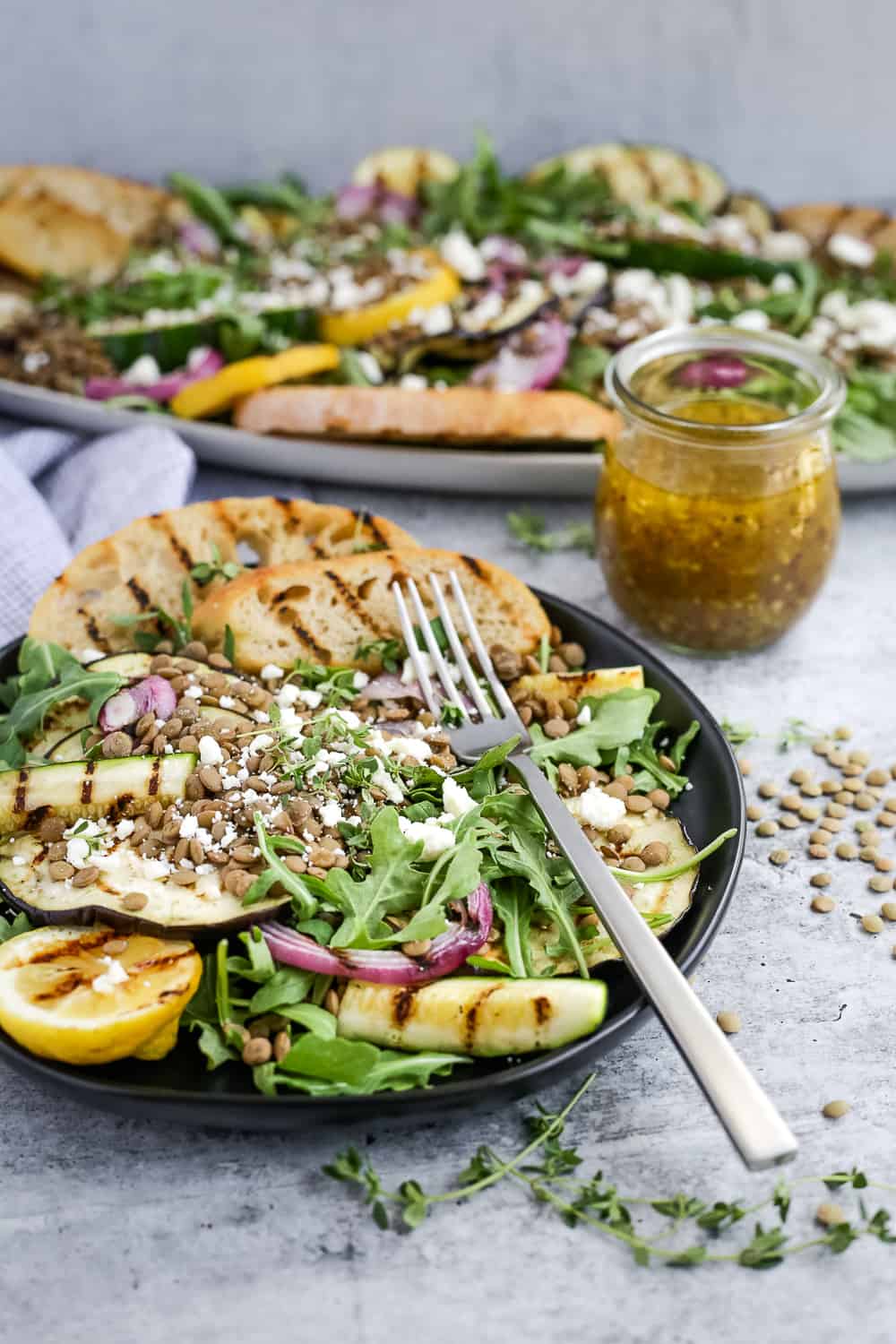 Pulses have been a protein staple around the world for thousands of years. Today, they are celebrated as a shelf-stable, nutritious, and affordable option for cooking all kinds of different recipes. I love to rely on them as a pantry-staple year-round, but right now I'm excited to experiment and explore all the ways I can use them this summer. From adding a can of chickpeas to your salads to blending black beans or kidney beans into your burger patties, pulses can add an extra boost of nutrients to your summer barbecues. I featured them in this Split Pea Salad and it's one of my most popular recipes of all time!
Benefits of Pulses Like Lentils
As a registered dietitian, nutrition information is always of interest but I'm a fan of pulses for more than their nutrient content alone. Still, I should point out a few of the ways adding pulses to your meals can provide health benefits.
Pulses are:
A good source of plant-based protein
An excellent source of fiber
Iron-rich
Naturally low in sodium and fat, and naturally cholesterol-free
An excellent source of folate, containing three times more folate per serving than kale
A good source of potassium, with one serving of dry peas offering as much potassium as a banana
In addition to all the amazing nutrition benefits of cooking with pulses, they're also a great way to stretch your grocery budget further. I shop on a budget myself, so if other proteins are difficult to find or too pricey for me, pulses offer a way to boost protein and get some added fiber in my meals. If you tally up the cost per serving, it clocks in at around 10 cents per serving for pulses – not too bad! And there are multiple options in the grocery store these days, including dried, bulk, canned, and even heat & eat pouches.
And if you're like me, you're also interested in the environmental impact your food choices could have on the planet. Pulses can be a sustainable food because they're a nitrogen-fixing crop. That means they can convert nitrogen in the air into a plant-available nutrient. In turn, that can reduce the need for nitrogen fertilizers, which is why they're sometimes used as a cover crop. I saw this in action on a few of the farm tours I've attended, and although those pulses aren't destined for my plate, it's still a cool way to see how farmers are striving to make less of a detrimental impact on the environment.
How to Make a Green Salad with Lentils
Now we're getting to the good stuff: the recipe!
Note that cooking times are estimates, which will vary based on the amount of vegetables you're preparing. It can be tempting to turn up the heat to speed up the process, but this can scorch your vegetables and bread. Restraint is your friend for this recipe!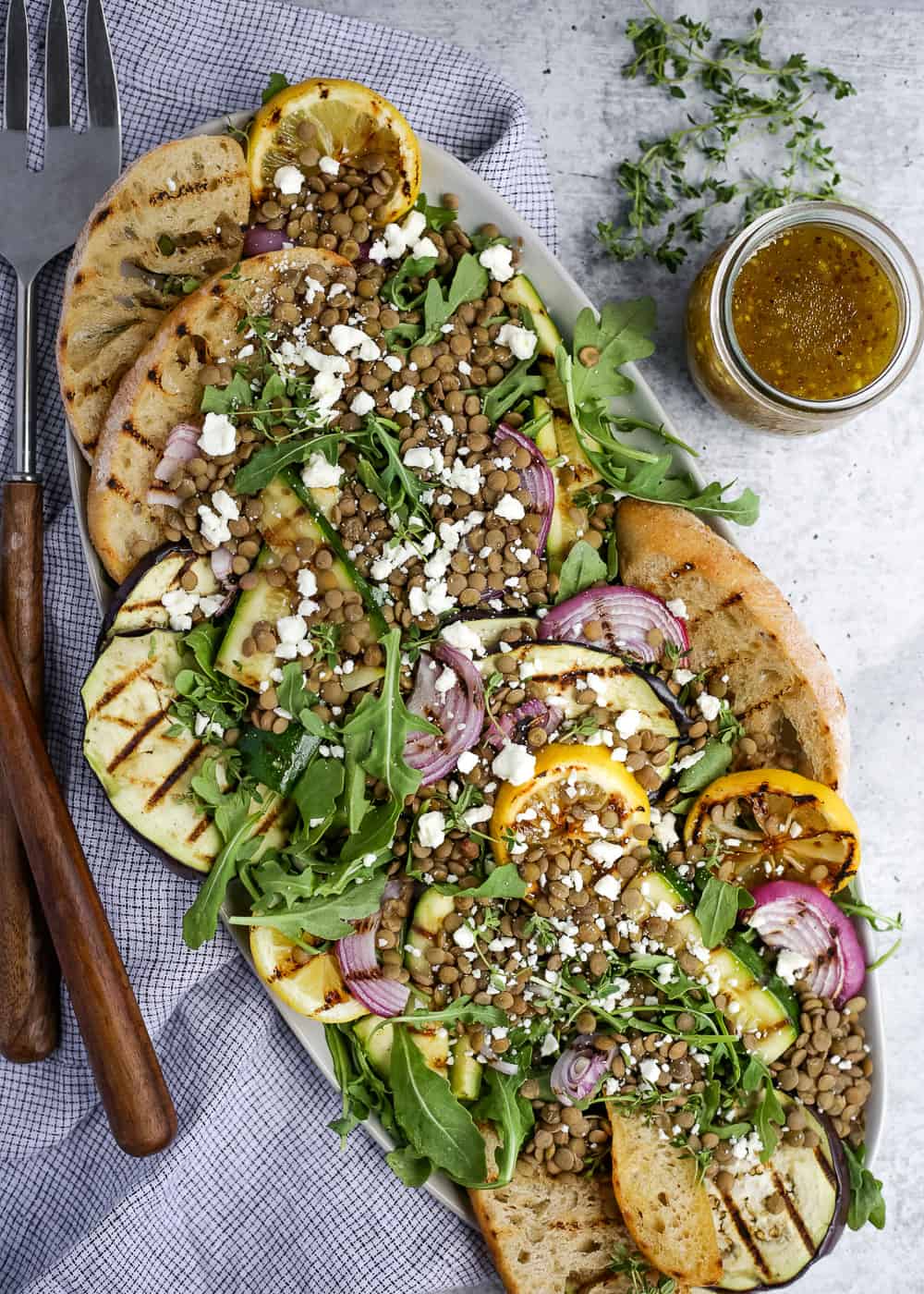 The full instructions are in the recipe card, but these steps cover the general process. Once you have your grill preheating, move on to the following:
First, prep the salad dressing by combining all the ingredients in a small bowl, jar, or measuring cup. Mix, whisk, or shake it up until it's mixed. It might separate before serving, so just repeat as needed.
Next, get the brown lentils going on the stovetop. I use a 1:2 ratio of dry lentils to liquid. Bring the broth or water to a simmer, then add the lentils. Cook, uncovered, over medium heat until all the liquid is absorbed and the lentils are tender (but not mushy). This takes about 30 minutes. Once cooked, set them aside to cool off before plating.
In the meantime, you can prep the vegetables by slicing into big rounds or spears. Brush them with olive oil and season lightly with salt and pepper, or any other seasoning you prefer. Do the same for the sliced sourdough or baguette pieces. You can even toss sliced lemon on the grill for even more flavor in the finished salad.
Grill 2-3 minutes on each side over medium-high heat. Rotate as needed to avoid scorching and get those pretty char marks. Once cooked, transfer to a platter to cool slightly as you build up your green salad using a bed of arugula or other leafy greens.
Layer the grilled vegetables and cooked brown lentils over the salad, then drizzle with the prepared dressing. Top with the feta cheese crumbles and fresh thyme.
All that's left to do is serve with a grilled lemon slice or lemon wedge and enjoy!
Swaps and Substitutions
This simple salad can be dressed up or customized with all kinds of options! Here are a few of my favorite ways to avoid too much repetition:
Mix and match whatever summer produce you want to use. I've tried this green salad with lentils recipe with grilled mushrooms, cauliflower, and bell pepper. I especially love how a red pepper adds a pop of color and sweet flavor. Summer squash is also a no-brainer to add along with or instead of zucchini.
Add your favorite fresh vegetables, like baby spinach, sliced or diced cucumber, shredded cabbage, matchstick carrots, or cherry tomatoes.
Swap the feta cheese for goat cheese. Or, if you want a fully vegan option, leave it off or use a plant-based alternative.
Pump up the crunch by adding nuts or seeds, like sunflower seeds or roasted pumpkin seeds.
Instead of grilling the lemon, use it to make some lemon zest for garnish and add the fresh lemon juice to the salad dressing.
There's really no wrong way to enjoy this recipe. Feel free to make it your own and include any or all of your favorites.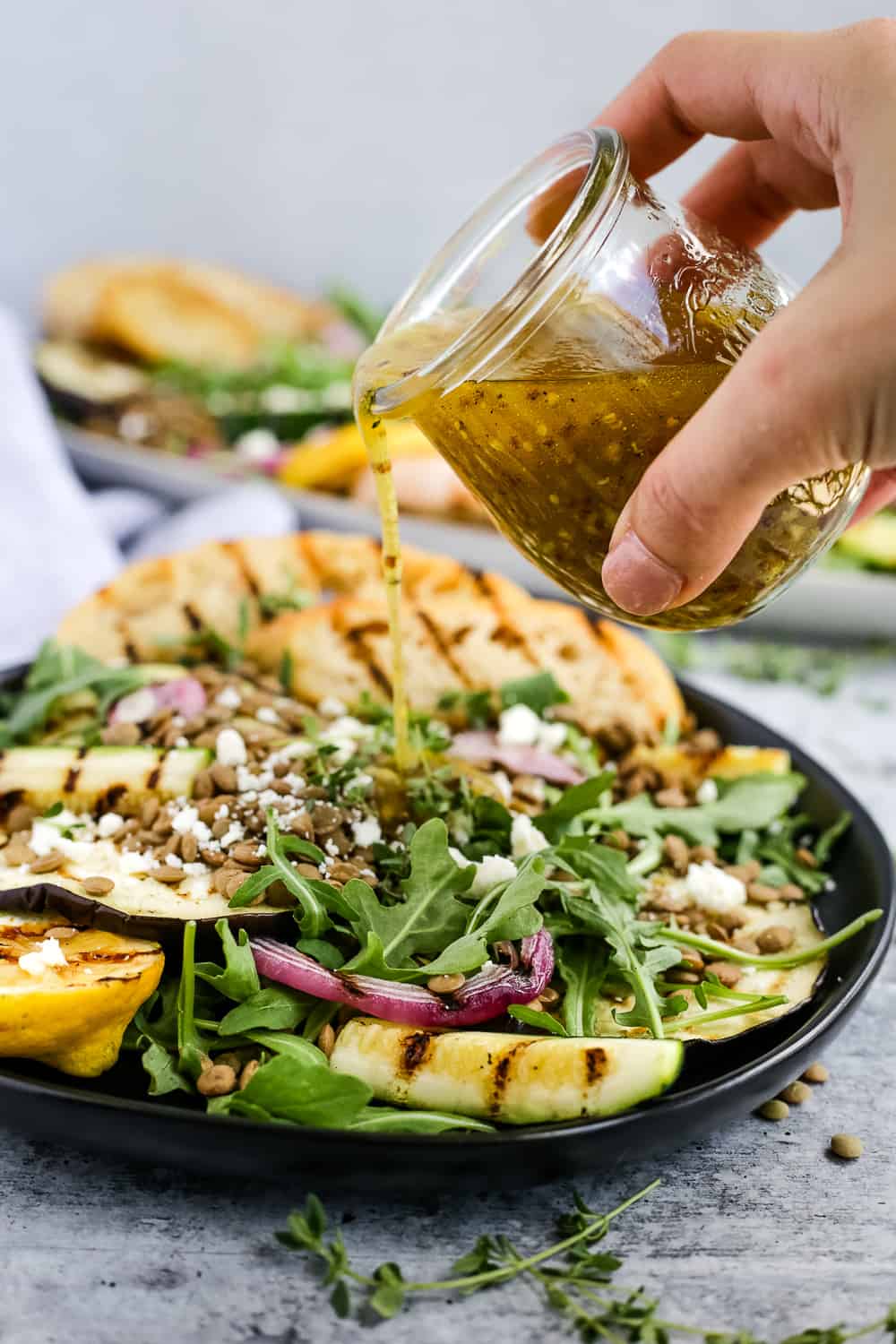 Tips for Meal Prep
​Most salads don't taste the best the next day. Unfortunately, delicate leafy greens and crunchy toppings absorb moisture, which can lead to a lot of sogginess. Thankfully this green salad with lentils is an exception. You can stretch your meal prep efforts through the week with these tips to maximize flavor and freshness!
Allow the cooked brown lentils cool to room temperature before sealing them in an airtight container. This minimizes condensation and excess moisture. Store them separately in the refrigerator and add them to your mixed salad when you're ready to eat. No reheating required!
Same with the grilled vegetables. Let them cool off before chilling in the fridge. Reheating is optional, but 20-30 seconds in the microwave will take off the chill and add a nice temperature contrast.
The salad dressing can be made ahead of time or prepped in a larger batch. Store in the refrigerator and allow to warm to room temperature. Give it a shake if needed before serving.
Or grab some convenience by using your favorite pre-made dressing.
Cook up a larger batch of lentils to use in other delicious recipes. This is super practical for the summertime when you may not want to turn on your stove or oven, which can quickly overheat small kitchens. 
Here's the recipe for my Lentil Salad with Feta and Grilled Vegetables!
Green Salad with Lentils and Grilled Vegetables
This hearty salad recipe features leafy greens, tender lentils, grilled summer vegetables and a DIY honey mustard vinaigrette. Top it with feta cheese and enjoy it at all your summer cookouts and barbecues!
Equipment
Mixing Bowls,

various sizes

saucepan or pot

measuring cups and spoons

cutting board and sharpened knife
Ingredients
Honey Mustard Vinaigrette
1/2

cup

olive oil

1/4

cup

white wine vinegar

2

tsp

whole grain mustard,

or dijon mustard

2

tsp

honey

1

clove

garlic

,

minced

Kosher salt and pepper to taste
Lentil Salad
3/4

cup

brown lentils

,

dry, uncooked

1 1/2

cups

low-sodium vegetable broth or water

1

medium

eggplant

1

medium

zucchini

1/2

red onion

2

tbsp

olive oil

4

cups

arugula or salad greens

1

lemon

1/2

cup

feta cheese crumbles

8

slices

sourdough bread or baguette slices

fresh thyme

,

for garnish, optional

Coarse sea salt and pepper to taste
Instructions
For the Salad Dressing
Combine all the ingredients for the dressing in a small jar or measuring cup. Whisk together, then set aside until ready to serve.
For the Green Salad with Lentils
To cook the lentils, bring the liquid to a boil over high heat. Add the dry lentils, then reduce heat to a simmer and cook for 30 minutes, or until all liquid is absorbed. Once cooked, remove from heat and set aside to cool.

Prepare the vegetables. For the onion, slice crosswise to create thin slices, removing the outer skin. For the eggplant, slice crosswise to create thin, flat pieces. For the zucchini, slice in half lengthwise, then again into quarters to create long spears.

Bring your grill to medium-high heat. Brush the vegetables with olive oil, then lightly season with salt and pepper to taste. Grill for 2-3 minutes on each side, rotating as needed to develop char marks and avoid scorching. Repeat as needed to grill all prepared pieces and achieve your desired level of doneness. Remove from the grill and set aside.

Repeat these steps with the sourdough or baguette slices. Brush lightly with olive oil, then grill 1-2 minutes on each side to create grill marks. Remove from the grill and set aside.

As the cooked lentils and grilled veggies are cooling, prepare the salad by arranging the arugula or salad greens on a large platter. Cut the zucchini spears in half, then arrange over the salad greens along with the grilled onion and eggplant. Sprinkle with feta cheese and fresh sprigs of thyme (if using).

To serve, plate with two slices of the grilled bread, drizzle with the Honey Mustard Vinaigrette, and garnish with fresh lemon slices.
Notes
If desired, grilling the lemon slices prior to serving will further complement the flavors of this lentil salad recipe. 
Store any unused dressing in an airtight container in the fridge. Use within 1-2 weeks.
Nutrition
Serving:
1
serving
,
Calories:
720
kcal
,
Carbohydrates:
70
g
,
Protein:
21
g
,
Fat:
41
g
,
Saturated Fat:
8
g
,
Polyunsaturated Fat:
5
g
,
Monounsaturated Fat:
26
g
,
Cholesterol:
17
mg
,
Sodium:
747
mg
,
Potassium:
971
mg
,
Fiber:
18
g
,
Sugar:
14
g
,
Vitamin A:
700
IU
,
Vitamin C:
32
mg
,
Calcium:
245
mg
,
Iron:
6
mg
There you have it! A delicious green salad with lentils and grilled vegetables, topped with feta cheese and a DIY salad dressing. I think it will be in high demand this summer and we'll be craving it once grilling season is over!
If you want to learn more about pulses and their health benefits (or see more delicious recipes to inspire you), visit USA Pulses online. And don't forget to leave a rating or comment if you try this lentil salad recipe and love it as much as I do! As always, thanks for stopping by the Street Smart Nutrition blog, and cheers to more fearlessly nourishing meals!
Disclosure: I partnered with USA Pulses for this post and received compensation for my time. It was originally published in June 2020 and has since been updated to improve the overall quality of the information and/or images. As always, thank you for supporting the partners who support Street Smart Nutrition!