It took me a long time to come up with a potato salad recipe I actually love. But this Creamy Greek Yogurt Potato Salad with Herbs is it! The key is roasting the potatoes first, then punching up the flavor with summer herbs, dijon mustard, and fennel. Keep reading to learn how to make this creamy potato salad.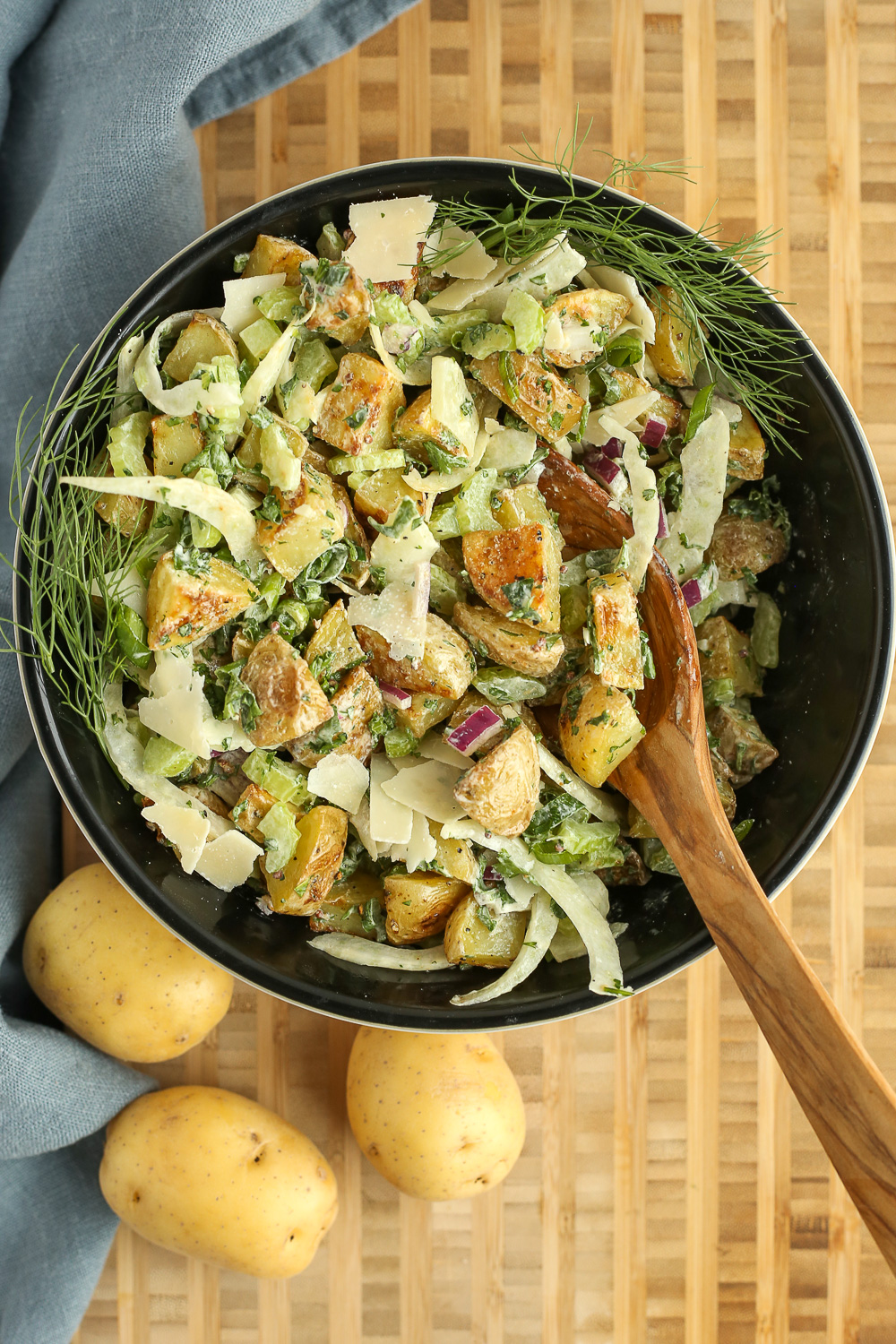 But I love me some potatoes in nearly any form! They're affordable, available year-round, and provide some pretty solid nutrition (you can learn more about that in this post about potato nutrition). So imagine my delight when I realized there's so much more to potato salad than just the version I saw at every summer cookout!
I ditched the relish and eggs and came up with this Creamy Greek Yogurt Potato Salad that uses fennel and plenty of fresh herbs. It's the perfect side dish for anyone who craves a flavorful, sturdy potato salad that can hold its own at the potluck!
Why You'll Love This Greek Yogurt Potato Salad Recipe
The roasted potatoes maintain their shape, so no mushy mess of a potato salad with this recipe.
It uses both the bulb and the leaves of fennel so hopefully you can avoid food waste while maximizing flavor and texture.
It's another "recipe" of mine that's intentionally super flexible. I offer some exact measurements in the recipe card but feel free to add more crunchy celery, sliced fennel, herbs, or creamy dressing to suit your tastes.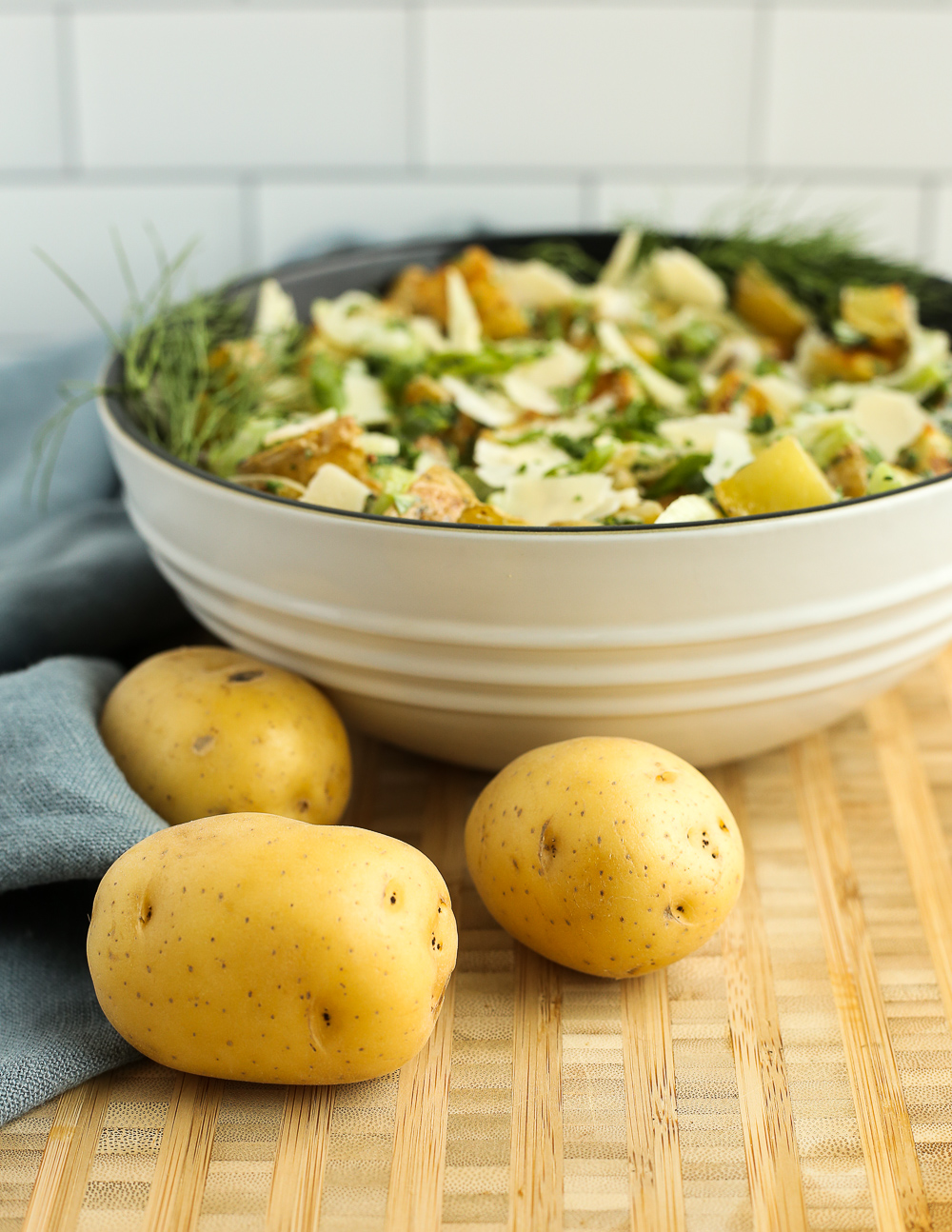 Ingredients for Creamy Potato Salad
Ready to get cooking? Here's what you need to make this Greek yogurt potato salad recipe:
Yukon gold potatoes (washed and dried). I think these are the best potatoes for this recipe because they have a thin skin so you don't have to peel them. They're part starchy potatoes, part waxy potato, so you get the best of both worlds in terms of structure and texture. Plus, the golden potatoes get beautifully browned and crispy, making for a stunning presentation compared to classic creamy potato salad.
Olive oil
Celery
Fennel
Red onion
Fresh parsley
Green onions
Parmesan cheese
Salt and black pepper
The ingredients for the creamy dressing are:
Plain Greek yogurt
Regular mayonnaise, although I love using kewpie mayo for an extra savory flavor
Dijon mustard and whole grain mustard
Apple cider vinegar
As for equipment, you will need a baking sheet to roast the potatoes in the oven. Make sure you also have a cutting board and sharpened knife, measuring cups and spoons, a small bowl to mix the dressing ingredients, and a large mixing bowl to combine everything else.
How to Make Greek Yogurt Potato Salad
I think roasting the potatoes (vs. boiling them) sets this apart from other creamy potato salad recipes. For me, I personally like the texture of the intact chunks of potatoes. I also prefer to leave the skin on (any fans of "dirty" mashed potatoes?) for some additional texture.
And…let's be honest. It saves a lot of time and energy. Yukon Gold potatoes are well suited for this because the skins are rather thin plus the starch content makes them ideal for roasting/baking. Once they develop that crispy edge, they're less likely to break apart as you mix them with the other ingredients.
Follow these step-by-step instructions to make this easy potato salad recipe with Greek yogurt and roasted potatoes:
Scrub and dry the potatoes and prep a baking sheet for roasting. Preheat the oven at this time, too.
Cut my potatoes into small pieces, about 1/2″. The key is to make them all relatively the same size even if they are a little larger or smaller than that. This helps them cook evenly so you don't end up with some that are overcooked or undercooked. Toss with olive oil and some salt and pepper, and that's it! Into the oven they go.
While the potatoes are roasting, you'll have time to prep the other ingredients. Nothing else requires cooking but you will need to measure and mix the ingredients for the dressing.
Allow the potatoes to cool before placing them in the large bowl for mixing. Remember, this is a creamy sauce so you don't want to add it straight on top of piping hot or warm potatoes. Then, toss in all the other ingredients, give it a mix, garnish, and enjoy!
Air Fryer Instructions
You might be wondering if you can use an air fryer for roasting potatoes for potato salad. And you're in luck, the answer is yes!
Pros: It's similar to roasting, but the additional air circulation can get the potatoes even more crispy. You might also be able to avoid heating up your kitchen, which I like since my oven tends to crank out a lot of heat when in use. Or, maybe your oven is busy cooking something else with different time or temperature settings and you need everything to finish at the same time for your event.
Cons: the basket size is smaller than a conventional oven, so you will likely have to work in small batches to avoid layering or overcrowding the potatoes. This takes a bit of extra time unless you're scaling the recipe down for a smaller crowd. 
Some air fryers have a setting specifically for potatoes. I find this is generally pretty good, but you may need minor adjustments. The smaller you chop your potatoes, the shorter the cooking time.
Start with 400 degrees F for 9-10 minutes, then shake the basket to flip the potatoes. Cook for another 8 minutes before letting them cool, then proceed with the rest of the recipe instructions.
I have the Cosori Pro Gen 2 Air Fryer and have gotten consistently good results with these settings. 
Storing Leftover Potato Salad
Although I personally think this creamy potato salad tastes best on day one, there's an advantage to serving it chilled the next day. Potatoes that have been cooked and cooled have more resistant starch, a gut-friendly starch that works its magic in your large intestine. The resistant starch in potatoes acts as a soluble, fermentable fiber that feeds your microbiome (AKA, the "good" gut bacteria).
The bottom line: There's no "wrong" way to enjoy potatoes, which offer great taste, nutrition, and affordability. Make this Greek Yogurt Potato Salad to enjoy now or later. 
Creamy Greek Yogurt Potato Salad with Herbs
This herby, tangy, creamy potato salad is the summer side dish of your dreams. Enjoy the roasted potatoes, aromatic fennel, crispy celery, and Greek yogurt-based dressing next time you need a simple side for summer meals!
Equipment
baking sheet or large sheet pan

cutting board and sharpened knife

measuring cups and spoons

small mixing bowl
Ingredients
3

lbs

Yukon Gold potatoes

1 1/2

tbsp

olive oil

Kosher salt and pepper to taste

2

medium stalks

celery

1/2

cup

sliced fennel bulb

2

tbsp

fennel leaves

,

roughly chopped

1/2

cup

red onion

,

finely diced

1/2

cup

parsley

,

chopped

2-3

medium

green onions

,

thinly sliced

1/2

cup

grated parmesan cheese

,

plus more for garnish
Instructions
Heat the oven to 425 degrees F. Prepare a baking sheet by lining with foil or non-stick spray.

Wash and dry the potatoes, then cut into 1/2" cubes. Toss with the olive oil, salt, and pepper, then spread in a single layer on the prepared baking sheet. Roast for 15-20 minutes, or until the edges are browned. Flip once halfway through cooking. Remove from the oven and allow to cool 10 to 15 minutes.

While the potatoes are roasting, mix all ingredients for the dressing and set aside. Slice the celery stalks lengthwise, then thinly slice. Prepare the remaining ingredients if needed (sliced fennel bulb, diced red onion, chopped fennel leaves, chopped parsley).

Place the cooled, roasted potatoes in a large mixing bowl. Add all other ingredients, then top with the prepared dressing. Gently fold ingredients together until evenly coated with the dressing.

Garnish with additional parsley, green onions, or parmesan cheese. Serve immediately.
Notes
If not serving immediately, place the prepared potato salad in the fridge to chill until ready to serve as a food safety precaution.
Store leftovers in an airtight container for 3-4 days. Serve chilled, no reheating necessary. 
Nutrition
Serving:
1
serving
,
Calories:
388
kcal
,
Carbohydrates:
44
g
,
Protein:
11
g
,
Fat:
19
g
,
Saturated Fat:
4
g
,
Polyunsaturated Fat:
4
g
,
Monounsaturated Fat:
11
g
,
Trans Fat:
1
g
,
Cholesterol:
11
mg
,
Sodium:
300
mg
,
Potassium:
1100
mg
,
Fiber:
6
g
,
Sugar:
4
g
,
Vitamin A:
637
IU
,
Vitamin C:
55
mg
,
Calcium:
174
mg
,
Iron:
2
mg
Hold onto this recipe for your next BBQ or summer gathering! I hope you enjoy it as much as I do, especially if you're looking for a slightly less traditional potato salad. If you like this creamy potato salad recipe, you might also like these other summer-inspired side dishes:
Don't forget to leave a rating, review, or comment if you give this recipe a try and love it as much as I do! And as always, thanks for visiting the Street Smart Nutrition blog. Cheers to more fearlessly nourishing meals!
Disclosure: This post was originally published in August 2021. It has since been updated to improve the overall quality of the information and/or images.