Sweet potatoes, meet scrambled eggs! These Breakfast Stuffed Sweet Potatoes are simple to prepare and can be a nourishing, flavorful option for any time of day.
---
Disclosure: This post is sponsored by The Incredible Egg. I was compensated for my time and as always, all opinions are my own. Thank you for supporting the partners who support Street Smart Nutrition!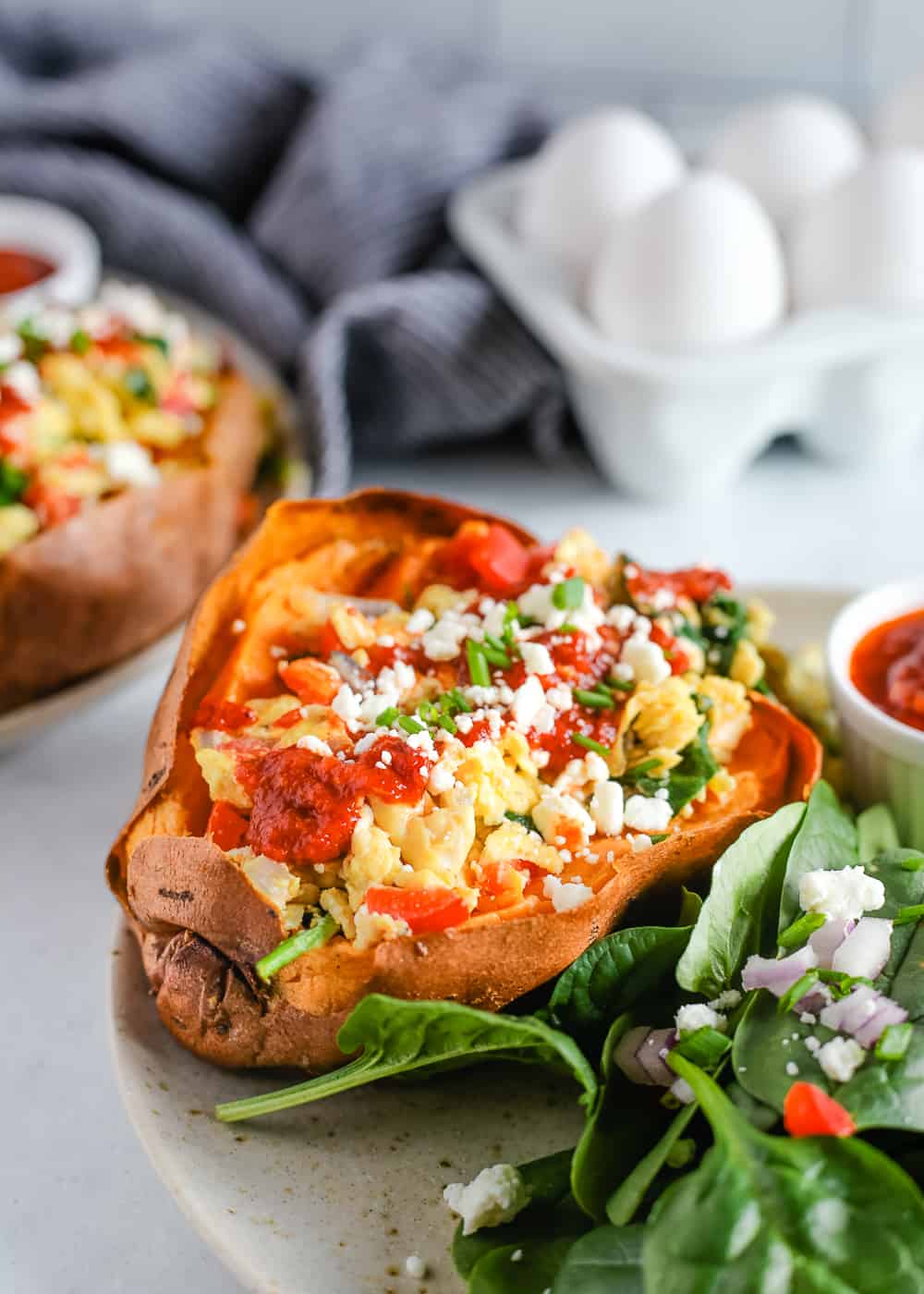 Here we are in a new year and you might have a new mindset around nutrition. I know last year certainly had me reflecting on my relationship with food, health, nutrition, and how I eat!
I don't know about you, but I'm not willing to sacrifice great flavor, convenience, or affordability when it comes to my meals. Of course, I still want to eat nourishing meals, but I want to genuinely enjoy them, too.
That's why I turn to eggs for so many of my meals. They're a nutritional powerhouse, providing a good or excellent source of eight essential nutrients. When they're paired with sweet potatoes, veggies, and a flavorful sauce, you've got a delicious recipe to enjoy any time of the day!
To learn more about egg nutrition, read this post on why I always eat the yolks!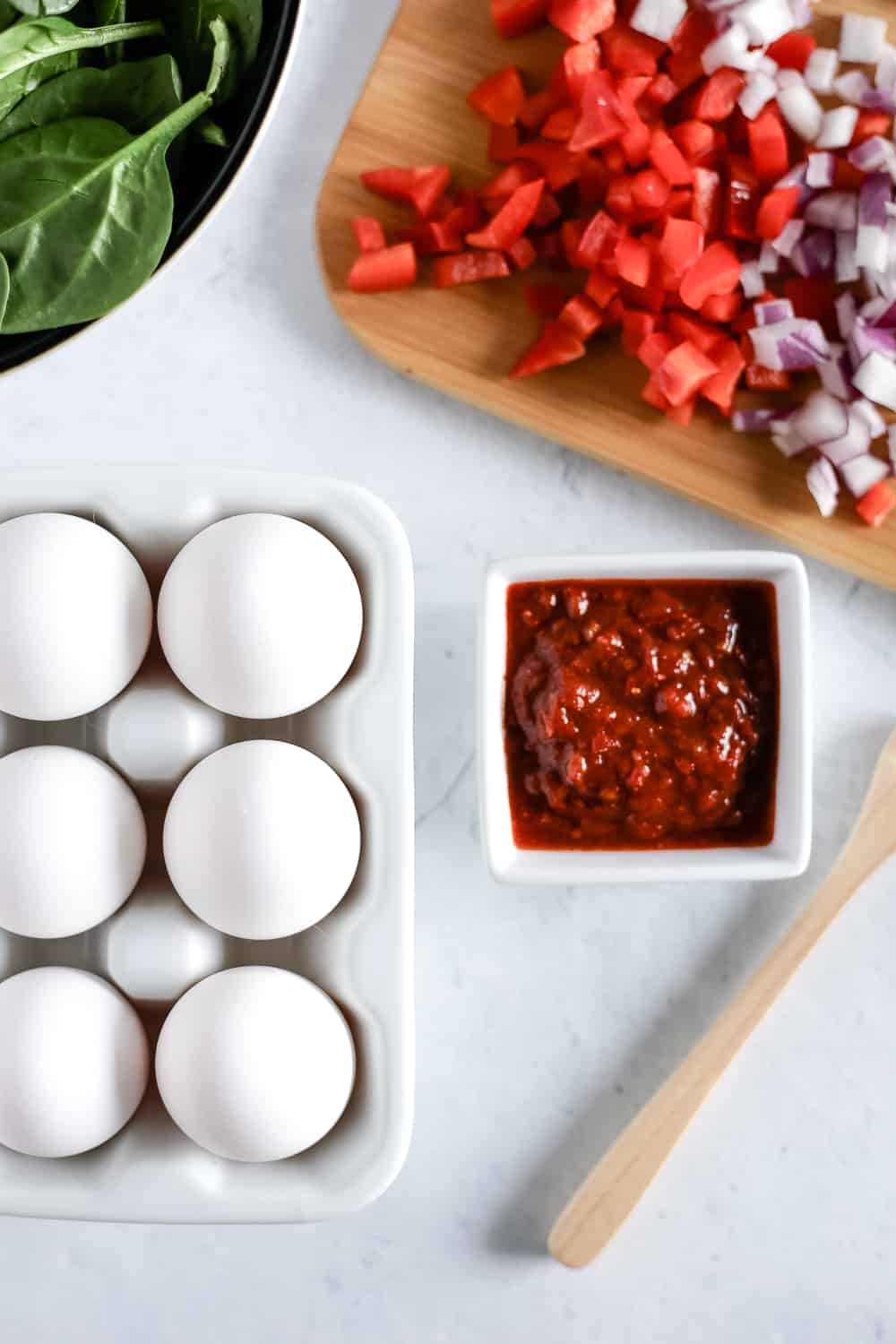 Breakfast Stuffed Sweet Potatoes
Sweet potatoes and scrambled eggs are easy to prepare and love at any meal. But with such a spotlight shining on eggs for this recipe, I knew it would become a regular in my breakfast rotation.
Both of the main ingredients are versatile, which is why I always have them stocked in my kitchen. Eggs pair well with any healthy dietary eating plan and offer high-quality protein, vitamins, and minerals.
For example, one large egg provides:
Six grams of high-quality protein and all nine essential amino acids. At about 15 cents per serving, eggs are one of the most affordable sources of high-quality protein out there!
An excellent source of vitamin B12, biotin, iodine, selenium, and choline.
A good source of riboflavin, pantothenic acid, and high-quality protein.

 

The carotenoids lutein and zeaxanthin.

 
Choline is an important nutrient for brain health throughout and lifespan. And we don't talk about the important role of lutein and zeaxanthin as much as other nutrients, but they help support eye health. They may help protect your eyes from the blue light from computers and phones. If this past year has taught me anything, it's that I spend far too much time in front of screens! It's reassuring to know nutrients in the eggs in my diet may help protect against that.
Another reason I love eggs? They play well with just about everything! This helps me get more of what I don't usually eat enough of – vegetables – and they can help you do the same. Pairing eggs with vegetables can help you absorb more of the nutrients, too, so I consider that a win-win!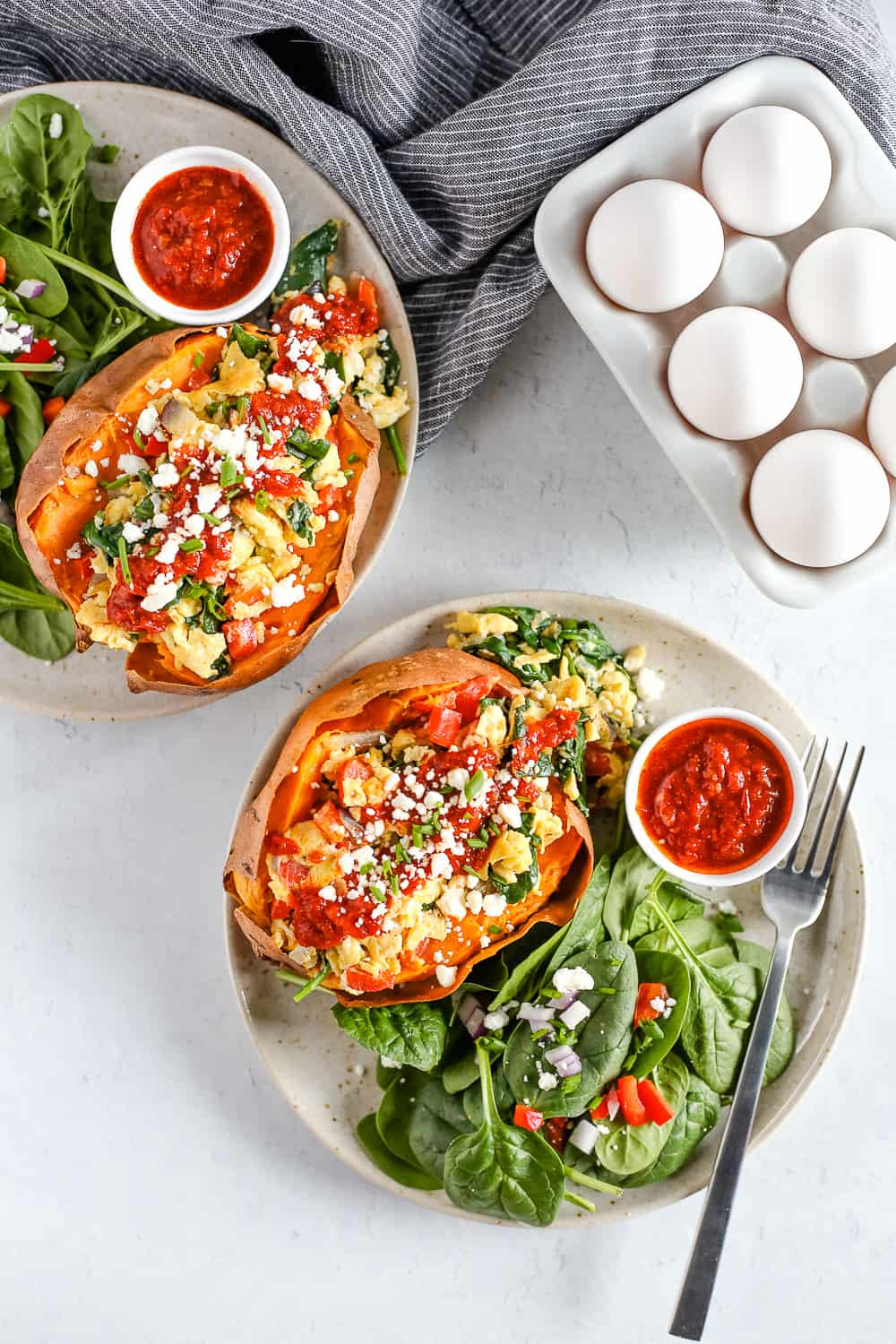 How to Make Breakfast Stuffed Sweet Potatoes
If you've ever made a baked potato or scrambled up some eggs for breakfast, you're more than ready to tackle this recipe!
First, you'll need to bake your sweet potatoes. I find medium or large sweet potatoes need at least 30 to 40 minutes in a 400-degree oven. I know this may sound like a lot of time, but I assure you, once you pop them in you'll have some time to multi-task or relax!
The scrambled eggs and veggies cook pretty quickly, so I like to wait until the sweet potatoes are nearly finished before I start them. You'll get to watch spinach do its lovely disappearing act as it shrinks down during cooking, but that makes it all the easier to stuff the final product inside your sweet potatoes!
If you want to try another breakfast stuffed sweet potato, try my version with Blueberry, Walnuts, and Yogurt!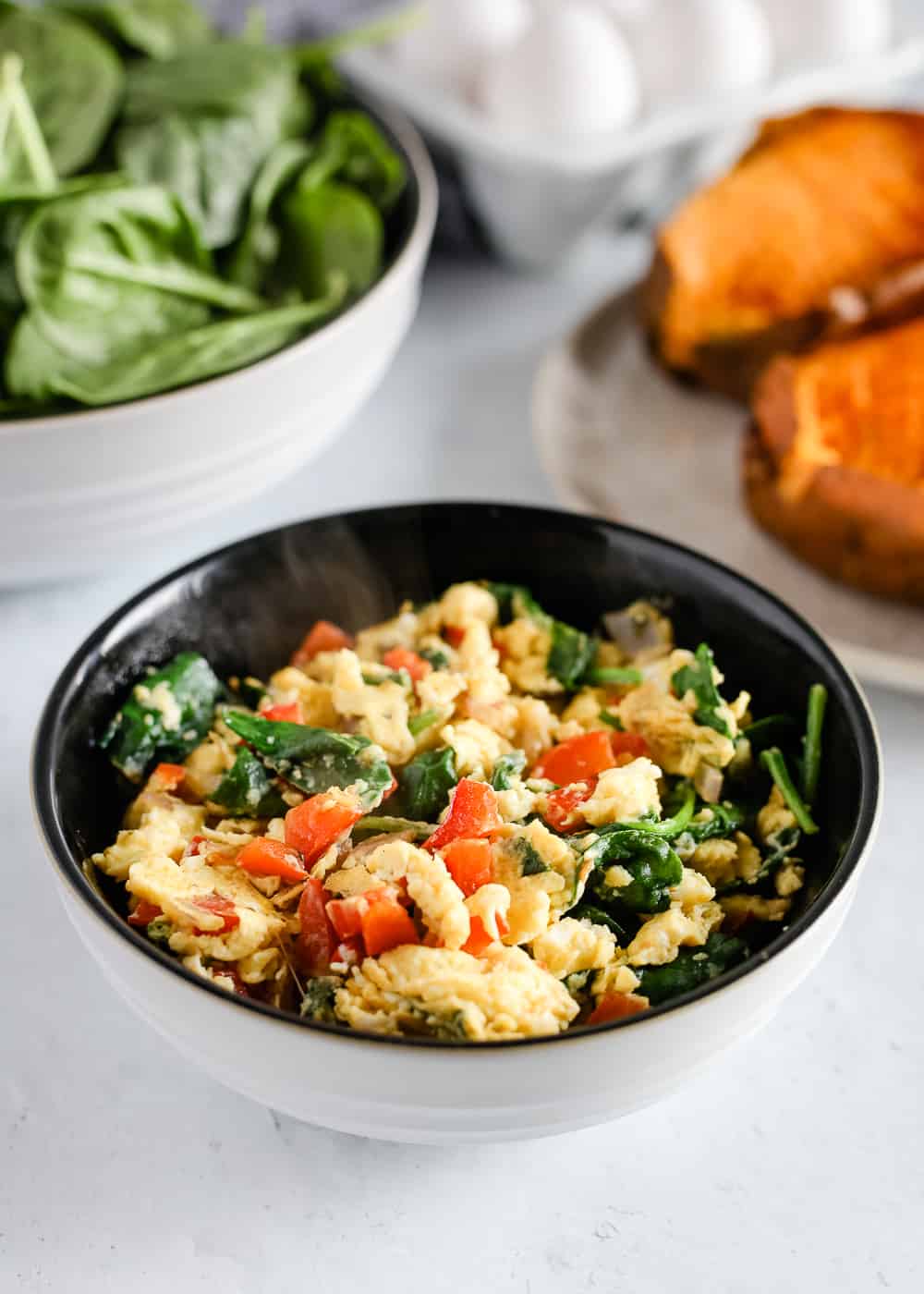 Finally, I top mine with some goat cheese crumbles (although feta would also be delish), chives, and harissa.
Harissa is a North African or Moroccan pepper sauce. The primary ingredients include roasted red peppers, red or green chili peppers, spices, and herbs, plus olive oil and vinegar to create a sauce or paste-like consistency. The spices and herbs can vary by region, but common flavors include garlic, cumin, and coriander or caraway seeds. It's a bold flavor and so, so good! You can find it in most grocery stores, but if not, you can use your favorite salsa or hot sauce instead.
Here are some other ways to prep breakfast sweet potatoes with scrambled eggs:
Roast as a sheet pan meal or make a stovetop hash. This is a more hands-on method but might save a little time. Instead of baking, peel and chop your sweet potatoes into 1/2-1″ cubes. Roast on a baking sheet and top with your scrambled egg and veggie mix. Or, prepare it on the stovetop as a hash, adding in your eggs and veggies towards the end of cooking for a one-skillet meal.
Reheat in the microwave. If you went the meal prep route, simply reheat your baked sweet potatoes in the microwave. Spread them wide open on a plate for more even reheating. I use 30-second increments for about two minutes, depending on the size of the potato. If needed, you can even cook the scrambled eggs and veggies in the microwave inside a microwave-safe bowl or mug!
This recipe is easy to scale up or down depending on your needs. Whether you're prepping some meals for the week or serving brunch, these Breakfast Stuffed Sweet Potatoes are packed with color, flavor, and nutrition!
Street Smart Nutrition Tip: Including two eggs per serving will provide more than half the recommended daily intake for choline for adults. This is especially key for all the future mamas reading this because 92% of pregnant women fail to meet the daily Adequate Intake (AI) level recommendations for choline.
Here's the recipe for Breakfast Stuffed Sweet Potatoes with Scrambled Eggs!
Breakfast Stuffed Sweet Potatoes with Scrambled Eggs
These breakfast stuffed sweet potatoes harness a nutritional powerhouse: eggs! Pack in the flavor and nutrients and enjoy these breakfast-style sweet potatoes any time of day.
Ingredients
2

large

sweet potatoes

4

large

eggs

1/4

cup

diced red bell pepper

1/4

cup

diced red onion

1

cup

fresh spinach

1

tbsp

olive oil

1/2

tsp

seasoning blend

2

tbsp

goat cheese crumbles

2

tbsp

harissa

chives

,

for garnish

fine sea salt and pepper to taste
Instructions
Baked Sweet Potatoes
Heat your oven to 400 degrees F.

Wash and dry the sweet potatoes. Dry, then rub with a small amount of olive oil. Place on a baking sheet and carefully pierce the skin several times with a sharp knife or fork.

Bake for 30-40 minutes, or under sweet potatoes are tender. Remove from the oven and allow to cool slightly before slicing open, lengthwise, and adding the scrambled egg mixture.
Scrambled Eggs
During the last 10 minutes of baking the sweet potatoes, prepare your bell pepper and onion by dicing into small pieces. Heat a medium skillet over medium-high heat with the remaining olive oil.

Add the bell pepper and onion to the skillet and cook, stirring occasionally, for 3-4 minutes. While the veggies are cooking, crack the eggs into a small dish, add your seasoning blend, and whisk.

Pour the egg mixture over the bell pepper and onion, then add the fresh spinach. Allow to cook for 3-4 minutes or until the eggs are fully cooked and the spinach is wilted and evenly mixed. Season with salt and pepper to taste.
Breakfast Stuffed Sweet Potatoes
Transfer the baked sweet potatoes to a plate. Carefully stuff the scrambled egg mixture into the opening of the baked sweet potato. Top with goat cheese crumbles, harissa, and chopped chives, if using. Serve hot, accompanied by any leftover spinach, bell pepper, or onion as a side salad.
Nutrition
Serving:
1
serving
,
Calories:
570
kcal
,
Carbohydrates:
76
g
,
Protein:
22
g
,
Fat:
20
g
,
Saturated Fat:
6
g
,
Cholesterol:
378
mg
,
Sodium:
595
mg
,
Potassium:
1492
mg
,
Fiber:
13
g
,
Sugar:
18
g
,
Vitamin A:
51012
IU
,
Vitamin C:
40
mg
,
Calcium:
212
mg
,
Iron:
5
mg
If you enjoyed this recipe with eggs, be sure to check out some other nutrient-packed meals!
And of course, don't forget to visit The Incredible Egg website for more recipe ideas and egg nutrition information!
References:
U.S. Department of Agriculture and Agricultural Research Service. FoodData Central. 2019; Available from: https://fdc.nal.usda.gov/index.html.
U.S. Department of Health and Human Services and U.S. Department of Agriculture. 2015-2020 Dietary Guidelines for Americans. 2015; 8:[Available from: http://health.gov/dietaryguidelines/2015/guidelines/].
Kim, J.E., M.G. Ferruzzi, and W.W. Campbell, Egg Consumption Increases Vitamin E Absorption from Co-Consumed Raw Mixed Vegetables in Healthy Young Men. J Nutr, 2016. 146(11): p. 2199- 2205.
Kim, J.E., et al., Effects of egg consumption on carotenoid absorption from co-consumed, raw vegetables. Am J Clin Nutr, 2015. 102(1): p. 75-83.
Wallace, T.C. and V.L. Fulgoni, Usual Choline Intakes Are Associated with Egg and Protein Food Consumption in the United States. Nutrients, 2017. 9(8).