Potatoes are one of the most popular vegetables out there. And for good reason! Keep reading to learn more about the benefits of potato nutrition plus the three biggest reasons why they're a food you love that love you back!
---
Disclosure: This post was written in partnership with Potatoes USA. I was compensated for my time. As always, thank you for supporting the brands that support Street Smart Nutrition!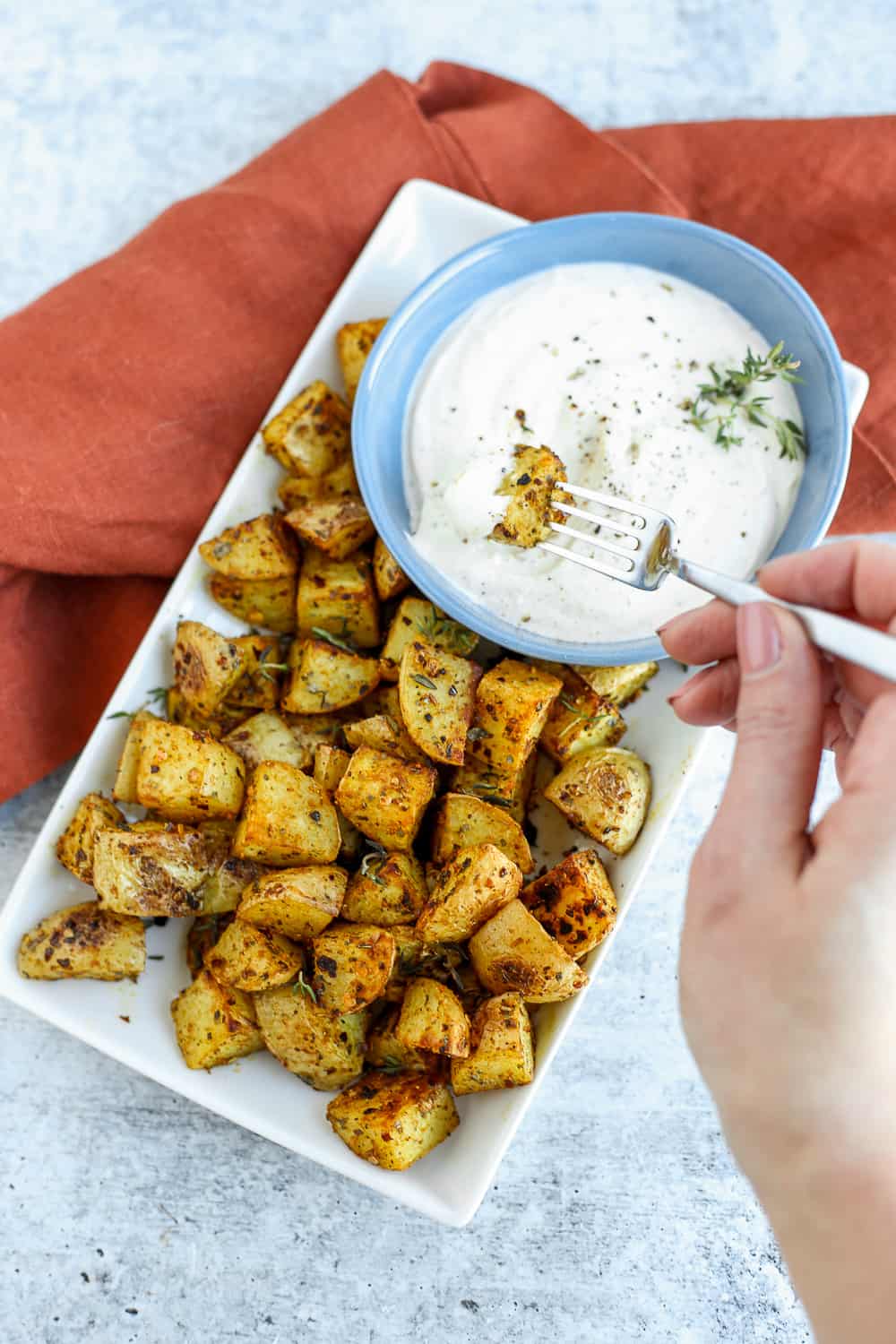 I sometimes joke that my nutrition alter ego is Cara "Carbstreet" (instead of my last name, Harbstreet) but in this case, I could not be more serious: I love my potatoes and all their carbed-up goodness.
Just looking at them gets my mouth watering as I imagine the endless possibilities for delicious, comforting dishes and recipes. Their versatility is one thing (we'll get to that later) but one of the most overlooked things about potatoes is the benefits of the nutrients they provide. 
I want to share some of my favorite things about potatoes. As a registered dietitian, nutrition is always on my mind, so let's start there!
Health Benefits of Potato Nutrition
I truly believe you don't have to choose between foods that taste good and foods that are good for you. In fact, many of the foods you love – like potatoes – love you right back. ​
Here are some fast facts about potato nutrition. In a medium, skin-on potato, you'll get:
26 grams of carbohydrates
3 grams of plant-based protein
620 mg of potassium – that's more potassium than a medium-size banana!
30% of your daily vitamin C requirement
On top of all of that, potatoes are naturally gluten-free and contain no sodium, fat, or cholesterol. That means they can be easily added to a variety of mixed dishes and recipes even if you're watching some of those other nutrients for personal health reasons or taste preferences.
Are Potatoes a Good Carb?
In short: yes!
Potatoes are a nutrient-dense, high-quality carbohydrate and I think they deserve a lot more credit for that. As a collegiate track athlete, they were one of the most reliable ways to refuel after long practices, or while on my break during a work shift. At the time, I worked in a deli that served loaded baked potatoes with a variety of toppings. They were one of the best values on the entire menu. Remember, I was on a college student budget! I still remember being able to save some of the leftovers to a mini-meal to reheat later.
As a non-diet dietitian, I really try my best to avoid labeling food as "good" or "bad" or ranking them as more or less healthy than other foods. But research suggests that potatoes provide more nutrients per penny than most other vegetables and are one of the least expensive sources of fiber out there [1]. As many families struggle with food insecurity or stretched budgets this year, it's difficult for me to not enthusiastically recommend potatoes. They can make a great addition to any plate in any form (fresh, frozen, or dehydrated).
Did You Know: Ingredients like potatoes can also help you create sustainable healthy habits. Read more on that in this piece about how Potatoes Fuel Self-Care. 
In case you need a few more reasons to love potatoes, here are my top three:
1. You'll never be bored
Potatoes are incredibly versatile in your kitchen. There are many varieties and each has a unique flavor and texture. In fact, I ran a fun experiment a few months ago with some new varieties and discovered those subtle differences actually make a huge impact on the overall eating experience. Just like other types of produce, you can pick the type of potato that fits both your personal taste preferences and are a good fit for the recipes you plan to use them in.
Potatoes are also a staple in many global cuisines from around the world. If you're like me and enjoy exploring new preparations or cooking methods inspired by other cultures, potatoes can be a good place to start!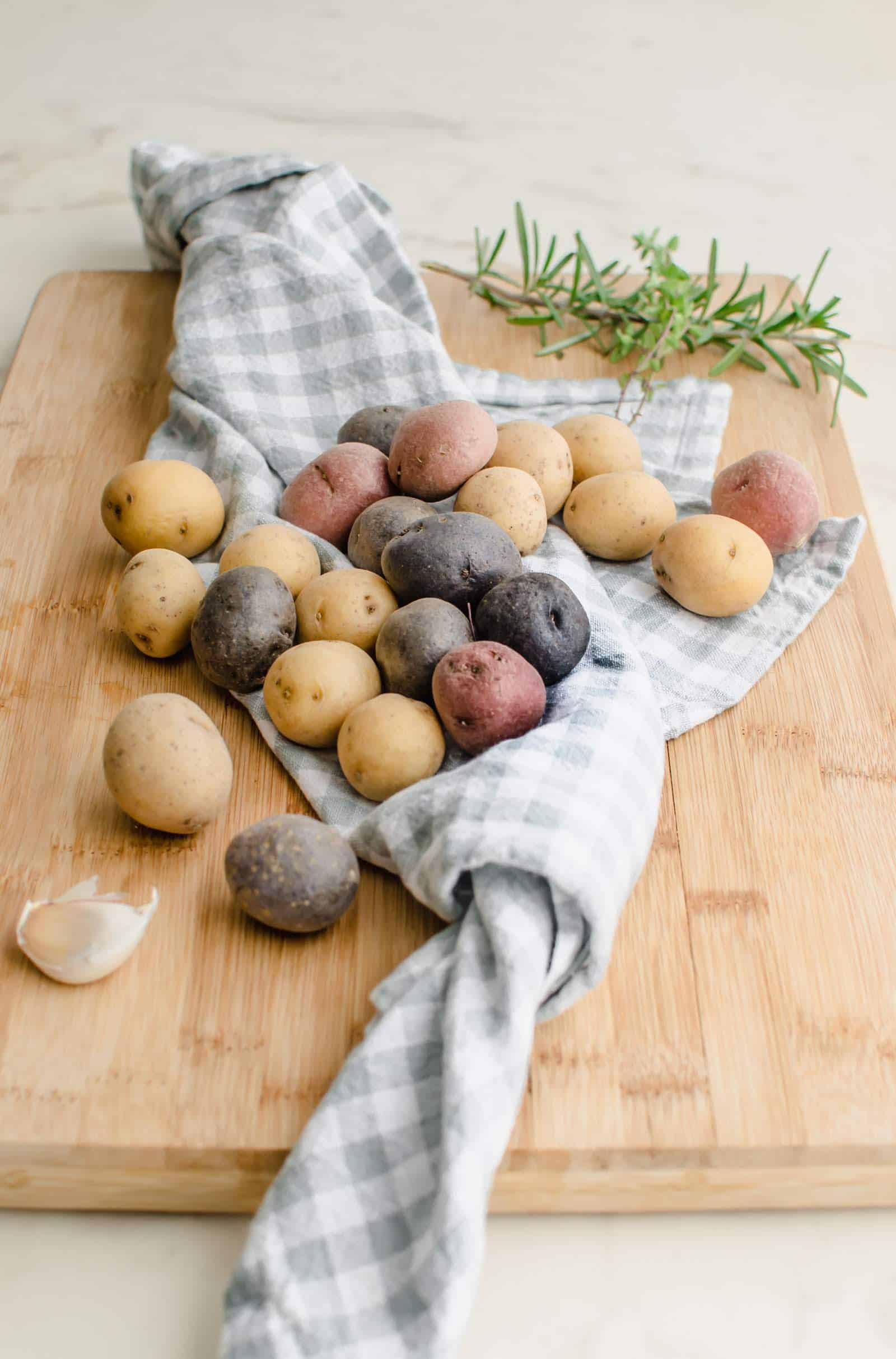 2. They play well with others
Even though potatoes may have slight differences in taste and texture, any type of potato can complement other nourishing ingredients like proteins, other vegetables, and healthy fats. Whether they're in the spotlight or playing a supporting role on your plate, they can add so much to the meals you're already enjoying or help you mix things up a bit.
I always encourage variety because first, most of us aren't eating the recommended serving of fruits and vegetables each day. Adding potatoes to your meals can help you get an additional serving of vegetables. Second, when we increase the variety of foods we eat, we also tend to increase the variety of nutrients in our diet. That's a win-win in my book!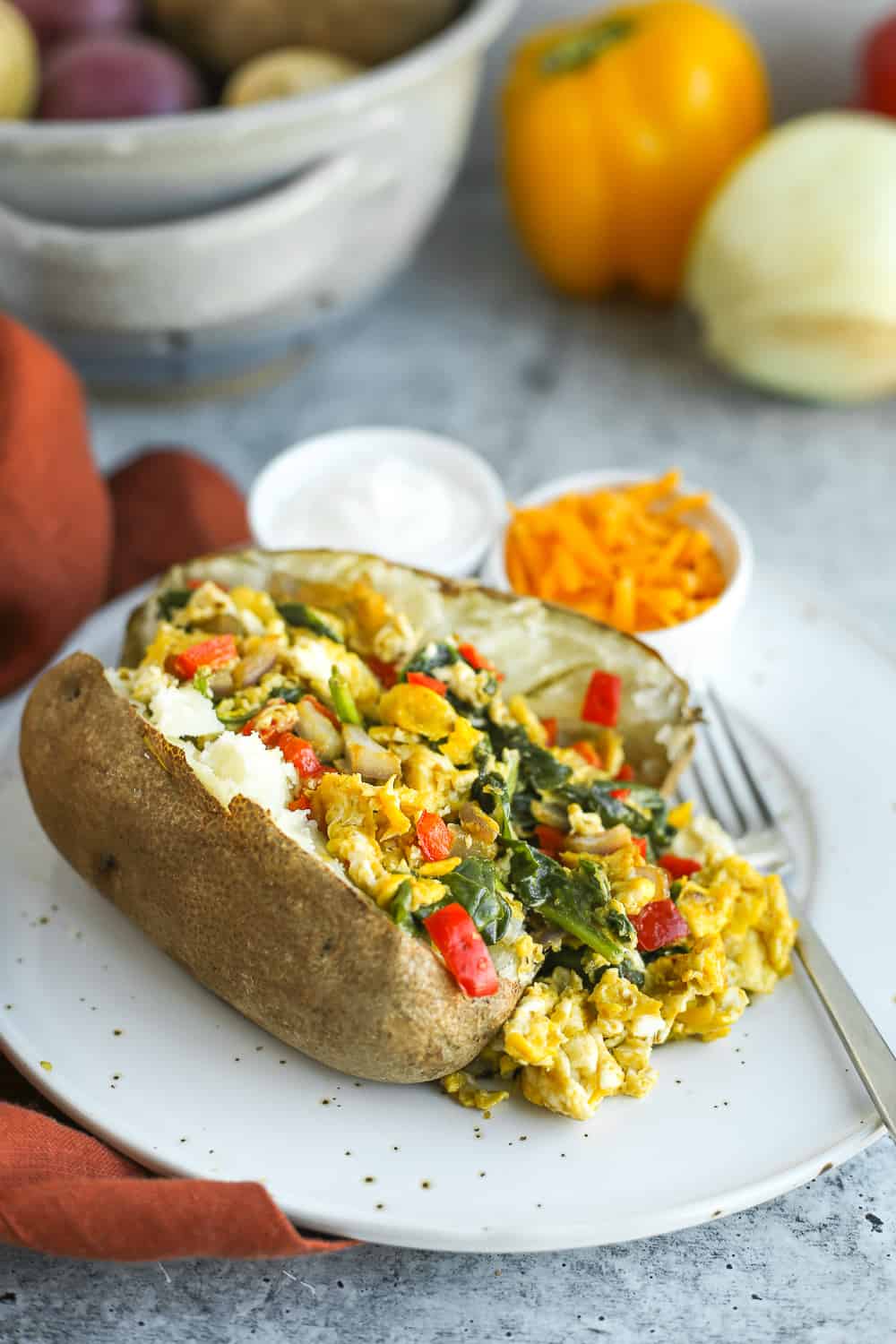 3. They deliver fullness AND satisfaction
Both of these things are key for me. As an advocate for intuitive eating, it's not enough to simply achieve physical fullness if you aren't eating foods you genuinely enjoy. With potatoes, you don't have to choose between one or the other. Dietary fiber, like the 2 grams found in a skin-on medium potato, has been shown to have numerous health benefits [2], including leaving you feeling satisfied and not hungry again for a while. 
For me and so many others, potatoes truly are a food we love. Including them in meals ups the satisfaction factor and contributes to overall satiety and enjoyment while eating. That's essential for any healthy habit.
---
So let's get down to business: cooking with potatoes! You know I love to bring it home with some amazing recipes for your kitchen, and these are just a few that have me excited.
The first place I encourage you to check out is the recipe archive from Potato Goodness. They feature recipes ranging from simple to indulgent. I've got my eye on these Thick-Cut Potato Chips with Kimchi Queso.
I also have to give a shoutout to my fellow Kansas City foodie, Kasim. He recently posted this recipe for Loaded Potato Soup. Trust me when I say, I took one look and immediately knew I had to try it!
Finally, if you're more of a traditionalist, but want to make it #fancy, you'll have to give my Truffle Goat Cheese Mashed Potatoes a try. This simple addition to an otherwise basic potato recipe can take it to the next level!
And finally, here's my take on a Midwestern classic: potato salad! This version features roasted potatoes and a creamy, Greek yogurt-based dressing with plenty of crispy, crunchy goodness in each bite:
Potatoes can absolutely have a place on your plate as a nutrient-dense vegetable that is also good carb. There are so many ways to use them in your main dish or on the side, so get as creative as you want to with how you use them!
What are some of your favorite ways to enjoy potatoes and other foods you love?
---
References
Drewnowski A, Rehm CD. Vegetable cost metrics show that potatoes and beans provide most nutrients per penny. PLoS One. 2013;8(5):e63277.
Dahl WJ, Stewart ML. Position of the Academy of Nutrition and Dietetics: Health implications of dietary fiber. J Acad Nutr Diet. 2015;115(11):1861-70.