Make it simple to get some fruit and fiber in your day with Creamy Greek Yogurt Fruit Salad recipe! Use it for a quick breakfast, a simple snack, or a sweet lil' something after dinner. Plus, learn about the benefits of these fruit salad ingredients for support a healthy gut.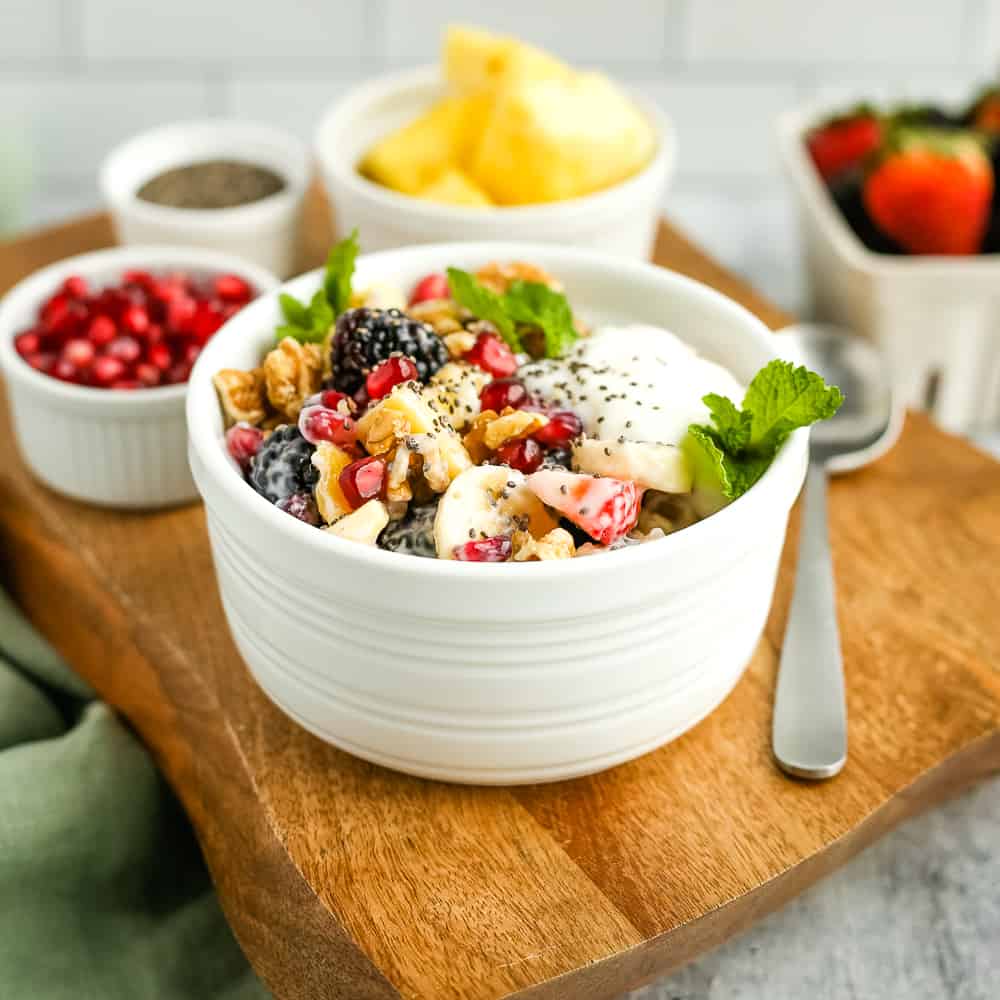 I'm going to let you in on a little secret: even though I'm a registered dietitian, I don't eat a lot of plain fruit. At one point I seemed to survive on apple slices and peanut butter, but lately it's been a struggle to get enough fruit of any kind. 
I gravitate more towards veggies. I can truly pack them in with my #SaladsThatDontSuck, like this one! But fresh fruit doesn't come as easily to me so simple recipes like this easy fruit salad are really helpful.
And keep in mind: not everything needs to be fresh! All forms of fruit count towards your total daily servings of fruits & veggies. That includes frozen, dried, canned, and even 100% fruit juice in addition to fresh. Most of us don't hit the daily 509 servings recommended by the current Dietary Guidelines for Americans (DGAs). But having more options makes it easier to get closer to that mark.
This simple, creamy Greek yogurt fruit salad recipe is especially helpful for easier digestion. Adding more fruit can increase our overall fiber intake, which is a good thing because it's also something we don't usually eat enough of. But along with that (as you may have experienced) could be some digestive tummy troubles.
Before I show you how to make this delicious fruit salad, let's check out the ingredients. Keep reading to see how each one may support better digestion, a healthier gut microbiome, and more servings of fruit in our diets!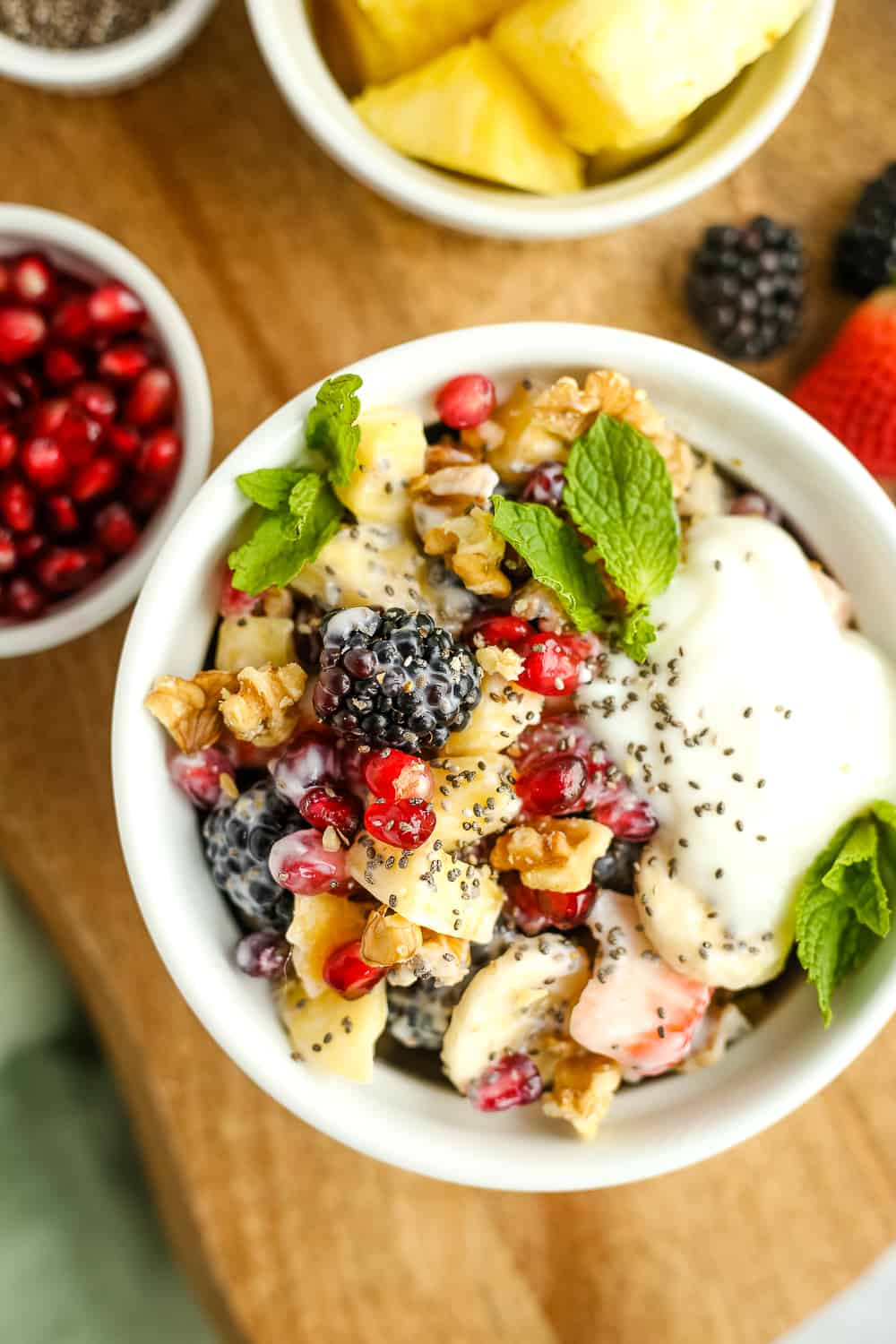 Greek Yogurt Fruit Salad Ingredients
This list of creamy fruit salad ingredients is more of a suggestion than a strict recipe. As always, I hope you feel encouraged and inspired to swap different types of fruit, nuts, yogurt, and herbs to please your taste buds! An easy fruit salad recipe like this one is just a guide. And while many people prefer to use all fresh ingredients, there's absolutely nothing wrong with frozen or canned options.
There's a variety of fruit in any traditional fruit salad, and this one is no different. The ingredients listed here are great options to include, but if you don't have all of them, just save this post to refer back to for next time!
Bananas
When it comes to fresh fruit salad ingredients, I think bananas are key! They have such a creamy, smooth texture and when they're perfectly ripe…*chef's kiss* there's nothing better. Bananas are also one of the most affordable fresh fruits, and usually available year-round.
Bananas have a type of resistant starch that provides food for the beneficial bugs in our digestive tract (AKA probiotics). This starch, also called prebiotic fiber, helps ensure they survive and thrive in our large intestines. I know, I know, not the most exciting visual to picture, but gut health is a big part of overall health and wellbeing.
Street Smart Nutrition Tip: The greener the banana, the less banana-like it will taste. But as it ripens, the starches convert to simple sugars that give it more of a sweet flavor. The amount of resistant starch is higher in unripe or green bananas, but you can use bananas at any ripeness level.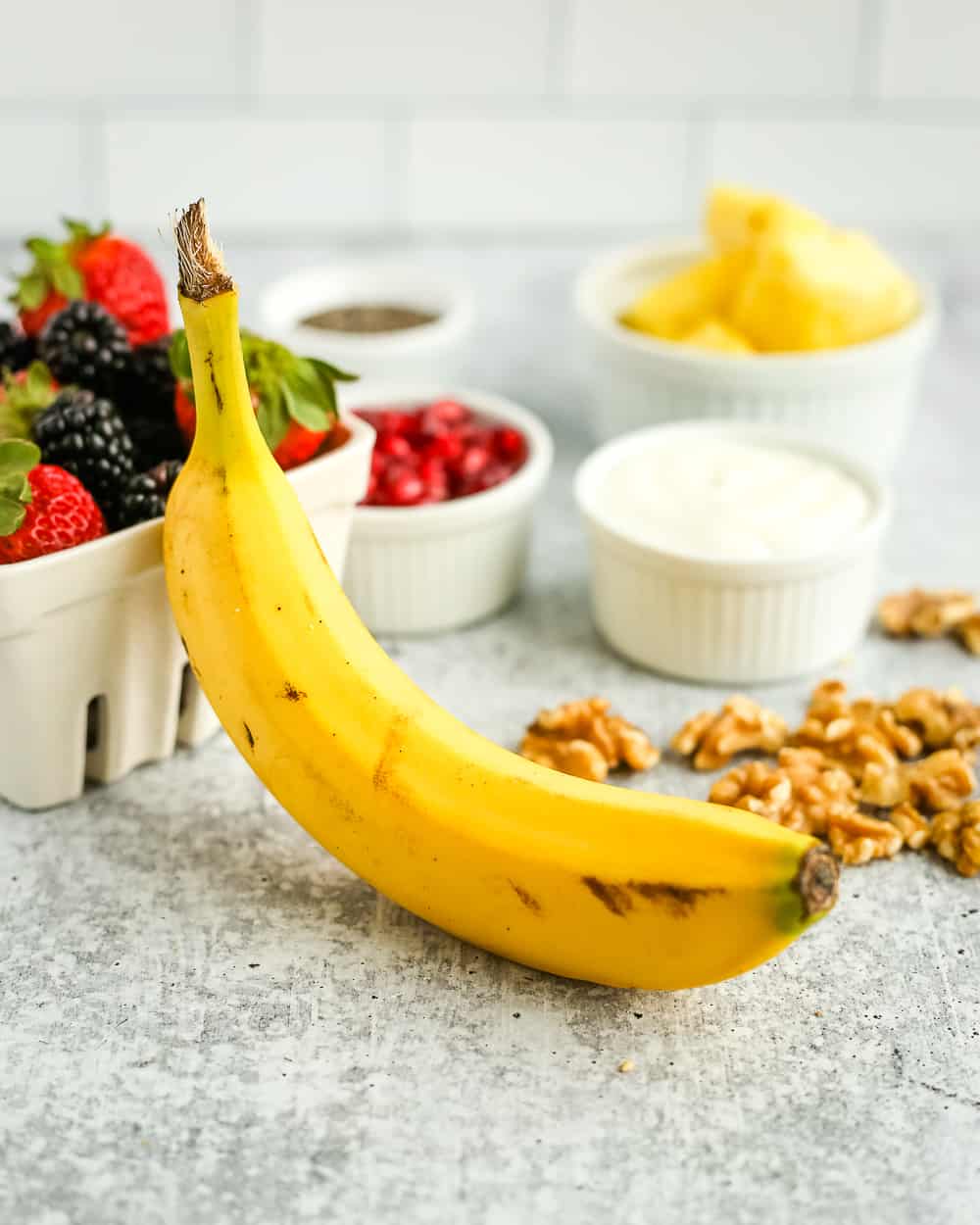 Yogurt
And speaking of probiotics: here's where we're getting them in our creamy fruit salad recipe!
There are many different strains of probiotics in yogurt with varying amounts (measured in colony forming units, or CFUs). If you have a particular brand or flavor you like best, go for it! I don't get too caught up in the specifics and let my taste buds be my guide. Use about half a container (1/4 cup or so) to mix into your creamy fruit salad, then use the remaining half (another 1/4 cup or so) on top when you serve it. If you want some added sweetness for plain yogurt, simply stir in a little honey, agave syrup, or maple syrup. It's totally optional!
If you want to learn more about probiotics and prebiotics for gut health, check out this post. It also includes a recipe for a Banana Chai Smoothie!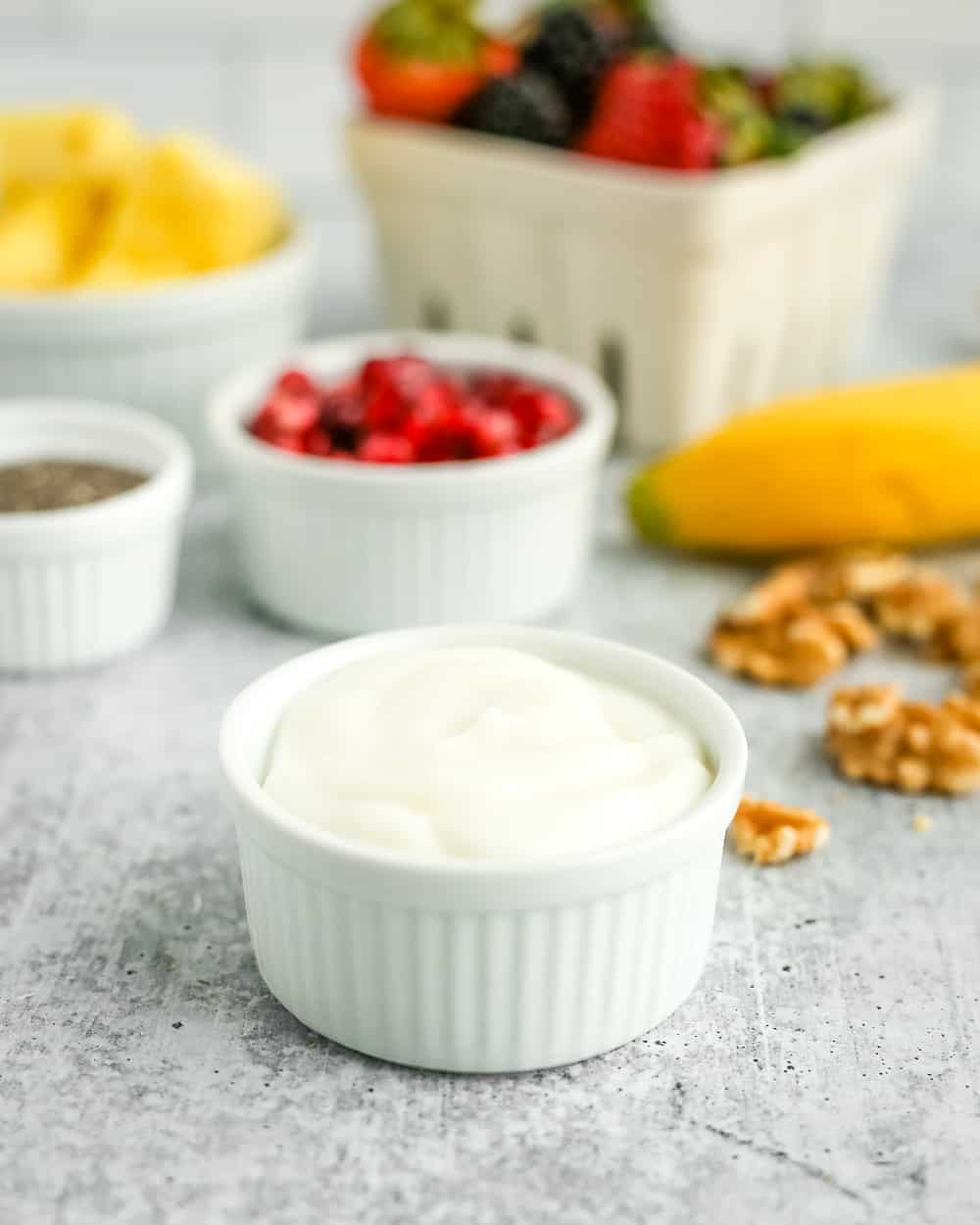 Chia Seeds
This is an optional ingredient for this simple fruit salad recipe, but I think it makes a big difference in texture.
Chia seeds are an important ancestral food native to Southern and Central Mexico and date back to pre-colonization. They are more popular now and therefore easier to find in major supermarkets. Chia seeds are 40% fiber by weight, which is pretty impressive. They can absorb 10-12 times their weight since most of that fiber is soluble (vs. insoluble).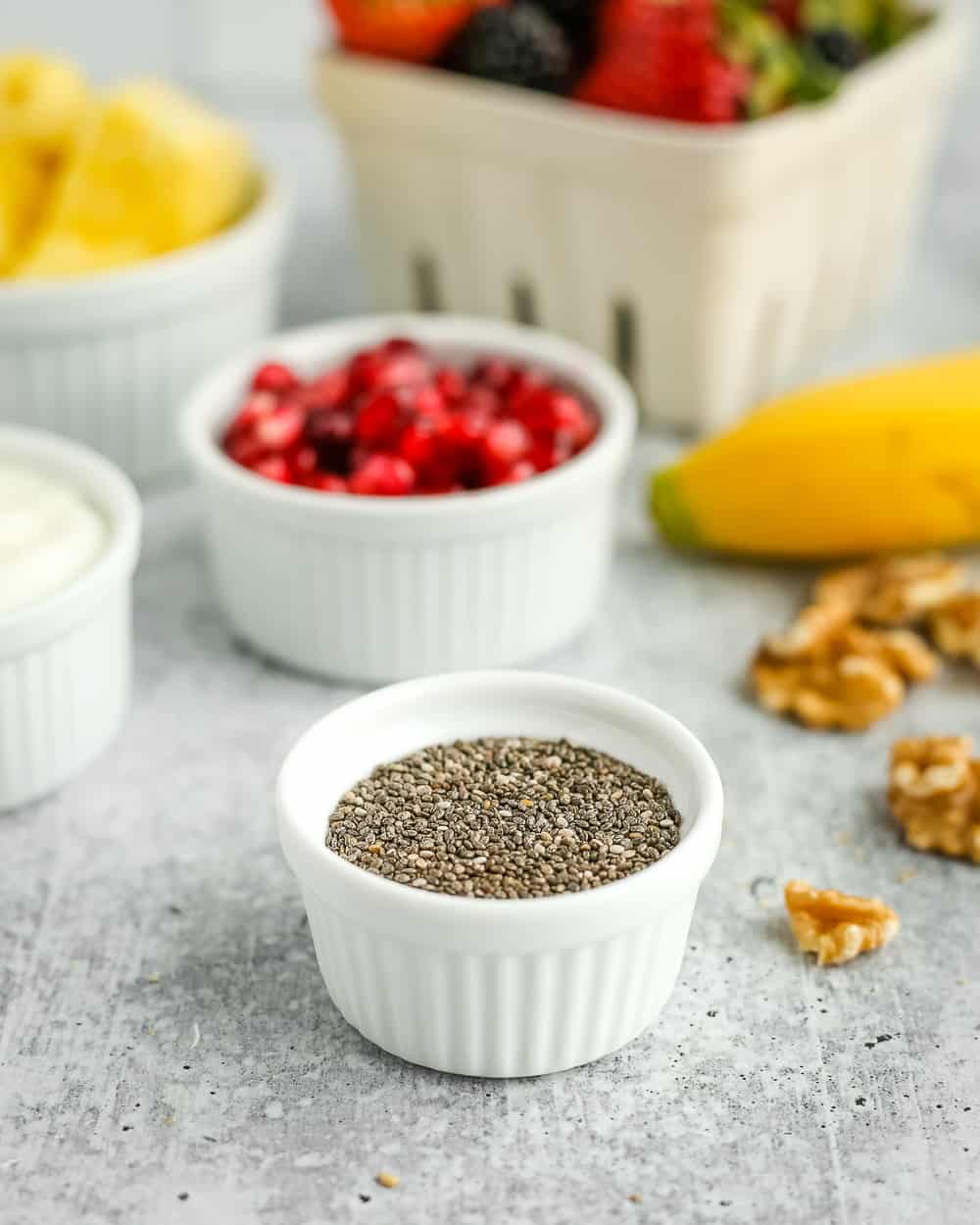 Street Smart Nutrition Tip: Chia seeds will absorb moisture from your fruit salad as it sits, which will make the texture less crunchy. If you prefer that, prep your fruit salad in advance and let it sit in the fridge for a few hours. If you don't, I recommend adding chia seeds just before serving.
The jury is still out on the specific health benefits that chia seeds might offer. At this point, most of the studies that examine their effects are low-quality studies and the individual nutrients in chia seeds have more research behind them. If you're not fan of the texture or higher cost, leave them out of your fruit salad recipe or use hemp hearts, ground flax, or other nuts and seeds in their place.
Walnuts
And speaking of nuts…I had a TON of walnuts hanging out in my kitchen! I worked on some delicious walnut recipes earlier this year and ended up with a bit of a surplus. Why not toss them into this creamy fruit salad?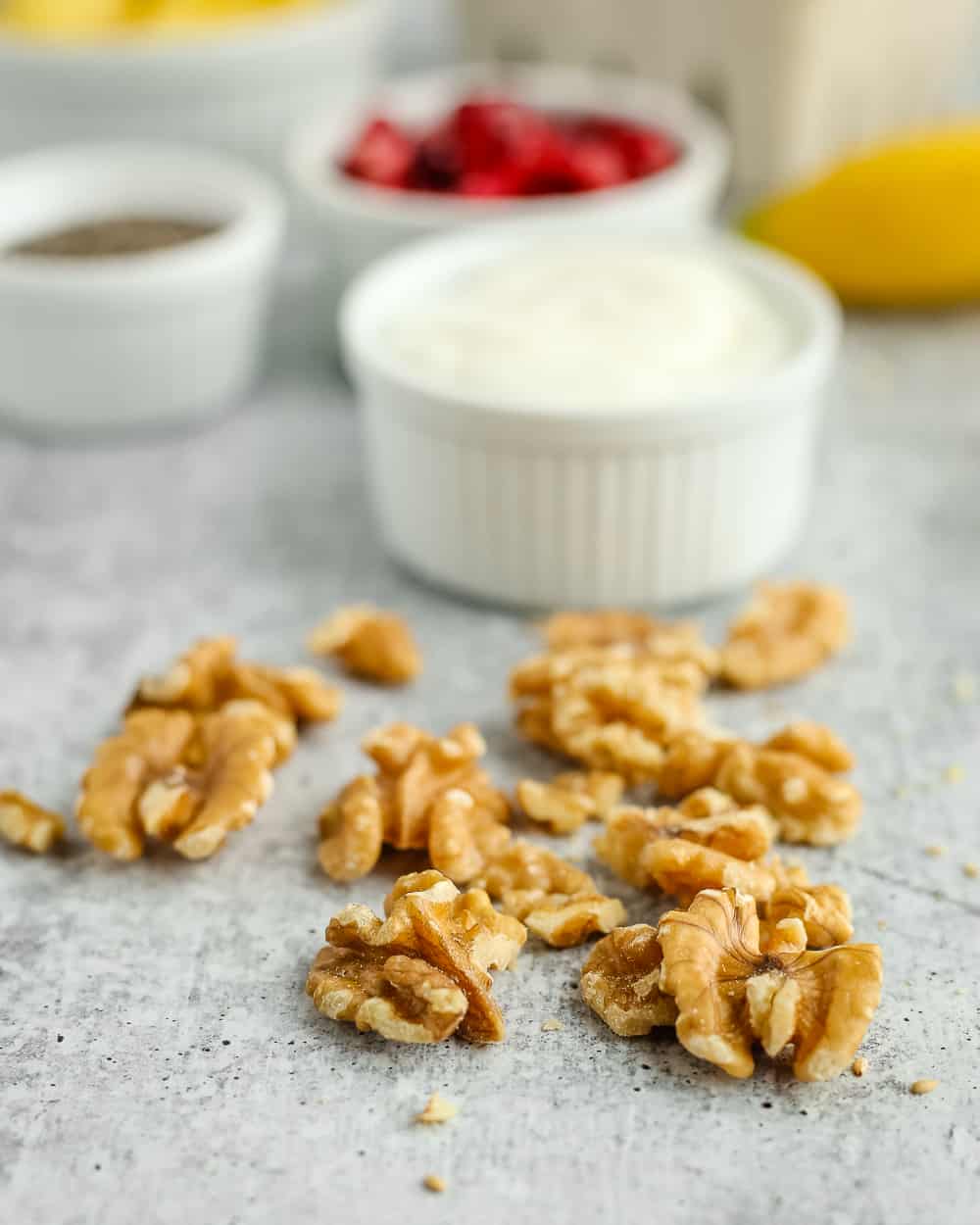 Walnuts are another good source of nutrients. In one ounce (about 14 halves) you get about 2 grams of fiber, 4 grams of protein, and 18 grams of fat, most of which is heart-healthy polyunsaturated fat. If you're stocking up on walnuts, store the excess in the fridge or freezer – this can prevent the fats from going rancid before you use them up.
While you're here, check out this no-cook breakfast recipe: Homemade Muesli with Walnuts.
Pomegranate and Berries
Pomegranates are like little gemstones to bedazzle your breakfast! When it comes to fresh fruit salad ingredients, I can't resist them when I catch them on sale.
I found a package at a great price so used some of them here and added the rest to a salad. Pomegranates are notoriously messy to peel and de-seed yourself, but I made a how-to guide if you want to try your hand at it. It's in this post with a recipe for a Spiced Pomegranate Smoothie.
Pomegranates are rich in antioxidants – even more so than other antioxidant-rich sources like green tea or red wine. Plus, they add even more fiber to this simple fruit salad recipe! The same goes for the fresh berries. Use a variety if you have them, or just stick to whatever you have on hand.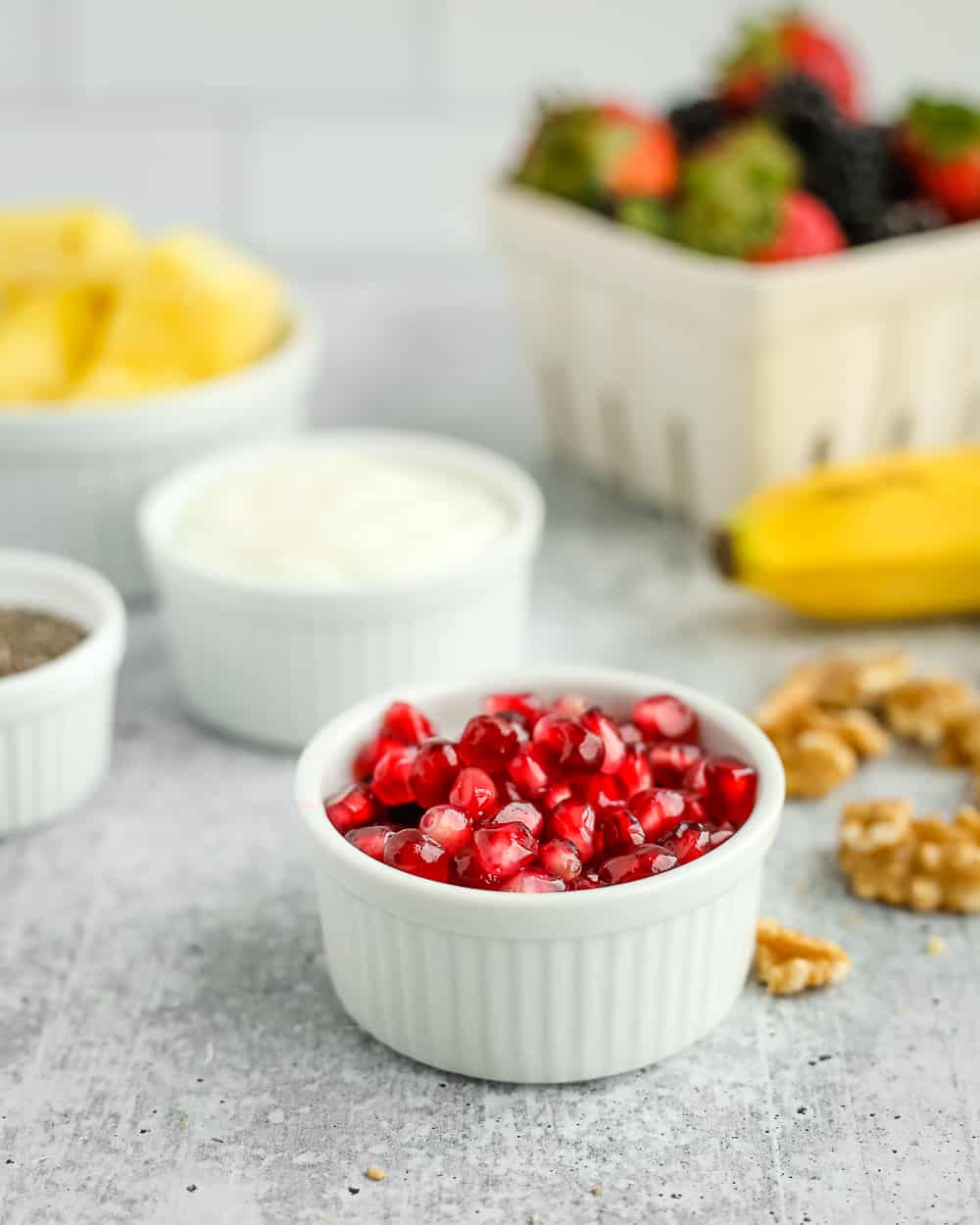 Pineapple
And last but not least, we can talk about pineapple! It's one of my favorite fruits so I save the best for last.
Fresh, frozen, or canned options all work well for this creamy fruit salad with yogurt. Although pineapple has a strong tropical flavor, it doesn't completely overpower the other ingredients.
Pineapple contains bromelain, a digestive enzyme that helps break down proteins. More research is needed, but it could also have some anti-inflammatory properties as well. It's found in both the stem and the fruit of pineapples.
If you want to see pineapple (and other ingredients featured here) in a protein-packed oatmeal recipe, check out my Pineapple Banana Protein Oats!
How to Make A Greek Yogurt Fruit Salad
This process is going to be short and sweet and to the point. Grab a large mixing bowl for the fruit, a small bowl for the honey yogurt dressing, and a whisk or spatula to fold the two together. You'll also need a cutting board and sharpened knife.
Here's how I recommend making your Greek Yogurt Fruit Salad:
Complete all the knife work as part of the prep steps. Cut the pineapple and bananas into bite-sized pieces and toss them into the large bowl.
Combine the Greek yogurt and choice of sweetener (if using) in the small bowl and whisk them together until combined. Note that this applies only if you're using plain Greek yogurt, as you can also just buy a flavored or vanilla yogurt and skip this step entirely.
Add the remaining fruit salad ingredients, then scoop the Greek yogurt dressing on top. Carefully fold together to combine, being careful not to crush the fruit.
Transfer to a serving bowl and garnish with any remaining yogurt mixture and extra chopped walnuts or chia seeds. Adding a little fresh mint can be a nice touch, too.
As written, this Greek Yogurt Fruit Salad recipe provides 5 grams of fiber per serving. While a single digit number may not seem impressive at first glance, the recommended fiber intake for adults is 25-38 grams per day, according to the Academy of Nutrition and Dietetics. Every little bit can add up, so don't be shy about making this fruit salad recipe as often as you like!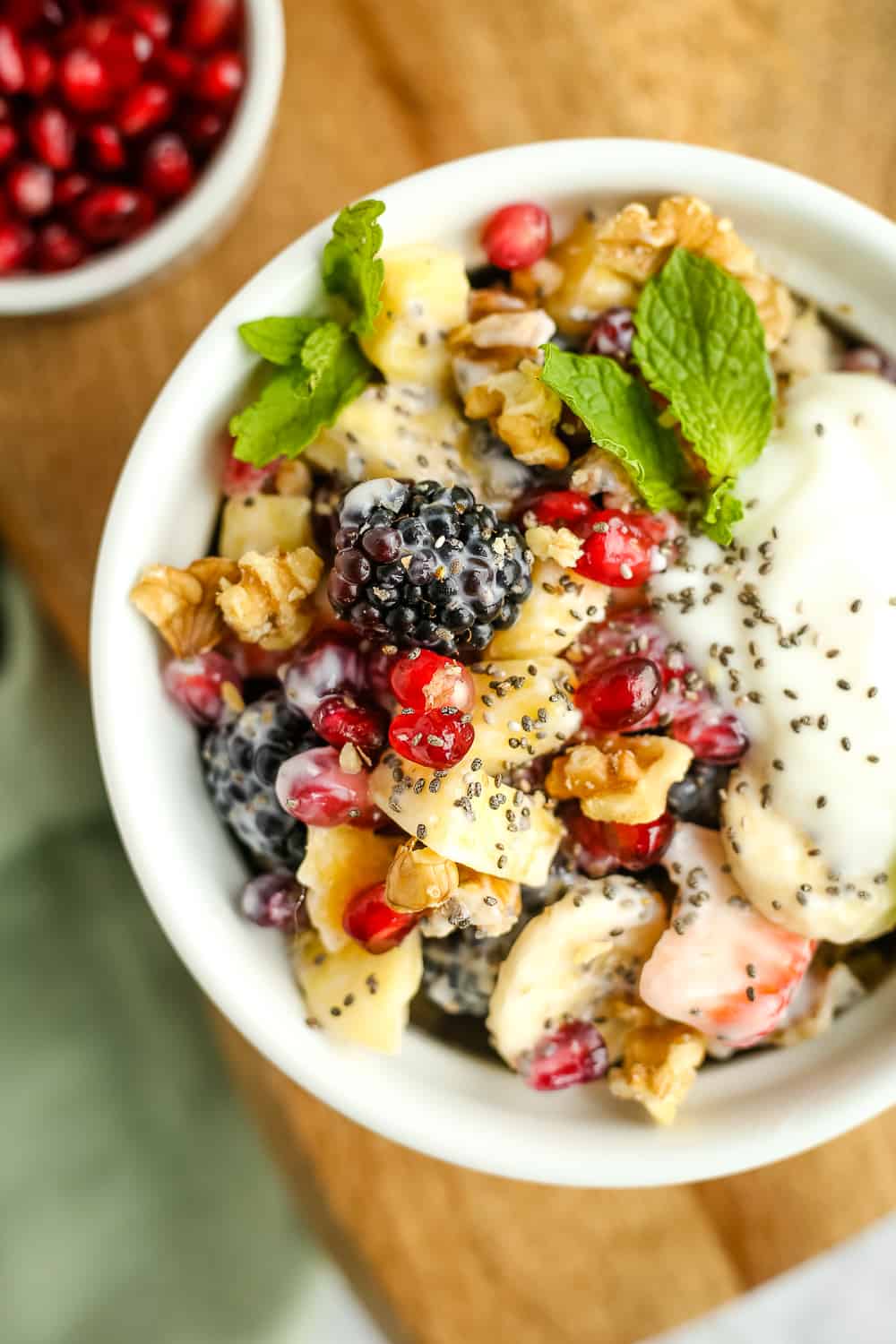 ​Swaps and Variations
You can always use a different type of fruit, or add extra ingredients. Here are a few suggestions that I think could work really well in this fruit salad recipe:
Mandarin oranges. These are easy to peel and break apart into segments, or drained before adding if you're using canned.
Red grapes or green grapes, depending on which flavor you prefer.
Coconut flakes or a different type of nut for added crunch. I think these Honey Roasted Pistachios would be *chef's kiss* amazing.
As always, let your taste buds and budget be your guide. My recipes are always meant to be a source of inspiration so make it your own and enjoy!
Storing Suggestions
​A creamy yogurt fruit salad like this one is going to taste best freshly made. But I get it, sometimes we need to prep a healthy snack to have for the next day. And in this case, you might sacrifice a little freshness from the fruit for the convenience of snack prep.
For best results, seal your leftover fruit salad in an airtight container. It should last 2-3 days. Just be aware that fruit has a high water content that may leach out, causing the creamy dressing to become thinner. Simply add a few extra pieces of fruit of walnuts to freshen it up and stir well before serving again.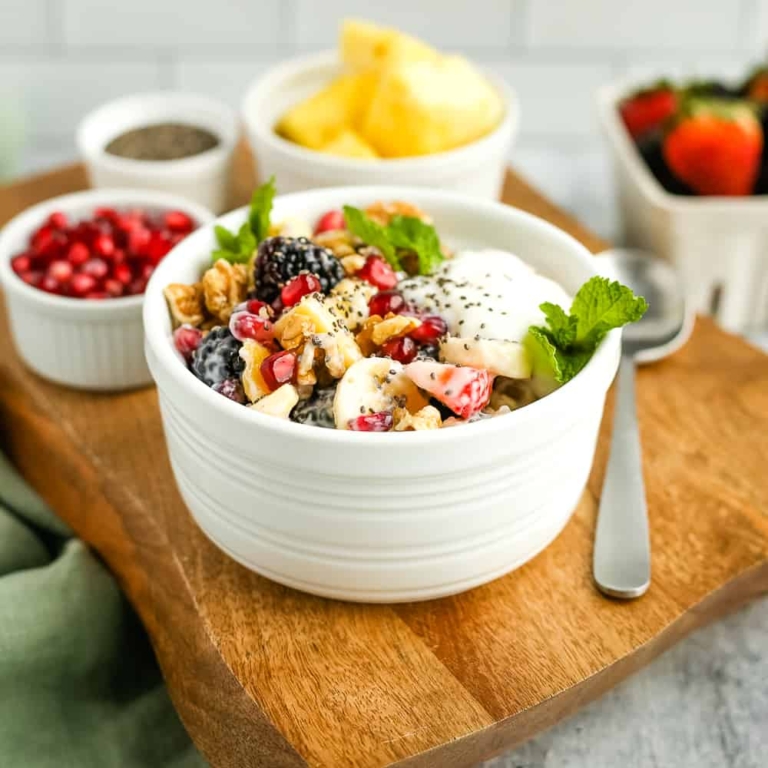 Simple Creamy Fruit Salad
This fresh fruit salad is full of nourishing ingredients, bright colors, and delicious flavors! Use your favorite type of yogurt or swap the berries for other fruits in your kitchen. Serve within two days for best results.
Ingredients
1

cup

vanilla Greek yogurt

2

large

bananas

,

sliced

1 1/2

cups

pineapple

,

fresh, canned, or frozen

1 1/2

cups

mixed berries

,

fresh or frozen

1/2

cup

pomegranate arils

3/4

cup

walnuts

,

chopped

1

tbsp

chia seeds

Fresh mint

,

for garnish, optional
Instructions
If using frozen berries or pineapple, transfer to the fridge to thaw prior to preparing other ingredients.

Peel and slice the bananas and add to a large mixing bowl. Chop the pineapple chunks into bite-sized pieces and add to the bowl. Add the remaining ingredients, then use a soft spoon or spatula to carefully fold all ingredients together. Mix until evenly combined.

Transfer to serving bowls and garnish with fresh mint and extra chopped walnuts or chia seeds. If storing, seal in an airtight container. Eat within two days for best results.
Nutrition
Serving:
1
serving
,
Calories:
228
kcal
,
Carbohydrates:
31
g
,
Protein:
7
g
,
Fat:
11
g
,
Saturated Fat:
1
g
,
Trans Fat:
1
g
,
Cholesterol:
1
mg
,
Sodium:
14
mg
,
Potassium:
367
mg
,
Fiber:
5
g
,
Sugar:
20
g
,
Vitamin A:
75
IU
,
Vitamin C:
26
mg
,
Calcium:
39
mg
,
Iron:
1
mg
I hope you enjoy this easy fruit salad recipe! It's a great way to instantly get some fruit (and fiber!) into your meals or snacks. It's a deliciously healthy dessert. Plus, it's a crowd pleaser at family gatherings, potlucks, or summer BBQs. If you try it and agree, I'd love it if you left a rating or comment! You can also share any helpful tips for eating more fruit, more often.
And as always, thanks for stopping by the Street Smart Nutrition blog. Cheers to more fearlessly nourishing meals!
Disclosure: This post was originally published in June 2021. It has since been updated to improve the overall quality of the information and/or images.